iMovr Ziplift is quite popular when it comes to affordable midrange standing desk converters. Let's dabble a bit on what you could expect from it. 
About the brand
iMovR is a US brand known for manufacturing mid-range standing desks and standing desk converters. Though a wide range of the brand's products is manufactured in the US, the Ziplift standing desk converter is manufactured in China.
Assembly
This standing desk converter already comes in pre-assembled or assembled. It's a perfect option for those who don't want to fidget and connect parts. So you can instantly use this standing desk converter straight from the box.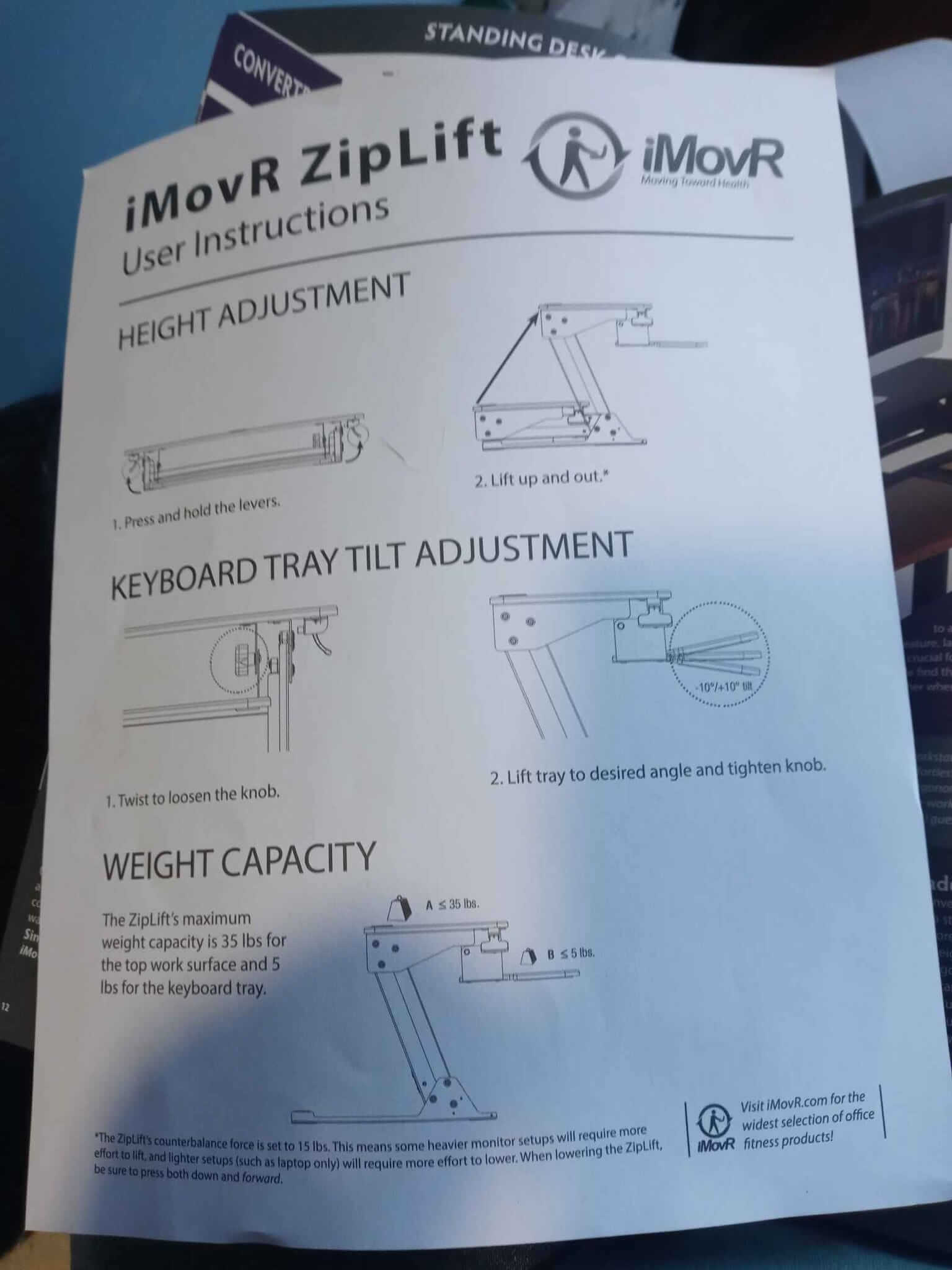 Mechanism
Ziplifts standing desk converters may have some advantages over the other types of standing desk converter mechanisms. One, desk with this mechanism often comes pre-assembled or assembled already,
Two, they're easier to lift and you won't experience any glitches compared to electric standing desks. The Ziplift design is close relative to the classic criss-cross mechanism. You'd find these criss-cross or x mechanisms in standing desk converters such as Flexispot classic standing desk converters. 
A criss-cross or X lift mechanism may save you more space since it moves directly up and down. But there are a lot of pinching points. And it may be wobbly and unstable. The Ziplift mechanism, on the other hand, is more stable and it's easier to lift compared to the criss-cross one.
The iMovr Ziplift standing desk converter also transitions without any noise. In terms of the mechanism, it's a bit similar to the Varidesk Pro.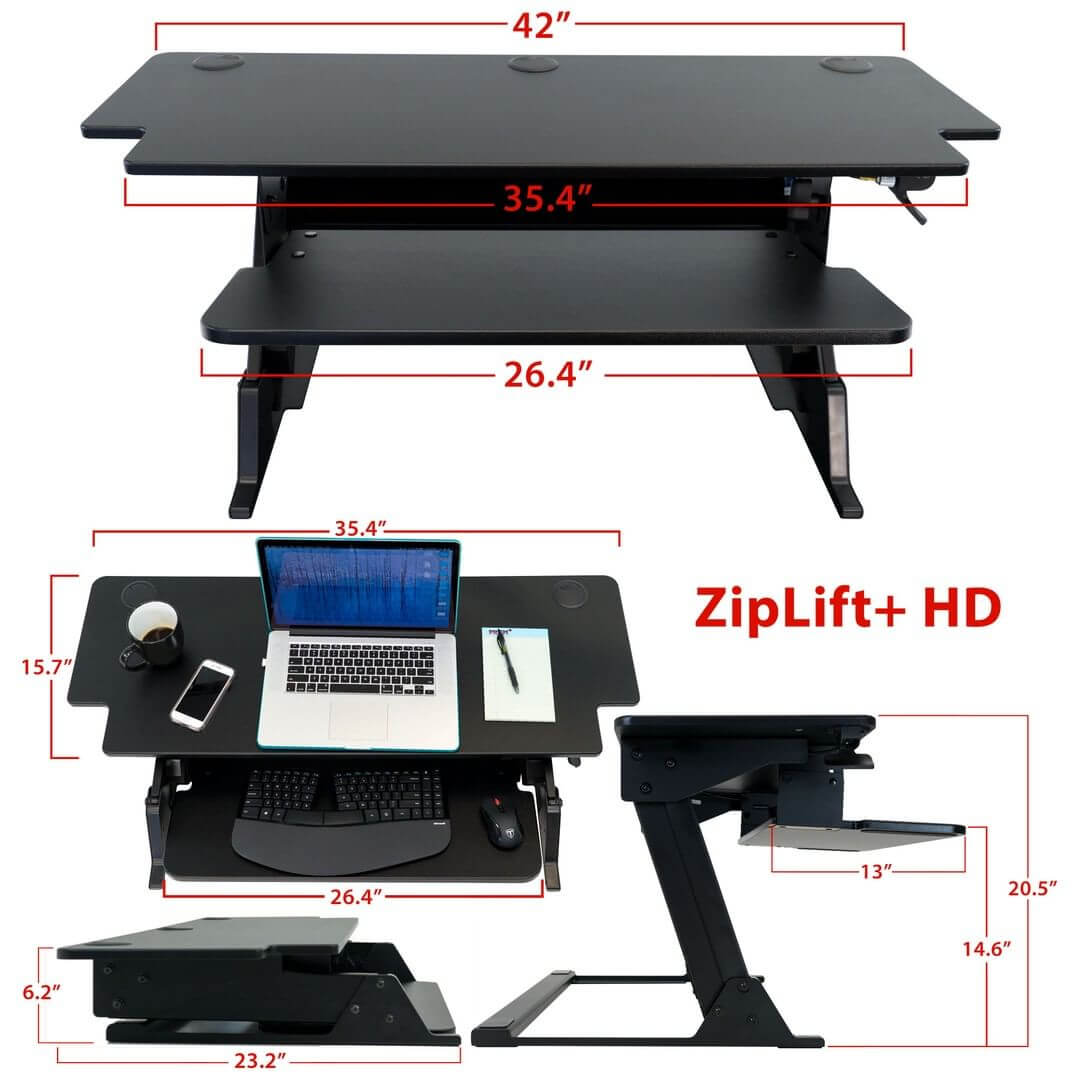 How about the Stability?
The iMovr Ziplift is more stable than the Varidesk Pro. But like all desks with Ziplift mechanisms, the standing desk converter will move up then towards you. May not be the perfect space-saving option, but it's stable even if it moves a bit towards you. The forward movement may eat a bit of space.
Albeit this limitation, it's still one of the best and more reliable standing desk converters And it's even more stable than the Flexispot M2b or M3b. The only advantage of the Flexispot converter is that it can save space because of its criss-cross lift mechanism
So you don't have any worries even if it tilts a bit forward. It doesn't wobble when using the keyboard. And it stays on top of the table even if set at the highest desk setting.
And don't get the same confidence with another standing desk with a criss-cross lift mechanism, except for the Egotron work fit. 
So stability-wise, don't have any complaints with the iMovr Ziplift. Just make sure that you don't mind that the desks can tilt forward a bit. Though it doesn't affect the stability, it can be an issue if you have a small space. 
Apart from the smooth Ziplift mechanism. The beefy structure of the frames and the entire desk converter also made it stable and sturdy. There aren't any soft or flimsy parts. 
And the cherry on the cake for me is that it is very stable and yet it doesn't look too bulky. So even if the Ziplift mechanism can eat a bit of space as it tilts forward, this standing desk converter does not eat a chunk of space in your work table. But it can occupy vertical space.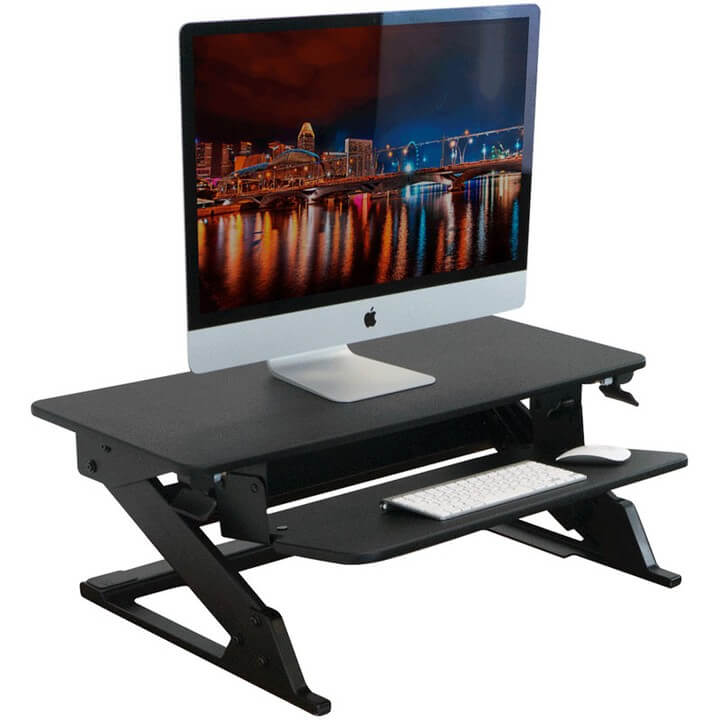 Working area
The Ziplift has ample space that can fit a monitor measuring 2 by 24 inches., a laptop, and some supplies. So it can be more than just a basic workstation. Though it doesn't have an exuberant space for an elaborate workstation, it's above the basic. And we love anything that's above average.
Overall look
The iMovr Ziplift isn't the fanciest-looking desk. But it isn't so basic either. It looks sleek and not bulky, which would fit your modern home office. 
How about the Shipping
You will more than happy with the shipping, the product usually arrives in 3 days. The brand claims on its website too that delivery time may range from 3-5 days from the time that you ordered. And it can take about a week for freight deliveries to anywhere across the State, And the unit arrived in one pierce. 
But the note that the COVID situation may greatly affect shipping. As with other brands, they are also experiencing delays in freight shipping and a word for a home arrangement for employees. So you might not receive your desk on time as previously stated on their website.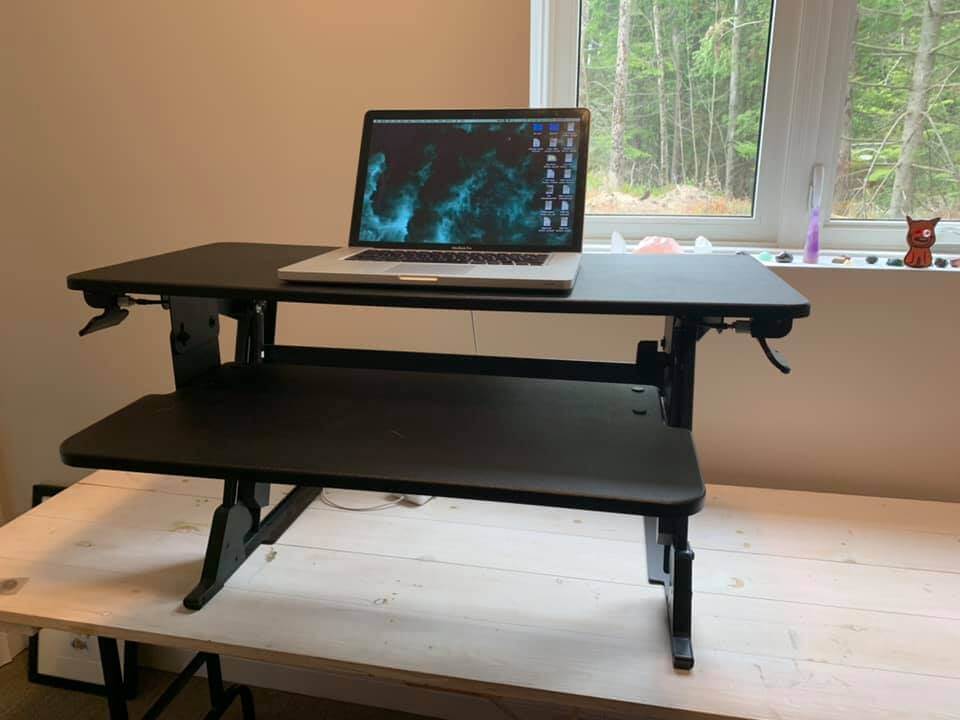 What do we like the best
One. it's very stable. As mentioned above, it's the most stable, if not, one of the most stable standing desk converters in the market. And at a mid-range price, it's a great value for your money. 
And another feature is the tilting keyboard tray, we haven't encountered any standing desk converter yet that has this feature. And this is what sets the brand apart from a sea of competitors.
The keyboard tray is quite ergonomic so you can find the sweet resting spot for your wrist. The tray can be tilted to 10 or 15 degrees. And it allows you to stretch your wrist. And if you're typing for an extended time, it can be painful for your wrist. Carpal tunnel is no joke of a pain. With the tilting keyboard, you can shift the movement of your wrist and even stretch it a bit. 
And the keyboard tray is also wide and spacious. It can accommodate a full-size keyboard tray so you don't have to settle for the tiny ones. And if you have large fingers, it's such a pain to use these small keyboards! That could be an added pressure on your wrist too. 
Also, it won't scratch your lovely desk. It has a soft underpad at the bottom to protect your desk from scratch and dents. There are more reasons to fall in love with the keyboard tray of the iMovr Ziplift. It has several grommet holes and ports so you can conveniently organize your wires and cables. 
Your workstation looks like a tangled mess. Otherwise, it's going to be counterproductive. And you don't need to worry about keeping the wires organized or buying a tray or something to make it look neat and clean.
In addition, it has a wide height range and numerous stops. And this can be blissful to many users since it can accommodate more people. You can set the height of the desk exactly where you need it for a more comfortable working space. 
iMovr Ziplift + the Patriot
The main difference between the IMovr Ziplift patriot from the Ziplift + plus is its laminated desktop. You can enjoy all the features that you loved in the Ziplift + desk plus a more aesthetically pleasing one with the 3D laminated wood finish. 
And the Ziplift + Patriot was given such a name for a reason. This iMovr desk is made in the USA. Other standing desk converters of the brand such as the Ziplift + are all made in China. That was to come up with a more affordable price. 
So the Patriot is a great option if you want a more aesthetically pleasing unit with wood grain finishes. 
It's refreshing to see an iMovr standing desk converter that is 100 percent manufactured in the USA. Also, aside from a more eye-catching design, the Patriot is a tad bit higher on the scale in terms of durability. 
Another notable difference is the ergo contouring. Instead of a straight rectangular edge, the Patriot has curved edges that made it look softer and more polished. And the 3D lamination is different from other laminated desks. 
It's easier to clean and more scratch-resistant. Not all laminated desktops can also look as polished as a 3D laminated one. 
'So it's not just about the aesthetic. It's also about making it easier for you to conserve the quality and beauty of your purchase.
The only downside is that it doesn't include a standing mat that usually comes with your purchase of the Ziplift +.
Final thoughts
The iMovr standing desk converter is the most stable out of all the other brands within the same budget. 
And though it's made in China, it's still durable. But if you want to support locally made standing desk converters, the Patriot is a great choice. You get all the desirable features of the Zlift + and more.