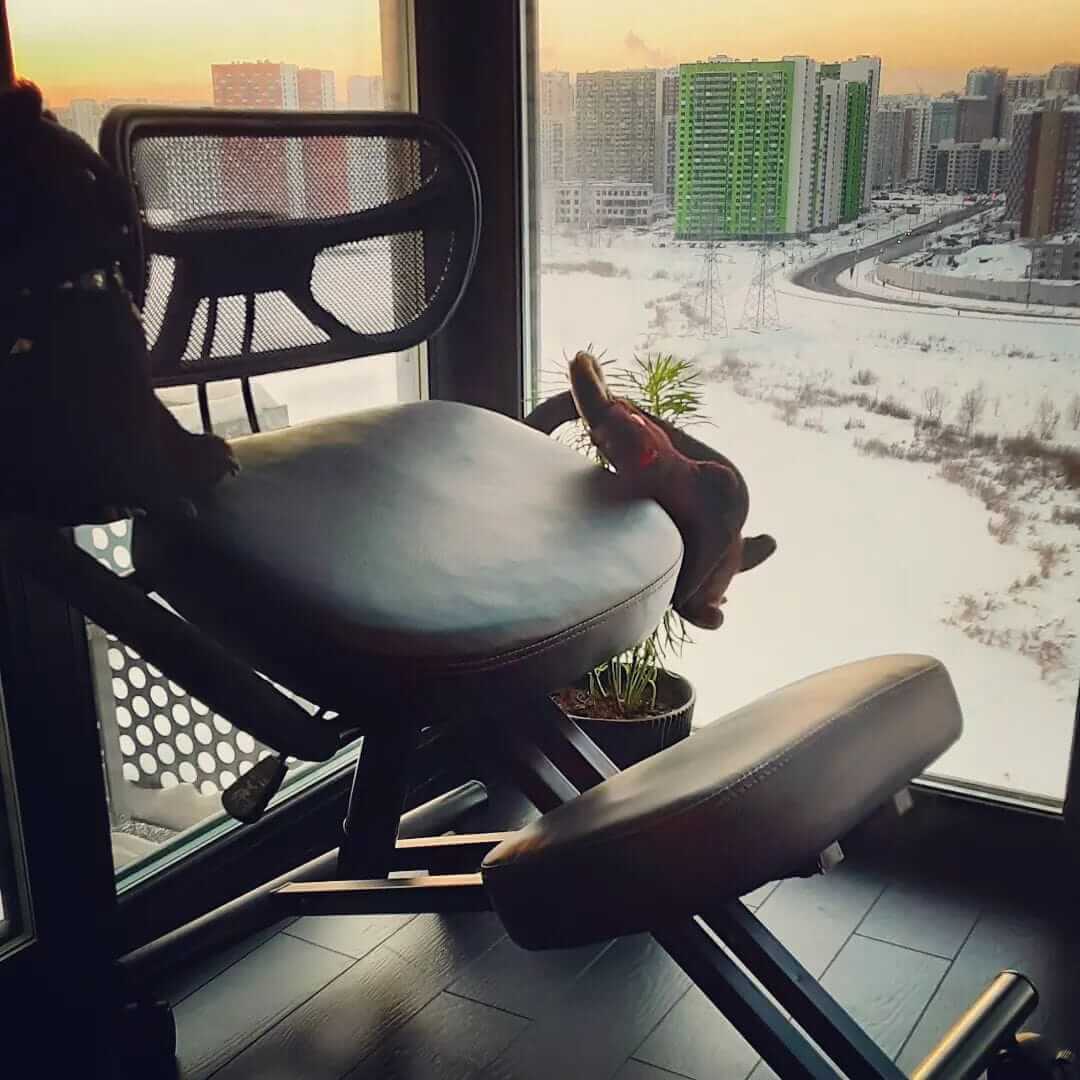 Co-z looks like your average kneeling chair, it has a seat angled at 90 degrees. And the seat height can be locked to a max of 4 positions. Also, the faux leather seat and knee rest are sufficiently padded, it's not too thin that you'll feel the material or the frame underneath. 
It costs a little less than 150 dollars and it's at the same running price as the more popular picks like VIVO Dragonn and Sleek Form. And oh, it looks exactly like them as if they've been manufactured together.
So let's see if it has something better to offer and if the Co-z can live up to these more popular brands. From afar, they can be mistaken for one another. 
And you can also buy the CO-z chair with a backrest. And you already know how we feel about such chairs configured with one. But we'll still try this out and see if the backrest can contribute something to the table.
Co-z may look exactly like the DRAGONN, but it felt like it was on a diet
The design that the Co-z, Dragonn, and Sleekform are quite the epitome of how kneeling chairs are expected to look. 
Though we are half-hearted if we are for the metal and cushion versus the wood and the cushion. Well, depending on how it was constructed, a wooden kneeling chair can also be indulgent, especially if it has a rocking option like the Balans. 
You can only change the seat height of the Co-z. So you cannot adjust the height of the footrest or change the angle of the knee rest independently. So this can share the same frustration we had with the Dragonn, which can limit the number of people who can use it. 
And the Co-z only offers 4 seat height positions, so it's; either you fit into it or you don't. The seat height can be adjusted from 19" to 23". The Dragonn, on the other hand, can be adjusted from 21" – 31". So with both units falling within the same price range, Dragonn has more locking positions, it can also go higher. The Co-z's highest seat position is 23", so this is more for petite and average size peeps.
The Co-z with a backrest option may be a better alternative as it can go slightly higher with a seat range of 33"-37". So this one can be used by taller dudes too, but of course, it comes with an additional cost. 
Going back to our Dragonn – Co-z comparison, it really looks like it's on a low-calorie diet compared to the VIVO kneeling chair. And though the cushion is decent and you'll not really feel the metal material digging into your bum, the cushion of the DRAGONN, both on the seat and knee rest, is cushier and thicker. 
The overall construction of the DRAGOON is also sturdier. It has a weight capacity of 250 lbs, more robust compared to the 198 lb capacity of Co-z.
What we also noticed is that over time, the wheels tend to become loose. And after years of use, you might need to replace them. It also feels a bit wobbly and shaky. 
Here's also where it can go wrong. The folding mechanism of this chair makes it convenient yes, But we think it comprises the integrity of the entire unit
One of the selling points of the Co-z is that it is collapsible or foldable. So you can bring it anywhere and it's easy to sneak into the back of your trunk. 
While this feature may make the chair more mobile or road-ready, we think that it did compromise the integrity of the unit.
It might give it greater flexibility since you can also use it in cramped spaces. You can tuck it away when not in use. But this frequent folding and unfolding of the chair can loosen all the connections. And it's not a heavy-duty unit to start with, so this frequent fidgeting can make the chair wobblier at some point. 
So should you buy it or not?
Our take with this collapsible unit is that it's too much for its price. The foldable feature might have made it more expensive. But it will also make the chair unusable after some time. 
You'd be better off with a more heavy-duty version of the Co-z, the one with the backrest. Though we suggested not really laying your entire back on it so that you still reap the benefits of a kneeling chair. And always have an office chair on the standby, because even if a kneeling chair has a backrest, it is no substitute for an office chair. 
But the overall build and construction are better. With the lack of a foldable mechanism, the connections will be more stable. It also has a higher weight capacity and offers multiple seat height positions, almost similar to the Dragonn.
Kneeling chairs with similar designs 
And as an alternative, we have picked several kneeling chairs that have a very similar design to the Co-z. We have already mentioned the Dragonn above, but let's talk about the rest a little bit more.
Dragonn
The Dragonn has a higher load capacity, and it also has multi-seat height options. It has a wider scope of users and can be used by dudes who stand 5'1" -to 6". This will feel like an upgrade from the Co-z in terms of everything.
SLEEK FORM
Twinning with the VIVO kneeling chair and Co-s is SleekForm, This is also one of the more favored brands when it comes to kneeling chairs. The weight capacity is 220 lbs and it also has a thicker and softer seat and knee rest, it offers 4 inches of cushiness.
So this is a great pick if you want something to indulge your bum, better than the Dragonn or the Co-z.
It also feels more steady and stable. But as far as the seat height, those who stand 5'4" and below will not find it comfortable. So this is better for slightly taller to taller folks who stand up to 6'2".
GEO SUNNY
Geosunny is a better pick if you need more muscles. It's the Popeye of the group.
It's a more heavy-duty chair that can bear 330 lbs. The cushion on both the seat and knee rest is also thicker, that's 5" of cushiness. And with memory foam, we see this as more indulging. 
And though we can't independently adjust the footpad from the seat, you can tilt the footrest of this chair. So that's a little something to ease the limitations. 
This unit is the best for big and heavy users. Even folks who are of average height can also find this quite comfortable. As for the cost, it will only set you back just a few more dollars compared to the Co-z, so not that much. 
It could have had a lower price 
The Co-z is more of an entry-level kneeling chair, a light-duty option. And for its price, you have other great alternatives that can give you better comfort and they may also be more affordable. 
If the unit just had a lower price tag, then it can be an option for those who are petite to average height.
Ultimately, less is more could have worked better for this chair. The supposed to be added collapsible feature may make the chair less stable in the long run.