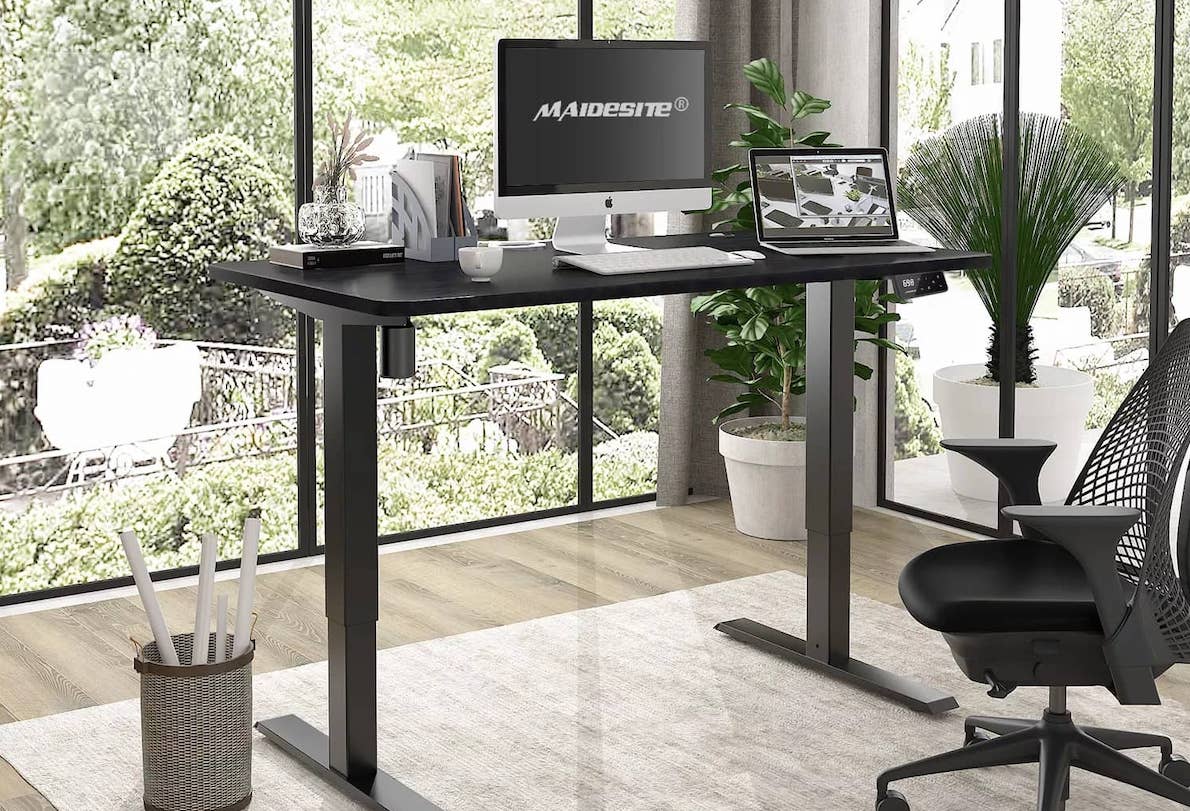 MAIDeSITe offers a decent range of standing desks. You can choose from a single-motor to dual-motor desks. And if you want a more ergonomic working area, you can opt to get the tabletop with a curved edge. 
In this article, we are going to review the dual motor, 2-stage motor with a 48-inch desktop. Of course, the brand also has other options like 55×28″ but you have to pay more few bucks
Stable solid frame
This is perhaps MAIDeSITe's selling point. The entire desk frame is very solid and stable. Whether you decide to purchase the frame only or the one with the tabletop, you will never be disappointed with its construction.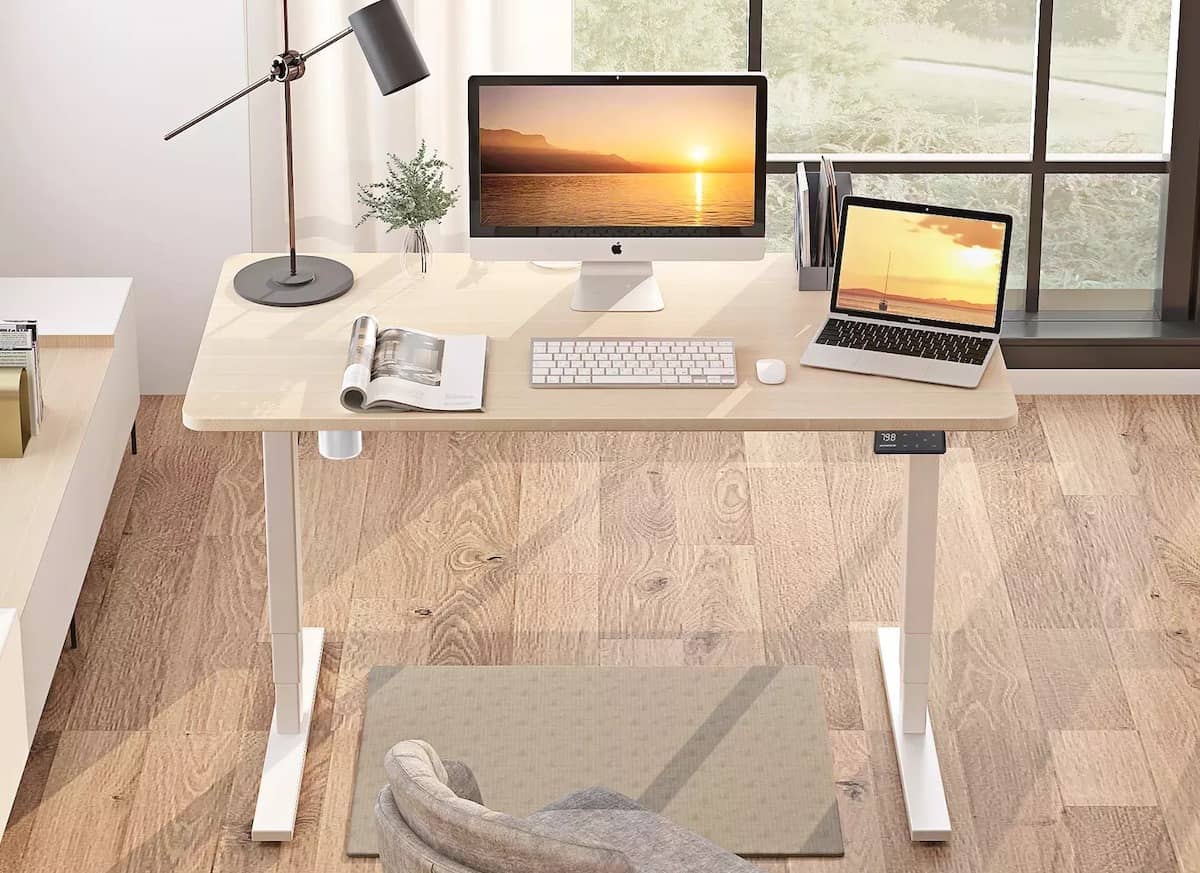 We also love how the frame came to our doorsteps. It was well packed and surrounded with thick foam and cardboard at the edges. This gives more protection while the desk is in transit.  
You can also expect that the frame does have heftiness to it. It does have an impressive weight. The weight or bulk of the weight is from the legs. And oh boy, this is one solid frame. You know us, we find heftiness a good sign of a good solid standing desk.
Also, we love how the legs have an internal seal. This prevents dirt from creeping in . and accumulated dirt can eventually take a toll on how the frame transitions. So this is a nice and thoughtful addition to the brand. 
We also noticed that there are thick rubber gaskets between the frame and the tabletop. This also protects the underside of the tabletop from scratches. Also, this adds stability and makes the tabletop and frame one. This also reduces noise and vibrations when the desk is transitioning.
Though this is not the quietest desk, it can still make a soft mechanical hymn when it is transitioning. But it isn't too annoying to make you stop working. So we were pretty happy with the build and construction of this desk. 
It can accommodate 2 -3 monitors, a laptop, and some other gadgets without any issues. It can make you happy and content, space-wise and stability-wise. And the advertised 80 kg weight capacity is true, it's not hyped up. We did not seem to have any issues when we maxed out the capacity of the desk. 
The frame also transitions very smoothly, with no stops or halts in between. You can maximize the weight capacity and the frames will not have problems lifting the desk. 
All of the parts are well made, nothing was skimped on. And we did not encounter any issues with the setup. We were able to set the desk up in less than 30 minutes. The installation process was smooth. All the parts went together like peanut butter and jelly sandwiches. There were no misaligned holes. So even those who are not seasoned DIYers will still be able to set it up without problems. You might just need a helping hand since the desk is pretty heavy. 
Adjustable desk feet
The desk is also convenient and very useful if you have uneven floors. It has leveling feet that enable the desk to adjust itself if you don't have a ground leveled surface to place it on, this will ease your troubles The leveling feet also add stability to the entire desk.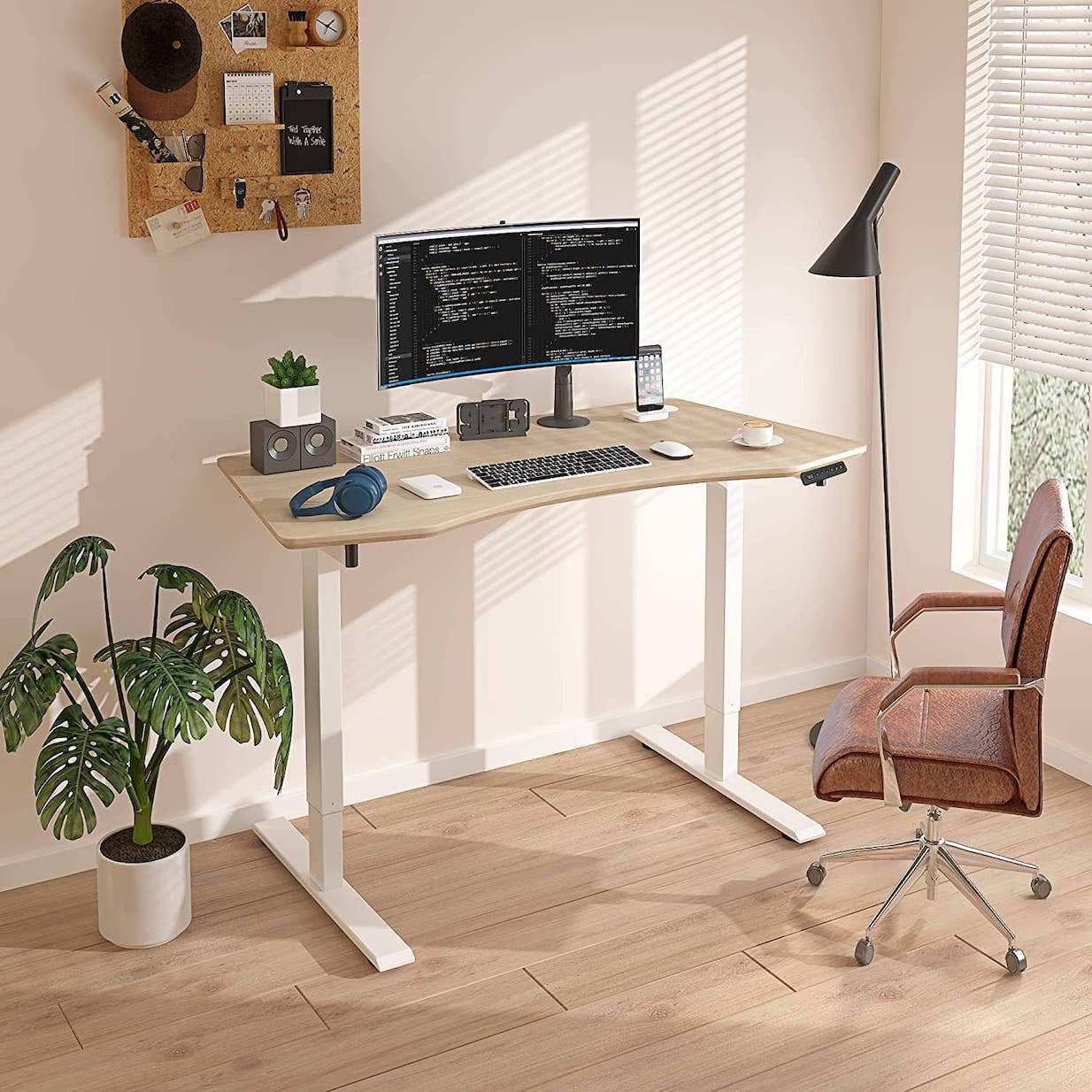 Sleek silicone control panel
Let's take a quick look at the control panel. Though there isn't anything fancy about it, it's pretty simple but it looks clean. It's made of soft silicone which is a soft touch. So you can expect the control panel to be quite responsive. And it's kind of unique to make use of silicone material for a control panel. 
Not to mention, the buttons feel satisfying to press. It's like you're pressing on bubble wrap. It actually had us addicted to pressing it haha. So again, as simple as it may look, it is rather unique and a nice touch to the standing desk. 
Some could have been better stuff
As we have mentioned above, this desk is pretty solid. The frame of the desk is all steel, except for one part. We noticed that the bar that connects the other leg to the motor is made of plastic.

Though we didn't have any issues with it as of now, we cannot tell if this particular part will be able to last as long as the other parts of the desk. Since it's plastic, it could wear out faster than the other parts of the frame. So only time will be able to tell.

The frame transitions fast and no stopping issues. But we took a closer look and realized that the one part where the motor and control panel are attached moves first before the other side. Though this is not noticeable except for those with a discerning eye. 

This standing desk does come with some cable clips for wire management. But we did find it a bit messy and if you have a more busy workspace, you'll find your cables and wires dangling everywhere. Thus, we got a separate cable management tray and propped it underneath the desk. Cable and messy ties are our pet peeves! So this standing desk lacks a bit of organization in this area. Though if you do not want to purchase a cable management tray, we advise you to get more sticky clips and cable ties. And oh, your skills in making cables and wire clean and neat sans the tray will come in very handy.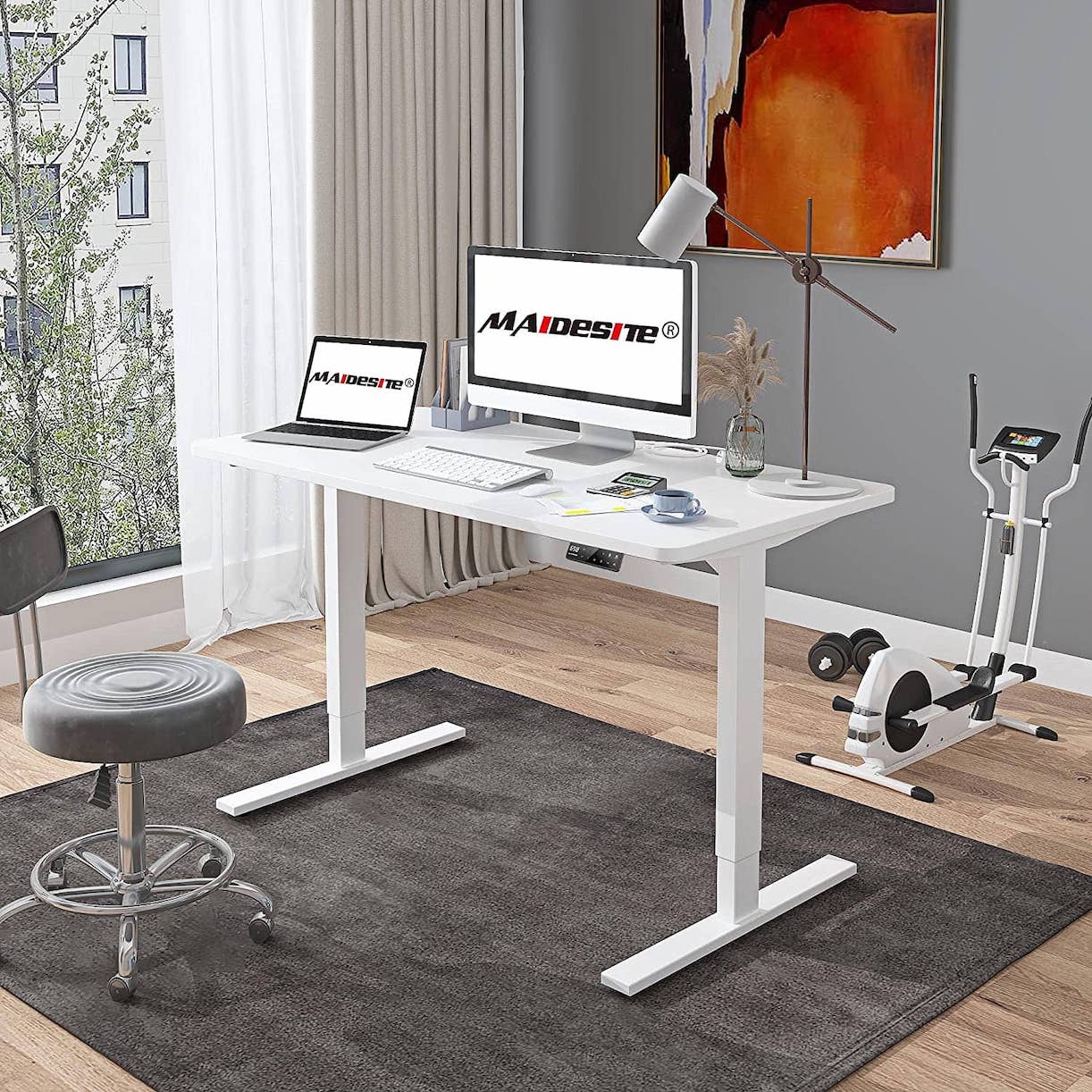 Overall about MAIDeSITe standing desk 
This standing desk is very, very stable and solid. We are pretty sure that it can stand the test of time. It looks professional too. We loved everything about the frame. From the transition, the motor, and the entire construction of the desk. Well, except for that teeny weeny plastic part that we have mentioned above.

The control panel is a simple yet sophisticated addition to the standing desk. Aside from the unique silicone material, it looks very pristine with the clear height read-out and backlit buttons. And oh, the soft touch makes it addicting to press. And it also has a USB charging port so that amps up the convenience and functionality of this standing desk. 

The 48-inch stand-up desk is pretty wide and can accommodate a more bust work area. But if you need a more accommodating desk area you can opt for the 55-inch tabletop. This model also has a more ergonomic table, the front edge is curved so it will be friendlier for your wrist.

The brand offers a very generous warranty of 10 years for the frames. So this amps up our confidence in the brand. 

The anti-collision features of this standing desk are pretty sensitive. It automatically stops even with little resistance. So it's very safe when you have kids around.

It also has a long-time sitting reminder. So if you have been sitting for too long then what is good for you, you can program the desktop to remind you to lift your butt off the chair. This feature is almost the same with some Flexispot standing desks. 

Though this is not the quietest desk, we find the transitioning quite seamless. And we reckon slight mechanical whirls will not be such a nuisance to most people, except if you are super sensitive to even slight sounds.

From the first glance, you can instantly tell that this is durable. Even from afar, it looks thick, sturdy, and strong. So this desk can stand out when pitted against the Fully Jarvis or an Uplift standing desk. The legs are really thick.

The shipping and packaging were very good. All the parts of the frames are labeled properly and packed separately. The frame and the tabletop are covered in thick foam for protection during the delivery. And everything came in fast. This is recommended for those who need a standing desk asap.

Also, the neat packaging makes for a speedy setup. The instructions were clear and straightforward. There is also sufficient instruction on YouTube, should you want more illustrative instruction. 
Where to buy
Conclusion
The MAIDeSITe standing desk got two thumbs from us in terms of stability and durability. The desktop and the frame are very solid, stable, look professional, and can also last longer. The robustness of the desk feels almost like the ones from iMovR. So you will have no regrets with this one and you'll be getting more worth for your purchase.