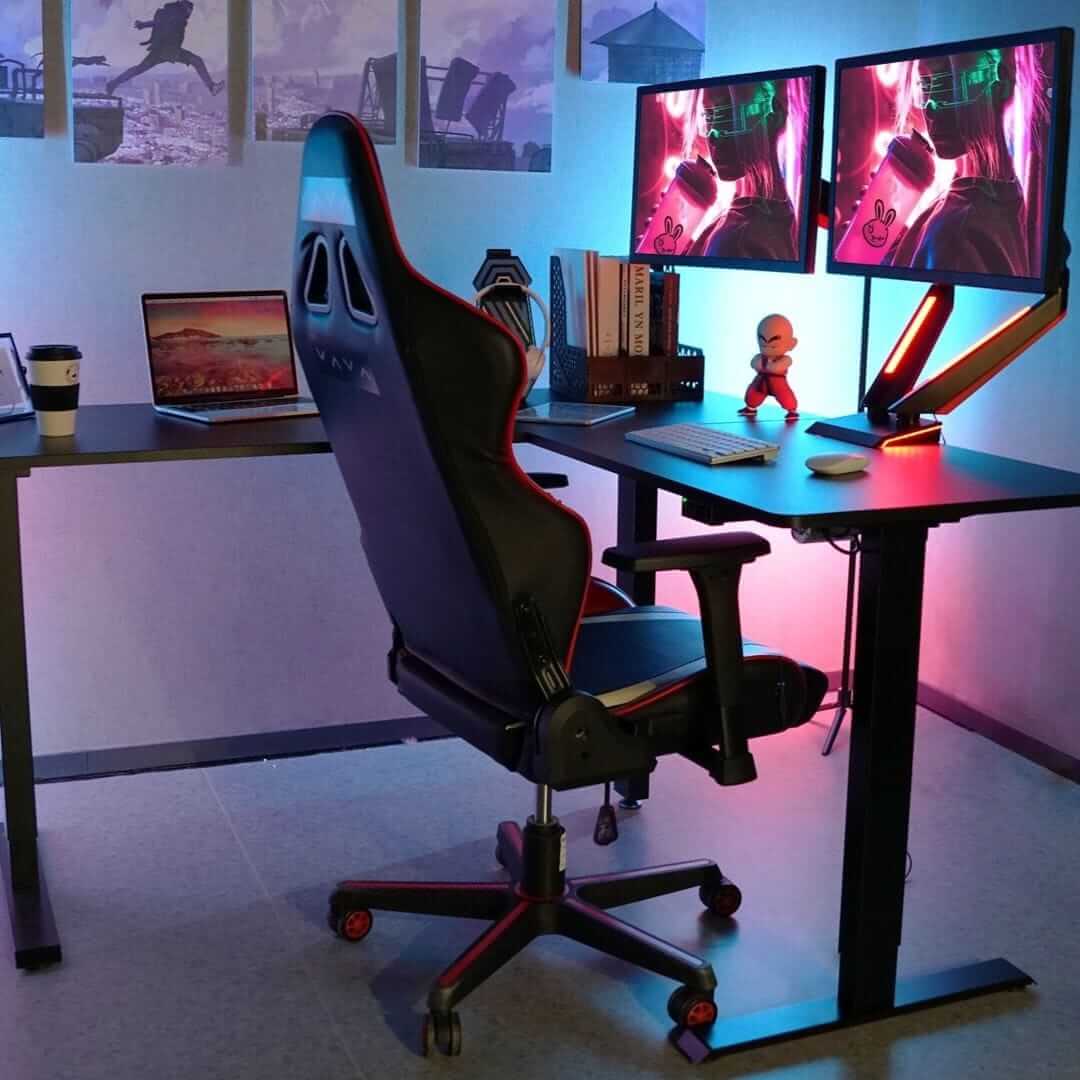 In this article, we made a list of the Best Corner Desk for Gaming and Why it Pays to get One that Appeals to you the Most
It's true that there's more to looks when it comes to desks. You have to consider the price, the functionality, and other add-ons. But one that screams game time can rev up your energy and gusto. 
And while we have listed some desks that are eye candy for the newbie to the master gamer, these are not short of value. 
You may also be able to easily configure and flush them against a corner of your room. And whether you have a small or large living space, you can find what you're looking for. 
TribeSigns L shaped desk

 
The red and black combination makes this desk gaming ready. And when combined with a complete rig with RGB lights, this is going to be an epic gaming haven. 
We chose this unit, not just for its sharp game-ready design, it's quite multifunctional too. It has an optional second tier where you can use it as a monitor or desk riser. So it also lends you extra space on top of the already wide area. 
And underneath the second tier are slots where you can organize your gaming peripherals. So despite the lack of a cabinet, you can still maintain a mess-free table. Just keep in mind though that the storage spaces are more of slots that are open on all sides.
The desk measures 57" x 51" x 30" in itself, thus it also provides a wider surface and can be flushed still against a corner. 
The legs are made of metal and have an A shape. It also has reinforced metals at the sides and back. And not only do these make the unit more stable but they may also be used as a footrest. 
This is a clever buy for those who need a monitor riser and extra open shelving system, but don't want to buy a separate item. 
Just a thing to remember though, it took us a while to have this set up. Some of the holes aren't aligned too. So it's better to have a helping hand, otherwise, you might get frustrated especially if you are not into DIYs. 
Also, awfully tall users might not find it that comfortable. Though you may try to use a low-rise chair so that your elbows will still be at the right angle with the desk, knee comfort might be compromised. So this is best used by those with a max height of 6'2".
On the other side of the coin, there are also other corner desks from Tribesigns. For instance, the brand's modern L-shaped desk is a minimalist gaming haven with its sleek all-black metal and wood exterior.  
Another runner-up is the reversible L-shaped desk also looks clean, it has a very wide tabletop area and offers two open storage found below the main table. 
You may also use these to store books and gaming magazines. But this is more of a DIY desk, meaning you have to flush it together and it might not be that stable since the two tables are more of separate units.
EUREKA Ergonomic L shaped desk
EUREKA is always one of the best brands on our list when it comes to the best L-shaped standing desks
This unit may not be as flashy red as our Tribesigns pick, but it does have a carbon fiber textured top. And the gaming striped decals amp up its entire look, though not the real thing, it still does a lot for the desk, aesthetics-wise. 
Though if you want a clever and sleeker top with just a carbon fiber texture, you can also opt to remove the decals. 
It measures 43.88″ x 61.13″ x 30.13″, a bit shorter than the Tribesigns unit, but it still is an L-shaped desk. So it can be a better option if you have fewer square meters available for your gaming area. 
This desk has C-shaped legs, so it can accommodate your CPU and some storage boxes below. You can also sprawl your legs to your fancy and have a breather every now and then. That's another reason why we love C-shaped legs. Despite the lack of a footrest, you can still stretch your legs out in between games. 
Though it doesn't have slots or extra storage like the Tribesigns table, you can still maintain a less messy gaming enclave. It comes with a wire management tray, so you can easily hide wires and cables. It also comes with a large mouse pad with a red decal at the center. 
You have to remember that this is only a carbon fiber textured top, it's not real carbon fiber. The desktop will be smooth sans it. So if you want one with the real deal, you have to go for the higher-end ones as genuine carbon fiber tops cost a lot more.
This is more of a basic gaming desk with a bit of add-on. Thus, it can be a decent choice for newbies who would still want something that can help them manage their gaming peripherals and hide the cables and wires. 
And oh, only those with a max height of 6'0" will find this desk comfortable.
It may look a bit gamey and racy, but it's not over the top, as we have said basically. But you will still be able to spot it apart from a traditional office table. 
We chose this EUREKA desk because it can be a great option for the simpleton, especially if you need to do zoning but your room doesn't have much space to offer.
Ecoprsio Gaming Desk
This unit is advertised as an L- shaped desk. But it is more ergo contoured and has softer edges, so it looks like a U- shaped desk that can sit perfectly in a corner of your room. 
If you want a unique gaming enclave, we're rooting for this one. That's precisely why we have this Ecoprsio desk up here. The structure of this unit veers away from other L-shaped desks such as the Tribesigns or the Eureka. And this also makes the desk more ergonomic.
And since it measures 43.3"x 43.3"x 29.6", it's a solution for small spaces too. 
It is sort of monochromatic with all black metals and wood parts. And it still has that gaming vibe going on. The top is carbon textured too. 
The legs are T-shaped and also come in black, but it has red piping and the brand's insignia. So this is where the red is all happening. Albeit subtle, it is recognizable even from afar.
As for the add-ons, it doesn't come short of it. It has a management cable tray, a cup holder, and side hooks for your headphones. And oh, it has a keyboard tray too. Now the keyboard tray is also what sets it apart from our other picks.
And since the part where the two tabletops meet is ergo-contoured, it'll give you lots of room for movement. You also have easier access to the things at the back part of the desk. 
But it's shorter than the Eureka and Tribesigns, so it's not for awfully tall people.
SEVEN WARRIOR Gaming Desk
This desk will set your rig to a whole new haven. It is equipped with a built-in RGB light and power outlets. 
And like the Tribesigns desk, this also offers a two-tiering system that you can use as a desktop riser. And though the area below the table is not slotted like that of the Tribesigns, you may still use it as extra storage space. 
It has X frame legs with a reinforced steel bar that runs at the bottom, so it's quite stable and sturdy too.
It's more than just the basics, it also has a cup holder, USB ports, handle racks, and the RGB lights are initiated by remote control. So it can accommodate a more elaborate gaming setup. 
But of course, the wider dimensions of 50.4″ x 18.9″ x 29.6″, warrant more square meters. Thus, choose this only if you have a space that can accommodate its specifics. Though it is still a corner desk, so you can still configure it easier compared to a rectangular desk. 
Why did we pick this unit? It has more surface area. The desk itself is wider in dimensions. Plus, with the addition of the second tier that runs from one end of the main top to the other end of the side table, it offers additional space for your monitors. 
But since the desk is less than 30" in height, like the Ecoprsio desk, this is for dudes who stand from 5'8"-5'10" only.
Thermaltake ToughDesk 500L 
This premium desk is a master gamer's gem. Coming from a popular brand, you can never go wrong when it comes to aesthetics and overall function.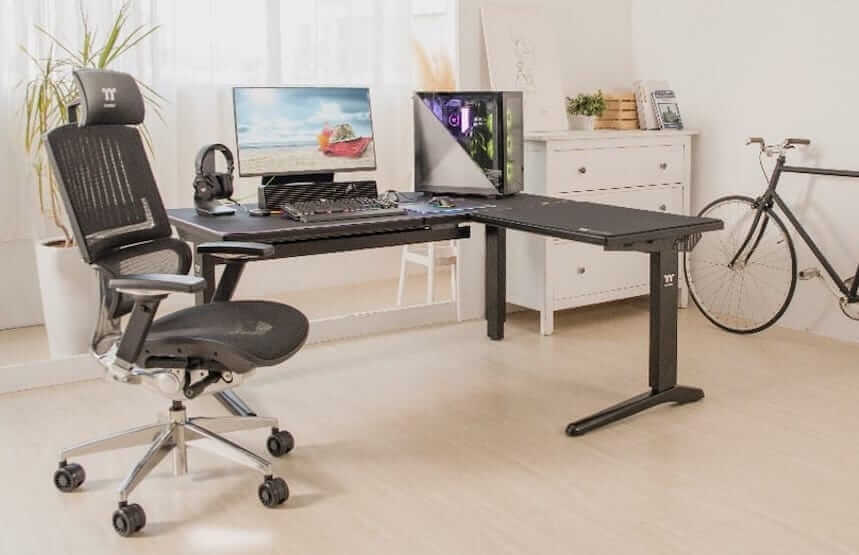 It's an all-black number with red piping at the sides. And what sets it apart from our other picks is that the entire tabletop, both the main and extension table, are all mousepads.
It also has RGB light, but you will mostly enjoy this functionality on the main top. So this is a perfect idea if you just want subtle RGB light effects, not over the top. This is more sophisticated and not flashy. 
Even if the RGB light effects are subtle, it is varied and you can choose from 8 different colors. You can also control the speed or if you want the lights to be static, there is also an option for that. 
And this is the only gaming desk on our list that is adjustable, so this is more of an upgrade from your non-adjustable gaming enclave. You can change the height of the desk from 27.5"- to 43.4"
As for the dimensions, this is a pretty hefty and big haven for your setup. The main desk measures 62.99″x 31.49″ while the extension desk is 31.49″ x 23.62″.
So this will be very useful and fighting for the master gamer who plays NFT games. Or just anyone who can afford the cost of these luxurious benefits. 
But as luxurious as this desk is, there are some trade-offs. While it is pretty stable and has several functionalities, many find the software just okay. It's not as sophisticated as you might expect from a desk at this price. 
There are very few, if none at all, non-adjustable gaming desks that can go higher than 40". Most modern desks only run from 28"-30". That's why we had to pick an adjustable unit for taller folks. 
And this is almost the complete package. Aesthetics-wise and functionality. 
Why get aesthetically appealing desks?
It's true that there's more to looks when it comes to gaming desks and even office tables. But as a serious gamer, you know how important it is to win every game, especially if you are playing NFT. 
An aesthetically appealing desk can put you in the optimum win 'em over mood. And while playing games online may be fun, it can lose its luster at some point in time. That's why a lot of gamers spend money upgrading their gaming rig. You often will purchase new RGB lights, a bigger mouse pad, a high-end keyboard, or a bigger desk to accommodate your new gaming paraphernalia.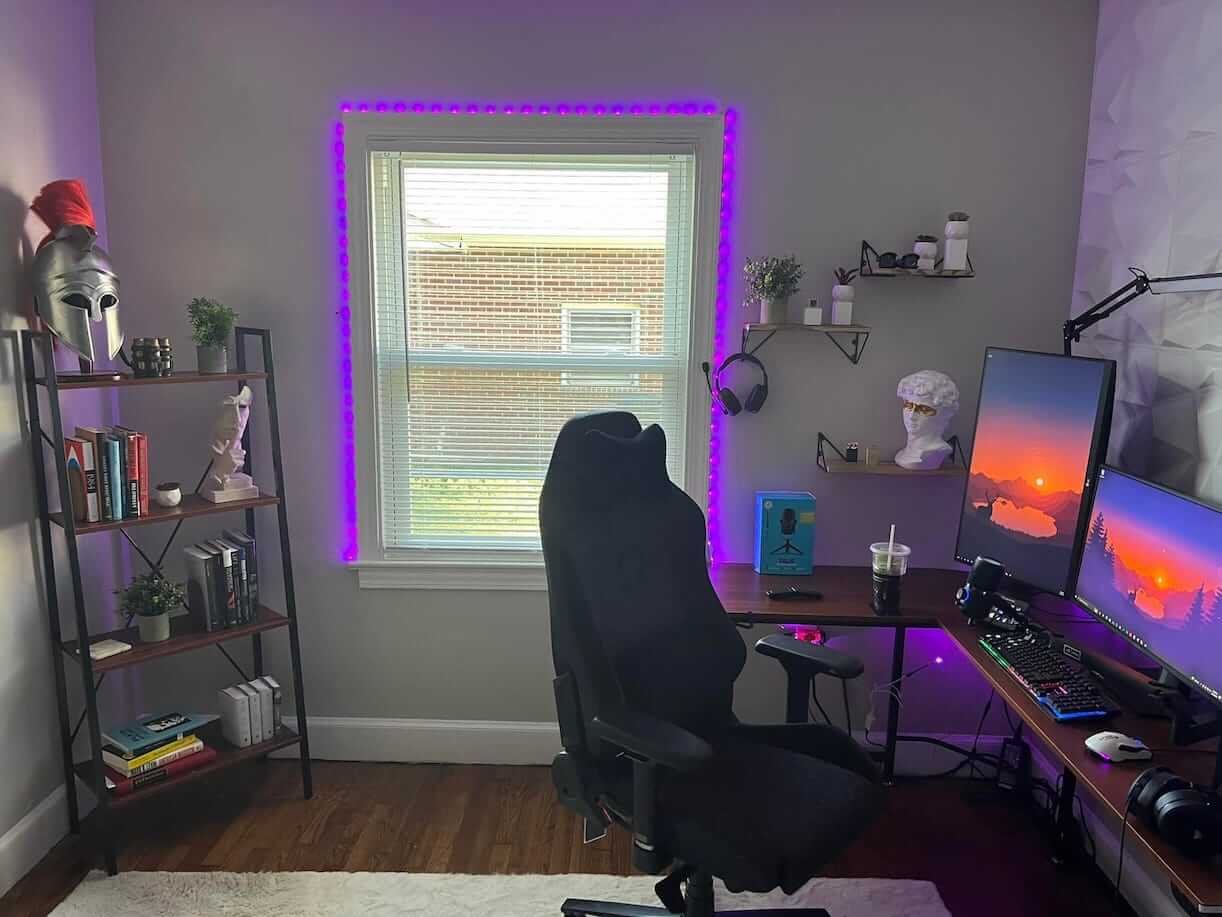 And an aesthetically pleasing enclave will make this so much easier, especially for newbies or those who really don't have much idea how to make a desk look racy enough. Thus, one that screams game time can stand out on its own. 
It will look gamey and inspiring enough even without the upgrades, or while you're still waiting for funds to get one.
Related post: