Whether you have a big or a small home office, a corner desk can offer one of the best office space solutions. And for those needing more space than usual, this type of desk will indulge you.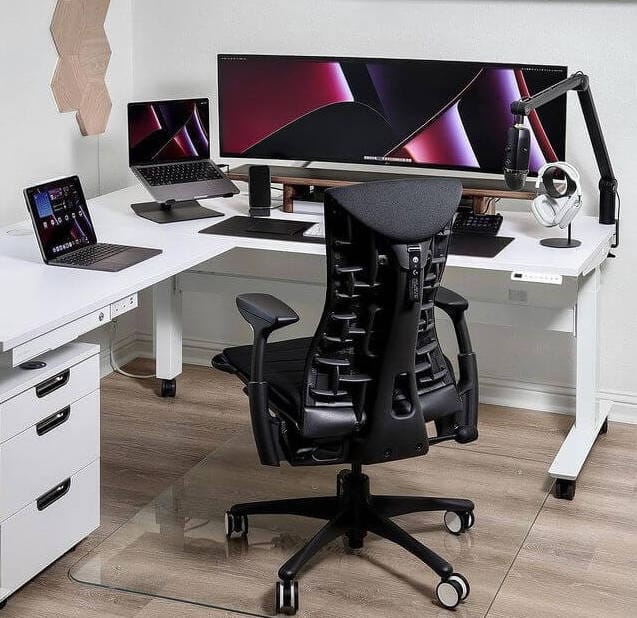 We took our top picks from adjustable electric standing l shaped desks and from the traditional non-adjustable corner desks. These can make you more productive at home whatever your financial circumstances are. 
Adjustable  Corner desks
UPLIFT V2 L shaped desk
Sizes of home offices vary. And for homes that have a bigger working space of 150 square meters, the UPLIFT V2 will fit right into it. 
We see this as perfect for couples who are sharing working spaces. Though you also have an option to go for a larger and wider tabletop, the basic one will suffice for a workstation at home.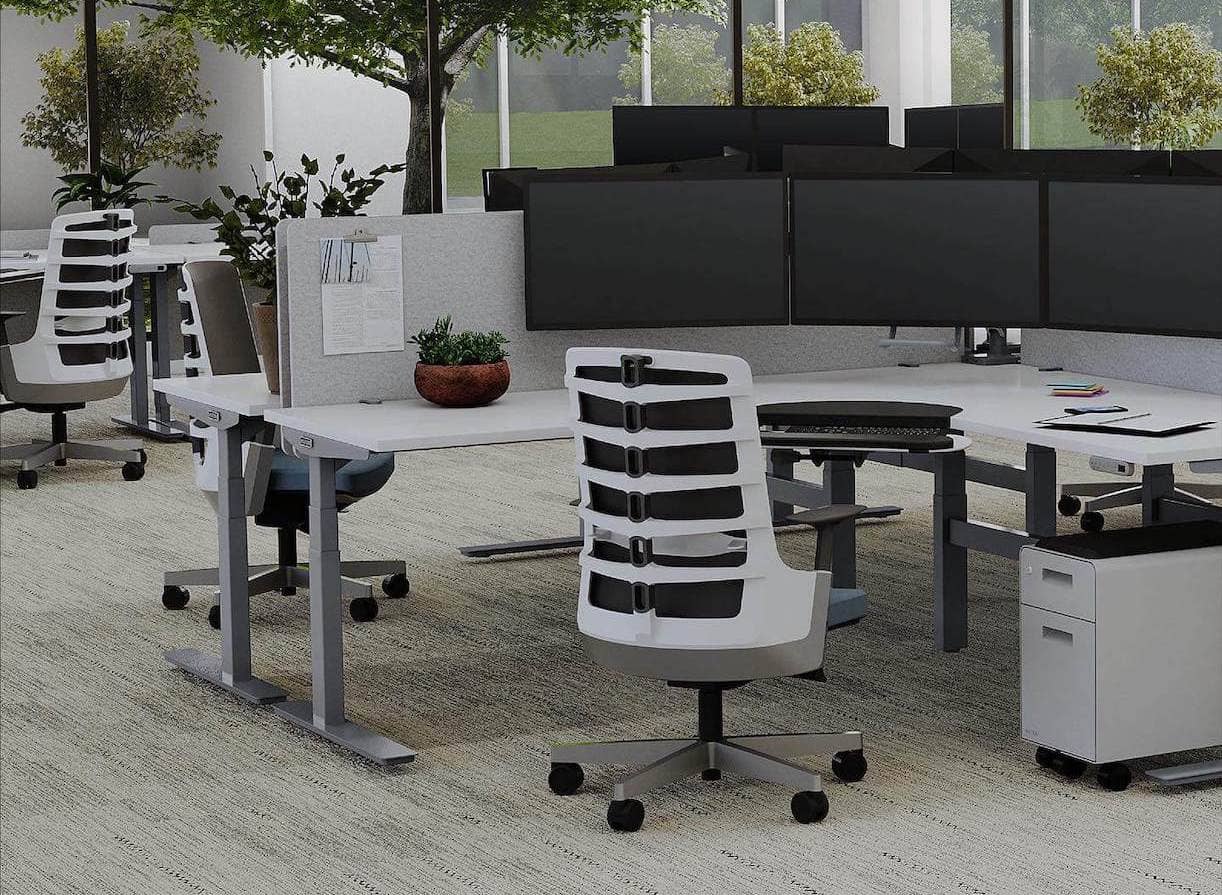 It also has a hefty 520 pounds weight capacity, so this corner sit-stand desk is good for sharing. You and your partner will still have ample space to move about and place some of your office essentials on the desk.
For the frames, you can choose between the V2 and the V2 commercial, if you need the desk to go lower, then the V2 commercial is the better option. Otherwise, both frames are pretty much the same in terms of stability. 
It also works for those needing an elaborate home office setup. You can do zoning and assign the extension desk for drawing, comparing charts, or reviewing spreadsheets while you have the main desk for your laptop, computer, and phone. 
The basic main desk and the extension desk both have a width of 60″. And depending on the orientation of your home office, you can choose to connect the extension desk on either the left or right side. Also, the lack of cross beams means that you have more legroom. That's lovely if you're a sprawler otherwise, you can make use of the extra room below as a storage area. 
It also looks very simple yet professional. It's one thing to wake up early, have breakfast, and enjoy your favorite cup of joe in the morning before working. 
But revving yourself up for work is another thing, which is quite challenging to do at times. 
So a professional-looking workspace that can mimic the office environment can give you the needed lift each day. And we specifically chose this UPLIFT desk for this reason. It can send off a corporate vibe at home.
We do have to mention the Fully Jarvis. In terms of the overall look and the wide space that it offers, it can be head to head with the UPLIFT. It's also a desk that can help recreate an office setup, so that can be inspiring to some people. 
But the wobbling at the highest desk set can be bothersome. Thus, you may also see it as a fitting alternative if you are of average height. 
Corner Ryzer Standing Desk
This is a simpler-looking, no-fuss standing desk that is also as stable as the UPLIFT, sans the lower weight capacity.
Though the UPLIFT is available in 5 sizes, you have more choice with the Corner Ryzer. You also get more size options since you can choose from 10 table sizes.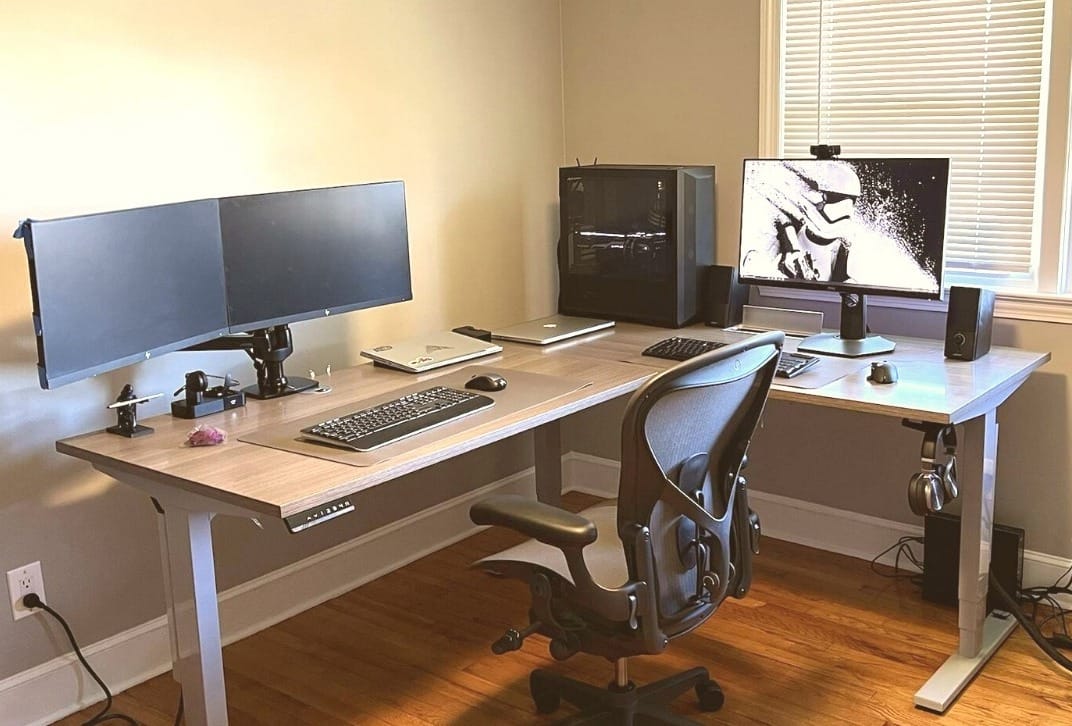 It's also a suitable option if you want to change the tabletop surface. The frame of the Corner Ryzer is width adjustable. So even if it's less charming, it can have advantages over the more posh UPLIFT.
But for our gripes, the Corner Ryzer can not be used by taller folks. Those who stand 6 feet will not find that it can go high enough for them. But it is a less costly alternative to the more expensive UPLIFT.We see this as perfect for those who need a wide and sturdy working surface. For as long as you don't mind a simpler-looking work area, then you can be happy with this purchase. If you're one of those who need to find inspiration from their working area, this is not it. 
But don't get us wrong, it does not look tacky or cheap, it's just more of a plain Jane when compared to the UPLIFT. 
But not coming off as something too corporate-looking can be a plus for some people who work from home. Some folks would just want a simple yet stable standing desk that they can use. And you will be able to suffice that need with this Corner Ryzer desk.
Non-adjustable L-Shaped desks
IKEA MICKE corner station
An adjustable sit-stand desk can be a luxury for a WFH setup. But since it costs more than the traditional desk, some may not be economically up for it. But you can still score a decent workstation even if you decide to go for a non-adjustable desk. 
And one of our favorite low-cost desks is the IKEA MICKE. It's more than just a space where you can put your laptop, it's like a mini cabinet meets a small desktop area.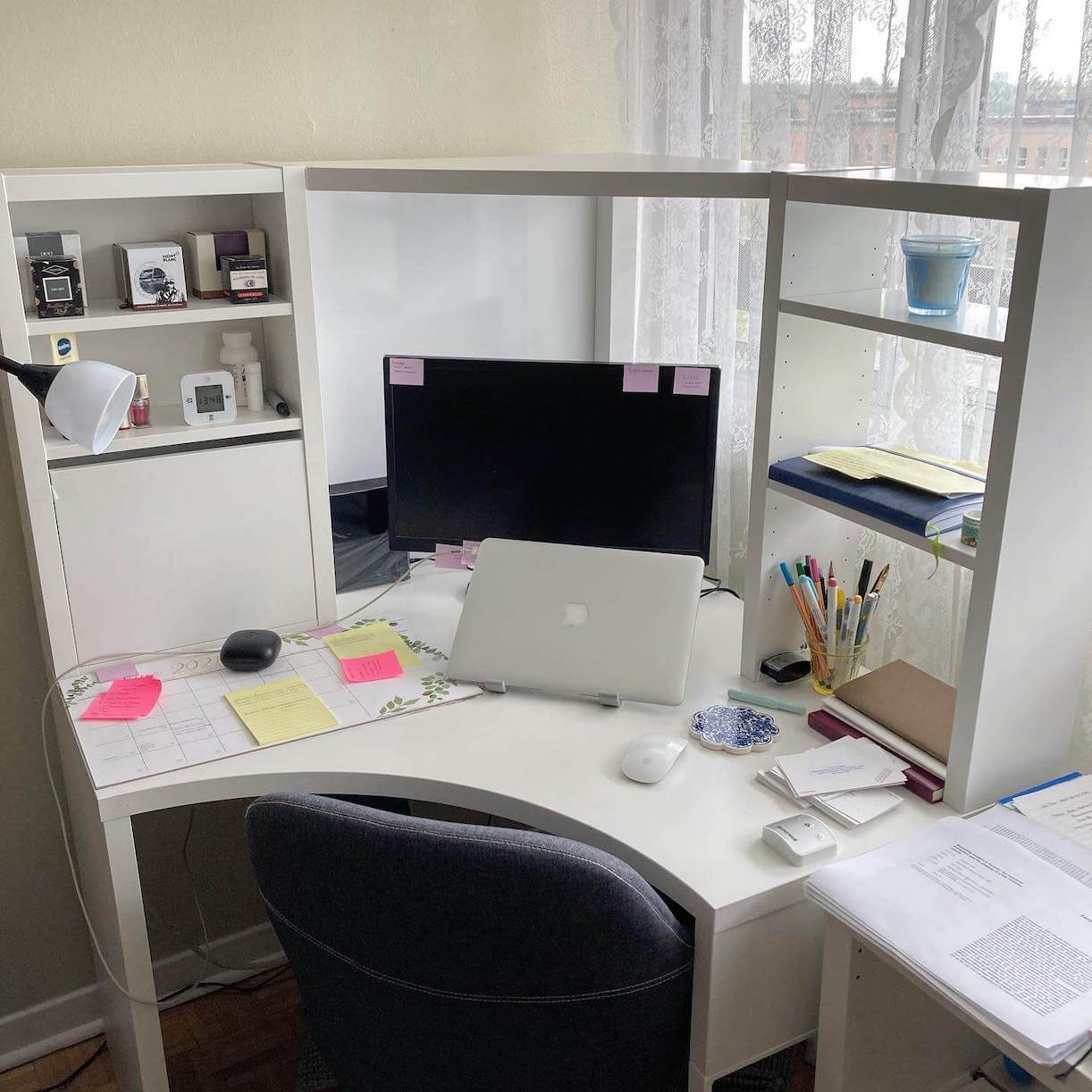 This is an L-shaped desk except that it is more contoured, so it looks softer. Though you have an option to get it in all white or all brown color, this looks more like a feminine workstation to us. The front part of the desk is also ergo contoured so many can still find it comfortable. 
And in terms of surface area, this is meant for a home office where space is a challenge. You can flush it right against the wall and it will eat up very minimal space.
Each side of the desk/ cabinet measures 39". So it's fit for a small and light setup, for the young professional, or the working student. We also see this fit for someone doing homeschooling or attending classes online.
It does look quite posh and clean despite the low price tag and it does make up for the lack of adjustability. 
It offers tons of storage spaces. The cabinet sits atop the desk so you can place your lightweight office or school supplies and some knick-knacks. The shelves are also adjustable so you can conform them to your needs. It's a great way to get organized and just have all the things you need for work placed right in front of you.
Make no mistake, this is a light-duty desk and has a weight capacity of 150 lbs or so. Thus, this would suffice for the professional who only needs a laptop or a smaller monitor and keyboard to work. And if you just want all of your work-related stuff in one single place, then you'd find it very convenient. Just make sure that you're putting only light items. 
IKEA does have several desks that will fit in your home office. For instance,  they have the Linnmon and the Bekant desk. Though chic and easy on the eyes, they also easily fit into the corners of your home office, we find that the MICKE workstation is of more value.
For one, the Bekant is adjustable, but there are a lot of wobbling issues associated with adjustable IKEA desks. And it also has a smaller weight capacity. So we think a traditional desk will be a better fit than an adjustable but slightly wobbly one. The Linnmon, on the other hand, looks posh and is also ergo contoured, but it does cost more than the MICKE and lacks storage space. The weight capacity is also pretty much the same.  
This MICKE workstation can help you to easily allocate a specific area in your house or room while having all the essentials you need for work in one space. You don't need to buy a separate cabinet.
Inbox Zero Reversible L Shaped Desk
This is one of our favorite value for your money non-adjustable corner desks. It sits in the same price range as the IKEA MICKE workstation minus the cabinet/shelving area. 
And if you need a sturdier desk, this is a better option than MICKE. The desk can handle 330 lbs of weight, double that of the MICKE workstation. It also has a wider desk measuring 31". Though you also have an option to get the bigger 59" desk.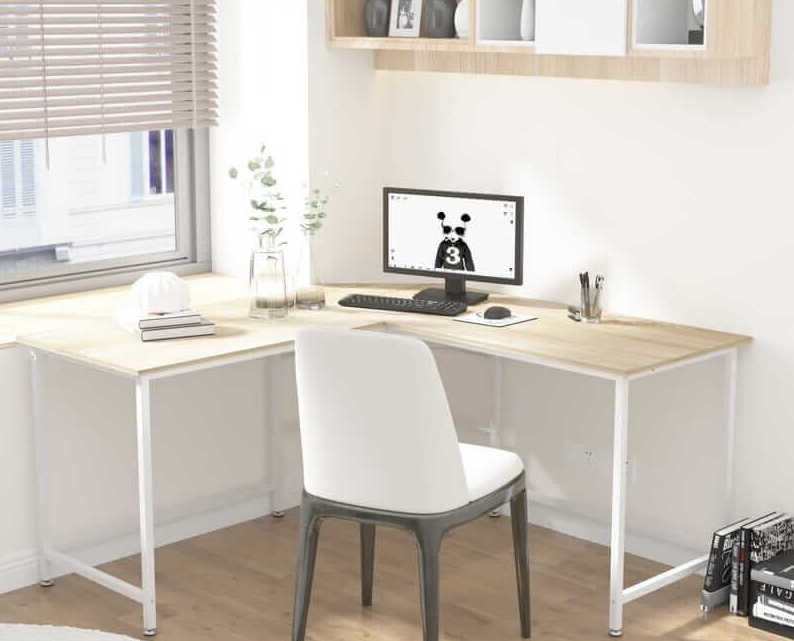 The desk is also quite deep. So this is also perfect for crafting. Maybe you can have your laptop on one area of the desk and have your crafts and arts on the other side. So you can zone out and destress whenever you need to without having to leave the room. 
If we are to compare it to the UPLIFT, one of the advantages is the beveled corner edge. So it'll be easier to maximize the space with the INBOX corner desk compared to the UPLIFT, even if you get the wider 59" desk option. 
And you may also use the bottom part of the desk as optional storage space. But like the IKEA MICKE, you have to ensure that you assemble it properly so that there will be no wobbling or stability issues. It's easy to put together, but the directions may put you in a different direction since it's hard to understand. 
Overall, we find the Inbox Zero perfect for those who are fine with a non-adjustable desk and who need a large working area but do not have a budget of over $200. This is a perfect unit for those who also need big spaces for their hobbies such as arts, crafting, and DIYs. You can make use of the space below for storing boxes of your supplies.
It looks like an office desk meets a creative workstation. So we are also seeing this fit for someone who has a business involving crafts and DIYs. You'd have enough space for your laptop and computer plus extra space where you can do your creations. 
Bush Furniture Wheaton Reversible desk
Our next pick looks a bit more romantic and executive. This charming desk combines a working space, open storage, and a cabinet where you can file your documents and letters.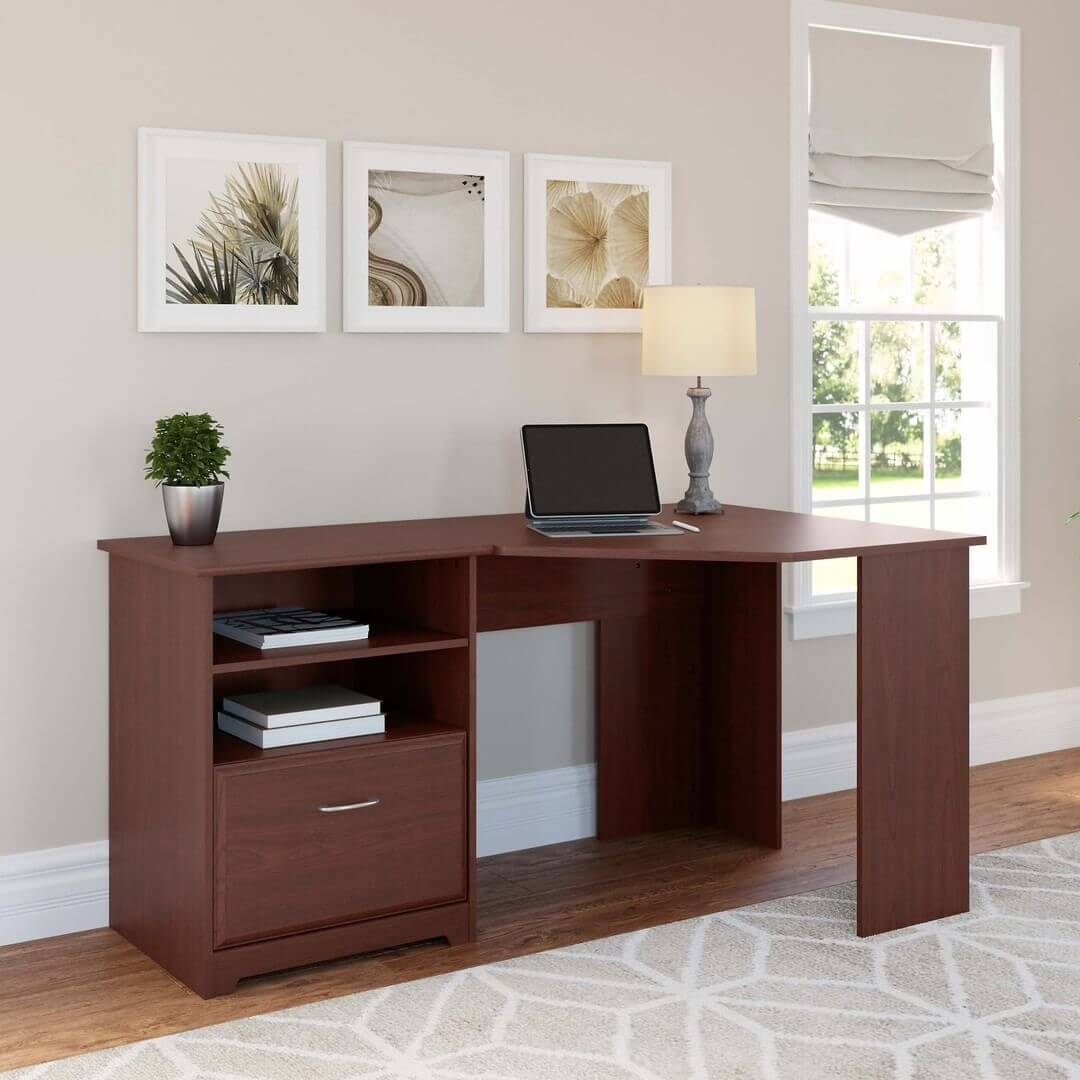 This reversible Wheaton desk measures 38.43″ x 59.69″ x 29.25″. So you can still benefit from a wider working surface. 
And it's a desk that can blend with your living room furniture with its black and brown bodice. Though it will also look lovely in a corner in your bedroom. 
And like the MICKE workstation, you can have all the things you need for work in just one area. 
We see this as a perfect solution if you don't have extra space for a filing cabinet, since it is already built with one. 
Corner desks can help create balance for a WFH situation
A hybrid work scheme can become permanent even if everything is opening up. And working from home has its challenges. It may be hard to separate work from your daily life at home.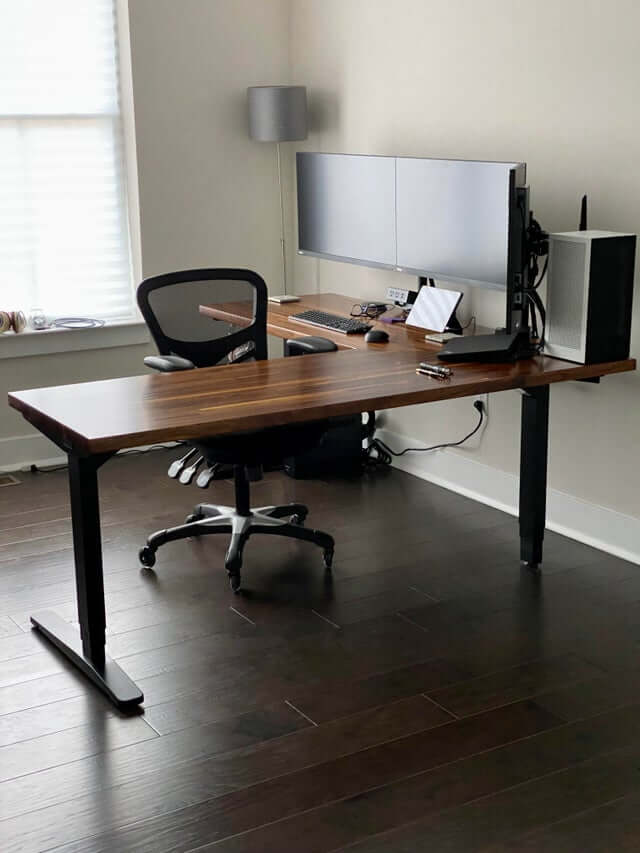 A productive working space is a great place to start separating your work from everything else that you have to do, this can help create a work-life balance. 
That's why corner desks are all the raves. It helps allocate a "corner " of your home to a specific area for working. Especially for those who don't really have a spare room, this is one of the easiest WFH solutions to not make your entire bedroom or house a corporate jungle.