A kneeling chair and a heavier load do not really go hand in hand. Users of average weight and those who are slimmer have the best chances of finding a comfortable kneeling chair. But if you are on the heavier side, or if you weigh more than 250 lbs, you might be running out of luck.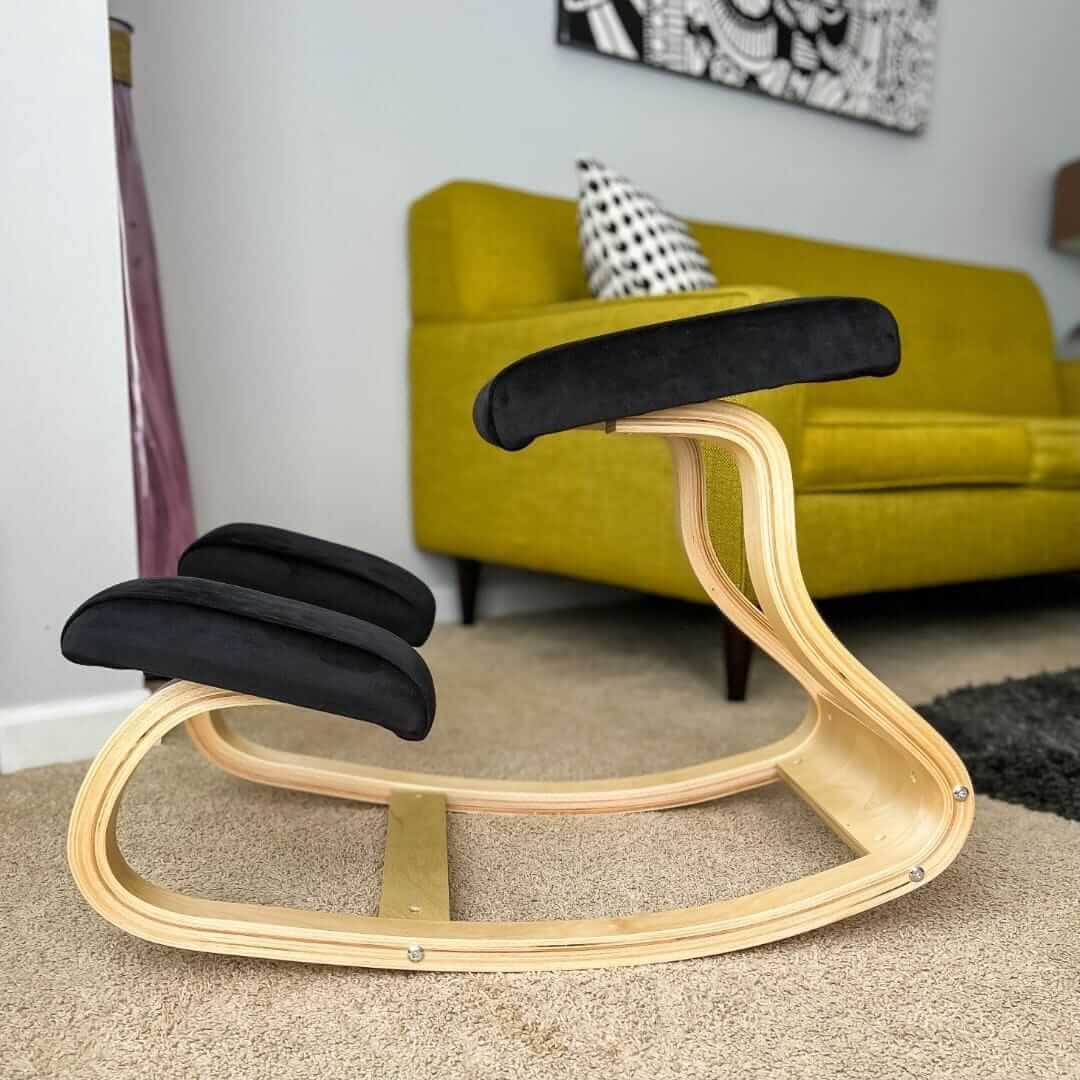 Due to the way this chair is designed, it'll be hard to squeeze into one if you have wider dimensions. And most will not be able to tolerate more load. 
But of course, there might still be a handful of units that heavier individuals can use. So let's explore that one. Add let's see what makes a kneeling chair supportive enough to bear such weight. 
You'll have more options for X Frame chairs, but also keep in mind the safety rating
Most kneeling chairs will have a max load of 250 to 275 lbs. So finding one that can bear at least 300 lbs can be like finding a needle in a haystack. 
But you can get the best bet with X-frame ones. This type of kneeling chair, with the exception of a few units, can bear more weight.
But it's always better to err on the safer side. If the max load of a chair is rated at 250 lbs, do not go overboard even if you are just a tad bit heavier. 
Remember that the weight capacity is also the safety rating of the chair. Especially if the unit is made of wood, it may break if it becomes overburdened.
Also keep in mind that while X-frame kneeling chairs may not break right away compared to wooden rocking chairs, the user experience will not be optimal and you'll find it very uncomfortable. 
And for those who love rocking wooden chairs, they can be a bit elusive for heavier dues. But stay tuned for we have a surprise for you later.
Be mindful of the build and construction
Kneeling chairs can be made of metal or wood. 
And there are a ton of Scandinavian and Danish wooden units. These are king when it comes to aesthetics, but most can only bear such weight. If you fancy it, you will have very limited options.
But that doesn't mean that all metal kneeling chairs are more heavy-duty, it all depends on the construction. 
We find that adjustable kneeling chairs, regardless of the material, are more prone to stress due to being overweight. Since the parts of the chair aren't fixed and can be adjusted, they can be less durable than stationary ones.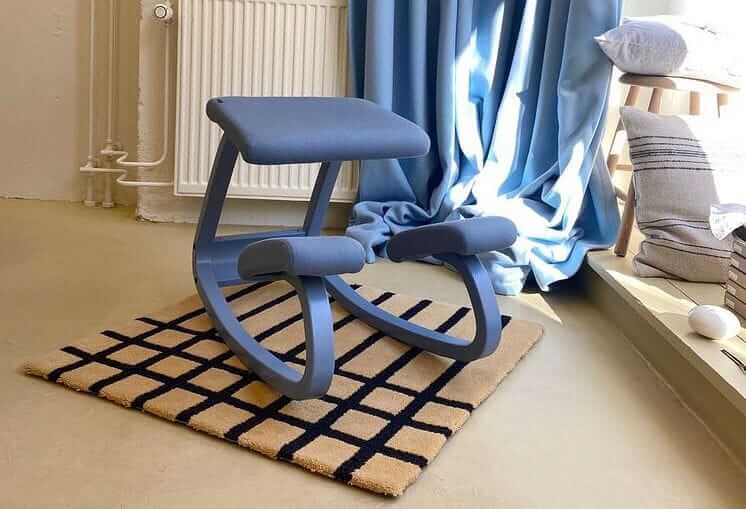 That's why you'll find around 80 percent of the biggie units stationary. 
Size, the shape  of the seat, and the thickness of the cushion
Most seats will have a size that is similar to that of an office chair. 
A bigger and wider seat is always more favorable for big folks. But you also have to consider the shape of the seat. 
Most will also have a C-shaped cushion but if you have a bigger tush, you might find it lacking. So it's better to look for those with rectangular seats. 
And a thicker cushion, though may seem like a luxury, is a necessity. 
More weight-bearing will push the cushion down. So if it is thin and more likely to deform, you will soon feel the hard wooden or metal part of the chair.
So considering all the factors we have mentioned above, it will be a roller coaster ride. If taller peeps find it hard to get one that can meet their needs, the same rings true for heavier dudes, or it can be more challenging.
But we did find a handful of kneeling chairs that may serve plumpish people better.
A few options for the big and heavy folks (300 – 400 lbs)
This is a treat for those who love wood and a rocking motion. No need to feel jealous of your friend's Scandinavian kneeling chair, you can have yours too.
The seat is quite wide. Most units will have a seat that measures 16"- 20". And this has a tad wider at 21". So it can support bigger bums and those who weigh 330 lbs max.
The caveat, however, is that this is a big kneeling chair, but not necessarily a tall one. If you stand taller than 5'11", you might not find it stable and it might not go high enough for you, since it's also non-adjustable.
And keep in mind that the kneepads are one rectangular cushion instead of split pads. So this might not be everyone's favorite and getting in the chair may be trickier. 
Like our first pick, this unit can support those who weigh up to 330 lbs. The kneepad is a single cushion too but they are quite thick and cushy. It can support the knees of heavy dudes without feeling too much pressure.  
Construction is also pretty sturdy and the entire unit feels strong too. And users who stand up to 6 feet can find this comfy enough. 
It looks slightly different though since it has a base that's reminiscent of office chairs. It has caster wheels making it mobile. 
And like office chairs, it makes use of a gas lift for the adjustment of the seat height. But what makes it mobile can also make it look less aesthetically pleasing. So if looks are something that is more important to you, you might not like this chair.
The seat width isn't that wide either, it's only 16 " so it is not for those with a bigger butt. It can work, however, for heavy folks who have an apple shape figure. 
And one thing to note too, like all chairs with gas lift mechanisms, it can degrade over the years. So you might need to have that part replaced 
Autopeck ergonomic kneeling chair
When it comes to muscles, this unit is perhaps the beast of them all. We were not able to see a couple more that can bear a weight of 500 lbs.
It's made of alloy steel and has a sturdy foundation. And while we were not sure if an adjustable unit can bear more weight, this is an exception.
And this chair did have a lot of surprises under its nose. 
The Autopeck has multiple seat height options. This X-frame chair also has memory foam for the seat and the kneepads so it is very comfortable and will not deform even if sat on by bigger butts. 
It also has a unique seat, though it may or may not be an advantage depending on your preference. 
This unit is equipped with a saddle seat. Though it can help you better achieve that natural S curve, it can be a bit uncomfortable for men in the perianal area. So this is something to consider if you have your eyes on this unit. 
There are kneeling chairs for big people, but they still aren't bold enough
While we were able to fish a few chairs that heavier users can be happy about, they may still not yet be bold enough.
Most of the options can only bear a weight of 330 lbs, except the Autopeck. But that option alone may not fit everyone's liking since it has a saddle seat and a gas lift mechanism which may not fit everyone's liking.
The options are very narrow, so it will be challenging to find one that checks all the boxes on your list. 
And kneeling chairs have a different design, it's not wired to bear a lot of weight, unlike office chairs. 
Also, you have to consider the health implications. 
Plumper peeps will try to squeeze themselves into a kneeling chair, it can wreak havoc to their knees, especially if they do not know how to properly do it. Remember, the knees are mostly angled at 90 degrees in such a chair. And the purpose of these seats is for the knees to share some of the weight. And if you are heavy, this can be double jeopardy.
It can compromise the knee joint and lessen the circulation to the feet. Not to mention, anyone who weighs 300 lbs and over will not find it easy to bend their knees and stand on them. 
Getting into one can prove to be a knee crusher for most heavy people. You have to be able to bear more of the weight on one knee to be able to properly sit into it. And imagine the load you're giving to that single knee. 
That's why kneeling chairs aren't really meant for chunky dudes. 
So better options for training into active sting would be a ball chair, sit-stand tool or a saddle chair.