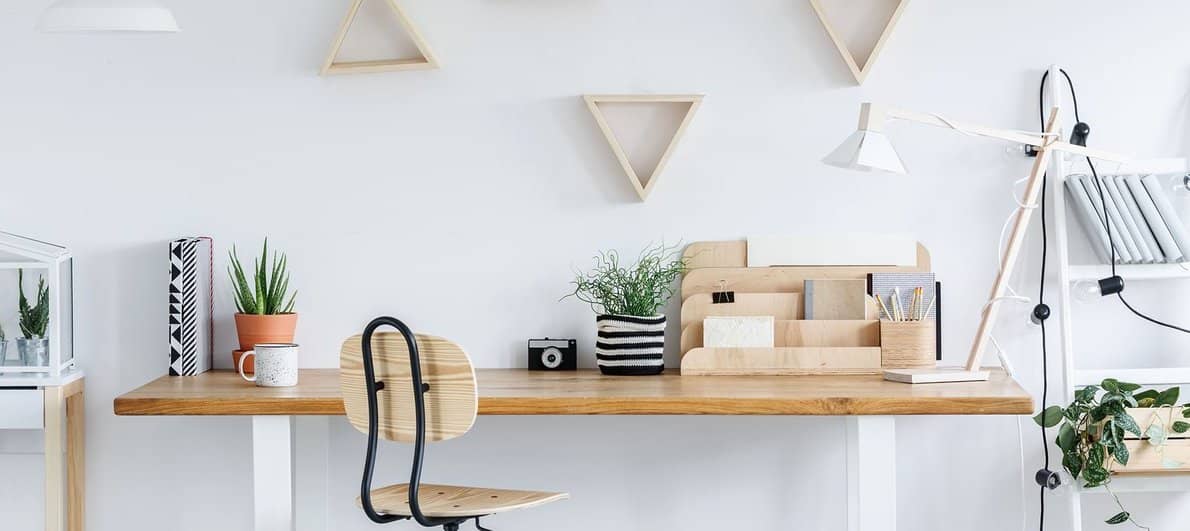 Both the Smartdesk and the Flexispot are adjustable standing desks from two reputable brands. These are popular ergonomic home solutions and pretty much in the mid-range tiering. 
But if you're trying to choose between these two brands, which can offer a better value for your money? Which is the better option for your needs?
So today, we will be comparing these two desks side by side. You'll see the advantages of each desk. Hence, we will be deciding at the end which can be a worthier buy. 
Smartdesk vs Flexispot: Height range adjustments, weight capacity, and lifting speed
In terms of height adjustment, the Smartdesk offers a wider height range. Let's take a look at two of the brand's more popular offerings.
Both the Smartdesk 2 Home office and the Premium desk boasts of a desk height range of 26.2 in- 52 in. The brand offers a wider height range of options. And the other Smartdesks also have a max height setting of the same range. For the weight capacity, these deks can bear as much as 300 lbs of weight.
Also, the Smartdesk can raise 2.3 inches per second. And we find the transitioning smooth and seamless. The desk also remained stable even at the highest desk setting. There isn't any disturbing or annoying noise that can interrupt your work.
If we take a look at Flexispot, on the other hand, the more popular EN1 desk has a height range of 28 " to 47.6". And most Flexispot adjustable standing desks have a max height range of 48 inches. And the weight capacity is around 154 lbs. 
The desk elevates 1" per second. You can also enjoy a seamless and quiet transition. 
In this category, it's clear that the Smartdesk has indeed an advantage. It can go higher than any Flexispot desk. And at the same time, it can bear more weight. The higher weight capacity is due to the fact that the Smrtdesk has a 2 stage motor. This made the unit more powerful.
We are actually looking at the Flexispot as more of a light-duty standing desk given its weight capacity. 
And the Smartdesk can get to the max height range faster than all the Flexispot desks. But both brands relatively have a quiet and smooth transitioning. There is no stalling.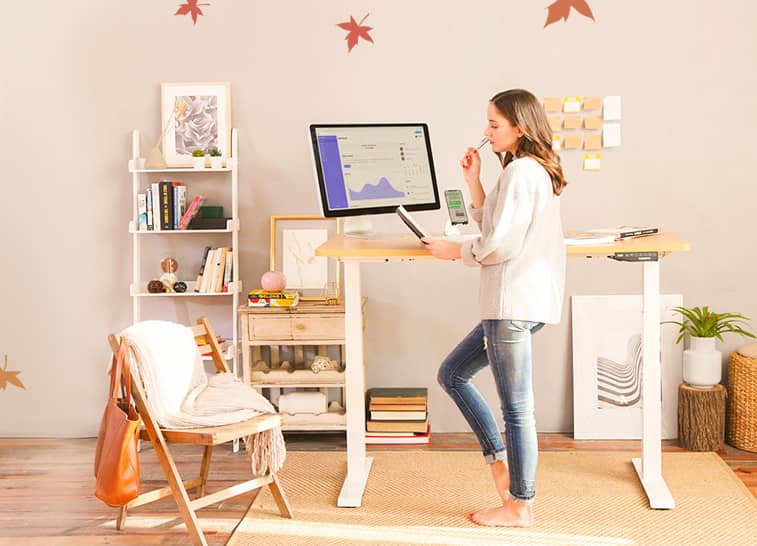 Smartdesk vs Flexispot: motor configurations
All of Smartdesk's units feature a 4 preset preferred height setting. And as we have mentioned above, it operates with a 2 stage motor. That's the reason why it can transition faster.
The Flexispot, on the other hand, offers three preset preferred height settings. And if you take a closer look at the control panel, it has a LED display where the height setting is displayed. 
The Smartdesk offers more height presets than the Flexispot. But the Flexispot has a hidden gem lying in its control panel. Despite the fact that it has 3 memory presets, we're declaring this brand as the winner for this category. 
Why? You may ask. It has a sleek-looking control panel with a LED display for the height settings. And it has an initializing sleep mode when you're not using the height transitioning features. The Smartdesk lacks this nifty component.
Smartdesk vs Flexispot: Desktop size
If you need larger tables, Smartdesk offers units as large as 53 by 29 inches. And this is for the basic top version. The Flexispot, on the other hand, comes in 48 inches by 30 inches desks.
In addition, all of the Flexispot desks feature a laminated finish. While you have more options for the desktop with Smartdesk. It comes in laminate, bamboo, and powder-coated finish. 
So overall, the Smartdesk can provide you with a larger working area. So if you have a more elaborate setup, this is the better option.
Smartdesk vs Flexispot: Assembly and setup
Flexispot desks will not take longer than 25 minutes to set up. It has a more straightforward and easier assembly process. And even beginners and those new to DIY will not find it hard to assemble the desk.
The Smartdesk , on the other hand, takes longer to assemble. It does take a good 30-90 minutes, depending on the style of desk that you're going to get. If you're going to assemble the Stand desk 2, it will take you longer. It has more screws required for the setup. And because Smartdesk has rubber dampeners included in the setup, it takes longer to assemble. Though it's a nifty feature that can help reduce vibrations.
The Flexispot takes quicker to set up. And this is also because it has a more basic structure and components. So even beginners will be able to assemble it without encountering any difficulties.
The Smartdesk, on the other hand, has a more complex system. And some of their models have more screws and parts. Thus, it takes longer to set up.
So if you're looking for a more straightforward desk for beginners, you'll find the Flexispost more appropriate.
Smartdesk vs Flexispot: structure and build
We love how sturdy and solid the Smartdekss units are. As mentioned above, it remains steady even at the highest settings. And the entire structure looks and feels robust. The brand made use of high-quality materials. The solidness of the desk starts with the base, it's made of a heavy industrial steel frame.
The Flexiapot, too, feels durable for its kind. The base consists of a durable steel tubing frame with a powder-coated surface. Moreover, the laminated desktop surface is scratch-resistant. You also don't have to worry about stains.
Smartdesk vs Flexispot: warranty and coverage
The Smartdesk offers a 5 years warranty for the frame and one year for the desktop surface. And the Flexispot offers a five-year warranty both on the frame and desktop. And in addition to that, clients will also get to enjoy a 2-year warranty on the electronic controls.
Both the manufacturers of these two desks are reliable ones. And you'll be getting great value for money with the warranty and coverage. 
Though both desks are head to head in this category, the Flexispot won by just an inch with a longer warranty on the desktop surface. 
Price
The Flexispot relatively has a lower price tag compared to all Smartdesk units. But the thing is, all of the Smartdesk products have more complex and more complicated parts and features compared to the Flexispot. 
Also, If we are to consider the price jump between a basic unit to a more expensive one, Flexispot has a higher price jump. As compared to Smartdesk, the price difference between the basic unit and the premium ones are not that high. 
We have to give it to the Smartdesk. You will only shell a few dollars to upgrade to a more comprehensive desk type
Though the Flexispot has a lower price overall, we looked into the features and components of a standing desk. You will be getting more value for your money with a slightly more expensive unit but equipped with advanced features and a two-stage motor.  
Overall comparison
If you are on a very tight budget, the Flexispot seems a better choice because of its lower price tag. But take into account that it will be a more basic desk compared to the Smartdesk. And with its weight capacity, it's more of a light-duty desk. Do not be disheartened though, compared to other basic desks, it still has lots going for it. For instance, it has a sleek control panel with a LED display and a sleep mode Not all basic desks have that, even Smartdesks lack that feature.  

The Smratdeks fared better in terms of desk size, faster transitioning, more tabletop options, wider desk, and a more comprehensive system. You just have to spend more time setting it up compared to the Flexispot.

Also, the Smartdesk has a higher height range option. So it's suitable for those who are on the taller side. You can also enjoy a seamless and wobble-free workspace even at its highest setting.
Final Say
Now that we have compared these two adjustable standing desks side by side, it's time to give out the final verdict. And from our experience, we thereby conclude that you will be getting more bang for your buck with the Smartdesks units.