When you're speaking of a contoured standing desk, one of the brands that come to mind is the ApexDesk Elite Series Standing Desk (71 inches). This desk is known for its sloped tabletop front that is more comfortable and ergonomic. And if you like to DIY, then their frame is one of the most high-quality and sturdy bases in this industry to consider!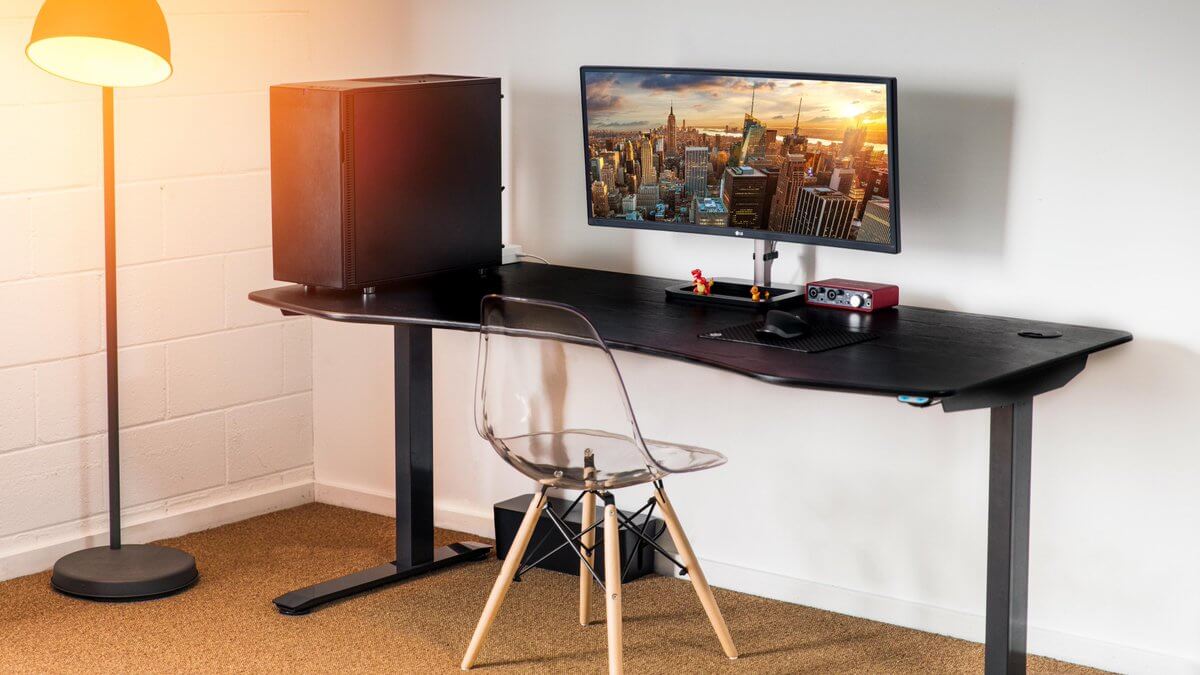 Since your body has a natural curve to it. Anything that's designed with a straight silhouette won't just cut it. So when you come across an office chair or a standing desk that allows for more fluid movement, you're all in. But apart from this sloped tabletop, is there more to ApexDesk Elite Series 71-inch Standing Desk? And is it worth your moolah? We'll reveal that and all in this article.
Getting to know the brand
ApexDesk offers healthier alternatives to the old-fashioned office chair and desk. This brand has a decent range of electric standing desks, ergonomic office chairs, and standing desk converters. It's also one of the few brands that have a standing desk line specially designed for kids and children, because why not start them young right?
The brand also manufactures a range of office accessories that you can outfit into your existing setup. And the brand offers convenience but is also geared toward a healthier way of living. 
What's to love about ApexDesk Elite Series 71-inch Standing Desk
So let's see if this Apex Elite Series electric standing desk is worth your moolah.
Lovely and ergonomic tabletop design
So let's dabble first into the most obvious pros of this desk. The brand is known for this feature – beautiful and ergonomic design. As I've mentioned earlier in this article, the Apex Elite Series desk has this sloped/curved edge at the front. It makes the desk look softer and more elegant. But apart from the aesthetic, this curved design can do your body good. It feels more comfortable at your elbows and for me, this makes you stand better for longer since it has some slopes where you can lean. And there aren't any hard edges that can cause injuries.
The tabletop also has a nice wood grain finish. And it looks well crafted that it can stand put in a room. 
The sloped edge function in the same way as that of the Uplift Curved corner L'Shaped desk. Though we found the design of the Apex desk more luxurious. And another curved desk that you would love is the Herman Miller Renew, with all curved sides. But you have to shell out lots of bucks to get this premium electric standing desk.
Fast assembly
Even a one-woman team can set up this desk. It will only take you less than 30 minutes. The instructions are very straightforward and easy to follow. 
One of the widest and most affordable working space
Another feature that we love about the Apex Elite Series is the larger working area. At 71 inches, you have a ton of working space. And it can accommodate more than three monitors at a time too. Sure, some other brands offer a 60-inch or 71-inch tabletop. But the Apex Elite Series is one of the most affordable 71-inch standing desks on the market.
Check the greatest price of this desk & compare with others here 
So this can mean huge savings. Plus you get to enjoy a more ergonomically designed tabletop.
Fast and smooth adjustment
Another positive point for the Apex Elite Series desk is how fast it adjusts. At 1.56" per second, it's one f the fastest in the market. But there's no noise or any creaking sound at all. It's quite smooth and you can tell that the motor is quite powerful.
Some trade-offs
Of course, with the good comes the bad. These are areas where we wished could have been better.
Electronics
In terms of the electronics, we find the control panel quite flimsy. It's made of a cheap plastic material. And the electronics came from China. So it's something expected.
And it's not responsive, you have to do several pushes to get it to move. Also, the warranty is quite short. The most satisfactory warranty for a standing desk with this price range should be around 3 years for the motor. The 2-year warranty for the motor is quite stingy. Well, because the electronics are cheap and might have defects already after 2 years, hence the shorter warranty period.
And there was also a strange burnt smell coming from the motor as we opened the package. We think it's quite common for electrics sourced from China. 
It seems to share the same electronics with Jarvis Fully and Uplift since these brands also source their electronics from China. Though both Jarvis and Uplift offer a 7-year warranty on its electronics. 
A midrange deck that has great electronics would be the IKEA Idasen. It boasts of Linak electronics. But of course, there are a lot of tradeoffs such as the low eight capacity, inconsistent adjustment speed, and higher price points.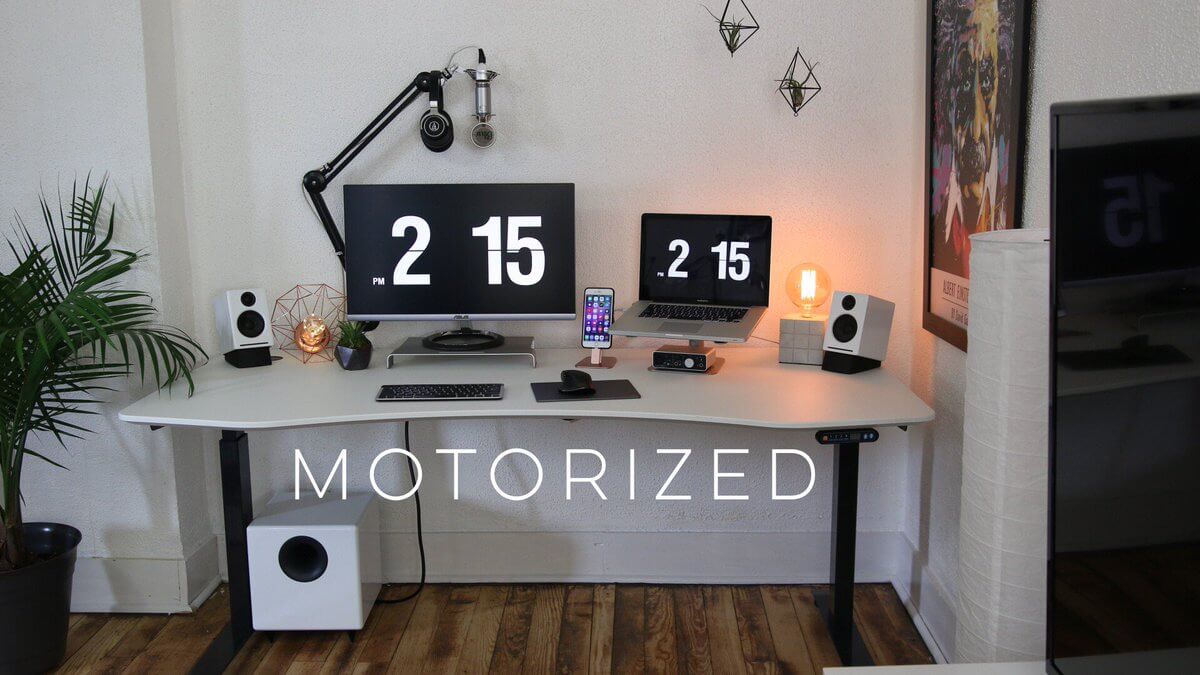 Problems with stability
As for the stability, when it reaches 36 to39 inches, there you'd be able to feel the wobble. Though it's pretty stable before it reaches that point. So to ensure stability and fewer wobbles, this desk is best for those who stand until 5'10".
The loopholes in the stability have something to do with the connection of the legs to the frame. Though the build of the desk and the frame itself are sturdy, the custom-fit glides for the columns could've been better. If it had been, guess this desk will be more stable even at the highest height setting. 
Jarvis and Uplift also share the same stability issues. And it also has something to do with how the frames are connected to the desk. Though we find the Apex desk Elite series more stable than Jarvis and Uplift. 
If you're looking for a more stable mid-range desk, the VARIDESK is quite stable below 45 inches. Though it costs a bit more than the Apex. And many consider it price higher than it should be. 
Cable disarray
Another feature that can be improved is the cable management system. Once you've assembled the desk and have it set up with all your electronics and gadgets, you'd find a jungle of cords and wires. The sight of such disarray can be counterproductive. 
Not to mention it can soon damage the wires. But the solution here is to upgrade or purchase a cable management tray. But of course, you would have to shell out additional moolah for that.
Conclusion
Overall, the Apex Elite Series desk is a great buy. The benefits far outweigh the cons. And it's pretty stable at a maximum height of 5' 10." And it's the most affordable desk with a wider working surface. Luxurious finish, and a strong build. So, is it worth your money? For a midrange desk, it is.