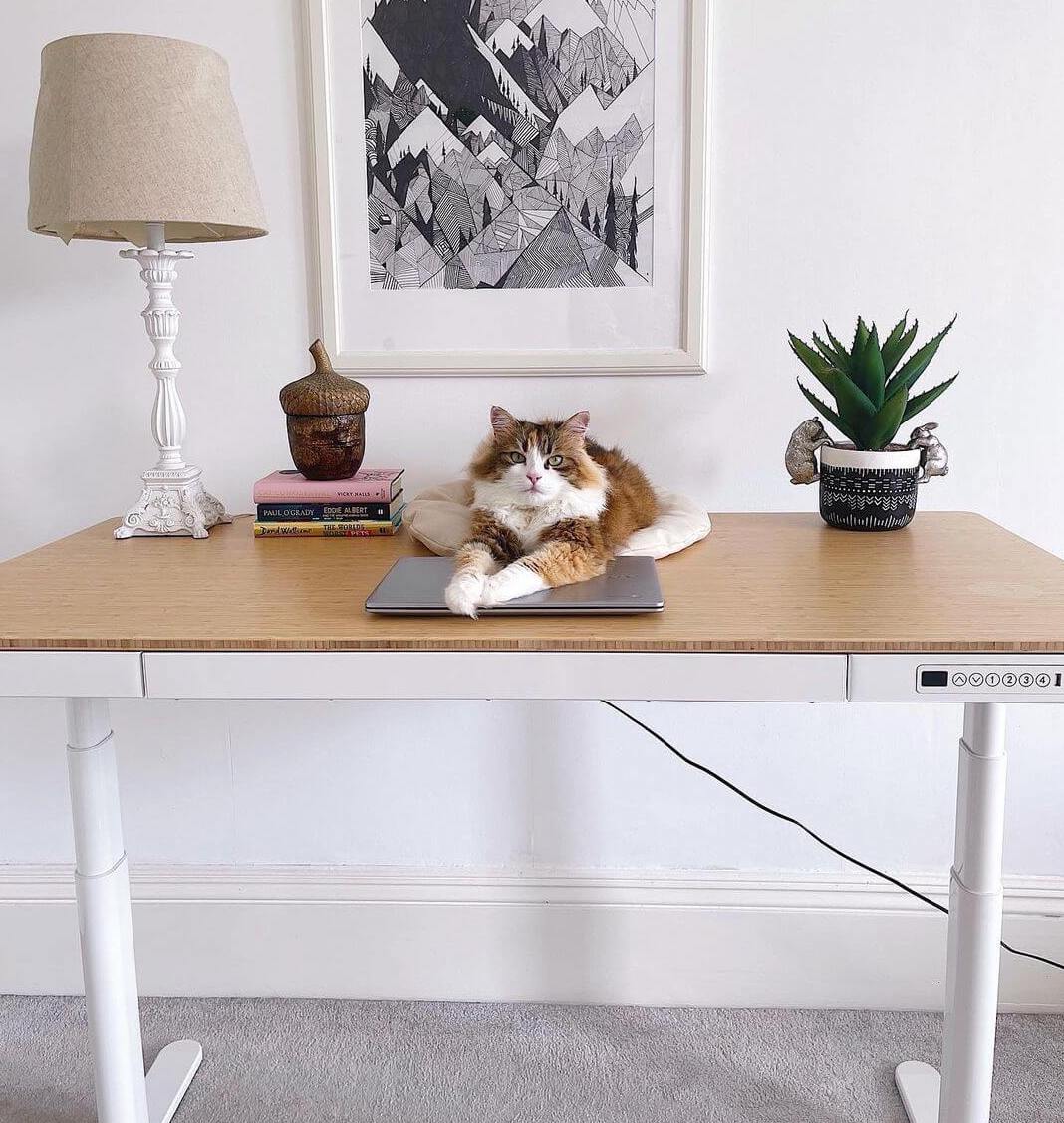 Let's take a look at two affordable options that are known for their sturdy and durable frames, the Flexispot and Progressive.
And in this article, we're going to see which between the EC5 and the Solo Ryzer is more stable. And which of these two can be a more feasible option for your home office. 
Standing Desk
Flexispot E5
Desk height
Max: 25.4"-51"
23.6" – 49.1"
Transit speed
1.38"/sec
1.57"/sec
Load Capacity
220 lbs
270 lbs
Desktop size
Frames & color

– e5 inverted 3 stage frame
– e3 2 stage frame

 3 stage frame
Frame color
Grey/Black/White
Frame Height
– e5: 24.4″-50″
– e3: 27.2″-46.5
23.6″ – 49.1″
The frames are where everything's at
When it comes to the frames, both brands offer a robust and steady foundation.
The Flexispot has one of the better quality frames for a standing desk at its price. And even if the E5/EC5 is not width adjustable, it is one of the most affordable yet stable standings desk frames on the market.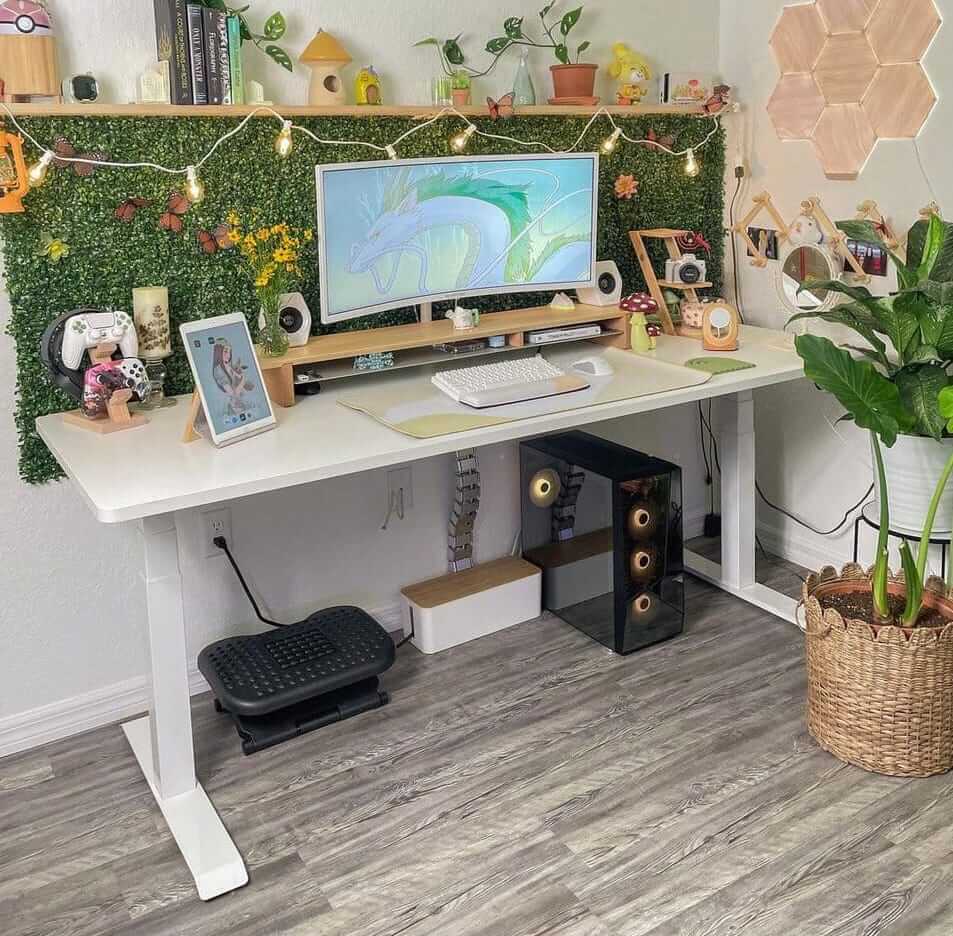 Then there is also another player in the market that can also stand up against the quality frames of Flexispot. 
Though it's not necessarily a new kid in town, many haven't heard of it before. And aside from being unpopular, other factors may also make others think twice before they'd buy a Progressive desk. It's basically made in China, and you know how it is with China-made stuff.
But here is what will make the Progressive Solo Ryzer specifically, still a decent choice despite that.
The E5 3-stage frame has a height range of 24.4″-50″. And from this standpoint, you can see that it can accommodate taller users too. And what everyone would love is that even at the highest desk setting, you rarely would feel wobbling and shake at the sides. Though for the weight capacity of 220 lbs, this isn't the brand's most muscular option, so to speak. But even when you max out the load capacity of the E5, it would still be fine.
The Solo Ryzer, on the other hand, is a well-awaited upgrade from the brand's entry-level Economy Ryzer. We've little to say good about the Economy Ryzer, though for its price, the mishaps can somehow be expected.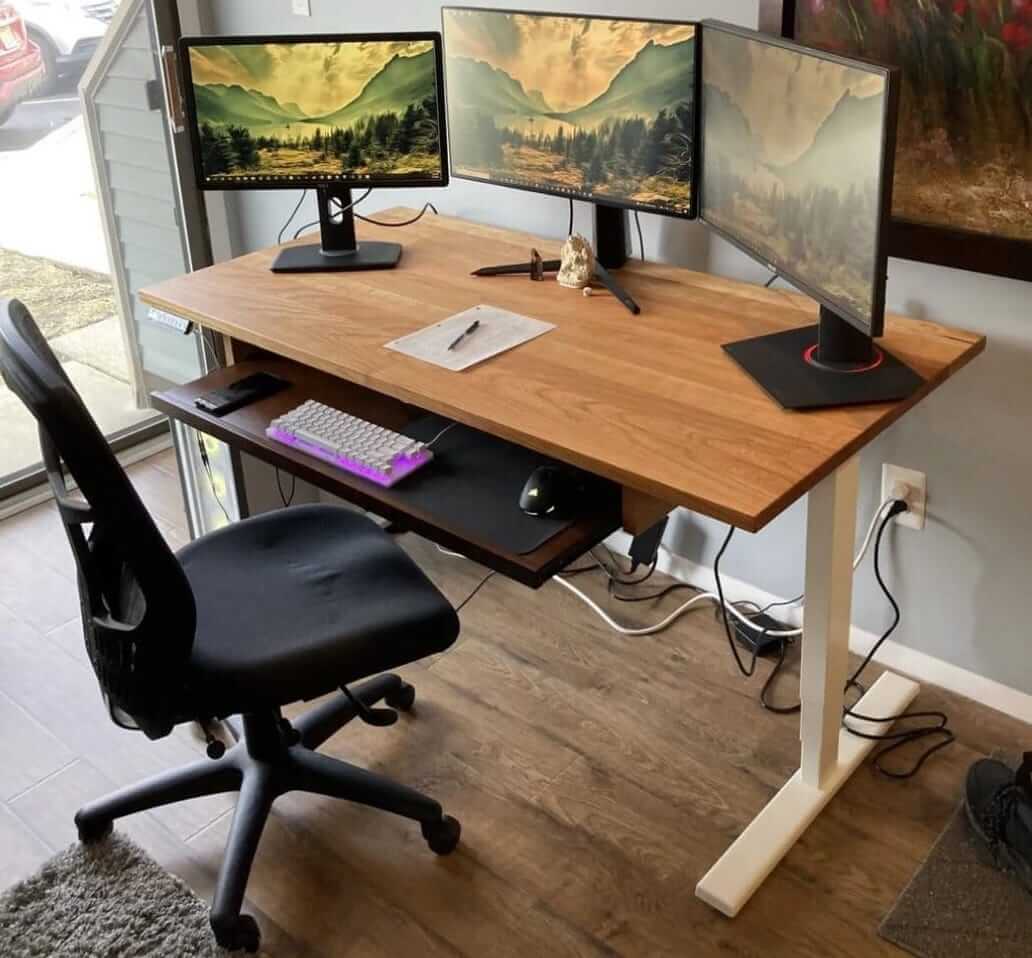 The Solo Ryzer is pretty solid too for a China-made desk. Though compared to the E5, the wobbles can be more noticeable at the highest desk height. But it is still subtle compared to say, an SHW unit.
It can go from 23.6'' to 49.1''. So unlike the E5, it may not be able to accommodate taller users. We see it best for those standing no taller than 5'11"
E5 has a more substantial frame but the Solo is not far behind
So the frame of the E5 is more hefty and solid compared to the Progressive desk.  But the Solo Ryzer is still a stable option and it may have some advantages over the E5. The frame can be width adjustable, so you can use it for different tabletop sizes without having to buy a new frame. And though there are a lot of Flexispot frames that are width adjustable, the E5 is not one of them. 
You can choose a different top to go with your Ryzer frame. This is a good call from the brand since the tabletops are not something that you will choose if you had to assemble a standing desk yourself. 
We have mentioned before that the tops of Flexispot are not what we would go for if we are going to DIY a workstation. Though it's not flimsy, we feel that it could be a bit thicker. And we'd love to pair a sturdy frame with a solid table top, the tops of Flexispot are not rocking solid, especially if you will get the spliced ones. And for the Progressive desk, it is worse.
The tabletop of the Progressive looks and feels very cheap. From afar and even up close, you can tell that it's made of a cheap China MDF board. So you can assume that the lower cost is because of it.
It is also poorly designed and almost looks utilitarian. It is similar to the desk one would use in a workshop in a basement. So having the liberty to choose a different top is warranted actually.
What about the tabletop sizes and options?
E5 gives you just a decent line of choices for the tabletop sizes and size finishing The basic unit comes with options from maple, black, white, graphite, gray wood grain, marble gray, special walnut, and white wood grain. But you can get a more premium wood desk finishing at a higher cost. 
The tops are also available in two sizes,  47 x 23 and or 55 x 27. They are not fancy though but if you are just looking for a basic setup and yours isn't elaborate, then you might find it sufficient. But those looking to personalize their working area, more often than not, look for tabletops from other brands. And to mention, when we're speaking of the EC5, this is actually just the frame itself. 
For the Solo Ryzer, you can get the tops in three sizes, 60″ x 30″ 48" x 30", and 72" x 30". So you can get an option to get a wider and bigger working space at a more affordable price.  But take note that the surface is not that smooth and it looks more like a utility workplace. There isn't much quality in the design. But this can be a decent choice if you are quite tight on the budget but need a stable and wider standing desk.
And though the tabletop of the Progressive is pretty heavy in itself, it is not substantially durable. We often wonder where all that weight went, the tops are actually very amenable denting.
Warranty and customer service
Though the Solo Ryzer is made in China, you can actually enjoy a generous 15-year warranty for the frame. So this can really tell how solid the frames are. For the budget entry Economy, Ryzer has an 8-year warranty. 
Though shorter than the Solo, it still offers more. There are a handful of pricier units that offer a meager 2-3 year warranty. So this can also be tempting and can be one of the reasons why this brand is becoming popular in the market despite a not-too-pleasant tabletop. 
But you have to be mindful of the 30-day trial. Should you wish to return the product and find it not suitable for you, you have to do it before 30 days. otherwise, it's goodbye. This Is also the same case with Flexispot units. 
The EC5, on the other hand, also offers a 15-year warranty for the frames. 
After-sales of both brands are acceptable and a lot seem to be pretty happy with how each brand was able to handle queries. But there could be a big hurdle with Progressive getting a thumbs up from all. 
Though the customer service of Progressive is good, being able to talk to one will be a different story. You will be lucky if you were able to talk to an agent on the phone. No one's answering in their live chat and emails anymore. So keeping up with the demand in customer queries and possible replacement and returns is an existing problem for the brand.  
But if you happen to get in touch with customer service, you'll likely be satisfied with how they can address your concerns. But before reaching this, you will get exhausted first. So this is something the brand might want to resolve asap as customer satisfaction is also reliant on the after-sales.
With Flexispot customer service, on the other hand,  a lot of consumers were pretty happy with how they were able to handle concerns and how fast it was to reach out to them. 
Other factors to consider with the Solo Ryzer
Oh, and before we head to the conclusion, if you have your heart set on this Progressive desk, there are some factors you have to keep in mind.
The setup can be excruciating. But it's not that it is a complicated setup, it;s just that the instruction manual is nothing that can be easily understood. The desk setup is not intuitive so you need a guide on how to set it up. But you can rarely get help from the manual since it is written in crooked English. 
It can be a pain to understand the step-by-step instructions. Apart from the language barrier, the steps also seem to be jumbled. And though the brand claimed that it released an updated version, it's still the same confusion. It was a bit better but not by a mile. So It's best to just watch videos on YouTube on how to set it up. Otherwise, you'll just be wasting your time trying to figure out the manual. 
Also, be prepared to flex those muscles when bringing the parts of the desk into your doorsteps. 
We love the substantial frame. It is heavy and it is substantially sturdy, so we don't mind doing a lot of lifting since we know it can last. But for the tabletop, we just can't seem to understand where all the heaviness is. As mentioned earlier, it is heavy but it's not close to being durable 
When you encounter a hefty top, you're quite sure that it is quality and can last for a long time right? But that isn't the case with Progressive tabletops. They are thick and very heavy but they dent easily. 
So the heaviness of the tabletop also adds to the challenging setup. You will need another hand in assembling this standing desk.
Which will you choose?
The EC5 can be a sturdier option. It can also go higher by a few inches than the Solo Ryzer, so for taller dudes, this is the better choice.  
But the frame isn't width adjustable and the tabletop choices run a bit narrower than that of the Solo Ryzer, so this is the compromise that you have to make. But if you need a more substantial top with more stability, then it has to be the EC5. On the other hand, the Solo Ryzer has a higher load capacity but the tabletop is just not at par with what we want to have in our home office. If you can have a different top, then the Ryzer could just be a better option since it can give you a wider working area and has almost the same stability score as the E5.  But you can't use it if you are taller than 5'11." And since the E5 is more stable, it is better suited for typing jobs, especially if you will use the desk to the max height. 
Feature-wise, both brands rocked it.  Both have features that are a plus for a standing desk of their price.  They have an anti-collision feature and memory presets. It already comes with the basic unit and you don't need to make an add-on.
That can be a confusing choice. The overall look of the Ryzer is utilitarian. If you will use a different top and you are of average height, we recommend it over the EC5 since you can get more value with a cheaper desk and a wider working area. But if you are tall and you're a bit keen on the aesthetics of the desk, go for the EC5. Even if the top is not top-notch, the frame looks better than that of the Ryzer desk. And it might have a lower weight capacity than the Ryzer,  but it is more stable at the max desk height.