The market is teeming with electric height adjustable desks. Today, we're going to review two of the top standing desk brands. Both the Varidesk ProDesk 60 and Uplift V2 standing desk have satisfied customers from around the globe. 
These electric dual motorized standing desks may share some similarities. But they also have features that make each stand out from the other. Let's discuss each desk according to its features, cost, and convenience
You'll be able to see what brand can cater to your needs more. And which brand suits you best. We're going to compare several aspects of both Varidesk ProDesk 60 and Uplift V2 standing desk. Let's dive into the details, shall we?
Varidesk ProDesk 60 vs Uplift V2 Standing Desk- Which is better?
We're going to divide the comparison into several sections. From the manufacturer to the desktop surface, features, and more, everything will be fairly rated.
So let's start the ball rolling!
Manufacturer
Varidesk is known as one of the pioneers when it comes to electric standing desks. It has been a collaboration with Kaidi, a Chinese manufacturer based in the mainland. All the components and parts of the desks are made in-house. Kaidi is also known as one of the largest suppliers in China. 
Uplift desks are also manufactured in China. A leading Chinese company, Shenzhen Weizhen Motor Co., LTD. made these desks for Jiecang Linear Motion technologies. The said Chinese company has been making standing desks since 2011.
In addition, the manufacturer is known for producing well built micro motor systems. So we can expect Uplift v2 to share the same quality motors.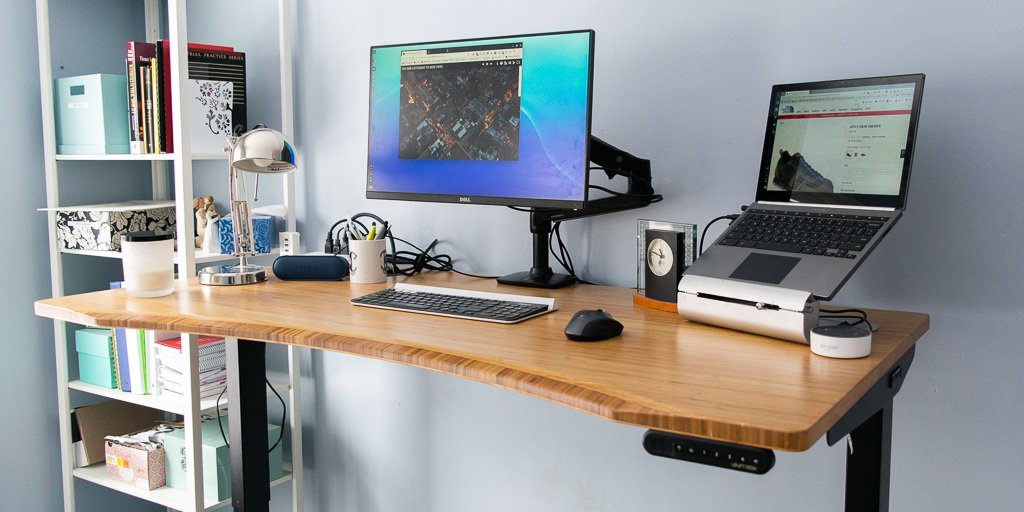 Assembly and set up
Most Varidesks units come in fully assembled, except for Varidesk ProDesk 60. It's a bit larger than the brand's other units. So the ProDesk 60 comes pre-assembled. So you can expect that there is a little bit of setup still required. But interestingly, Varidesk ProDesk 60 is one of the standing desks that are quite easy to set up.
That's one of the biggest advantages of ProDesk 60. Since it comes in pre-assembled, it'll only take you about 10 minutes to finish the entire set up.
On the other hand, it might take you a bit longer to finish your home office setup with the Uplift V2. On average, it can take you about 30-90 minutes to finish the entire installation. Also, you might encounter some challenges inserting and tightening some of the hardware. Thus, it's advisable to use a cordless drill to cut the assembly time.
Weight capacity
The Varidesk ProDesk 60 has a weight capacity of 250 lbs. And it has been tested to consistently hold the same weight despite numerous adjustments. Though its weight capacity may be a bit less than some brands, it has a safety feature to boot.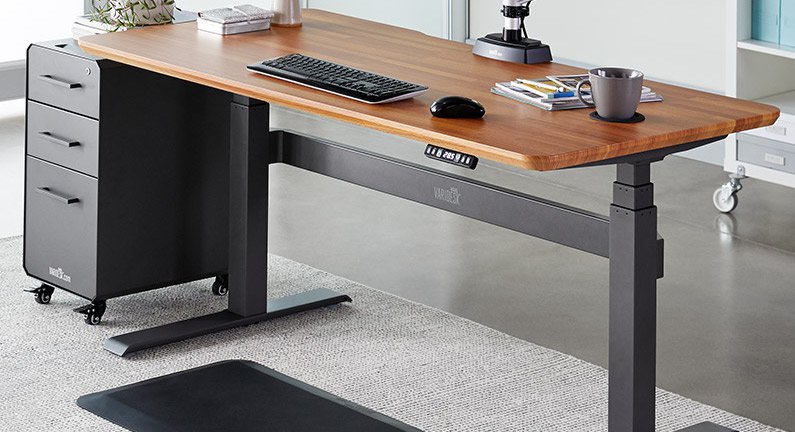 The overload protection system prevents the desk from bearing too much load beyond its capacity. Once the weight limit is reached, It automatically stops
Uplift V2, on the other hand, has a higher weight capacity of 355 lbs. Though it lacks an overload protection system, it offers a weight capacity that's more than a hundred pounds higher than the typical office requirement. The typical weight requirement of most offices is around 200 lbs. 
Stability
ProDesk 60 boasts of a traditional cross support system. And this adds to the stability of the desk. But there's a tiny bit of a weak spot that we have discovered. 
The desk makes use of a plastic part in between the steel interlocking system, Though this may affect the stability score of ProDesk 60, this unit is still considered as one of the most stable electric standing desks in the market today.
Now let's take a look at the frame construction and stability score of Uplift V2. This desk lacks a traditional cross support system that the ProDesk 60 has. But the brand compensated this with telescoping legs. This increases the stability of the desk.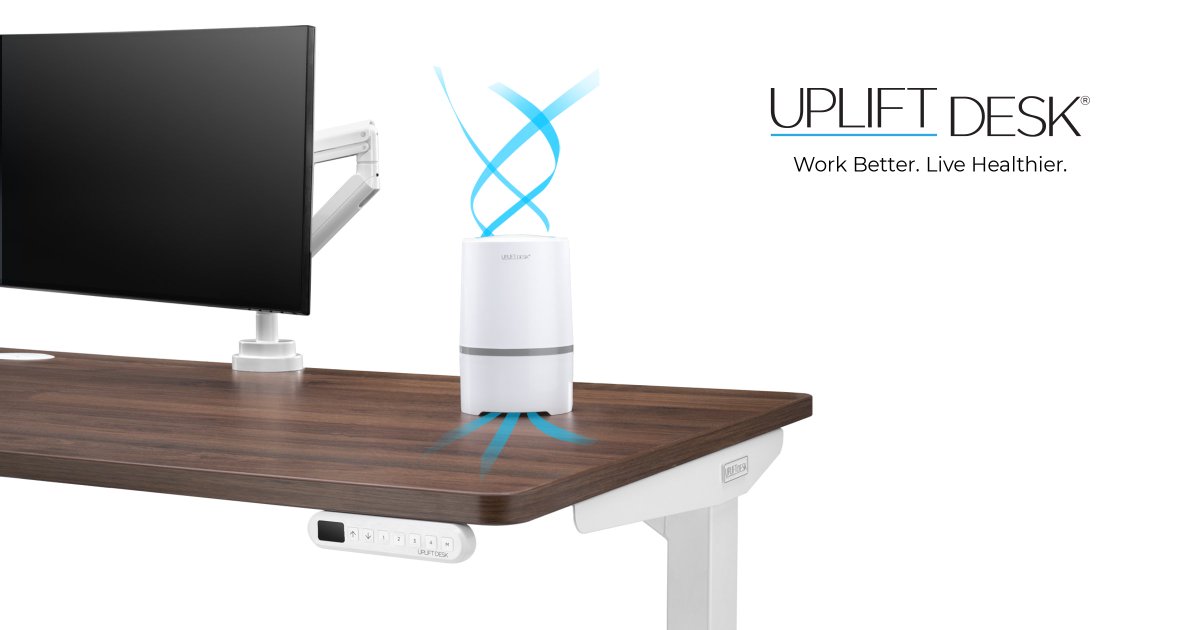 Both desks have an anti-collision sensitivity feature. The desks automatically stop at the slightest motion. Thereby keeping the desks as stable as possible. 
Mounting holes
Uplift V2 offers more liberty for customization. The upper frame consists of 48 mounting holes where you can attach additional accessories. Whereas, the ProDesk 60 lacks this option.
Additional mounting holes also allow you to maximize the wider working area. You may be able to add in some more monitors and office equipment.
Frames and foot construction
Both brands have a solid stainless steel frame construction. But the difference lies in the foot construction. ProDesk 60 has a stainless steel foot while Uplift V2 makes use of an aluminum molded foot.
Varidesk ProDesk 60's construction looks really solid and well-built. Furthermore, it also boasts of an almost perfect connection between the foot and the glides. And this adds to the overall quality of the frames.
Uplift V2, on the other hand, also has a well-built upper frame. The only concern is that the glides and the foot didn't seem too fit as well as that of ProDesk 60. But one of the advantages of Uplift V2 frames is that it's expandable. Since the width of the frames is adjustable, you change your desktop whatever the size is.
Height adjustment
In terms of height adjustment options, ProDesk 60 seems to offer more choices. Varidesk ProDesk 60 has a height adjustment from 25-55 inches. And Uplift V2 can be adjusted from 21.7 to 47 inches.
And ProDesk 60 seems to operate more quietly at 45 decibels. Uplift also boasts of a quiet operation at 55-57 decibels. This range isn't actually annoying. It's still quite compared to other brands in the market. But if you're looking for something more silent, the ProDesk 60 wins this round. So all in all, ProDesk 60 may offer a more peaceful work environment. 
The operation
Both the Varidesk ProDesk 60 and Uplift V2 share almost the same innovative functions. For one, both desks are equipped with a "soft stop and start" mechanism for adjusting the table height.
Secondly, they have programmable presets where you can easily save your favorite table height. ProDesk 60 offers 3 preset height adjustments. While you can enjoy one more additional option with the Uplift V2 with its 4 preset height adjustments. 
Furthermore, Uplift V2 boasts of one-touch technology. It's a convenient feature to make things flow faster in your office. And it looks so futuristic too. But it does have its own disadvantages. The danger lies when this sturdy table comes into collision with children or other furniture during operation. So just take extra precautions.
Design
Varidesk ProDesk 60 available on silver and slate. While you can choose from four colors with the Uplift V2 standing desk. It comes in metallic, gray, white, and black
Varidesk offers five lovely desktop designs. You can choose from butcher block, black, white, dark wood or reclaimed wood. 
Uplift V2 standing desk, on the other hand, offers 19 stunning designs. And this desk has solid wood laminate desks that resonate with nature. You can even see the grains, chips and natural cracks of the wood. Moreover, the brand uses an eco-friendly type of wood, the rubberwood. 
In a nutshell, you have more desk design options with the Uplift V2 standing desk
Price points
The ProDesk it's a bit pricey for a midrange standing desktop, considering that it lacks options for customization.
While the price of the Uplift V2 standing desk is cheaper. It can cost a bit higher depending on the tabletop design that you're going to choose. And the most popular tabletop option is the bamboo desktop. It's a crowd favorite since it has one of the cheapest prices but looks stunning at the same time. 
Warranty
ProDesk 60 offers a 5-year warranty on all electrical components and surfaces. And the Uplift V2 standing desk offers a longer 7-year warranty. But this warranty period doesn't include a solid wood tabletop that may age over time. 
Conclusion
After considering all the features, pros and cons, you can see that both desks share some similarities. But both desks also have some major differences.
Uplift V2 standing desk has a higher weight capacity at a more affordable price. You also have more desktop options so you will surely find a perfect fit for your office interiors.
On the other hand, Varidesk ProDesk 60 may have a higher price, but it takes less than 10 minutes to assemble. And it is also more quiet compared to the Uplift V2 standing desk. Not to mention, the ProDesk 60 seems to have a stronger frame construction.