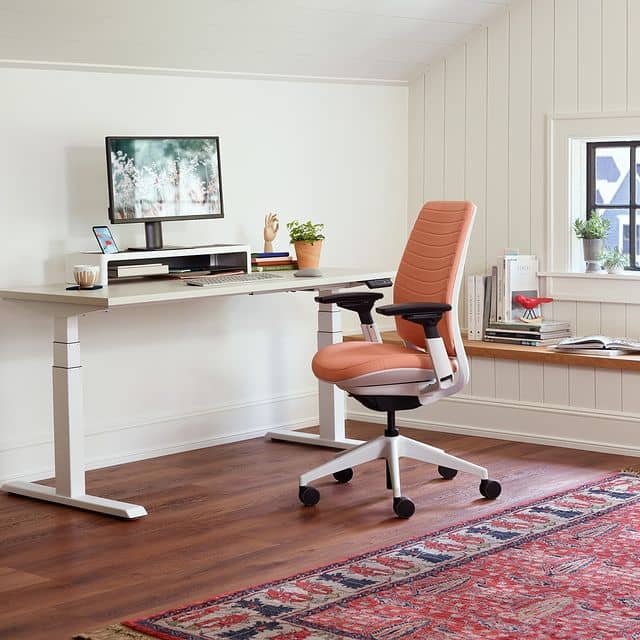 Steelcase sit-to-stand desks are among the most coveted brands when it comes to ergonomic desk solutions. And there's a new kid on the block, the Solo standing desk. It's quite new that you'll only be able to find a few reviews on this desk. So we are here to explore it. And we will also pit it against another of the brand's more affordable desks, the standing desk, the Migration SE.
What to expect with the Solo Sit-To-Stand desk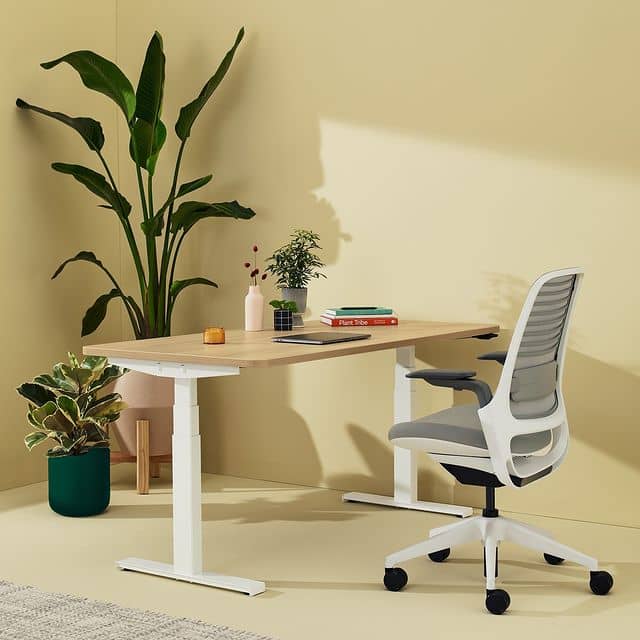 Steelcase is known for its luxurious priced desk. But the introduction of the Solo Sit-To-Stand desk can give more users affordable options. There are only a few mid-priced units of the brand. And the Solo sit-stand desk is one of them. It sits mainly at a below 700 price range. And this is quite far from the other Steelcase desks. Visit the Steelcase store today!
Now let's get on to the good bits first. What do we love about this desk? Since it's a Steelcase desk, you can expect the same craftsmanship and quality built. The frames are robust and sturdy. And the desktop is sufficiently durable too.
And one more notable feature of Steelcase desks is that they do not wobble at any height. Even if you set the desk to the highest setting, you can still work comfortably. And you can enjoy the same feature even with this more affordable sit-stand desk.
Secondly, the weight capacity of the desk is good. It can bear a weight of around 350 lbs. So that can make up for a more than basic office setup. 
And here we go for the bad bits. The desk is quite robust and strong, but it's the least aesthetically pleasing compared to other models of the brand. The desktop specifically looks very basic. You might even find it hard to tell if it's a Steelcase desk from afar it can pretty well blend in a sea of mid-price sit-stand desks. So if you want something that screams luxury, this is not the desk for you.
And perhaps, this one of the most caveat of them all. This standing desk does not have programmable height presets. The control panel only features a soft-touch paddle. So you will not be able to record your favorite desk height settings. Though it has a decently wide range of desk height options. This desk has a max 48.7″and a minimum of 22.6″ height 
It's also available in a few desk sizes. So compared to other Steelcase units, this desk offers the least number of customization. 
Another one of our qualms is that this desk can really be loud. We love how Steelcase desks transition smoothly and quietly. But the Solo desk is an exception to this. It can really make a lot of noise. 
If you'll ask us what's the best word to describe the Solo desk, that's easy. It's going to be SIMPLE. This desk is very basic and very simple. In terms of the aesthetics, the design, the basic tabletop, and lack of memorable height preset, nothing can be more basic than this.  
Thus, if you don't mind the lack of convenient memory presets, you'll be pretty happy with it. But that's provided that you favor a minimalist design, no bells, and whistles. Also, you'll be missing out on the Bluetooth feature that the more premium Steelcase desks have.
What you can expect with the MIgration SE
The MIgration SE sits at a pretty close price range with the Solo desks. So what can you expect different from it? Let's get to the good parts first. 
Compared to the Solo, the Migration SE can be more convenient. If you change desk heights within the day, a memory preset will be very useful and handy. .And the Solo desk lacks this convenient feature.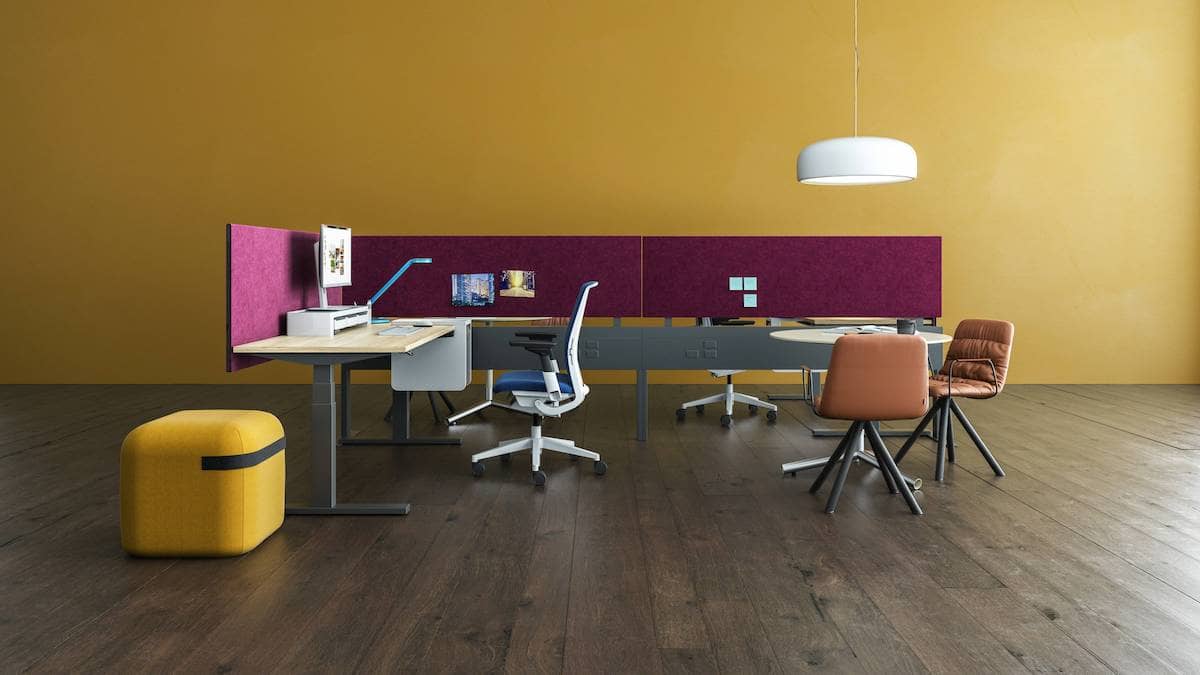 Also, you'll get to enjoy a sturdy and well-constructed desk. In terms of construction and built, it will always be a two thumbs up for us for all Steelcase sit-stand desks, even the more affordable options did not skimp on the quality of the desk.
Everything seems pretty seamless. The control buttons are quite responsive. The transiting is fast and quiet. And unlike the Solo sit-stand desk, this Migration SE does not make much of a noise when you are changing the height of the desk. 
And oh, it has a safety feature too. The desk automatically stops when it comes into contact with anything or anyone. So the desk will not ram into anything or anyone. So plus points for that one. 
And here are the better bits. Firstly, when compared to the Solo sit-stand desk, it has a lower weight capacity. This desk can bear around 250 lbs of weight. That's 100 lbs more than what the Solo desk offers.
In addition, this desk is pretty challenging to assemble. We find it hard to align the screw holes. And we actually encountered the same problem when we were setting up Steelcase sit-stand desks such as The Ology. 
So you have to have patience and maybe you need a helping hand to be able to set up this desk. But don't expect it to be a walk in the park. This is perhaps one of the more common complaints on Steelcase sit-stand desks. 
Like the Solo desk, the Migration SE looks pretty basic too. Though the desktop laminate looks a bit better, there isn't anything fancy about it. But it can make up for a clean and minimalist working area. We love how stable the desk is and how quiet it is when transitioning. 
Overall – Steelcase Standing Desk showdown
These two desks sit head to head in terms of the price range. So the cost isn't really a consideration when choosing between these two desks.

 Though both sit-stand desks are well built and durable, one can bear more weight than the other. The Solo desk can bear 100 lbs more weight compared to the Migration SE desk.

Both the Steelcase standing desks are wobble-free and very stable at all heights. Thus, you'll be able to work well at any desk height. 

In terms of features, you'll have more with the Migration SE desk. It has 4 memory presets while the Solo desk doesn't have one. The Migration SE also has more safety features. So it will be a better option if you have kids around. 

Both desks look pretty simple and minimalist. But the Solo desk looks simpler and more basic. 

The Solo can be quite distracting as it can get pretty loud. And you will not experience this problem with the Migration SE, it makes almost no noise when the desk is transitioning.

The step for the Solo desk is very easy. It only took us 10 minutes or so to put it together. But that's not the case with the Migration SE. it can be a pain in the ass during the setup. Well, most of the sit-stand desks of the brand will make you want to cry during the installation. So if you do not want to be bothered with a troublesome setup, the Solo will be a better option. 

Since the Solo desk doesn't have memory presets, it can be less convenient, especially if you tend to change desk heights within the day's work. This is perhaps one of the most noticeable advantages of the Migration SE over the Solo desk.

You can enjoy the same generous warranty of 12 years with both units. That's why, should you decide to get the Solo or the Migration SE, both can be a great value for your purchase. That's provided that you'll be able to find a comfortable working height with the desk that you have chosen. 
Final Say
It might be hard to choose between these two Steelcase sit-stand desks as they look almost the same. These are pretty basic desks. But you have to answer several questions. And these will help make you decide which unit to get. Does the lack of memory preset not be a deal-breaker for you? And does the higher weight capacity accounts for that loss when it comes to the Solo sit-stand desk?