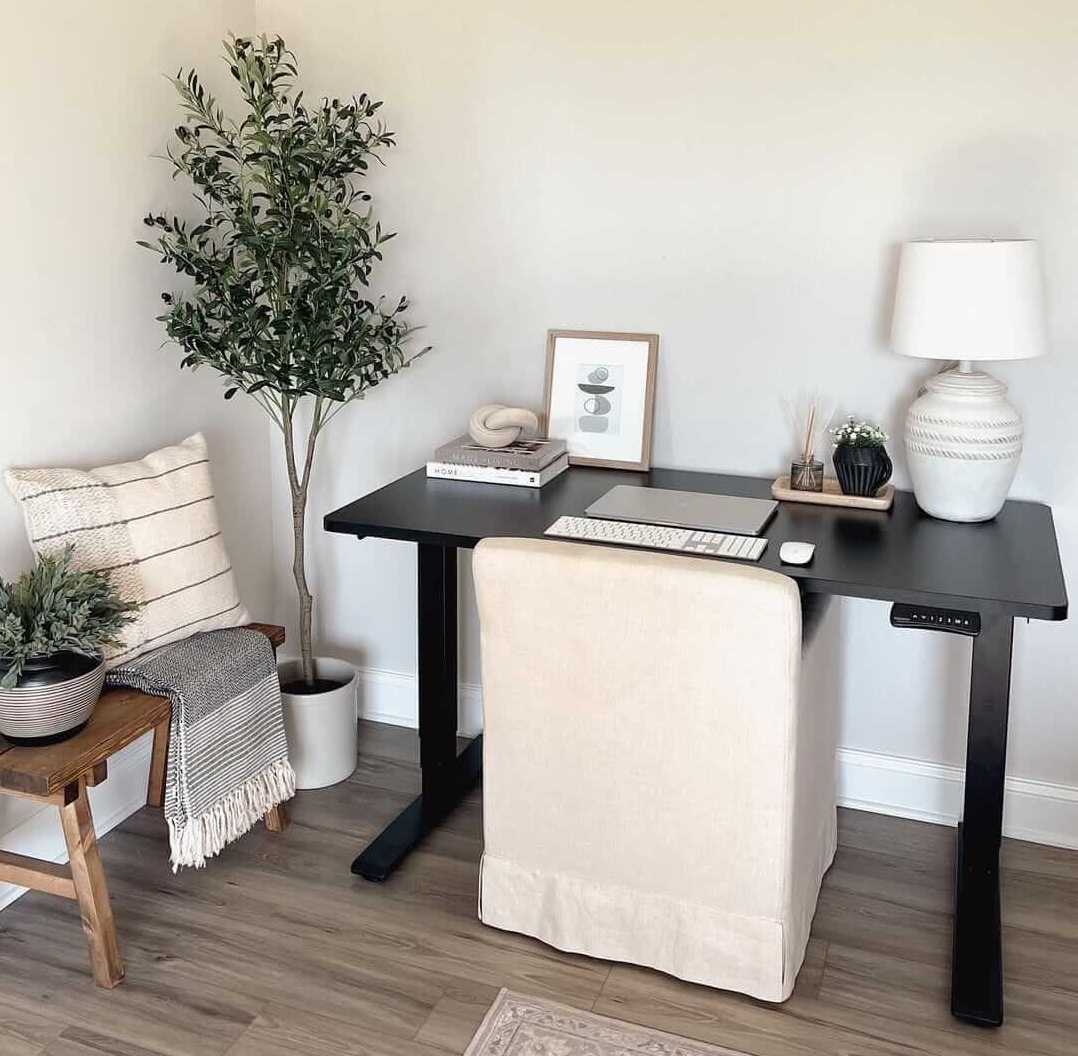 Today we'll take a look at the new brand in the standing desk industry, Furmax. Even though we know that Furmax office chairs are so similar with an affordable price range but with the new products, what we can expect?
Let's take a look at Furmax and find out more about the new products!
They offer a wide range of sizes to accommodate different needs, an example is 44×24″ or 48×24″, and the common size is the 55″ version. Their smallest desk is just 24 inches in depth, while their largest is 63 inches wide. Furmax does not have a variety of shapes to choose from, for example, L-shaped, U-shaped, and even rectangle desks.
For the first time in the market, look like they also only offer the black and gray of their tabletop. The material looks like a quality laminate with a wood grain texture. The surface is also very easy to clean.
Furmax's Standing Desks offer a unique feature that allows you to adjust the height of your desk with the push of a button. You can also save up to four different presets so that you can easily switch between sitting and standing positions throughout the day.
The price range is very affordable, which is a little bit cheaper than some of the other brands out there. That's surprising because with the same budget before you can get only a manual crank desk only, not the electric one!
Quickly, we're impressed with Furmax's new line of products and think they offer a great value for the price. But for deeply look, don't get out of this page soon!
Is a Spliced Tabletop Decent Enough for Work?
Furmax may seem like an IKEA-type standing desk with its two spliced boards, but we're seeing an increased favor over this unit. While everyone will prefer a single tabletop piece over a fused one, budget is the main concern here.
So we've yet to see if Furmax is something that you can find decent enough for work or study. We'll also compare it with other brands in the same price range: VIVO, SHW, and Flexispot
VIVO vs Furmax: VIVO's motor can be such a downer
Both standing desks do share the same unpleasant trait of spliced boards for their desktop. This type of tabletop is becoming more and more common among budget-friendly, entry-level units. 
To keep the cost down, it has to be cut off somewhere. Something has to be compromised.
If you're going to get VIVO 44" E144B, expect the same two-part boards. And this is the brand's entry-level unit and the closest that we can compare with Furmax.
So you can also expect that table gap or demarcation line where the two tabletop parts were fused.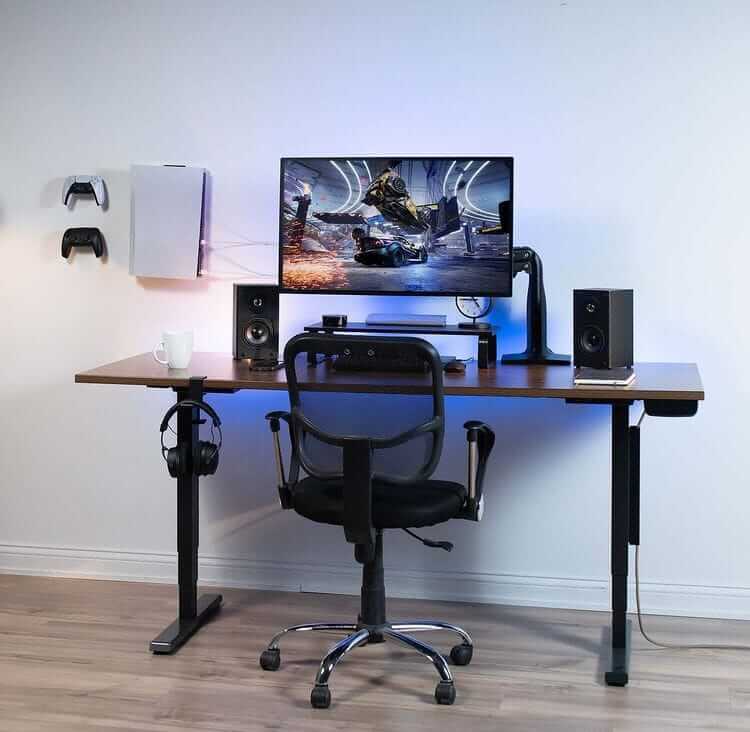 While it may or may not affect one's decision in purchasing a desk, it can be a major issue for those who are fussy. Along with the unpleasant sight, that part where the gap is can be a bit shaky. And the VIVO felt like it had more wobble to it.
And of course, the major downer that we experienced was with VIVO's motor. Though we aren't a hundred percent sure if that's just us or the unit that was delivered to our doorsteps. But we did a little digging and discovered that a lot of consumers also experienced the same problem. You'll mostly encounter this issue if you go for the entry-level VIVO units such as the E144B. 
After just several months of use, the motor will start to show random errors. The transitioning of the desk can even stop at some point. 
While this can be expected from electric standing desks since these are more prone to glitches compared to manual ones, less than a year is too soon. 
You may try to contact customer service. But also, good luck with that. And even if they do have efficient aftersales, there's too much that one can take when it comes to motor errors. 
The height range is 28.9" to 48.4", so it matches that of Furmax, and is best used by those not taller than 6 feet.
So the FURMAX will be a less hassle option in this case. Design and aesthetics-wise, there really isn't much difference. You'll just be able to tell that VIVO has a more shaky top and less sturdy legs.
Furmax vs SHW: Furmax has a less substantial-top but it can bear more weight
When we speak of build and reasonable quality for a cheap price, both are great picks. Though we find the Furmax top slightly thinner than the SHW. And the legs of the SHW units have more muscles too. 
And what we did notice though is that the desk of Furmax is a tad bit hollow and thinner than that of the SHW. They do have the same spliced boards that you got to fuse together. But the desktop of the SHW desk seems to stand out more. We particularly pegged the 48" SHW unit with Furmax. 
But here is where the deliberation of which to buy gets more intense.
The weight capacity of the SHW is 110 lbs compared to 145 lbs of Fumax. So it is a more light-duty option. We see it as more suitable for students, for those who just need a space for a laptop and monitor and nothing else. Though the SHW is quite roomy, it could be a great space for drawing or sketching too. 
The SHW desk also comes with a basic cable management tray. And you have to purchase it as an add-on if you buy Furmax. 
But when it comes to the noise of the motor, SHW may sometimes seem like a whining child. Though not that disruptive, it is clearly noisier than Furmax. There is almost no whirring sound coming from the motor. 
Both units are also not for the tall ones. They have a max desk height of up to 48" so it can be suitable for those who stand up to 5'7" or 5'8". 
Furmax vs Flexispot: Flexispot has a more basic control panel but it is more sturdy
Flexispot has more options on its sleeve. And to make a fair comparison, we're bringing in the EC1. If you don't know anything about this brand, please check this out: Flexispot standing desk EN1 vs EC1 – Are We Really Not Looking at the Same Desk?
It is very basic and only has an up and down control panel but what makes it plain can be an advantage. For a standing desk to bear an affordable price, something must be sacrificed, right?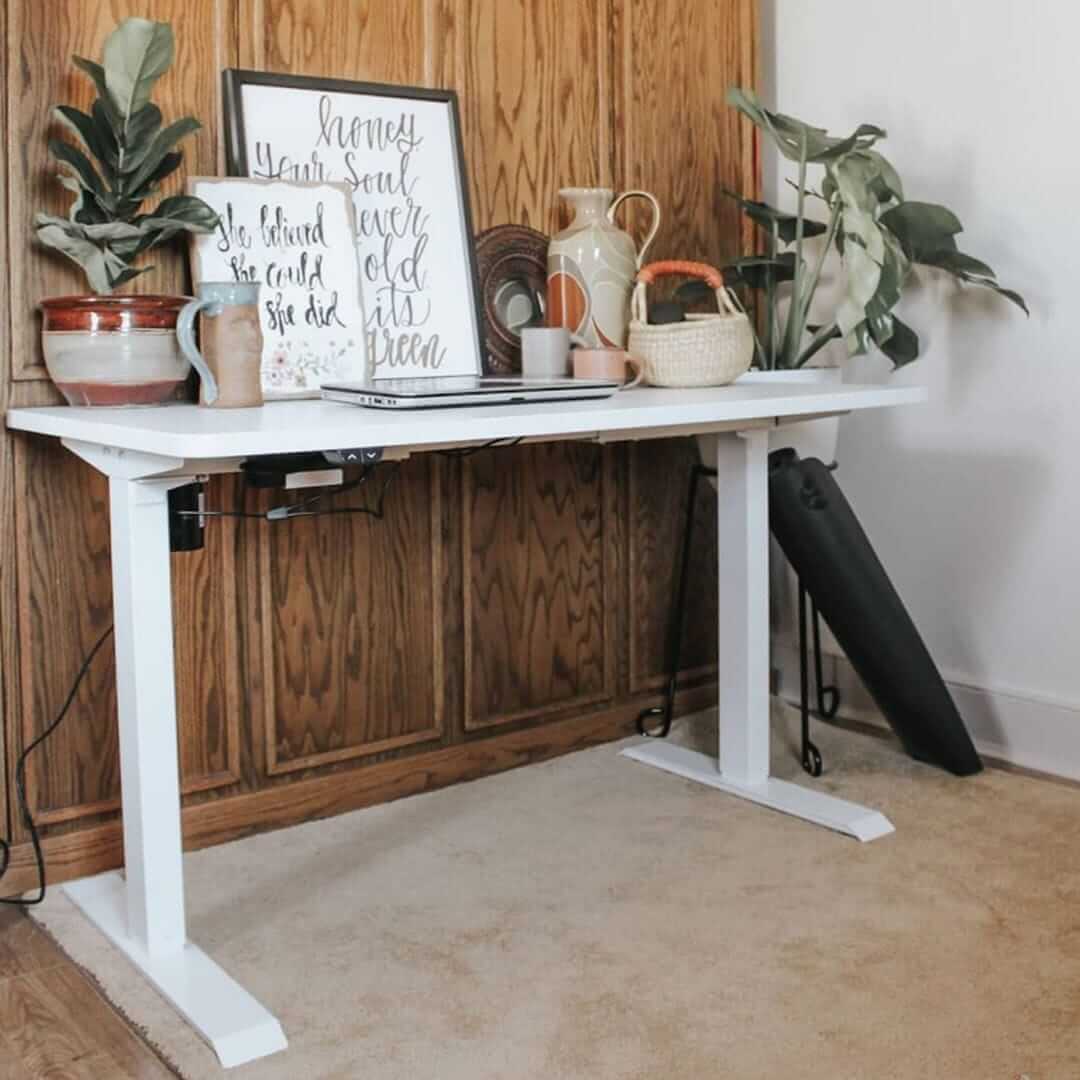 Instead of a memory preset, it has an up and down button for the control panel. But out of all the other units we have mentioned above, Flexispot seems to be the least wobbly and feels more substantial. 
But Furmax can go a bit higher, EC1's max height is only 47". So we're seeing it most comfortable for those who stand up to 5'8"-5'9".
And oh, it has a single tabletop, something that Furmax, and the entry-level units of SWH and VIVO lack. And that is also the reason why it is more stable than the rest.
So it will look more pleasant as well. But there is a little letdown, well almost. If you are very keen on details it will bother you. 
The EC1's motor and components are quite exposed. So you have to be quite creative in managing thick wires and cables so that you'll not mess up the clean and pristine look of the desk.
It's also the quietest out of all the other options. And since it has only the up and down button, it's best used by one person only. It won't really matter if you do not tend to change desk heights that often. 
The spliced board will be the deciding factor for Furmax
The spliced boards of the SHW, Furmax, and VIVO can be a letdown for professionals. It can make the desk a bit more wobbly. 
We see these working best for tall children the best. 
It may also suffice for work provided that you just need a simple workstation. 
But we have to emphasize the VIVO. The motor can be a nuisance. Thus, it can serve you decently if you don't need to change the desk height at all. That will help preserve the integrity of the motor. But if you do have an extra budget, it is better to look for other options. 
The SHW has a lower weight capacity, though the top feels more put together than the Furmax. So this is something you should think about if you are eyeing this unit instead. 
The Flexispot is the best bet for working since it only has a single board which makes it more stable. It might just cost a tad higher out of the rest. And it is the closest to Furmax if it's the great value we're speaking of. It will just be a more stable surface since it comes in a single piece.  
Overall, the Furmax has decent legs, but the top makes up for the cheaper price. You will have to live with the gap and the slight shaking it brings.
But it doesn't wobble, it's just that even if you put a mat on top of the desk to cover the gap, you can still tell that it is made of 2 boards that are fused together. So that will be the deciding factor.
So is it decent enough for work? Yes, it is considering the price you're paying for it and the legs are pretty stable and it comes with memory presets. You just have to learn to live with the shaky bit.