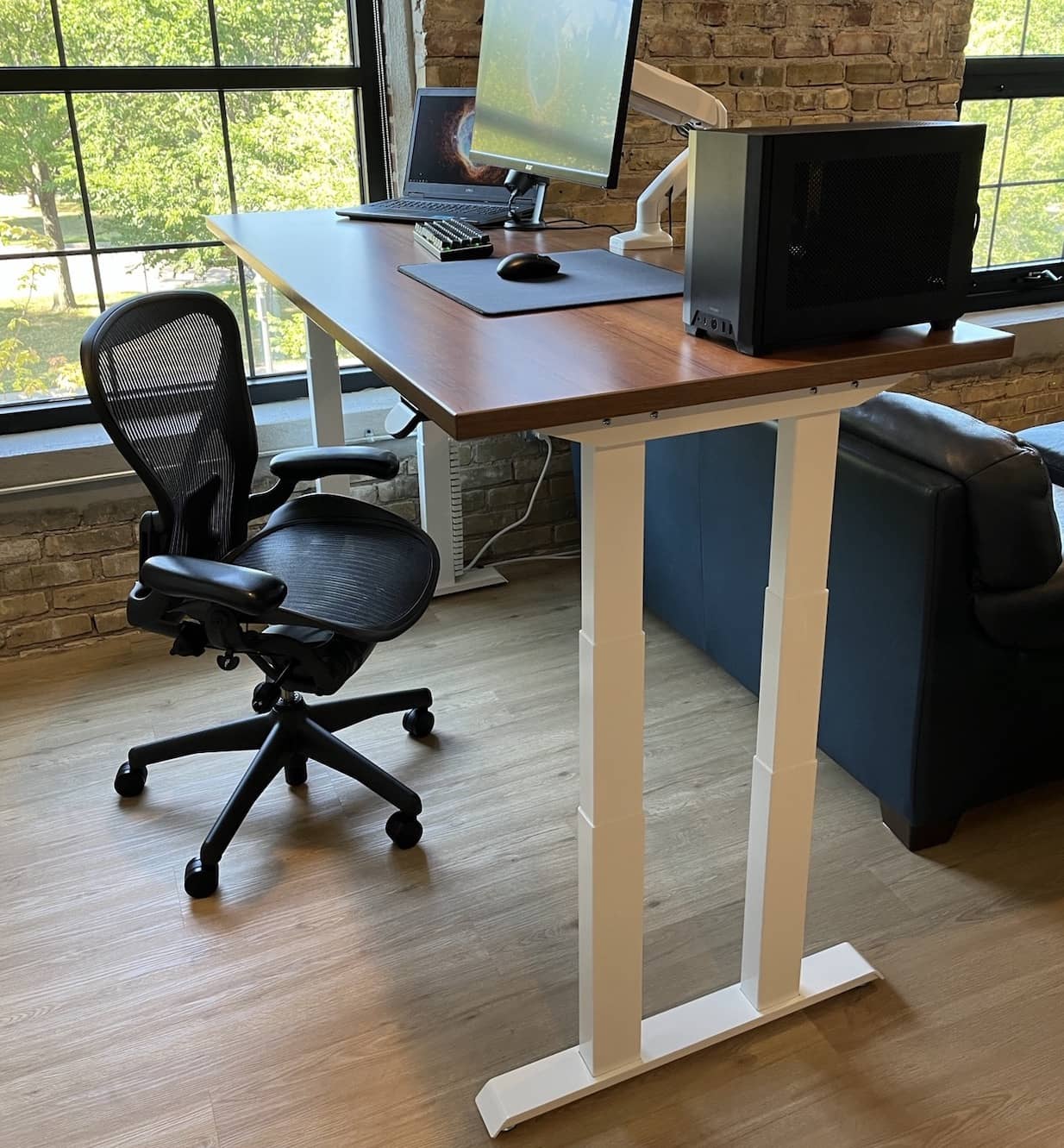 Finding a standing desk that can go lower for petite users is neither easy nor fun. Though there is a decent line of options that goes as low as 24" or 25" And this can be used by those who stand 5 feet. 
But if you are 4'10" or 4'9", you need one that can go lower, at least 22"-23″. It's not an easy feat, but we've got good options for you. 
This may only be a handful. That's why we've tossed in units that can go low. Though not as low as 22", these are heavy-duty ones that may just catch your eye. 
Standing Desks
Height range
Available tabletop
Weight capacity
Warranty
Deskhaus Apex
22.5" – 48.5"
60×30″
600 lbs
20 years
Uplift V2-Commercial
22.6″-48.7″
42×30″
48×30″
60×30″
72×30″
80×30″
355 lbs
15 years
Flexispot E7 Pro Plus T-frame
23.8″ – 49.4″
48×24″
48×30″
55×28″
60×30″
63×31″
72×30″
80×30″
355 lbs
15 years
Steelcase Solo
22.6″ – 48.7″
48×24″
60×24″
48×30″
60×30″
350 lbs
12 years
Jarvis Bamboo 3-stage low height
22.9" – 42.9″
48×30″
60×30″
72×30″
350 lbs
15 years
Sierra Workrite HX
22" – 48"
34×23″
58×23″
88×29″
225 lbs
Lifetime
If you're looking for a heavy-duty desk that can go as slow as 22", you might have to do more digging, but we did the dirty work for you. Deskhaus Apex Pro is #1 on our list of best standing desks for short people at this moment of 2023. Outrank other competitors with a 4-leg desk option, the strongest 600 lbs load capacity, an amazing height range, and a great longer warranty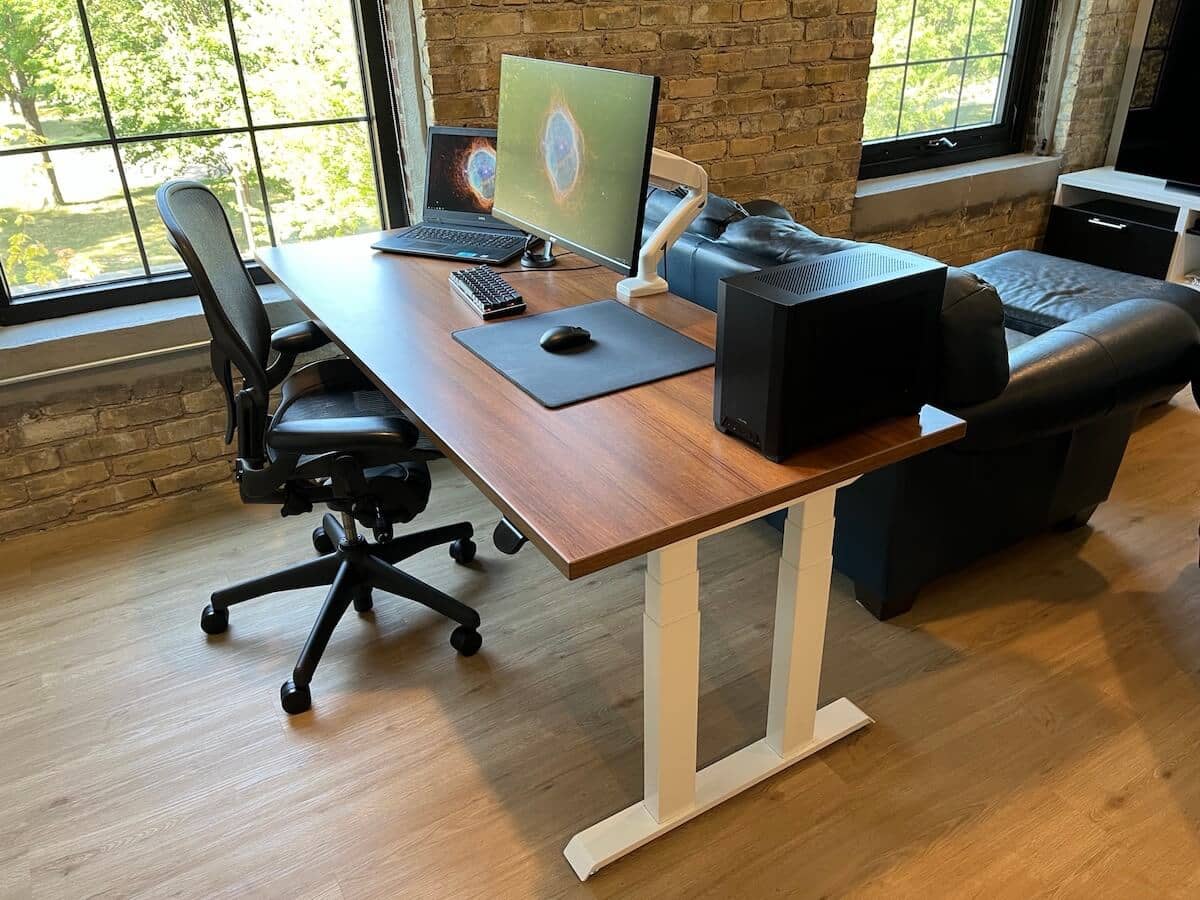 It's a long story to find out about this brand. And it may not be a household name or one of the go-to desks for home offices,  but this is one of the more hefty and underrated standing desk brands that we have come across. 
Everything about this unit screams quality, you can tell from afar and even up close. It's like a tank, built rock solid, and can even be stable even when you place it on top of carpeted floors. Like our other options above, it has a pretty wide desk height setting. 
Your entire setup will look exquisite. Despite the limited options for customization, you can't argue about the quality and the aesthetics of the desk. It has this regal appeal that can both shine in the home office and corporate setting. 
With a hefty 600 lb weight capacity, this would be perfect for those with a heavy setup. You can outfit the desk with heavy monitor arms or a triple monitor stand and it will still be rock solid and steady, that's on all desk height settings. 
It also makes this a great option for gamers. With all their equipment and paraphernalia, this will be able to hold itself up rather well. 
And another Deskhaus unit that might interest you is the Summit. It also has pretty much the same settings as the Apex Pro.  But there are some issues with the control box being finicky at some point. But a friendly call to customer service mostly resolves the issue. Thus, we find the Apex Pro more consistent with quality. 
And oh, you can also opt to buy just the Deskhaus Apex Pro frame if you fancy a different top. 
Uplift V2-Commercial
Petite people often struggle with sit-stand desks that don't offer a wide height range, but with this UPLIFT Commercial version, it is no longer a concern. This is the perfect 2-leg standing desk for petite people with a height of 4'11"-6′.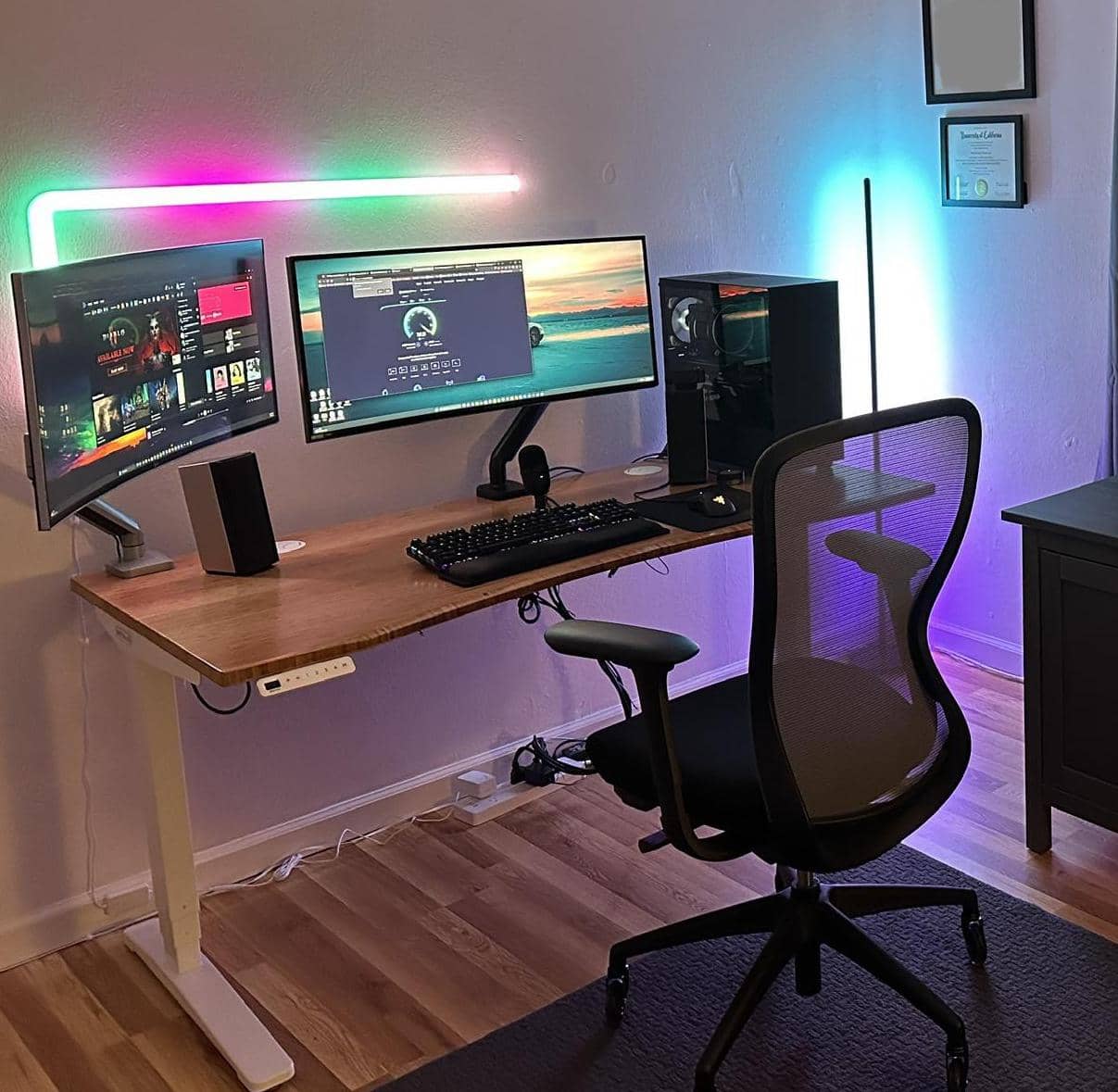 The 3-stage legs provide 33% faster movement, a bonus with dual German-made motors plus 355 lbs of weight capacity and 15 years warranty, Uplift is the high-end brand in the field, making sure no one can't compete with their products in the 2-leg version.
They also offer the spacious tabletop 80×30″, ideal for gamers and streamers who love to set up their battestation with so many monitors, laptops, gaming accessories, and additional peripherals.
Efficiency and convenience are key features of the UPLIFT V2-Commercial. The advanced keypad helps you effortlessly adjust the desk's height, while the Anti-Collision System is a must-have for a family with kids. This intelligent feature detects obstacles in the desk's path and automatically stops or reverses its movement, preventing damage to the desk or other objects.
Note: Make sure you pick the right V2-Commercial version. Because the Standard Uplift V2 is the one for taller folks! 
Flexispot E7 Pro Plus T-frame
The T-frame Height Adjustable Standing Desk is the perfect option for petite individuals looking to switch to a standing desk, but won't spend too much money. Unlike Deskhaus or Uplift, this brand offer budget options for everyone but won't sacrifice the quality and some key features
Note: T-frame has a height range from 22.8-48.4″. But with 1″ of the tabletop, the lowest height setting is 23.8″
The adjustable height range of 23.8″ makes it easy and comfortable for anyone who may be shorter in stature than average. Additionally, its BIFMA certification ensures that this desk's stability won't be compromised; so you can rest assured that you won't have to worry about your desk wobbling or becoming unsteady during use! This standing desk's small size and reliable performance make it ideal for short people looking for an ergonomic work setup.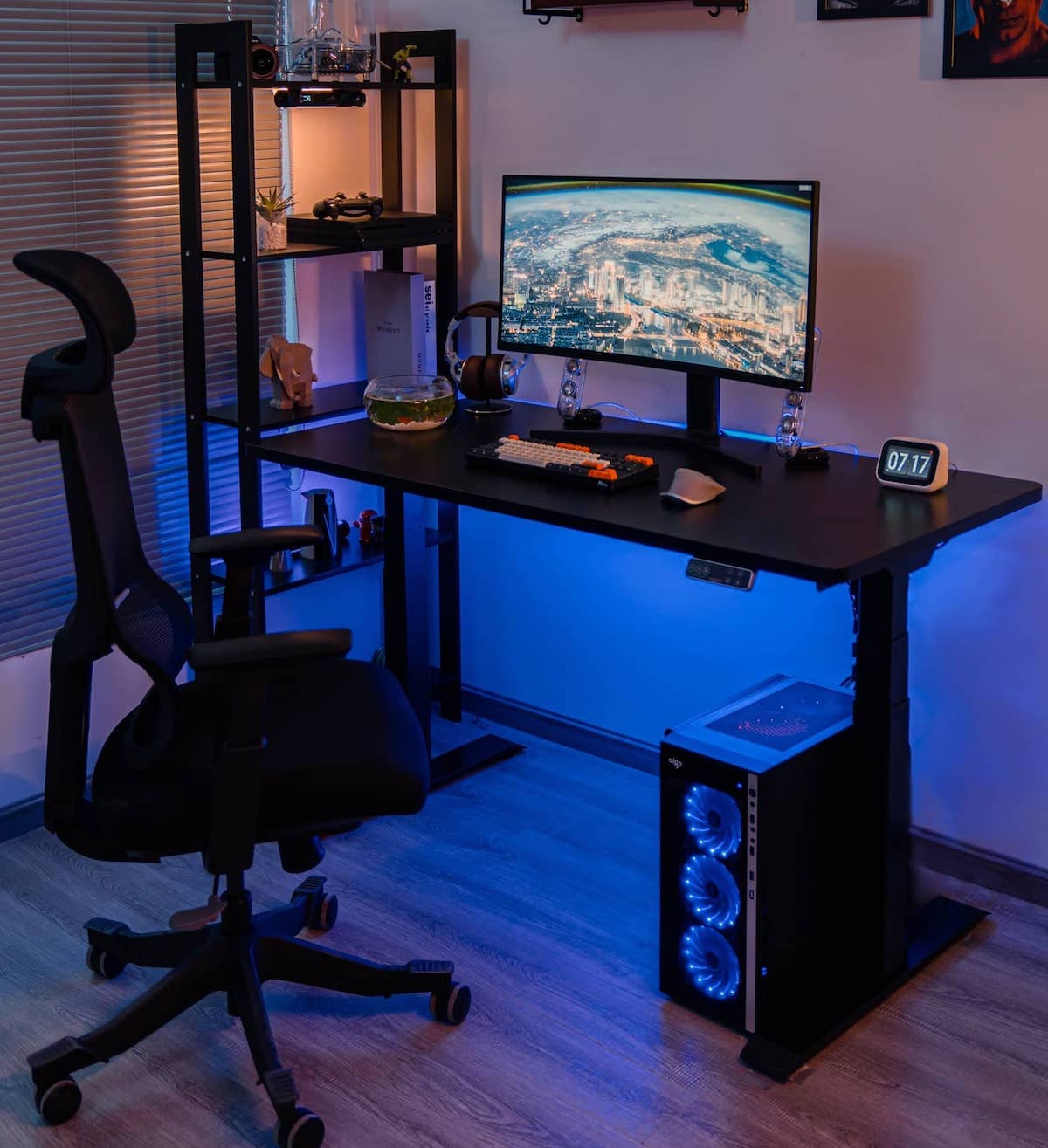 Pros:
Cheaper than Deskhaus Apex, Uplift V2 or Jarvis with the same 15 years of warranty
355lbs load capacity is so strong, enough for most households and even stronger than Herman Miller Jarvis Bamboo
The fastest height adjustment time at 1.5″ per second with a noise level of less than 50 dB
Wide desktop surface, enough for even the most petite individual
The lower range adjustable to 23.8″ is enough for short people around 4'10-6′, but may not fit some guys under 4'6″-4'8″
Cons:
The price may be too high for some budget-minded customers
More color options would be nice, as this frame desk only comes in three colors (black, white, and grey). Lots of gamers love to set up their room with colorful furniture like yellow or blue
Where to buy this frame:
Steelcase Solo
The Steelcase Solo Sit-to-Stand Desk is a solid option for short people who require a flexible workspace with a standard strong weight capacity. Its height range of 22.6″– 48.7″ makes it a great choice compared to others like Fully Jarvis and Deskhaus. The desk's weight capacity of 350 lbs is so standard to accommodate multiple monitors, laptops, and accessories.
However, the desk has limited tabletop size options, and if you need a larger table, you'll need to look for the next option we put on the list, the Flexispot E7 T-frame. Even Steelcase has lots of models for high-end office chairs, but the desk only comes in four different tabletop sizes, including 24″ x 48″, 24″ x 60″, 30″ x 48″, and 30″ x 60″.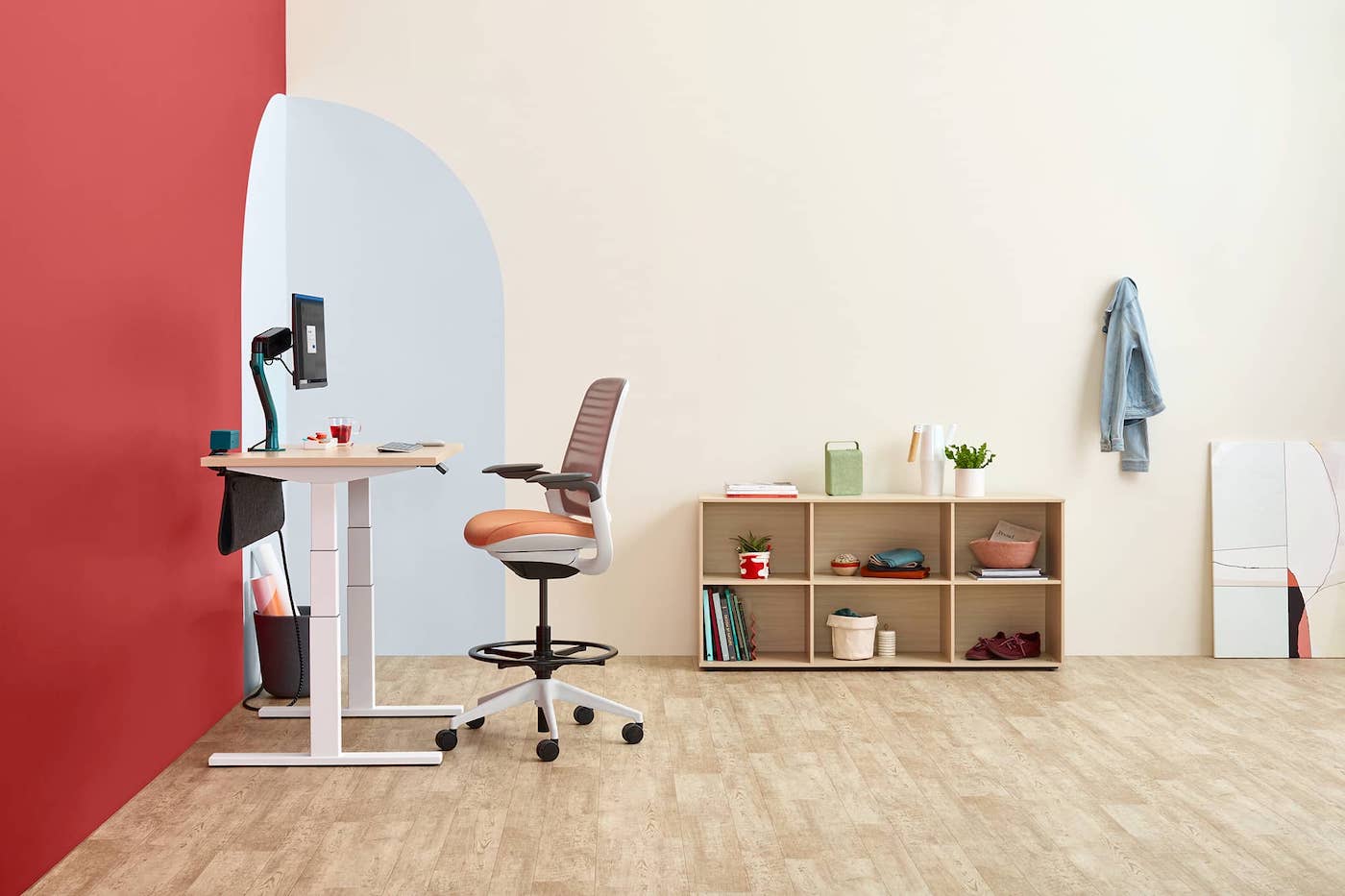 The desk's assembly process is straightforward, requiring only a common screwdriver for the Simple Touch controller installation, making it easy for anyone to put it together. We tested and it takes only 30 minutes. Good enough!
While the Steelcase Solo Sit-to-Stand Desk's 12-year warranty is decent, some other brands offer longer warranties. Of course, this one is a con compared to Flexispot or Deskhaus
The desk's price point may be a drawback because it is more expensive, the same as a Fully
However, the desk's durability and reliability, coupled with Steelcase's reputation, make it a solid investment for anyone who values quality and style.
Read more about this desk:
Unknown to some, Herman Miller Jarvis (before it's from Fully) offers a Natural Bamboo Top standing desk option with the 3-stage frame that goes as low as 22", or almost. This unit also has a wide desk height setting,  it can go from 22.9" -42.9".
So a lot of people will be able to find their comfortable setting, and folks from 4'9" to 5′ 11" will be able to find the appropriate desk height.
One of our favorite features is the desktop. The bamboo top is iconic and it does have a contoured front that makes it more ergonomic. Though the brand claims that it is eco-friendly, there are suspicions about just how sustainable it is. 
The memory presets are convenient, it transitions quietly and smoothly. But we are not really fans of the legs or the frame.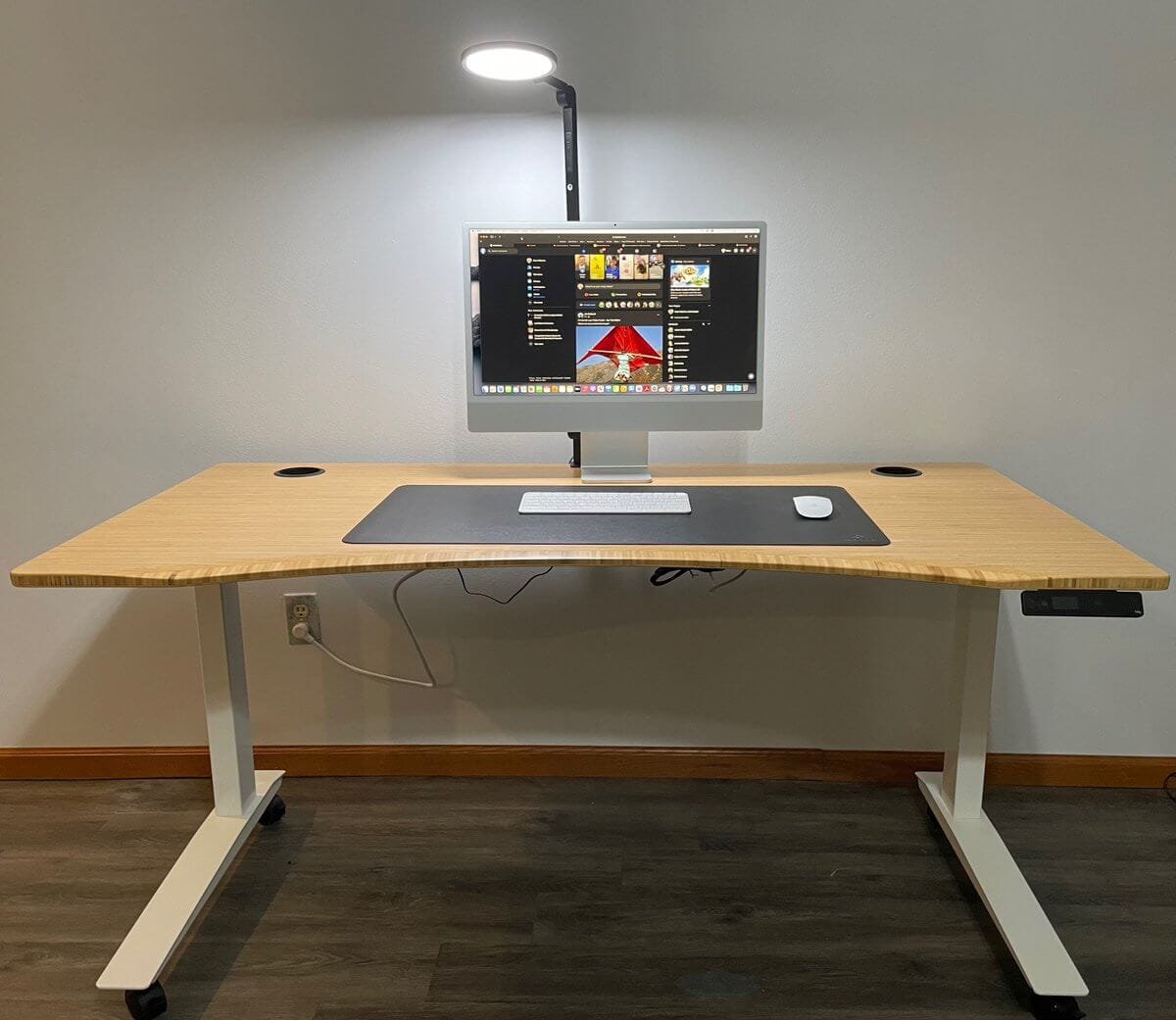 Though it is substantially strong, it is not that aesthetic compared to the desktop. Though you can opt to customize and choose better frames. The brand does indulge its customers with tons of options for personalization.
One of the cons is that you have to be sure to get a suitable version for your budget. Not all versions of Fully Jarvis might not be able to go low enough or high enough for your needs.  
Another caveat is that, like the other versions of the brand, it does have a wobble and shaking when it is used at the max desk setting. And if you're doing typing jobs and leaning your weight against the desk most of the time, the wobbles will be more noticeable. 
So we don't really recommend it for taller people, especially if you have a lot of typing jobs where the back-and-forth motion is inevitable.
Note: After an acquisition by Herman Miller, now Fully customer service is no longer available. So be careful if you want to buy Jarvis or any products from the company because they (Fully or Herman Miller) won't answer your email. For example, here is a complaint: https://www.reddit.com/r/StandingDesk/comments/13c18lb/is_fullys_customer_service_nonexistent_now/
Sierra Workrite HX 2
We put this HX2 in the last line because the 225 lbs weight capacity
But don't get us wrong, this is still quite strong and durable. It's a minimalist number and with the lifetime warranty that the brand offers, you can be confident in its quality. 
It also comes with convenient features,  an anti-collision, and 3 memory presets. And this particular line of the brand offers a Bluetooth switch option, which you can get for an upgrade.  So if you fancy innovation, this might just suffice.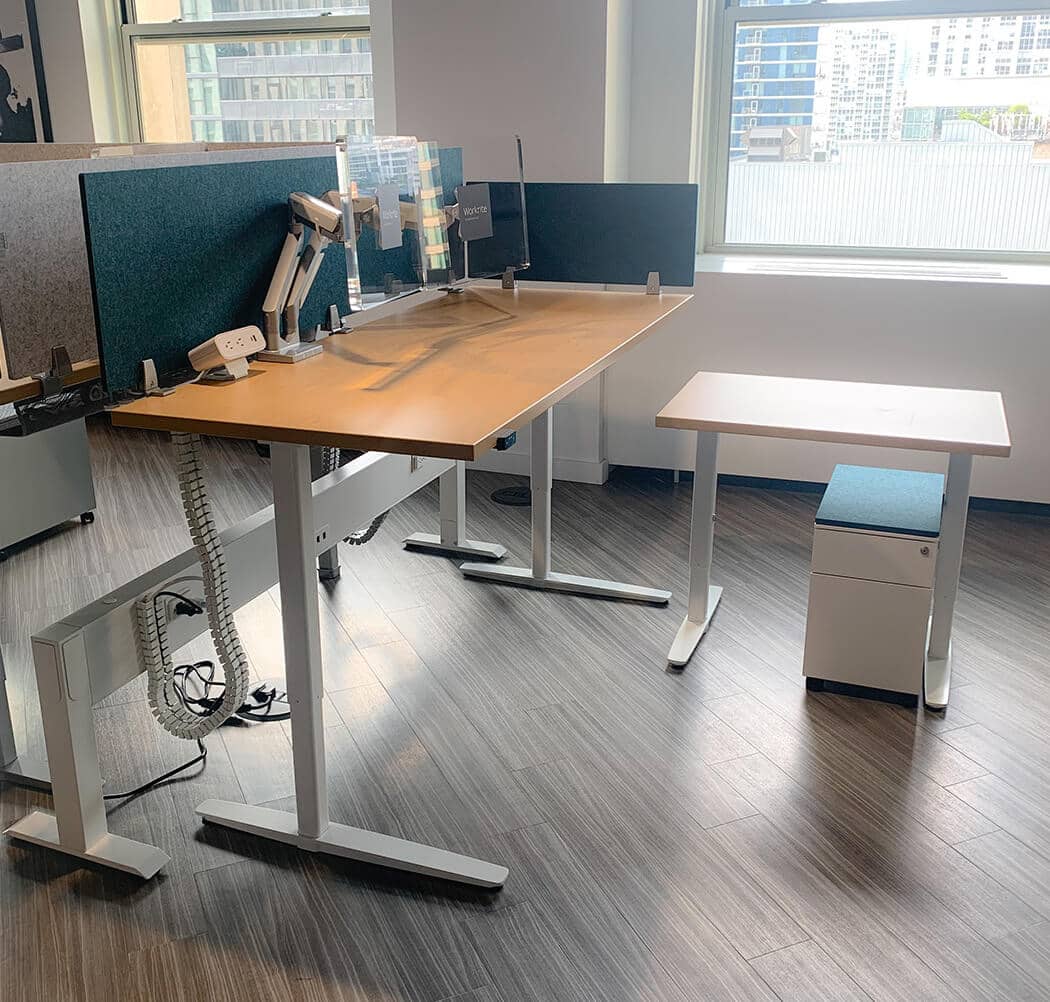 Though it comes with very limited options. You only get to choose from 3 tabletop finishes, but the top does look impressive. It also has a substantial weight and there is no fingerprint mark retention.
This Workrite desk works for those who stand between 4'9" and 5'11". And since this is more of a rectangular desk, it's easy to squeeze into any room. If you have a tight space, you can opt for the smaller unit and flush it against a corner of your home office. 
Heavy duty Honorable Mentions
We put some desks below for you in case you still want more options. Another look doesn't take much time, isn't it?
LifeUp Pro3
This is a heavy-duty German Made desk, so it might not be the most viable option for many, but it is really durable And it might not be able to go as low as 22". Those who are  5 feet can find a comfortable spot with the lowest setting of 23-25".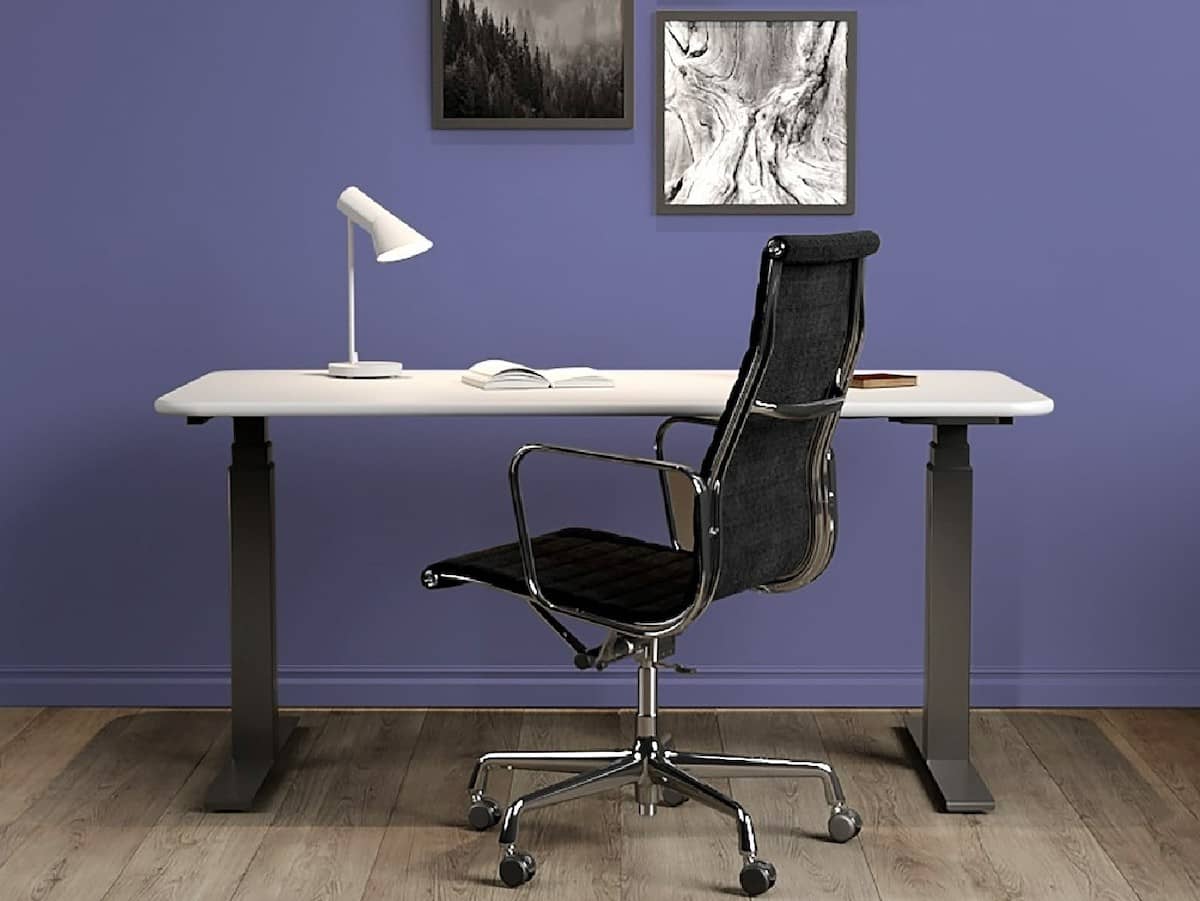 The options are limited though. You can choose between a circular or a straight desk or 2 desktop options, then that's pretty much it. 
HOO stand-up desk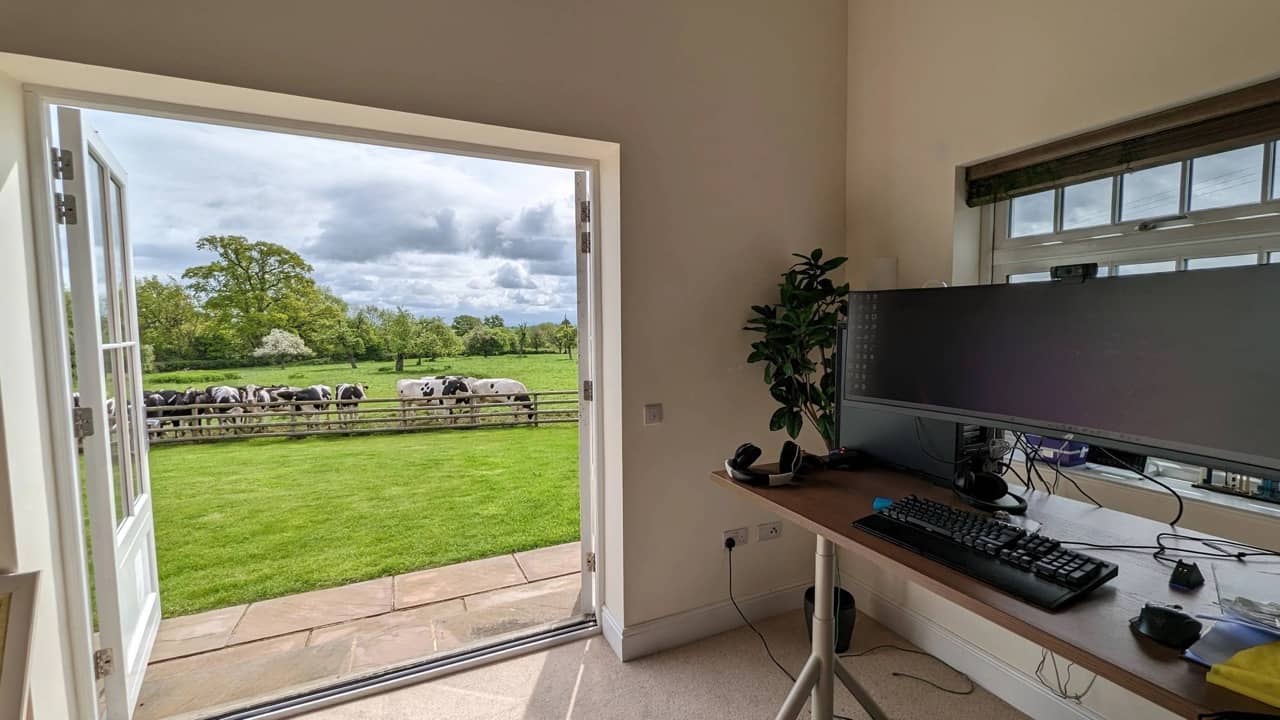 Like the LifeUP pro, this desk can go as low as 25." We have included this in our list of honorable mentions since it is one hefty unit too. The build is just impressive and we can't complain about any of the parts. The desk is stable at all heights, with no wobbles.
If you need a unit that is easy to set up, this one has more pre-assembled parts. So we see this as perfect for women or those who just don't want to be bothered by a lengthy setup. 
But keep in mind that it will be hard to get it through the front door without any help.  This desk also comes with a nifty set of features. It has a metal cable management tray that is very different from the cheap plastic ones that come with most units. It also has an anti-collision feature and a controller with a sitting reminder. 
The Lift standing desk by Ergonofis
If you live in Canada, consider this Lift: https://ergonofis.com/en-us/products/shift-sit-stand-desk?variant=20696389681214
From the start, the Lift shows up with 300 lbs of weight capacity, a height range from 24.5″ to 50.2″, and 10 years of warranty. So impressive, right? No need to worry about the wobble, the height adjustment, and the trouble of installing.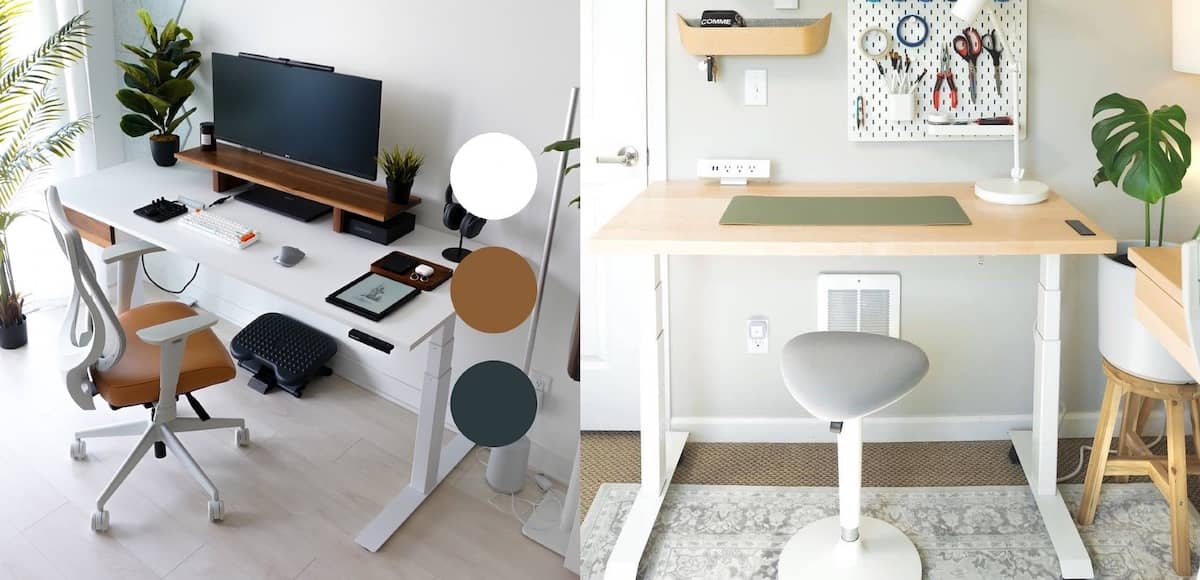 That's not all, you will see some special features that the Lift has, that the other brands don't.
We are not talking about the anti-collision technology, which is so typical! The Lift boasts a soft-touch surface that exudes a sense of elegance and luxury. The soft-touch laminate with a matte finish not only resists fingerprints but also adds a touch of sophistication to any workspace. The anti-fingerprint surface not only keeps the desk looking pristine but also enhances the overall aesthetic appeal!
Installing the Lift Standing Desk is a breeze, thanks to its pre-drilled design. In just 15 minutes, even someone new to DIY furniture assembly can set up this desk, while experts can accomplish the task in as little as 5 minutes
Unlucky for US pros, this is made for Canadians. That's why we mention it in the Honorable list.
Our last reminder
A standing desk is a great investment for your health, and if you're on the shorter side, it's especially important to find one that is adjustable to fit you properly. We hope our list of the best standing desks for short people has helped you narrow down your search and that you enjoy many years of healthy productivity with your new desk!
Related post: Top 10 Best Ergonomic Office Chairs for Short People