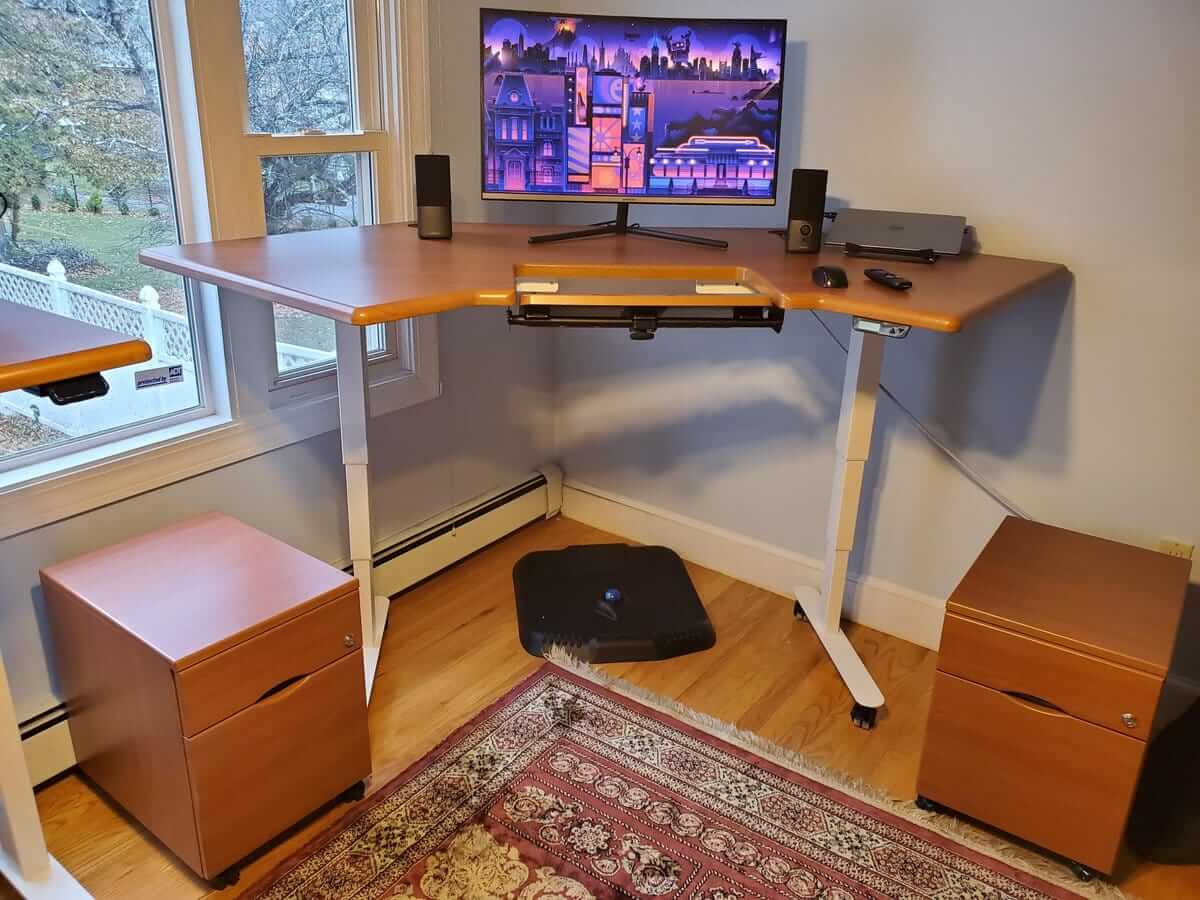 iMovR's Cascade Corner Standing Desk – is identical in every other way to iMovR's more conventionally-topped sister product, Energize, but builds in their patented SteadyType™ keyboard tray for the most ergonomically advanced standing desk experience on the market.
Cascade and Energize standing desks are part of iMovR's Freedom line. In this review, we would specifically talk about the Cascade Corner Standing Desk – the most ergonomically advanced member of the line. 
Cascade, as well as other members of the Freedom line, is cost-competitive, high-performance, and has state-of-the-art quality. 
What is it that's so striking about the Cascade? It screams its built-in SteadyType™ keyboard tray, which is adjustable and thus, offers pronounced benefits for standing and treadmill desk users. 
Its optimal design, configurations, customizability, PerfectPaint glide system, easy assembly (as well as a factory pre-assembly option), and manufacturing techniques are highlights of this product that leaves you adding it to your favorites. Lastly, it's 100% American-made quality! 
Wow, how's that for product highlights? In the end, we'll get an answer of whether this desk is a keeper or should you pass on it.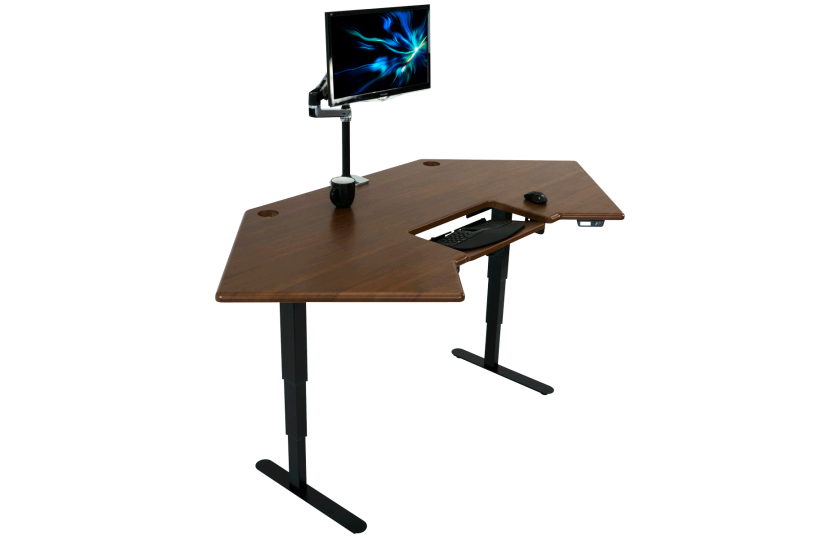 Since the SteadyType™ keyboard tray got this desk too hyped, let's discuss that aspect of this product. The keyboard tray is built into the tabletop, for optimal typing ergonomics while you stand (or walk, if you have a treadmill). Think of you standing in front of a desk working with elbows bent and arms resting closer to your sides. That doesn't sound so tedious, but with that scenario in mind, do you think you would last for hours without fatigue? 
Normal flat-surfaced standing desks would cater to neutral arm angles while working in the upright position and you would be able to work in front of your desk with no issues. 
iMovR looked closer into this situation and came out proudly with its patented SteadyType™ technology – a built-in tilting keyboard tray for unparalleled typing ergonomics. So, now, you're not only equipped with relaxed arm angles, but you get to work with the most ergonomically neutral, non-straining position for your arms. Comparatively, there is a marked difference in terms of typing endurance, as the SteadyType-equipped desk allows you to type for longer hours rather than the traditional which often results in faster fatigue. Are you ready for a day of strain-free productivity? 
Cascade's Innovation
The Cascade Corner Standing Desk is outperforming numerous imported competitors. The question now is how – how did iMovR innovate a line with top-notch quality and low manufacturing cost? 
Let's first check out the Cascade Corner Standing Desk's specs.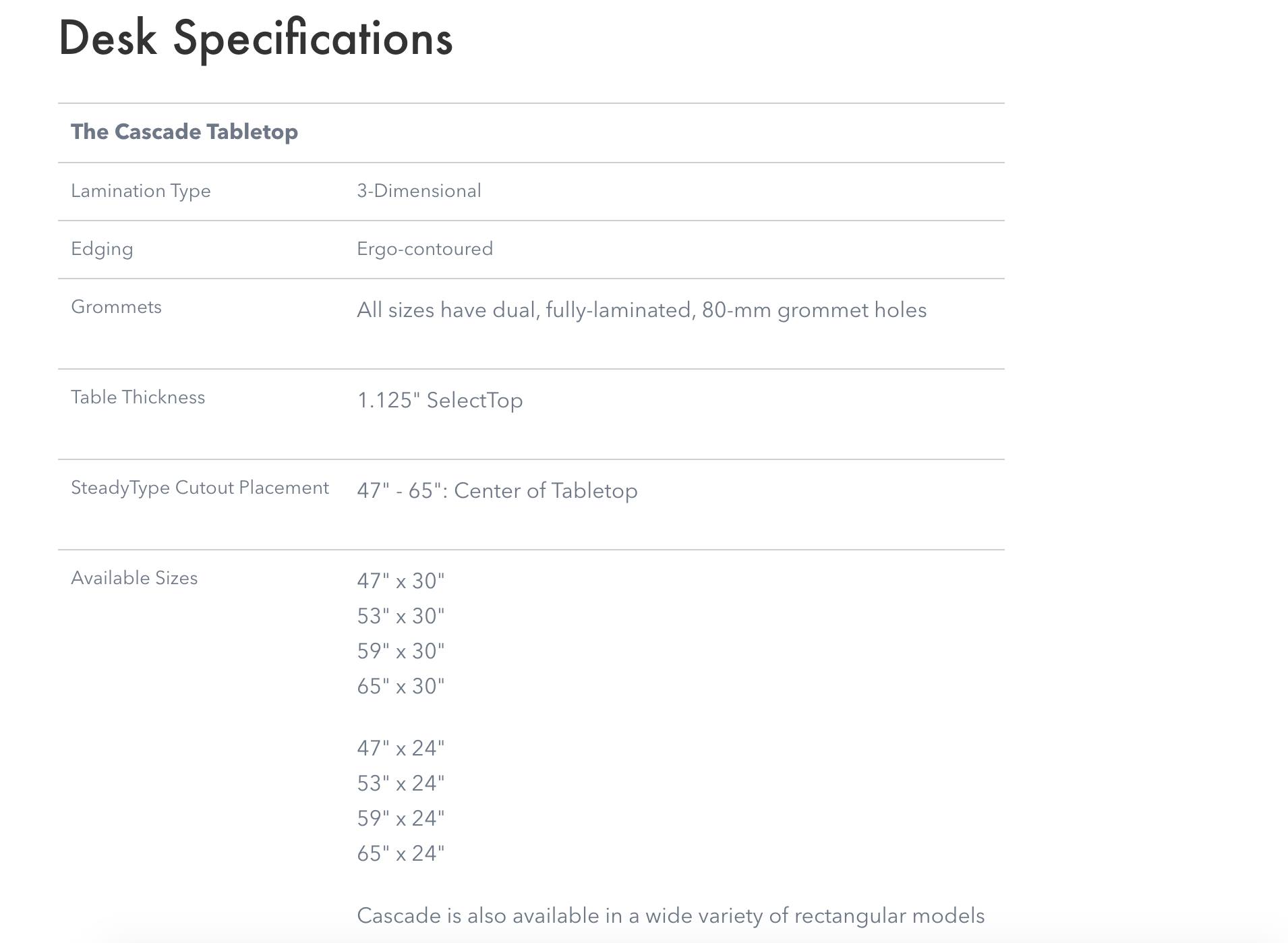 If you had paid attention to the table, you would see that Cascade is definitely labor-intensive. Does it make you wonder how iMovR managed its production to be efficient? 
Let's be honest here since it's cost-friendly, you would initially think it's imported from a manufacturer with cheap labor. 
However, to your surprise, the Freedom Line is manufactured in the United States. Impressive! 
Its unique and cutting-edge tabletop construction and robotic automated manufacturing for finer machining tolerances contribute to Cascade's unmatched production efficiencies. These advanced techniques grant the base its precision, consistent performance, impressive stability, and low cost.
So many surprises, but I have more! Did you know that such bases come with the same warranty as iMovR's top-of-the-line desks, like Energize and Lander? Let's have a look. 
Surprising warranty coverage, right? We can, therefore, say that iMovR is confident enough with its high standard production process.
iMovR has developed a reputation for customizable desks, building a name for itself in the world of office fitness with literally thousands of different desk and table configurations. Cascade, obviously, continued this reputation. 
Although the Cascade version doesn't boast as many choices as its sister product, Energize, it still has the rest of the market beat when it comes to base options, tabletop shapes, sizes, and colors.
It has over 5,400 different desk combinations that consist of the base options, base colors, top dimensions, top shapes (including a variety of corner options), top thicknesses (for modern versus traditional look), and top colors (eleven are standard, plus hundreds of custom color options).
Let's take a glimpse of the top colors Cascade offers. 
While most competing desk bases come in black or gray, the Freedom adds a sleek white color option to the mix, so you can create a desk with a characteristically modern look to it. 
Other desk manufacturers offer a relatively minute number of customization options because they have to mass-produce their desktops and keep them in inventory, so size, shape, and color options are always going to be more limited as compared to any iMovR desk offering.
Because of these configuration and customization options, Cascade offers as well as its easy assembly (and factory pre-assembly option), you can then make changes to this desk to suit your modern office decor or your heart's desire. 
PerfectPaint™ Glide System
Conventional standing desk legs use plastic end caps, which get worn down with daily use. 
iMovR came up with better legs that help reduce cost without compromising its quality and are designed to last many years longer. 
Imagine a conventional tabletop with monitors and monitor arms, computers, and other desktop accessories. It is highly likely that most of the weight is towards the back edge of the desk and thus, it becomes heavier and shakier upon raising and moving it around. 
What do we want to achieve? Greater side-load stress and friction in order to raise the desk, which Cascade is machined to do so. In other words, all the weight is evenly distributed across the centerline between the base legs.
iMovR has really covered all their bases. They are very competitive, as they machined the Cascade to withstand more real-world conditions than just the ideal. On the other hand, Asian manufacturers famously publish their performance specs just under ideal conditions. 
Ergo-Contoured 3D Lamination
Cascade's tabletops use 3D lamination technology providing superior performance, which dominates conventional high-pressure laminated, powder-coated, and even hardwood tops you'll find on other desks.
Desk manufacturer often claims their table tops are unique and that they use the same "high-pressure laminate" (HPL) surfaces, but to give you some tea, this is just 3mm thick laminate pressed onto a particle board or MDF core. If you remove the grommet cover of an HPL top, you'll see a cross-section of unfinished wood.
Cascade is manufactured with much more advanced technology than standard HPL. Time to say goodbye to dings, scratches, discoloration, and damage from cleaning chemicals.
This 3D lamination method is elegant in appearance, but more importantly, it better protects the tabletop from moisture damage and warping and guarantees a higher level of durability. Not even strong disinfectants will tarnish your tabletop's finish! 
The Downside
The digital LCD controller displays height in inches or centimeters, and the Up and Down buttons cleverly double as sitting and standing height memory presets so you can quickly raise and lower your desk to your saved positions. While this minimalist approach leaves the Freedom desks with fewer controllers. 
Are you a minimalist or extra? The digital LCD controller uses more of a minimalist approach instead of the glitzy-looking ones. In addition, to save on some costs, the hand controller uses a cheaper reflective LCD (not backlit) for height reading display, rather than a bright LED. Although this poses a slight issue, iMovR doesn't imagine this is going to be a big deal for most users, as after programming your height presets, you don't take that much time looking at it. 
Moving to another feature, the Cascade base comes in two versions. The standard base has two-segment legs and a height range of 24.7″ to 42.8″ (not including top, extended leveling feet, or casters).  The XT, on the other hand, has three-segment legs and a height range of 20.3″ to 46.4″, and is ANSI/BIFMA certified (5.5 and 7.1). 
See the difference? Basically, the standard base has limitations in terms of accommodating the height of users. If you're over 5'11", it is recommended for you to use plan B, the XT base. Moreover, for extra tall users (over 6'2″), you can add 6″ height extenders to the XT base, expanding its range to nearly 54″. Both bases are UL 962/ CSA 68 Certified. 
Lander vs. Freedom 
In 2018, iMovR updated its offerings to focus on two primary desk lines: the Lander and the Freedom. 
As soon as desks from both lines are assembled, you would figure out that Lander features, in general, higher specs across the board than the Freedom, at the expense of less customization options and a higher price tag. Both desks are high-quality made-in-America products, but the Lander is designed to go the extra mile with a higher lift capacity and faster travel speed. These are nice upgrades of Lander, but for most consumers, they aren't really key differentiating factors that cause buyers to shell out extra cash.
The Lander also features a greater height range out of the box than the Freedom, with a taller maximum height of 50.5″. Height extenders and caster wheels allow you to go even higher, meaning that the tallest users (over 6'7″), especially those who use treadmill desks, should appreciate the Lander.
For most buyers, the real reason that the Lander is an upgrade over the Freedom series is its controller with Bluetooth app compatibility. The Lander desk features a paddle-style controller, which is more intuitive to operate than the controllers on traditional desks. The desk will also pair with a free smartphone app for iOS or Android that allows users to control the desk with their phones. You basically can control it with a single button press! 
The Freedom is a great deal for those looking to buy made-in-America desks with more customization options available, while the Lander is more of a premium product with higher specs. 
Shipping Services
To see complete details about their shipping service levels, methods of shipment, and options for Alaska, Hawaii, and other International locations, please see this site: https://www.imovr.com/delivery-and-installation
Conclusion
In a market facing cost pressures from abroad in the form of cheap, poorly-made imports, iMovR's Cascade Standing Desk stands out as a high-quality American-made alternative with a variety of customizable options, state-of-the-art ergonomics, and an impressively low price point for a domestic product. Its SteadyType™ technology, patented by iMovR, is the only method on the market for ensuring neutral ergonomic posture while typing (costs about the same as adding a conventional high-quality adjustable keyboard tray), and its industry-leading warranty is the best you'll find in its price tier.
If you're looking for a Made-in-America standing desk with top-notch ergonomics, a reasonable price point, and middle-to-top tier specs, the Cascade Standing Desk from iMovR is one not to miss.
Other iMovr products review by Standingdesktopper