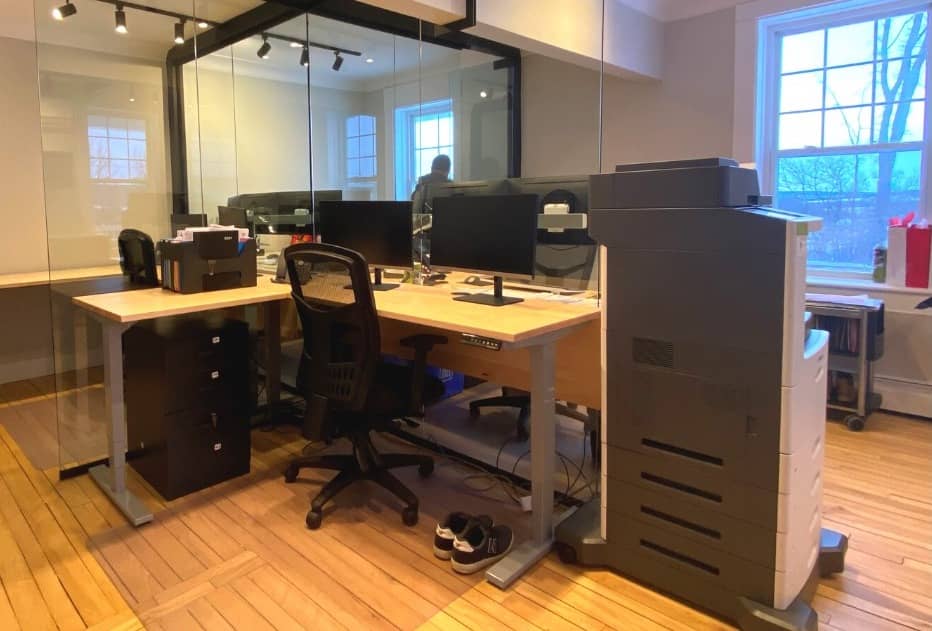 The Corner Ryzer desk is the L- shape adjustable sit-stand desk from Progressive Automations. You may not have heard about this brand yet. And there aren't many or not even a handful of reviews that you can find online. There are actually close to none. But we were intrigued when we learned that this is a 3 stage frame. It means that it can go much higher and much lower than a two-stage standing desk. Thus, this can have a wide scope of users. 
Also, there aren't many choices for L-shaped standing desks, so we are also on the hunt for the best ones. This definitely caught our eye. This seems to be one gorgeous L-shaped desk. So we are going to dive in and we'll let you know what we think about it. 
PROGRESSIVE AUTOMATIONS L Shaped Standing Desk review
Progressive Automations manufactures electric linear actuators, standing desk accessories, and table lifts. The table lifts are referred to as leg frames by most standing desk brands. Progressive Automations has more of a DIY standing desk option. You can choose the frames, the accessories, the finishing, and the tabletop. Though you might not be able to see much of the tabletop options on their website, they do offer several.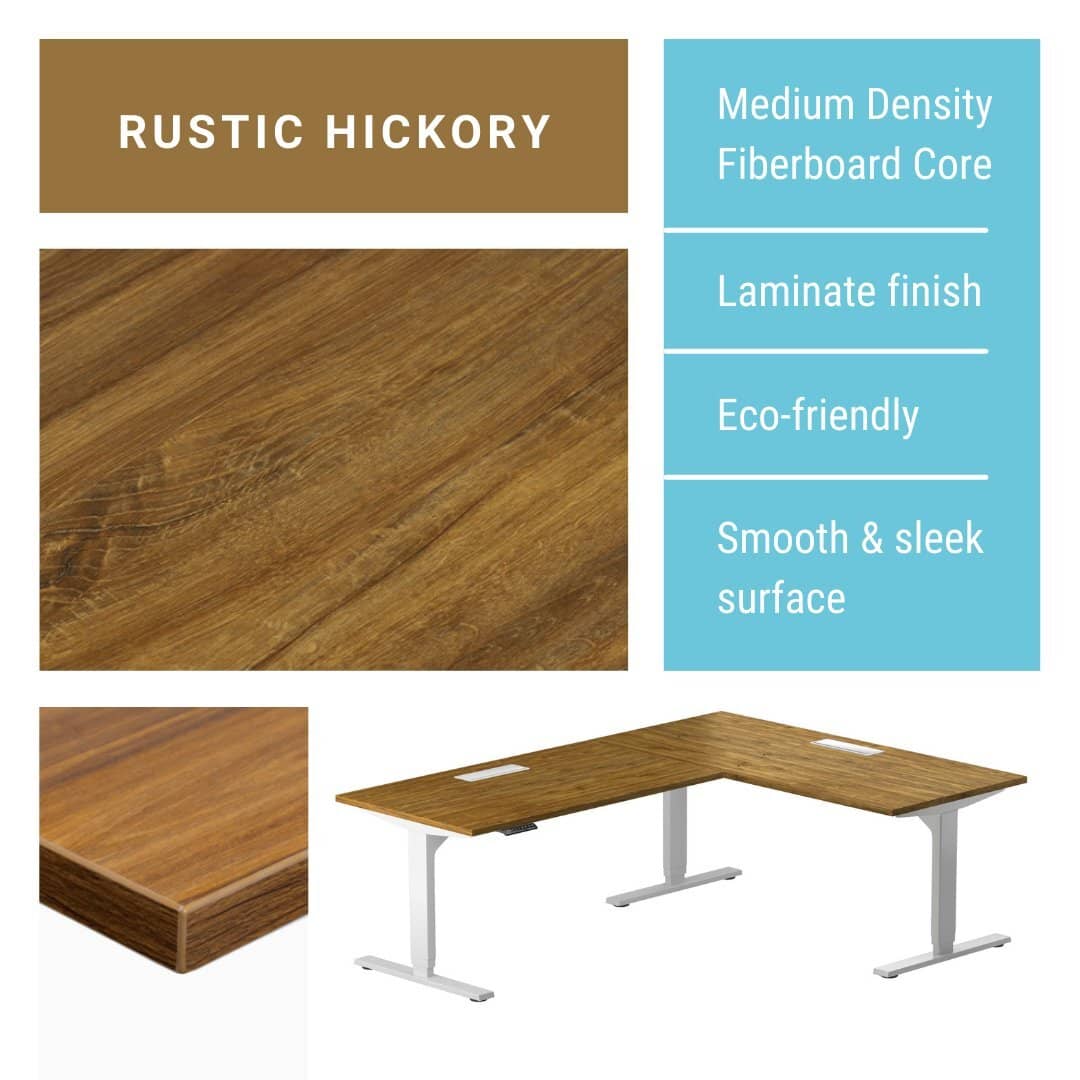 And the Corner Ryzer desk is a very promising one. The brand may not be that known yet when it comes to standing desks. But it is a known brand that widely manufactures standing desk accessories. The unit did seem robust and sturdy. Let's head on to the next section to find out more about it.
Huge and spacious working area
The Corner Ryzer is a perfect desk if you want more space. And of course, you have to have ample space. Because even if it's a corner desk that can fit into the unused corner of your room, this desk is quite hefty and big. It can even be shared by two people. And you can allocate several zones to the desk to make your workflow more efficient.
The two desks measure 78 and 60 inches long, so it is even bigger than the Autonomous L-shaped desk. And we thought the Autonomous was already the widest L- shaped desk in the market, then we found out about this Corner Ryzer desk. But of course, this is more of a premium option and has three-stage motors. 
Very sturdy and robust
With 3-stage motors, you can expect a more solid base and more sturdy. The Corner Ryzer desk does have a lot of heft to it and you can tell right there and then that this is an expensive product. And since it has three motors, this can accommodate both shorter and taller users.
And since the brand specializes in making linear actuators and stand-up desk accessories, we are certain that every part of the desk is of high quality. You'll never see any flimsy part, everything is rock solid. And even if the brand is not a known standing desk brand, the tabletop finishes are impressive enough and can give other popular standing desk brands like Jarvis and UPLIFT a run for their money. 
The tabletop is made of high-pressure laminate, but it doesn't look cheap. It's a high-quality MDF material so it's pretty smooth and looks seamless enough. You can set it beside a Javis bamboo and it will still be noticed.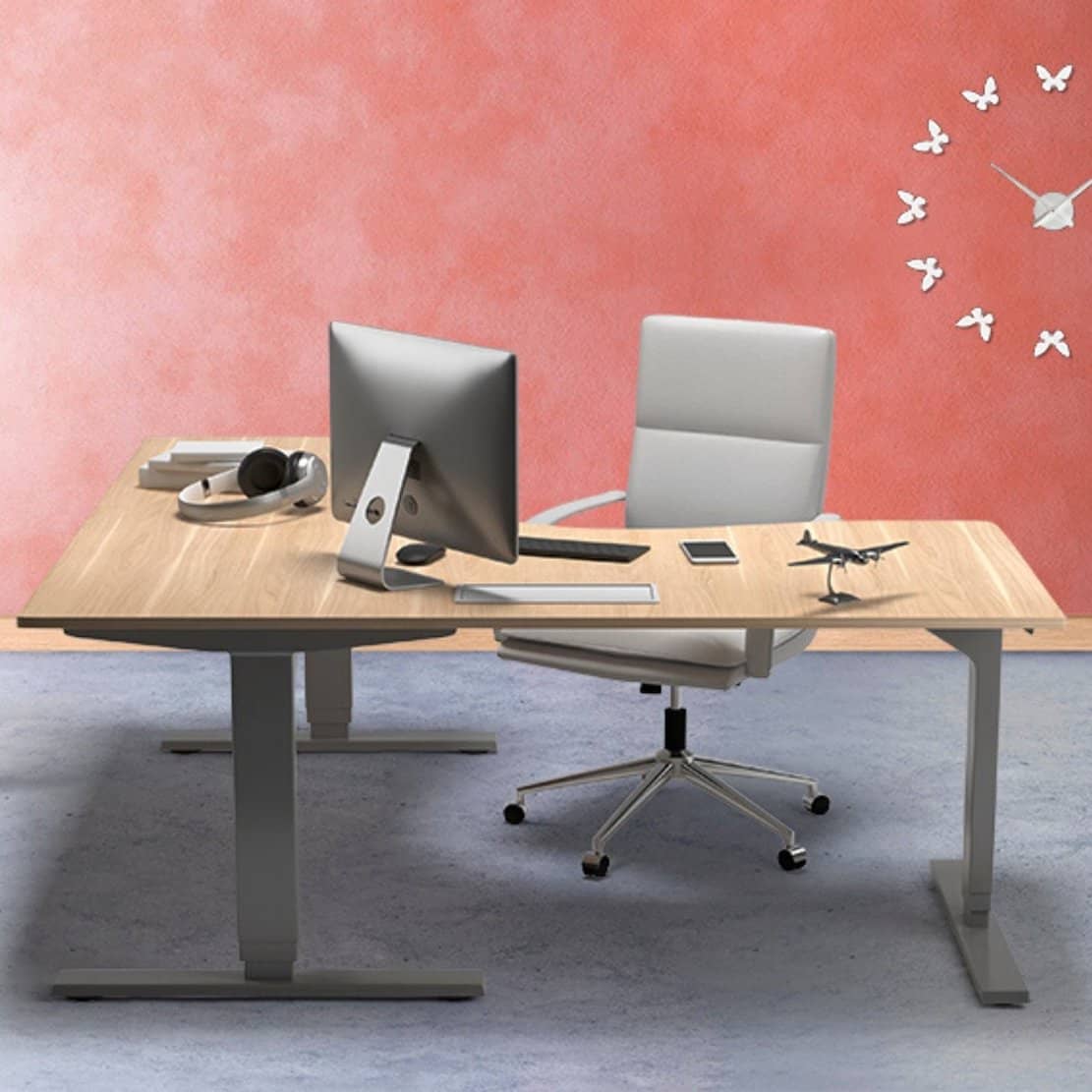 More options and adjustments
As we have mentioned earlier, the brand is more of a DIY kind of standing desk. So you have an option to combine 2 different tabletops to make an L-shaped desk (but the frame or the lifts will still be one unit). Or you can choose to have your desk with a seamless tabletop. Now this one features a contoured sloped front edge that makes it more ergonomic. This is acutely the more recommended desktop since it is designed specifically to be paired with the Corner Ryzer. 
What we did find unique about the Ryzer desk is that you can customize it to your heart's content. You can outfit with several accessories that the brand also makes. You can have a round grommet or even a rectangular one. There is an infinite number of accessories that you can put on your standing desks to make them more elaborate. You can even install a desk drawer to your Corner Ryzer standing desk. 
Also, the width of the desk can be adjusted. So you can choose how big of a tabletop to fit into your desk. So when it comes to customization, this is a highly customizable desk. It might even be more customizable than a Herman Miller standing desk. That's one of the advantages of a DIY standing desk.
And honestly, almost all the accessories the brand makes are high quality and look and posh. And it seems to fit right into the desk. 
Other things that we liked about the Corner Ryzer
The brand has a pretty decent warranty of 15 years (before only 8 years). Also, it offers a 30 days money-back guarantee. So you can always return or exchange the desk for another item in case you do not find it useful.

It is a heavy-duty standing desk. It has a higher weight capacity of 330 lbs, so it can definitely accommodate a more hefty workstation. You will be able to maximize the wide work area because it can carry more weight.

This is a highly functional standing desk. It is also one of the safest that we have tried. The Corner Ryzer has a ton of safety features. It has a child lock, an anti-collision feature, soft start and stop, energy-saving mode, and adjustable glides. To begin with, it has an almost complete set of features. What's missing could be a Bluetooth function and a qi charger. 
Caveats 
The downside? Well, we can't find that much. Except for the fact that it has a very steep price. With that said, we are lining up several alternatives to the Corner Ryzer desk.
Top 3 Best Alternatives for The Corner Ryzer L shaped desk
Ryzer V
If you find the Corner Ryzer to be expensive, the brand also has a more affordable option in the Ryzer series. The Ryzer V is also a 3 stage standing L- shaped desk. It almost shares the same features with the Corner Ryzer that we have reviewed above. Except that it looks less posh. But what's unique about it is that it offers a 120 angle design that is designed to fit into small spaces.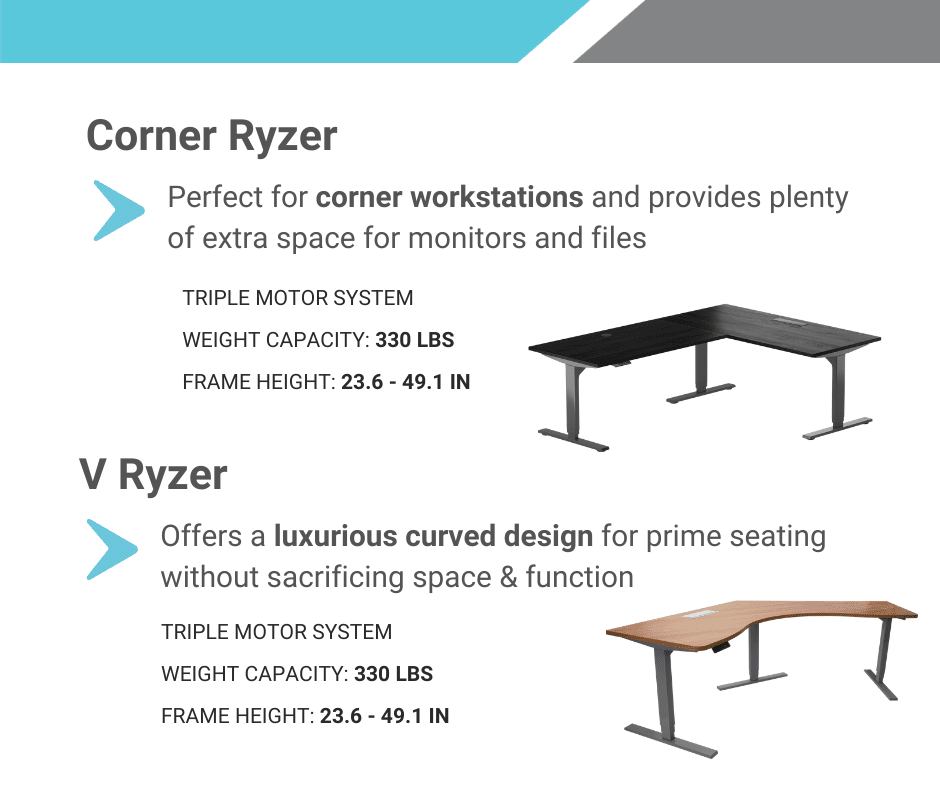 So this is also a great alternative if you find the Corner Ryzer too big for your room. The advantage over the Corner Ryzer is that it has a longer warranty of 15 years.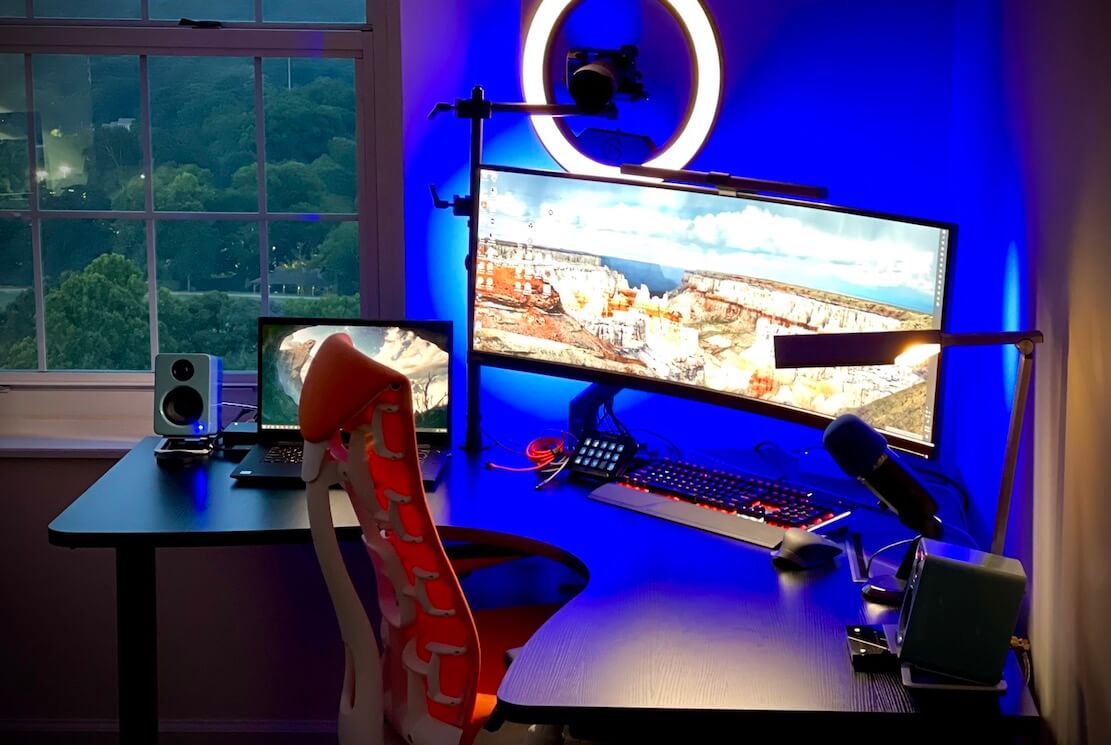 Uplift L shaped custom standing desk
The UPLIFT standing desk stands out because of its higher weight capacity. It's also a 3 stage standing desk, but it has a higher weight capacity of 530 lbs. So this is the perfect alternative if you have to put in some more equipment on your standing desk.
Like the Corner Ryzer, the UPLIFT standing desk is also highly customizable. In addition, it has a very generous warranty of 15 years for both the frames and the tabletop. 
Vertdesk V3 L shaped desk
The Vertdesk3 L-shaped desk is also highly customizable. Like the Progressive Automations L-shaped standing desk, you have several options to outfit it with several accessories to make your desk more efficient. 
Another advantage is the longer warranty of 10 years on the frame, 7 years of the electronic parts, and 5 years for the accessories. And out of all the L-shaped desks that we have mentioned above, this one is the most innovative. It's Bluetooth-enabled. Just say "Hey Siri" and you can change the height of the desk. Moreso, you can choose from the 22 already preset heights. 
The downside is, it only has two motors for the three legs. So it will not be able to go high or low enough compared to the Progressive Automations L-shaped standing desk.  
Also, this standing desk has crossbars that run from one end to the other. So this can be a concern if you are going for more legroom. And it can be a potential knee crusher too. 
But if you are looking for a more innovative L -Shaped standing desk, this is the best alternative. 
Final Say
L-shaped desks are becoming more in demand today. The need for larger working space is becoming the norm. When you need to have zones on your desk, this is the best way to go. And the Progressive Automations L-shaped desk is not yet a frontrunner in the market. But it deserves more attention because of its robust build. Only a few brands offer decent and durable adjustable L- shaped desks, so this can be an opportunity for the Corner Ryzer to stand out. 
Maybe you also like: L-Shaped Standing Desk or Two Desks Perpendicular?