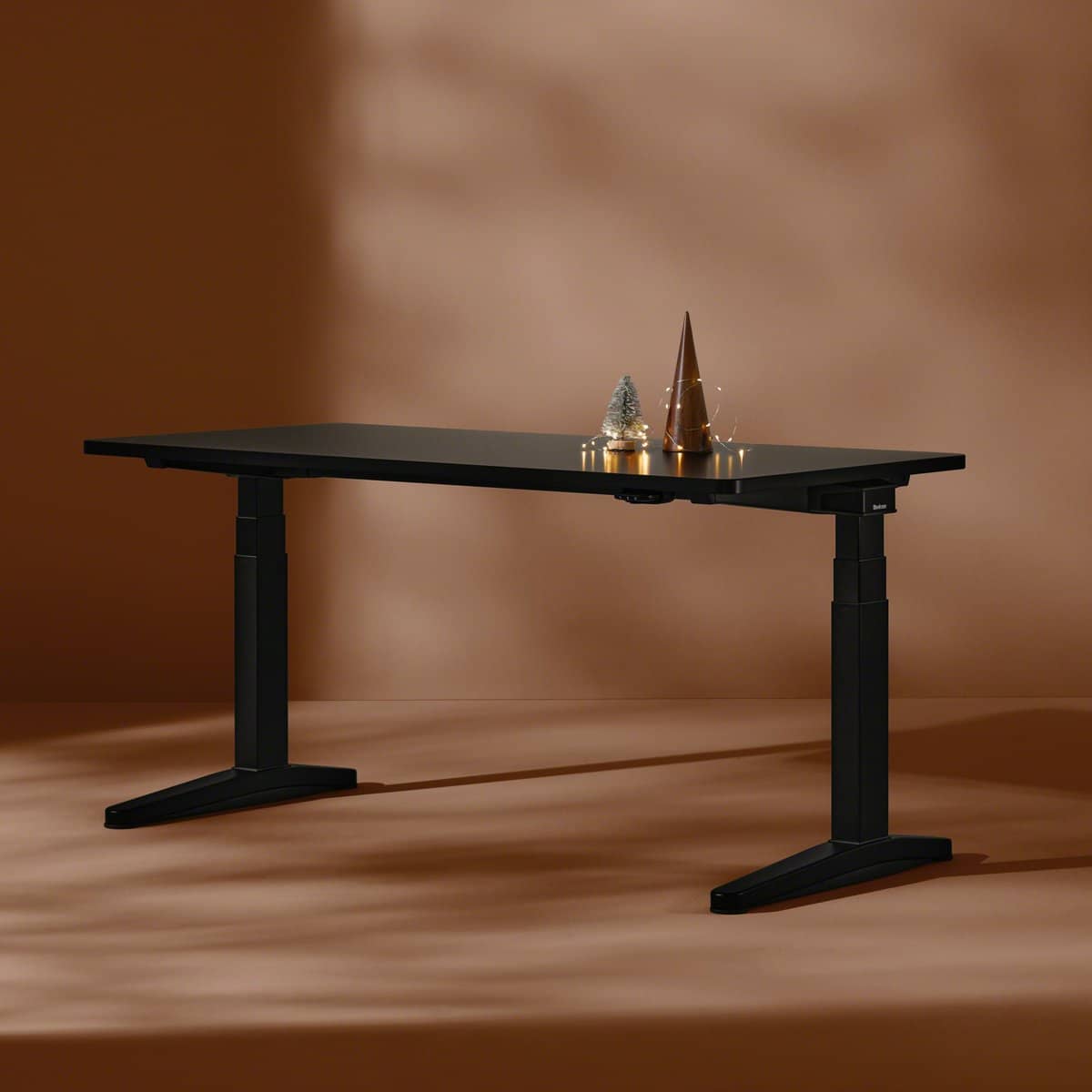 Steelcase has been known for its intricately designed ergonomic chairs. And of course, the steep price. It's in the same price range as Herman Miller's office chairs.
But when it comes to their standing desks, it's refreshing to see that it is in the same price range as other mid-range standing desks such as an Uplift V2, Fully Jarvis, or a Branch standing desk.
But the brand did not skimp on quality even with the lower price. And shall we take a peek at some of the brand's standing desks? 
So in this article, we will be exploring the features and the offerings of the Steelcase Flex, the Migration SE, and the standing desk that was born out of the pandemic- the Steelcase Solo. And how do they compare vs a premium brand such as Herman Miller?
Steelcase unit
Features
Height range
Weight capacity

Migration SE

23"x 47"

Option for C or T shaped legs, option for mitered and squared edge foot, 10 tabletop options, 4 base options, obstruction  sensing technology, dual motors, LogicData electronics

28.3"-46.9"

165 lbs

Solo sit-stand desk

basic unit

24"x 48"

T shape legs, single motor, 7 tabletop options, 2 base options, simple paddle switch, Linak electronics

22.6"-48.7"

250 lbs

Steelcase Flex

24" x 48"

 

Directional rollers, integrated power option, active touch controller, can be connected to a Rise app, obstruction sensing technology

27.6″-46.9" 

250 lbs
How is Steelcase standing desks any different from Herman Miller?
Since the ergonomic chairs of these brands are head to head, might as well compare the standing desk units of each.
Herman Miller has been making some of the more ergonomic chairs, and standing desks are no exception.
For instance, the Herman Miller Renew is one gorgeous and highly ergonomic standing desk. It is made for corporate settings but you can also use one for your home office. But this unit is not necessarily up for DIYs. Most, if not all of Herman Miller standing desks require professional installation. And the thing is, the setup does not come in free. 
You'd be spending more than 1000 bucks for a Renew desk, but you need to top off more to have a professional installation. And it does not come cheap. Though some were able to use the desk on their own, it can render the desk less stable when not properly done.
Steelcase made a difference when it comes to their standing desks. Instead of going head to head against other premium standing desks brands, it decided to be more affordable and more accessible to most. Well, maybe because WFH became a norm since the start of the pandemic.
For instance, the Steelcase Solo is made to be DIY-friendly. Out of all the other Steelcase standing desks, it is the easiest to assemble.  
The Migration SE and the Flex are not also accessible and can be installed at home, though the Solo makes for a very fast installation. 
How about the similarities?
A simple paddle switch seems to be a thing between these two brands. 
Renew is also equipped with a paddle switch, though you can opt for a memory control with presets, it's not available for e-commerce consumption. 
The Solo, on the other hand, only has a paddle switch. And Flex also has one, though these two brands give you an option to upgrade to a control panel with memory presets.
The Steelcase Flex is a breath of fresh air
And why so? 
Because it does offer some unique features that you may not find in most standing desk units. We'll elaborate on them one by one.
The Flex has very different feet. Sure it still has those sturdy all-steel legs, but instead of square or mitered feet, it has di directional rollers.
The foot of the desk is covered with an outer foot on each side, so it would be like a three-pronged foot. And these are made of a material that makes it easier to move the desk, so maybe that's why they are called Flex because they're rather flexible.
And instead of a control panel with memory presets, it has an active Touch controller. You can connect this to a Rise app. So whenever you want to change the desk height, you can do so via the app. It's like the Bluetooth connection of an Imovr Lander desk that you can connect to an app to set reminders for sitting and standing.
So albeit with the simplicity and below the premium price, you can still enjoy modern features. 
And the Flex also gives you a choice for a basic or an extended desk. So taller users can find it comfortable by opting to buy the extended version. And the basic max desk height is 48.7", so it can also be okay for slightly taller users.
So really, this is a very generous standing desk. Can you imagine that it's in the same price range as some of the more wobbly desks that don't have digital capabilities? 
You can still customize your Steelcase desk
The desk may seem simpler than its competition when it comes to options for customization, but the desk still indulges you. Though it may not be as diverse as the choices offered by Fully or Uplift, it's still awesome choices.
One of our favorites is the Integrated power option. This is very convenient especially if you have tons of equipment that you have to plug in. It makes up for a cleaner and more convenient working space. And you don't have to worry if you only have two power outlets nearby. 
Solo only has a single motor, but does it matter?
The Solo desk is an uncomplicated but strong choice. It's very easy to assemble and has a simple yet elegant-looking paddle switch. So though it lacks memory presets, we will trade that over a very strong and steady unit.
Though, compared to other Steelcase standing desks, this is the loudest. Not too loud though but you will be able to notice the sound that it makes. 
One of the downsides that most people think, is maybe the single motor of Solo. But in reality, the quality of the motor is more important than having a single or dual motor. You have two motors but the desk may still stall if these are cheap motors.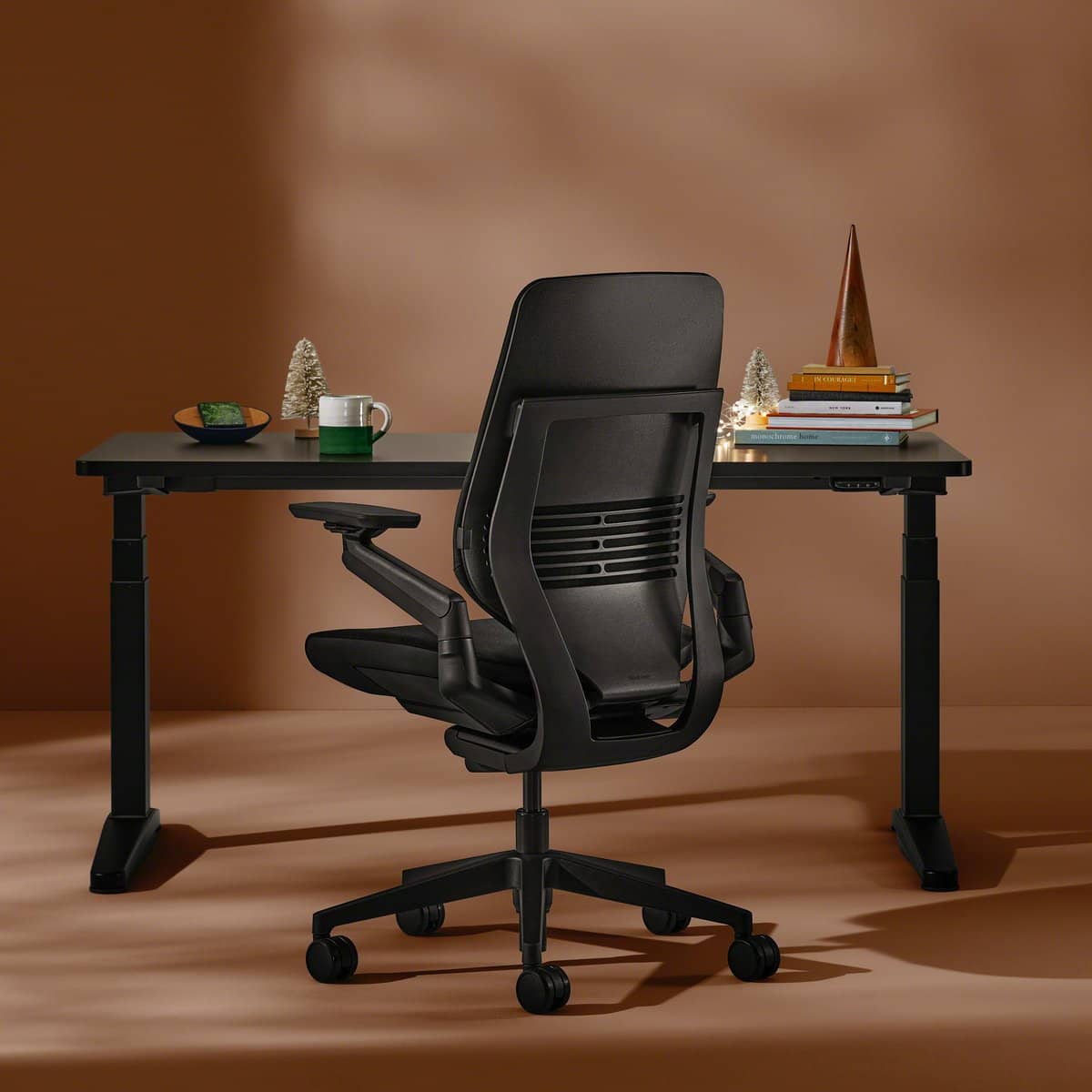 So the single motor does not make it less valuable, it does, however, may make an impact on the noise produced when the desk moves.  
Migration SE is almost a complete box
This Steelcase standing desk may be the works, so to speak. The basic unit comes in with cable management with a cable carrier. It also offers a space beneath the desk where you can keep some stuff and you can also use it to easily hide the cords. So no need for add ons.
So this desk can be easily integrated into other smaller working stations without the need for any additional accessories. 
So this is very convenient if you share a home office with your partner. So if you just want to get the complete box without adding to the cart that much.
So are Steelcase standing desks that good?
An astounding yes, despite a simpler approach to the design, it is very solid, sturdy, and still aesthetically pleasing. It might not look intricately designed but it plays the part.
Aesthetically speaking, you can also never go wrong with any Steelcase standing desk, all look classy, clean, and sleek. And to know the best unit for you, it's easier than you think. Each desk offers a completely different set of features from the other. So you will not have a hard time. 
Another feature we looked at is that the brand has listed standing desk troubleshooting procedures. You can encounter errors when using an electric standing desk. And since these are prone to glitches, this is inevitable at some point in time. Even the most sturdy desk is bound to give out an error a few times in its lifetime. 
But you never have to panic or contact customer service asap. You can access a complete list of what to do in case your standing desks encounter errors. 
Though you can also spot some troubleshooting tips with Autonomous, Steelcase has a more comprehensive one.