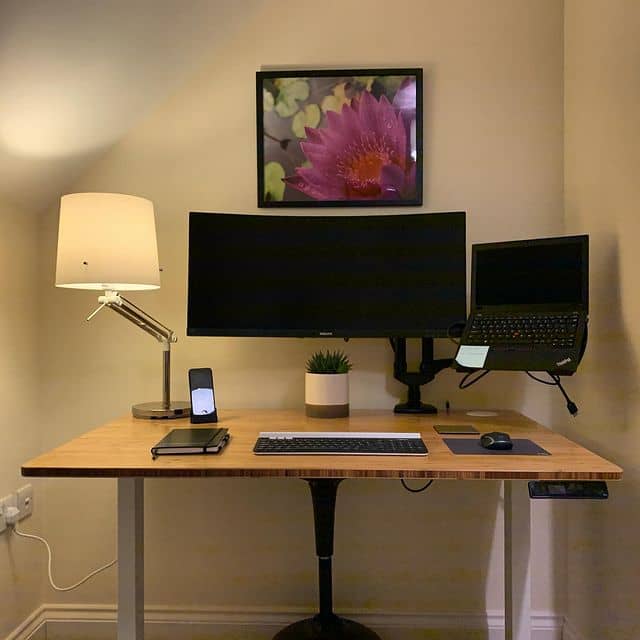 One of the challenges of living in a small apartment or dorm is the lack of space for a functional standing desk. The standard size 47" to 59" standing desk will hog all the space in your apartment. 
But that does not mean that you have to settle for a standing desk converter. These electric standing desks on our list we pick up today can fit in your small space in your home office. 
Check out this comparison table below first.
Standing Desk

Brand

Height adjustment range
Weight capacity
Warranty
Fully Jarvis (36 x24 Natural Bamboo Top)

30" to 49"

350 lbs

15 years on the motor and frame components, 5 years warranty on the tabletop

Herman Miller Motia (Sit-to-Stand Desk 36 x24)

27"-46"

250 lbs

5 years on electric and mechanical parts, and 12 years on the tabletop

Flexispot (EG1 40 x 24 White Frame + Maple Top)

27.56" – 44.88".

132 lbs

5 years warranty on the frame & motor, 2 years warranty on the  electronics and other mechanisms

SHW (Electric Height Adjustable Mobile 40 X 24)

28″ to 46″

110 lbs

1 year warranty with an option to upgrade to a 3 years warranty

Fezibo (Stand up Table, Sit-Stand with Splice Board, Black 40 x 24)

27.16″ to 46.06″

176 lbs

3 years warranty on the motor, and a 5-year warranty on the frames
Fully Jarvis Standing Desk – the best option for small space
Fully Jarvis bamboo standing desk has always been one of the more popular choices among the crowd and this desk is always shown up on our list of the best adjustable standing desks. Thanks to its excellent customer service and generous warranty, many are seeing more value despite some of the wobble issues. And lucky for some guys who want a standing desk for small spaces, Fully Jarvis has the option of 36×24 size.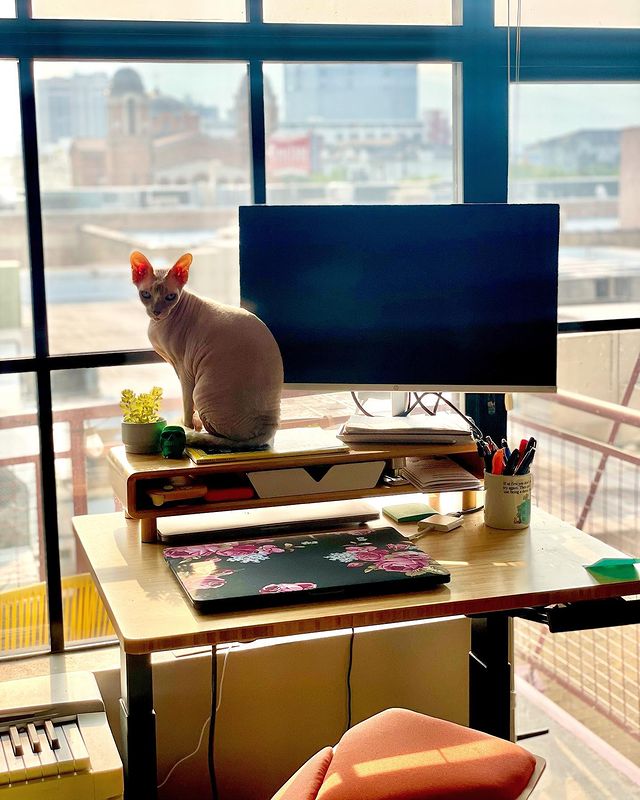 Though the steel legs are pretty sturdy since it's not made of aluminum, there can still be wobbling a few inches before you reach the max height. At the same time, we discourage you from leaning your entire weight on the desk. For some reason, it can bow forward if too much weight is placed on it.
At the same time, Jarvis also offers a compact model fit for small spaces. And honestly, the bamboo top is indeed beautiful and would look very pretty in that small nook in your apartment. The grain striations on the desk make it look both rustic and modern at the same time. 
Albeit, the small working space, this gorgeous bamboo desk can pop up. And even if you flush it against the wall, it's hard not to miss it.
Apart from the gorgeous exterior, many go for the bamboo top because it's a more sustainable option. But for us, we're not sure if we are going to rate it as eco-friendly because of how it was manufactured.  
Let's look at the other features of the desk. 
The control panel has more of a minimalist style. It's all black with 4 memory presets and a LED display.
Also, Jarvis offers nifty options for customization. But keep in mind that these customizable options will make the desk price go up.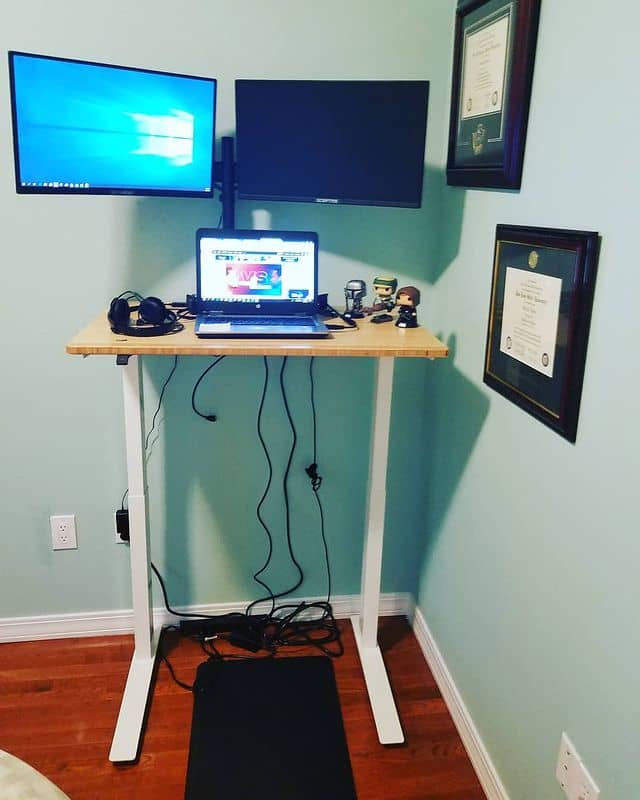 Jarvis is perfect for several applications. It's great for freelancers. And since it has safety features, it's also great for students. And with a higher capacity, it's also fit for commercial use.
Herman Miller Min Motia – perfect for a small room
We chose the Min Motia not only because of its compact size, but also because it's also a very sophisticated and elegant standing desk. 
The base is white and you get to choose from 3 table top colors. All of which look rather premium and classy, which should be because of its higher price tag.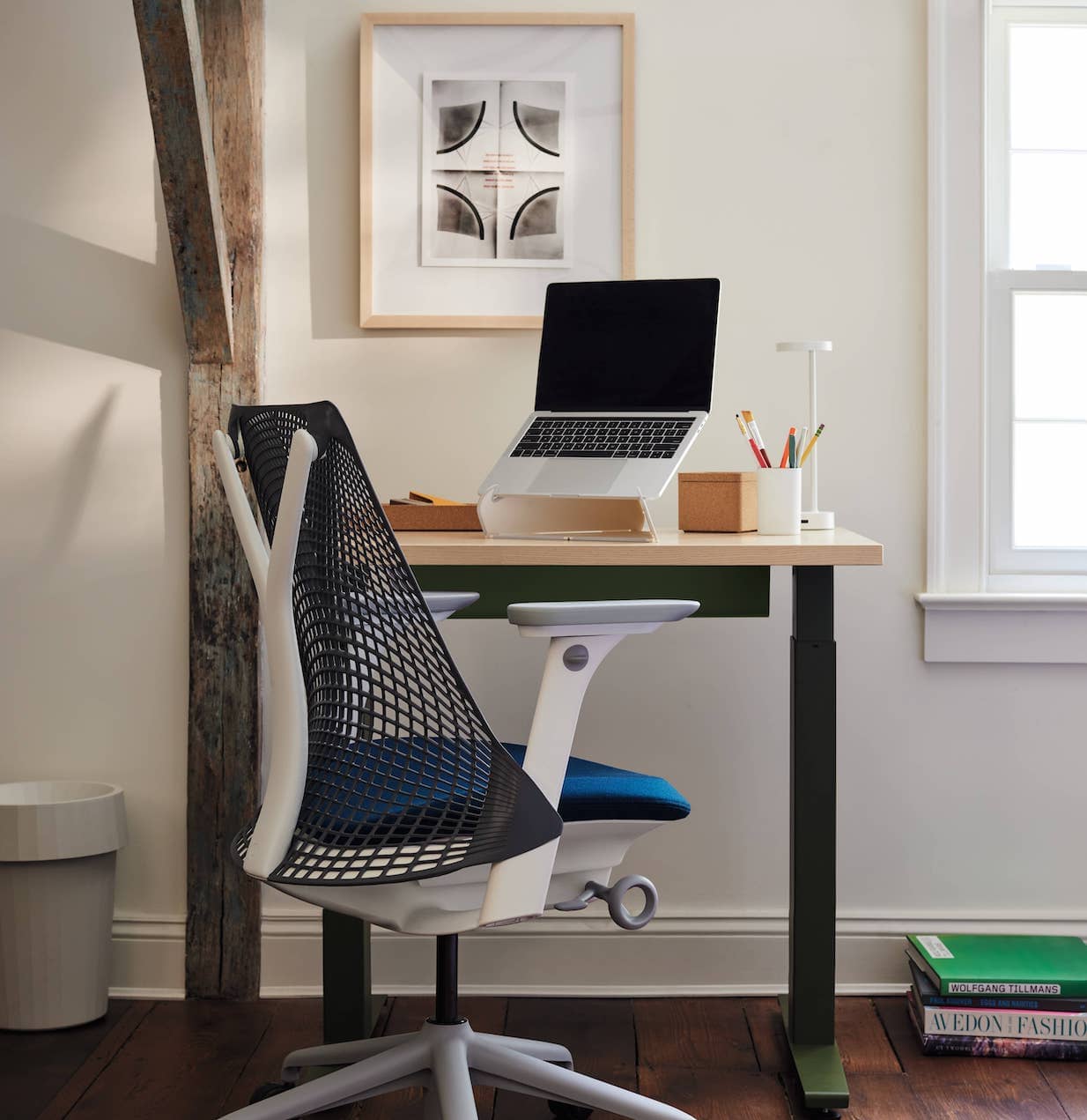 This is also a heavy-duty standing desk. Herman Miller desks and chairs are made to withstand commercial wear and tear. So this is a perfect option for you if you're looking for something that can last long term.
It's also a great desk for both the office and your home office.
We also find the Moita to be one of the quiet when transitioning. The transition is very fast too. It is also pretty stable. 
One thing we have noticed though is that all Herman Miller desks have wider telescoping legs. You can also see the same frame and leg design in the Renew desk or the Nevi. And these wider bottom legs and feet perhaps contribute to the stability and durability of the desk. The steel is thicker than most standing desks in the market.
So this is going to be more stable and sturdy than the Jarvis. You can lean your weight on the desk and it will not budge. 
And it has tons of customization options too like Jarvis.
One downside, however, is that this does not come with a memory pad. So you pretty much have to manually adjust the desk yourself. And of course, you have to pay a pretty steep fee for the shipping, which you have to put up if you buy desks from Herman Miller.
Overall, the Motia is an elegant and durable choice for a home office. And since it can withstand wear and tear, it's also suitable for commercial use. 
Flexispot EG1 – best budget stand up desk for small space
The Flexispot EG1 tabletop runs a few inches more than the other options on our list. This desk measures 40" x 24". We had to include it because, albeit the additional inches, it can still fit in a small apartment or a small home office. 
We recommend placing the desk perpendicular to the wall so that it would open up a lot of space.
And if you need a keyboard tray, don't buy those that can be installed under the desk, these will need a lot of clearance. What will be ideal is a keyboard tray that is installed via clamps.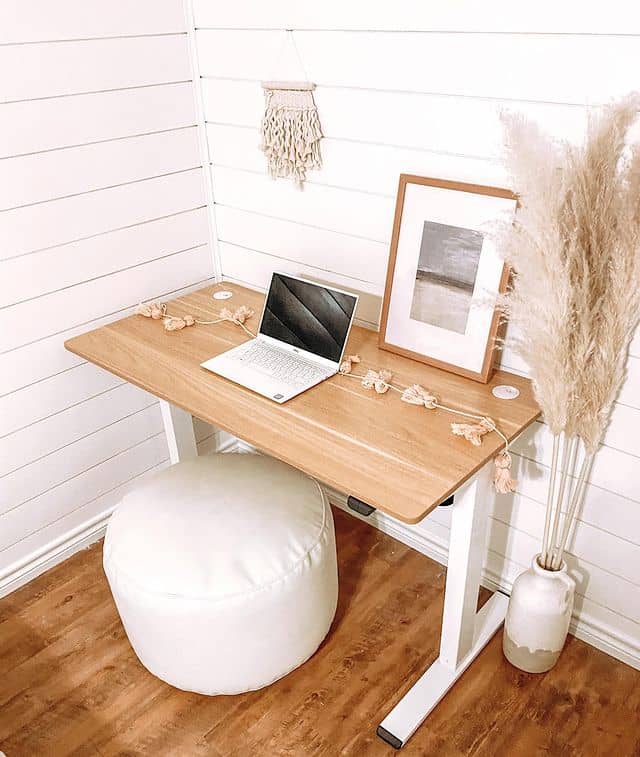 This is more of a light-duty desk and has a lower weight capacity of 132 lbs. Albeit the smaller what capacity, this is a better alternative than the fixed stationary desk that gives you backaches. 
The EG1 runs at less than 300 bucks. So this entry-level desk is perfect for those who are on a tight budget but want to transition to an electric standing desk. 
There are also some gripes associated with the low price. You will be able to adjust the height of the desk by using the up and down control button. So unlike Jarvis, it does not have a memory preset. But we do find that the transitioning is pretty quiet but not as quiet as the Motia. 
The desk is pretty stable, just don't go beyond the max height.
The legs of the desk seem a bit thick, so we reckon it can last for a few years. It can be a decent buy but may be more suited for home office rather than for commercial use.
Most of the complaints happen when the desk is made to bear too much weight. 
So we find this more fitting for a home office, for students, and not for commercial use.
SHW 40 X 24 – standing desk for small apartment
The SHW electric standing desk also has the same dimensions as the EG1. And a few inches wider, you'll not have any problems squeezing this desk into your small apartment. 
Aside from the smaller dimensions, we love how functional it is. Compared to the other options on our list, this desk comes with a bit more accessories that can help you get organized.
It comes with a headphone hook at the side and has a small tray you can use to keep pins, pens, and small items. And it also has 4 memory presets for your convenience. 
And oh, another feature that makes it suitable for a small space is the lockable wheels. So you can easily move it from one part of the house to the other. It can also seamlessly fit through doors so you can move.
This is also an entry-level desk that costs less than 250 dollars, so it's more affordable than the EG1. You'll find it has more bits such as the 4 memory presets and more accessories. 
As for the gripes, the desktop comes in two pieces. It will leave an obvious demarcation line where the two pieces meet. As for the stability, we were not expecting much because of the cheap price. 
But it turned out not so bad after all. It's not the most stable, but it isn't super wobbly either. And when you bump into the desk, it might budge a bit. But when you're typing on your laptop, it is decently stable. 
And oh, the warranty can be quite stingy. Though you can opt to extend the one-year warranty to three years, you have to pay for it. 
Albeit the shortcomings, this is a great option for students who are looking for a decently stable desk for their small apartment. It can also be a suitable option for the freelancer who is starting out. But due to the lower weight capacity, you will not be able to put equipment on the table, it can accommodate a very simple setup.
FEZIBO 40 x 24 – stand up desk for small area
This 40 x 24 FEZIBO is another great stand-up desk for small spaces. 
The control panel features 3 memory present so you can save your favorite height settings. That's quite convenient especially if you're changing positions within the day's work. 
It's also an ideal desk for students since it has anti-collision features. Or if you have kids running around your home office, always get a desk with this safety feature. A standing desk can be quite powerful when they are transitioning, it can bump anything that gets in its way. 
One of the trade-offs, however, the desk comes in two splices or pieces. So it can take additional time to mesh the two parts together. At the same time, it can still leave an obvious line where the two desks meet. So if you're looking for a sleeker and a more streamlined desk, this isn't it. 
The desk seems to be of quality and pretty stable and sturdy. But the tabletop is a bit thin compared to the quality of the entire desk. We were expecting the tabletop to be a bit thicker due to the price. This is even thinner than that of the SHW desk and yet the SHW desk is way cheaper.  
But for the frame, it is pretty sturdy, but the tabletop is a different story.
That's why another option is to buy a FEZIBO frame and just buy a separate table top from IKEA or use an old table that you like. 
Like the SHW, this is a great option for students. Freelancers who only need a simple setup and who are very tight on a budget will also find this desk suitable. And if you just need a frame, a FEZIBO is also worth the buy.
Final Say
These compact desks can help you stretch your legs albeit a smaller home office. And you don't have to settle with the top of your cabinet. We have premium-to-budget options that can fit your budget.