Stable and larger working space are among the common features that you're looking for in a standing desk converter. But the price can be too steep. We are going to review an economical standing desk converter brand, the Flexispot. And there've been positive claims on how stable and large it is, so let's see if these are true. 
About the brand
Flexispot isn't necessarily a popular brand when it comes to standing desk converters. But it is one economical yet sturdy and stable standing desk converter. 

Flexispot M series are made in China. But they're on the higher tier of China-made products. So this could explain why they are sturdier than most China made standing desk converters.
Similarities of M2b &M3b standing desk converter
The M2b and the M3b are very much alike. It's almost like they're the replica of each other, with just a few differences. We are listing first what these two standing desk converters from Flexispot have in common.
Check their price today >>
Ease of use
Flexispot is very easy to use. It lifts and lowers with ease. It's even easier to use than the Varidesk. Plus it costs much less too. We find the pneumatic assists easier to hover through than the Varidesk's springs. Even shorter individuals will find the Flexipsost very easy to use and adjust. Both the M2b and M3b use the same pneumatic assist.
Stability
In terms of stability, We didn't notice any wobbling or shaking. And another factor that We love is that the Flexispot standing desk converter stays stable whilst in motion. With another standing desk converter, the top tends to tilt forward whenever you're adjusting the desk. And it makes it unstable and wobbling is inevitable at the highest desk height setting. We did not experience that with the Flexispost. It stays stable and maintains its upright position while it's in motion.
This is also one of the advantages of a pneumatically assisted desk compared to a fully electric one. Aside from the glitches that you can encounter, they are more quiet compared to most electric standing desk converters when moving.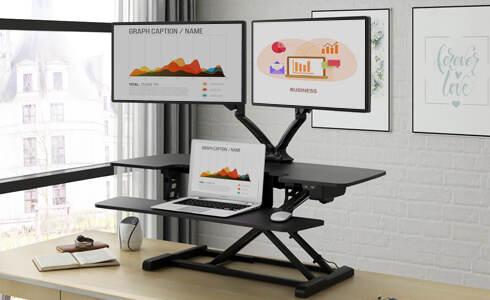 Wide working surface
The M2b and M3b boast of a two-tier setup. And it doesn't have many cuts out. This can be both an advantage and a disadvantage. The lack of cutouts means that there's more space available for your monitor, laptops, and other supplies. But sometimes some people would prefer a cutout on their desk. 
This makes the keyboard tray look less cramped. But the lack of the cutout of the M2b isn't a problem in the keypad tray area, We still felt like We had some room to move around a bit.
And the keyboard tray is removable too. So you can whisk it away when not in use. And it's quite easy to remove and attach the keyboard tray when needed.
You can also put on a monitor arm if you need a more complex work step. The desk has configurations for that one. And We also love how handy the iPad holder is. It's like a complete workstation, only wider compared to other more expensive standing desk converters.
 And the desks are quite spacious and it can accommodate monitors at a time. 
Adjustment
In terms of the adjustment level, it has a rather wide range. The M2b offers 12 height adjustments. It can be adjusted from  5.9″ to 19.7″ inches. The M3b also has the same height adjustment range. And this provides a great range for roughly a lot of people. Even those who are quite short will still find the height adjustment range comfortable and workable for them. 
Ease of assembly and built
Both standing desk converters are easy peasy to set up. We were able to put it up together in just 10 minutes. Even those we are not into DIYs can assemble it with ease. The instructions were also straightforward and easy to follow. 
The entire unit does have a substantial weight, but it's still very manageable to set up. We also like the substantial weight since it can be an indicator of a solid and sturdy structure. And We think both standing desks are solid and well built despite the more affordable price tag.
Flexispot is not necessarily the first brand that would come to your mind when you're thinking of buying a standing desk converter. If it isn't popular that doesn't mean that it's flimsy. It's a great alternative to the more expensive standing desk converters. And the solid and sturdy build will make you more confident in the brand. 
What we wished were better
We find the entire build quite slick. So you might need to put a mat or something to stop it from slipping off your desk. 
And almost all Flexispot standing desk converters will eat a chunk of space on your desktop. So you've to be willing to sacrifice some more space. But We think this is the compromise you have to be willing to make if you need large working space.
And the lack of ergonomics is also something that can tick off some people. The lack of cutout may have something to do with that. And the pneumatic assist can also be too much for some people who don't want to lift even a lightweight.
The differences 
One of the major differences between the M2b and the M3b is the weight capacity and of course, the price. The weight capacity of the Mb3 is slightly higher at 45 lbs. While the M2b can accommodate a weight of up to 35 lbs. So the M3b costs a bit more by a couple of hundred compared to the M2b. 
The M3b, at 47 inches is the larger version of the M2B, so to speak. 
And that's about it, everything else seems to be the same when it comes to these two Flexispot standing desk converters.
Who is it for?
The Flexispot M2b and M3b are great alternatives for those looking for a solid and wider desk at a great price. And if you're okay with a pneumatic assist, you'd be happy with this desk.
And if you're tired of encountering issues with leaking springs or glitches of an electric standing desk converter, a pneumatic assisted desk is a great alternative. 
We think people who are physically challenged might just have problems with the desk since you need a bit of arm energy to lift and lower the desk. Then an electric standing desk converter is a better alternative
The downsides
It's not actually a con, but you must not overload the desk. Just don't go overboard the maximum weight capacity and it'll be fine. The desk will not move once it's overloaded.
And another thing though, some might find it too heavy for them to lift. And since it's pneumatically assisted, you have to flex some muscles in there as opposed to just pressing a button of a fully electric standing desk. 
A quick look at the M4b standing desk converter
The M4b is a great alternative to the M2 b or the M3b if you're looking for a larger desk space to work with. The M4b is actually referred to as a corner desk. It can offer a large working space but it has a smaller footprint.
The shape of the desk is perfect to squeeze in a small corner of the room. And it shares the same construction and solid build as with the M2b and M3b. You also have a removable keyboard tray.
In terms of stability. We felt the same ease and convenience of lifting the desk and it will remain in an upright position. And there's also no wobbling even when set at the highest level. It offers the same height adjustment levels with that of M2b and M3b. 
In terms of the ease of assembly, it's easier to set up since it came in pre-assembled already. So that's a big plus for almost all standing desk converters of the brand. 
The M4b is also perfect for shorter people. The lowest setting can even be comfortably used in a seated position. And the maximum weight capacity of 33 lbs, so it sits between the M2b and the M3b.
So it's pretty much the same except for the larger workspace and the shape configured to be placed in a corner.  
M7mb – larger working station
The M7mb is also called the Alcove riser. The main difference it has over the above-mentioned models is that it offers a larger second tier. The keyboard tray is a bit wider so that you can also place a laptop on it. 
The oversize U shaped keyboard is fit for you if you have a more comprehensive workstation. And if you're going to use a full keyboard with a mouse, it's a perfect option. 
My only qualm is it doesn't have that handy iPad holder on the first tier. 
The Alcove rise is also a perfect fit for those who often use their laptop.
Final takeaway
The Flexispot standing desk converters are a cheaper yet even better alternative to the more expensive brands. Larger working space and a more stable workstation are the strengths of the brand. Well, along with the very affordable price tag. It also fits taller and shorter people, so the scope of users is quite decent.