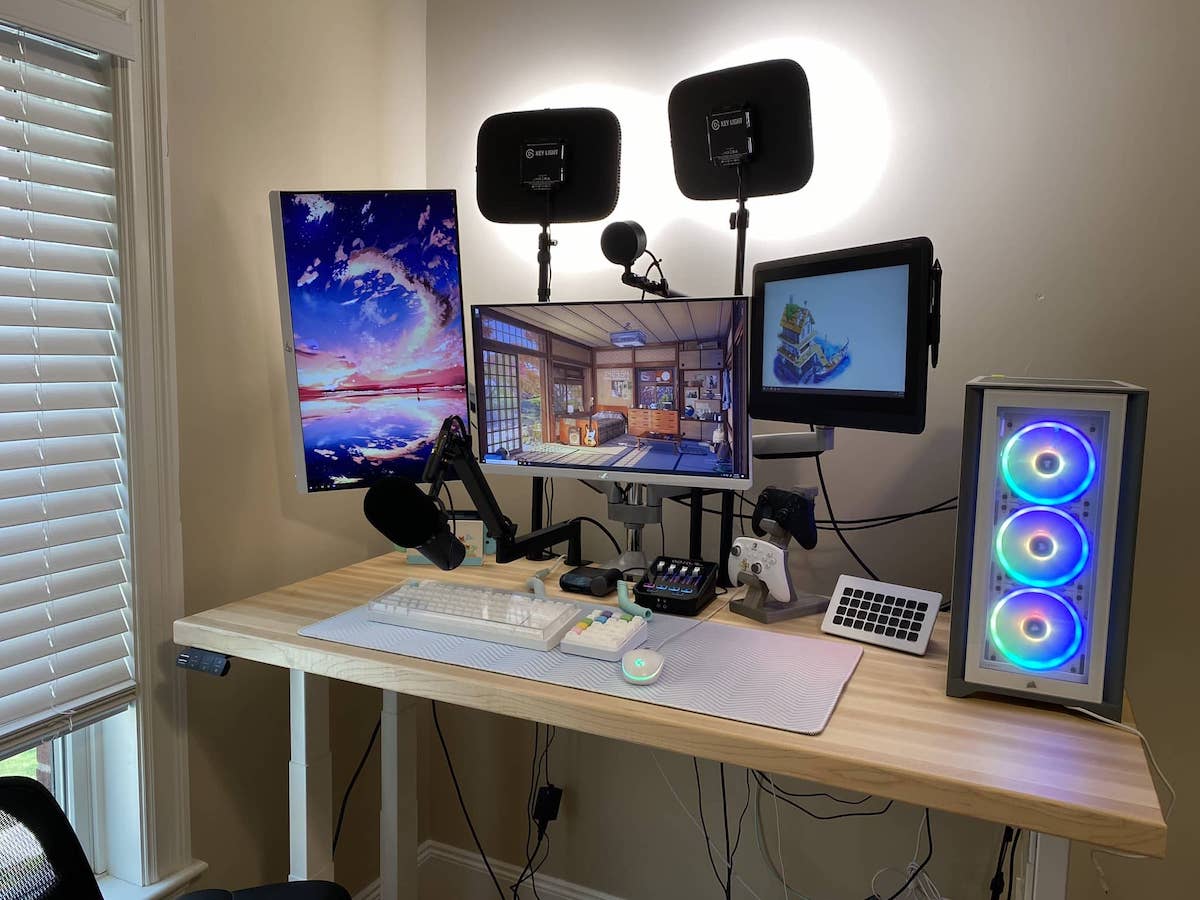 If you're looking for a standing desk with more than 500 lbs weight capacity but is more stable at all heights, then you have to upgrade to a 4-legged desk. There is not a smorgasbord of options out there, but you can still choose from a  handful of good ones.
So we are going to explore these heavy-duty desks and see if they are really the king of all standing desks. 
Standing

Desks

Height 

range

Width 

range

Load 

capacity

Transition

Speed

UPLIFT V2

Commercial

24.5″-50.1″

41"-72"

535 lbs

1.6"/sec

DeskHaus

Apex Pro

22.5″-48.5″

43″-80″

600 lbs

1.5"/sec

EVODESK

PRO

23.75″-49.5″

48"-84"

500 lbs

1.5"/sec

Flexispot's

E7Q ODIN

—-

TITAN

LINAK

23.8″-49.2″

27"-46.9"

43.4″-74.8″

45"-69"

441 lbs

440 lbs

1.5"/sec

1.5"/sec

ZEN 4-legged

23"-47"

25"-82"

660 lbs

1.4"/sec

Desky Quad

23"-49"

39"

660 lbs

1.4"/sec
Uplift is one of the more prominent brands in the market. Though the stability is not the best, it has other features that make up for it, the customer service and warranty among others. The desk's newest addition, the 4 legged unit, promises to get rid of the slight side wobble that you have experienced when using the desk's max height setting. 
The 4 leg unit can go a bit higher than the brand's standard desk. It will be able to accommodate those who stand up to 6'2 or 6'"3. You also have the option to get either the V2 or V2 commercial, with the most obvious difference being the addition of the crossbar for the commercial version.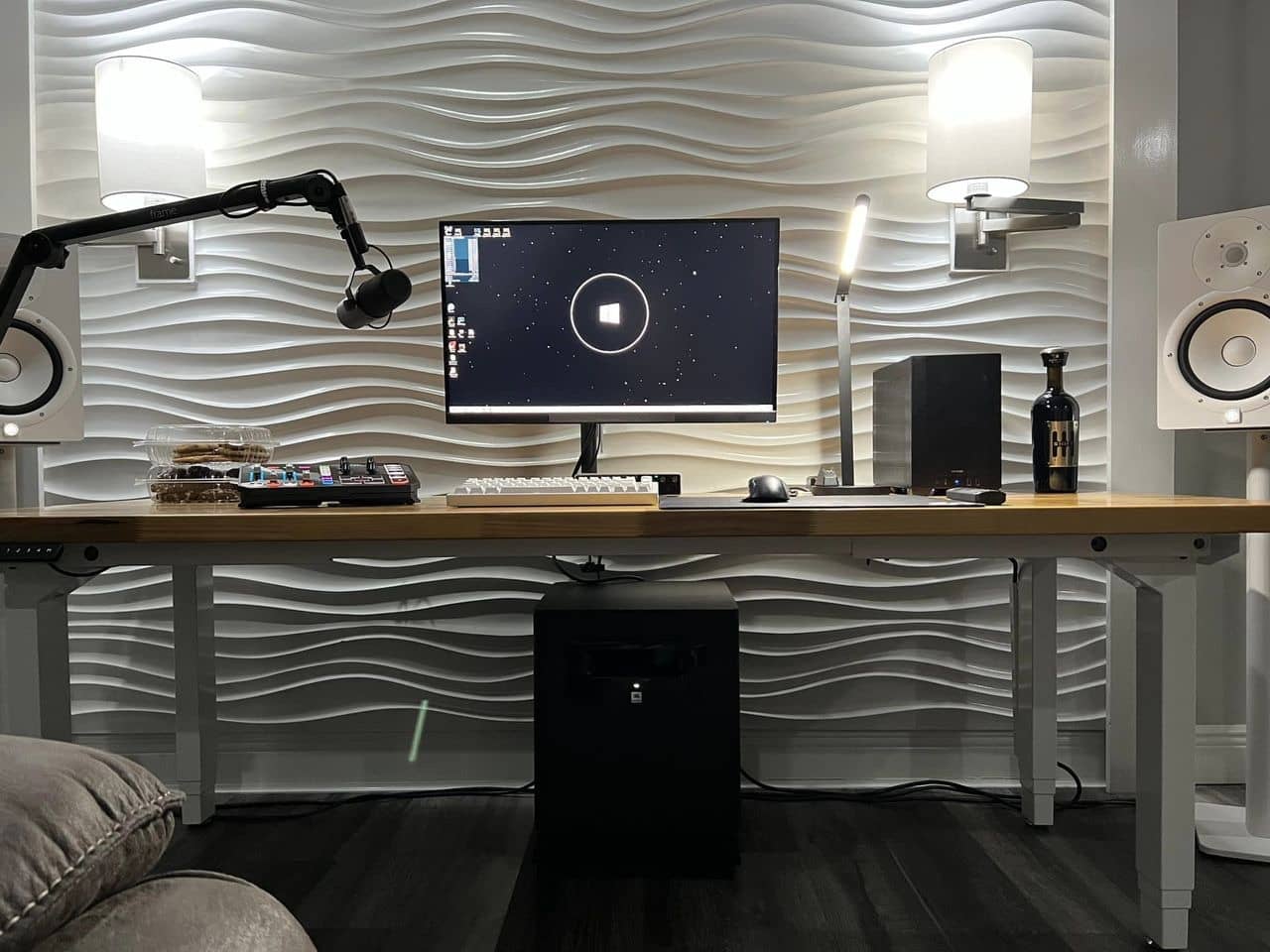 The 4-legged desk also has a higher weight capacity. The frames are a bit tucker but it's not that of a chunky metal steel. Though overall the updated version will still feel and function better, it feels more robust and can accommodate more range of users. But one of the most important gauges in choosing a 4-legged desk over a 2-legged one is the improved stability. 
And you'd instantly think that the addition of 2 more leg frames can make a significant improvement when it comes to the wobbles. Sadly, we were able to notice just a small difference in terms of the side wobbles. 
The shaking is less compared to the 2 legs but it does not seem to be at par with the price. 
Therefore, we can't really justify the added cost. It does move a bit faster by 33 percent but if the main goal is to eliminate the side wobbles, it was not fully achieved. 
Flexispot's E7Q ODIN
Are you ready to transform your workspace into a productivity powerhouse? Look no further than Flexispot's E7Q ODIN
With a height adjustment range of 23.8″-49.2″, it's on par with the best of them, and its impressive loading capacity of 441 lbs means it can handle anything you throw at it. International buyers rejoice! The E7Q ODIN is available in countries like Germany, France, the UK, Italy, the Netherlands, and Spain, bringing ergonomic solutions to a global audience.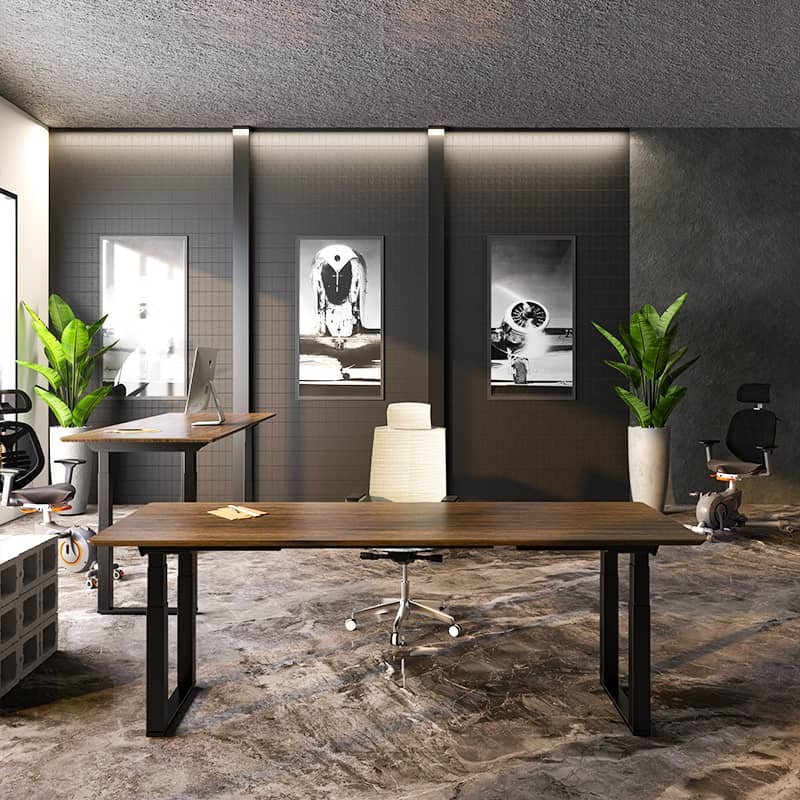 The best part? It's a wallet-friendly alternative to the Uplift V2 Commercial and Deskhaus Apex Pro, making it a no-brainer for those on a budget
The one we don't like? The installation of the whole desk may not be easy for some users. Better call the support or watch the video below carefully
Pros of the E7Q ODIN:
Cons
Coming from an almost novice player in the industry, it's surprising to see how much DeskHaus units have perfumed over the past years. Despite receiving a backlash on how the brand was able to handle some of the customer queries and complaints, it still is performed by a lot of users. Mainly because of the sturdiness and stability of the desk. And given the price, it is a real value. It is one of the most underrated desks, it just needs a bit more time to shine.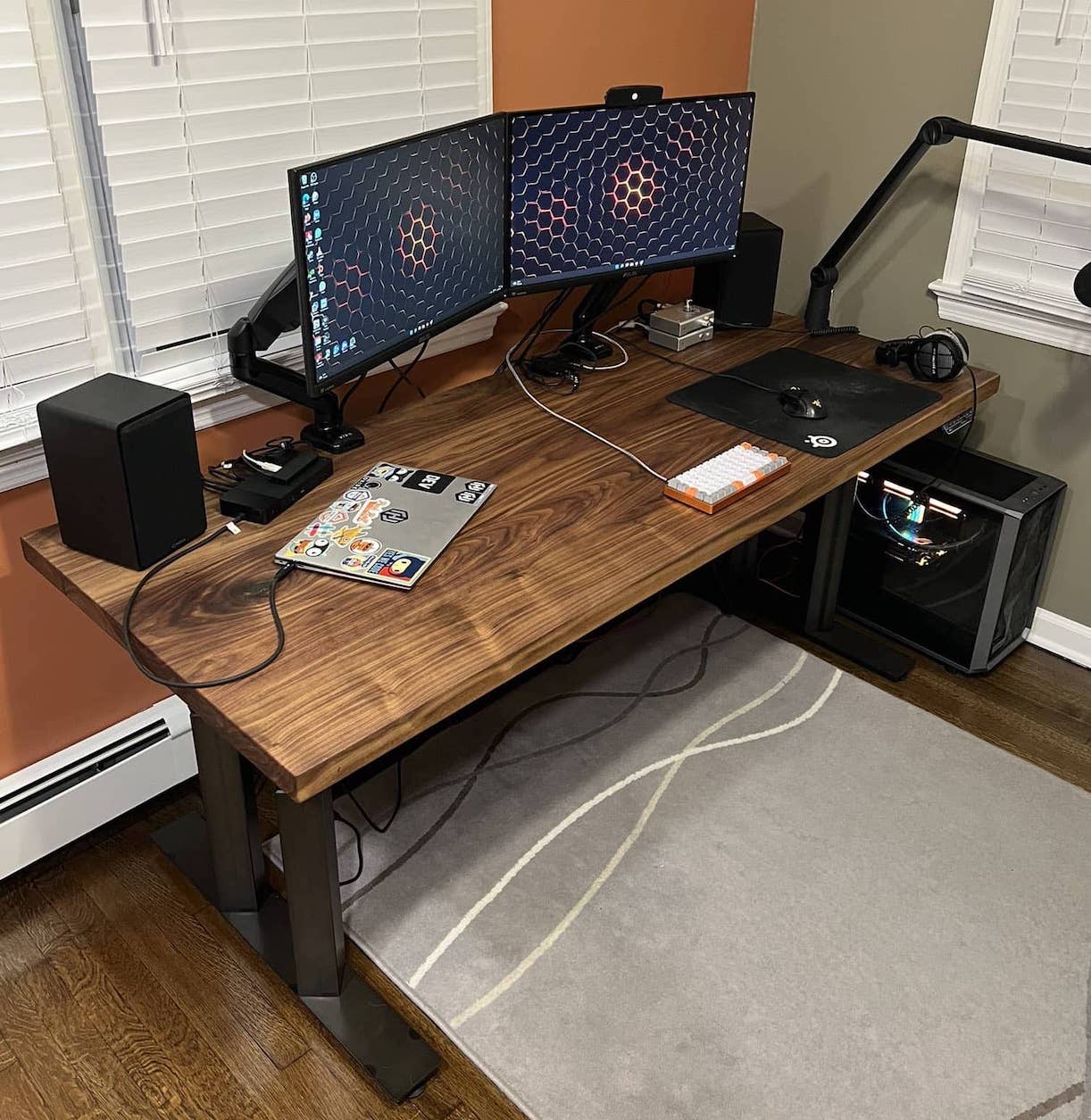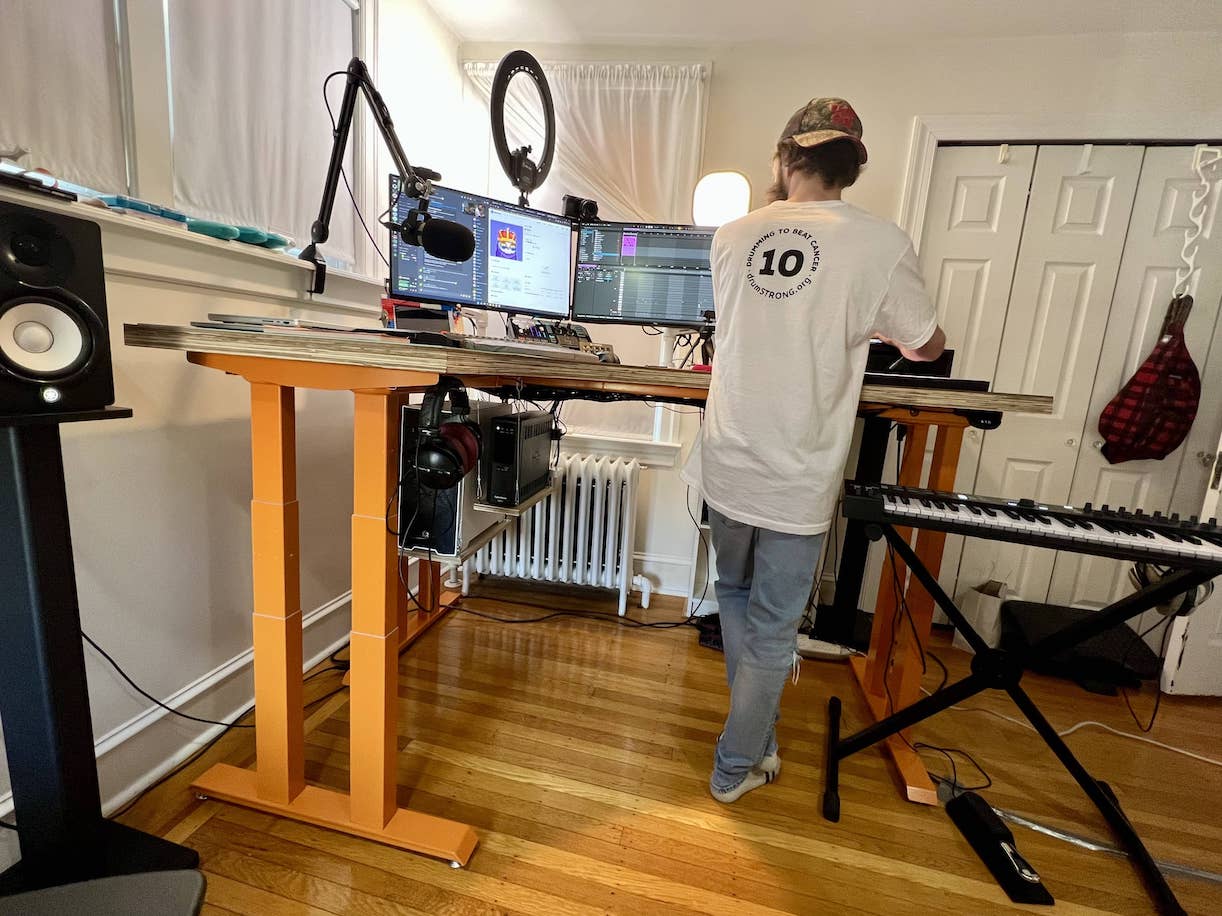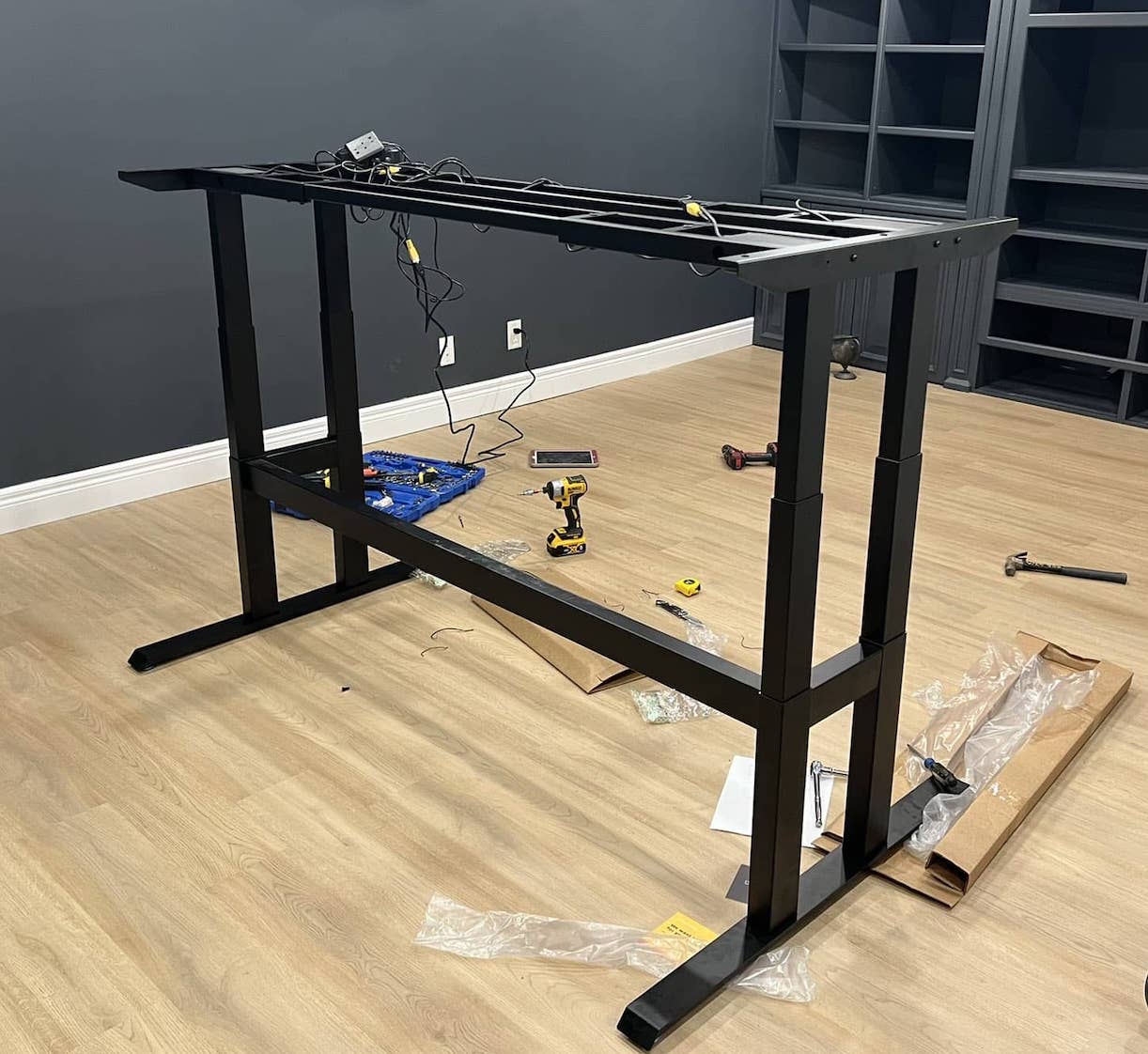 The 4 legged desk of the brand is indeed an upgrade and you really can feel a significant improvement. There is a huge improvement when it comes to the overall feel. You will be able to tell that this is one heavy-duty desk. 
Thus we see this as a better option than what Uplift has to offer. But you also have to consider that if you are keen on the cross beams. The crossbeam on the apex desk is a bit forward compared to the Uplift. So the Uplift desk may have an advantage on the leg room since the crossbeam is set to further away from the desk and less likely to hit the knees.
Boot widths of the desks are adjustable, so you can customize your work area and you will not be limited on what desktop size you will buy. You can use the same frame as us over the years. And for DeskHaus the frame will be able to hold up for several great years. 
And if you are going to compare the cost difference between the 4-legged unit of DeskHaus from the standard one, the added cost is justifiable.
EVODESK PRO
Like DeskHaus, the EVODESK is such a workhorse. It is very solid and robust, though the weight capacity is a bit lower compared to the ApexPro. But by all means, there is nothing flimsy or cheap about this desk. It is very strong and presents no side wobbles, not even a tad bit.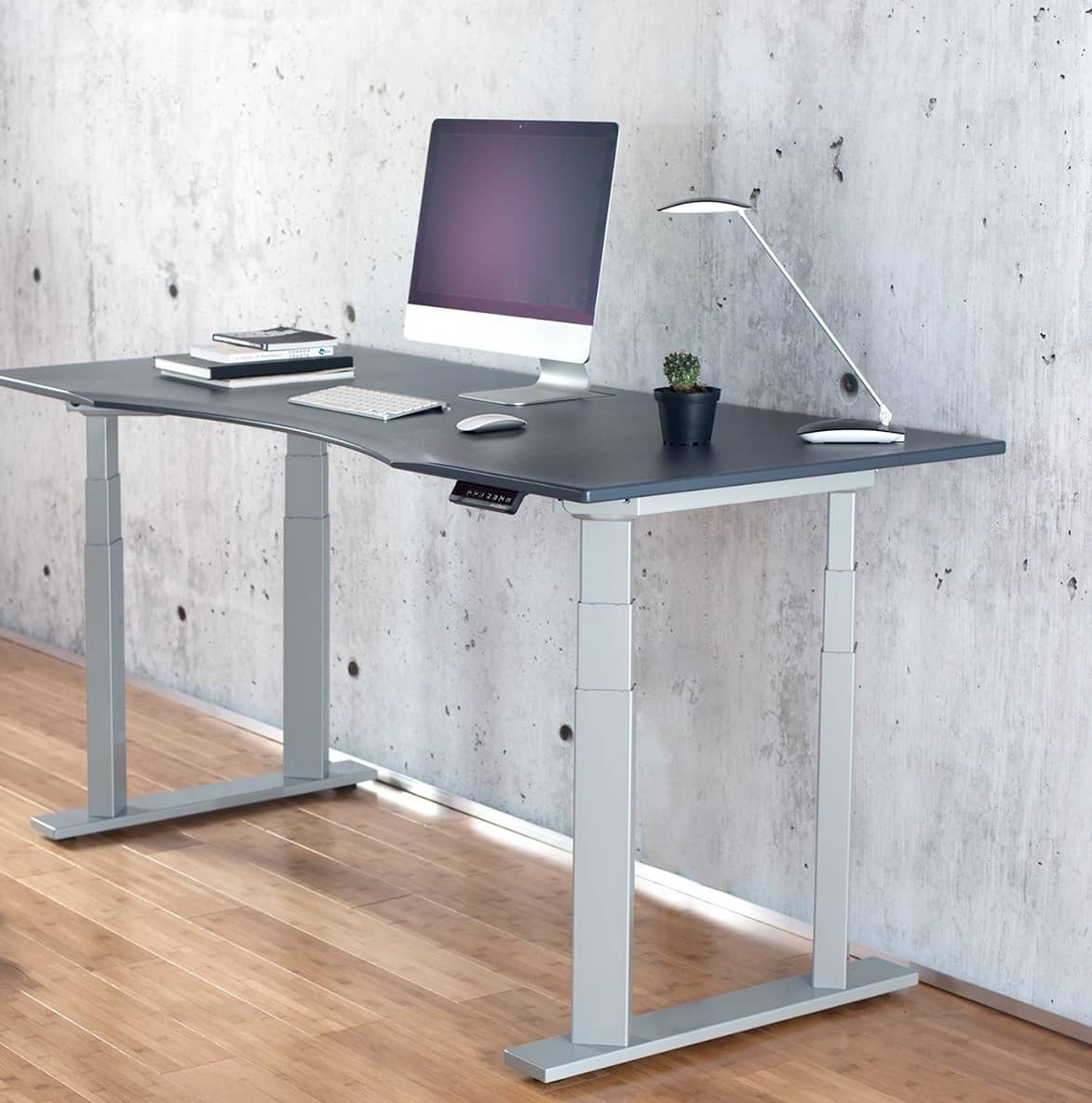 It's made in the USA that's why this is also one heavy-duty option that will serve you well if you need something with more muscles. What sets this apart is the way the frames have been designed. The legs are angled at 45 degrees, ensuring more stability even if set at max desk height. The frames are also thicker and they are pretty wide, so you can tell that this unit means serious business. The angled frame is unique to this model and it did contribute to the overall stability. 
You also have the option to customize the desk to make it more productive for you. We love the option to fit it with a second tier that can also serve as a monitor riser. And the brand has one of the more sophisticated and classy accessories on the list. You may also opt to get a floating keyboard and an under-desk compartment that looks very sleek and modern. 
And if you need a much bigger space, this can accommodate tops that measure up to 84", it's quite the biggest of the lot.
Titan LINAK 
Coming from Links, you can never go wrong when it comes to workmanship and stability. The desk frame is in the running with the more heavy-duty brands in the market. You can also choose from several desktop sizes since the width is adjustable. And what sets it apart from the other robust frames is that you will be able to adjust its depth, so it'll be easier to configure it with clamps for a more elaborate setup.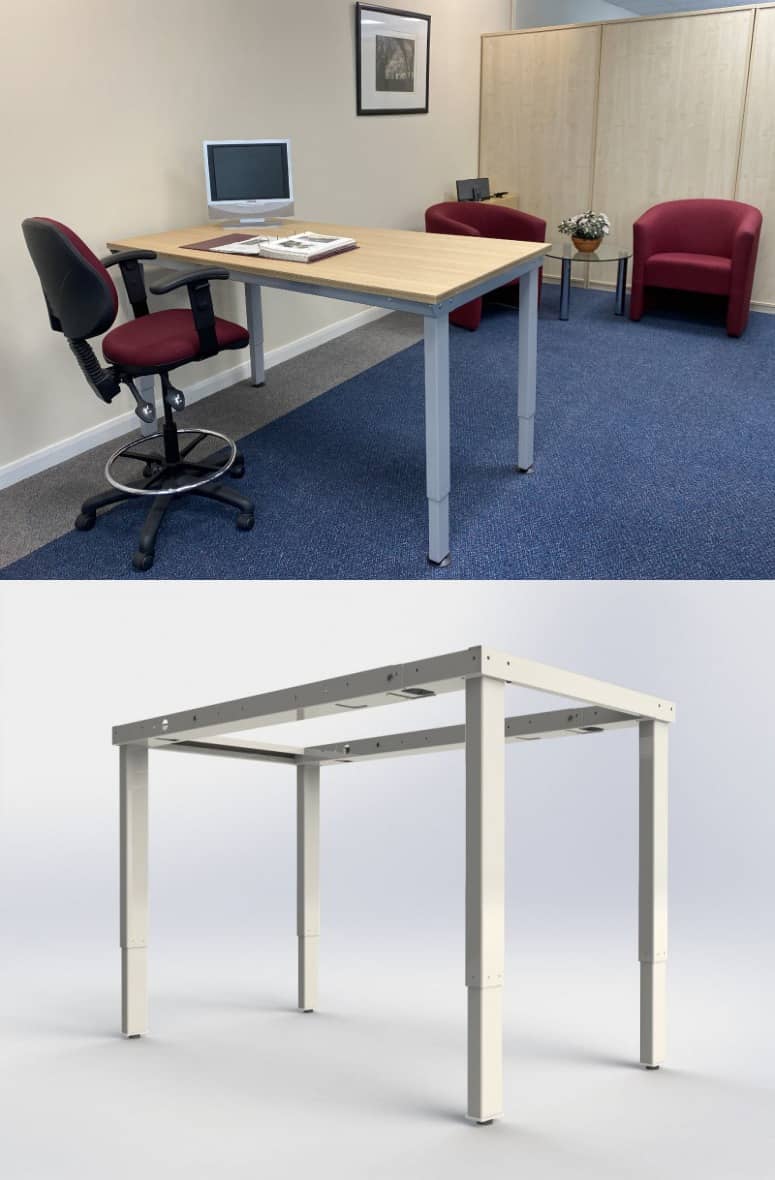 You can also opt to add wheels to it, which can be a very convenient feature. Given how heavy the frame can be, having wheels will make it easier to move it from one room to the other. 
Linak also has an incredible track record of 10 years in the business. So yes, you can never go wrong with this high-quality frame.
Zen Desk Frame Kit
Like the Linak Titan, you can get the frame only. So while the option to buy a desk complete with a top is convenient, this route can make everything more customizable. This also makes it a desk that you can pass on to your kids, they can use it with a smaller tabletop. 
It also has a higher weight capacity of 600 lbs, so you can load it with everything you need for your busy workstation. The steel frame legs are wide, thick, and very strong.  
What makes it stand out from the other heavy-duty frames is that it has a very wide range of tabletop sizes that you can outfit it with. You can choose desktop sizes from 25" to 82". So you can go from a very humble work desk to a very elaborate one. Thus this is a great investment that you can surely use in the future no matter how often you change the layout of your home office, you just need to buy a different desktop size for the room allocation. 
It's well built and is perhaps the heftiest of the bunch with a max load capacity of 660 lbs. So you may be able to sit 4 heavy-duty monitors and the frame will be able to lift them with ease.
Also, it is packed with advanced features. You can connect it to the Zen app. It also has a USB charge port. This is very stable at all heights, so even tall users will be able to find it seamless and wobble-free.
The legs are also thick and chunky like the EVODESK and the Linak Titan frame. So these three can go head to head when it comes to robustness. 
Desky Quad frame
The Desky Quad frame is perhaps the best option if you're looking for a desk frame that can accommodate a longer tabletop. Thus this will have the best use in the corporate setting where the team can brainstorm and hold meetings. It can also be a shared working desk. You may use it in your home office and share space with your partner and do zoning with ease.  
The Desky Quad frame can accommodate tops with lengths from 55" to 157" and as wide as 39". The frame might not look as chunky as what the EVODESK and the Linak Titan frame have, but it does feel strong and hefty. Thus this can also be a great alternative if you do not want anything that is too chunky looking. This can be a sleeker version out of all the heavy-duty frames we have listed above. 
Are 4 legged desks really the king when it comes to durability?
Well, yes. Since it has more of everything compared to the 2 legged counterparts, it will feel stronger and more stable and can last longer. But it also depends on how much you use and abuse the desks. 
The units above have a max weight load of up to 660 lbs. But if you will top it with 800 lb equipment and transition the desk often, it is bound to fail at some point. So despite being a workhorse, you still have to use them according to the recommended max capacity. 
And to compare DeskHaus Apex Pro vs Uplift v2 vs other desks, Uplift seems to be overrated and the cost is too much. DeskHaus seems to  be the most economical choice, at the same time a sturdy one too. There are also underrated brands such as EVODESK and Desky, which are very strong and robust units. Linak is quite prominent and a very strong brand with a great track record, but it's not available in all countries.