One of the conveniences of using a standing desk converter is you can still use your old desk. You just pop it on top of your table and it will transform your old table into a sit-stand desk. 
Today, we're going to review one of the midrange standing desk converters in the market today, the Versadesk Power Pro 36. Let's see what this standing desk has to offer. Then you'll get to see if this is the right standing desk converter for you.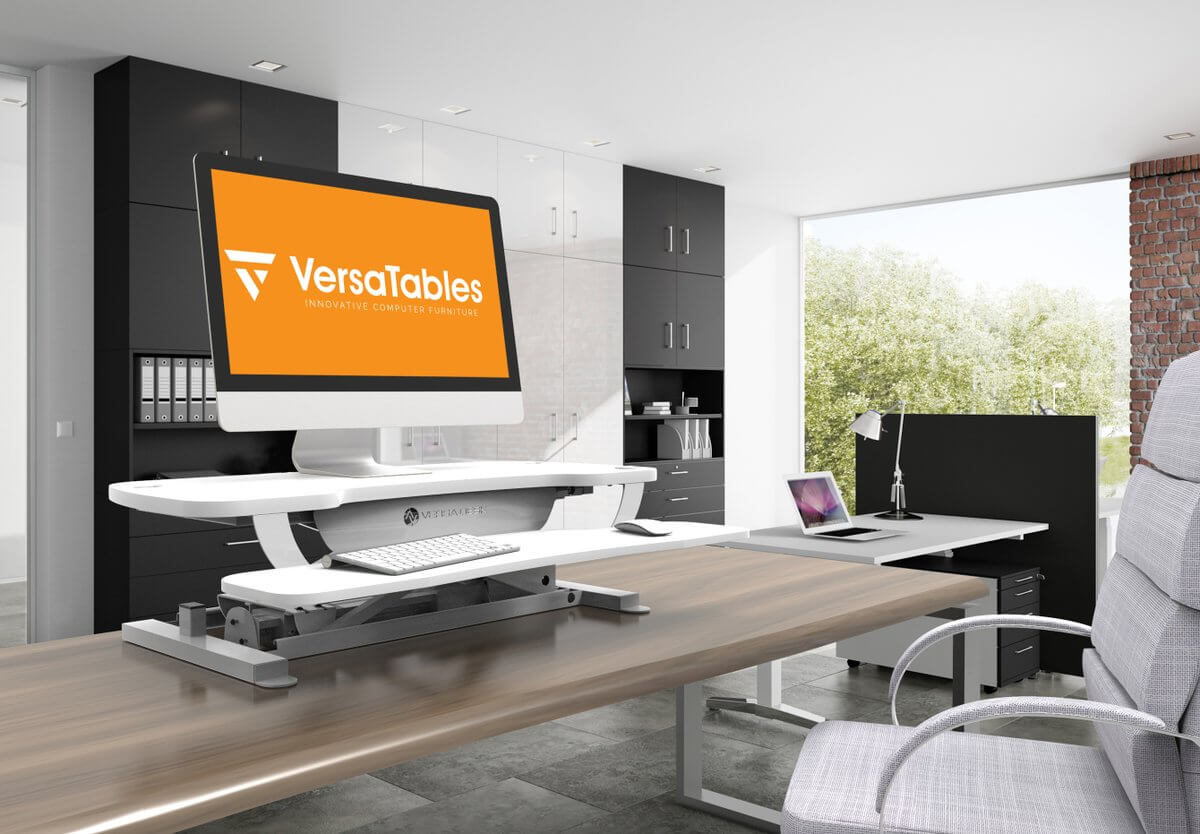 Getting to know the brand
Versadesk has been manufacturing sit-stand furniture and ergonomic accessories for over 15 years. The brand boasts of a wide collection of ergonomic furniture. And the designs are quite unique. The furniture is made and assembled in the USA. Though some of their standing desk converters can make use of motors that are made in China.
Why are Versadesk sit-stand appliances known for? Almost all of the standing desk and standing desk converters of the brand are known for its very smooth electric lift.
This enables a smooth transitioning from a sitting to a standing position. Now let's see what else this standing desk converter has to offer.
A closer look at Versadesk Power Pro 360
The Versadesk Power Pro works with almost any desk that you have. 
Compare with the price, some people may think why not get a VIVO standing desk Or a 32 inch RIF6 to save some small budget. These two standing desk converters are way cheaper than the Versadesk.
Well, because the Versadesk has more to offer other than the smooth electric lift.  
Design and built
The Versadesk is a two-tier standing desk converter. The top tier is where you place your monitor. And it's quite wide that it can hold three monitors. While the second tier is where you can put your mouse and keyboard. 
The height difference between these two tiers is almost perfect. Your arms are at a comfortable angle when you type. The wrist is just slightly lower than the elbows. So this position feels really uncomfortable. And the monitor is at eye level or slightly lower.
The distance between the two tiers is fixed. And this standing desk converter has a solid built. we didn't feel any loose, flimsy, or wiggling parts. It has a very simple design that's perfect for a minimalist office.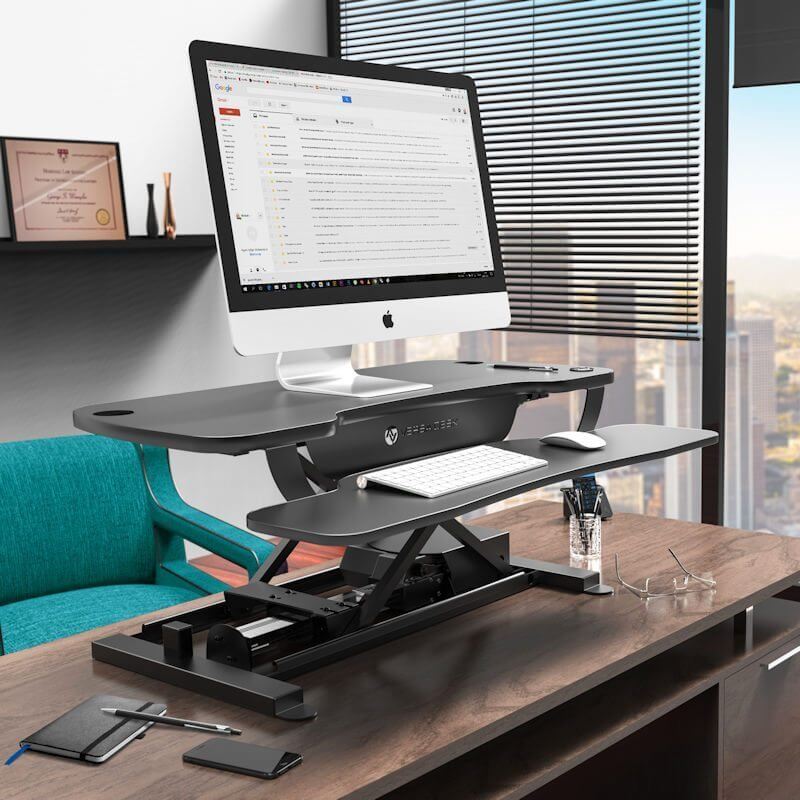 we have no qualms about the build, but we do not like the way it's tilted forward too much. When set at the lowest height, this desk converter is at an awkward angle. It seems to be tilted way too forward. 
This is actually a disadvantage of not having a soft stop or soft start button. Instead of gradually slowing down the motion when lowering or lifting the desk, Versadesk maintains the same speed throughout. So the metal has the possibility of clanking against one another. And this forces the desk to tilt forward more than you need it to. 
So we find the Versadesk more comfortable when used as a standing desk or at its highest setting.
A perfect fit for the taller person
In terms of the height adjustment, it can comfortably accommodate someone who stands 6' 3. But of course, your existing table would also contribute to this. But overall, it has a great height range that can accommodate taller people who stand between 6'5 to 6 '6".
This standing desk is made for tall people like the Varidesk Exec Series standing desk converter. The desk can lift to 20 inches. Check the greatest price of this desk here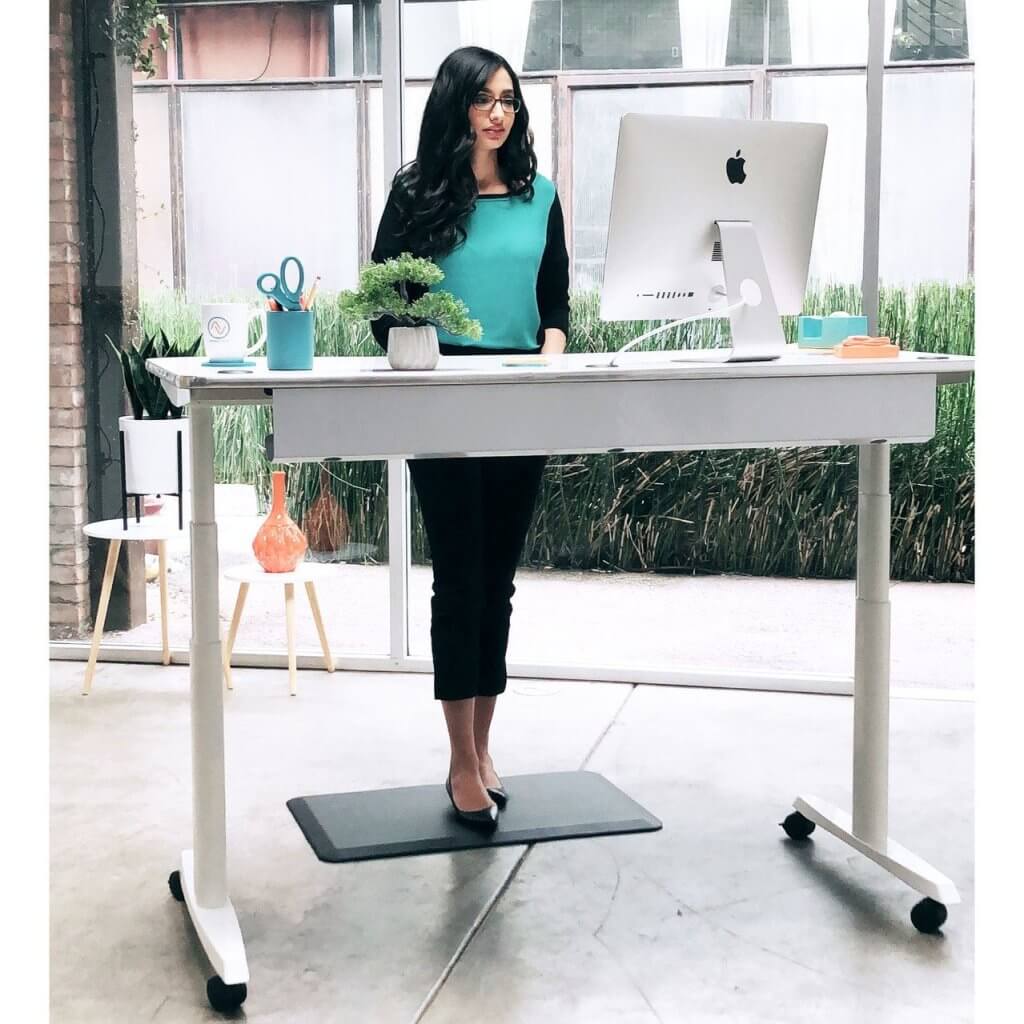 And it's easy to adjust the desk height too. You just need to press the button to reach your desired desk working height. 
It also offers 3 cable grommet holes for wire management. But these grommet holes are only fitted on the second tier. The keyboard plate doesn't have any grommet holes for wire management. So if your wires are coming from the second tier, it might look a mess. To prevent such cord disarray, you can use a wireless mouse or keyboard instead.
Stability Issues
In terms of stability, it sits somewhere in the middle. It's one of the most stable standing desk converters we have tried. In terms of side to side wobbling, there's literally none.
But in terms of front to back motions, it tends to wobble a lot. we think that has something to do with the desk tilting being way too forward. As a result, there can be a fair number of wobbles in this direction. 
Though if you want a more stable standing desk converter, the Ergotron WorkFit S is one of the best options. It also has a durable construction. But you have to put up with the limited workspace. And the monitor is just mounted on a steel frame, so it's a one tiered standing desk converter. Check the greatest price of this desk here
Wider working space
The Versadesk has a divinely large task area. It measures 36 wide and 16 inches deep. You have a lot of room to move around or place some of the things you'll need for work. And the top tier can also accommodate dual t triple monitors. we love the extra space, but in terms of depth, it can be quite lacking. Only narrow keyboards seem to fit in.
One of the easiest to use a standing desk converter
And If you hate DIYs. you'd love this standing desk converter more. It comes in fully assembled so you don't have to put on your Macgyver hat. Just unbox it and put it on top of your desk and you're ready to roll. There are a lot of moving parts.
So imagine how long it would take you to assemble this standing desk by yourself. So that's a big advantage for us. You don't have to figure out how to connect point A to point B. You won't spend as much time as assembling an Ergotron sit and stand desk converter.
It's a heavy-duty standing desk converter. 
Another reason why many are choosing the Versadesk is that it's built for the heavyweight. A lot of its competitors can only handle a weight of 36 lbs. But the Versadesk can accommodate as much as 80 lbs of weight. 
So you would have to think if the desk can afford a mounted arm monitor. It's perfect for those who want to add on accessories to their standing desk converters.
Design
It comes in a variety of color options and sizes. So you can choose one that fits your existing table. And of course, it would be nice if your standing desk complements the theme of your office.
'One of the biggest trade-offs is that electronics are made in China. Though it offers a smooth transition, the back to front wobble is quite pronounced. This is actually a similar problem that I've encountered with standing desk converters that are made in China motor.
Features we wished it had
There are indeed some setbacks. But this is to be expected since the desk has not undergone any kind of upgrade since its invention. So these features might not yet exist at that time.
We would love for it to have an anti-collision feature. This is a safety feature that stops the motion of the desks if it would accidentally bump into something while moving. So it can prevent any accident, especially if you have children or pets around. It also prevents the metals from clanking too much against each other. This can affect the integrity of the metal frames.
And in terms of speed, it's also one of the slowest we have ever tried. So patience is a virtue whenever you're adjusting it to the maximum height.
And another thing that we wished was better is the keyboard tray. The keyboard tray is a bit shallow. We wished it was a bit deeper like the Eureka 46 XL standing desk converter. 
Versadesk Power Pro vs Versadesk Power Pro Plus
The Power Pro plus's price is more expensive than the Power Pro. So let's see what makes up for the additional moolah and if it's worth the buy.
Like the Versadesk Power Pro, Pro Plus has a lot of things going for it. And it shares a lot of features with the Power Pro. Like the Power Pro, it also offers a smooth transitioning from a sitting to a standing position. It uses the same electric push-button for the height adjustment.
It also shares other features such as the 3 grommet holes on the monitor tray. And it has the same weight capacity of 80 lbs.
One of the additional features is the LED light strip that illuminates the keyboard. And you can also slide the keyboard tray in and out depending on what's most comfortable for you. So is the additional price worth it? That depends on how much you love the LED light.
Conclusion
The Versadesk Power Pro isn't the cheapest and it isn't the most premium either. This standing desk converter is a midrange one that has a basic design and motor. But if you love a large working area and a smooth transition. This is a great option for you. It's also one of the best standing desk converters for taller people.