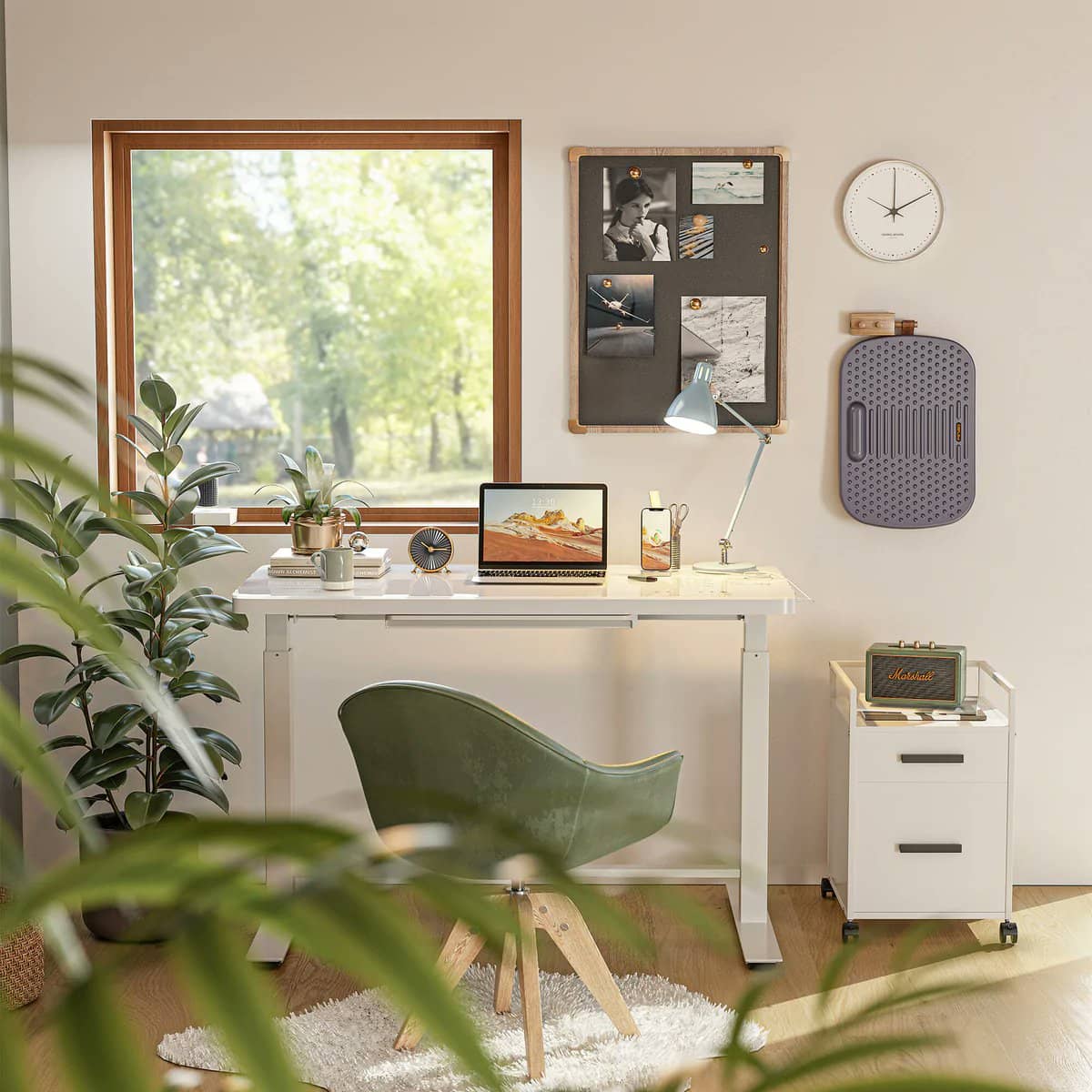 How to Choose a Standing Desk for Tall People? And Bonus our top picks for 6′-6'8″ taller guys
Standing desks are becoming more popular for Work From Home because of the advantages associated with this type of office furniture. Not only can it keep weight gain at bay, but the adjustable desk can also increase your productivity and better your posture.
But, not all standing desks are made the same, which means you have to do your homework before buying to ensure you benefits you desire. For example, with the 6′ tall guys, it's totally different to choose the desk with an ideal adjustable height range compared to a petite person under 4'9″!
Here in this article, we're going to talk deeply about how to choose a standing desk for tall people. And if you are 6′ or taller, you will be excited about the best electric standing desks we recommend.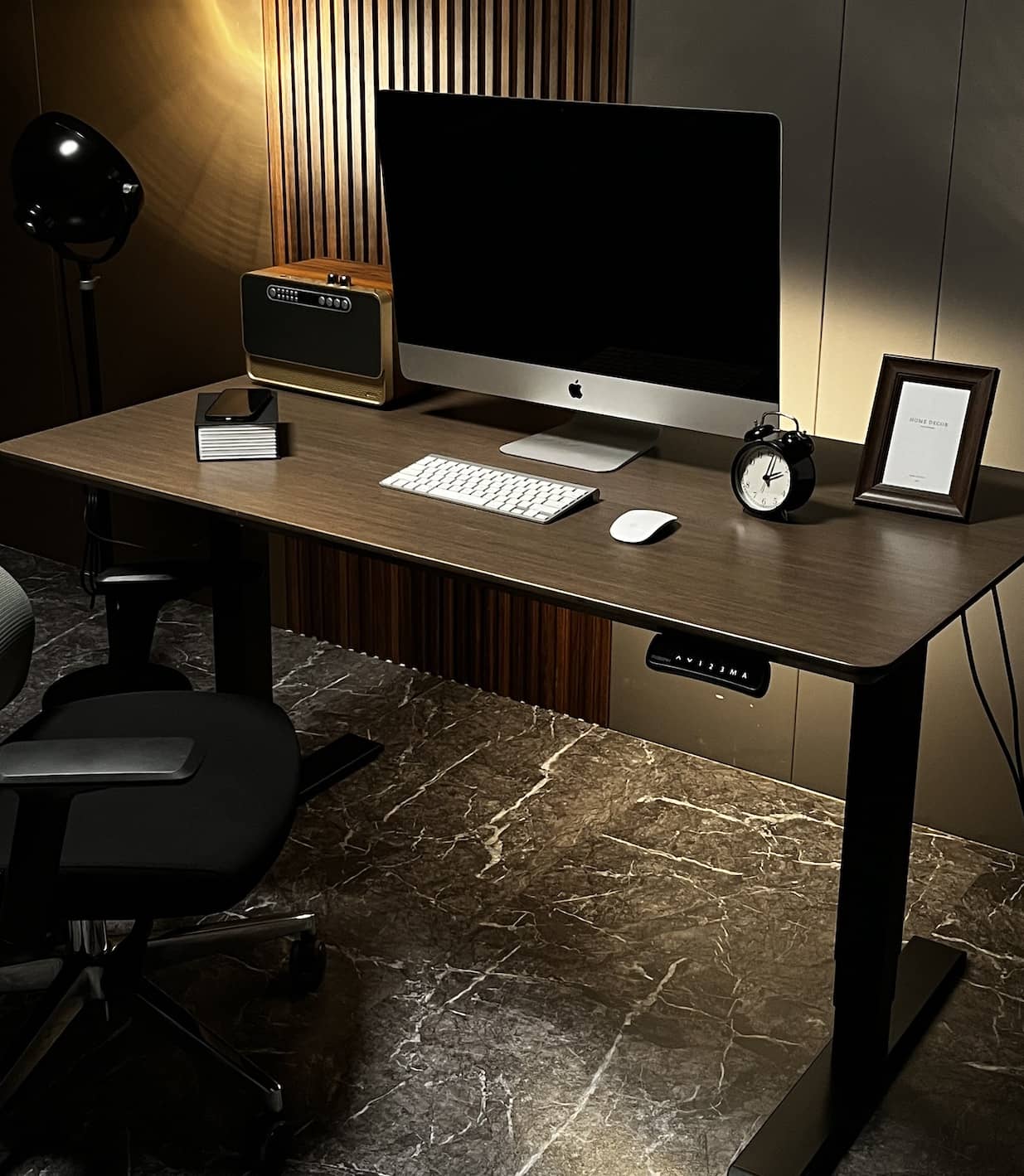 Can tall people use a standing desk?
Did you know the average male in the United States is 5'9" tall? The average female in the US is only 5'3" tall. Most manufacturers will cater to that average when creating office furniture. So what happens if you're taller than that? Most sit-stand desks on the market can be used by those up to 6' tall, but you'll need to check the product specifications carefully if you're taller than that. If you don't, you may end up with furniture that doesn't give you the experience you were expecting. But, don't worry. Follow the advice here, and you can get exactly what you need, even if you're over 6' tall.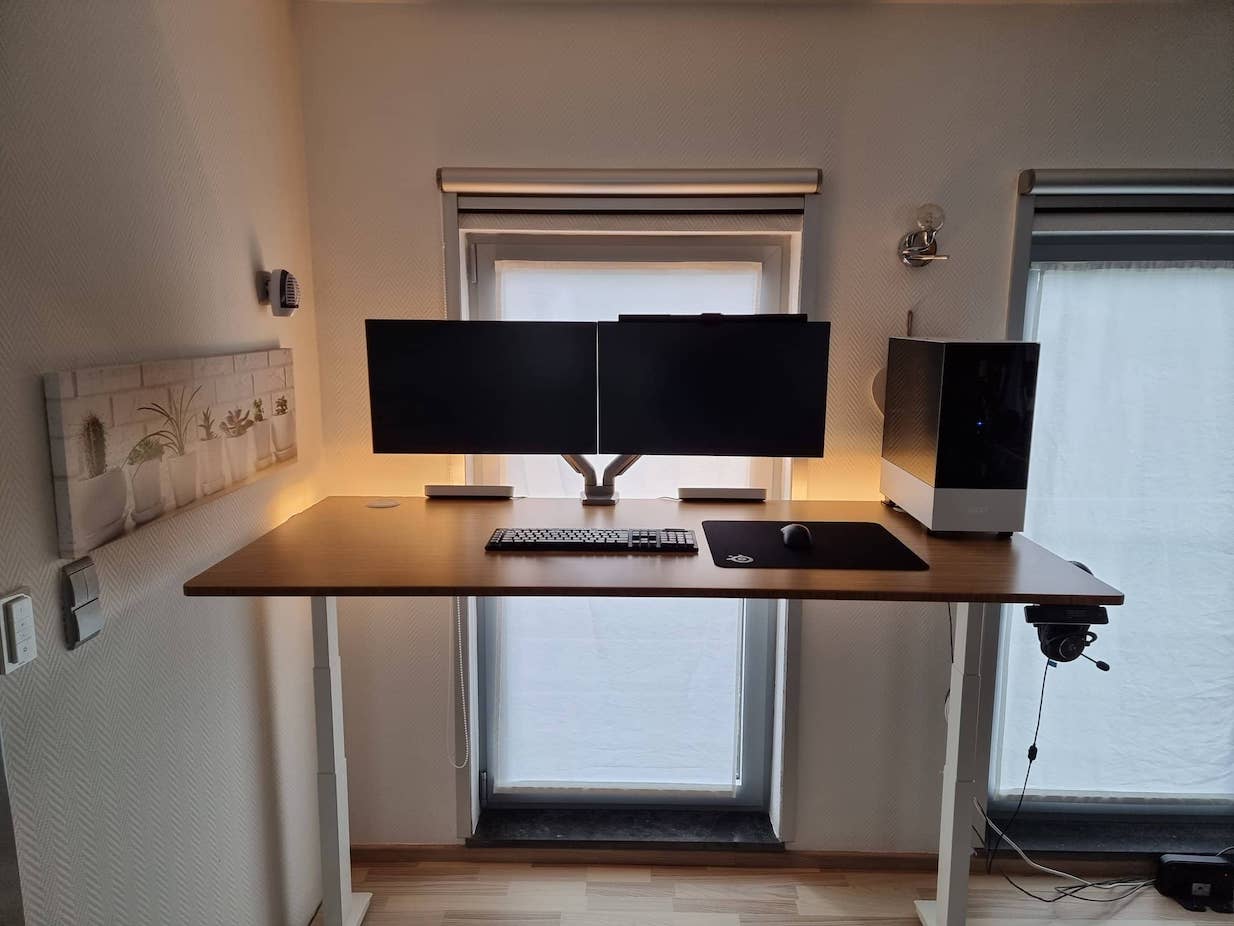 Tall Individuals Need an Adjustable Standing Desk
Whether you're the only person planning to use your new standing desk, or you're going to share the space with others in the home or workplace, you should opt for a stand-up desk that is adjustable. More specifically, you want a standing desk with the following features:
Dual ergonomics

Wide adjustable height range (about 29" to 51 or 52"). Not so many brands can have the max height range up to 52″!

Extreme stable

Ability to add accessories

Weight capacity of at least 200 lbs. Ideal 350 lbs, or even bigger 535 lbs!

Large counter space
How to Find the Right Standing Desk for Tall People Height
Now that we've explained what tall people should consider when shopping for a standing desk, it's time to talk about how to find the right height for the furniture. To get the most out of the equipment, you'll want to consider the angle you'll be viewing the monitor and the keyboard tray height. First, stand tall in front of the standing desk.
If you're planning on putting a mat under the desk, make sure the mat is in place when adjusting the counter for the first time. The same theory applies if you plan on wearing shoes or being barefoot most of the time. Once you have the desk situated in a position where it will be most of the time, stand tall in front of the equipment. Make sure your shoulders are back, and you feel comfortable.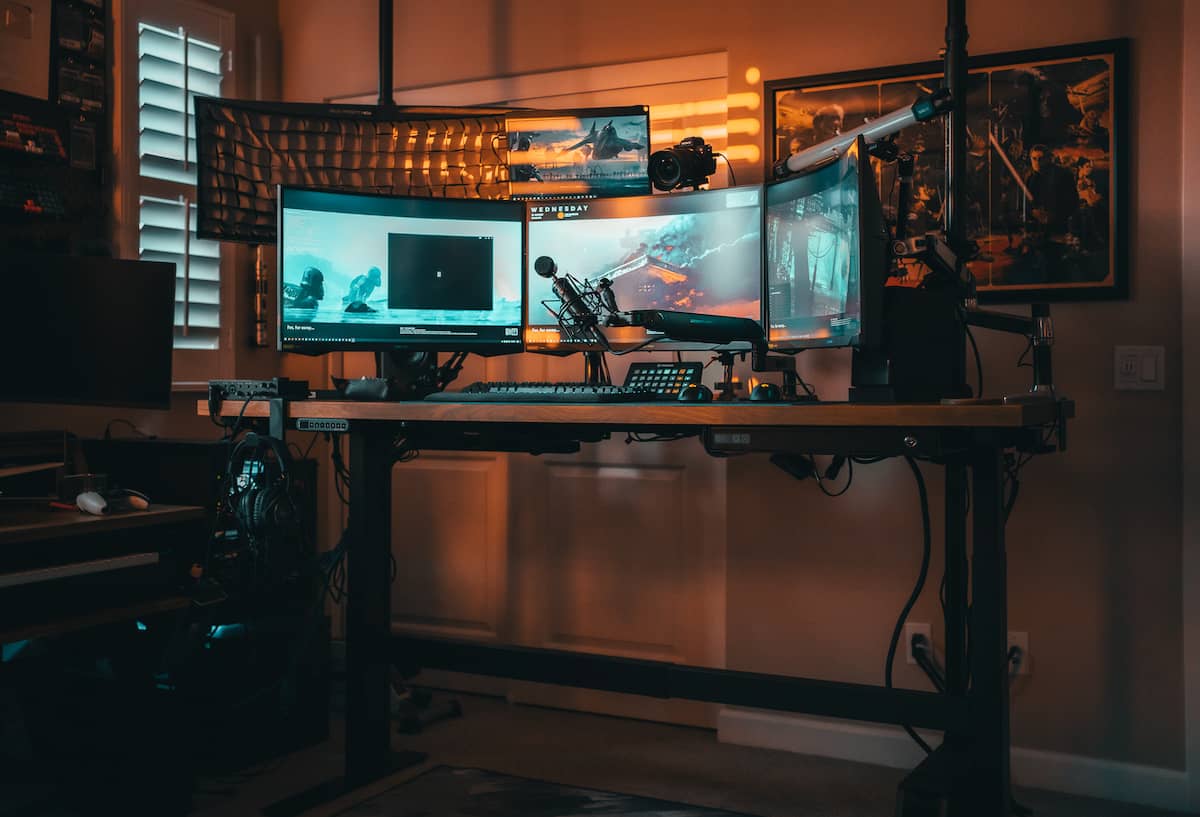 When you're looking at the monitor, your eye level should be even at the top of the screen. With the counter level in a position that allows you to see the screen at eye level, you'll have a natural downward viewing angle, which is ideal for healthy posture.
Once the monitor height is in place, you'll want to work on the keyboard position. Put your elbows at a 90-degree angle and reach for the keyboard. You'll know you found the right spot when your fingers gently touch the keyboard. If you're having a hard time doing this, don't fret!
Remember when we told you that you should choose a standing desk with dual ergonomics? The reason we told you to do this is for this specific situation. If your arms don't reach the keyboard easily, you can adjust the keyboard separately from the monitor, which allows you to get all the benefits of a standing desk without sacrificing good posture, which could lead to physical aches and pains in the future.
If the standing desk doesn't have dual ergonomics, you may still be able to adjust the desk to meet your needs by adding a monitor arm or other accessories. If you can't customize the desk, you may want to choose another option.
Choose a Stable Standing Desk
Another often overlooked, but necessary standing desk feature that should be considered before a purchase is stability. With a range of 29" to 47", you can expect stability to be greater at 29" than the max height (usually 51"-52″). If you're taller than 6', you should expect to almost max out the adjustability of the desk. You'll need to make sure the desk is stable when adjusted all the way to the top. If the desk isn't stable when modified, it could be distracting to use while you work or create unsafe movements. Stability is also necessary for those that are planning to share their workspace with others.
Correct Standing Desk Height is Necessary for the Best Posture
As we discussed above, if you're going to share your workspace with others, you'll want to make sure the countertop of the desk is stable. The same theory applies if you plan to alternate between standing and sitting. If you do not have a stable desktop, you'll have to clear off the space to adjust it completely. If changing the desk is difficult, you'll likely not want to modify it and settle for using it at the wrong height, or not using it at all.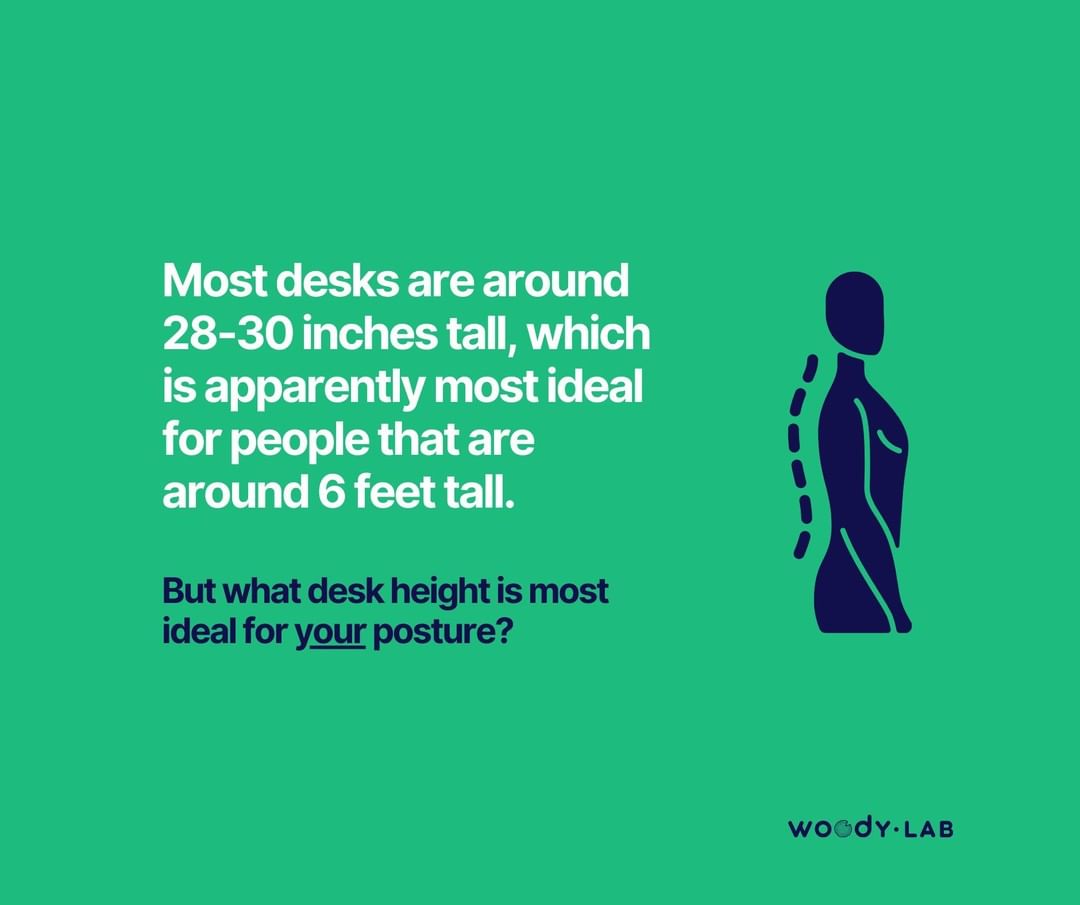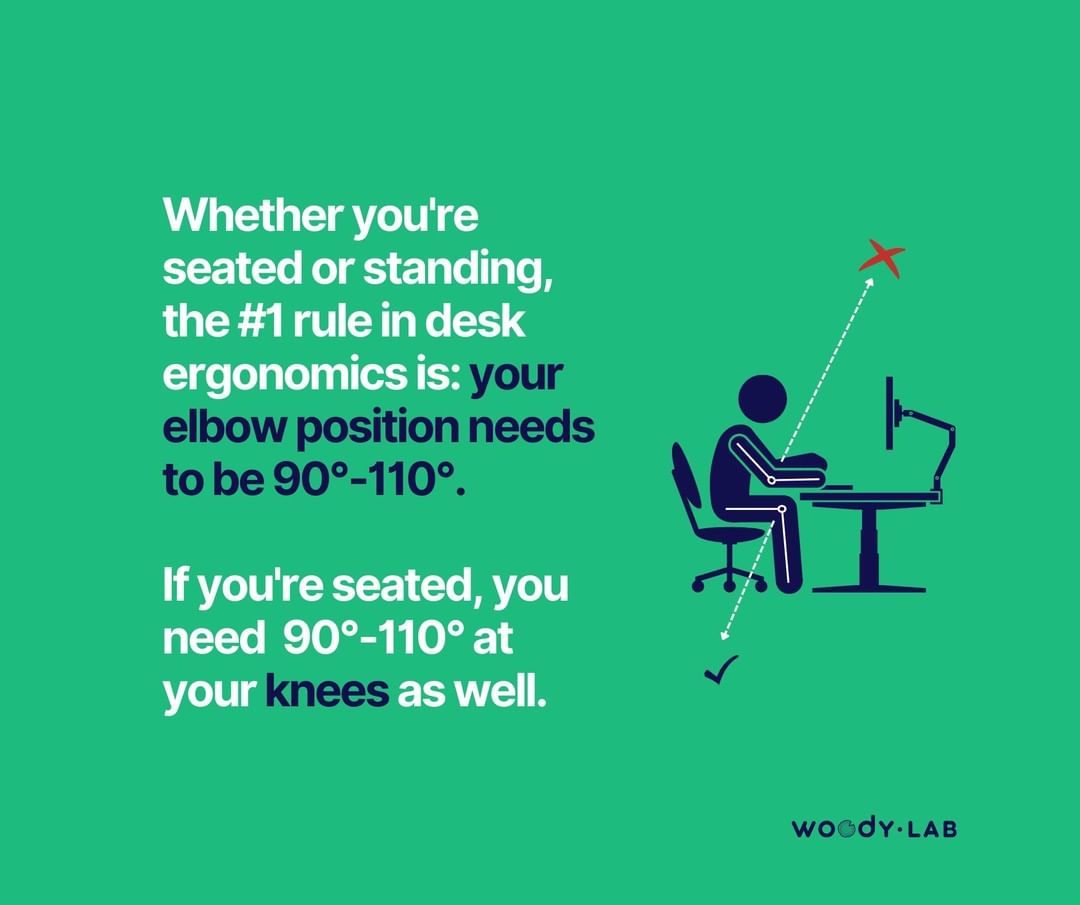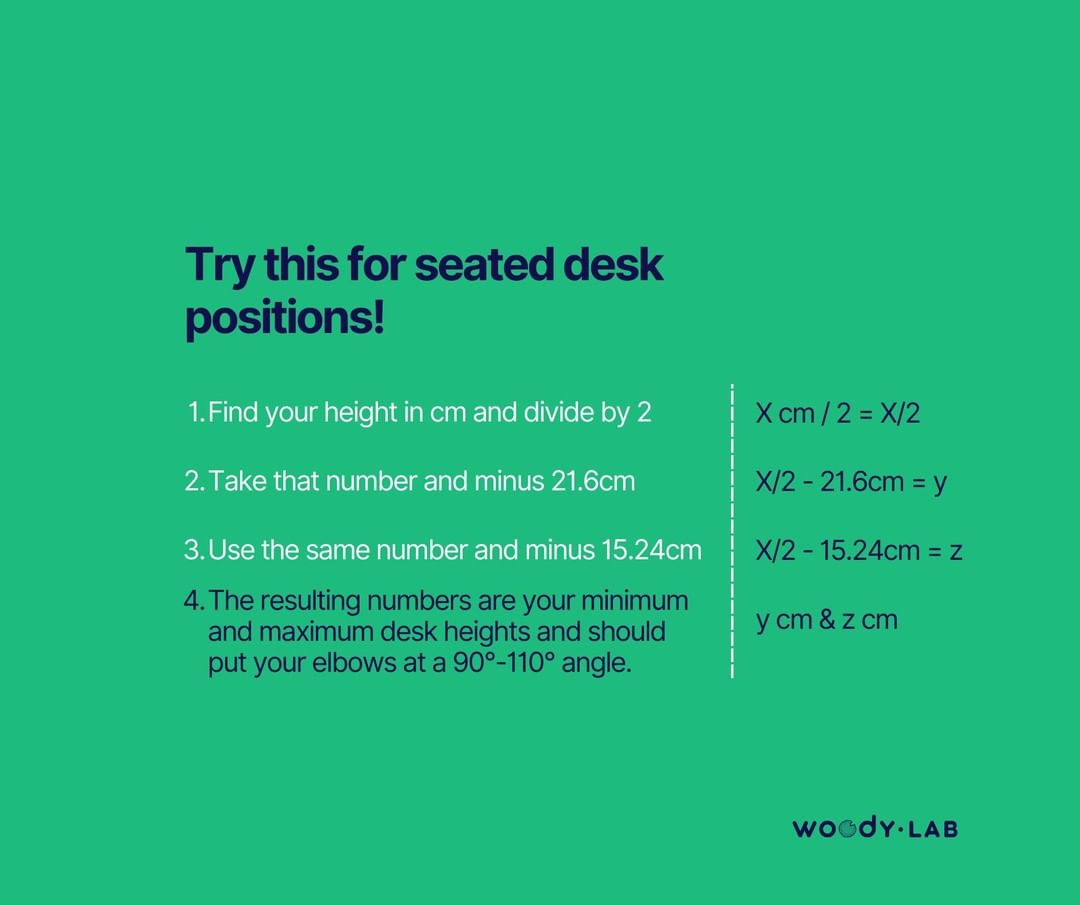 One feature that makes adjusting to the proper height easy is a single-motor system. What this means is the desk can be adjusted with a single push of a button. Even better, some innovative standing desks can be adjusted quickly with the push of a button and can remember height adjustments. For those that share a workspace, a single push of the button will customize their space without disrupting others' settings.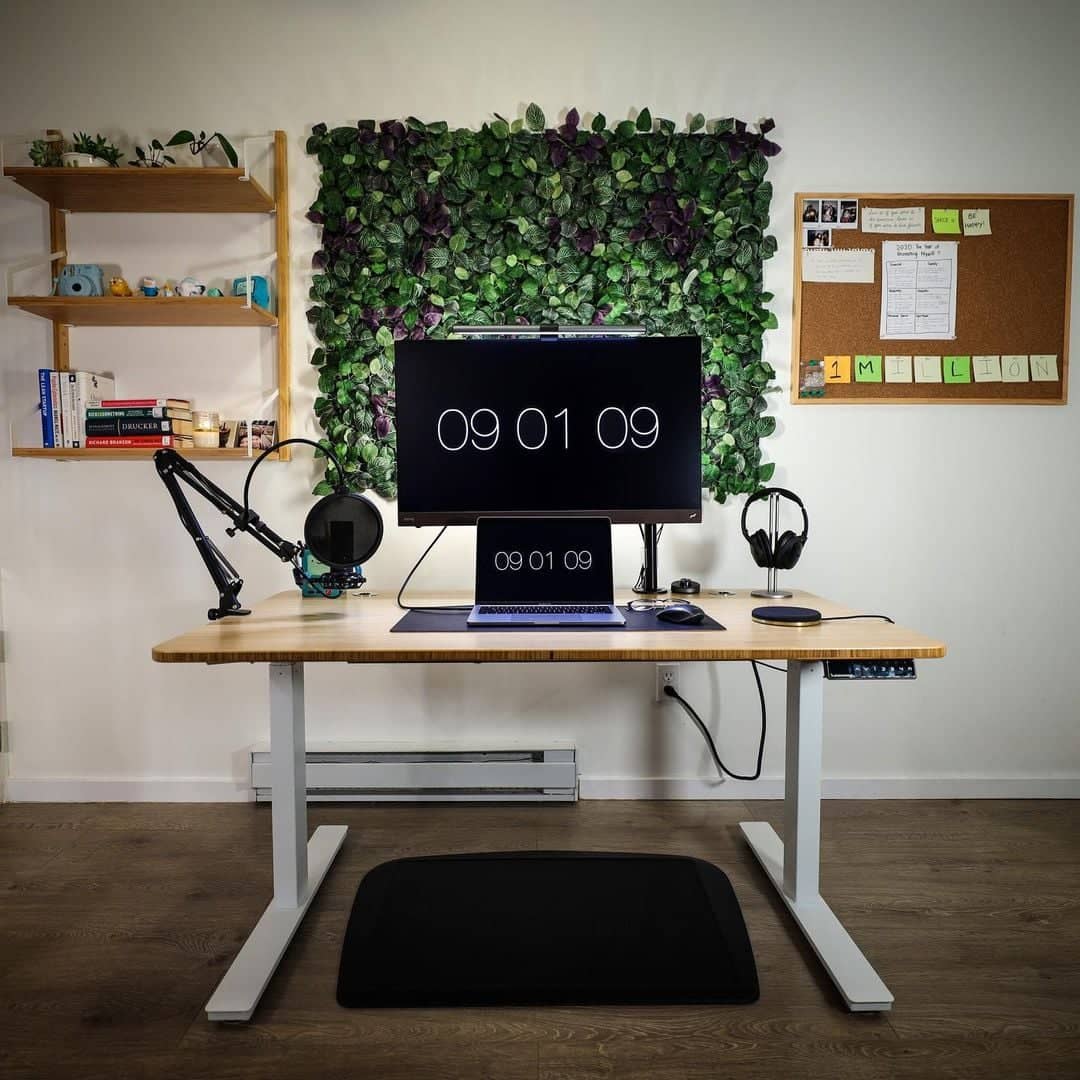 The 7 Best standing desks for Tall People above 6′ – 6'8″
Brand/Model
Height

Range

Weight

Capacity

Warranty
Uplift V2 2-leg

Uplift V2 4-leg

25.3″ – 51″
25.3″ – 50.9″

355 lbs
535 lbs
15 years
Flexispot E7 Pro
26″ – 51.6″
440 lbs
15 years
Branch Furniture
25″ – 52″
275 lbs
10 years
Vari Electric Pro
25″ – 50.5″
220 lbs
5 years
Apexdesk Elite Series
29″ – 49″
235 lbs
2 years
Ergomax
24.5″ – 50″
225 lbs
1 year
Rise Up
24.6″ – 50.2″
250 lbs
3 years
Lifease
24″ – 50″
250 lbs
–
Notes:
All of the listed standing desks have electric motors for height adjustment. The height range is included the 1″ tabletop
Flexispot E7 Pro has the highest weight capacity for the 2-leg desk, but Uplift V2 has the highest for the 4-leg version. If you like to pick one of them, here is our comparison: Flexispot E7 vs Uplift V2 – which standing desk should you bring home?
Uplift V2 has the longest warranty of 15 years, while Ergomax has the shortest warranty of 1 year.
Branch Furniture and Flexispot E7 Pro have the highest height range of 52″ & 51.6″ respectively, which can accommodate people up to 7 feet tall.
Apexdesk Elite Series has four programmable presets on its digital controller.
With everybody on the healthy bandwagon, there is no shortage of standing desk options in the market. And if you are within the average height range, which is less than 6 feet, there are a multitude of options available for you.
That's why taller people who stand 6 feet above find it more challenging to find a standing desk that will serve their needs. They are often faced with two problems. One, the height range of the desk is not wide enough. Thus, it will not be able to go higher. And two, there isn't enough legroom. 
And settling for a standing desk that cannot meet these two needs can result in a very bad posture. So we have made shopping easier for our guide.
Looking at the two problems above, a standing desk should also be able to fulfill those needs both in sitting and standing positions. That is when you will be able to make the most out of your purchase. You'll also be able to take advantage of the health benefits.
Desks should be able to go up at a minimum of 50-52 inches. And it should also be able to go down up to 21-22 inches, which is the most comfortable spot when seated. And we find these desks to fulfill those two needs for taller people.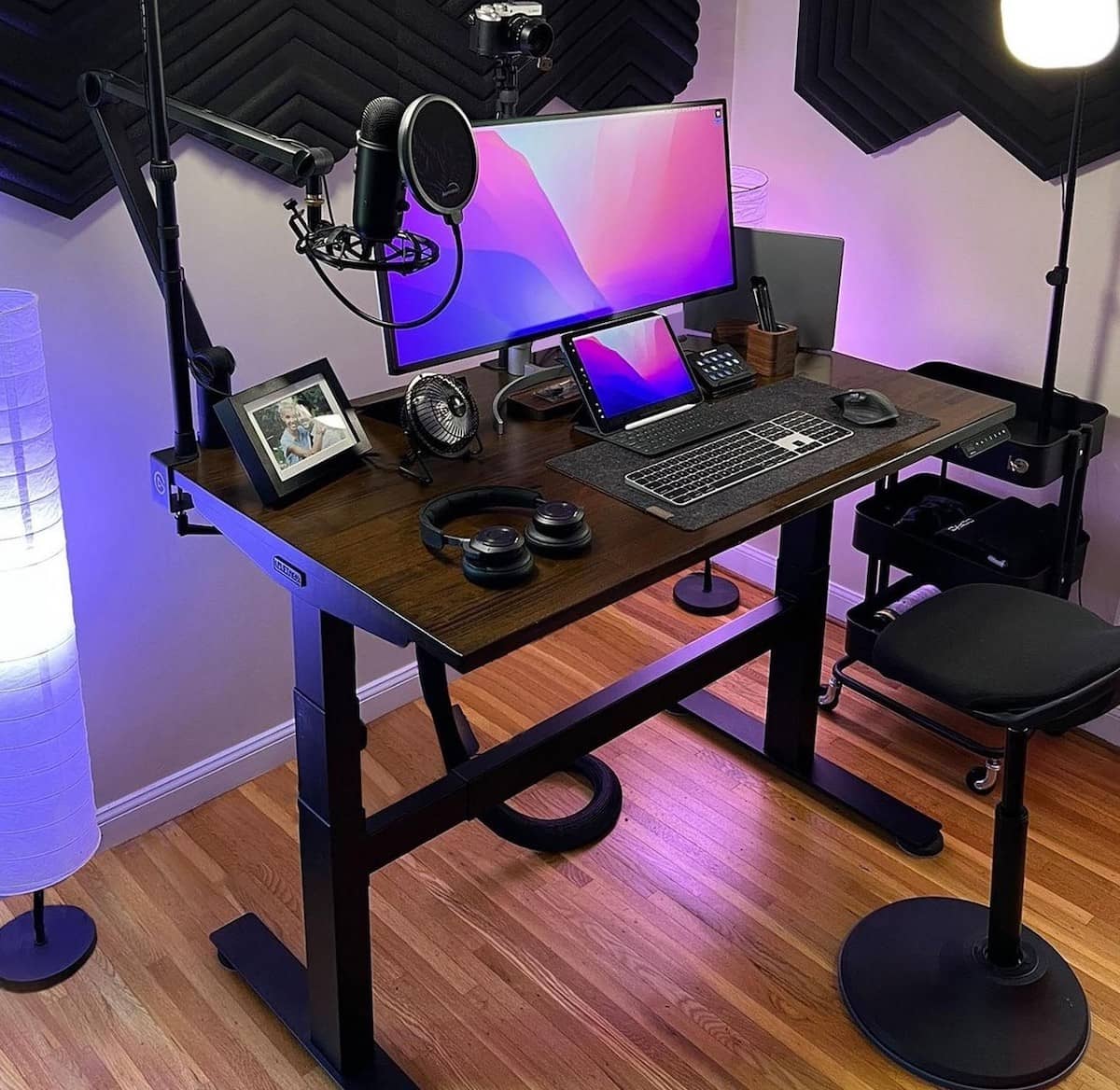 #1 on the list of best standing desks for a tall person, we named the Uplift V2, one of the most famous brands in the market for 10 years!
The Uplift V2 sit-stand desk can go as low as 25.3 inches and go higher at 51 inches, That's why this is a great option if you stand above 6'5."
Even though this is not the biggest of the max height setting compared to other brands but we still want to put it in the first position. Why? 
If you're in the market for a standing desk, you'll want to consider the Uplift V2. This desk offers a wider range of motion than any other option, making it a great choice for people of all heights. The desk also features a built-in keyboard tray and monitor mount, so you can easily set up your workstation. And with a weight capacity of 355 pounds, it's capable of supporting even basic monitors and laptops setup. 
And Uplift desks cost a bit more and their prices tend to increase faster. The increased warranty from 7 to 15 years may have also accounted for the increase. That also explains why you're paying for a more expensive standing desk. Though if you're lucky enough, you might be able to score discounts by talking to their customer support. 
The downside with Uplift V2 with 2 legs is the stability, we have to say that it happens with all 2-leg standing desks! It can start to wobble once you are a few inches near the max. So when you're typing, you might be irked by the vibrations and motions that it can pick up. And even leaning on the desk may cause it to lean toward you a bit.
That's why the standard version is a better option for those who do not have too many accessories to put on the table. So no solution for the stability?
Of course not!
The Uplift V2 4-leg with 535 lbs of load capacity will be the ideal one for true gamers or someone who loves the 100% absolute stable! You have to sacrifice the height range a little bit, because this version is from 25.3″ to 50.9″, not a problem for a 6'9″ person. Above 7 feet, you have to pick another desk converter on the table!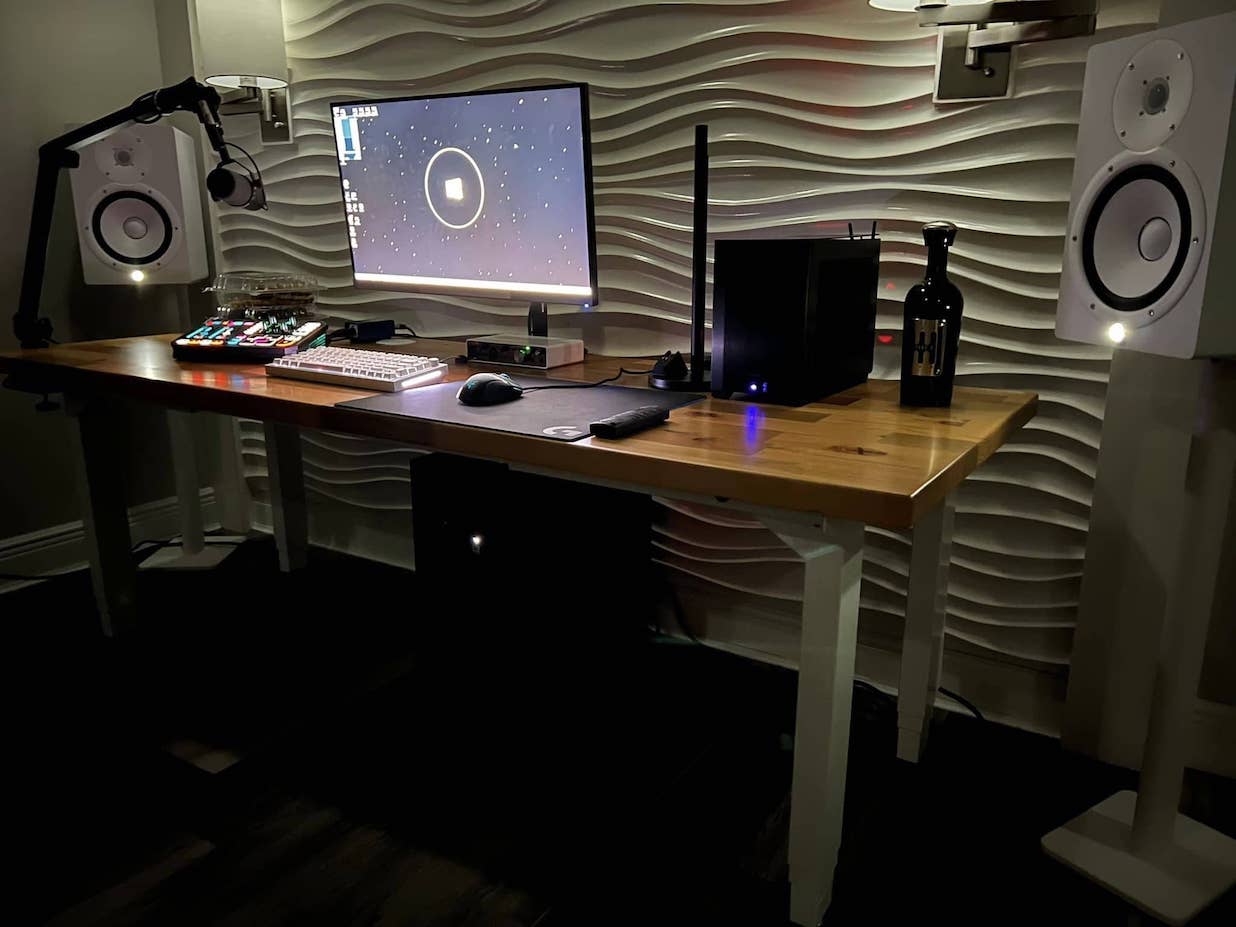 Flexispot E7 Pro Plus Standing Desk with high frame
Flexispot is known as the budget brand when it comes to standing desks. We usually compare Flexispot vs Vari or Fezibo, these are similar with affordable prices! But don't let that fool you, Flexispot also makes some great high-end products!
The E7 Pro Premium is their latest flagship model and it's easy to see why.
Before they have the E7 Pro Plus with 3 options for picking the frames: T-leg (which fits short users), C-leg (for common guys), and high frame T-leg (for taller guys), but now, the high-frame is no longer available anymore
Instead, the E7 Pro Premium is created with an even stronger of weight capacity (440 lbs vs 355 lbs of the E7 Plus). And of course, for taller folks above 6'5″-7 feet. Their new height range without top is from 25-50.6″, which means with 1″ of the tabletop, it can reach 51.6″, not bad! Our experts agree that's a huge plus for tall people, who often have trouble finding desks that are the right height for them.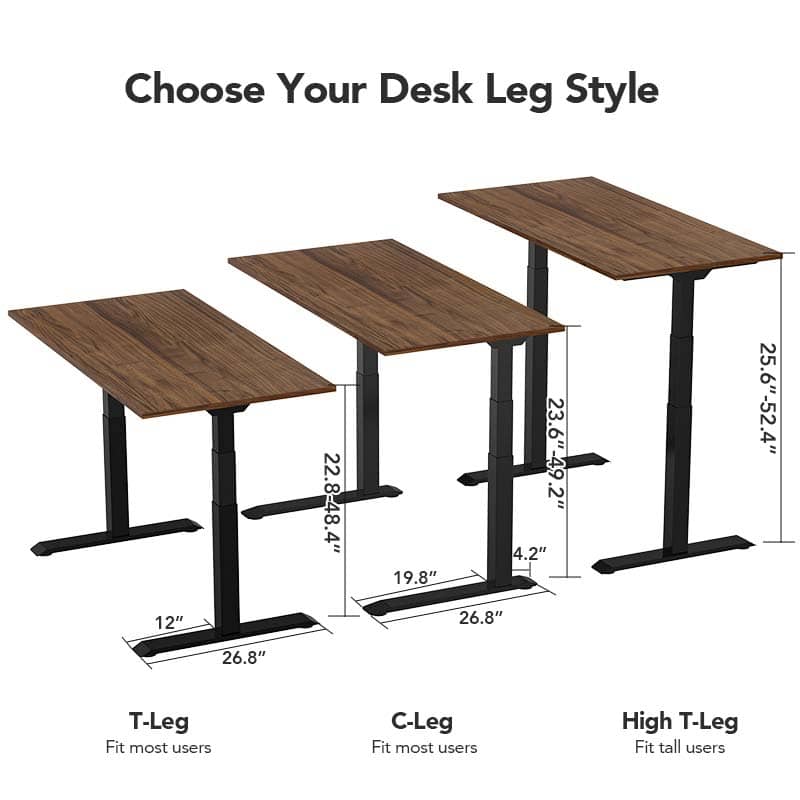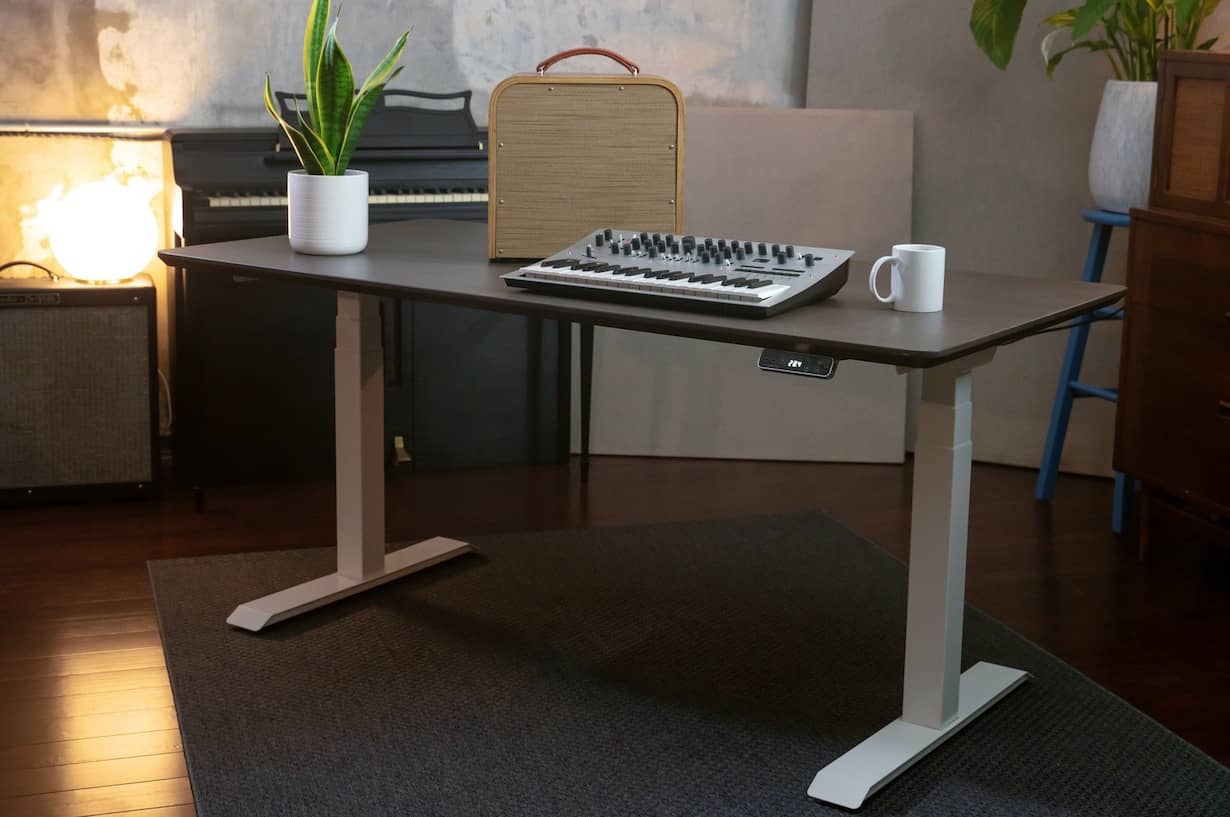 But the adjustability doesn't stop there—the Flexispot E7 Pro also has an adjustable keyboard tray and monitor mount, so you can customize your workstation to perfectly fit your needs. And if you want to add a little bit of flair to your desk, the E7 Pro comes in black or white, so you can choose the color that best fits your style.
The desk is also available in 4 different colors: black, white, light grey, and dark grey. It's available in various different sizes of tabletop from 48-80″
For capacity, it's a tie compared to Uplift V2 vs Flexispot E7 Plus (same 355 lbs), but now the Premium Flexispot E7 Pro is unbeatable!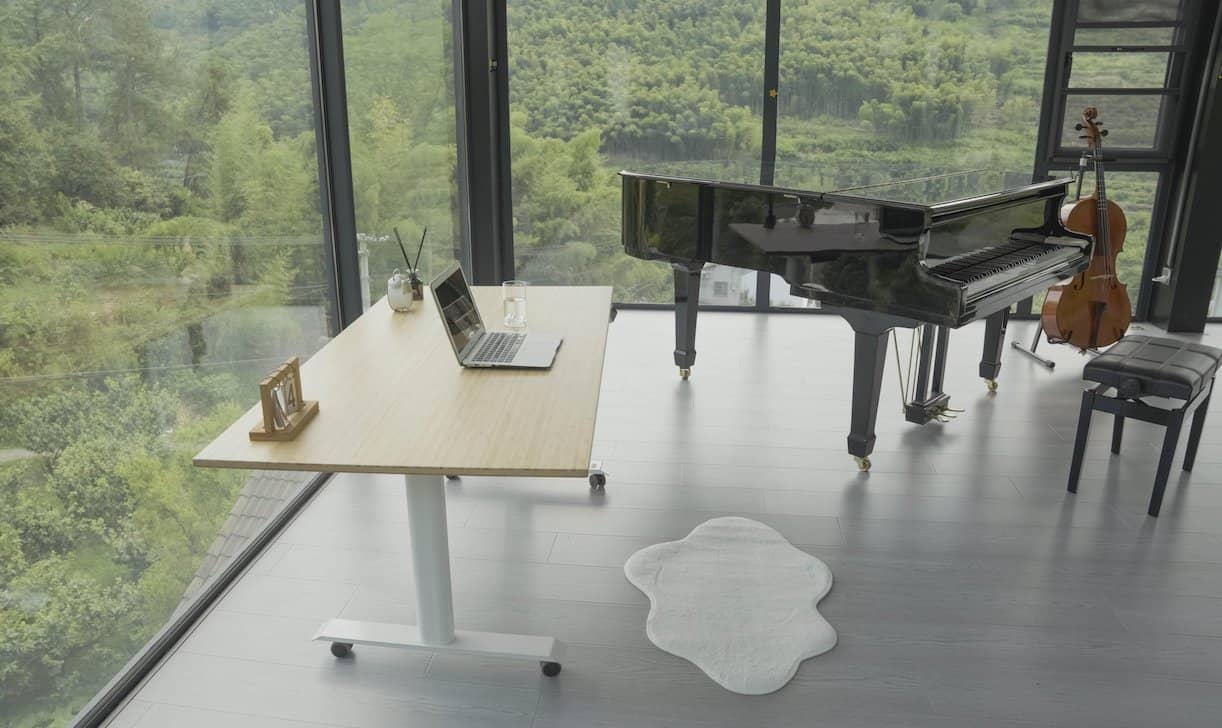 Another great feature of the Flexispot E7 Pro is that it comes with a built-in cable management system, so you can keep your cords tidy and out of the way. No more tripping over cords or having them get tangled up! The cable management system is also helpful if you want to add any accessories to your desk, like a lamp or a speaker. And speaking of accessories, the Flexispot E7 Pro also comes with an accessory mounting bracket, so you can easily add things like a CPU holder or monitor arm without drilling any holes in your desk.
We want to put this model on top, but actually, with the Increased anti-collision technology and other special features, Uplift V2 is still the #1
Branch Furniture
The Branch Furniture Standing desk appears to be a solid option for a small home office setup with various devices and accessories.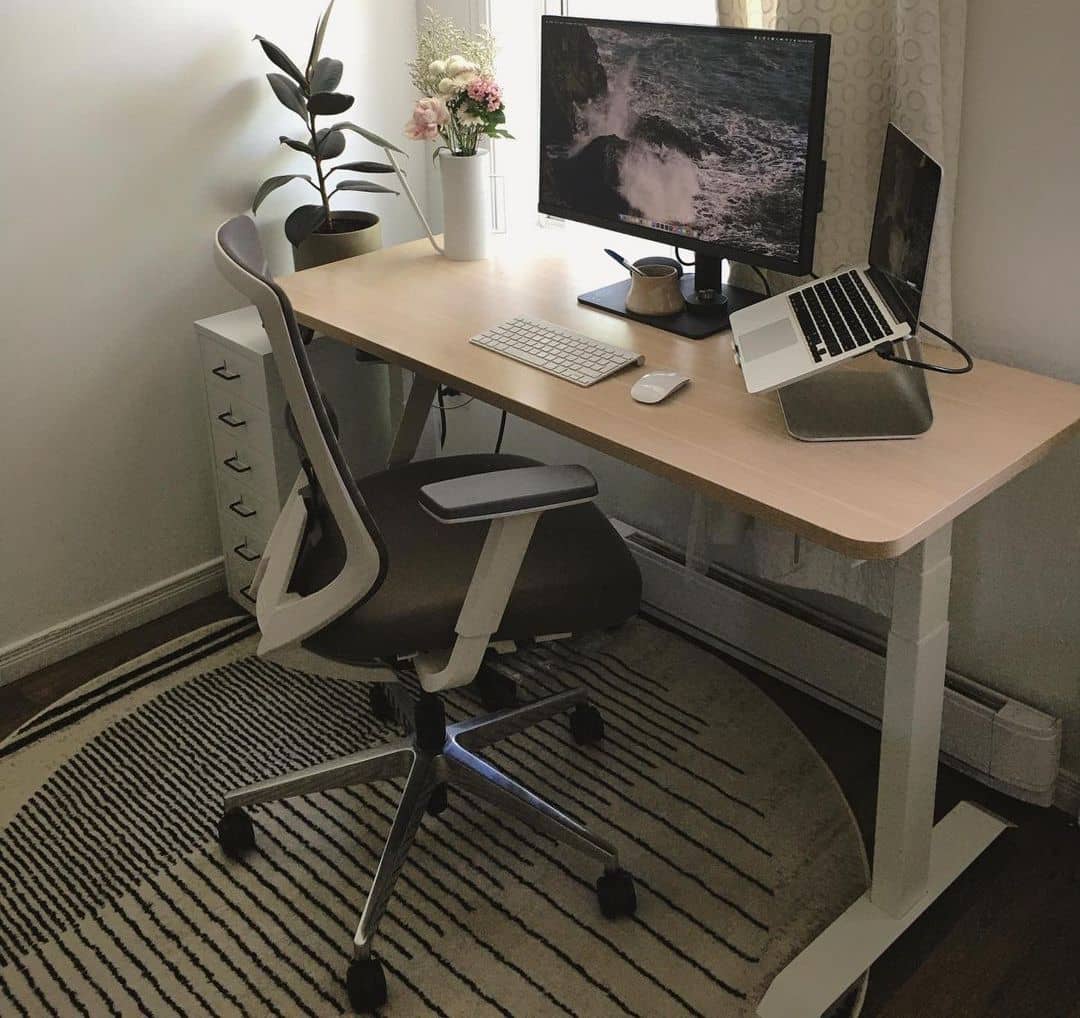 With a weight capacity of 275 lbs, the frame might not be the strongest in the market, but it should be adequate for most home office setups with PCs, laptops, and accessories. Be careful if you want to sit at the table!
The height range of 25-52″ is a significant advantage, particularly for the tallest people up to 7 feet tall. This flexibility in height adjustments sets it apart from competitors like the Uplift V2, Flexispot E7, and Vari Pro electric models.
The desk features a laminated MDF top with a beveled edge and a built-in cable grommet, a plus point and so convenient for cable management. The steel, powder-coated legs contribute to stability, and the tapered feet ensure balance on different surfaces. This combination should provide a reliable and durable workspace.
The Branch Furniture offers a 10-year warranty for their standing desk! It is reasonable and offers a certain level of confidence in the product's quality and durability. While it may not match the longer 15 years (like Uplift or Flexispot), it still exceeds the warranty duration of several other brands like Apexdesk, Vari, and Riseup.
However, this desk is only available for 48×30″ or 60×30″ sizes. You can get any of the 6 colors (fog charcoal, white, woodgrain, etc) for styles, but not with the size. Gamers who usually love the bigger 72×30″ or 80×30″ have to switch to another brand.
Vari Electric Standing Desk Pro Base
Vari (before it was called Varidesk) is another famous brand when it comes to standing desks. The brand has 2 options for high-end and budget – The Vari Pro and the Vari Essential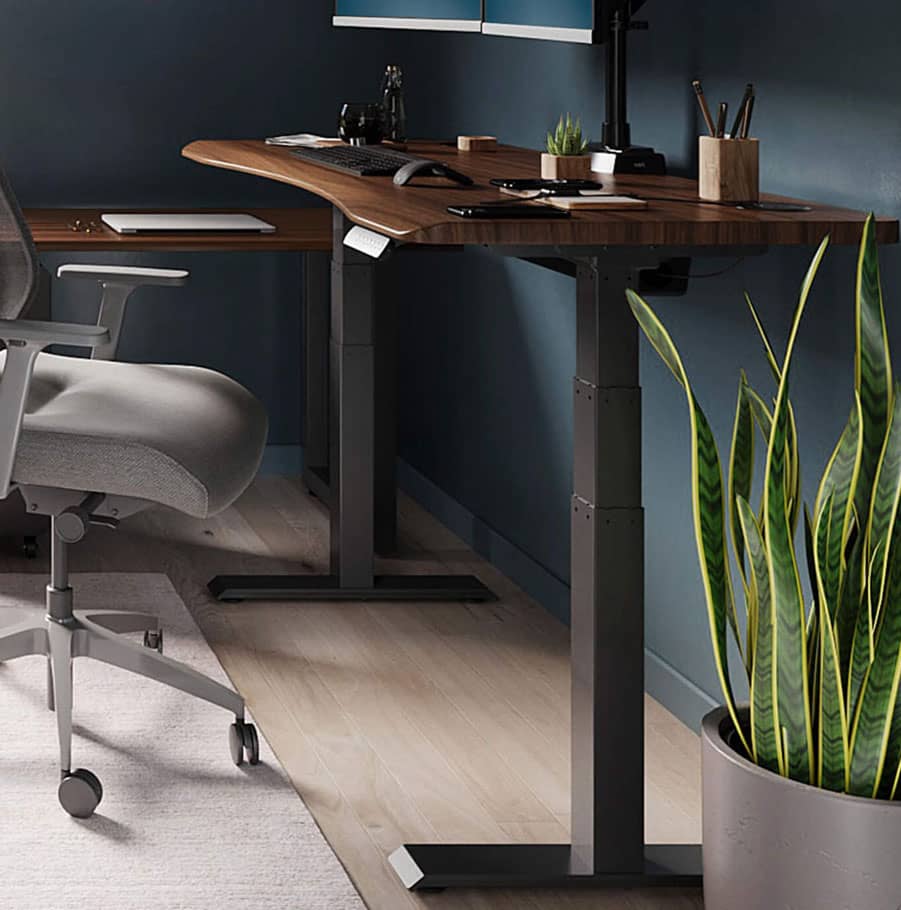 The major difference between the 2 models is height range adjustment (and the price, of course)!
As you can see, the max height setting of all Vari Pro models is 50.5″, good enough for taller folks above 6 feet. And our tester – Chrissy White from Australia, after comparing the price, assemble, and warranty with the customer support of Vari, said he will pick the Pro electric model as the top 1 on this list! But in the end, the top #4 is really not bad so far!
The good thing about Vari, it's easier to install than other brands. But 220 lbs of weight capacity is not the strongest option, compared with 355 lbs of Flexispot E7 or Uplift V2. But frankly with standard users for 2 monitors and a laptop with some small accessories, we believe that 220 lbs are good enough!
If you are still concerned about which one to pick, here are keys to finding out:
Apexdesk AX7133AW Elite Series 71" standing desk
Apexdesk is more known for its large working area. And for the price you're paying, it's economical. You don't need to purchase a larger tabletop at a higher cost because it already comes with one.
And one more great feature of the Apexdesk Elite is that it can cater to those who stand 6'2' or 6'3. The desk can go from 29-49 inches. So this is also a great option for taller people. 
We find it substantially stable. Though it doesn't have a crossbeam for additional stability, it is very very durable. There are no wobbles even at the highest desk setting. Though if you push the desk side to side, there will be a slight movement. But it does have vertical stability even at 49 inches. 
The robust steel thick legs and the wider desktop would have to account for that one. 
It costs less than the 71-inch desk of the Uplift V2 commercial. 
Altogether, we find whichever of the two is a nice option when it comes to stability. But what accounts for the lesser price of the Apexdesk is the stingier warranty that it offers. It only offers a two-year warranty, it's one of the stingier ones on the market. 
Rise Up – a great budget standing desk for tall people
With a max height adjustment range of 50.6″, it's one of the tallest options available. And, it's not just tall people who love the Rise Up – its spacious desktop and quality construction make it a great choice for anyone looking for a top-notch adjustable standing desk.
The Rise Up can support 250 lbs weight capacity, easily accommodate multiple monitors, laptops, and other office accessories. It's average compared to the Uplift V2 with 355 lbs and the Lifease with 280 lbs.
The desktop is made of thick, high-quality laminate wood, and the frame is made of heavy-duty steel. This makes it a very stable desk that won't wobble or shake
Like Branch Furniture, the Rise Up is only available in two tabletop sizes 48×30″ and 60×30″. If you are a true gamer who wants to set up a cool home office with a bigger size like 72×30″, well, Rise Up is not the right one. The Uplift V2, Flexispot E7, and Jarvis both have this option. Of course, the bigger the desk, the more expensive it is.
The cons: This Rise Up does have a shorter warranty (with only 3 years) than some other options on the list. The other models such as Uplift V2 or Jarvis or Flexispot E7 both have a 15-year warranty! As you can see, the longer warranty does come with a higher price tag.
Like other high-end products, The Rise Up is equipped with anti-collision technology, which prevents the desk from lowering too quickly and damaging your belongings. This is a great safety feature that not all adjustable standing desks have.
Ergomax black electric staining desk frame with dual motor 
The Ergomax brand offers this dual-frame desk without a desktop. We were able to pair it with a tabletop that measures 72″x36″, and it fits just fine. Apparently, there are the max tabletop dimensions that this dual-frame can accommodate.
If you'll hover through the brand's website, it offers just two types of standing desks, a single motor with a tabletop ad a dual motor with just the frame.
This desk can go as high as 50 inches. And the lowest setting is at 24.8 inches. You can also adjust the width of the desk from 39 to 55 inches. 50 inches is the sweet spot that can be used by taller people.
It's quite stable, there are no wobbles from left to right. You will need a specific amount of force to be able to shake the desk in this direction. 
But our concern is the wobble from the front to the back. There is a moderate amount of shaking when you try to move the desk from front to back. 
Before 2018, the brand offered the desk frame without the crossbeam. But they have upgraded since then and you have an option to get the desk frame with the crossbar. And this upgrade has lessened the wobble. There is minimal front-to-back shaking, though not as crazy as before, there is still some shaking. 
This desk also feels heavy duty and there are a lot of steel components inside. But it is more affordable than most standing desks of its kind.
Lifease 70-inch dual motor standing desk
The reason we put Lifease at the bottom of the list, it's the unknown warranty. The Chinese brand has limited reviews, which may not be a big deal, but no sign of the return policy and the warranty, that's a red flag! For some folks who love budget options, this is an option to try. But be careful with your dealer
This Lifease standing desk can go from 24-50″, so it almost has the same height range as the Ergomax and other models. Good enough for taller folks above 6 feet. Our tester said: "It's nice and heavy too so there aren't any wobbles from front to back or side to side."
It best goes with a 55-inch tabletop. And you also have the option to buy the unit to compete with the table.  
We also love how you can adjust the width of the desk. The base width can go from 42.5" to 70.9". This gives you more options to find the more comfortable spot whether you're sitting or standing.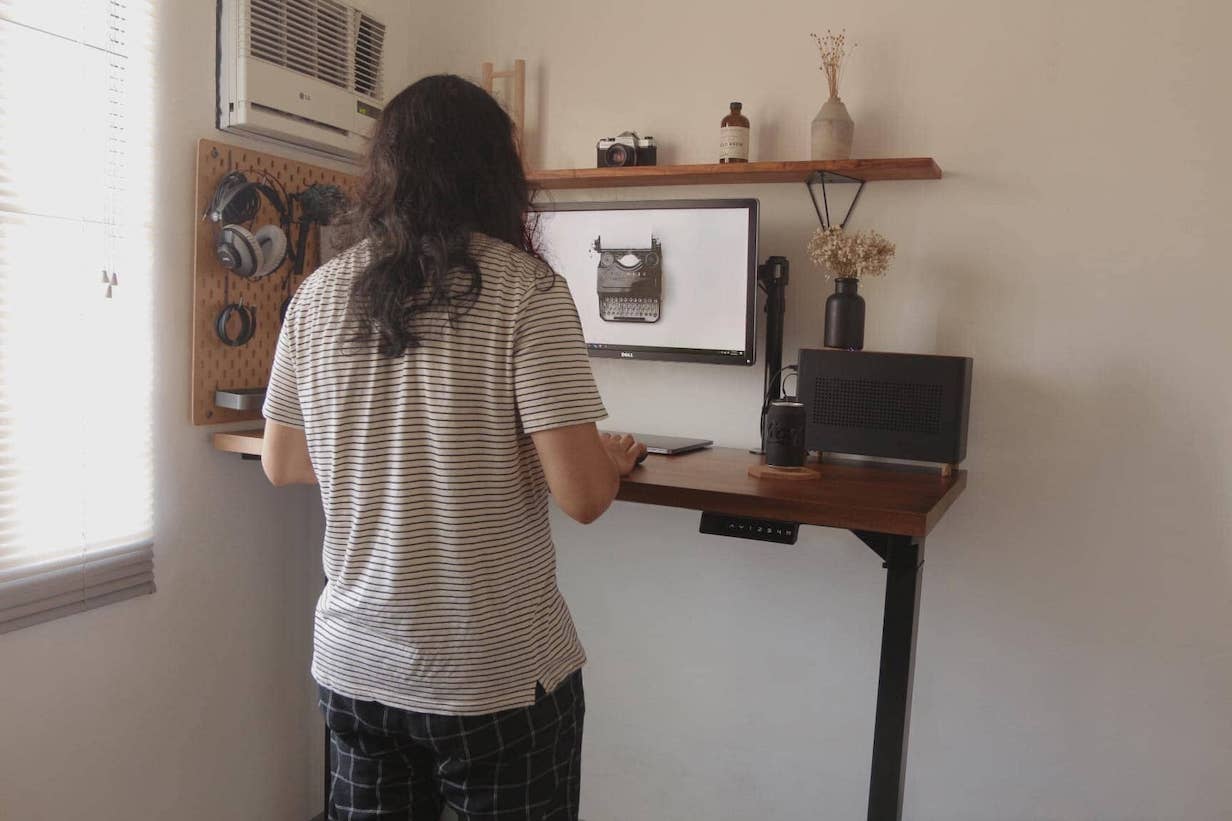 What if your height is too high for standard standing desks?
If you are taller than normal people, for example, 7ft, you may need to look not only for a standing desk that has a higher height range.
In this case, a normal standing desk with a max height setting of 50″ or 51″ is not enough. Or even worse, you already bought a basic product that has limited height adjustment.
Here are a few tips that will help you to find a solution:
1) Use the casters.
They will increase the height by 4.7″, making the normal height range from 50″ to 55″.
2) Use a keyboard tray.
You could get another 2″ from the keyboard tray. That's so amazing with the total extra height of 6.7″!
3) Use a standing desk converter.
There are many different types of standing desk converters available on the market that can be used to raise the height of your existing desk. These vary in price and quality, but they can be a good option if you need a few extra inches of height.
The final option, you can put something under the wheels, which can give you another 2″ of height.
All of these tips will be very useful for people who are taller than 7ft. But make sure you don't create a desk that is too wobble.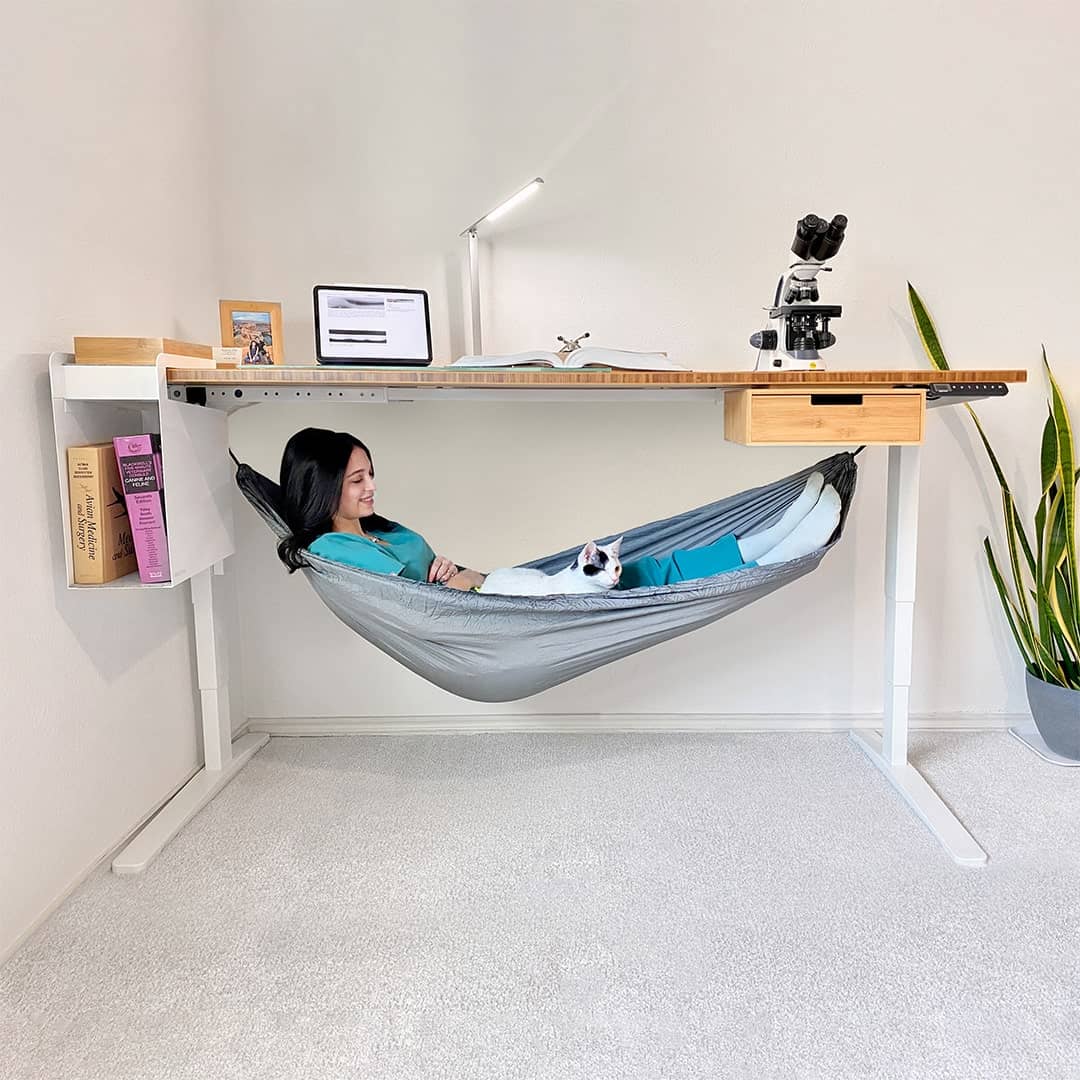 Our expert recommendations
These standing desks offer more comfort for 6′-7′ tall people. If it's hard to pick one from Standingdesktopper's recommendations, you can ponder on these.
One, compare the price vs your expectations on the warranty. The higher-priced Uplift V2 desk can also offer the same stability as the other options on our list. But it does have a higher price but offers a better warranty and customer service.
The more cost-effective Lifeease electric standing desk also offers a wide working station with adjustable width. And is very rather stable too. But there are very few reviews about it. But that does not mean that it's not a good option, there just isn't as much feedback on the warranty and customer service. 
So, if you are looking for a standing desk and you are over six feet tall, one of the desks on this list should work well for you. Remember to take into account your own personal preferences when making your decision – everyone is different and will have their own likes and dislikes. What's important is that you find a desk that makes you feel comfortable so that you can stand comfortably all day long without any pain or discomfort. Good luck!