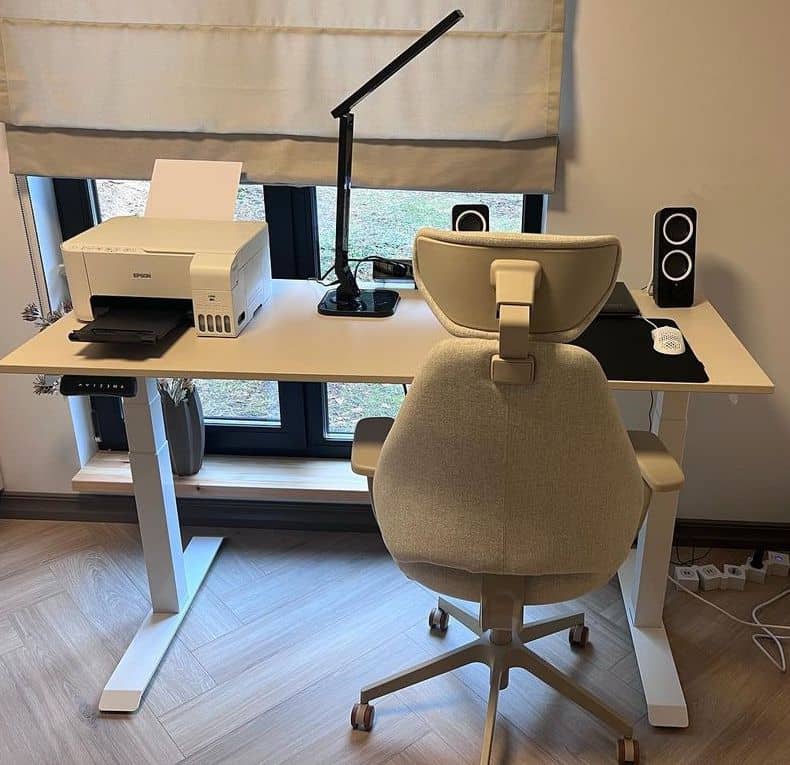 Simply put, aesthetics is not Famisky's strength. Take a close look at the table and you would instantly agree with us that it's not one of those good-looking desks that can instantly spark joy in you.
Let's talk more about this.
Strong motors but an undesirable tabletop

 
The tabletop also comes in two spliced boards. So like other desks with two top parts, it would have that significant demarcation line where the two boards were joined. That messes up the aesthetics and can make it look less polished. But even if the Famisky comes in a full single board, it still ain't the prettiest of the lot.
The boards are made of fake wood, but it looks very cheap. It's not like those MDF boards that look decently nice and you'd often see in mid-range standing desks. The board is also quite thin and looks and feels rough and scratchy.
One thing to know also is that the desk surface is not okay for writing unless you have a desk mat. It feels like unsanded wood, so you will not be able to write smoothly on it 
The top is particle board laminate, but it's not of the best quality. So you have to be careful not to nick it. Otherwise, spilled liquid might penetrate the inside and it can swell. That's why even if you're not going to write on the desk, it's still a good idea to use a desk mat, especially if you have sharp objects on the table.
Also, other aspects of the desk can make it look cheap and tacky for one, the control buttons mimic a kid's toy. But this is all in the looks, Despite that, it doesn't interfere with how the desk functions. The buttons still responded satisfactorily and we did not experience any lagging of any sort. 
So if the aesthetics and overall appeal are one of your top criteria in buying a standing desk, better cross this one off your list.  
Lacks in beauty, makes up for in performance
Underneath those less than a pretty desk, are sturdy and stable motors and frames. Despite the two spliced tops, it feels rather sturdy and stable. There is just some sort of soft wobble if you forcibly shake the desk from side to side. sort of subtle shaking when you forcibly move the desk from side to side. 
But if you're going to use it for typing jobs, it will feel substantially strong even at the highest desk setting. 
The desk also transitions satisfyingly fast for a unit of its price, it is also rather quiet. So it has a handful of good stuff up on its sleeves despite being called an ugly desk by some.
The Famisky desk will prove itself of value, it's one of the more sturdy and stable standing desks in its price range.
It's quite roomy too
You can get the dual motors in either a 63" x 24" or 55" x 24". And this offers more than enough space for a mid-size workstation. So with this more than enough space for beginners, you can use this desk even if you have upgraded your workload.
With this larger space, there is room for more. So if you see yourself getting busier, the 63" x 24" desk option is suitable.
And what we also love about it is that you can do something to make the desk look more presentable. You can accessorize it. This allows you to also personalize your working area. As we have mentioned above, you can do zoning and have more room. And the additional accessories will help you create a more organized station for typing and getting all your work in order.
The desk does offer a decent and effective way to organize your cables and wirings without the need to splurge out a lot of money.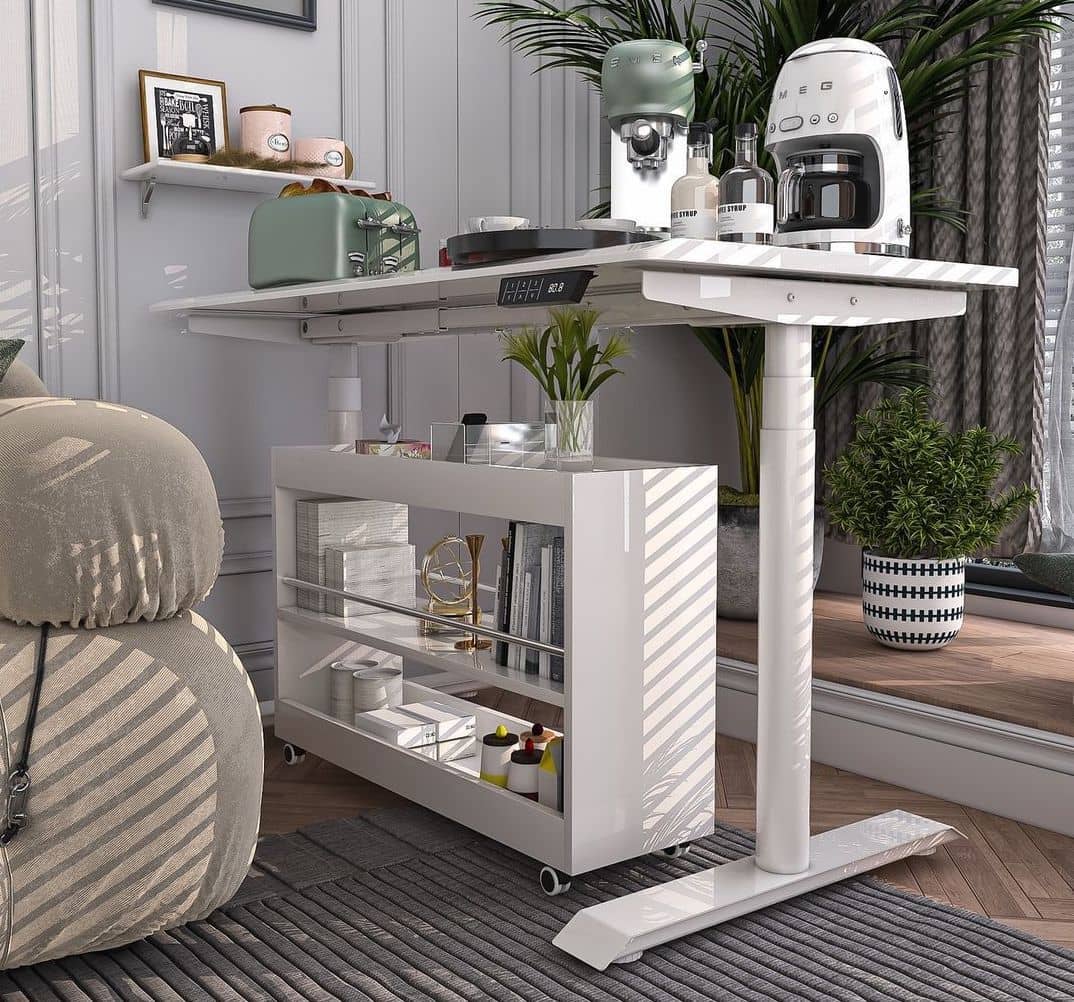 Here are some of our favorite accessories
We recommend getting the side hooks. This is an easy way to keep your headphones organized. And speaking of headphones, gamers who are not much into aesthetics and just need a steady and sturdy desk will find Famisky a value for their money, 
Accessorizing your desk can make it serve you the most. And it can also help you with zoning. You can get a desk stand and have that extra free space to work on. Or you can also get a nice-looking phone stand to allocate zoning for calls and amp up the aesthetics. A wood desk organizer is a great way to make it look appealing. 
And to hide the rather significant demarcation line from the naked eye, a desk mat is highly recommended.
You have lots of resources online that can serve as an inspiration on how to amp up the look of your workstation. We love ideas at Pinterest, it can give you some refreshing and workable ideas on how to do zoning while making your desk prettier. 
We love the wooden monitor stand and organizer from Etsy. The beautiful wood grain finish on it can hide the tackiness of the desk.
So with all the options to accessorize, the Famisky may, after all, will be able to spark joy in you, 
It is very easy to assemble
One of the advantages of the desk is that it is quite easy to assemble. And the brand has a detailed guide on how you will go about it. It's mostly made up of pictures but it is very easy to understand. But if you are not visual and would prefer something written or spoken, the brand also has it. You can also find lots of resources and videos online that will show you how to set up your desk step by step. 
We also love that it has an embedded screw hole that eases up the assembly.
Since most of the important parts are pre-assembled, namely the legs, it makes the entire process easier. The legs already have their motor own pre-installed, so this is one less thing to be worried about. 
Secondly, each type of screw and fastener was placed in mini resealable bags. And it has a corresponding letter in the instructions. So it's quicker to assemble everything in under an hour. This also makes it easy to account for all the small bits and pieces so you'd know when one is missing.
Also, all the redrilled holes are in the right places, there are no misaligned holes in our case. 
The underside has pre-drilled holes to keep the particleboard from splitting while turning the screws. It also lessens the chances of making a mistake, especially if you're not into DIYs. This is very important if the unit has two separate tops, and not all brands are thoughtful enough to think of this. That's why almost all standing desks with spliced tops are a headache to assemble.  
But not to burst your bubble, but there is a but to this.
Thing is, the desk will work as long as you can assemble it properly. It's quite easy to set up, yes. But there may be some instances where it can prove otherwise.
Some were able to get theirs with unaligned predrilled holes.
The square metal plates that secure the two halves of the tabletop are sturdy, but if you received a unit with holes that are not aligned, this can be a hassle. Sure you could force the screws down at an angle, but you have to be careful in doing so. Since the tabletop is not the sturdiest and is rather thin, there is a chance that it can crack at the sides where the pre-drilled holes are. 
So instead of forcing the holes to align, we recommend using metal washers instead. And oh, the manual also states never to over-tighten the screws as cracking can happen. 
Also, the wooden dowel pins are loose. So we recommend carpenter's glue with the dowel pins. 
It's easier to set up the electric decks rather than the crank-up or manual ones.
You have to ensure that the middle rod must be inserted on both sides all the way. That means having the left side clamp stopper touching the left leg. Also, you have to ensure both sides move up and down before mounting the tabletop.
What about troubleshooting?
Should the desk encounter glitches and problems, you may be able to fix them yourself. Here are some of the common errors, what causes them, and what you could do about them. Try this before calling customer service. 
This means that the legs are not connected to the control box.
What to do?
Check the cables and wiring, and ensure that there is an established connection. You never knew if you accidentally kicked it loose. 
This means you have overloaded the desk.
What to do?
Simply lessen the load and you're good to go.
There may be an abnormal control box operation likely due to extreme temperature.
What to do?
 Initialize or restart your Famisky desk. 
When the key does not change for 30 seconds, it might mean something is wrong with the buttons or the handset.
What to do?
You can try restoring the control panel.
This means that the handset is not able to receive data. It can be that the control box is broken or there is no established connection
What to do?
Check for the cables and wires and ensure that they are connected to the power source. Also, check if the handle is working properly.
This means that the legs and internal components are damaged
What to do?
Well, nothing much, here's the time you call customer service Contact the manufacturer to request a replacement.
Famisky might not spark joy at first glance, but it can be a good value for your money
This not-so-gorg desk is still a value for your money. It is stable and despite the separate tabletop, it feels rather sturdy too.
But most of us honestly want a presentable and appealing desk. We say if you are up for accessorizing, it can prove itself very useful. Adding accessories is the key to making the desk look more appealing