Branch furniture looks quite premium and classy. But you'll be surprised that they bear a more affordable price compared to desks that have the same premium look. So the brand allows consumers to get their hands on a durable and elegant piece without going over their budget.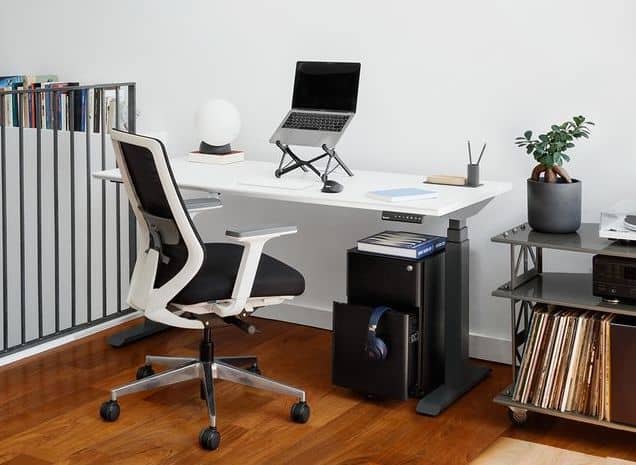 The style is also minimalist, almost Nordic looking. So if you are keen on having a minimalist home office but afraid of the money that it costs, you can find great pieces at fair prices with some of Branch's offerings.
So today we are going to review the height-adjustable standing desk from the brand. And let's see what brands can be head to head with it in terms of value, and of course, price. 
Sturdy and solid WFH and corporate solutions
You can buy the standing desks in a 48 " unit for your home office or a 60" unit, which is more suitable for corporate spaces. 
But all the specs and features will be the same. And we think it is the only standing desk unit of the Branch. So we're also excited at what other standing desk solutions the brand can come up with in the near future. 
On a side note, we are loving the entire catalog of the Branch. Their furniture, tables, and chairs have this minimalist sexy appeal that you'd want for your home office. Their products seem to have a cohesive theme. 
Although the predominant color is white, you'll also find a lot of black, turquoise, and orange pieces. So it looked like they belonged to the same collection. So cohesive-wise, the brand nailed it.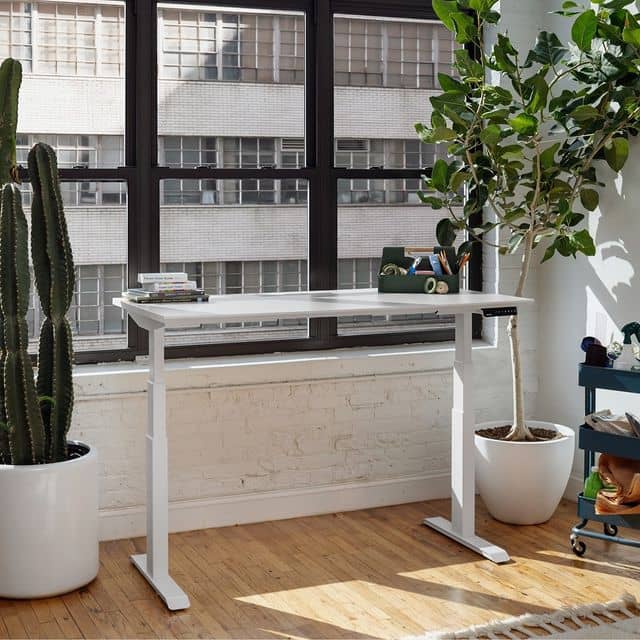 It's also giving us the IKEA vibe except for the quality. The clean minimalist look is very similar to an IKEA piece. Though it costs a tad higher than IKEA and it also is more stable and sturdy. 
The solid legs served as a strong foundation for the desk. Though it's only available in white. And the connection between the tabletop and the frame is tight and taut. There are no wobbling issues whatsoever. Even if you apply a moderate amount of force and lock it side to side or back to front, it will hold its place.
A great option for taller users
So this is a pretty solid standing desk, it can also go higher than other brands within its price range. The max 52" desk height can be suitable for those who stand up to 6". But it can also go as low as 25", so those of average height to slightly petite users can find this of value. 
It can be conveniently used with an office chair and folks with average height can still achieve that proper alignment.
So when it comes to the scope of users versus the stability, we don't have any complaints. This is a very solid unit, so it's just amazing that it does have a premium look and feel, and yet it's in the mid-price category.
You can take advantage of the brand's setup assistant, but with a special condition
The setup is not that painstakingly difficult. 
Those who are into DIYS and have their fair share of assembling standing desks can go about the setup in less than an hour, even 30 minutes. But this thing can be really heavy. So while you're used to assembling IKEA products, the weight of Branch standing desks and products are two to three times as heavy. 
The tabletop itself is quite thick and though it's not made of real wood, it is pretty solid. Then combine it with the all-steel frames, so you have two boxes of very heavy merchandise. 
Some do go about the setup without hassle, as we have some circumstances above. But if you're not one of those, you can avail of the brand's setup assistance. But there is a catch. Though it doesn't require you to pay money upfront for the installation, you have to prepare so much money – worth of purchase to be able to take advantage of the setup assistance.
So the best thing to do is to call their customer service. Or better yet, confirm first with the merchant before buying so that you will not be led by anything false or what. And the good thing is, the customer service of Branch is very attentive and easy to reach. They even gave a 24/7 hotline to help their consumers with the setup.
Overall, there is no free installation when it comes to any of their products, even for a standing desk. And we hoped it had since not everyone will be able to assemble a heavy unit on their own. 
Or at least it should have involved a minimal fee, but not as much as what Herman Miller charges for the installation of their standing desk units. 
It's not real wood but it is pretty heavy, and we wondered why
We love the tabletop because it is stain resistant and it has beveled edges too. That also makes the desk elegant. Though the tabletop color options are not something to be giddy about like what Fully or UPLIFT offers, at least you still have options. You don't have that for the steel frames. 
The tabletop is made of laminate material and not real wood, almost theme material that desks within its price range offer. So you might have the impression that it is made of real wood because it's dang heavy. 
Well, we're inkling on the thought that it's made of a higher quality laminate material hence the higher load compared to other desks that are not made of real wood. It might even be heavier than an Elite series desk tabletop.
No cable management tray for now
This may be the biggest limitation of the Branch standing desk. It does not give you the option to purchase a cable tray management. The unit does not come with one and the brand does not make one…yet. 
So should you need one, you have no choice but to buy from other brands.
Our favorite ones would be from Fully. 
You can also opt for an UPLIFT control panel, just don't get the basic one, the one that comes in free with their basic units. 
How does it compare to UPLIFT?
Let's compare it with the UPLIFT V2 since it also sits within the same price range. Interestingly, they have similar looks, but yes the Branch is heavier, more solid, has fewer wobbles, and has a more sleek-looking control panel that comes with the basic unit. It can also go higher than UPLIFT. 
 The transitioning is also creamier and faster. So in our opinion, the only UPLIFT has going for it vs Branch is the smorgasbord of choice. But of course, that also comes with an additional price per add-on. And oh, the UPLIFT is also easier for most to assemble since it is less heavy.  
Is It better than VARI?
Sturdiness, stability, and aesthetic-wise, we're going for the Branch. Though the choices are limited and do not have a cable management tray, you'll still find more value because of how solid it is.
VARI offers five tabletop options instead of three, and the cable management tray of VARI is more affordable compared to the basic UPLIFT control panel. But the entire desk does not look premium, it even looks a bit more plasticky and utilitarian.
How does it fare vs the Zipdesk?
The Zipdesk is an underrated stand-up desk that's pretty solid, stable, and it transitions faster too. The advantage it has over Branch? It is more technologically advanced. 
This desk is equipped with a Bluetooth transceiver. But it only has 3 memory presets. And though the entire look is better than what a VARI desk looks like, it still falls short compared to the Branch standing desk. But it isn't far behind.
And it can only go as high as 47", so not much of a choice for taller users. But stability-wise, it is, since it also has the same weight capacity as a Branch standing desk. 
How does it fare vs an iMovR Landr Lite?
Well, one it moves faster and creamier than the iMover Lander Lite, even more, quiet too. 
But iMovR has a more generous warranty, even a lifetime one of the frames. It's also Bluetooth enabled and has more modern technologies, where the Branch, function-wise and it's more of a basic desk. But the Branch can go higher for tall persons.
Aesthetic-wise, this is also a sleek look desk and a pretty solid one too. So it'll be hard to choose. What you have to do then is choose your priorities. If you need a more technologically advanced desk, then Lander desk it is. 
But the Branch will still have a more cohesive and premium look.
So should you Branch out?
This is quite a solid standing desk that we're looking at. Though it may lack more advanced features and a cable management tray of its own, a lot are still considering this unit for their home office. 
It looks very premium but does not have a premium tag. So if you just need a basic yet solid and gorgeous desk, then you're right where you have to be