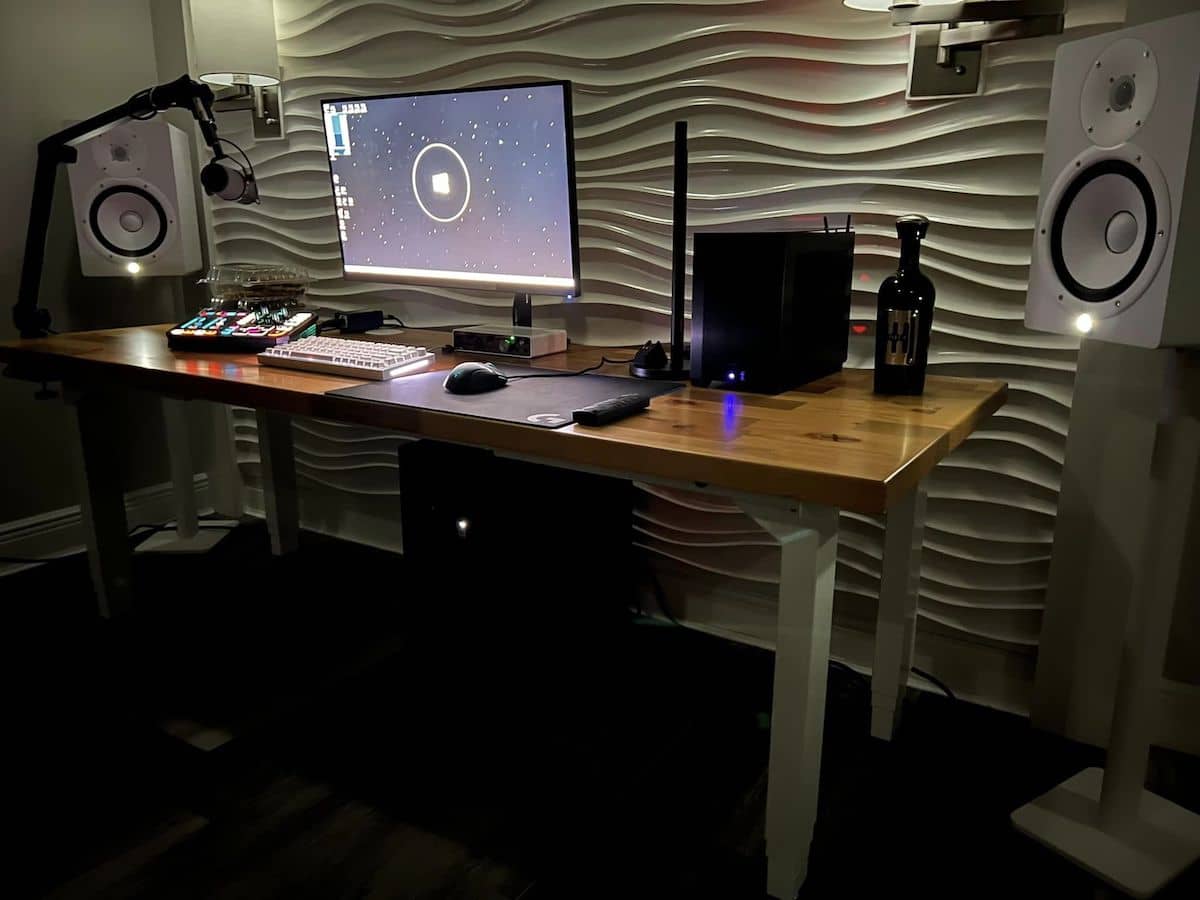 With more options to build our own desk, it becomes exciting to go make your own. And Desk Haus offers this liberty. Let's take a further look at how indulging this unit is for a make-your-own desk.
It's a viable option for a DIY desk
If you're looking to build your own standing desk from scratch, we can recommend the Apex Pro to your list. The unit can be bought with just the frames. So it's one of those few recommended ones that you can buy with your favorite desktop. Though this isn't yet a hot choice for DIYers, there are lots of reasons why you should go for it. 
It's a rather sturdy unit
Without comparing it to the Max unit of the brand, it is quite sturdy and presents little side wobbles at the max desk height. The unit can go from 22.5″ – 48.5″. And even at the highest setting, there is a little nuisance. But of course, those who are quite into the nitty gritty details may not love the desk that much, but if you are not that hunted by little side shaking, then this will not be much of a concern for you. Especially if you're not going to use the desk at its max setting, then this will be no problem at all.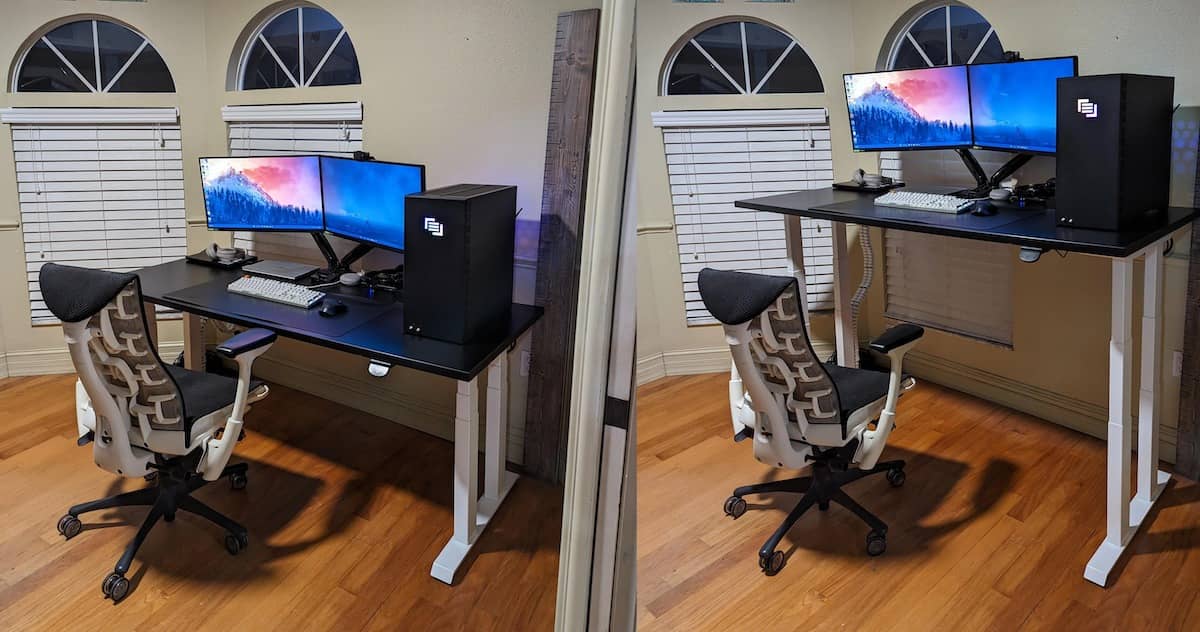 The Apex Pro is quite strong and sturdy. Even on builder-grade carpet, it will still stay put. Thus, expect it to be more sturdy on hardwood floors. Not all standing desks can be both firm and stable on carpeted and hardwood floors. So if you're also looking for a unit that can be used interchangeably in almost any floor type, then this can be a feasible option. 
So you can also tell that the frame itself is made from high-quality materials. There isn't any flimsy feeling in it at all. Surprisingly even with the little side wobbles at the max desk setting, this did not render the desk less in terms of quality.  
The Apex Pro also has a bit more amp to it The max load capacity is 600lbs. So it can be accommodating for a more elaborate and busy setup.
It can be more than the basic unit  
Overall, this frame does not have all the bells and whistles. It's not the most modern nor even considered an upscaled desk in terms of functionalities. But it can offer more than just the basics.
For one, if you have a larger top, you can opt to buy extended rails so that the frame will be able to accommodate that bigger desktop that you fancy. 
Two, it has an anti-collision feature, so it's something that you'll not find on a very basic desk.
And the beauty of frames that allows for a bit more room is that you have an added option over the desktop size that you want to outfit your desk with. And with that extended rails, you will be able to change to a wider working area should the need arise in the future. But of course, it's not going to be as convenient as a frame that has an adjustable width since you also have to pay extra for the extenders, but it's nice to have.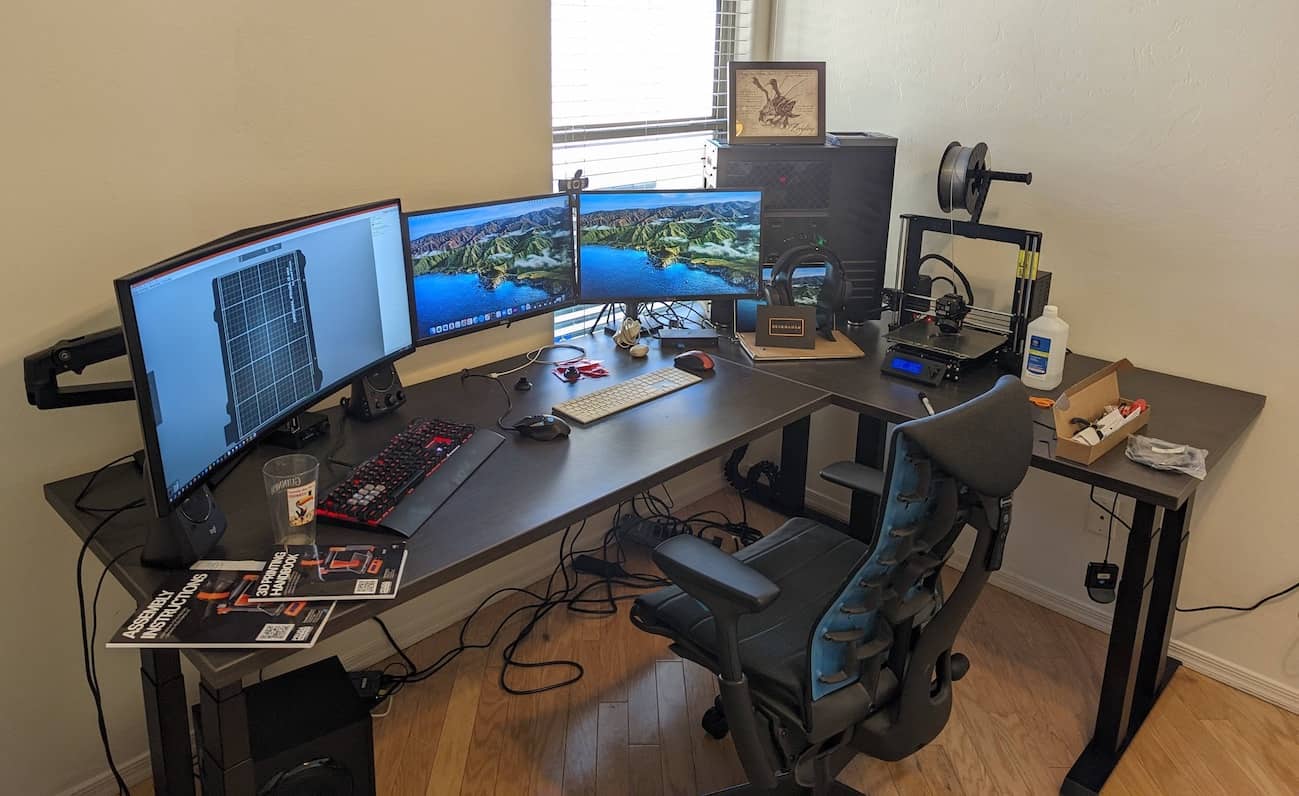 Here are also other nice features
For its price, you will be happy with how strong and stable the unit feels. It's not by far the most heavy-duty nor the heftiest offering from the brand, but for the price range, it can top the cost that you have to shell out for it. 
The desk allows for a bit of customization
You still have a choice of which control panel to outfit your desk with. You can choose from a smart paddle, an up and down button, and the more advanced one with memory presets.
Aesthetic-wise, the smart paddle looks very rad and a nice touch to a modern-looking and simple desk. But it might take some time to get used to it. But once you get the hang of it, you'll love it. But if you're not up for some learning curve then the control panel with memory presets will be a better fit for you. 
Also, some may find the smart paddle a bit overkill. Some are not used to an electronic device that moves easily when you bump into it. 
This desk will not give you a hard time. It only takes a few minutes to set up the unit. Though one of the complaints was that the brand did not send extra screws for the setup. You can also make the setup smoother if you're going to use a speed square to position the frame of your desk. 
What can be improved?
The pros further outweigh the cons. The items that can be improved are quite menial that most may not even notice it. It's just us and a few percent of the population who are looking for things to make the desk exceptional.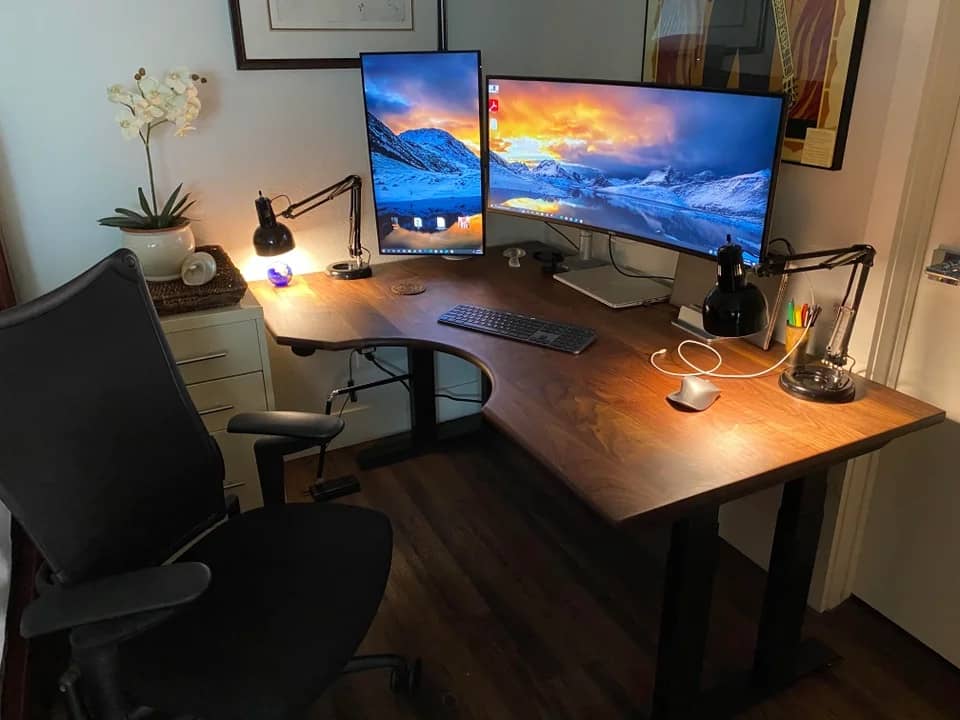 And here are some menial features that would have made the desk better.
The logo of the brand is not too shabby, it's actually quite nice and clean. So we think having the brand logo etched or engraved somewhere on the desk or frame will be a nice touch. It can be a nice touch for branding or ownership too. This could also amp up the value and cost of the unit in the future.

The unit is easy to set up but the screws can be confusing
It would have helped if the instruction manual came with a list of which screws to use for which part. It could have made the setup smoother especially for those who are not used to DYIng. Figuring out which screw-size bits to use can be daunting for some.
3. The wiring snake feels a bit janky
Since it's all plastic, this is the most expendable and flimsy part of the desk. It might have that cheap bit of feeling to it. We're hoping for an upgraded unit with a better wire snake in the near future. The all-plastic wire bit does not seem to match how the entire desk or frame looks and feels. It seems like a mismatch in both aesthetics and quality. 
It's great for WFH situation and small businesses
Overall, the Apex pro can be a workhorse. Due to its higher weight capacity, and sturdy and high-quality frame that is stable, it can be used for both the home office and small businesses. 
The hefty weight capacity is up for more load, so will definitely be a great addition to a bustling home business. Especially if you need a desk that feels substantially stable even on carpeted floors, this will not disappoint. 
As for the desk height range, it can accommodate those of average height to taller users up to 6 feet. Slightly petite ones may still be able to use the desk but it will not be comfortable in a seated position.  
Compared to the Max, it is inferior when it comes to stability. But given the price, you will be happy with it. Most may not find the price of the Max justifiable for the little more benefit it has over the Pro.
Maybe you also like: