If you're looking for the best ergonomic kneeling chairs in the UK market, you may get shocked by our list with some names. Heed our advice so you don't have to keep buying a chair that's not suitable for you.
And to maximize the benefits of a kneeling chair, you have to fit it right into it. Otherwise, it can do more harm than good. 
Keep scrolling to see great finds for kneeling chairs… 
To get the summary of the top list,  please take a look at this comparison table out first!
| | | | |
| --- | --- | --- | --- |
| # Kneeling Chairs | Load capacity (lbs) | Ideal for | Seat height  |
| Varier Balans | 250  | 5'10"- 6"0" | 20" from the ground |
| Cinius | 200  | 5'4"-6'0" | 38 ¾ " max with three settings |
| DRAGONN  from VIVO | 250  | 5'0-5'8" | 21"-28" |
| Duehome | 198  | 5'0"-5'5" | 20"-23" |
| Himimi | 250  | 5'0-6'2" | 21"-28" |
| Yaheetech | 220  | 5'4"-6'0" | NA |
| VEVOR rocking | 220  | 5'5"-6'2" | 22" from the ground |
| ProErgo from Stand Steady | 250 | 5'0"-6'2" | 20.5"-22.5" |
| PRO 11 Well Being | About 150-180 | 5'0"-6'2" | 19"-28" |
| ccQcc | 220  | 5'5"-6'0" | 21.3" |
1. Varier Balans – best overall kneeling chair
Even in the UK, the Balans seemed to have won a lot of hearts too. There's something about its simple Norwegian designs that appeal to a lot of your mates. It's like an IKEA cabinet or desk that you would want to buy right there and then if you aren't sure yet how long it will last or if it will be able to hold itself up pretty well.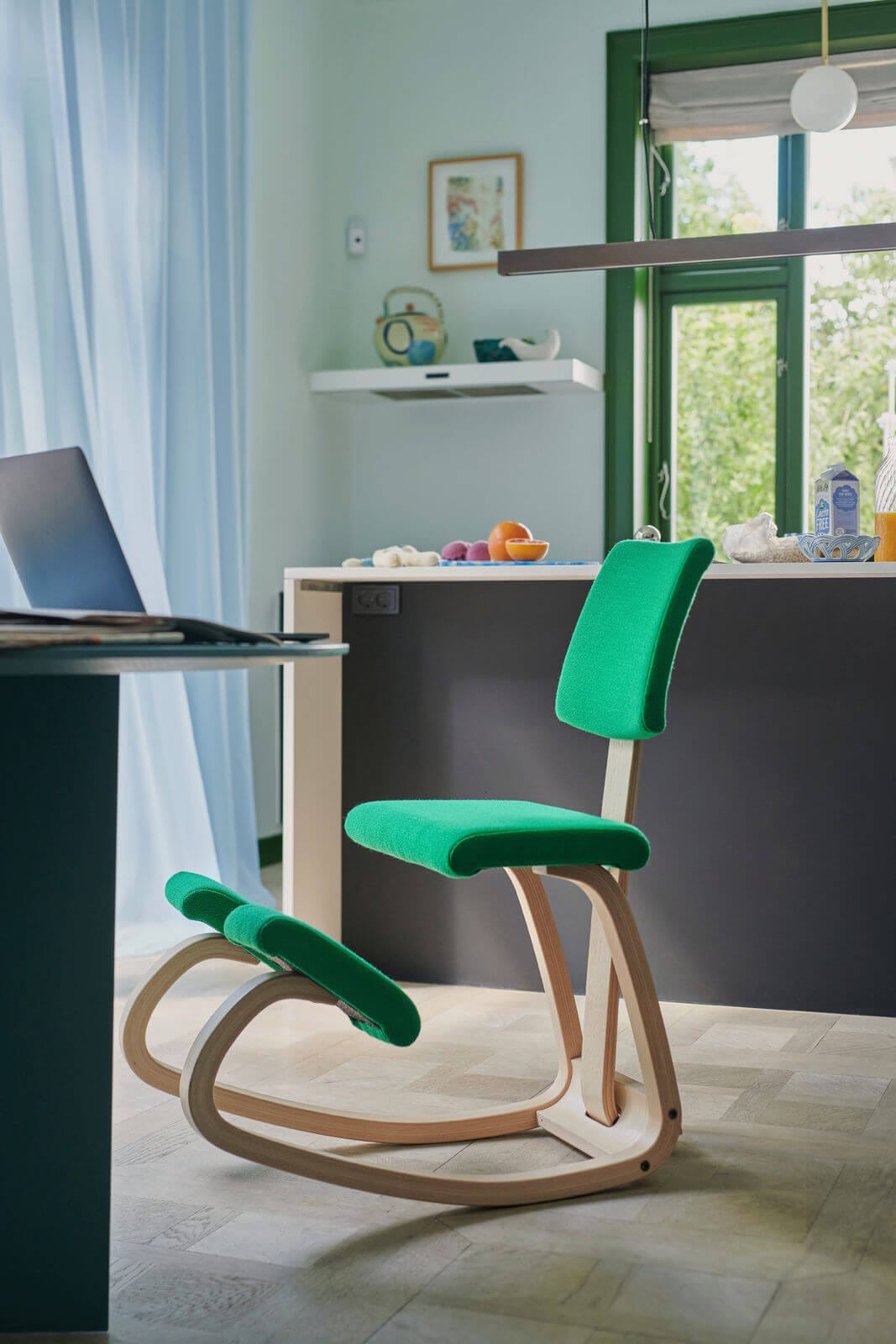 This Varier chair is stunningly simple, we can't deny that, but it does have some surprises up its sleeve. It's one of the few non-adjustable kneeling chairs that a specific group of users will find very comfortable and indulging at the same time. 
But though it's loved by many, non-adjustable units will have several limitations.
It's self-selecting. So the chair will choose who it will accommodate.
It's often marketed to bear a wage of 250 lbs. But there's something wrong with that claim. We're fans of this chair because of its simplicity and ergonomic ingeniousness. But we do not see this as something that can be a comfortable supplement to an office chair for people who weigh 250 lbs or even 200 lbs.
Yes, the chair is made of a more solid and sturdy type of wood. It's a more flexible type of wood that allows the chair to be rocked back and forth with ease. Several kneeling chairs have the same design and concept. The only difference is in the quality of the wood, padding, and ergonomics. And it does not have any crossbeams, unlike China-made kneeling chairs such as the WishaLife. So it means it will be able to hold its ground without any additional support. 
But despite a sturdier wood, this is not something that a 200-pound grown man will feel comfortable using even for just 2 hours. You will also have difficulty squeezing yourself into the chair.   
Also, the shin pads are wider and set further away, but it will not suffice for someone. who is bigger and taller. If you stand taller than 6'1", you'll likely have a hard time finding a position to distribute your weight evenly between your knees and hips. And remember, there's a proper way on how to sit on a Balans so that you will not hurt your shins, most units actually. 
Your hips must bear most of your weight, with only 10-15 percent on your shins. And the kneecaps should not be touching the pads. Otherwise, this will compromise the proper alignment of your spine, defeating the purpose of using a kneeling chair. So you will have a bad back at the same time, it can hurt the shins. 
And even users who are petite and stand below 5'10" will also not have much use for this chair. So it is a very specific and selective unit.
Something with this design and ergonomics plus adjustable features means getting the best of both worlds. Sadly, though masterfully designed, it can't be two things at the same time.
But there can be an alternative. The more expensive Varier Wing can satisfy your fancy. But you must also be willing to spend around 500 dollars or more for just a commentary seating solution.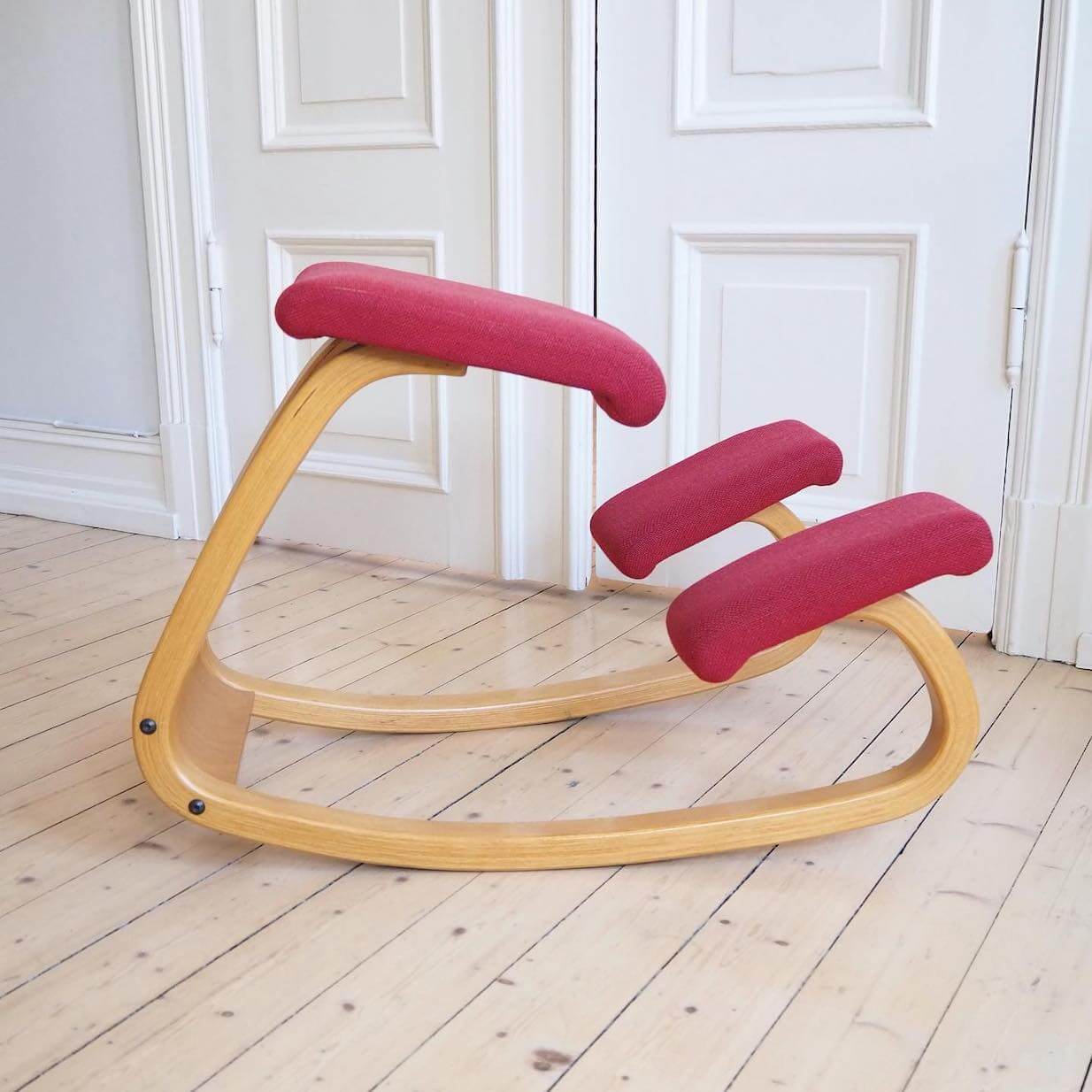 The Wing is the brand's flagship unit. And yes, it can accommodate more users, even the taller and heavier dudes. Apart from the sturdy construction, this is adjustable. It offers a seat height range of 20.4" to 28.3". You can also adjust the knee pad independently from 11" to 20 ". And yes, the claim of 250 lb weight load capacity is quite a reality for this unit.
And it swivels and rocks at the same time too. It's pretty much the Herculean of all kneeling chairs. But it's not the prettiest. It may even look like a cross between an office chair and a kneeling chair. The chair does not seem to make up its mind, and it did not do anything great for its aesthetics.
That's why despite the amazing features, it did not become a hit. Let alone, the steep price cannot be justified if you're going to use it for only a few hours a day. You could have bought both a kneeling and office chair for that cost.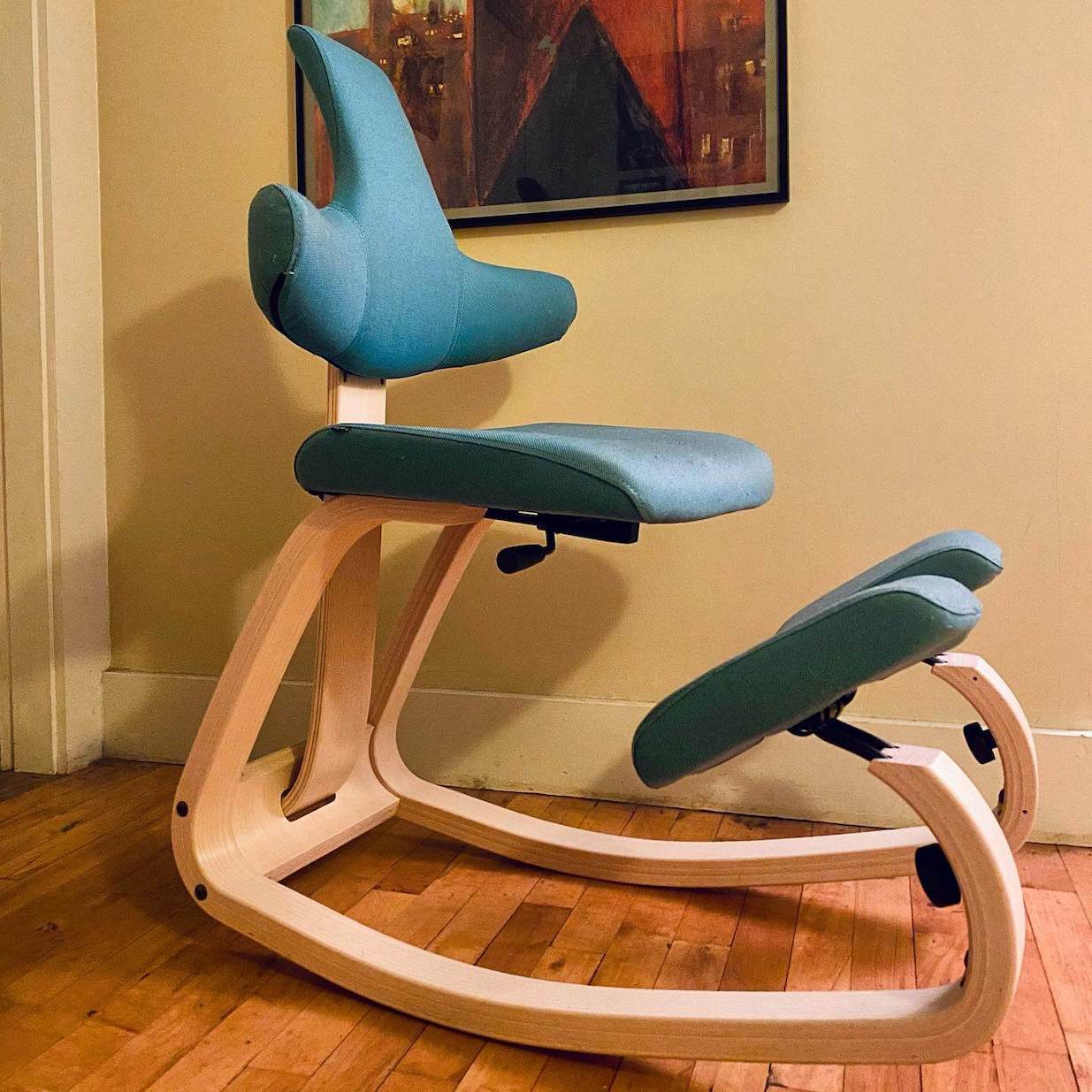 We picked this chair because the rocking motion is a great supplement when you are in a position where you can't move your legs much. And out of several rocking kneeling chairs, the Balans is one of the more sturdy ones. In a nutshell, it is perfect for you if:
You are skinny or of average height

You stand 5'10"-6' max

You are fidgety, hence a rocking motion will suffice your fancy

You are mindful enough on how to sit reply on a rocking kneeling chair, otherwise, this will be of no good to you
Where to buy (the Plus version): https://amzn.to/3LOGAcZ
2. Cinius – kneeling chair for small spaces
Folding kneeling chairs can be convenient, especially for those who live in dorms, loft spaces, or very small rooms. But oftentimes, the folding mechanisms can make the unit loose or wobbly after several occasions of propping the char in and out of its cave, so to speak. It's like these two can't be together in a single unit.
But there are also kneeling chairs that can indulge you with such convenience without compromising the integrity of the entire unit. And perhaps this is also one of the reasons why Cinius has been one of the go-to kneeling chairs in the UK.
Its simple Danish design is one thing. Ergonomics and sturdy construction are another. While aesthetics can be one of the primary reasons for choosing this unit, it's not short of things to offer.
The entire build is sturdy and solid, it doesn't budge even when you repeatedly fold and unfold the chair. 
But of course, we're not here to merely praise but to reveal the truth as well.
It's not cheaply made and doesn't wobble when used by the right group of people.
But we did find some things lacking with the Cinius. For one, the cushion is not that to be desired. It is rather hard and the seat can be quite thin, especially for those who are used to cushy seating. 
The upholstery of both the seat and the knee pads is similar to what a corduroy would look and feel. And by feel, you know how scratchy corduroy can get. So this is something you should consider if you're going to wear shorts or have your knees exposed. You can feel that embossed lining of the fabric on your bare skin. Though some don't find this weakness a big deal. And some opted to add a cushion to make the seat more amenable for comfort. But then again, not everyone is up for some DYing.
And the fabric of the chair seems to easily catch the colors of denim pants. So it may somehow transfer the bluish tint of your jeans to the chair. And that can make it look untidy in the long run.
The Cinius offers three options for seat height adjustment. Though you will not be able to adjust the kneepad independently. The incline will change as the seat height changes. There are these wooden slots that can lock the unit in the place. That we find satisfactory. And it's easy to adjust to it. But even if it offers more than one seat height, this cannot still be comfy for everyone.
Those who stand 5'4"-6'0" may find this satisfactory. But it also depends on your anatomy, so even if you have three options for the seat height, whether your legs are longer than your trunk will also play a role if you can use this chair.
For instance, it can be used by those who stand 5'4". But if you have shorter legs, the length between the seat and knee cushion may still be too short. It may put pressure on the thighs instead of on the glutes because of the less than an optimum angle between the knee pad and seat. So it would feel like your butt hangs off the back of the chair.
Also, Cinius can not be used by those taller than 6 feet. So even if it is adjustable, it may have the same group to serve as a nonadjustable unit like the Balans.
You might find the Cinius valuable if:
You need a sturdy and solid foldable kneeling chair, perhaps you live and work in cramped spaces such as lofts and dorms.
If you need to move the chair frequently. it has wheels so it will do the work for you

You are 5'4"-6", not taller. But if you are using the lower limit of the chair, you'll only find it comfy if you have long legs. Otherwise, you might end up banging your shin against the wood and it will cause blisters

You are okay with a firm, not cushy seat. And if a slightly scratchy seat does not bother you at all, then, by all means, go ahead and tap the purchase tab.
3. DRAGONN – kneeling chair for short people
Another crowd favorite is this kneeling chair from VIVO. It's height-adjustable and can be used by petite users. It can go low enough for a 5-footer. But this is not a comfortable complimentary sitting solution for the slightly tall to taller dudes unless you favor a steeper incline.
Though the seat can go high enough for women who stand 5'10-5'11, the incline gets steeper as the seat goes higher. So you might feel that your back is being pushed way too forward. This will over-exert your lower back and cause pain instead of relief. It's going to be an exaggerated S shape. 
Also, it's not a chair that can hold a worth 250 lbs, though it's marketed to be heavy duty. be that. It should be used by someone who weighs less than 200 lbs so that it will not wobble. 
Tall people will also find it quite tricky to get into this unit, considering that it is a bit cramped. 
This chair has wheels, but it also is less to be desired. We did find the wheels unusable at some point. And also a lot of buyers were complaining about the wheels getting stuck. They tend to stop moving even if you've just been using the chair for a couple of months. So if one of your reasons for choosing the DRAGONN is because it's mobile, you'll be disappointed. 
The best selling point, however, is the seat and the kneepads, 3" of cushiness. It's comfortable yet supportive at the same time. And we're pretty happy that it doesn't get deformed easily. So even if you only use a kneeling chair for a few hours, your butt might want to sit longer in it. 
But the problem with kneeling chairs with adjustable seat height is that it has a learning curve. Especially if it has multiple options, you have to find your way through. You have to experiment on what height works for you the best. But once you do, it will pay off, but remember that's still only for a few hours for all kneeling chairs.
The DRAGONN is a great pick if :
If you are somewhere between 5'0"- and 5'9", especially petite users. It's quite difficult to find a solid kneeling chair that can go low enough for someone who stands 5"-5'2"

If you favor a soft and plush cushion
4. Himimi – a budget kneeling chair
The seat can be adjusted from 21" to 28", much like the VIVO Dragonn. But we think this can be used by 6'0"-6'2" individuals. Though they have the same seat range as the VIVO kneeling chair, it doesn't go too steep at the highest level. Thus taller users will still find it amenable for working.
It's also easy to adjust, you just have to move the treated bar up or down. 
But in terms of aesthetics, it's not a love-at-first-sight kind of chair. The material, especially the padding and upholstery looks a bit tacky. Some even opted to have it reupholstered themselves. Well, you'll be buying this chair because of the seat height range and stability, and not for how it looks.
The Himimi is simply a basic kneeling chair for taller people. It has basic padding and upholstery too. 
But we did include it in our recommendation because it doesn't push you way too forward, even at the max seat height. You won't be overextending your spine just to make the chair reach the desk.
This is for you if:
You are on a budget and are fine with just the basic comfort

You don't mind a plain Jane kind of kneeling chair 

You need the chair to go high enough for 6'0"-6'2" folks
5. VEVOR Rocking – kneeling chair for tall people
This unit is our second favorite rocking kneeling chair next to the Balans. It does have a similar concept. The seat height is fixed and it has an arched base that enables you to rock the chair.
It can be a bigger and taller solution compared to the Balans. While taller and bigger peeps will find the Balans too crampy, the VEVOR is a bit wider in dimensions. The seat is also 22" from the ground. So it's 2 " higher than Balans thus it can accommodate taller folks.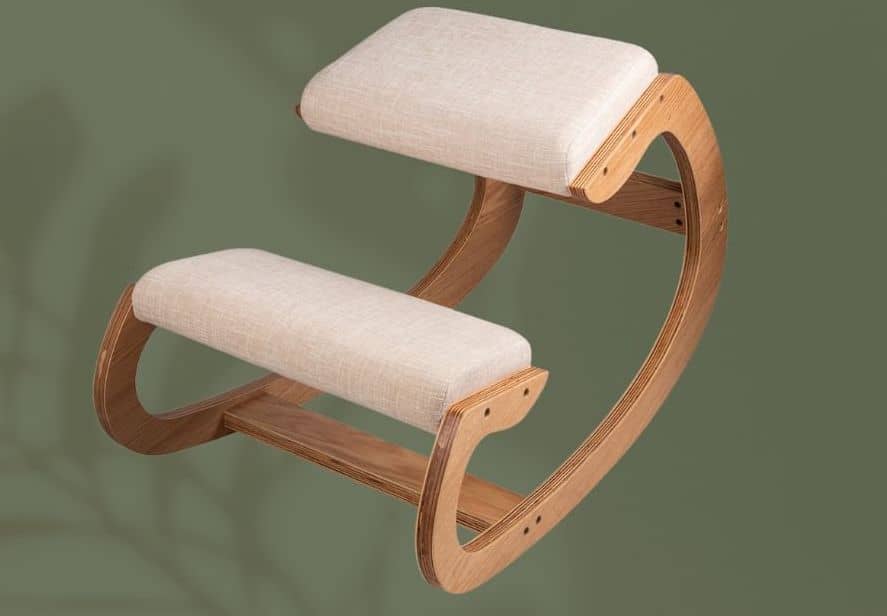 But we did notice something with its construction. Though the birch wood base feels decent and sturdy, it does have 3 crossbeams. So it has to have additional support so that it will not break. And this means that the design of BALANS is sturdier since it does not need a crossbeam for additional support, it's also a notch higher in terms of weight capacity. 
So this is a unit that can cater to bigger individuals max of 220 lbs. Those with wider hips will find this supportive enough. On the other hand, this isn't for skinny people. You might find the seat too wide. 
Also, compared to the Balans, it costs less, thus explaining the less sophisticated engineering and the need for cross beams. The wider dimensions of the unit may also be a reason for the additional support.
We choose the VEVOR because, like the Himimi, it can be used by taller folks. It's a wider and bigger solution for those who always find it difficult to squeeze into a regular-sized kneeling chair.
It will serve you well if:
You are bigger and a bit wider around the trunk and hips

You need a kneeling chair that can go high enough for 6'2" users

If you love Danish-style wooden kneeling chairs but find the Balans too expensive and too small
Where to buy
6. Duehome – kneeling chair with unique concept
This Danish-style kneeling chair is made of beech wood and has wheels. It's quite dainty and looks like it would be better used by people of average height and petite folks. The weight capacity is also lower compared to the other options, thus it's more of a light-duty pick.
We also see it working for adolescents and teenagers.
You'll be able to adjust the height of the seat via gas lift. But you don't have any control over the incline or how steep or less steep the chair can go. You can not change the distance between your bottom and your knees. So if in the max setting, you might find the char leaning way too forward. And this can hyperextend your spine and cause pain.
Also, as dainty and charming as the design is, it's not heavy-duty, the height adjustment lever can easily be whacked out of the place if you accidentally bumped your legs or foot against it. So that can send you sitting too close to the floor… Thus, it's only suitable for skinny people too. It's still wood so you can't expect it to be able to hold a weight of 200 lbs, we say 150 lbs is the safest max. 
Also, the padding is not cushy or even close to the DRAGONN, some may even find it too thin and it does not cover the entire span of the seat. Others opted to use a cushion or pillow to add more padding for their tush. Or some opted to reupholster the seat and do a bit of DYing.
And oh, we just have a dislike with using a gas lift. This type of mechanism tends to wear out or decline over time. 
Overall, it is a decent chair for its price. When used by petite and skinny users, it can last a few years. The aesthetic and the unique flip-up concept is this chair's best selling point.
It's a decent pick if you:
 Are of average size, skinny or  stand 5'0"-5'5"
You love Danish style chairs with unique concept
You need this to work on carpeted floors, the wheels on this chair can roll smoothly on carpets
7. Yaheetech – kneeling chair with a straightforward mechanism
This unit looks very similar to our number 5, the Himimi. But this can be an upgrade from the basic kneeling chair. Though it doesn't look that charming from afar, you'll be able to tell that it's not tacky when up close.
The tilt or the distance between the butt and the knees changes as you adjust the seat height. It has a basic and simple mechanism that even young adults will be able to navigate through, so this can also be used as a complement to homeschooling. 
And one more thing, you will most likely not see any height range for the chair, this unit is more focused on the proper angle that it can offer the user. You can choose from 3 tilt positions, 91-130 degrees. But it's not really recommended to go for a 90-degree angle, it can hurt your back, a 120-130 degree angle will be more beneficial for most people. So this chair can still indulge you with that. The concept of the mechanism though is pretty simple. It does not want to concern you selecting the proper seat height, but rather just focus on the angle. Despite that, we see this working decently for those who stand 5'4"-6'0".
It's also not as cushy as our number 4 and 5 options. But it can still be an upgrade from more basic padded seat ones like a Himimi or a Cinius. 
It also feels sufficiently supportive for a grown 200 lb adult. That's why we also chose this. And there's something gravitation about a chair with a very simple mechanism. 
Get the Yaheetech if:
You want a kneeling chair with a straight forward mechanism

You need an affordable upgrade from an entry-level unit

It's table and simple, not that presentable, and doesn't have much wow factor, so if you're okay with that then go ahead.  
8. ProErgo from Stand Steady
This chair can go higher at 22". So like the VEVOR, this is a solution for taller people. It can be used by those who stand up to 6'2". And not a lot of kneeling chairs are, even if they can go higher, the incline may be too steep for taller dudes. The incline of this chair at the highest setting feels sufficiently fine.
And like ergonomic office chairs, it has a lever instead of tread, screws or manually lifting the seat to adjust it. So this is a tad bit more convenient, you adjust the seat as you would your regular office chair. So you don't need to stand or get behind the chair to do so.
The gripes, however, have something more to do with the quality of the cushion or the padding. We wished it were a bit cushier. It deforms easily and you can feel the flat wooden base already after a few uses.
The covering of the cushion is also a bit rough for our liking. Though it's fine for your tush since you're likely going to wear anything anyways. But for the shins, it can get a bit scratchy. Re-upholstering the seat and knee pads will be the best solution. 
The Pro Ergo is your chair if:
If you're taller, up to 6'2", and need your kneeling chair to not be too steep

You are okay with a bit of thin padding or at least have the gusto to reupholster it

You want to be able to adjust the height of the chair even if you're seated.
9. PRO 11 Well Being – kneeling chair for slim & tall folks
This is another Danish-style kneeling chair. There's just something with wooden furniture that marks it a go-to choice despite it not being heavy-duty. 
The PRO well-being, like the other wooden options on our list, is more than a more entry-level unit. 
It's a light-duty option for the slimmer up to average-sized users. The mechanism is also pretty basic, the seat height is adjustable and the incline changes as you adjust the level of the seat. 
You also need to adjust a bar to change the height of the seat as well as the incline. It's easy to do so, but the bar does feel a bit rickety. 
Thus, this should not be used by bigger and heavier individuals. Little can be said about the load capacity of this chair, but this is for slimmer up to users with average weight. The construction is more on the dainty side. 
This is one of the few units that has a pretty wide seat height range, it can be used by both petite and taller users up to 6'2". 
But here's the catch, we picked this unit because of this. But the max height setting only applies to skinner or slimmer users. Though the chair can go high enough, the construction is a bit dainty and not heavy-duty. So if you are tall with average weight, you may feel that the chair is starting to wobble. 
This is a great pick if:
You are slim and need a kneeling chair that can go high enough for 6'2"

If you are petite, this will serve you well

You love Danish style kneeling chairs
10. ccQcc – kneeling chair for a heavy person
This is not like most units you can see in the market. It's made of stainless steel but it is a rocker. Most horse-type rocking chairs are made of wood. So this is quite different.
A rocking mechanism is always a treat when you're in a confined position. But like all chairs of this type, the seat height of this unit is fixed at 23' from the ground, so we see it perfect for 5'5" -6'0".
It also has a small backrest, but we don't really see much use for it. The seat and knee pad are thickly padded and are not that cushy but it does feel supportive and doesn't deform easily. It is quite wide too so those with bigger bums can be accommodated. 
The entire dimensions of this chair are pretty wide, so it will work if you have a larger space for your home office. It's not ideal for cramped or small spaces. 
We chose this unit because it's one of a kind and feels substantially sturdy. Despite the lack of seat adjustment, a lot of people can find it comfy, it can be used by bigger and wider users.
It's for you if:
You need a more solid rocking kneeling chair 

If you are fidgety, the rocking motion of this chair is also more aggressive, so to speak, because of its wider dimensions, it can rock further back.
Recommend by Our experts
If you are looking for an ergonomic kneeling chair, of course, there are always a few things you should consider before making your purchase. We've highlighted the key features to look for and some of the best options on the market in the UK. So, whether you are already a convert to the kneeling chair or you are just starting to explore this option, we hope our list will help you find the perfect fit for your room.