Haworth adjustable standing desks may not sound familiar to you. There aren't also enough resources online that will let you in on the experience. Though at first glance, these are very sleek and handsome-looking units. So we were also quite curious as to how it performs if it's skin deep.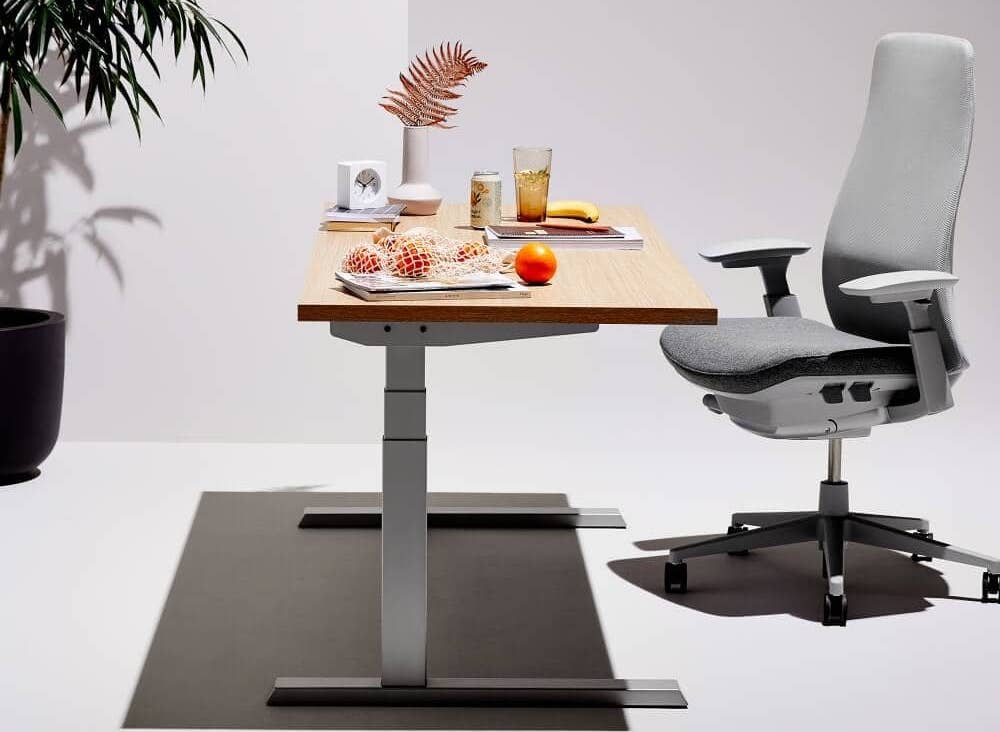 So we will be reviewing and comparing three Haworth adjustable standing desks that stood out to us the most. And let's see if these handsome units are more than just the looks.
Check out our comparison table of the three Haworth adjustable standing desks below.
Haworth height adjustable standing desks 
Hop  
Planes
Upside extended range

Features

C or T legs, edge board,  anti-collision mechanism, the frame is width adjustable, 4 memory presets, up & down button, digital readout

C-leg, available n crank model, edge board, 4 memory presets, up and down button, digital readout

Paddle control, gyro-sensor technology, power save mode, C or T shaped legs, 2 legs, the frame is width adjustable

Height range

Standard: 27- 46.7"

Extended: 25.7"-51.3"

Standard: 26.6"-46.6"

Extended: 23"-50"

Standard: 22.5"- 48.7"

Extended: 23"-48.7"

Weight capacity

250 bs

250 lbs

250 lbs
Upside Extended Range Standing Desk
So we opted to review the extended version of the Haworth Upside. And we must say that despite the very simple-looking paddle switch that it has, the standing desk screams elegant. It pops out with its shiny white exterior and steel powder finish silver legs. You do have options for the steel frame and the tabletop, and must we say that everything looks polished. 
It bears the same aura as an Hemrna Miller standing desk. The desktop surface is smooth and almost glossy and the steel frame legs look sturdy even from afar and up close. And we did the budge test, and it passed with flying colors. There is no shaking or wobbling even when force is applied.
This desk also looks very clean. 
And we were not wrong, the first impression was that it is sturdy and strong. And it is. The desk is made of high-grade materials. 
The paddle might not have a memory physical preset button that you normally can find in a standard control panel. And, surprisingly, you can still save your favorite desk height. So there's more than meets the eye when it comes to the Upside standing desk.
You just go to your preferred desk height then press the side button to save it. Then to go to your saved height, you just have to pull the paddle twice and it will automatically move, no need to hold and press. 
It is actually very similar to the Advanced Paddle Keypad that you can find in an UPLIFT V1 or V2 commercial standing desk frame. So while Haworth is not the only one to have this type of keypad,  the UPSIDE may be more known for it. UPLIFT offers many other options for the control pad and you need to shell out around 39 dollars more on top of the price to get the paddle switch. 
But before that, do not forget to wake up the paddle, you can do this slightly lifting paddle, as if you're tapping it, and wait until it turns on.
So the paddle may not be intuitive and may take some learning curve. But it's not rocket science so you will be able to figure it out easily with tutorial videos available. And you can also set an alarm on when you should stand up. 
So basically it works almost the same as a standard control panel with physical memory preset buttons and timer reminder, only that it's way cooler and way sleeker. So minimalist junkies will fall in love with this. 
It also has a power-saving mode. The paddle will automatically turn off and enter into power saving mode when it's idle for 10 minutes. 
Also, you can even set a vibration pattern for the reminder and even control its intensity. So this is an edgy take on how to transition a desk.
Upside elevates and lowers very sublimely. It's very quiet and fast too and feels very creamy, to say the least. 
The adjustment range is also quite wide. It can go high enough for the slightly taller user or those who stand 6 feet. 
So what are the not-so-nice surprises?
It's not for those who hate DIYS. The unit will come in two boxes and we're telling you, it has lots of parts and screws.
So it's not a 30-minute setup, might not even be an hour for those who are not into tinkering things. You have to allot more time than that to set this baby up. But after that, it will be all worth it. Might as well ask for help so you can use your desk right away. 
Also, some may not like that they have to hold onto the paddle until the desk reaches the desired height. Though the desk transitions fast so this is a very small issue if you'd ask us.
Overall we love the sublime simplicity yet modern technology behind the UPSIDE desk. It may not be your regular cup of tea, but it sure has a different exciting flavor that everyone can get used to. 
HOP standing desk
HOP is available in several sizes. But this Haworth standing desk can offer a solution for small spaces. The smallest HOP desk can perfectly fit a small dorm a small home office
And like the UPSIDE, this is a very sleek-looking sit-stand desk. We almost can't tell the difference from the UPSIDE except for the paddle switch. it has that same regal aura. Hop desks are more versatile and can squeeze in corners too.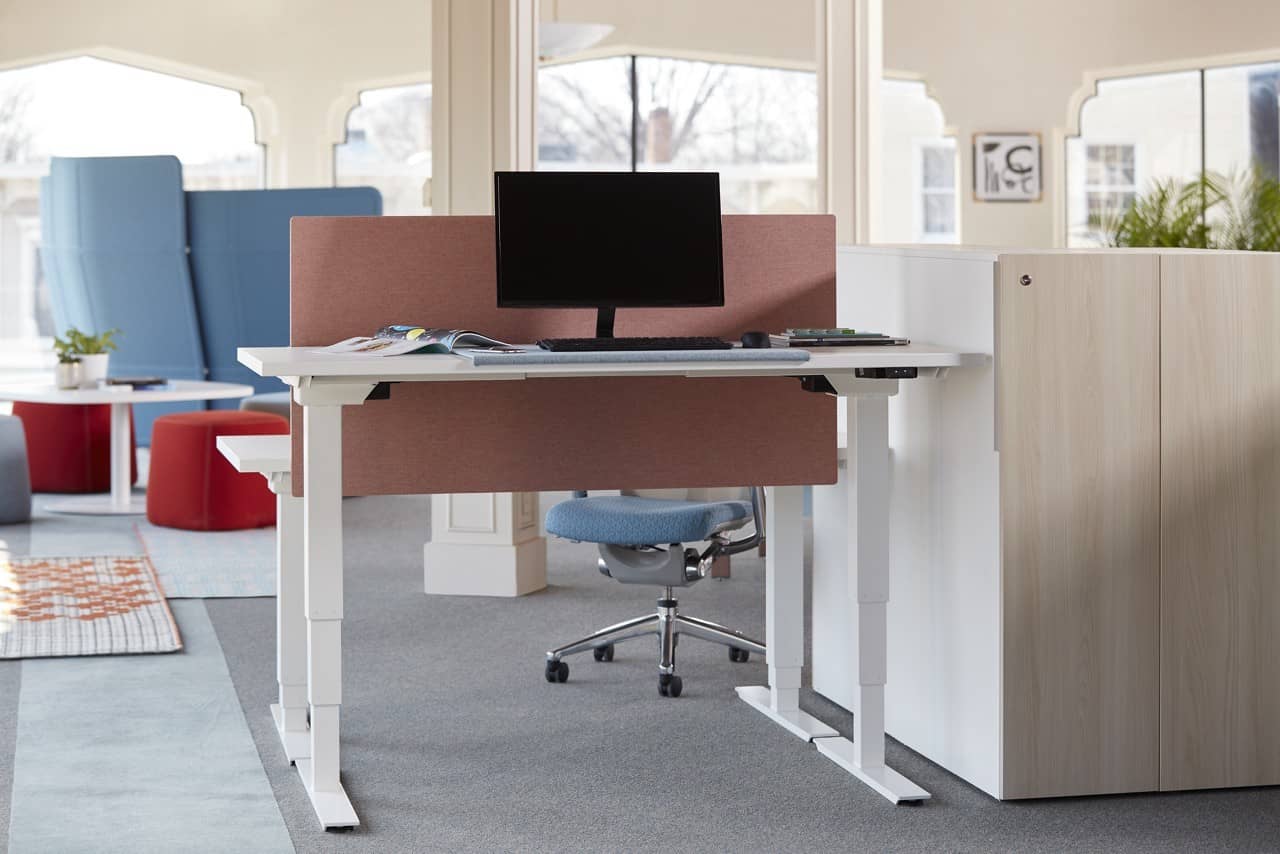 Apart from a square or rectangular desk, this unit also offers desks shaped perfectly for corners. 
Thus, from all the Haworth standing desks, this is more flexible in terms of floor area. You can choose one that conforms to the shape of your room. And when you have a smaller apartment, every corner is accounted for. And the brand may have this in mind when they are designing it, so it's well thought of.
And the extended version of the HOP can go really high. We think this is the brand's unit that can accommodate both the shorter users and tall users. It can go as high as 59", so even if you're 6'4"-6'7", you'll find this desk a dream. It's not every day that you get to see a standing desk that can go really high. So this is also what sets the HOP apart from other Haworth standing desks.
When it comes to space solutions, this is king. And even when flushed to the corner, it can still stand out. The width of the frame is adjustable too, so that's a plus.
Planes standing desk
Haworth Planes also share almost the same minimalist and quality materials as the other Haworth standing desk units. Though, unlike the first two Haworth desks that we have mentioned above, the width of this desk cannot be changed. So you will not be able to use a different tabletop with it.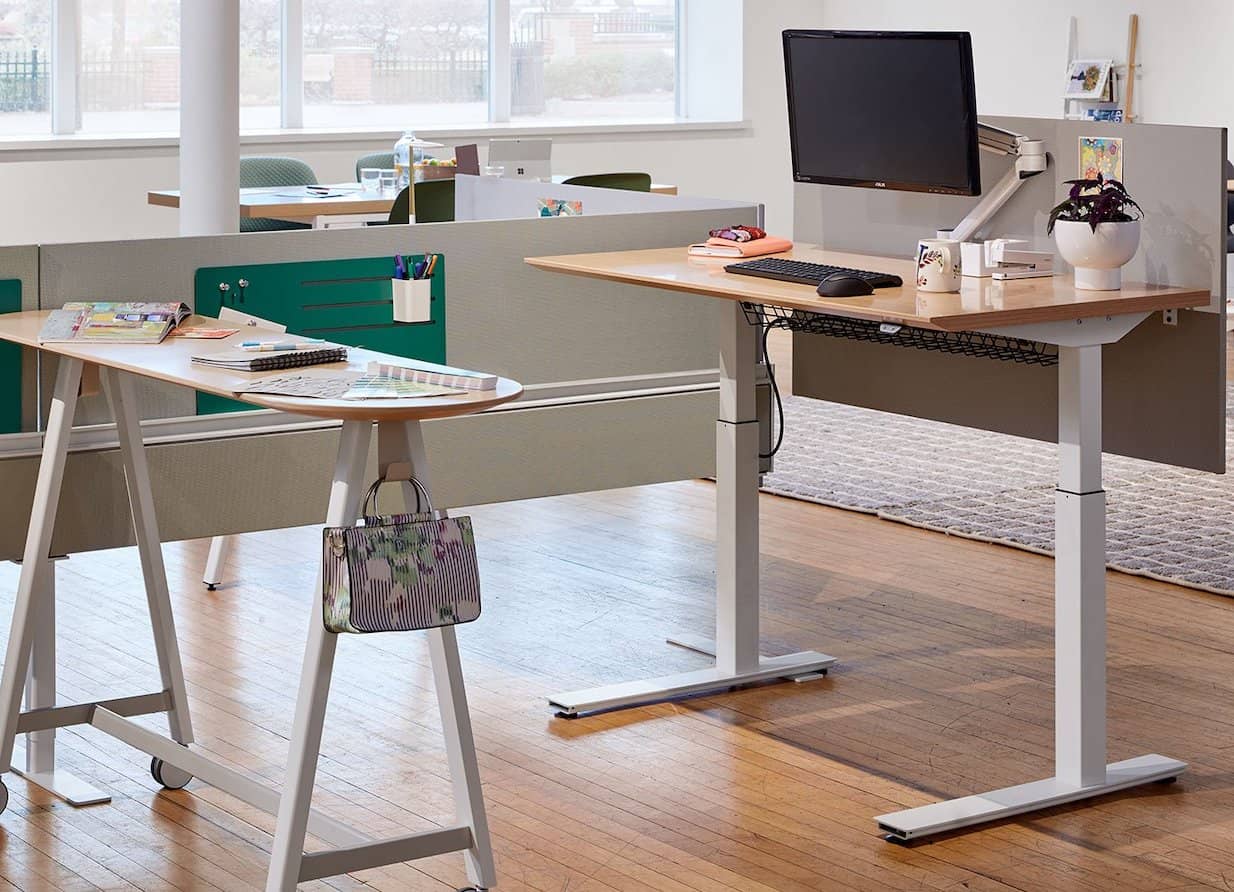 But it does have an extended version that can go as high as the HOP, but a tad shorter at 50". Still not shabby and can be used comfortably by taller folks. So this and the HOP are great choices if you have legs that go on for days.
The unit is very classy and all, but we did notice one part that is a bit flimsy. It looks like it did not belong to the entire unit. We wished that the regular program actuator was designed differently. 
It looked like it was not well thought of, well, compared to the other parts of the desk it looked like a second-hand piece, so to say. The switch paddle of the UPSIDE can make it look very shabby when you sit these two desks side by side. 
And it is only available in C-shaped legs. But this type of leg does have its advantages. It will offer more leg clearance for those taller dudes. 
Overall, the desk rolls smoothly, it's very quiet, stable, and solid. But the control panel made it look less than stellar. Still, function-wise vs the cost, it's a good buy.
It's a Sleek Desk that can give the Humanscale Float Desk a run for its money 
Haworth desks are very classy and stable, no doubt. 
If you love the Humanscale Float desk's minimalism, you'll also fall head over heels with this, especially the UPSIDE desk 
We particularly loved the UPSIDE desk the most. There's just something about the paddle switch that makes it very chic and simple, yet it's packed with convenience. Though it might require a learning curve, so that's one thing to consider.
Comparing Float and UPSIDE, they have almost the same look. Though an advantage of the UPSIDE is that you can use it with other tabletops since the frames are width adjustable and it has a more affordable price.
The 24" x 48" desk of FLOAT starts at 1749 dollars. And the smallest extended UPSIDE desk that measures 23" x 46" starts at 650 dollars. 
In terms of the height range, both desks are pretty much the same at 48". And while UPSIDE has a unique paddle switch, the Float desk also has a unique counterbalance system and a unique way to lower and lift the desk.
The biggest caveat of the Float aside from the steep price is the lower load capacity. It can only bear a weight of 130 lbs. But in terms of transitioning, we can say that it moves more dreamy and more sublime than any Haworth desk, that's why they are called Float desks. 
Yes these are HA-worthy
Haworth ergonomic chairs like the Zody and the Fern are known for their unique technology. The Fern specialty can make other ergonomic chairs look basic. So they have earned their reputation already.
And the brand's standing desks were able to keep up with their ergonomic chairs. In terms of cohesiveness and durability, it was achieved. 
And given the reasonable price, quality materials, stability, and sleek look, we don't see why it's not worth it.