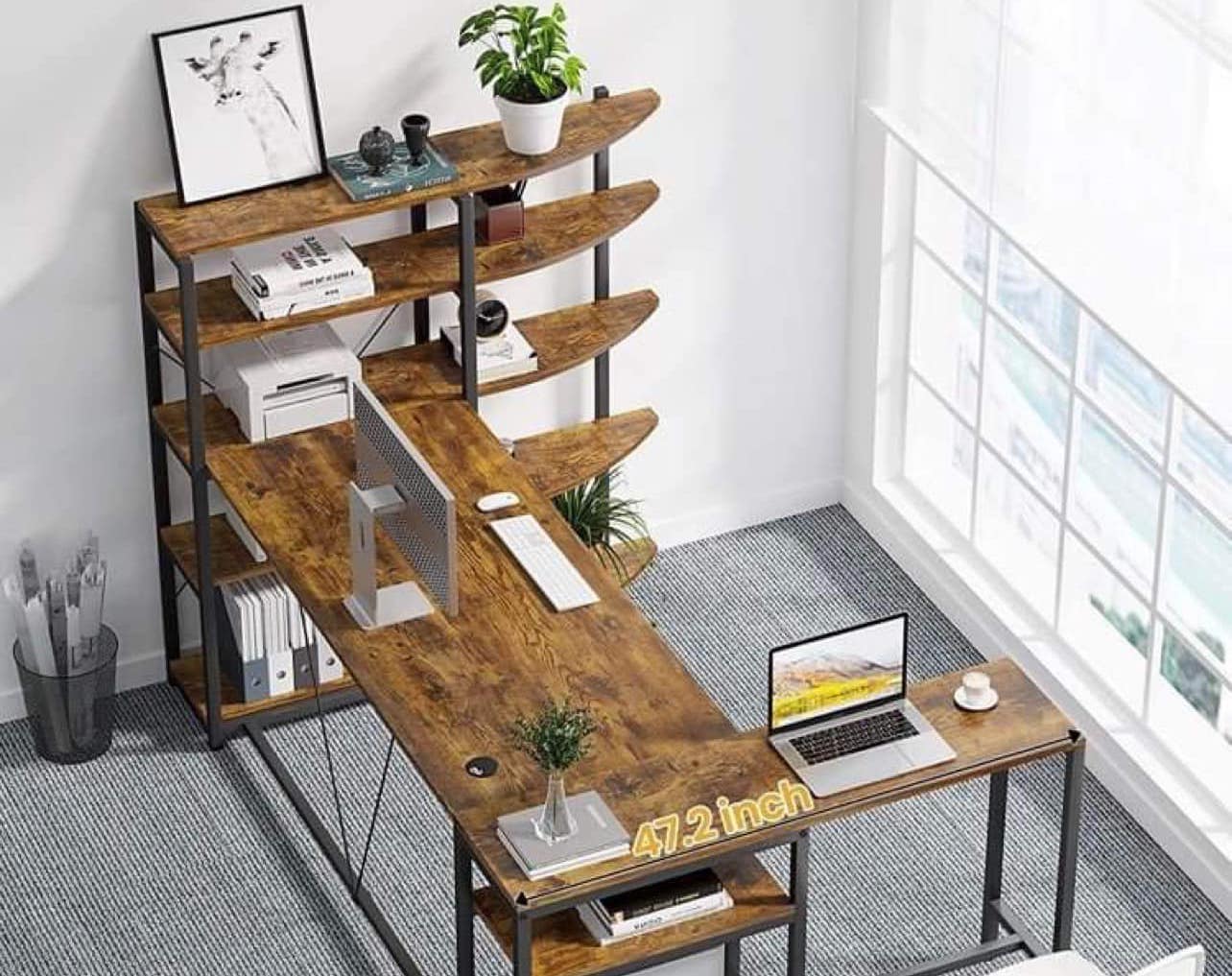 A desk with a cabinet or shelving system helps you get organized better and faster. It can also help save money since you do not need to buy additional cabinets since it has built-in storage systems. 
It can be a luxury to have everything you need just laid out right in front of you or beside your working desk, right? It does not need to be just luxury, though. If you have a small space or have more square meters to cover, you can take advantage of this clever system. 
For those who have a smaller area to spare 
Nexera 351645 Chrono Secretary
With a drop-down door that serves as your working desk, this can be an ultimate solution if you need a desk and cabinets for your office supplies and documents. This can be very easy to squeeze into a cramped space. 
It can even function as a transition desk or a center cabinet in your living room. 
The drop-down door reveals a shelving system with 5 divisions. Then you have the upper shelf where you can place dainty items or inspirational objects. 
The bottom part of this workstation consists of a two-door closet. It has ample space to store your books, paper supplies, and documents. 
It will only need a small footprint in your home office or bedroom. But of course, something as small as the Nexera desk will have its downsides. 
This might not be comfortable for taller people or those with longer legs. You might have to open the bottom cabinet a bit to give way for longer legs. And since the working desk is a drop-down door of the cabinet, you have to store your laptop elsewhere or in one of the bottom storage after working. 
But this can be a lifesaver if you're living in lofts or dormitories. 
Latitude Run corner desk
Bookworms will love this next number. 
The shelving system of this Latitude Run desk can be a home for your book collection. Though it will only eat up a small horizontal space, it can go higher than the NEXERA desk. So you have to take into consideration the vertical space if you have your eyes on this unit.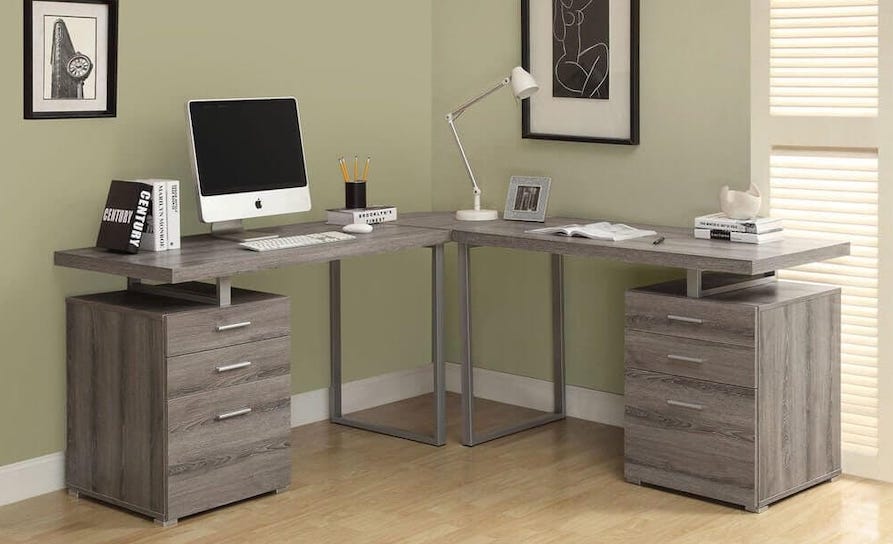 It has five open storage above and one closed storage on top of the working desk. The shelves are deep enough for your books and journals.
You will also be able to store a lot of items with the closed storage at the right bottom part of this workstation. The bigger cabinet can be used as storage for your paper supplies and anything a bit bulky. And oh, it also has one open storage at the bottom of the table, it is also wide enough for books.
This workstation has clean and sleek lines. And the combination of white color with the wood is super refreshing to the eyes. And though this is decently sturdy, this is more suitable for home use.
For those who have a larger area for a workstation
Ameriwood Home Pursuit L-Shaped Desk 
With the main desk and the extension desk measuring over 60", this can be a shared station for two. Or it can be a busy desk for someone who has a serious need for zoning. You even be able to divide each desk into two zones. 
The hutch consists of two closed cabinets and two open storage on top. It also has 5 cubbies perfect for storing index cards and papers. It also has a fabric pinboard where you can post announcements and a list of what you have to do for the day. So if you want to be on top of things, you should seriously consider getting this L-shaped desk instead.
And since it has a professional yet traditional vibe going on, this can also be great for office use. 
The legs are thick and also C-shaped. Thus, you have additional storage below the table. And oh, extra room for leg sprawlers too. 
Peavler L-Shape Desk
Not only does this Peavler desk offer a larger writing area, but it is also a sight for sore eyes. 
It is configured in a different way than traditional hutch corner desks like the Ameriwood Home unit that we have mentioned above.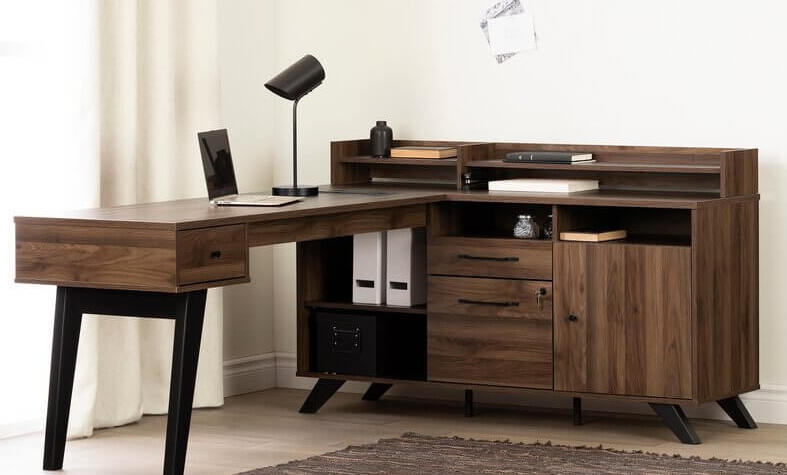 The main desk is a longer area for working and writing. You can also place your laptop or small monitor on it. And the other side, which can be the extension area, consists mostly of the shelving stem, cabinets, and storage area.  
Let's elaborate more on the storage offerings of this number. 
So the bottom part of the desk, has four open spaces, two pull-out drawers, and one closed cabinet. 
The two open storages are a bit bigger and you can use them as a bookshelf while the two open storages located are quite smaller, but they are deep enough to hold sheets of papers, forms, or index cards. The bigger pull-out drawer comes with a key. So you can use it to store more confidential and important documents. 
The four open shelves on the top part of the unit are more like slots for thinner journals, papers, and forms. And oh, you also have a smaller pull-out cabinet located just underneath the writing surface. So you need more spaces to store your office essentials, then you will not find this corner desk short of it.
It would work awesome for both the home and the office. And if you need to segregate and organize forms, sheets, maybe applications, and stuff, then you'll find this very useful. 
For those needing more close storage spaces
Mya-Jane Reversible Desk 
This is a dainty and enchanting corner desk. It's an awesome pick if you do not have ample vertical space but you need more cabinets. It's also pretty compact and measures 47.5" in length and 36.5" in height.
The single-level hutch is divided into three. And the top shelf can be used as a monitor riser. You can also place plants or picture frames on it. 
It's cute and pretty but it can also give you ample storage space for your files, documents, and office supplies. This desk has a central slide-out drawer and three closed cabinets. The bottom cabinet is bigger and can be used to organize your files, letters, and paperworks. 
The cabinets and drawers also slide easily. You will also be able to manage cables and wires well since it has a big grommet hole at the center of the shelf.
Also, since this is reversible, you can configure it in a way that will best suit your needs or the structure of your room. 
And since it has a shorter profile, you can flush it by the corner with a window. The sleek snow-white exterior of this Mya Jane desk will look lovely with a background of a cherry tree by the window. It will be such a treat for the senses and can lift your mood. So this is perfect if you want to enjoy the view or relish the sweet breeze while working. It can even rev up your mornings too. What better way to extend nature into your space than an open window, right?
Durability-wise, we were never disappointed. It is pretty stable. It makes use of a .8 inch thick MDF wood, so it's decently nice and sturdy. 
And oh, it comes in a distressed finish so it can send off more of a vintage vibe. 
Series A Corner Desk by Bush Furniture
This L-shaped workstation with closed storage is great for commercial use. But if you have a bigger space in your home office, you will not regret buying it.
The main desk measures 60" and the extension desk is 35.51". It's also ergo contoured so it is still comfortable despite the larger desk size. You will still be able to have easy access to the things that you need. A single monitor setup with a laptop, and phone can fit easily into the wider space.
And of course, we're here for the storage area too, that's also one of the main reasons we chose this Series A model. You have four closed storage located at the top of the extension table. 
You also have a stand-alone cabinet with three divisions. The bottom shelf has wider dimensions and is perfect for keeping documents, apps, and files. You can toss out your old filing cabinet at home and have everything you need in one single workstation.
And since the cabinet is a standalone unit, you have more options to configure it. You can place it underneath the extension table. Or if you need more open storage, you can use the space below the table and just place the cabinet alongside it. 
The table and the legs are also C-shaped. And this gives you a lot of choices on how to arrange this workstation. It has a very smart design, thus it's very easy to configure it to your personal needs.
It also has a thicker desk compared to the smaller Mya Jane, the MDF board is 1" thick. 
This desk looks quite casual and comfortable, but it is still perfect for a professional environment with its color and the entire structure. That's why it can fit both at work and home. 
How to Configure Desks with a Hutch
Most corner desks with a hutch often take up more vertical space, well the traditional ones are. That's why you have to be mindful of where to place the desks.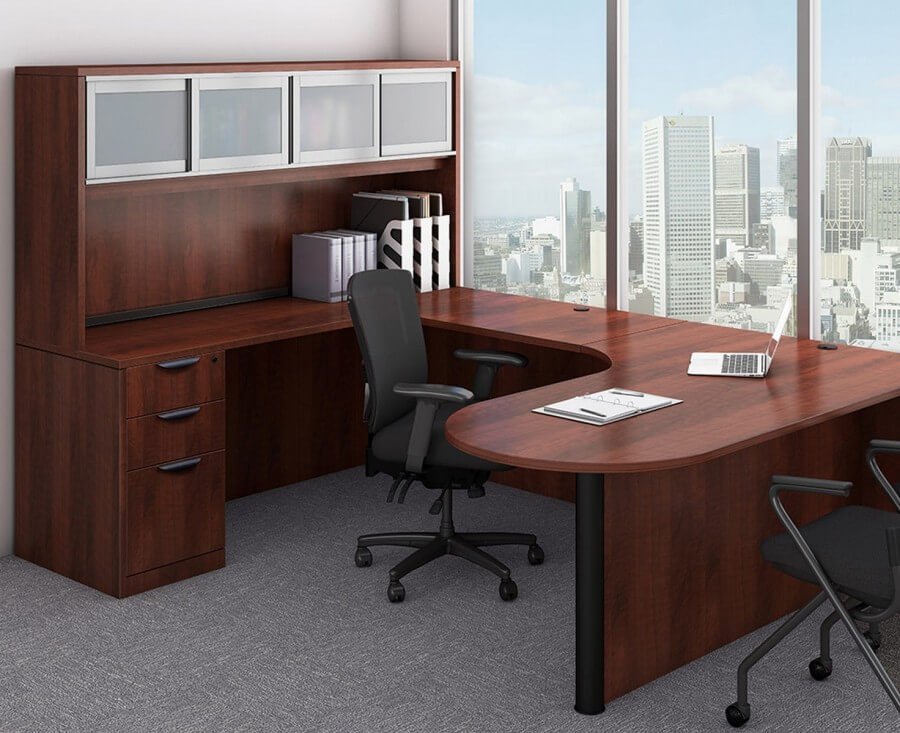 But we know of some people who'd love to flush their desks against a corner situated by the window. So we also have chosen some units that don't take up much vertical space.
So whatever your spatial circumstances are, we hope you'd find the perfect fit in our selection above