More and more companies are using standing desks. They're ditching office chairs in favor of a healthier alternative. These desks come in several types. It can be innovative with electric motors.
Some brands kept in basic motions there are standing desks that are manually adjusted. And lastly, some brands allow you to use your old desk along with a standing desk converter. And these desks would serve you well in your home office to
Too clear for you, who want to buy a great standing desk, we made the lists include a lot of desks below.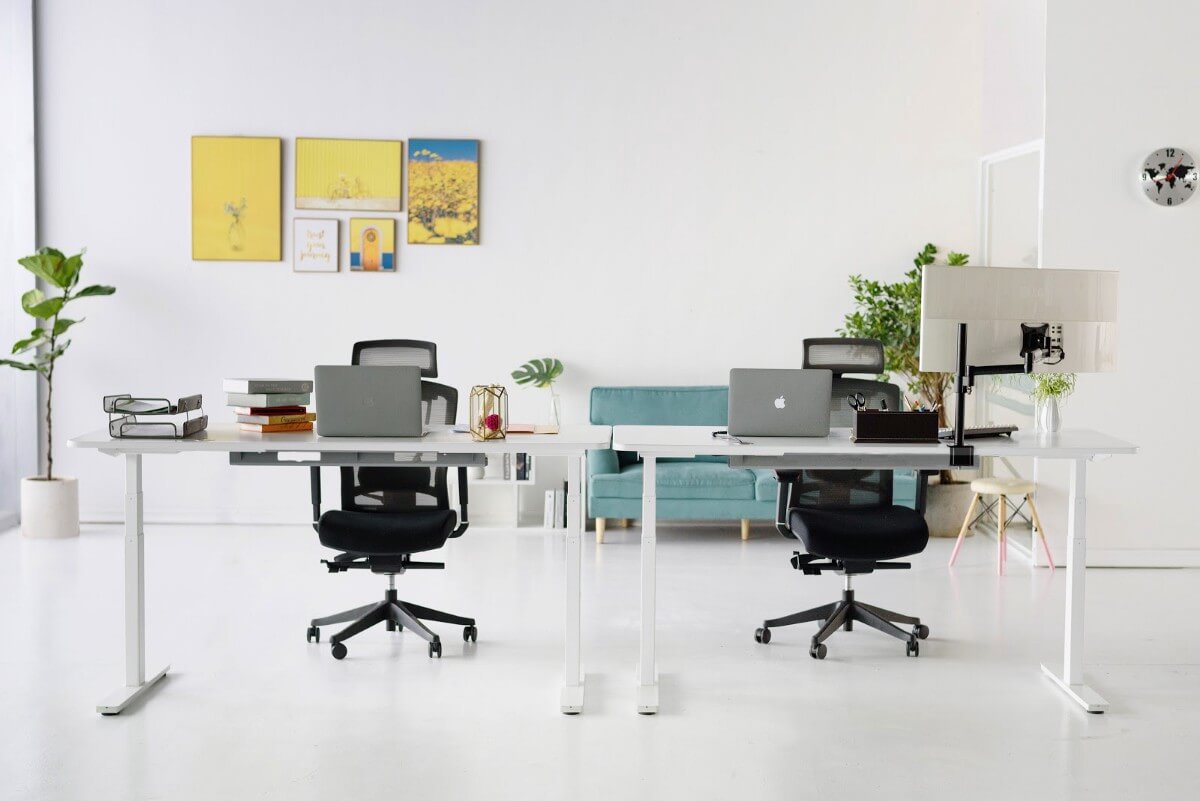 Why these desks?
Well, good question! Why we choose these standing desks instead of the others? Let us say how to choose the best standing desk and which factors to consider when buying a new desk. Check it here!
What's the gold standard for standing desks?
With a lot of reviews for standing desk brands, how do you know which one is credible? Some may review a brand since they're getting something out of it aka sponsored. So you can expect nothing but good stuff. All the cons may be shaded.
And reviews of first-time users are genuine. But if it is their first standing desk, there's a limitation there. They would not be able to compare it to other brands.
So can you still expect these reviews to give you the gold standard for standing desks? And is there such a thing as a gold standard for standing desks? And how can you say which brand is the best? 
Your cup of tea
The thing is, the gold standard for best standing desks is subjective. Some brands may indeed be hyped up. So with a lot of marketing and advertising, these brands may be quickly held up on a pedestal. So everyone may come in line to buy what the internet perceives as " the best." 
Or since it's quite popular, they become the go-to desk of most users. A lot of users may have a good experience with the desk. Thus, everyone hopes to get the same experience.
In reality, your neighbor's gold standard for a best standing desk might be different from yours. If person A has an elaborate workstation, his gold standard for standing desks will have to be the carrying capacity and larger desk area.
If you're more into aesthetics, your gold standard might be a luxurious tabletop with curved edges and wood grain finish. 
So it all depends on your preferences and needs. 
One person may perceive an Autonomous standing desk as the overall best according to his experience. But you may find it lacking. And you may opt for a Steelcase standing desk instead. After all, the premium price definitely means higher quality right?
But that's not really the case. A higher price does not automatically mean that a best standing desk can serve all your needs. Even a cheaper brand can be your best overall if it ticks all the stuff on your list. So branding a standing desk as the best overall is overrated. And it can be misleading too for most.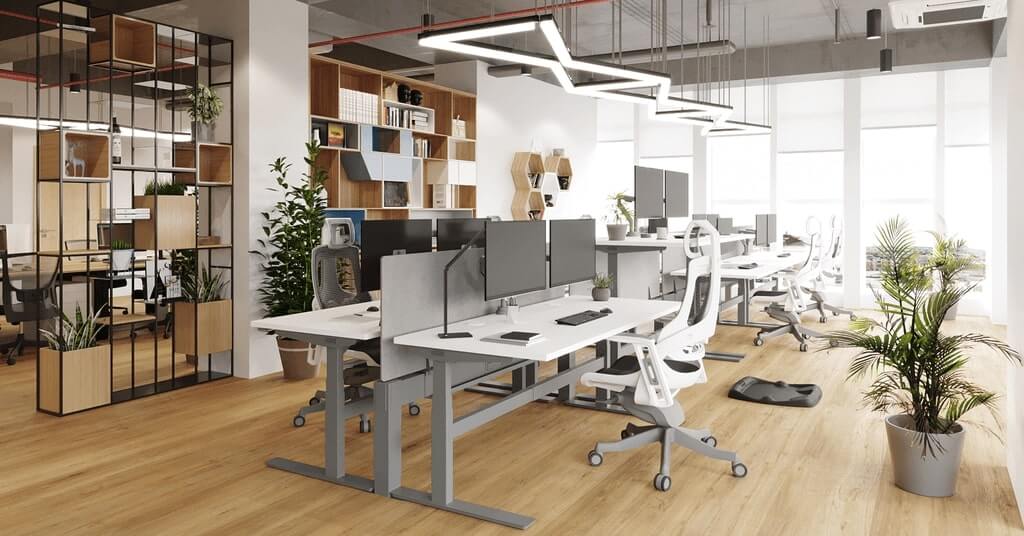 Does this mean that the best overall tag doesn't have any bearing?
Not necessarily. A best standing desk may become popular for two reasons. One, it's just hyped up due to intense and strategic advertising and marketing. And two, people have positive experiences from using the desk. 
But it isn't one size fits all, it has to meet your needs and wants in a desk. Some brands may fulfill the needs of the majority, hence the popularity. But you cannot say the same for unless you have tried the desk yourself. 
The key here is you have to be able to use the desk enough for you to tell if it can serve your needs. That's the only way that you can say that it's the best desk. Thus, the gold standard of great standing desks should be the one that can give you the most value for your money. Even if it's a premium desk, if you're getting its worth, it's a real value for your money.
The same goes for an affordable entry-level desk. If it ticks all the boxes on your list, it's the best one for you.
Return policy period
One of the features that may give you the best value for your money is the return policy period
This allows you to try on the desk for a reasonable amount of time. So if you think it's the opposite of what you're expecting, you can simply return it and get your money back. And the warranty ensures that you won't have to pay for repairs for some time, should the desk bail out on you. So that would mean no unnecessary expenses on your part. Thus, you're getting the most value out of your money.
And different brands have different warranty and return policy periods. And these brands are among the ones who offer great deals. I'm going to categorize them according to the return policy period.
Only Brand offer: IKEA
If you had fun building blocks with your IKEA standing desk, you'd also be happy with the return policy of the brand. It perhaps offers the longest return policy period. You won't find any brand that offers the same.
If you're not happy with the desk, you can still return it in a year and get your money back. Even if it has been fully assembled, just as long as it hasn't been used, you can return it to the store.
The return period is quite long. So it's great for those who find it difficult to find the time.
Several brands offer a 30-day return policy. 
Autonomous

BTOD

iMovr

Uplift

Fully

Varidesk
But not all brands will shoulder the shipping fee for the returns. For instance, iMovr will require you to pay the shipping fee for the returns. And the brand may also charge you for a 20 percent restocking fee.
Which is better, a one year return period or 6 months?
The answer to the question above is again very subjective.
The one-year return policy works for those who can't squeeze in time to return the item. Though the desk has to show no signs of usage. So you can't really use the desk for a few weeks to test it. But you can risk it. 
But this still works for some. Some users just need to try the desk a few times. And they can instantly tell if it's not for them. 
But for others that need more time to try out the desk, a 30-day return policy is the best for you. Just make sure to return the desk before it hits the 30-day mark. 
Customer service
Another factor that most users are now considering as part of the gold standard in standing desks is the customer service of the brand. 
Buying a desk is just the start of your relationship with the brand. Should you have any problems, you would want the manufacturer to be able to address them asap. And that's when you get the most value of your money. If your manufacturer is ghosting you, you won't be able to fix the problem. Hence, you won't be able to use the desk. So that's going to be money down the drain.
For instance, some users complain about Autonomous taking so long to return the calls for a refund request. Some brands would take a month before they would be able to answer a single query or question. And other manufacturers don't even do after-sales anymore. 
Aftersale is important because brands can get recommendations for good customer service. And you'd likely get a second desk or product from them should you be assisted properly right?
Among the bands, several manufacturers can stand out in terms of customer service. Steelcase, a premium brand, is known for its excellent customer service. 
You can get answers to your queries asap. So you'd instantly feel that the brand will be there for you even if you have already purchased an item. And should you have any problem with your desk in the future, the solution is just one phone call away. 
Fully also has great customer service. They'll process your refund or replacement right away. And If you mistakenly ordered the wrong size, the brand can cover the shipping expenses and they can even pick up the desk. Though this may vary for some locations, this is what I have experienced. And I didn't have to print the return label. It's like being spoon-fed haha.
The gold standard for standing desks should satisfy your individual needs and requirements. That's why not one size fits all. Also, it helps to do a lot of research. Albeit many sponsored reviews, there are still unbiased and objective reviews on the internet. You just have to do comprehensive research. 
And it's best to buy from brands that have a sufficient return policy period. Because at the end of the day, you should get the best value from your money. That's the gold standard.
Ok, hope you guys get it. Let's start with the list in 2021
Best Standing Desks Under 1000$
The only downside is that standing desks may eat a chunk of your budget. Our buying guide will list lots of the best standing desks under 1000 $. Let's take a look at what these brands have to offer and why they deserve to be on our recommendation. 
#1 of the best standing desk in 2021 – The Uplift V2 standing desk offers a lot of customization options. Therefore it's a standing desk perfect for those looking to personalize their working area a bit more.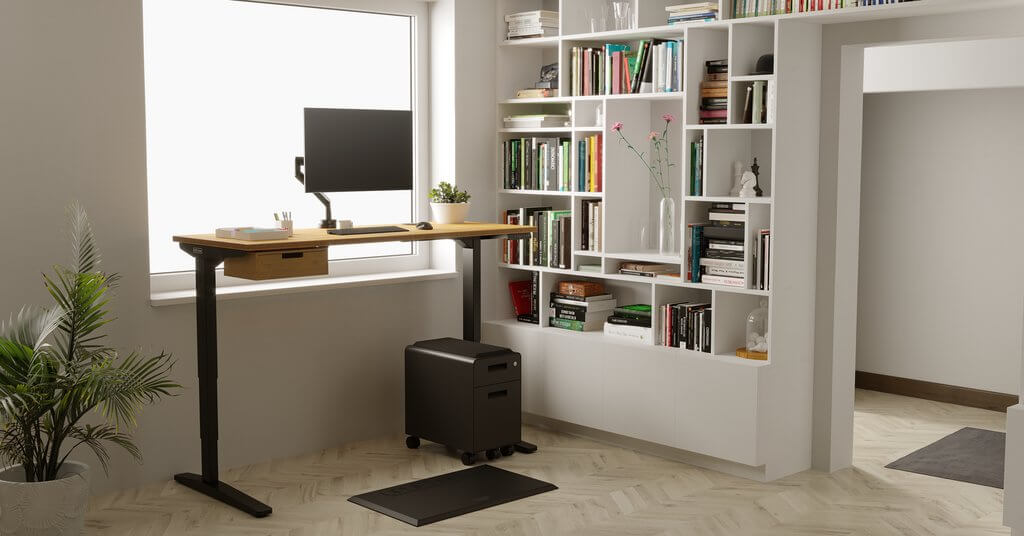 The desk height is adjustable via the control buttons found on the desk itself. It's nice and sturdy. And you won't be bothered by a cracking noise every time you adjust the motor. It operates rather quietly.
It features several customizable options:
adjustable desk height from 23.5- 59 inches

option to add more power outlets to the desk. It has a wire management system located at the bottom of the decks, but you can also add more. 

Three options for electric keypad
Furthermore, it's a stable and sturdy standing desk that can support up to 4 monitors at the same time. It can support weight up to 355 lbs. And you can be assured that your computers will stay on the desk.
It features an anti-collision system that can detect slight resistance. It automatically stops the motion to prevent any untoward accidents. And even with the absence of crossbars, it's still stable and durable.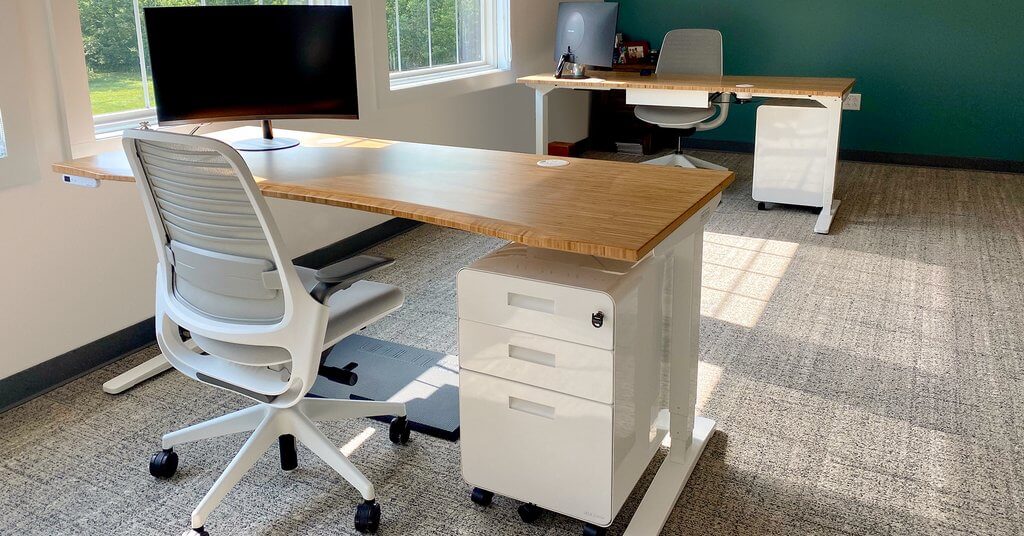 Overall, this the best standing desk fits those who are looking for more ways to customize their working space. 
Pros
Has customizable features

Anti-collision feature

Can support weight up to 355 pounds

Stable and durable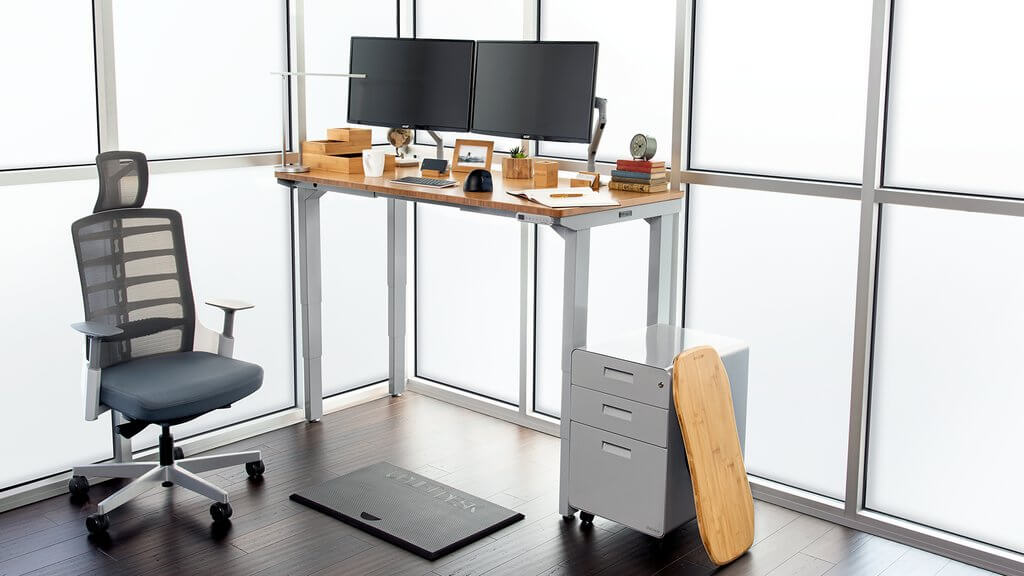 Cons
Has plastic glides

Lacks cross support

Some customer says that they got Delay of shipping
Where to buy
Ergotorn WorkFit is an adjustable and versatile standing desk. It can be adjusted to the height of the user. And since it conforms to American and European standards, it has a brake system that makes sure everything is securely locked. This product offers manual adjustment. Since it can be manually adjusted, it's free from electric faults or glitches.
Firstly, the top part of the desks is made from particleboard. And it has a light and nice grain finish that isn't too overwhelming. The feet of the desk are table and firmly are firmly locked to the ground.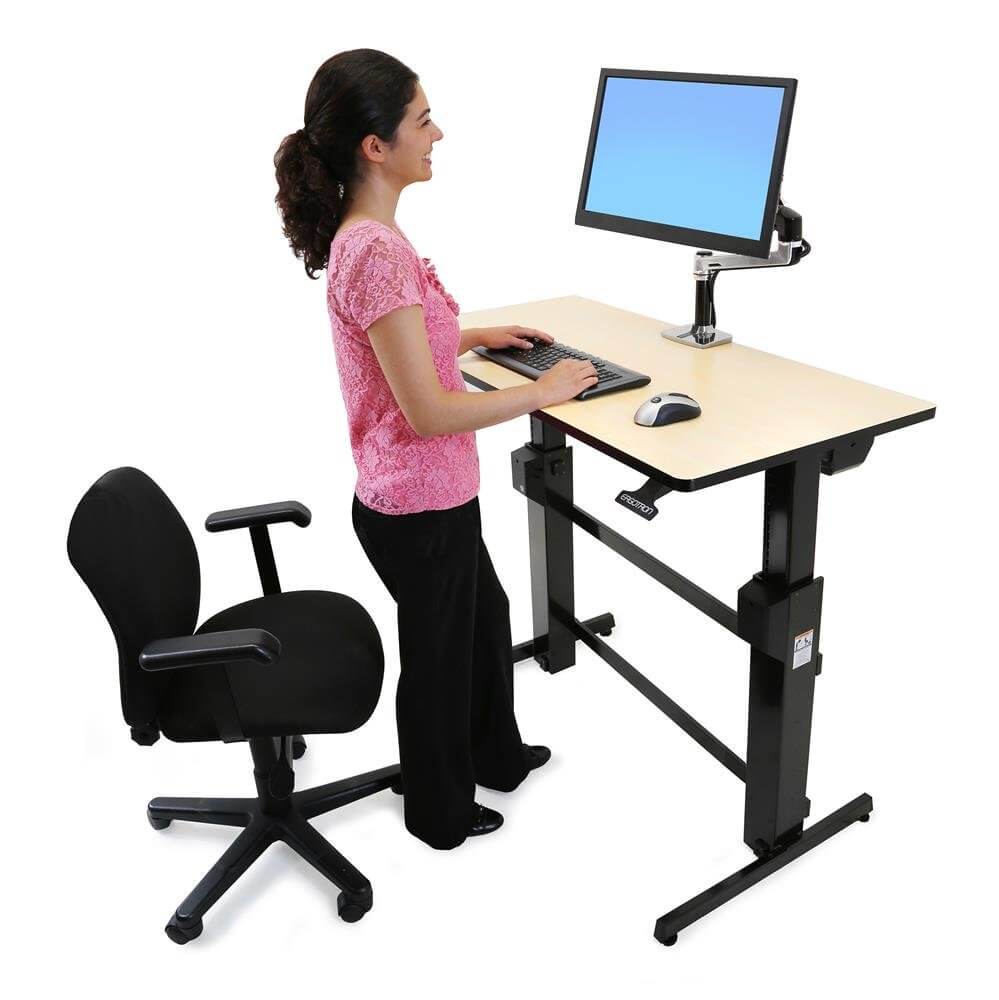 And the adjustable lever is easy to navigate. And once you lock it, it securely stays in place. It's durable and you won't hear any cranking sound whenever you adjust the lever. A cranking motor would give you too much confidence in a product.
Moreover, the working surface is big enough to support two 24-inch computers and some office supplies. It's stable so your computers stay on the desk. It has a roomy working area so you will not feel cramped at all. You can even add another laptop to your two computers and it would still be okay.
Overall, it's a stable and solid desk that can last for the long haul. This product is one of the best adjustable standing desks with a manual option in the market that you can get for yourself. 
Pros
Durable and stable

Can accommodate tall people

Easy to install

Manually adjustable

Spacious working area
Cons
Edges are quite sharp

Quite heavy and bulky

Not for carpeted floors

The manual adjustment is not for everyone
Where to buy
Their website: https://www.ergotron.com/en-us/products/product-details/24-271
The Jarvis Standing Desk Bamboo Top was is an award-winning stand-up desk sold by Fully – a company based in Portland, Oregon, and San Francisco, California that specialized in the retail sale of ergonomic products. As a brand, Jarvis has proven to be one of the best and most popular in the market, producing sleek and competitively-priced standing desks.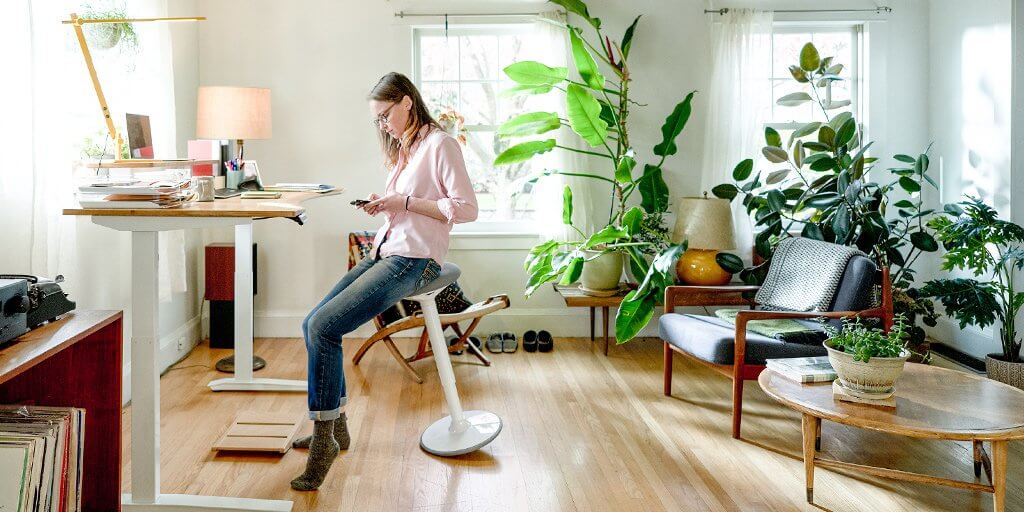 There are several concerns about the Jarvis standing desk that cannot go unnoticeable. The stability issues when at a height above 40", the grease stains on the metal frames and the safety concern due to continued motion after releasing the button are areas JieCang and Fully need to improve on to make the Jarvis brand an undeniable top choice.
But even with the limitations, this is a desk worth considering. The expansive height adjustability range allows persons of all heights – from children to adults – to comfortably work on the desk. With the electric system and memory settings, adjusting the heights to suit one's needs is pretty easy. The warranty, while it is not "industry-leading," is one of the best in the market. 7-year coverage for the mechanical and electrical components is decent enough.
Fully has gained a reputation for offering excellent customer service. In case of any issues during the delivery or if you have any problems with the desk within the warranty period, you can be sure of receiving satisfactory customer support from Fully. For a Chinese-made standing desk, the pricing plus the customer service is a fair bargain. You won't get this kind of bargain with Bekant or others.
Where to buy
To purchase this desk, you can buy it with greatest price here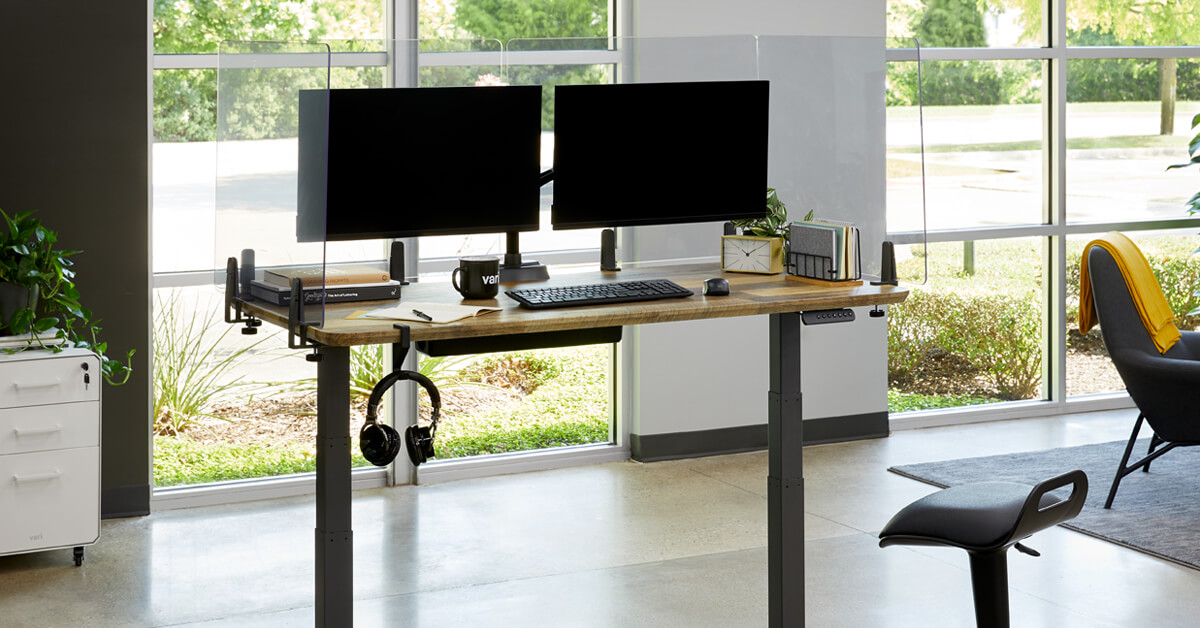 If too much sitting is hurting your back but you love your desk too much, time to get a standing desk from Vari (past: Varidesk). This Vari Electric 60 Pro Standing desk is a great option
You can adjust this standing desk with just a touch of a button. It's like giving an upgrade to your traditional working desk. You can go from sitting to the standing position via the control buttons. 
It has variable height settings and goes as high as 19 and ⅛ ", making it a suitable standing desk even for taller people. 
Furthermore, it's virtually plugged and play. It comes fully assembled so you don't have to go through the hassle of putting it together. You just plug it to an energy source and click on the button. It's perfect for those who hate DIYs.
Pros
Operates quietly

You can use it with your old desk

Comes fully assembled
Cons
Need for more wire management

Not that stable

May offer limited working space depending on your desk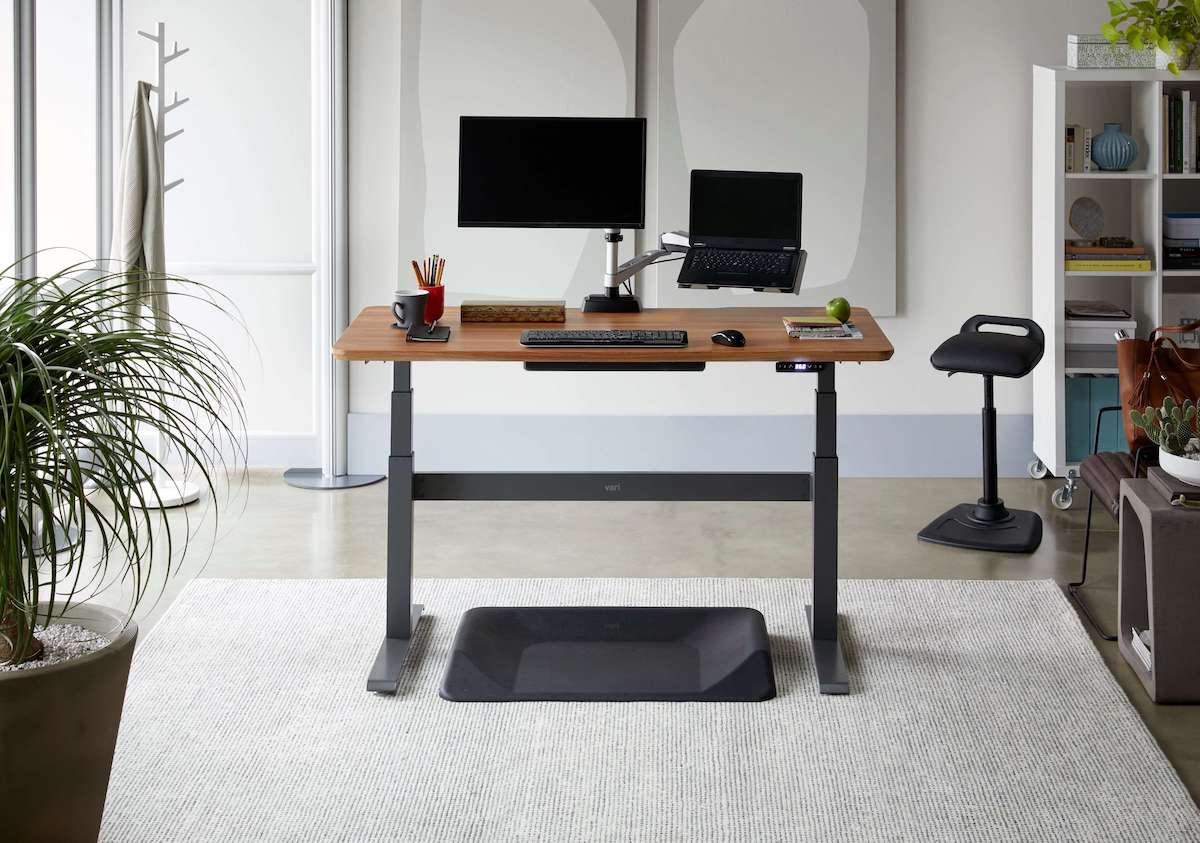 Where to buy
Best electric standing desks under 800$
Where will your 800 dollar budget take you? Let's see some of our favorite picks for the top electric best standing desk under 800 dollars. Your moolah can go a long way.
iMovr Energize
You'll find the iMovr Energize a great value for your money. It has a very sturdy and stable base. And when coupled with a 10-year warranty, you're sure to get the most bang for your buck. This is perhaps the desk's number 1 feature. And there are only a few brands that offer such generous cover and protection. With a long warranty, you can be assured that everything is well made. Because if it isn't, the brand would have to spend lots on repairs.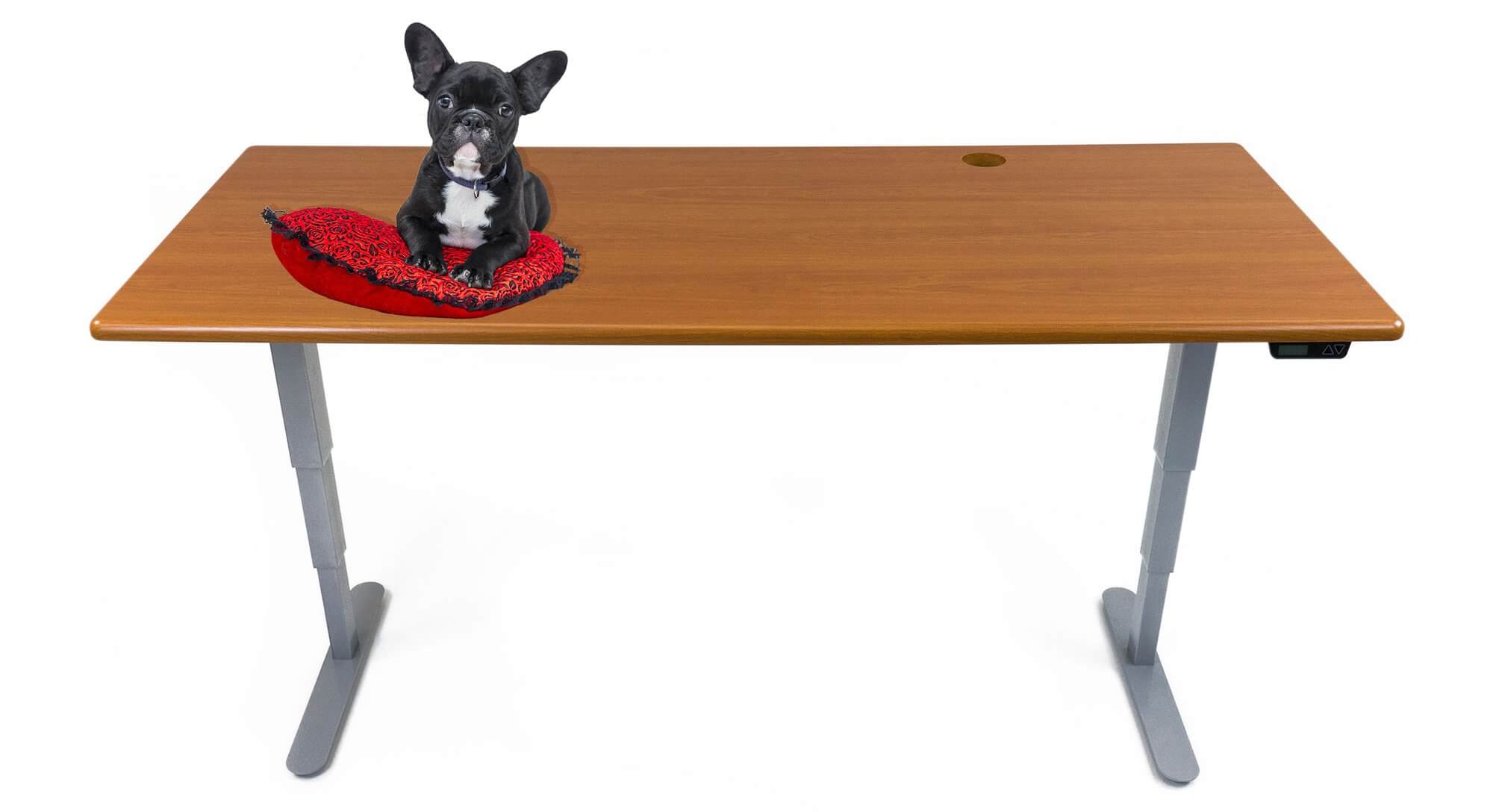 The base is really solid and strong. And it can hold a significant weight without wobbling at any heights. Energize makes use of a solid base, the Freedom base. This sturdy base has lots going for it. 
One, it makes the desk highly customizable. You have an option to choose from two types of bases. The standard two-segmented base can go from 24.7" and 42.8". While the Freedom XT can go a bit higher with a height adjustment of 20.3" to 46.6" inches. Two, it can support a tabletop up to 72 inches wide.  
And three, the weight capacity is 265 lbs, but we felt that it can accommodate more, but let's just stick with what's advertised. we didn't feel any wobbling at any point. And it's not just the frames that are customizable. 
we love it when a desk gives you a lot of options. You can choose from the color, size, depth, and thickness of the tabletop. So you can really buy what you need instead of just settling for what's available.
Moreover, it's also equipped with features that you'll want in a best standing desk- LCD, anti-collision feature, fast transition, and whisper-quiet motors.
Overall, it's a bang for your buck. And it's almost the complete deal.
Pros
Highly customizable

Comes in pre-assembled

Ergo contoured tabletop

Stable and sturdy base

Made in the USA

Generous warranty period
Cons
 The design of the desk isn't fancy 
This standing desk is huge. And by that, we mean quite massive. Though you would not be disappointed with the packaging, it came in one piece without any scratches or dents. Just be ready with an extra set of hands once you receive this at your front doors because it can be heavy.
But it looks really nice. The laminate tabletop we got has a wood grain finish. So it looks quite rustic, which we like. It also comes with a crossbar for that added support.
Assembling it was rather fast, and it came in nicely with a real screwdriver. we was able to set it up in less than 30 minutes. The instructions were also pretty clear and straightforward.

As for the stability, it did have a bit of rocking midway to the highest level. Though all the parts, including the feet and legs, are relay solid, we think you have to make sure the screws are tightened properly. It would lessen the rocking motion. 
You'll also appreciate these features. One, it transitions rather fast. And the preset, and up and down buttons are quite responsive. It won't make you wait forever to get to the highest desk setting. And the tabletop is stunning. It doesn't look like a cheap laminated particleboard.
Overall, it performs and looks great for its price. You just need to ensure that you tighten all the screws well. And if you're taller than 6 feet, you just might find the highest setting still low.
Pros
Beautiful wooden desk

Sturdy legs and feet

Wide desk area

Easy setup

Well packaged
Cons
Can't go high enough for taller people

The cable management system could have been better
This 60-inch sit-stand desk offers a wide working area for the more elaborate workstation setup. We'll be enumerating the features that we loved apart from the wider desk area.
Firstly, the packaging is quite impressive. You would often encounter newly delivered sit-stand desks with dents and scratches because of mishandling. And this is where the S Stand up desk excels. The desk's packaging was pretty impressive. The manufacturer sought to it that the time would not incur any dents or scratches whilst in transit. 
It's surrounded by lots of cardboard and styrofoam, so the desk will arrive in tip-top condition. we also love how complete the accessories and tools were. There was an Allen wrench for every part. And an extra bolt too. So no need to worry if you accidentally lost one or two. You wouldn't have to rush to the hardware.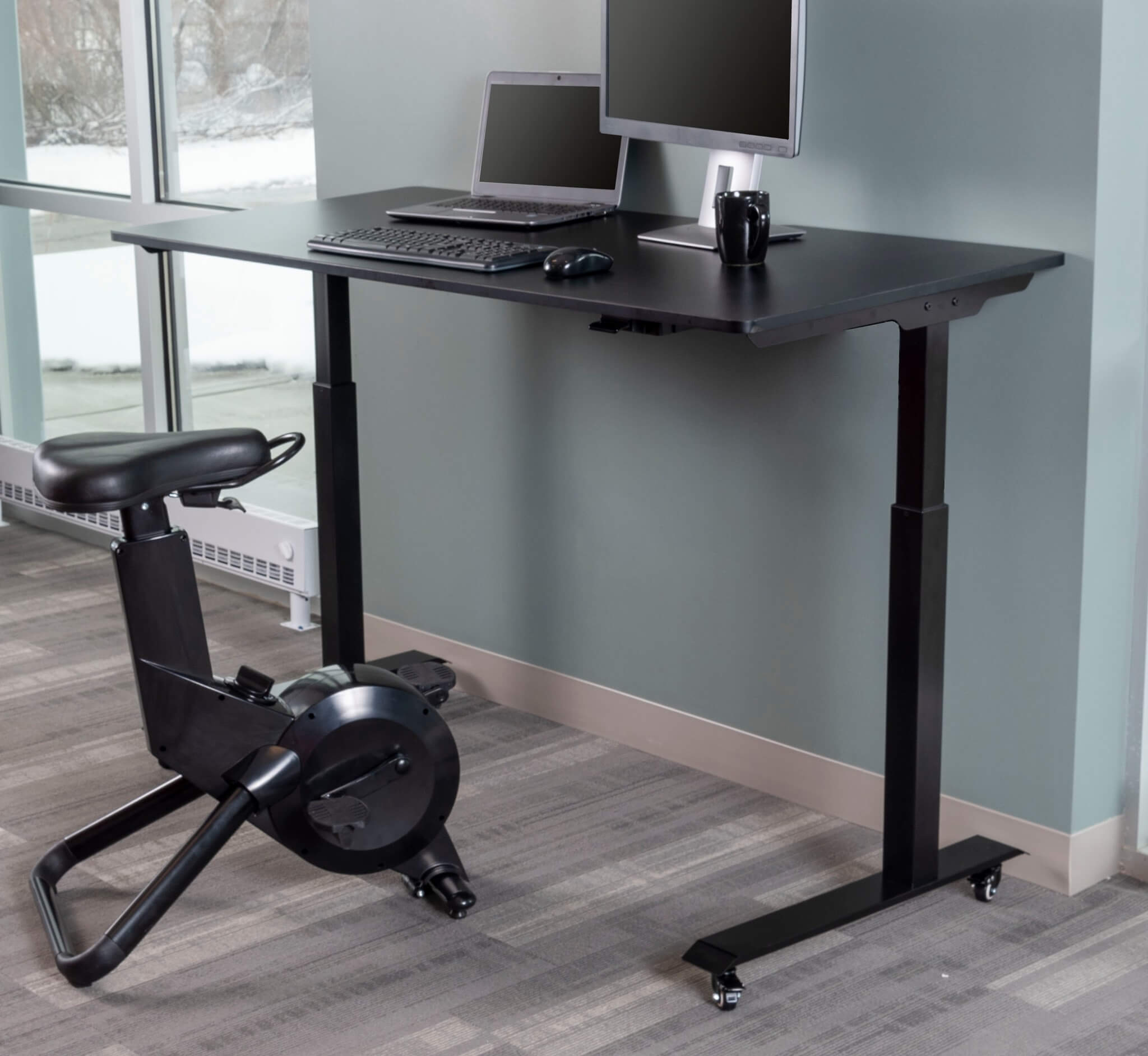 The desk is pretty wild and it's true to its advertised weight capacity of 154 lbs. Also, it has a broad height adjustment range. So if you're a bit tall you can still use this sit-stand desk comfortably. 
I've no complaints about the wobble and we haven't also heard of other users complaining about any shaking or wobbling of the desk. This best electric standing desk won't budge even with external force. we must say, construction is rock solid. 
And the electric transitioning is rather fast but quiet. It can go from the lowest to the highest desk height in less than 20 seconds. So I'm pretty happy with that one. There's no stalling too.
If you are looking for a pretty solid unit with a wide desk, this unit fits the bill.
Pros
Strong and sturdy

Does not wobble

Transitions fast

Operates quietly
Cons
The cable management system could have been better
If you're looking for a heavy-duty sit-stand desk, the Versa white desk is your bet. This simple yet functional standing desk has a weight capacity of 350 lbs. It's heavy-duty and rather solid. And it's one of the more heavy-duty standing desks in the market that has such high weight capacity. 
The size of the desk is 48x 30, so it's roomy enough for a two-monitor setup. It is also monitor- mount ready, so this desk is really designed to hold more motors. Needless to say, this US-made desk also has something more in store for you.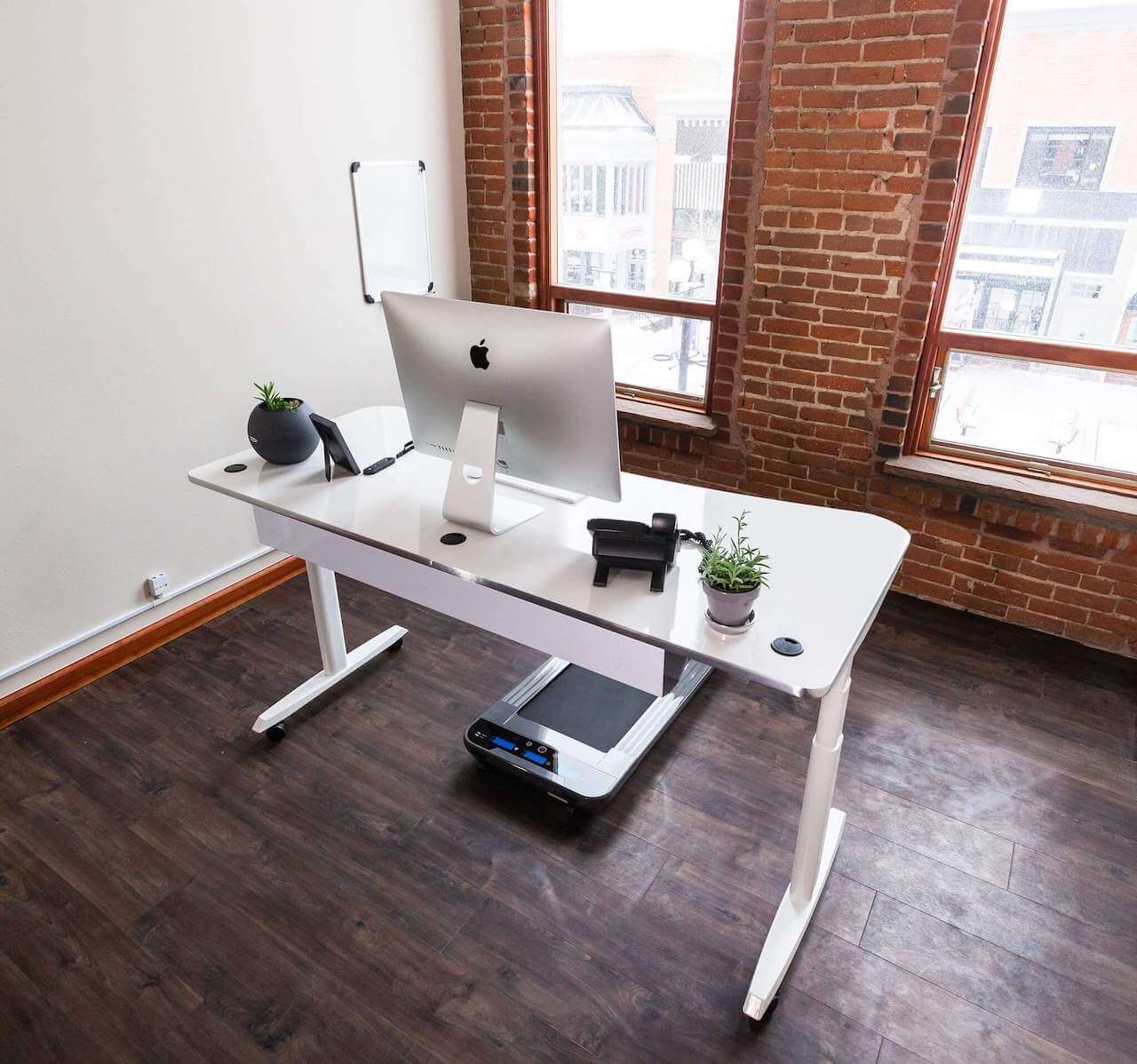 This feature is actually unique, but it can be a very useful one. In the absence of paper, you may use your tabletop to keep notes! The desk area has a whiteboard finish. So you can use it for scribbling and taking down notes with a whiteboard marker. It's one of its kind and I've never encountered a sit-stand desk with such a feature. It can come in really handy at times. 
Also, when it comes to stability, this is decently solid. There wasn't any wobbling at any heights.
Pros
Made in the USA

Solid and steady

Large wok area

Heavy duty

Desk is writable
Cons
The overall look of the sit-stand desk isn't that stunning
Best Standing Desks under 500$
This product isn't called flexispot for nothing. You can easily convert from sit to stand position. And it's accessible via the 2 button controller.  
This could be the best standing desk that you're looking for.
Firstly, it's durable and sturdy. The legs are made of industrial-grade stainless steel. There's no question about its durability. It can support a weight of up to 154 lbs. The working desk is wide and spacious. 
Another great feature is it doesn't make any noise when you adjust it. It's equipped with a motorized lift that enables easy and noise-free adjustment. It's a quiet transition from sitting to standing.
And you'll be happy to hear that the design is FCC and UL certified. So you're sure it's more than just a pretty face. This amazing standing desk is safe and durable.
Overall, this lovely desk only costs around 300 dollars. Yet you still get a durable standing desk with industrial-grade steel legs to match. 
Pros
Industrial grade steel legs

Motor operates quietly

Easy to assemble

Cheap price
Cons
A bit heavy

Customer service problems are sucks
We recommend you shouldn't buy the desk from their official website.
Where to buy without any sketchy customer service problems
What you'll instantly notice about this electric standing desk is the tabletop. It's an elegant bamboo tabletop. And what sets it apart from all the other bamboo standing desks is its solid wooden bamboo. It's not laminated, so you can expect a sturdier desk. And also the smell of natural bamboo is a plus.
Its 60 x 30 desk is rather generous and fit for a busy work station. It seems like this desk has several unique features too. Both the width and the height of the desk can be adjustable (height 26-52″ & width 42-71″). There are only a few standing desks that offer such convenience. So you also have a choice on the size of the tabletop, should you not want the 60 x 30 desktop. 
Another great feature is its 3 stage columns. This means that this desk can accommodate taller people. It has a broader height setting.  
Also, it's very solid and steady. It actually feels a bit premium with its robust construction and lovely natural desktop. There's quite a lot going in there. Plus, the transition is rather fast too. You can go from the lowest to the highest setting in less than 20 seconds. 
There is a bit of qualm though, but it isn't major compared to the benefits you would get with this desk. Some have received their bamboo desk with some dents and scratches. we reckon the desk could have used better packaging or better handling. And would need to drill the holes on the bamboo desk yourself.
Pros
Anti-collision feature

Adjustable width and height

Rock Solid and stable

Real bamboo desk

Best standing desk that Fit for tall people

Transitions fast
Cons
The bamboo desk doesn't have pre-drilled holes

Some damage to the desk while in transit
Bekant Standing Desk Ikea
Ikea is known for its affordable and functional furniture. No wonder this Bekant standing desk made it to our list.
To begin with, this desk is as basic as it can get. It offers a more productive workspace while you enjoy the benefits of standing. It features simple construction, with which IKEA is known for.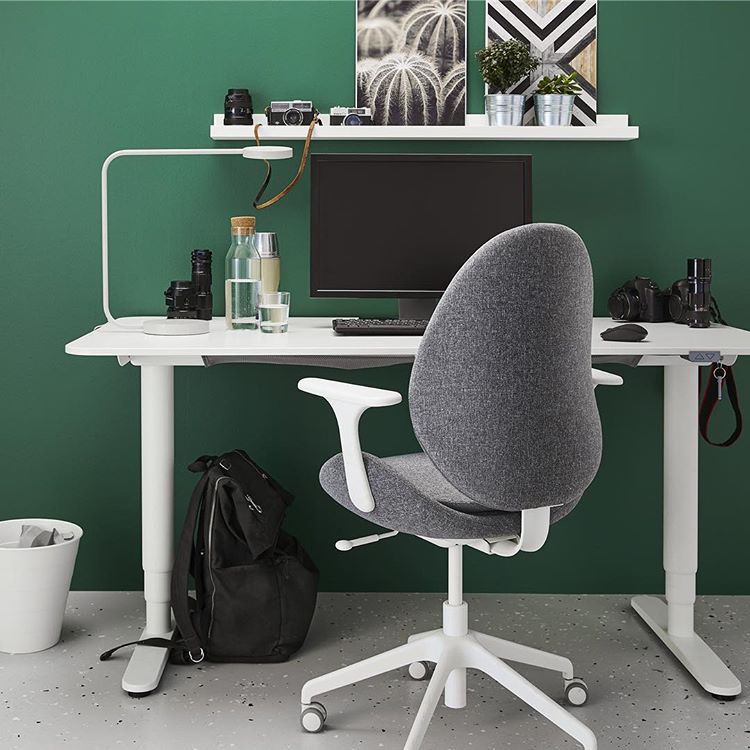 But its simplicity comes with a more organized work area. It has a wire management system under the desk. This allows you to put multiple types of equipment without the cords getting in the way.
With such a design, it's easier to work around. And it looks pretty neat and organized too. 
The table can be adjusted by loosening and tightening the legs of the product. It's plain and simple yet very functional.
All on all, it's a no-fuss workspace that can keep your cords all neat and tucked away.
Pros
Has a cord management system

Simple IKEA design

Stain-resistant desk
Cons
Some stability issues

Electronic technology is quite basic
Where to buy
Their website: https://www.ikea.com/us/en/p/bekant-desk-sit-stand-white-s49022538/
Best Standing Desks under 300$
Here we have a product that looks simple yet stunning. The tabletop wood surface provides a calming work area. It's a breath of fresh air. And it would look lovely in your contemporary room.
But there's more to its lovely aesthetics. Its functions will definitely fulfill your needs for a great working space. 
First, the legs are made of steel legs. It can support the weight of two monitors and a laptop. The steel legs are quite sturdy giving you peace of mind. And it can accommodate numerous height adjustments without fail.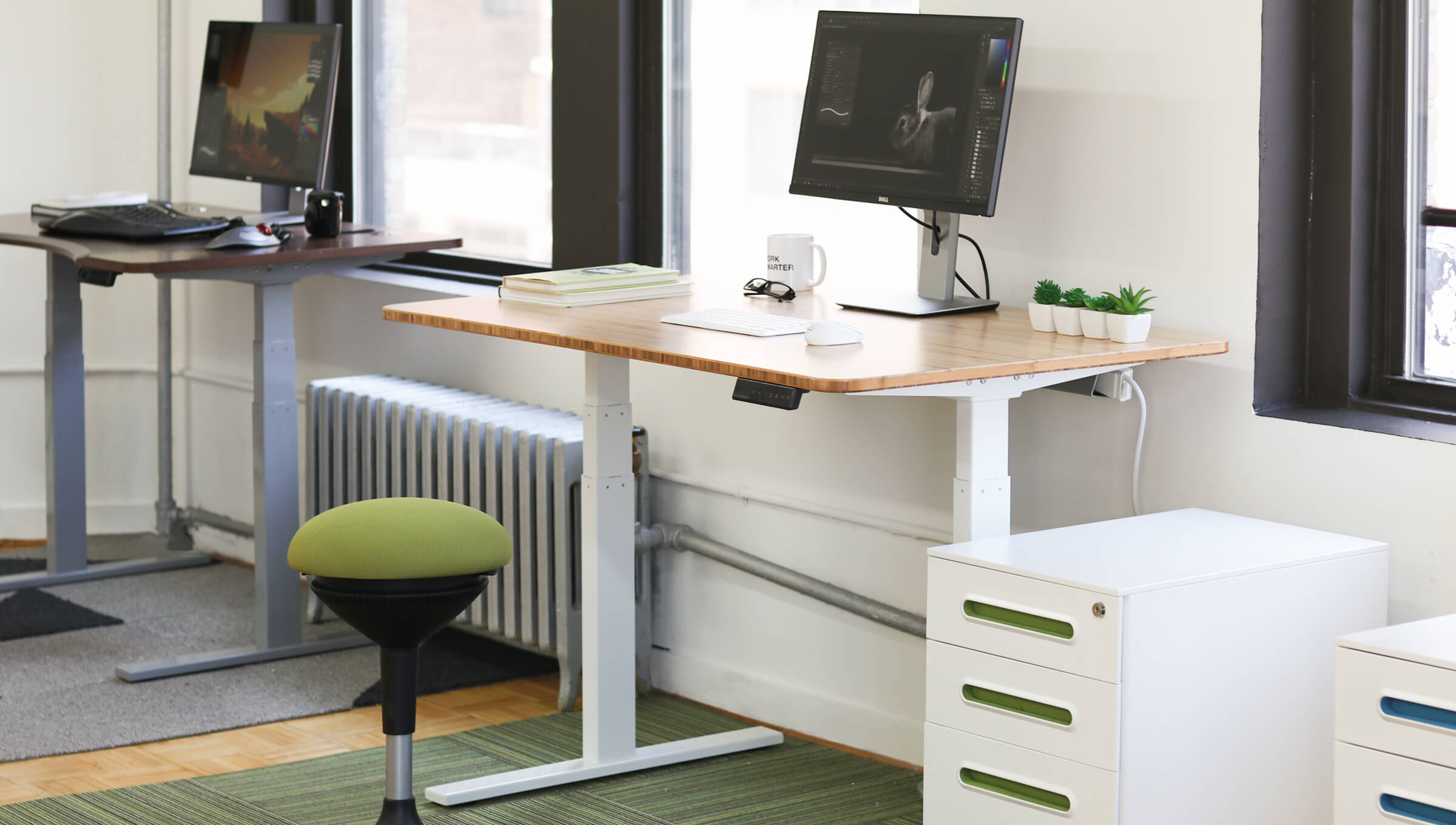 Also, the height of the desk is adjustable. So you can adjust it to the height that's comfortable for you. It's easily accessible via push buttons. You can choose from 4 preset height levels. And it can accommodate taller people up to 6 feet. 
Another, the installation is pretty easy. The instruction manual is very understandable, no need for a dictionary. All the pieces have labels so you won't feel like you're putting up a jigsaw puzzle.
Interestingly, it costs less than 300 dollars. It's one of the lower-priced quality standing desks on our list. 
Pros
The desktop is solid and stable

Sturdy steel legs

Wider working area

Easy to install
Cons
Where to buy:
Calico Designs Adapta Height Adjustable Office Desk
It's sleek and chic. This standing desk fits a modern and posh office. It comes in walnut and black finishing that exudes an aura of professionalism. The aesthetics are tantamount to its quality. It's comprised of a solid and sturdy desk and durable legs. 
To start, it has one thickest desk that's around 1 inch. This makes this product heavy duty. Furthermore, the edges aren't sharp. The desk has a T-mold edge. So it's safe even when you have your kids wandering around your home office.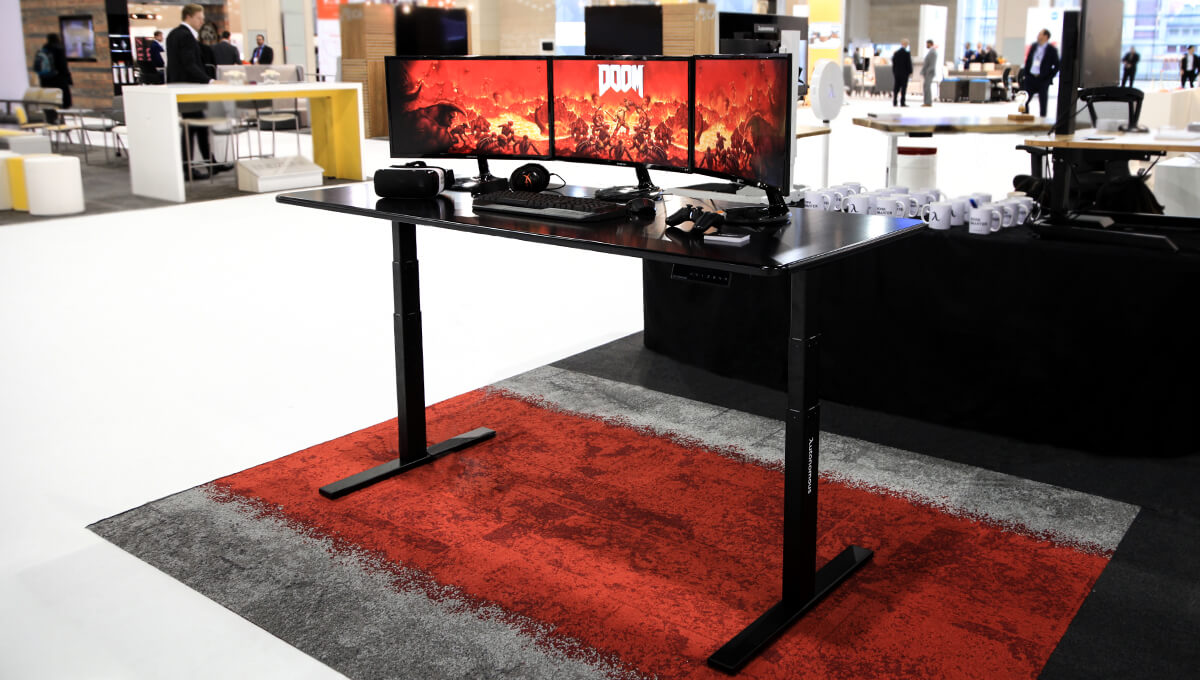 Moreover, it offers height adjustments that can relieve your backache. The table can be adjusted by slowly loosening the steel legs. Then you have to adjust the table to your preferred height.
In conclusion, this product is best for those looking for a thicker and heavy-duty desk.
Pros
Has a thick heavy-duty desk

Easy to install

All hardware for installation included

Big working space

Has floor levelers
Cons
The adjustment process may not be for those who are physically challenged
Where to buy
Stand Up Desk Store Crank Adjustable Sit to Stand Up
This two-tier standing desk offers more workspace. You can organize your monitors and computers at the top tier. And have more room for your keyboard and office supplies on the second tier.
This is perhaps the most comfortable two-tier standing desk in the market today. T features a 90-degree angle that you can comfortably lay your arms on the desk while working.
And the table is adjustable via a crank. So you can choose the best desk height for you. The lack of electric motors doesn't make this product less superior. The manually adjusted cranks are easy to use. And by using something manually, it's free from any glitches that some electric motors may encounter.
Another great feature is that you can decide where to place the cranks. So left-handed people can still manually adjust it with ease.
Moreover, it has caster wheels. So moving it from one place to another is super easy. It could perhaps be even fun.
In conclusion, this two-tier standing desk provides more workspace at a cheap price. 
Pros
East to install

Ergonomic design

Large workstation

Mobile with caster wheels
Cons
The manual crank isn't for everybody
Where to buy: 
Best Electric Standing Desks with a single monitor
The best electric standing desks are often perceived as inferior compared to their dual-motor counterparts. But that's not always the case. It all boils down to the construction and the quality of the motor.
And you won't be disappointed with its functionality. The best brands on our list may even perform better than other standing desks with dual motors. We have listed 4 best electric standing desks with a single motor. These could be exactly what you need for your home office.
These desks indeed have lower weight capacity than those with dual motors. But that doesn't mean that they can't serve you well.
Keep scrolling to see our top picks.
Ergo Elements is one of the most sustainable electric standing desks on our list. It's made of 100 percent recycled wood. Sustainable materials are the in thing today. And apart from doing your part in saving mother earth, it's also beneficial for your health.
Also, this product is free from VCO and solvents. And it's also CARB compliant. So rest assured that you're not inhaling any toxic fumes. So it's a safe option for your home office, especially if you have kids around.
Despite the engineered wood material, this product is quite sturdy and durable. It's manufactured with an innovative procedure called ultraviolet instantaneous curing. This makes the tabletop resistant to wear and tear. And it also lends it that sleek and polished look and feels. 
Another great feature of this product is that it has 4 memory buttons. It's customizable and you can pre-set your preferred height. You can choose anywhere from 27 to 44 inches. The table height setting can even fit a stationary bike below it. So even taller people can use this table comfortably. 
You can also fit more than two monitors on the desk. It's quite stable and can support a weight of up to 200 lbs. 
Moreover, the motor runs smoothly. And it's fairly easy to interrupt the motion just by pressing any button. And in case you change your mind, you can always drop the upward or downward motion anytime.
And you'd love how it doesn't smudge nor will it collect fingerprints. So it's quite easy to clean. You just wipe it off. 
Also, it has a beveled edge where you can rest your arms comfortably. 
All in all, this product gives you your money's worth. It's a sturdy programmable stand desk with a decent price tag. It can fit your budget and it can fit your height specifications too.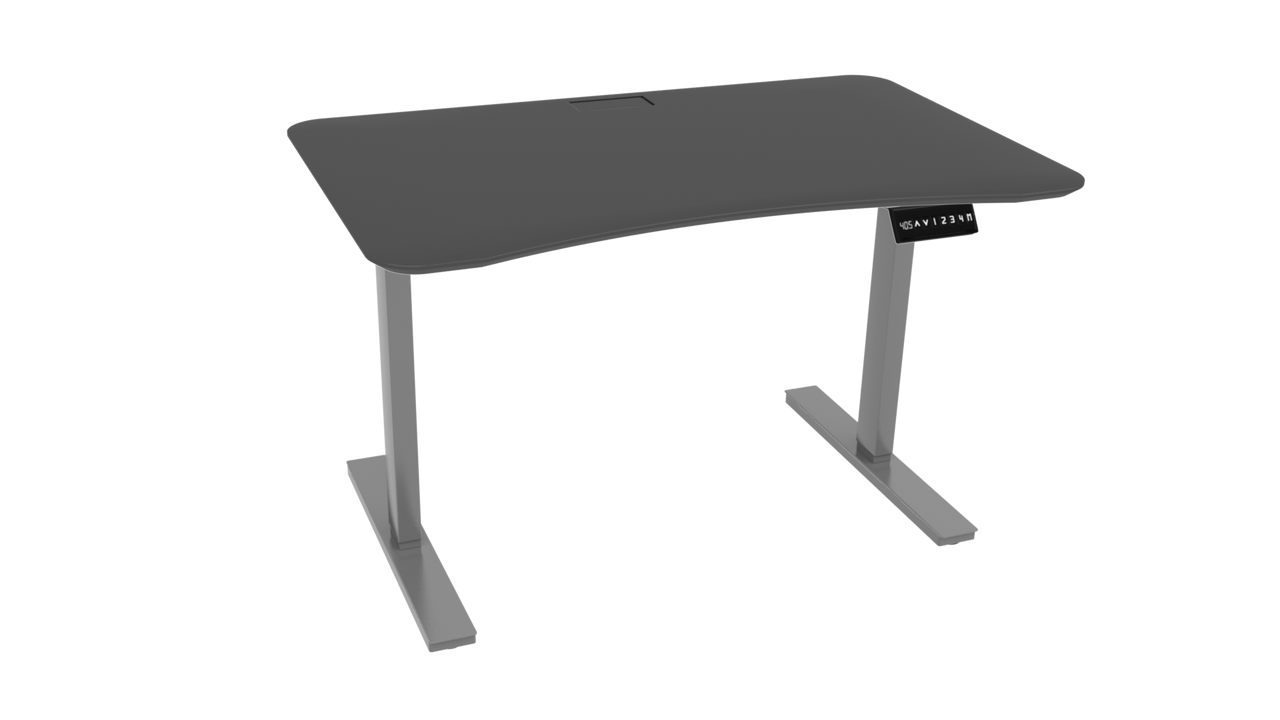 Pros
Resistant to wear and tear

Fingerprint resistant

Commercial-grade steel frames

Programmable height adjustment options
Cons
The instructions for setup was quite confusing
Where to buy
Their website: https://ergoelements.com/electric-standing-desk-set-single-motor-4ft/
This product combines aesthetics, value, and function in one.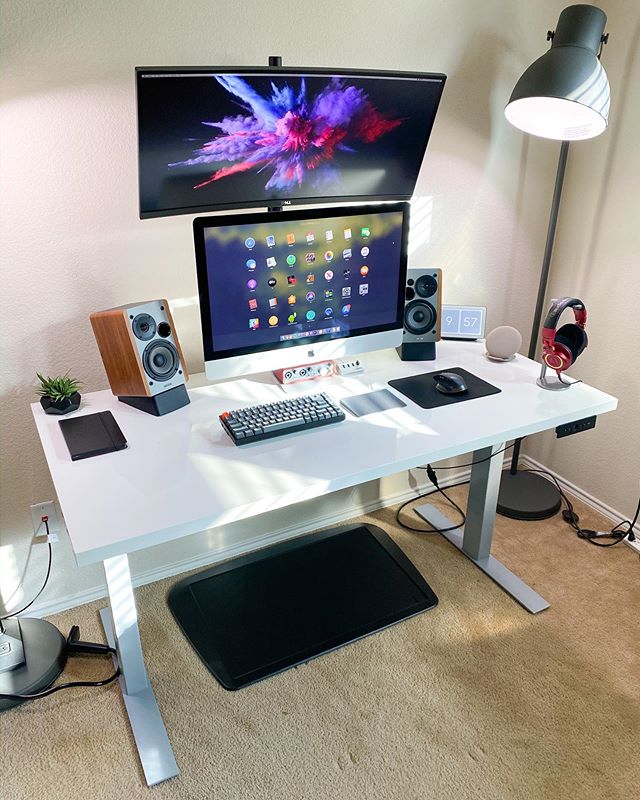 Firstly, the overall look of this standing desk won't disappoint you. It's available in 10 tabletop colors and 3 frame colors. So you can choose a style that matches your personality or the interiors of your office. 
And you'll be happy to hear that the laminates are reversible. So you can change the look of your table every week. It's like getting two different tabletops at the price of one. 
Secondly, you're paying for what you really need. You can buy the entire package complete with the tabletop and the steel frames. But you can still use your old tabletop. Because you have an option to buy just the frame.  It's priced lower than 499 without the steel frames.
And lastly, it has several features that make it convenient. The product boasts of 4 programmable height adjustments. And it's easily accessible via the push of a button. Also, the motor runs quietly. A cranking motor sound will lessen your confidence in a product. 
Overall, it's a great pick if you're looking for a standing desk with more tabletop design options. And its functions will pretty much stand up to your expectations. 
Pros
Water-resistant tabletop

Operates quietly

Option to purchase just the steel frame
Cons
May not be that comfortable for shorter people
Where to buy
The VIVO electric desk can satisfy your need for a bigger working space. The desktop measures 60 x 24. And even with two monitors, it's still quite roomy for several more office supplies.
One of the advantages of this product is that it's quite stable. It features telescoping legs with easy leveling feet. The legs and frame are manufactured with sturdy stainless steel. They're anchored safely to the ground. So there's no wobbling. Hence, your computers will stay on the table where they belong.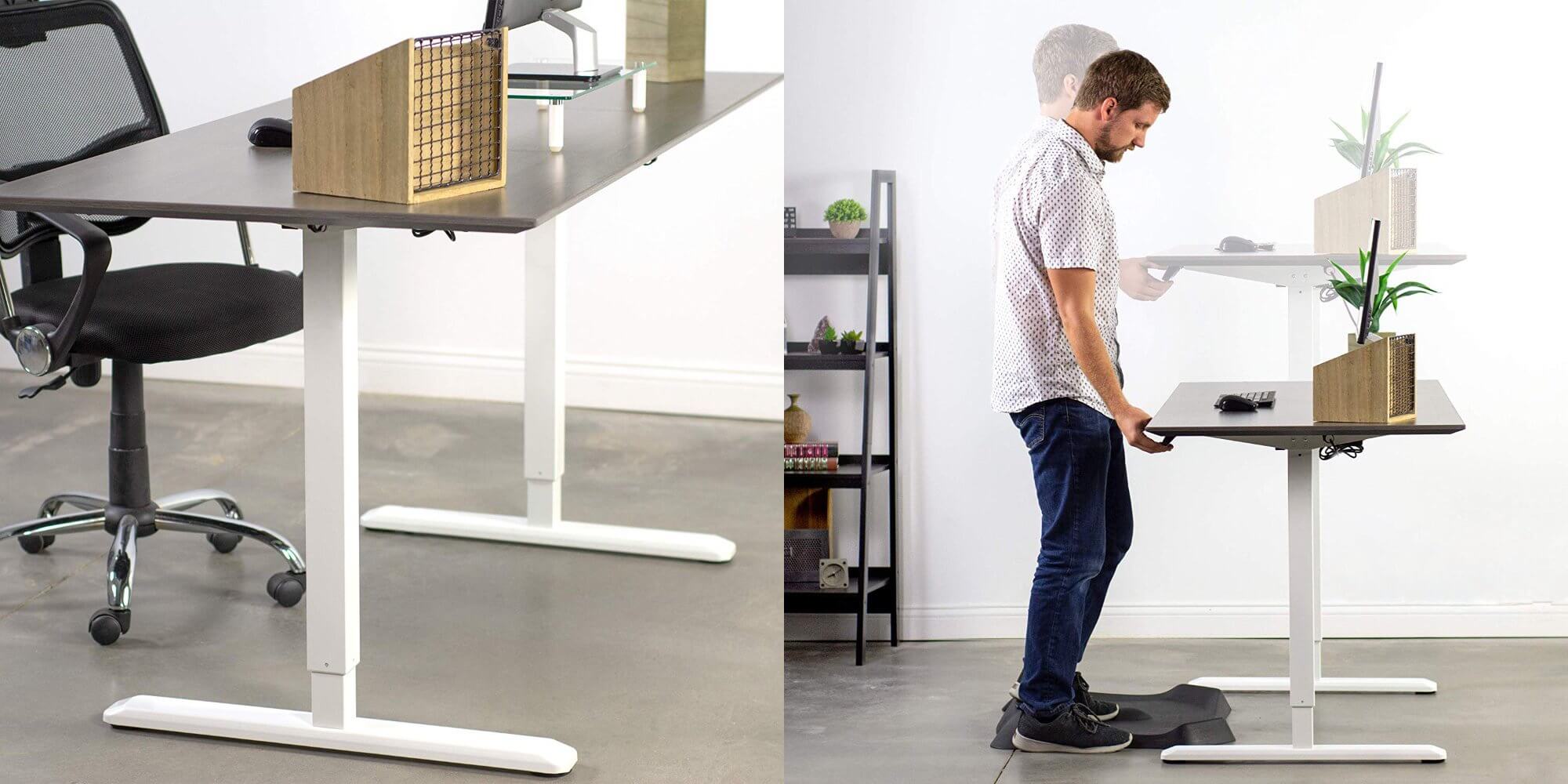 Also, it features ultra-responsive touch control panels for the height adjustment. You can change the table height with the up and down button conveniently located on the right side of the desk. Height adjustment levels are 28" to 47.6 inches. You may also save your preferred table height with the memory presets. 
And you'll love how quiet it operates. The smooth electric lift adjusts the table height without making any noise. 
In conclusion, it's a standing desk that's great for multi-monitor setups. You even have more room to place your office supplies and knick-knacks. Just don't go beyond the 176 lbs weight capacity.
Pros
Water-resistant desktop

Telescoping legs with leveling feet

Wide working area

Almost silent electric motor

Sturdy
Cons
The parts are quite heavy

Challenging to install
Where to buy:
Ergolux Single Motor Standing Desk
Ergolux single motor standing desk can give other dual motorized desks a run for their money. It's built with a premium motor that operates flawlessly. Hence, it's heavy duty. And this product can support weight up to 154 lbs.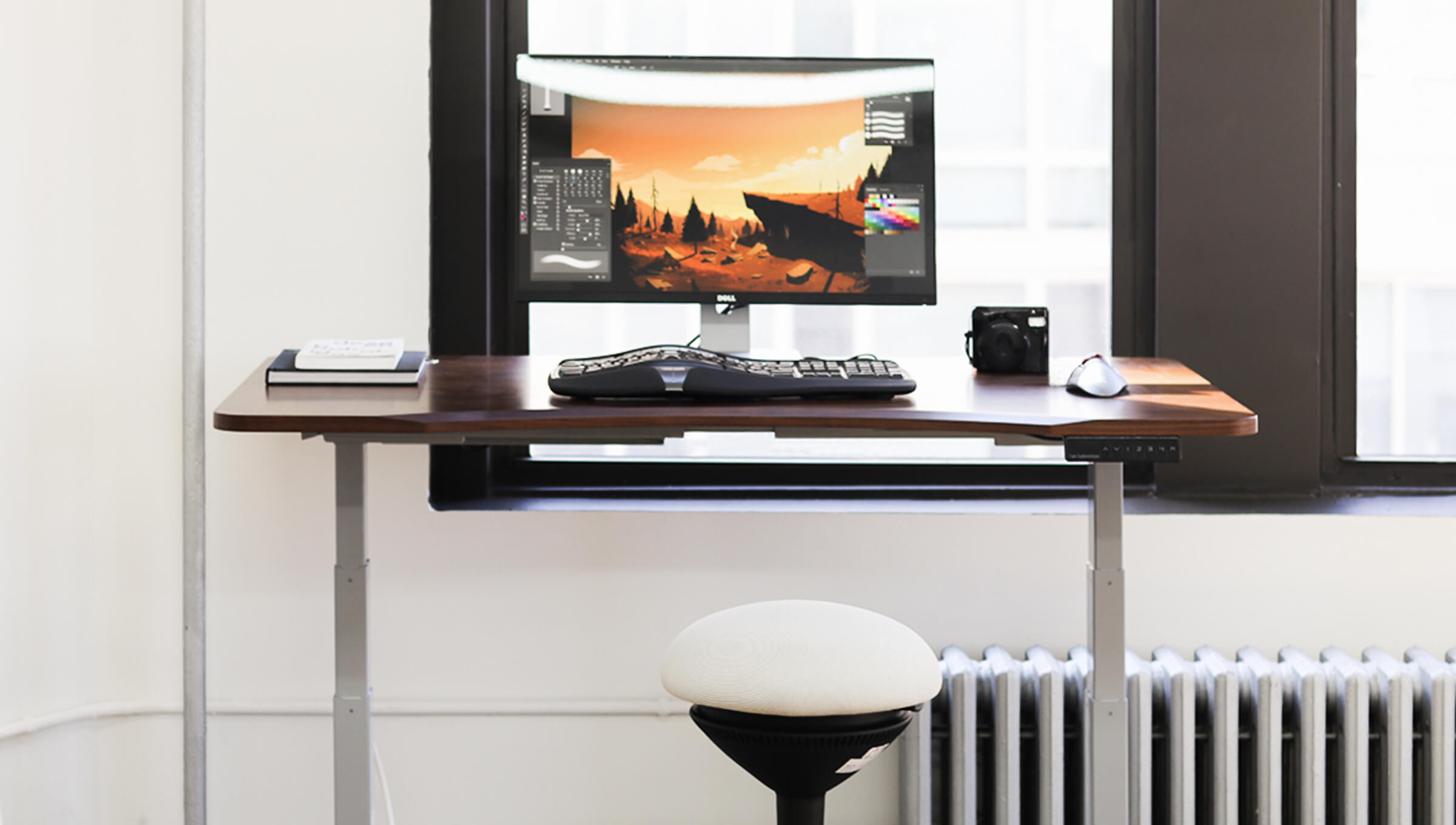 Furthermore, this product is quite stable. You won't hear any cranking sound of the motor as it adjusts. 
Also, the frame and legs are made from solid stainless steel. This further ensures the durability of the product. 
And with a wide working space ( 140x 70 inches), you can conveniently work on your deadlines. On top of it, the motor is also hidden from your view. It has a cable management system that ensures the chords are decently tucked away from your sight. Now, it's more comfortable to work on your deadlines and projects without anything getting in the way.
One of the most convenient features of this product is its programmable control panel with memory. You can pre-set your preferred able height by pressing the letter M. Then select the number that corresponds to the table height.
Also, it looks chic and simple. And It has a  simple and clean design with black or white finishing. This product can make your home office look more professional.
In conclusion, this product is heavy-duty. And in terms of stability, it could even be at par with some of the dual motorized standing desks in the market today
Pros
Heavy-duty

Stable

Chic and simple design

Has a cable management system

Responsive control panel
Cons
This product is a unique take from your regular standing desk. It boasts of a utility drawer in cherry finishing. It lends a charming vintage vibe to the desk, as well as offer additional benefits.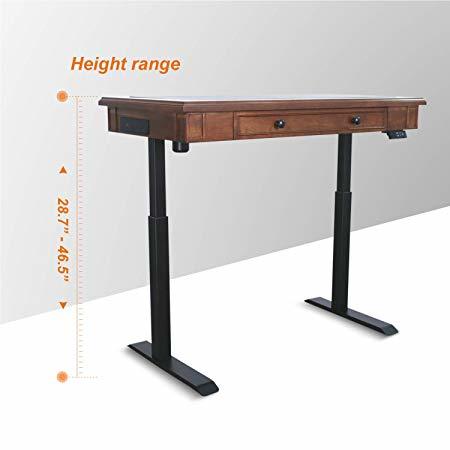 One of the biggest advantages is that you have additional storage space for your office supplies. You can't find that feature often in the competition. 
Another advantage is that it has an overload protection feature. The table automatically stops once it has reached its weight limit. Therefore, it protects both the table and your computers and office supplies. So your investments stay on the table.
Furthermore, this product gives you more chances to be organized. It has 3 AC and 4 USB ports. And these are well placed in the tabletop. So you don't have to worry about your tangled cords getting in the way. Everything is neatly placed and organized.
Also, the one-touch programmable button allows you to preset your desk to your desired height ( from 28.7 to 45.6 inches). You can pre-set it up to 2 varying heights. And you just need to push and release the button and it will automatically adjust, 
Another great feature is the product's container stop system. This allows you to change your preset height requirements anytime. 
All in all, this product is for those who want a stylish and functional desk at the same time. This vintage-inspired standing desk can be an accent in your home office too. 
Pros
Stylish and functional

Overload protection feature

Vintage look

Has a drawer for additional storage space

Complete with AC and USB ports
Cons
Where to buy
Best Standing Desk Converter with Dual Monitors
Standing desk converters are the best alternative to the more expensive standing desks. Also called as toppers, these portable desks offer more flexibility. If you're just transitioning to a standing working position, a standing desk converter is an ideal choice. You just place it on top of your desk so you can still make use of that old desk that you love.
Furthermore, these converters are compact. So it's ideal even for small rooms with tight spaces. More so, if you need to use two monitors. Standing desks with dual monitors give you the needed working space with a lesser footprint. And desk converters are easier to set up too. Some brands are delivered fully assembled already.
We're going to round up 5 of the best standing desk converters with dual monitors. You'll surely find one that'll make your work more comfortable.
This SIMBR standing desk converter is built for the big league but with a lower price point. This product is spacious enough for a complete computer set up. Along with two monitors, it can also accommodate a laptop and other office supplies. And yet there is still plenty of room for some more.
Even the desk space is still roomy. Everything about this product is spacious. And the keyboard shelf is no exception. Thus, this offers a more comfortable working space. Especially if you have tons of office stuff. You may also opt to remove the keyboard shelf if you're not going to use it.
Another great feature of this product is the beveled edges. Both the upper and lower shelf have curved edges. It has an ergonomic design too. Thus, it offers a great angle and position for your arms.
Furthermore, it's quite stable and won't slip off your desk. The frames are built from stainless steel. And they are equipped with leg protectors, making them slip-resistant.
Also, this adjustable standing desk converter can accommodate taller people up to 6'2 feet in height. And it's quite easy to change the desk height. You just need to squeeze the lever located on the right side of the desk. Then lift or push it down to reach your desired height.
It makes use of a dual gas spring force. Hence it's safe and easy to adjust the height of the table
In conclusion, SIMBR standing desk converter can give you a spacious work area. And it's ergonomically designed too. So you can expect maximum comfort. Furthermore, it also has one of the most competitive prices in the market today.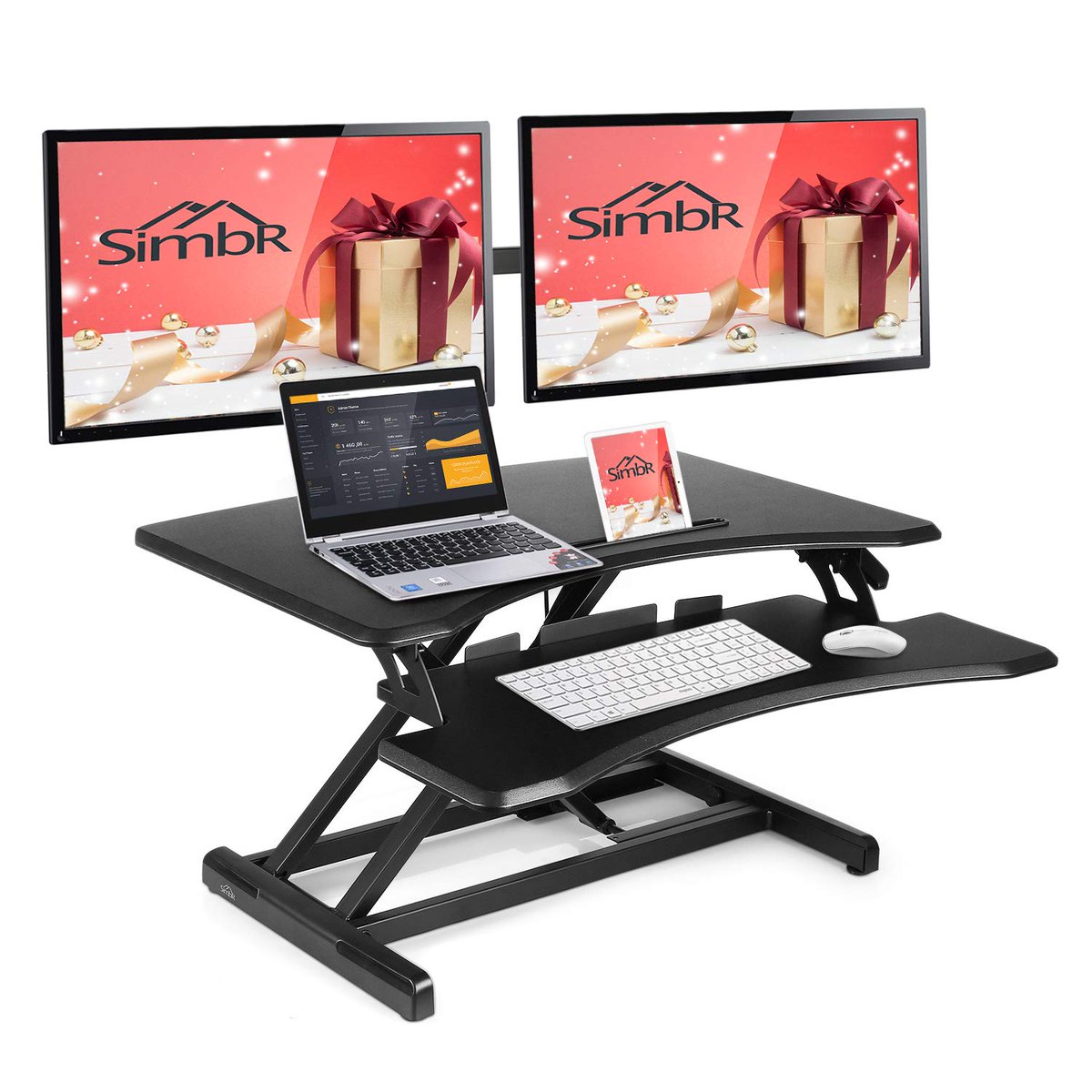 Pros
Ergonomically designed
Has adhesive strips for wire management
Spacious shelves
Removable keyboard tray
Excellent layout
Cons
Not that comfortable to use when seated
Where to buy
Greatest option: https://www.amazon.com/SIMBR-Adjustable-Converter-Sit-Stand-Workstation/dp/B07ZQ9FKM1
This dual-monitor converter may have the most ergonomic features on our list. It also offers customizable options so that you can work with the utmost comfort.
To start with, it features an adjustable keyboard. So you can conveniently change the angle of the keyboard to conform to your preference. This is also called the sloping keyboard. And it's a nice treat for your hands and wrists.
Another great feature is the unlimited height adjustment. With its maximum height of 20.5 inches, it has the most variable height settings. And it's quite easy to adjust too.
And finally, it has a grommet hole where you can easily screw on an additional monitor arm. Thereby, maximizing your working space.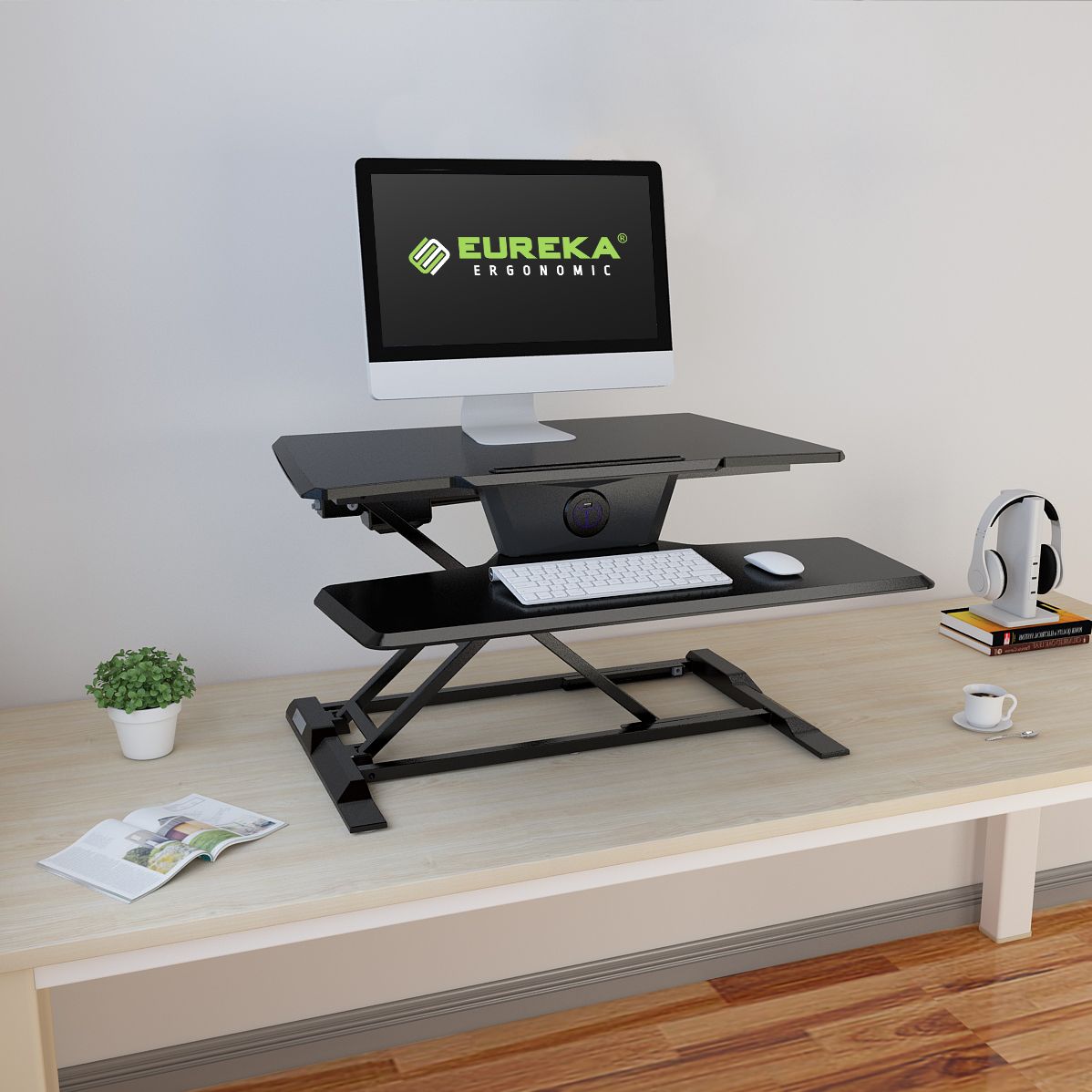 Also, it has a decent weight capacity of 35 lbs. And it doesn't wobble and is quite stable too.
All in all, this product can be an upgrade from your old standing desk converter. If you're willing to pay a few more bucks for the added features, this will serve you well. But the added costs are all worth the extra convenience that you can get.
And it would look chic in your home office with its compact and slim profile. All thanks to its hidden spring design.
Pros
Compact and low profile design
Ergonomic design
Customizable
Cons
Where to buy
This standing desk converter is perfect for those who dislike DIYs. it comes in fully assembled so you don't have to install or set it up.
It also has features that you'll surely find very convenient.
Firstly, it boasts of a sliding keypad tray. What sets it apart is that you can veer it a little bit further away from the monitor. This could save you from eye strains.
Secondly, it's easy to adjust the height of the desk. All you have to do is squeeze the two levers on each side and pull it up. And it offers 5 variable height settings ( 6.5-16.5 inches)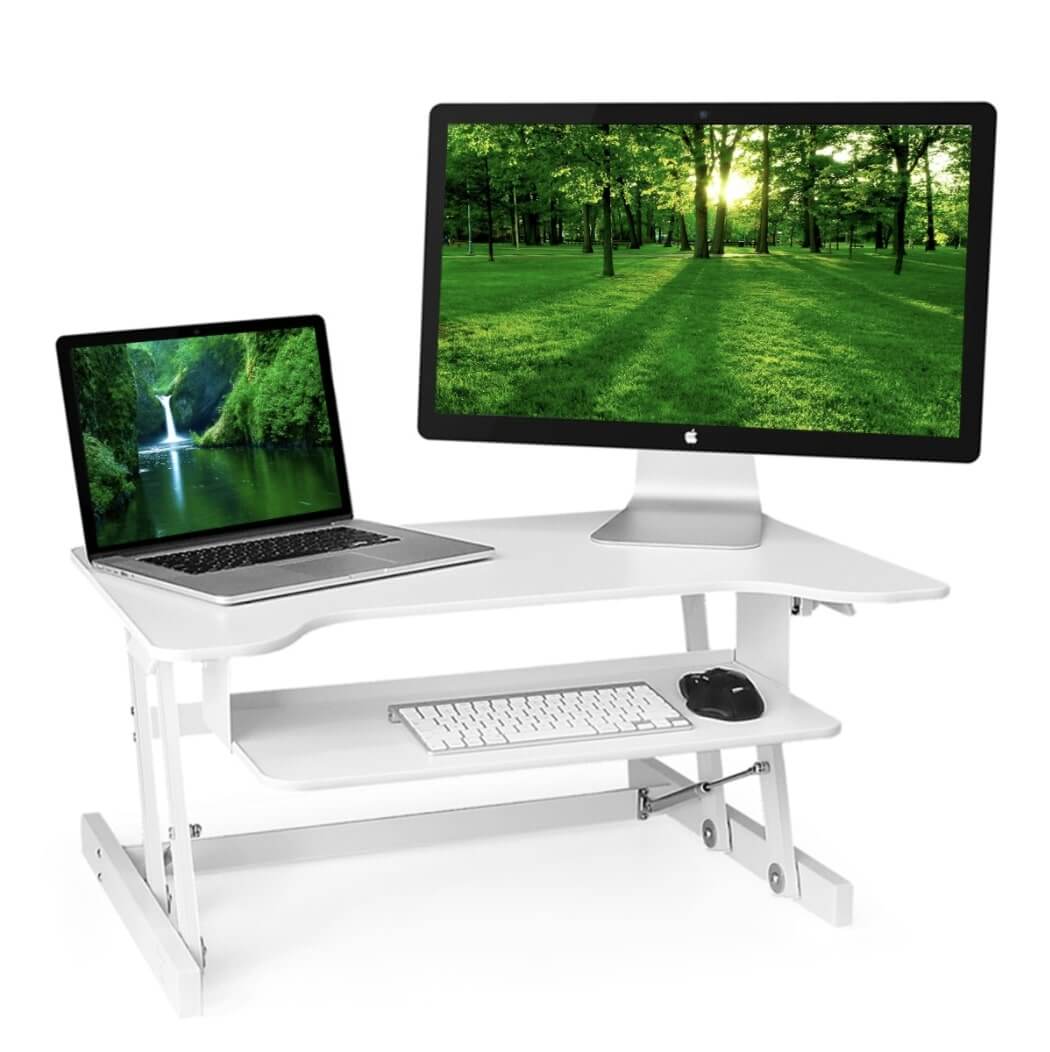 In addition, this standing desk converter is also comfortable to work on when seated. Hence, it offers a smooth transition from sit to stand.
And lastly, this product is quite durable. It has a weight capacity of 50 lbs. And the frames are made of stainless steel with a polished finishing. You can even learn a bit of your weight and everything will still be on the table.
In a nutshell, it's a convenient standing desk converter that comes in fully assembled. It's perfect for those who do not have the patience or the basic DIY skills.
Pros
Versatile
Sliding keyboard shelf
No need for installation
Sturdy
Cons
The keyboard shelf is quite small
A bit heavy
Where to buy
Greatest option: https://www.amazon.com/Standing-House-Trade-Adjustable-Retractable/dp/B019GTZ5ZA/
This product is one of the most stable standing desk converters on our recommendation. It seamlessly transitions from sit to stand position without any wobbling. Even with numerous adjustments, this product still maintains its integrity. It can last up to 6000 adjustments without fail.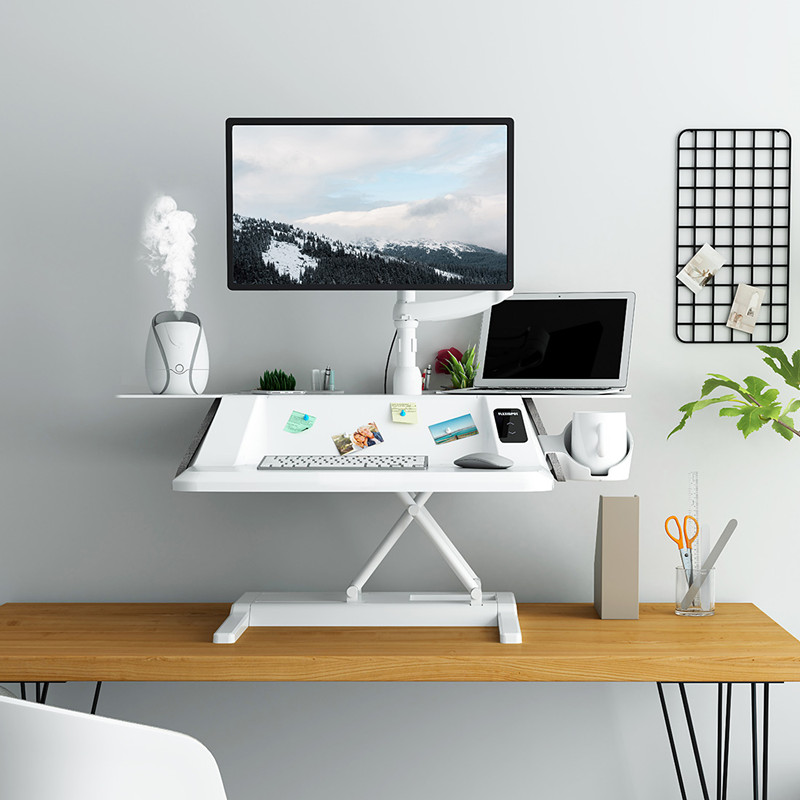 One of the biggest advantages is the design of its keyboard tray. This removable keyboard tray is durable. Hence, even if it's set at any height, it remains still and stable. You won't experience any shaking when you're using the keyboard.
And unlike other brands that tend to shackle when setting at the highest level, this keyboard tray won't. In fact, it still maintains a stable and even typing surface. Plus, the keyboard tray is quite roomy too. You can even place your cup of coffee beside your keyboard and still have a lot of extra space.
Furthermore, the Flexispot M2W features 12 variable height settings. So it's easy to find a height that works for you well. But do take note that the desk tilts a bit forward. So it's best for spaces with a bit more room.
Also, it entails a gas spring system. This Makes transitioning smooth and easy.
Overall, this product is one of the most stable standing converters in the market today. It can support weight up to 35 lbs. But expect no wobbling or bouncing at any point.
Pros
Quite stable
Variable table height adjustment
Very easy transition from sit to stand
Easy to assemble
Compatible with most ergonomic monitor stands
Cons
Not recommended for tight spaces
The desk for the monitor is quite small
Where to buy
Greatest option: https://www.amazon.com/FlexiSpot-M2W-Standing-Desk-Riser/dp/B01HPE05B2
Measuring at 48 inches, this standing desk converter offers a larger workspace. The top shelf offers a lot of working space. And even with two monitors, it can still accommodate more office supplies.
And the keyboard shelf is quite roomy too. It also has a unique U-shape design. And this opens up more space for you to access your keyboard. Hence, it would make you feel that you're working on a real desk instead of a converter.
Another advantage of the product is that it makes use of a low gas spring to change for easy lifting. This type of lift system is quite easy to use. And you can choose from 12 variable height settings. And it doesn't tilt back nor forward when you adjust it. It holds its own position, thereby maintaining a smaller footprint.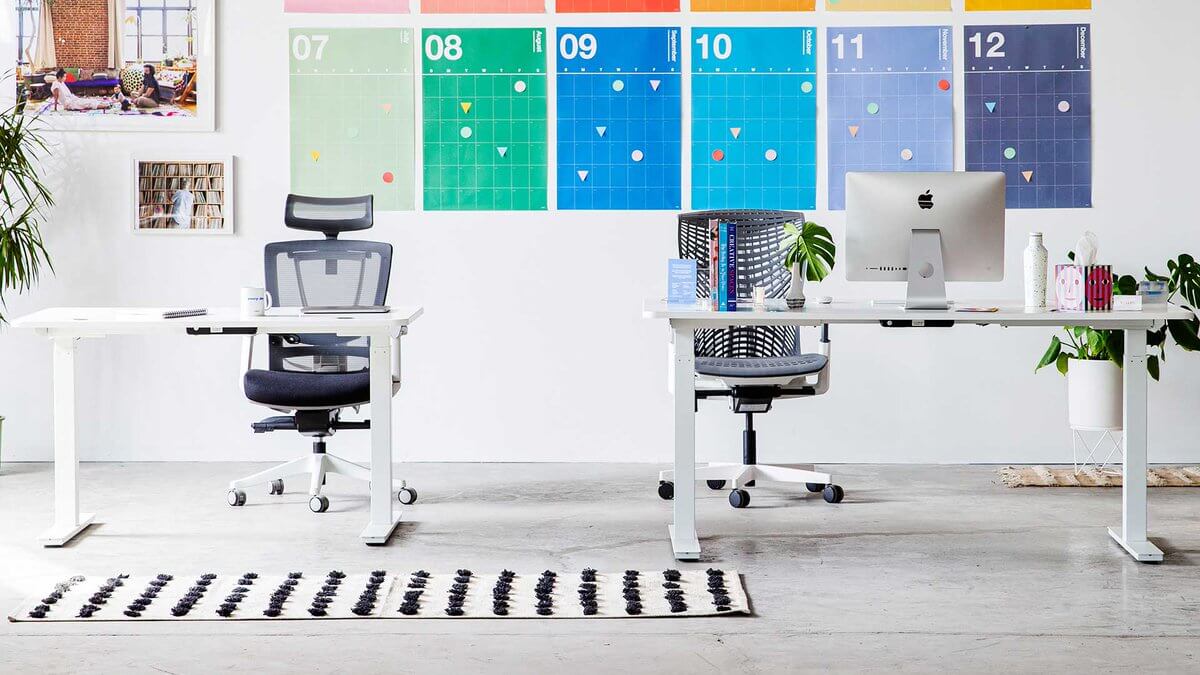 And you can get pretty organized too. It features USB ports for your convenience. You can also charge your phones via the ports.
You'll also love how solid it looks and feels. With a weight capacity of 45 lbs, you have more allowance for additional office supplies.
In addition, it comes in fully assembled already. So all you have to do is unwrap it and it's ready to use. It saves you time as well, especially if you're not Mr. Handyman. Not everyone has basic DIY skills nor the patience for it.
All in all, it's a spacious standing desk converter that's perfect for tight spaces. And you'd be happy to hear that it operates quite silently too.
Pros
Offers a larger working space
Operates silently
Ideal for tight spaces
Has USB ports
Comes in fully assembled
Cons
Where to buy
Conclusion
Well, that's it. Hope you guys love the list we have made. We will update the list as soon as possible. Some brands they may have updated on the desks like create a new one, or remove the old one, etc. We will make sure when you want to buy a great standing desk, it is always available on the market.