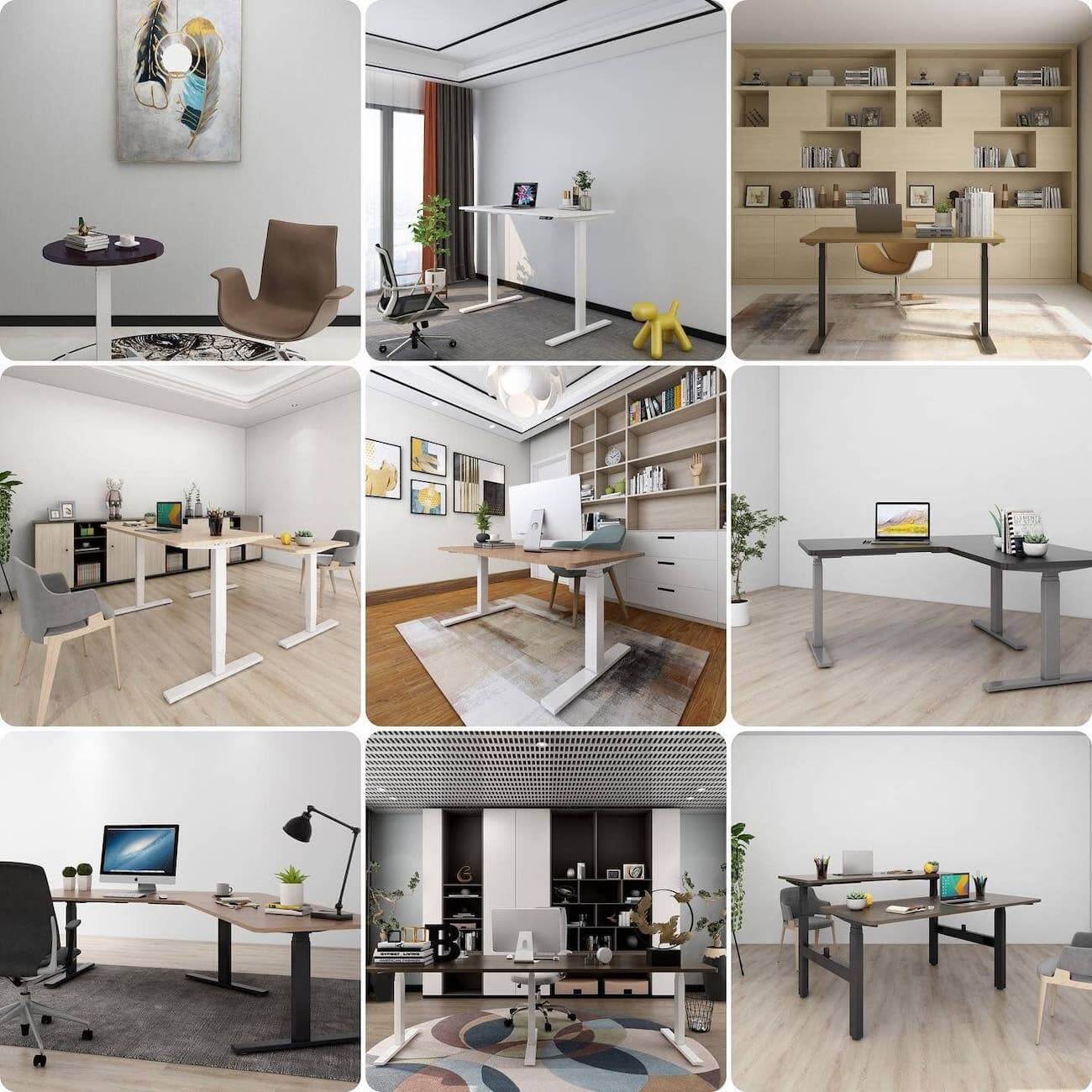 Here are our expert recommendations for all the best versions of standing desks. You could save 30-40% for some options during this Black Friday Nov 2023!!!
A standing desk, also known as a stand-up desk, is a desk that allows you to work while standing up. They are becoming more and more popular due to the numerous health benefits they offer, making them a must-have for gamers, freelancers, and anyone working from home.
Remember, an ergonomic chair alone cannot save your back, no matter how many times you try. However, the combination of a sit-to-stand desk and a comfortable office chair is a lifesaver for individuals who spend more than 10 hours sitting every day.
The problem is how to find the best standing desk for your home office when you are a newbie in this field. If you feel the same, don't worry. We are here to help you find your ideal one. (And if you care about buying a great chair, here is the list of best computer office chairs for working/gaming for very long hours)
On the market at the moment, there are more than 230+ brands (we are not wrong) starting with the brand name "standing desk". Some are kept in basic motions there are standing desks that are manually adjusted. And lastly, some brands allow you to use your old desk along with a standing desk converter. And these desks would serve you well in your home office too.
To make things clearer for you, who want to buy an ideal standing desk, we made the lists include a lot of desks we have tested so far (at the moment, we lab tested 198 stand-up desks, and we have 28 processing this month).
Now let's start with the list of the best standing desks in the market at the moment!
Budget first, as always!
Best Standing Desks under $500
The $500 budget means you can't buy the most expensive desk out there, of course, the high-end products always are, but that doesn't mean every time you take a look into an electric standing desk, it always has to be Uplift V2, Vari, Jarvis or Progressive, or other premium brands!
Indeed you can get more options than you think! And to not waste a single penny, best to get the one that can meet all of your requirements.  It's time for unfamous brands to come out from the shadow!
Standing Desk

Model

Height range
Weight
capacity
Available Size
for price <$500
22.8″ – 48.4″ (T-frame)
23.6″ – 49.2″ (C-frame)
355 lbs
48×24″, 55×28″
48×30″, 60×24″ Fiberboard
24.4" – 50"
220 – 287 lbs
48×24″
48×30″
60×24″ (Whole-piece)
27.9″ – 46.5″
220 lbs
48×24″
55×24″
29.5" – 49.6"
176 lbs
63×32″
60×24″
55×24″
47×24″
48×30″
30"- 47.7"
130 lbs
47×24″
27"-47"
150 lbs
48×24″
29.53″- 49.31″ (for 48×24″)
29.92″- 48.43″ (for 65×30″)
220 – 260 lbs
48×24″
65×30″
Flexispot E7 Pro Plus
Our experts are excited to introduce you to the rising star in the field – the E7. Gamers, officers, and freelancers are happier putting this desk in their home office
If you are worried about the wobble, the Flexispot E7 Pro Plus has a superior load capacity of 355 lbs. This capacity is higher than most flagship standing desks on the market, including popular brands like Fezibo, Apexdesk, Vari, VIVO, and SHW. Only a few brands can compare, such as the Deskhaus Apex Pro, Fully Jarvis, and Uplift V2, but these models are much more expensive than the E7.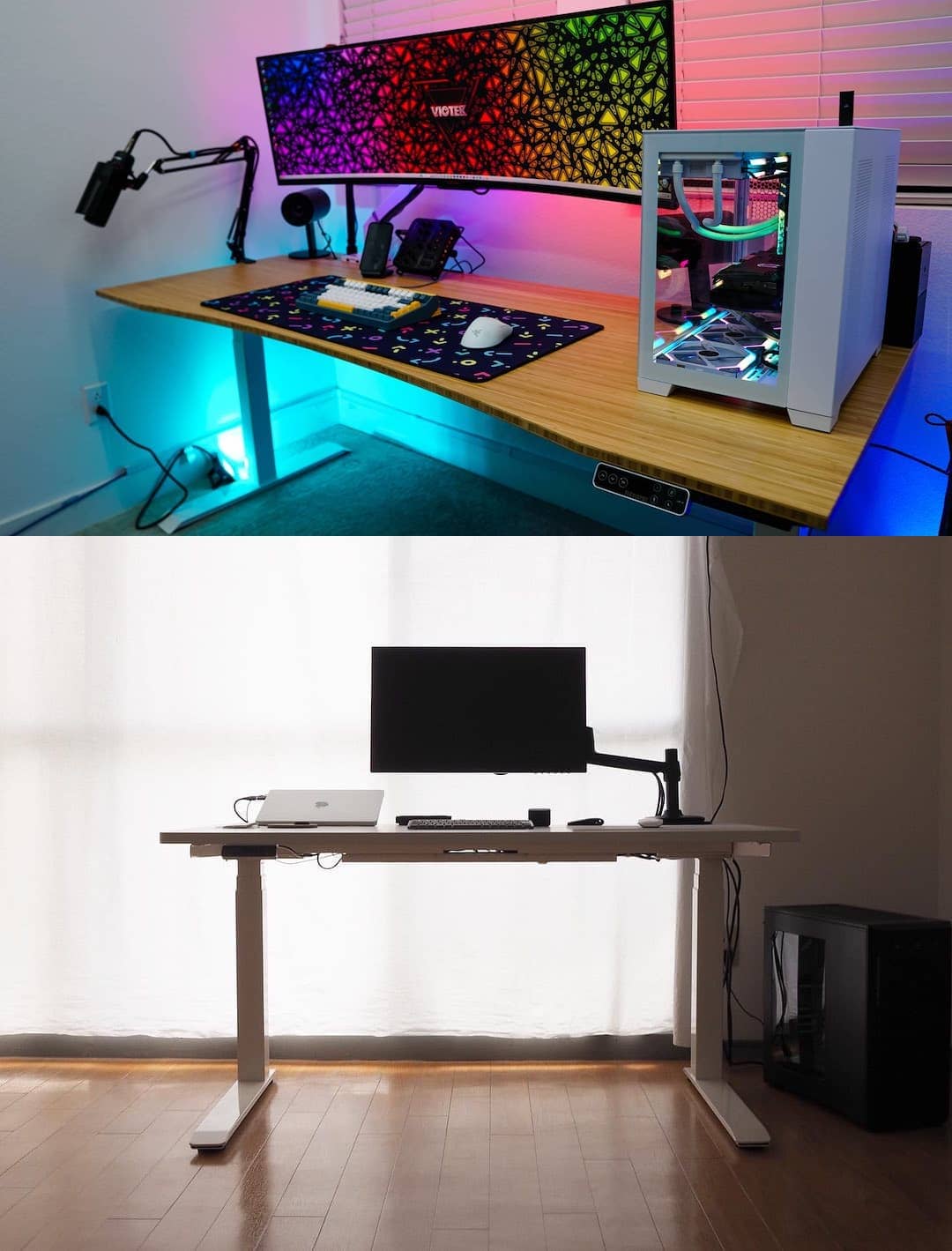 The E7 also offers three options of frames, catering to a wide range of users' needs. The T-frame option is perfect for people under 5′, while the high-frame option is designed for people over 6'5″. These frames' adjustability makes the E7 one of the most versatile standing desks on the market,
Unlike some cheaper options like VIVO or Vari, the Flexispot E7 Pro Plus offers a variety of desktop sizes from the small 48×24″ to the biggest 80×30″. Whether you are a freelancer who needs a compact desk for small spaces or a gamer who needs a large table to accommodate multiple monitors, the E7 is still one of the ideal options.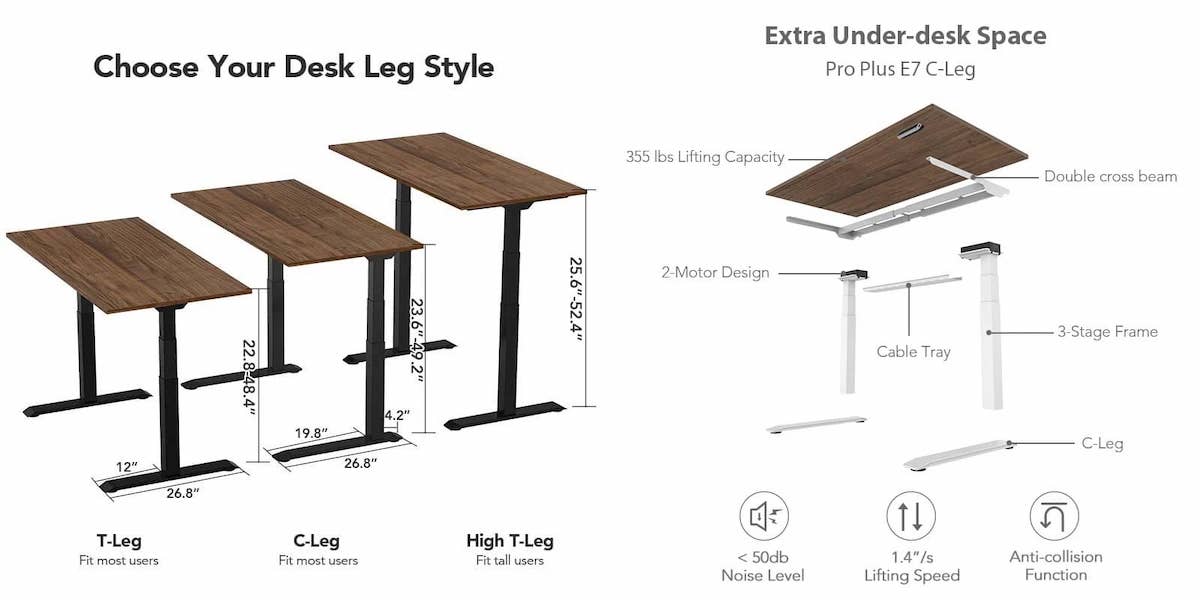 With a 15-year warranty, the brand is a testament to its quality and durability. Unlike some SHW, VIVO, or Vari, these brands offer only a 1-5 year warranty, the E7's long-term warranty provides users with peace of mind, knowing that they are investing in a high quality product and they are confident enough to put you as a customer for a long-term business
The downside, Flexispot E7 has a limited version of the T-frame (22.8-48.4″) for short guys, only Fiberboard top comes with it! If you love bamboo, chipboard, or solid wood materials, then you have to switch to the C-frame or Oval 3 stage frame, which has a higher height adjustment range (23.6-49.2″). And unhappy with these frames, you have to pay more for them!!!
Where to buy the E7
If you are not happy with the E7, here is a runner-up for compact spaces on the same brand
Flexispot Pro E5 – Easy to customize overall
Working from home entails limitations. Some of these can easily be addressed if you are in a corporate setting and have an additional surface to work on. But for most people with a basic setup and a small room, don't just buy a large standing desk (60×30″ tabletop or bigger) unless you have more than 2 PCs, 3 screens, 27″ monitors, and above 2 laptops!
Freelancer folks don't really need a bigger, stronger desk. It's just unnecessary for them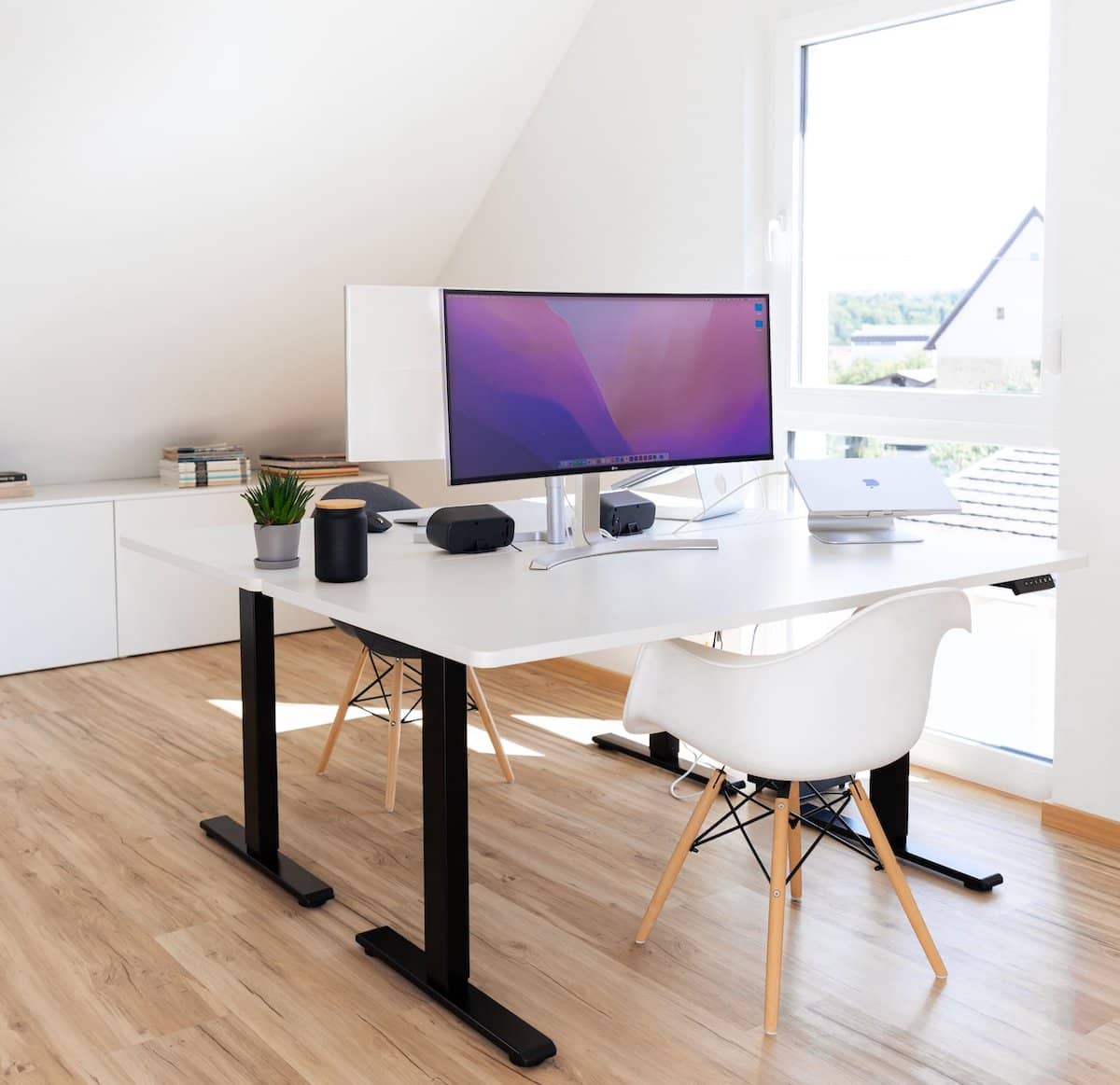 That's why we name the E5 from Flexispot for the runner-up standing desk within the budget of 500 bucks! 
The E5 48×24″ is a sturdy desktop with strong robust frames. Though it does not look fancy, the basic Jane vibe can do well for those looking for a stable and sturdy desk to work on.
The desk can go as high as 50" so it can pretty much accommodate taller folks. So even with a plain Jane look, this will work still, especially if you need to use the desk in the highest setting.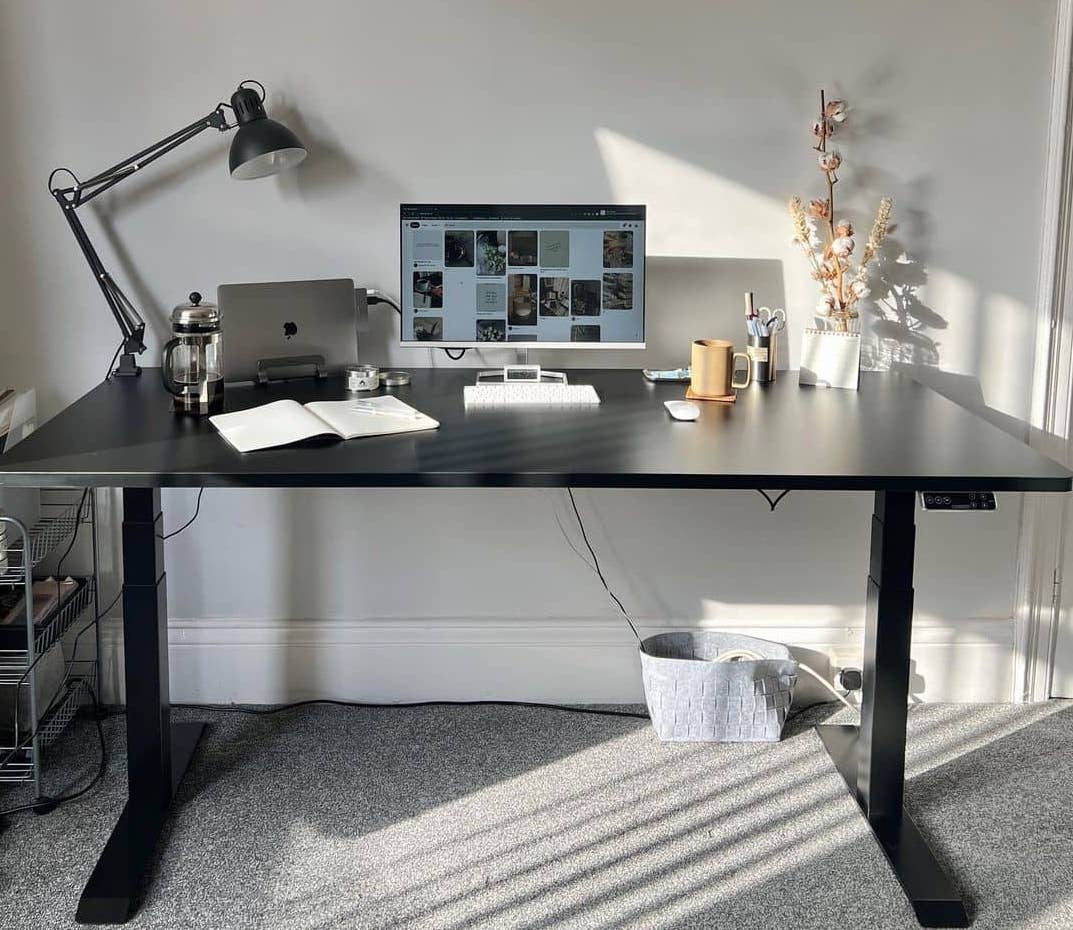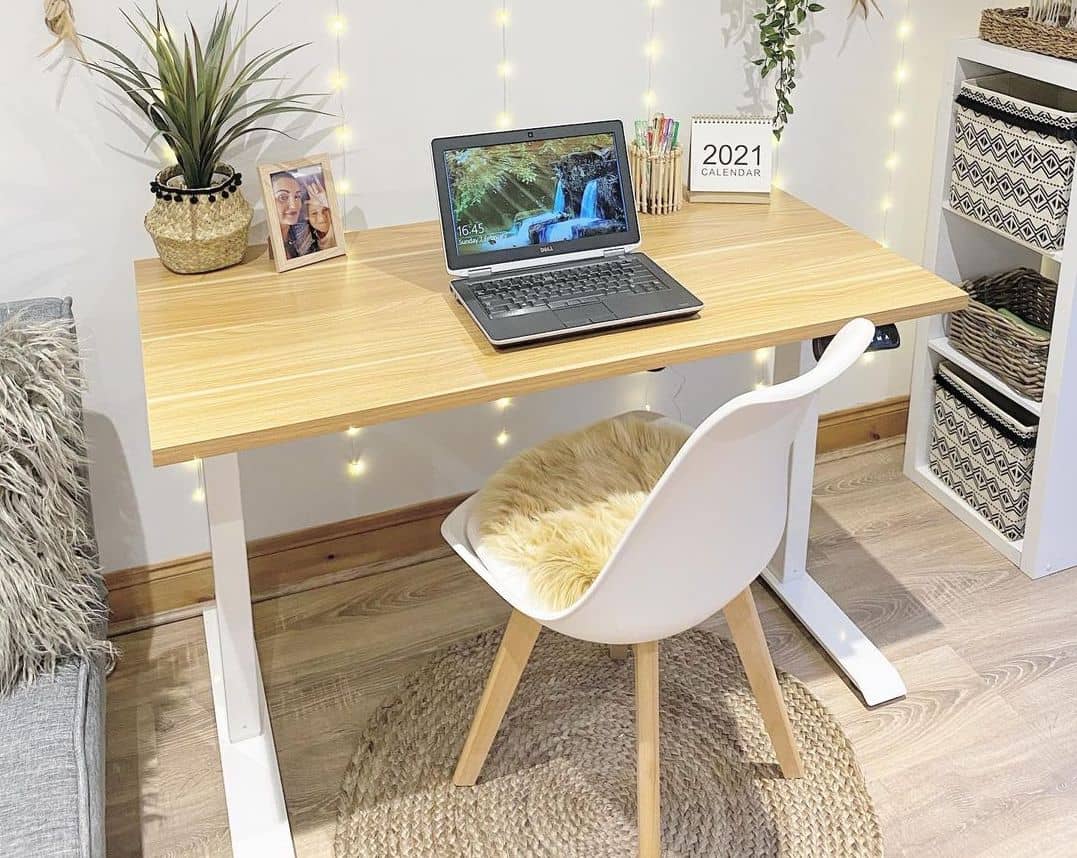 Another advantage of the E5 is the width adjustable frames. It can accommodate tops from 47.2″ to 78.7″. So it can give more room for changes in the future with the option to get a larger desk. You may also choose to get a different top from other brands since Flexispot desktops are not really the prettiest.
Thus, it's highly customizable and you can opt to add more features to your purchase. And given that E5 also offers several desk sizes, you can also get one with a pretty large working area with the 78 x 30″ desk but you have to pay more for that option.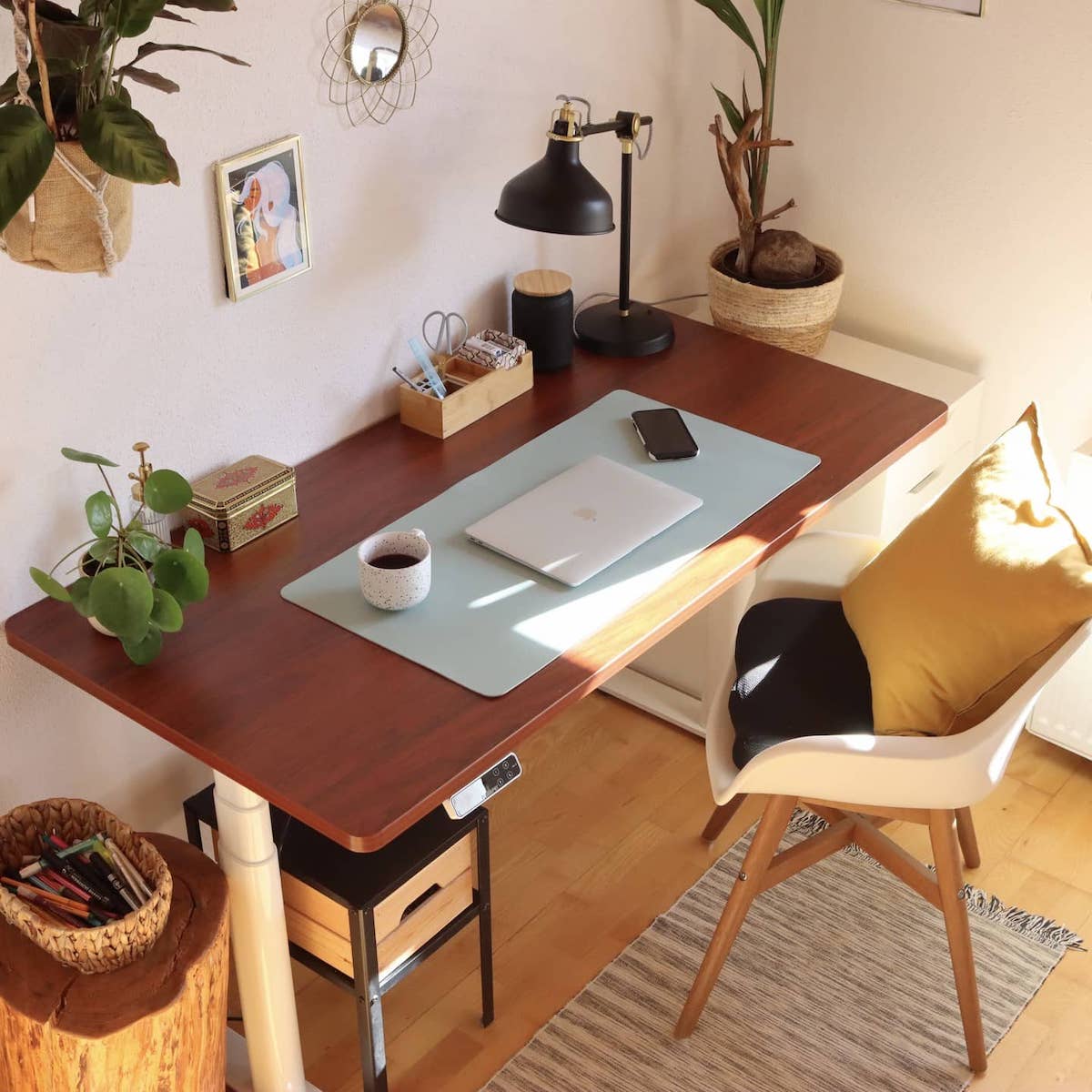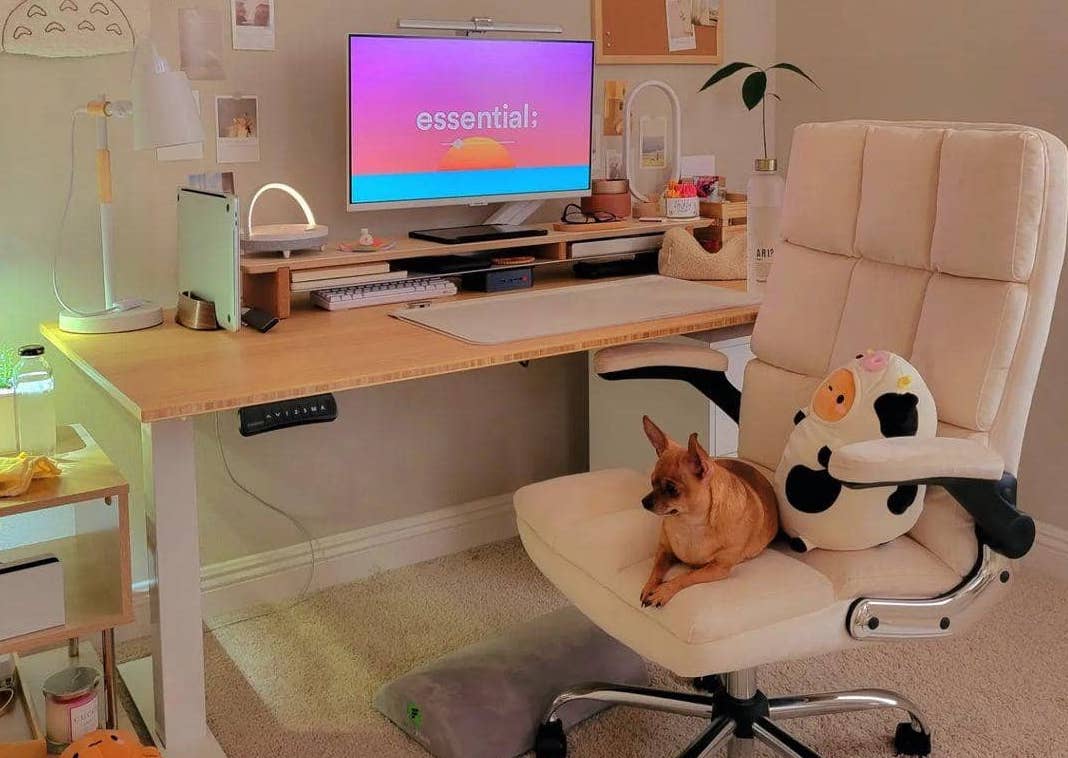 For $500: options to buy
Comparison: 
We chose this gaming desk 48×24″ from Eureka because it looks and performs more expensive than it really is. And it's one of the few standing desks that has a rather unique and different look. It's technically a gaming desktop, but it doesn't look too racy and can also blend in well in a work environment.
It can perhaps be the most durable desk of its kind. We are pretty confident that it even excels better in terms of durability. It can even be a bit at par with the more expensive Apex Elite desk in terms of stability and durability.
This standing desk can also last for years. In terms of stability, we also give it two thumbs up. One of the reasons why it's pretty stable boils down to the engineering of the product. 
The brand was able to integrate robust engineering despite the affordable tag. The bolts and the screws are perfectly connected. And it doesn't loosen over time so you don't need to tighten the legs or the connection every few months or so. Some standing desks of this range may need that.
One of the reasons for the affordable price is that they do not outsource any parts or components they use on their desks. Eureka is made in-house. Hence, there are no ridiculous additional costs of transport handed down to the consumers. That can really take up a chunk of the cost This locally made standing desk can stand against imported ones.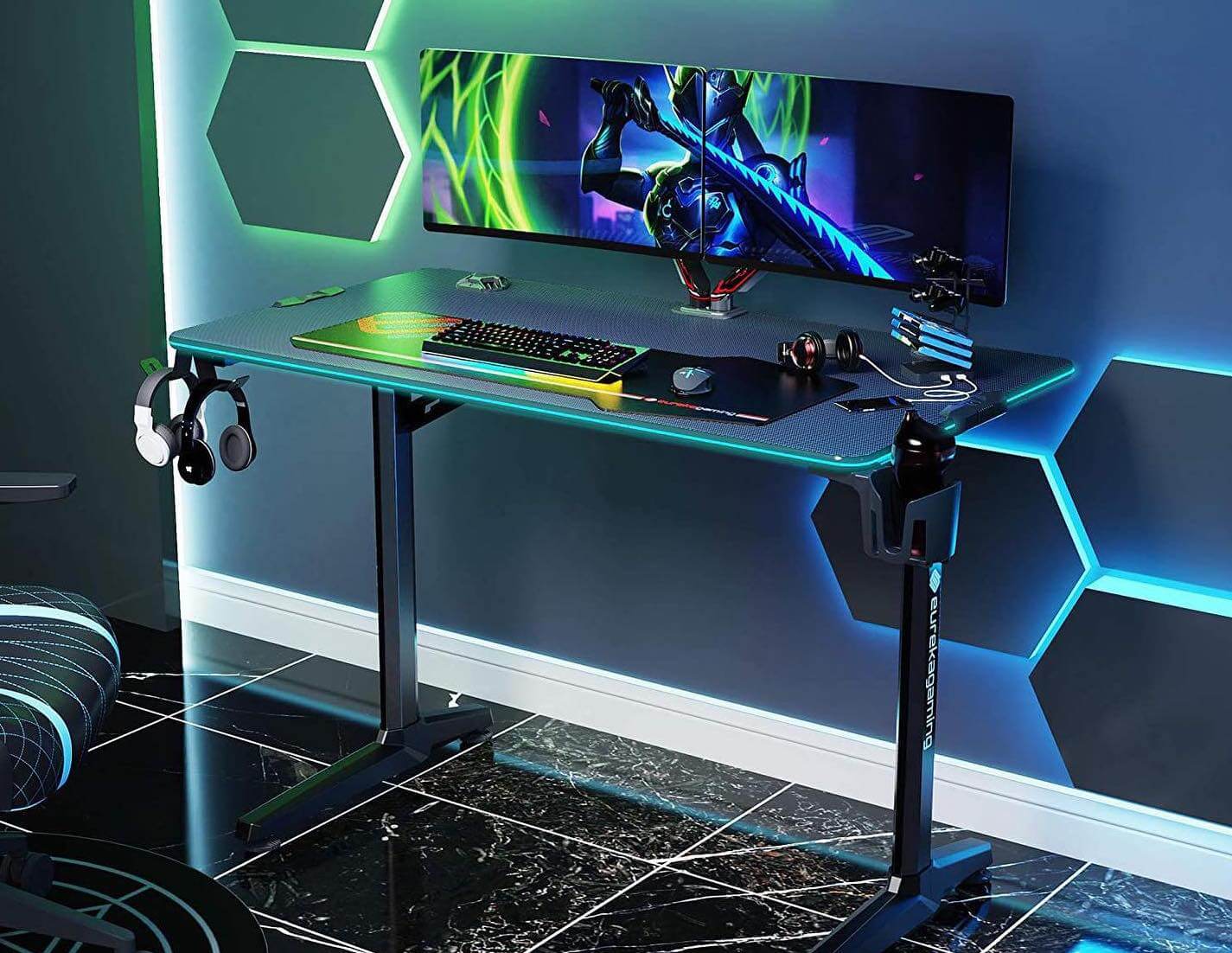 Eureka Ergonomic does not have bells and a whistle. It's a basic gaming desk, but a rather smart one. It may be hard to put these things into context at first, so we'll elaborate on it a bit more. 
So if we're going to compare it to other gaming desks of its kind, it can fare behind in terms of the sophisticated technology most gaming desktops have. 
And that's also one of the reasons why it really works as a desk for work. But there is one gaming desk feature that we love. It has an overheat protection that prevents the motor from being all worked up. So if you tend to do a lot of height adjustments on your working desk, you will find this feature rather useful. 
This standing desk does have its limitations. It's only available in a single 48×24″ size so there's no way for gamer users to find a comfortable spot with a bigger size. Actually, you can buy the 65×30″ of the Eureka Ergonomic but the height adjustment range is only 29.92″-48.43″, not suitable for short guys under 5′ or taller one above 6'9″!
Overall, The Eureka Ergonomic 48×24″ is very stable and durable. It also has a lot of good user reviews online. And you can tell that no one regretted buying this gaming desk. We can't say the same with an IKEA Bekant despite its gorgeous Scandinavian style. 
So this standing desk might not be the number 1 if you're looking for the best gaming desktop. But for a working desktop, it sure can be one of the top reliable ones. 
VIVO – More options for large sizes of the tabletop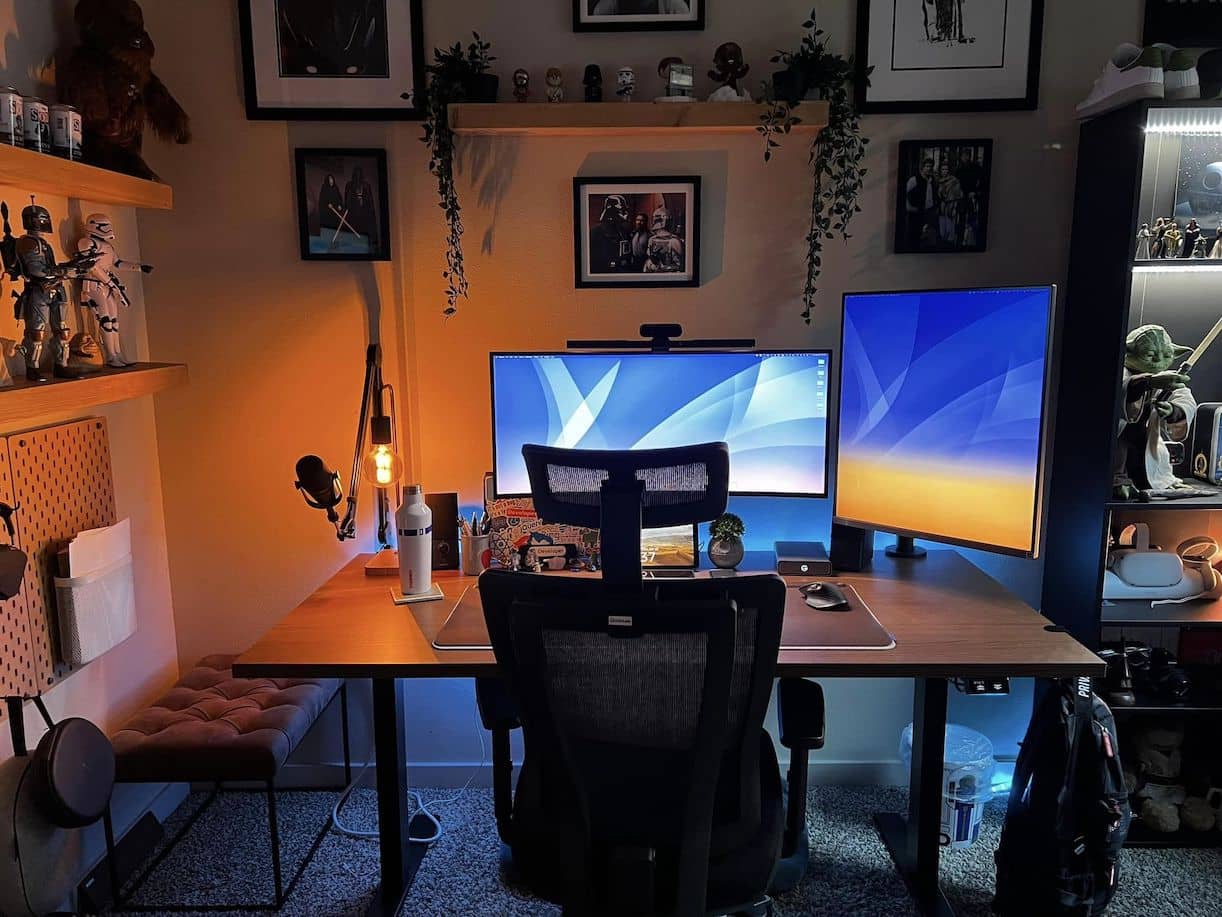 For $500, it's difficult for you to buy a standing desk with large tabletops, such as 60×30″ or bigger. But with VIVO, your dream of a cool home office setup will come true even if you need a big size like 63×32″
Taller dudes need a desk that can go higher, at least to 49". And there are a few units that can be used but those that stand 6 feet above. Though some offer the freedom to put additional components to make the desk stand taller, this will entail more cost. 
As such, this VIVO unit, though not the most sturdy of the bunch, is still a decent option.
It also has a spacious desk area of 63" x 32". But this particular unit comes in one size, so this will not fit into a cramped space.  
Those who don't mind spliced tops will also find this useful. The desktop comes in 3 parts, it feels much like setting up an IKEA desk, but it feels more durable. 
The top is not the most durable part of the desk and the 3 sectionings contributed to it. But there isn't really much choice as the desk is too big to fit into a single shipment. But the frames are beefier than the other parts of the desk.
As for the motor, the touch screen control panel is a sophisticated touch. The mechanism works quite well. But there is a small delay before the desk moves when you press a button. So this is also not one of the fastest-transitioning desks. 
Vari Essential – Best Basic No Fuss Desk
Unlike the Vari Pro is designed as a high-end option, this Essential version is created for people who love saving! Comes in a single size and maybe the sturdiest or the beefiest, but this desk is a simple, basic, and no-fuss unit perfect for work-for-home situations.
The control panel is easy to understand, and the setup is simple and intuitive. It is not complicated to assemble the unit. The legs are decently sturdy for the tag that it bears, it did not come short of expectations from use. And you will have a lovely option for the tops, you can even get a top with a nice faux butcher block top, so something a bit fancy for a cheap price. But keep in mind it's not solid wood but an MDF instead. Nevertheless, the laminate top does come off easily.
It is also the brand's cheaper desk so it can come short of what the other units of the brand offer. For instance, it lacks the cable management tray and you will not be able to place the control panel on the left so this is more for right-handed folks looking for a basic desk for WFH. 
Fezibo is a famous brand of frame. You can check this post to know why their frames are a great buy! On this list of the best standing desks under 500 bucks, we recommend their standing desk with the double drawer option, 55×24″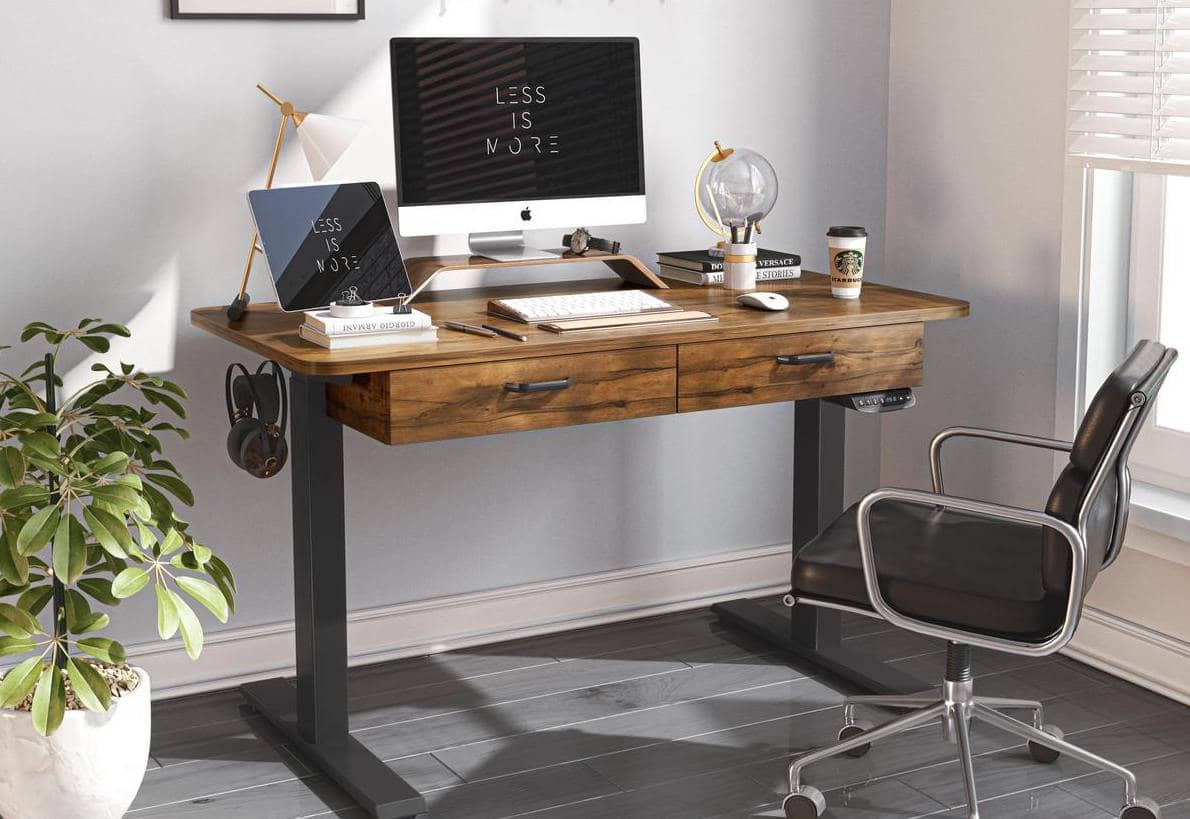 If you're anal about keeping your desk tidy and clean, you'll be happy with this standing desk. This Fezibo sit-stand desk features a double drawer. There are two closed storage found at each end and open storage at the center. So you can keep all your pens and pads neatly tucked in the drawer. There's no more excuse to lose them! Though the drawer is fabric and is not heavy-duty, it can still serve its purpose as basic storage.
Also, you can use the top of the drawer to place your monitor. So you might not need a monitor stand. The drawer elevates the monitor a few inches from the desk, so that's an additional function too.  
For the build and construction, this sit-stand desk has steel legs and frames. It feels sturdy and stable and it can support a weight of up to 150 kg. And oh, let us remind you that the box that we received was pretty heavy. So this sit-stand desk does have some heft to it, that's quite a good thing. 
And since it has caster wheels, even if it's hefty, it's still easy to move the desk from one room to another. The wood tabletop also seems pretty durable and has a bit of country charm to it. We also did not find any significant wobbles and it feels like it can hold itself up pretty well. Though at the max setting, you might notice a subtle back-to-front shaking. But if you're not keen, you will not realize it. 
The downside is, the assembly time took more than an hour. And you will need help in moving it because it's heavy unless you welcome the challenge.
Overall, this is a pretty durable and stable sit-stand desk that has a lot of functions. If you need a desk riser, this is a good alternative. The drawer acts like one. Not only does it free up space, but it also comes with additional storage space. 
AIRLIFT® Seville Classic Tempered Glass Standing Desk
Who says you can't get a sophisticated-looking standing desk for under 500 bucks? This tempered glass sit-stand desk from Seville looks ultra-posh, modern, and sleek. Also, this unit has a built-in drawer that can accommodate more of your stuff.
It doesn't only look modern, it also has modern features. You can access the controls via touch. Yes, you heard it right, it has a touch screen controller. It also has USB ports for added convenience. And the LED light display makes it easy for you to know at what height you're working.
So if you're looking for a more innovative sit-stand desk with modern functions, you will not be disappointed with this one.
The downside is that it can have a bit of heft to it. But it is pretty easy to assemble, you will need a helping hand in moving the desk from your front door to your home office. Also, as much as it looks posh and all, the glass top can be challenging to maintain. It needs regular wiping to maintain its shiny appearance. You have to scrub it most of the time so that it would not catch fingerprints. So if you're not a fan of high-maintenance desks, then this is something you have to consider. 
Also, the tabletop can be a bit thick. Since it has a built-in desk, it will be thicker than an ordinary standing desk. So you might not be able to put a microphone holder or a monitor stand with this unit. And since it's glass, it might shatter if you try to screw a hole in it.
Apex Lumi – Small size & special glass standing desk
Also great – compared to AIRLIFT® Seville Classic, the Apex Lumi is another glass desk with the same tabletop size 47×24″!
Our list with a special standing desk is probably one of the more aesthetically pleasing at the same time. The Lumi unit has a glass top that can make a small space look cleaner and a bit bigger. So if you have a cramped space, this is a 2-in-1 solution. The desk will not require much space. At the same time, the glass top may make the area look bigger than it is.
But of course, glass tops have cons, they can easily catch fingerprints. So you have to be on top of it 
Also, it has a USB port that makes the desks look more edgy and modern. It also has 5 programmable buttons with 3 customizable memory presets for multiple desired desk heights shown on the LCD screen. Couple it with the glass top and this makes the desk look like an upgraded version of your old standing desk. Also, the controller is embedded in the glass desktop and is touch sensitive. 
The max desk height is 47". So this is also ideal for a slightly taller dude. But it's not for petite people as it can only go as low as 30". The weight capacity of this Lumi also is a con because it's only 130 lbs, the smallest on the list. It's easy to understand because of the glass top! If you love a special appearance, you have to give up a few things on the table, right?
Best Standing Desks Under $1000
The only downside is that standing desks may eat a chunk of your budget. Our buying guide will list lots of the best standing desks under $1000. Let's take a look at what these brands have to offer and why they deserve to be on our recommendation. 
Uplift is rated #1 of the best standing desk in 2023 by 39/41 testers from the US, 13/17 experts from Canada – Their best selling model – the Uplift V2 standing desk offers a lot of customization options. Therefore it's a standing desk perfect for those looking to personalize their working area a bit more. Not only for working at home, but also for gamers and even start-up office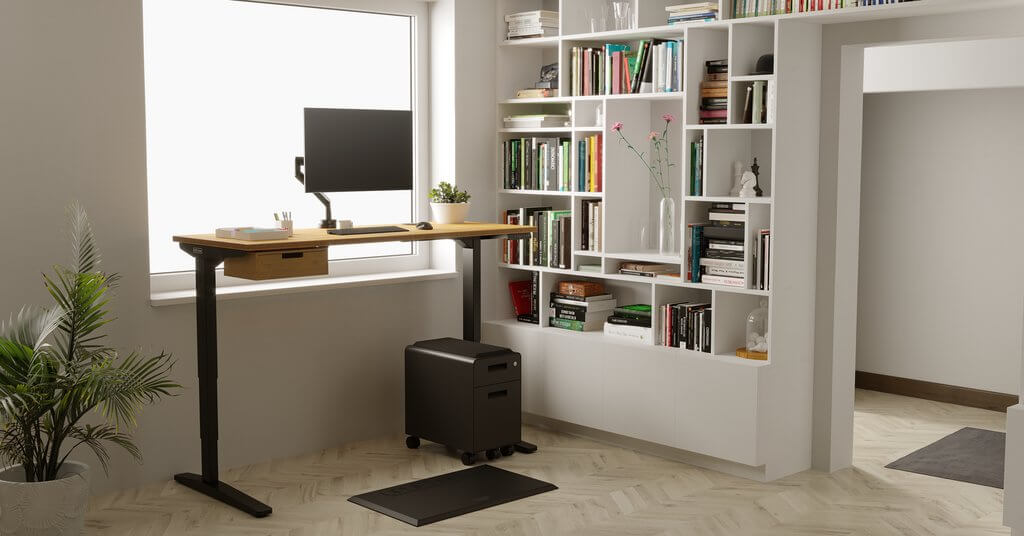 The desk height is adjustable via the control buttons found on the desk itself. It's nice and sturdy. And you won't be bothered by a cracking noise every time you adjust the motor. It operates rather quietly.
It features several customizable options:
adjustable desk height from 25.3 to 50.9 inches (with the commercial version, it's 22.6″ – 48.7″)

option to add more power outlets to the desk. It has a wire management system located at the bottom of the decks, but you can also add more. 

Three options for an electric keypad
Furthermore, it's a stable and sturdy standing desk that can support up to 4 monitors at the same time. It can support weights up to 355 lbs. And you can be assured that your computers will stay on the desk.
It features an anti-collision system that can detect slight resistance. It automatically stops the motion to prevent any untoward accidents. And even with the absence of crossbars, it's still stable and durable.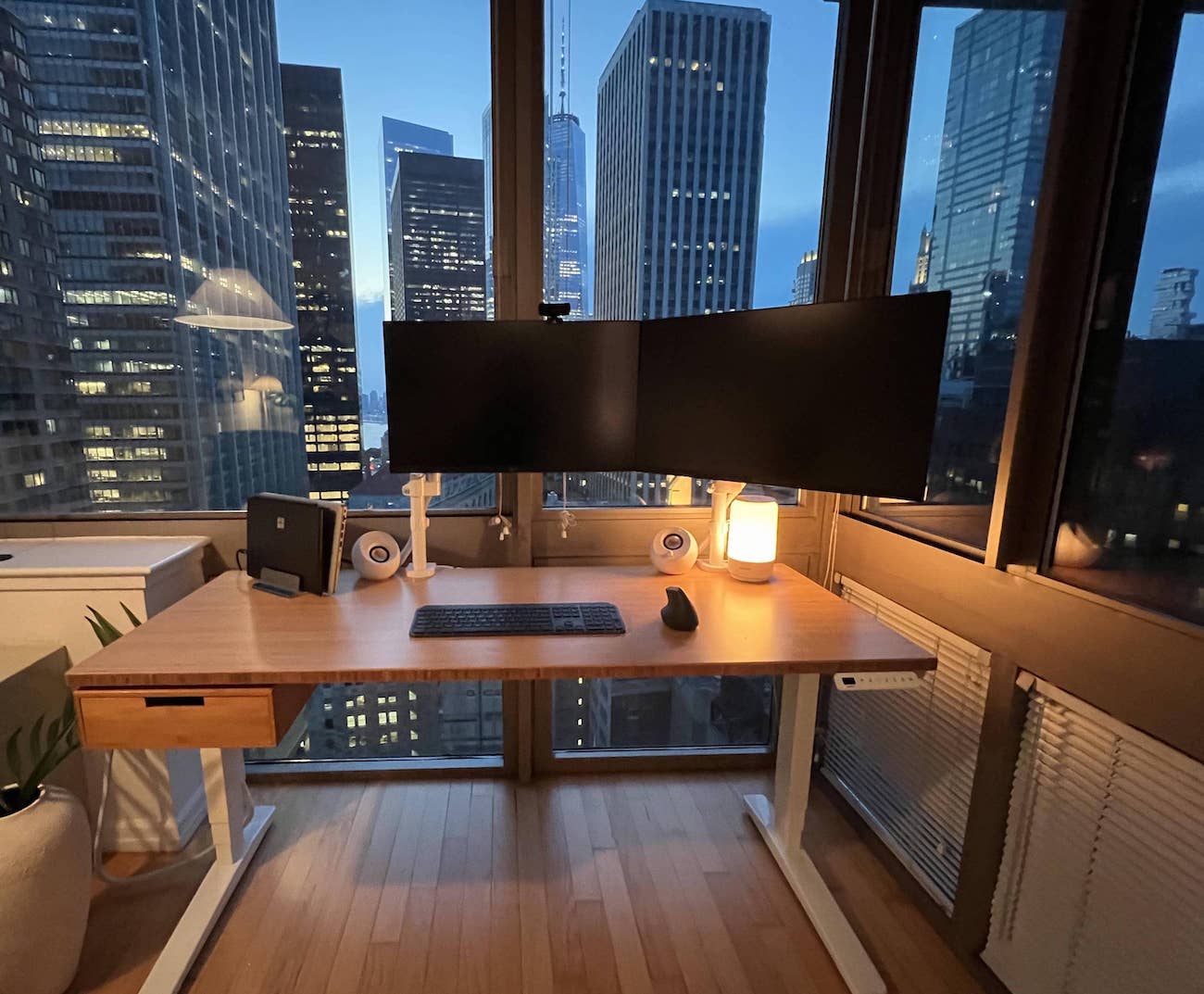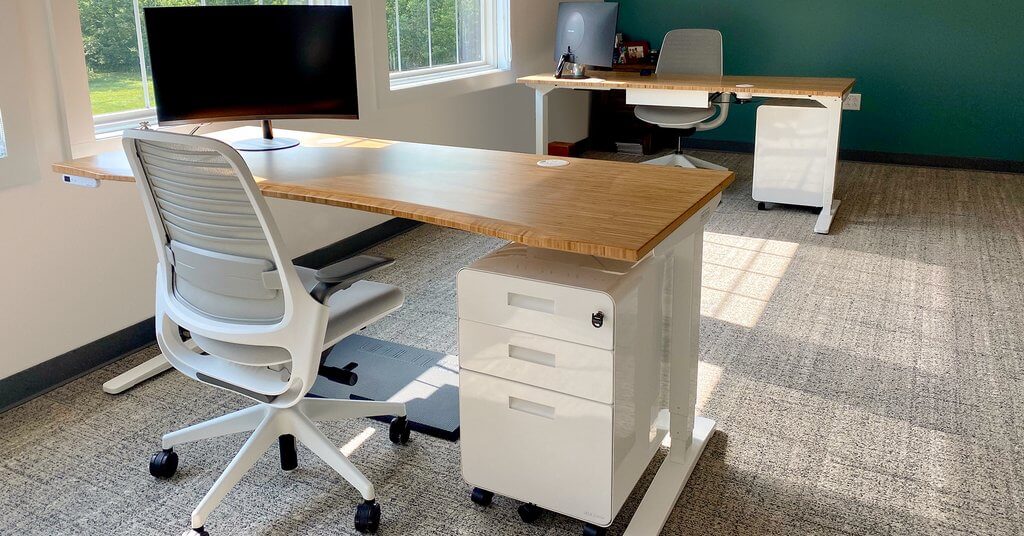 Overall, this is the best standing desk that fits those who are looking for more ways to customize their working space. 
Pros

Has customizable features

Anti-collision feature

Can support weight up to 355 pounds

Stable and durable

Cons

Has plastic glides

Lacks cross support

Some customer says that they got Delay of shipping
If you are worried about the wobble problem, well, it's time to check the 4-leg version of Uplift V2. This desk has a 535lbs Lifting Capacity, so strong to handle at least 2 or triple 27″ monitors, PC and so much more things you can put on the table
Where to buy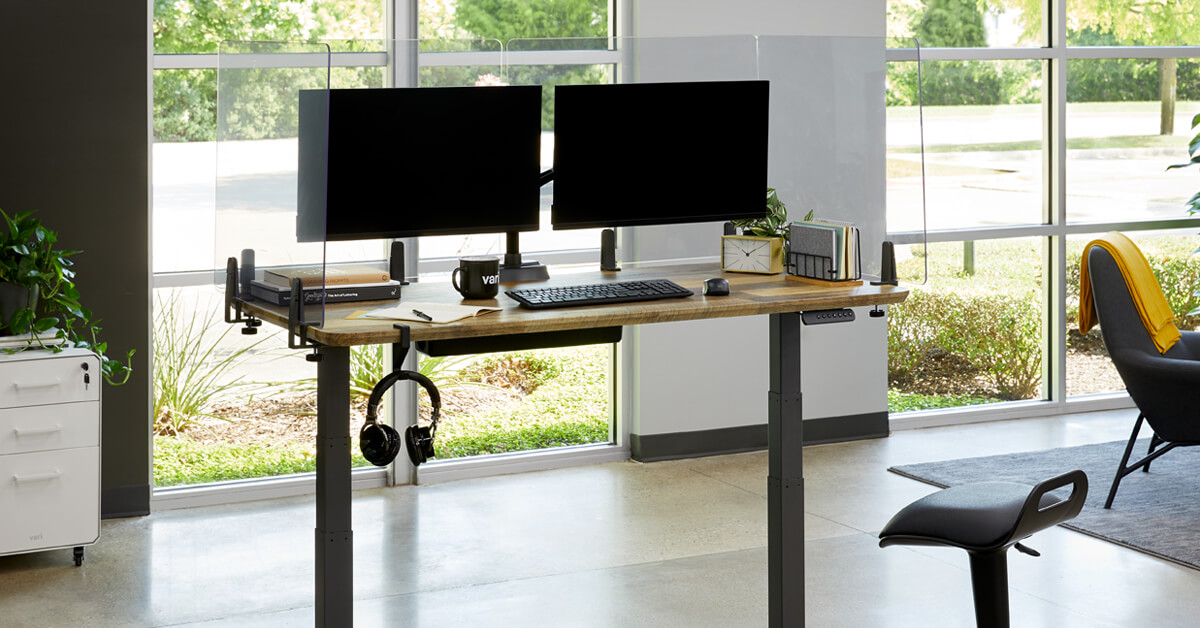 If too much sitting is hurting your back but you love your desk too much, time to get a standing desk from Vari (past: Varidesk). This Vari Electric 60″ is a great option for some basic home office setup like a small PC, with two 27″ monitors, and one or two laptops (even the brand has the larger standing desk with the tabletop 72×30″ but we think 60×30″ is good enough for normal users)
You can adjust this standing desk with just a touch of a button. It's like giving an upgrade to your traditional working desk. You can go from a sitting to a standing position via the control buttons. 
It has variable height settings and goes as high as 19 and ⅛ ", making it a suitable standing desk even for taller people. 
Furthermore, it's virtually plugged in and played. It comes fully assembled so you don't have to go through the hassle of putting it together. You just plug it into an energy source and click on the button. It's perfect for those who hate DIYs.
With the height adjustment range from 25″ to 50.5″, Vari 60×30″ is perfect for average 5'4″ to tall people under 6'9″. But that's the max height setting of 50.5″ same as high-end standing desks from Uplift, Fully, or iMovR, most people will happy with it. With Vari, the only thing that makes lots of users are worried, you can guess, it's the 5-year warranty, too short compared to other brands!
Pros

Operates quietly

You can use it with your old desk

Comes fully assembled

Cons

Need for more wire management

Not that stable

May offer limited working space depending on your desk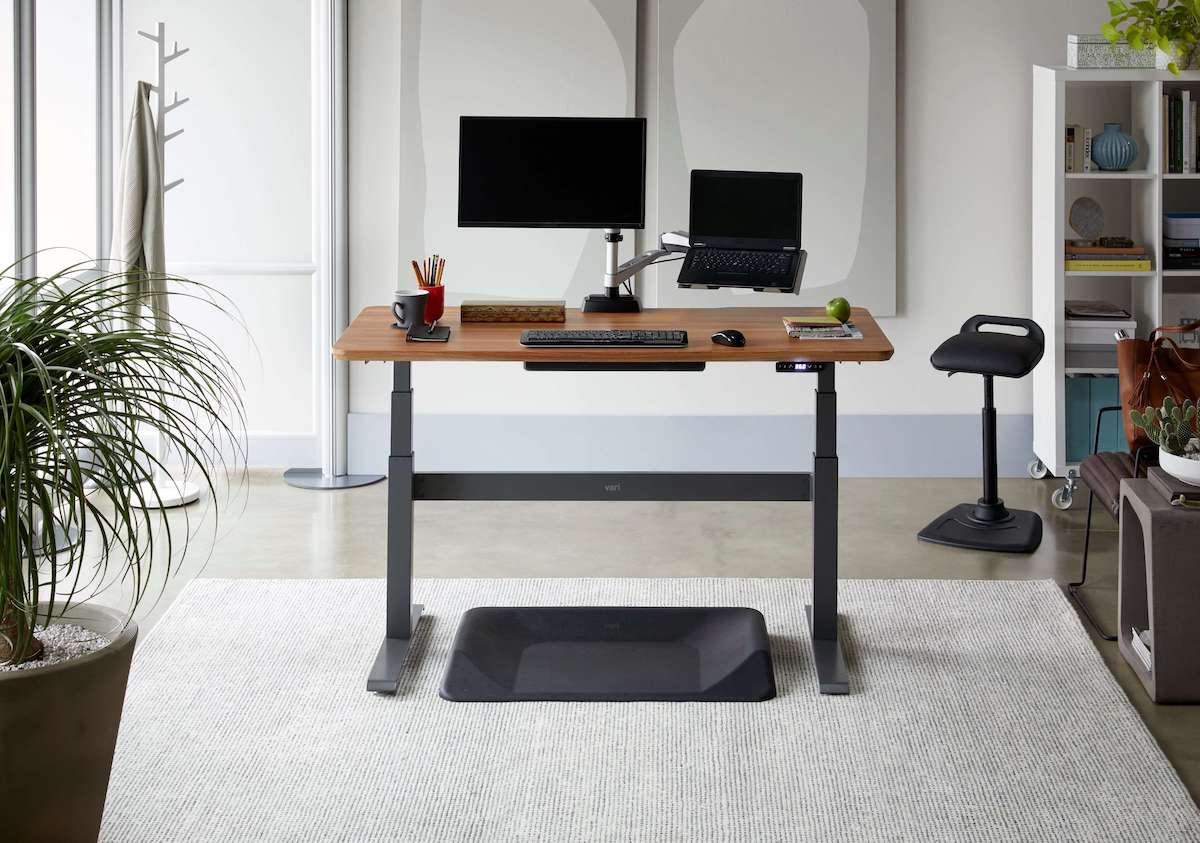 Where to buy
Herman Miller Nevi Sit-Stand Desk
What sets the Nevi standing desk apart is that it's the only standing desk from Herman Miller that can be adjusted to cater to both smaller and taller users. You just have to add a few moolahs to have the desk configured to your needs. 
And if you like to have options, you'll be very happy with the Nevi desk. You can choose from 35 tabletop colors. It may perhaps have the most number of options for a standing desk tabletop.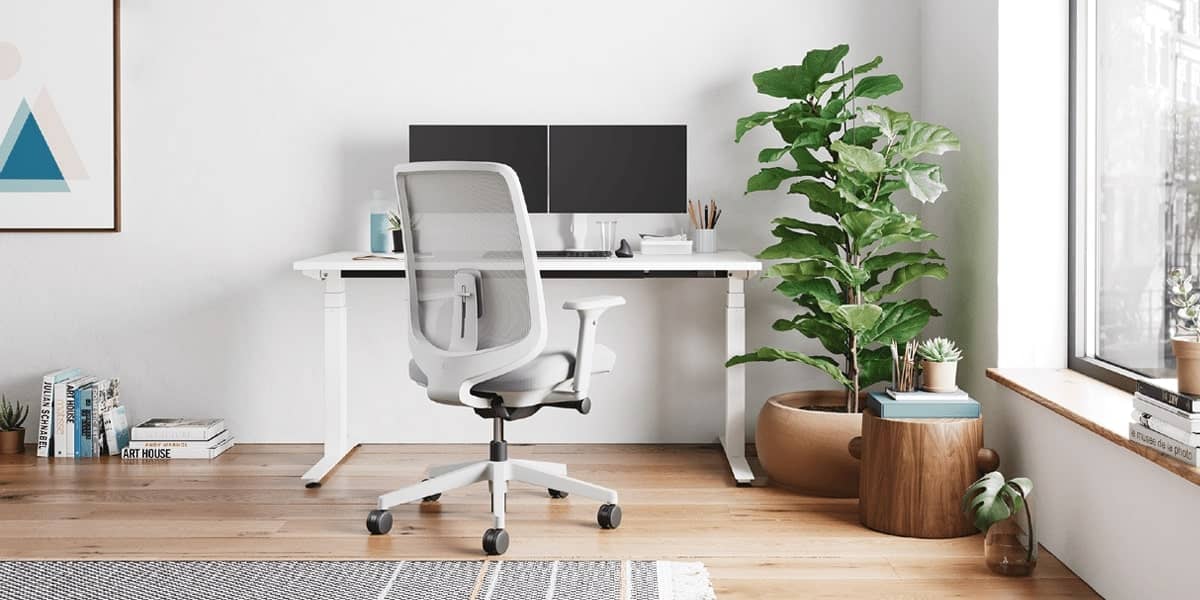 The downside is, compared to the two other sit-stand desks of Herman Miller, the Neve uses a Jiecang motor. This is perhaps to cut down on the cost and make it more affordable compared to the Renew and the Motia. These two have the US-made motor.
Also, it has a lower weight capacity of fewer than 250 lbs compared to the other items on our list. So this might not be able to fully support a hefty workstation. But it does make up for a pretty sleek and pretty workstation. 
Now, the other thing that many find a con is installation. The brand doesn't allow for a DIY setup. It has to be installed by someone from the brand. While this can be a nice deal, it's not always like that. Some users complained that the desks were just left at their front door and the ones who delivered them never bothered to have them installed. So you will be left to figure it out for yourself or call customer service. A DIY installation is almost impossible, so better call customer service. And oh, it takes a bit long for the item to be shipped. Some take four to five weeks tops. 
Overall, It's a decent standing desk if you want a more affordable Herman Miller standing desk. And if you love to have a lot of pitons, then this unit will indulge you. It's a pretty customizable desk. 
Fully's Jarvis Standing Desk Bamboo Top
The Jarvis Standing Desk Bamboo Top was an award-winning stand-up desk sold by Fully – a company based in Portland, Oregon, and San Francisco, California that specialized in the retail sale of ergonomic products. Note that now this brand was bought by Herman Miller, a famous brand of office chairs.
As a brand, Jarvis has proven to be one of the best and most popular in the market, producing sleek and competitively priced standing desks.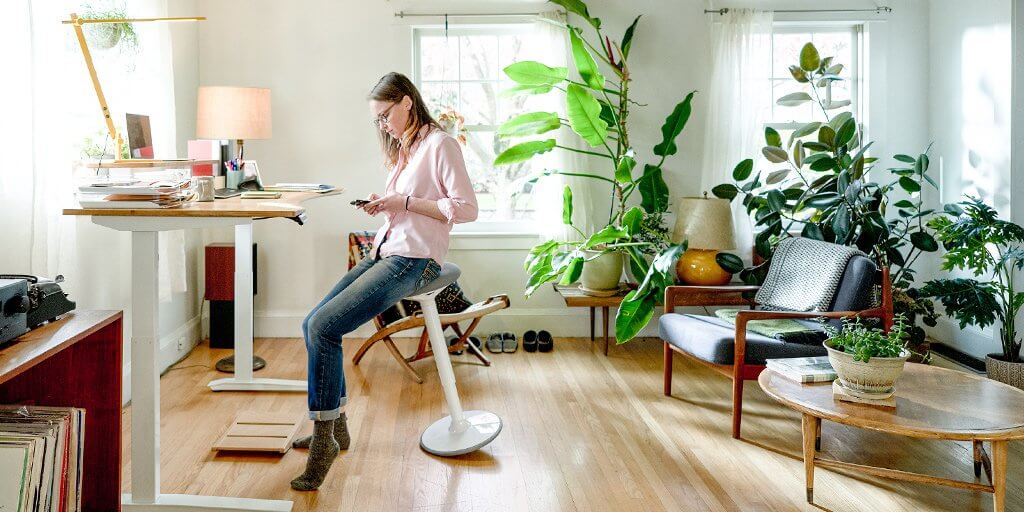 There are several concerns about the Jarvis standing desk that cannot go unnoticeable. The stability issues when at a height above 40", the grease stains on the metal frames, and the safety concern due to continued motion after releasing the button are areas Herman Miller needs to improve on to make the Jarvis Bamboo brand an undeniable top choice.
But even with the limitations, this is a desk worth considering. The expansive height adjustability range allows persons of all heights – from children to adults – to comfortably work at the desk. With the electric system and memory settings, adjusting the heights to suit one's needs is pretty easy. The warranty, while it is not "industry-leading," is one of the best in the market. 15-year coverage for the mechanical and electrical components is decent enough.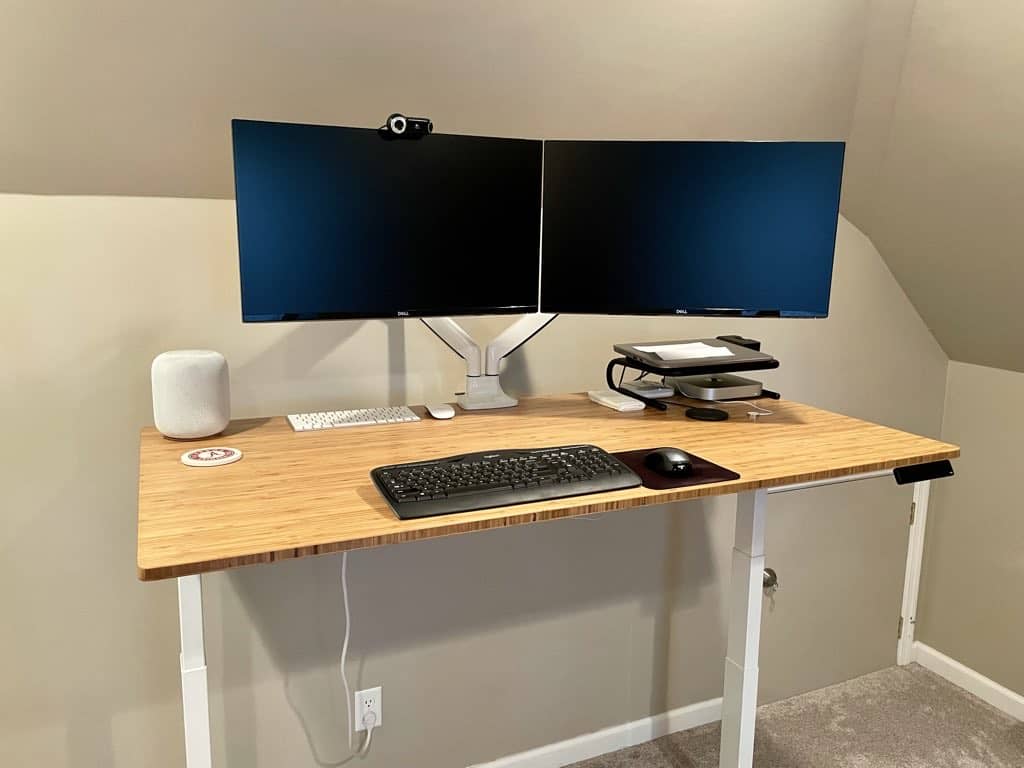 Fully has gained a reputation for offering excellent customer service. Now you can put your trust in the Herman Miller team.
In case of any issues during the delivery or if you have any problems with the desk within the warranty period, you can be sure of receiving satisfactory customer support from Herman Miller. For a Chinese-made standing desk, the pricing plus the customer service is a fair bargain. 
Ergotorn WorkFit is an adjustable and versatile standing desk. It can be adjusted to the height of the user. And since it conforms to American and European standards, it has a brake system that makes sure everything is securely locked. This product offers manual adjustment. Since it can be manually adjusted, it's free from electric faults or glitches.
Firstly, the top part of the desks is made from particleboard. And it has a light and nice grain finish that isn't too overwhelming. The feet of the desk are table and firmly are firmly locked to the ground.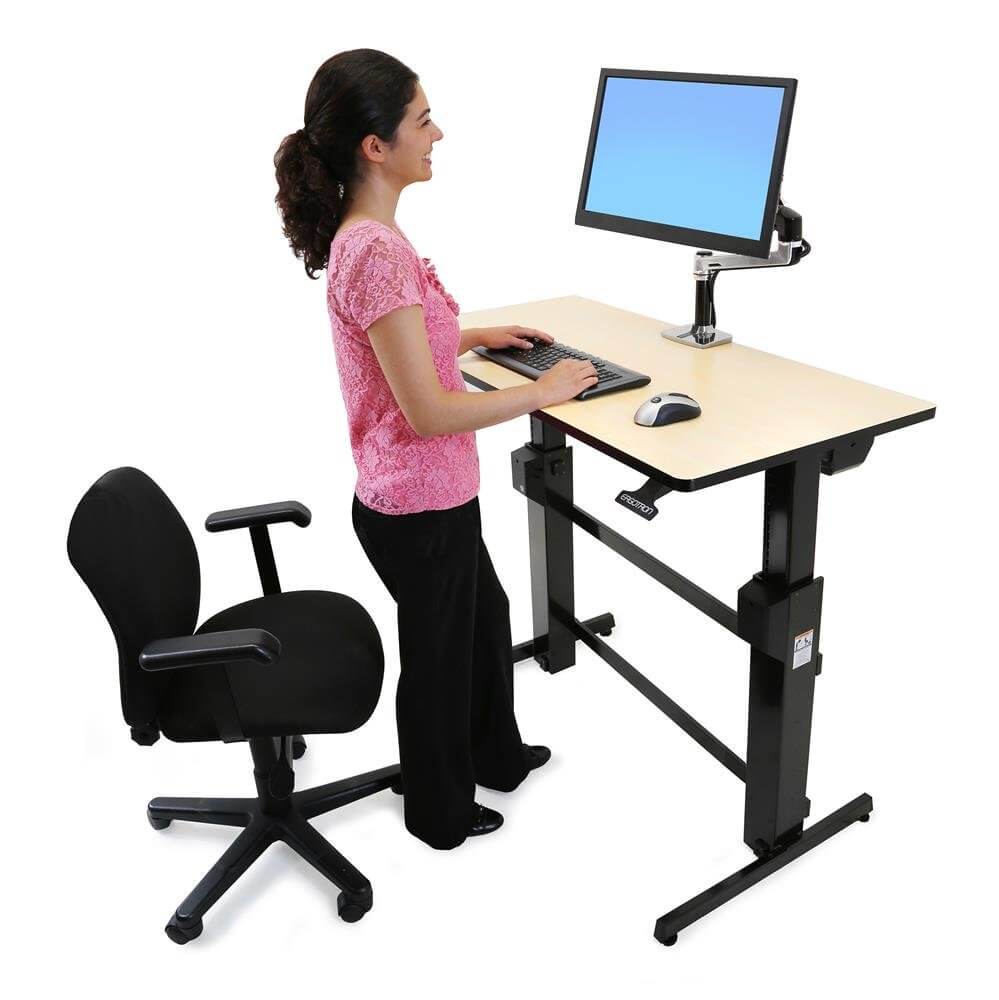 And the adjustable lever is easy to navigate. And once you lock it, it securely stays in place. It's durable and you won't hear any cranking sound whenever you adjust the lever. A cranking motor would give you too much confidence in a product.
Moreover, the working surface is big enough to support two 24-inch computers and some office supplies. It's stable so your computers stay on the desk. It has a roomy working area so you will not feel cramped at all. You can even add another laptop to your two computers and it would still be okay.
Overall, it's a stable and solid desk that can last for the long haul. This product is one of the best adjustable standing desks with a manual option in the market that you can get for yourself. 
Pros

Durable and stable

Can accommodate tall people

Easy to install

Manually adjustable

Spacious working area

Cons

Edges are quite sharp

Quite heavy and bulky

Not for carpeted floors

The manual adjustment is not for everyone
Where to buy
Their website: https://www.ergotron.com/en-us/products/product-details/24-271
Best electric standing desks under $800
Where will your 800-dollar budget take you? Let's see some of our favorite picks for the top electric best standing desk around this mid-price. Your moolah can go a long way.
This standing desk is huge. And by that, we mean quite massive. Though you would not be disappointed with the packaging, it came in one piece without any scratches or dents. Just be ready with an extra set of hands once you receive this at your front doors because it can be heavy.
But it looks really nice. The laminate tabletop we got has a wood grain finish. So it looks quite rustic, which we like. It also comes with a crossbar for that added support.
Assembling it was rather fast, and it came in nicely with a real screwdriver. we was able to set it up in less than 30 minutes. The instructions were also pretty clear and straightforward.

As for the stability, it did have a bit of rocking midway to the highest level. Though all the parts, including the feet and legs, are relay solid, we think you have to make sure the screws are tightened properly. It would lessen the rocking motion. 
You'll also appreciate these features. One, it transitions rather fast. And the preset, and up and down buttons are quite responsive. It won't make you wait forever to get to the highest desk setting. And the tabletop is stunning. It doesn't look like cheap laminated particleboard.
Overall, it performs and looks great for its price. You just need to ensure that you tighten all the screws well. And if you're taller than 6 feet, you just might find the highest setting still low.
Pros

Beautiful wooden desk

Sturdy legs and feet

Wide desk area

Easy setup

Well packaged

Cons

Can't go high enough for taller people

The cable management system could have been better
Check the price
What you'll instantly notice about this electric standing desk is the tabletop. It's an elegant bamboo tabletop. And what sets it apart from all the other bamboo standing desks is its solid wooden bamboo. It's not laminated, so you can expect a sturdier desk. And also the smell of natural bamboo is a plus.
It's 60×30″ desk is rather generous and fit for a busy workstation. It seems like this desk has several unique features too. Both the width and the height of the desk can be adjustable (height range from 26-52″ & width 42-71″). The max height adjustment range of Rise Up standing desk 52″ is one of the greatest options for tall guys above 6'8″ or even 7 feet. There are only a few standing desks that offer such convenience, that's amazing, right?
Another great feature is its 3 stage columns. This means that this desk can accommodate taller people. It has a broader height setting.  
Also, it's very solid and steady. It actually feels a bit premium with its robust construction and lovely natural desktop. There's quite a lot going in there. Plus, the transition is rather fast too. You can go from the lowest to the highest setting in less than 20 seconds. 
There is a bit of qualm though, but it isn't major compared to the benefits you would get with this desk. Some have received their bamboo desk with some dents and scratches. we reckon the desk could have used better packaging or better handling. And would need to drill the holes on the bamboo desk yourself.
Pros

Anti-collision feature

Adjustable width and height

Rock Solid and stable

Real bamboo desk

The standing desk that fits tall people above 7 feet

Transitions fast

Cons

The bamboo desk doesn't have pre-drilled holes

Some damage to the desk while in transit
This 60-inch sit-stand desk offers a wide working area for a more elaborate workstation setup. We'll be enumerating the features that we loved apart from the wider desk area.
Firstly, the packaging is quite impressive. You would often encounter newly delivered sit-stand desks with dents and scratches because of mishandling. And this is where the S Stand-up desk excels. The desk's packaging was pretty impressive. The manufacturer sought to it that the time would not incur any dents or scratches whilst in transit. 
It's surrounded by lots of cardboard and styrofoam, so the desk will arrive in tip-top condition. we also love how complete the accessories and tools were. There was an Allen wrench for every part. And an extra bolt too. So no need to worry if you accidentally lost one or two. You wouldn't have to rush to the hardware.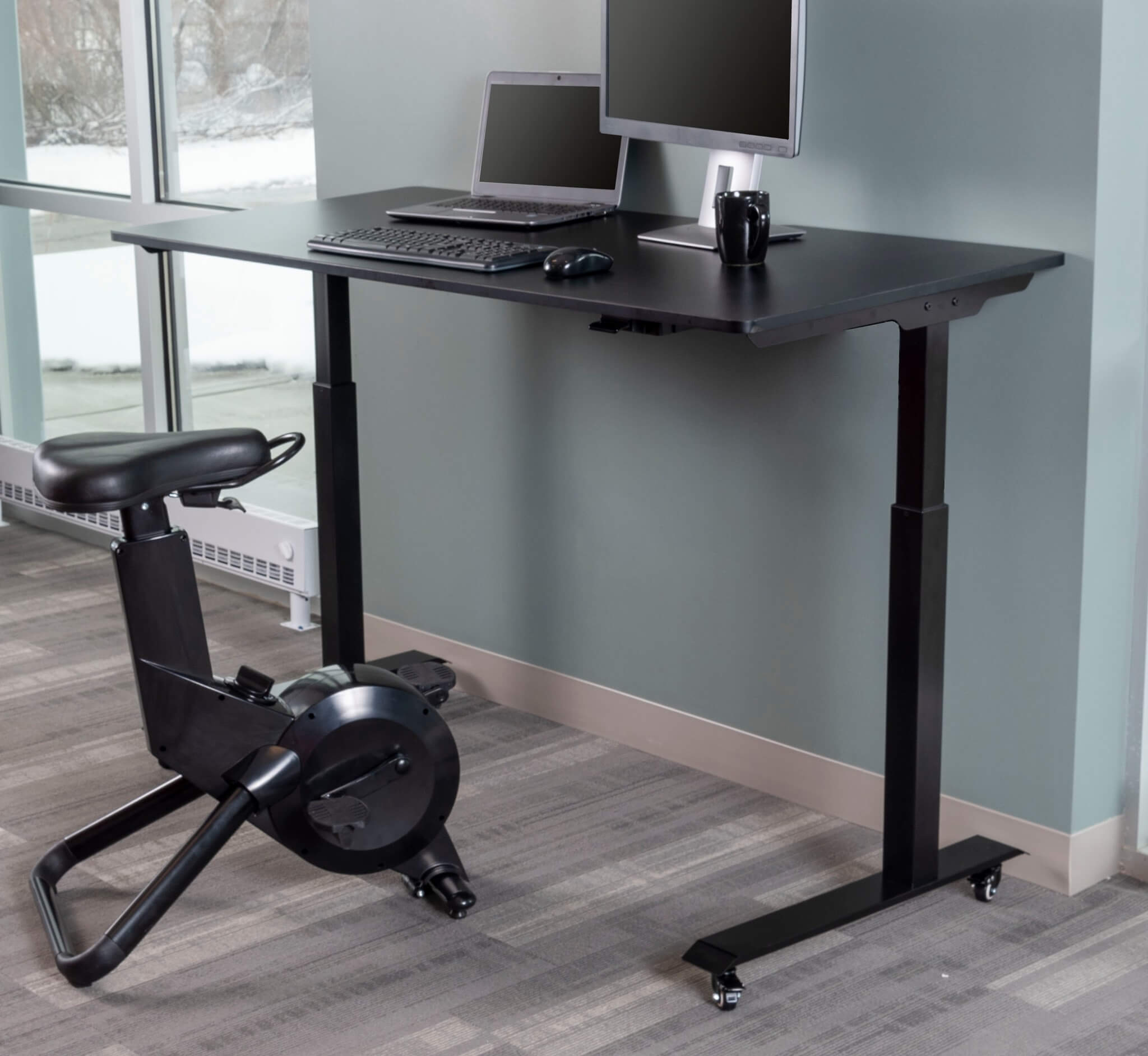 The stand up desk is pretty wild and it's true to its advertised weight capacity of 154 lbs. Also, it has a broad height adjustment range. So if you're a bit tall you can still use this sit-stand desk comfortably. 
I've no complaints about the wobble and we haven't also heard of other users complaining about any shaking or wobbling of the desk. This best electric standing desk won't budge even with external force. we must say, construction is rock solid. 
And the electric transitioning is rather fast but quiet. It can go from the lowest to the highest desk height in less than 20 seconds. So I'm pretty happy with that one. There's no stalling too.
If you are looking for a pretty solid unit with a wide desk, this unit fits the bill.
Pros

Strong and sturdy

Does not wobble

Transitions fast

Operates quietly

Cons

The cable management system could have been better
If you're looking for a heavy-duty sit-stand desk, the Versa white desk is your bet. This simple yet functional standing desk has a weight capacity of 350 lbs. It's heavy-duty and rather solid. And it's one of the more heavy-duty standing desks in the market that has such high weight capacity. 
The size of the desk is 48x 30, so it's roomy enough for a two-monitor setup. It is also monitor- mount ready, so this desk is really designed to hold more motors. Needless to say, this US-made desk also has something more in store for you.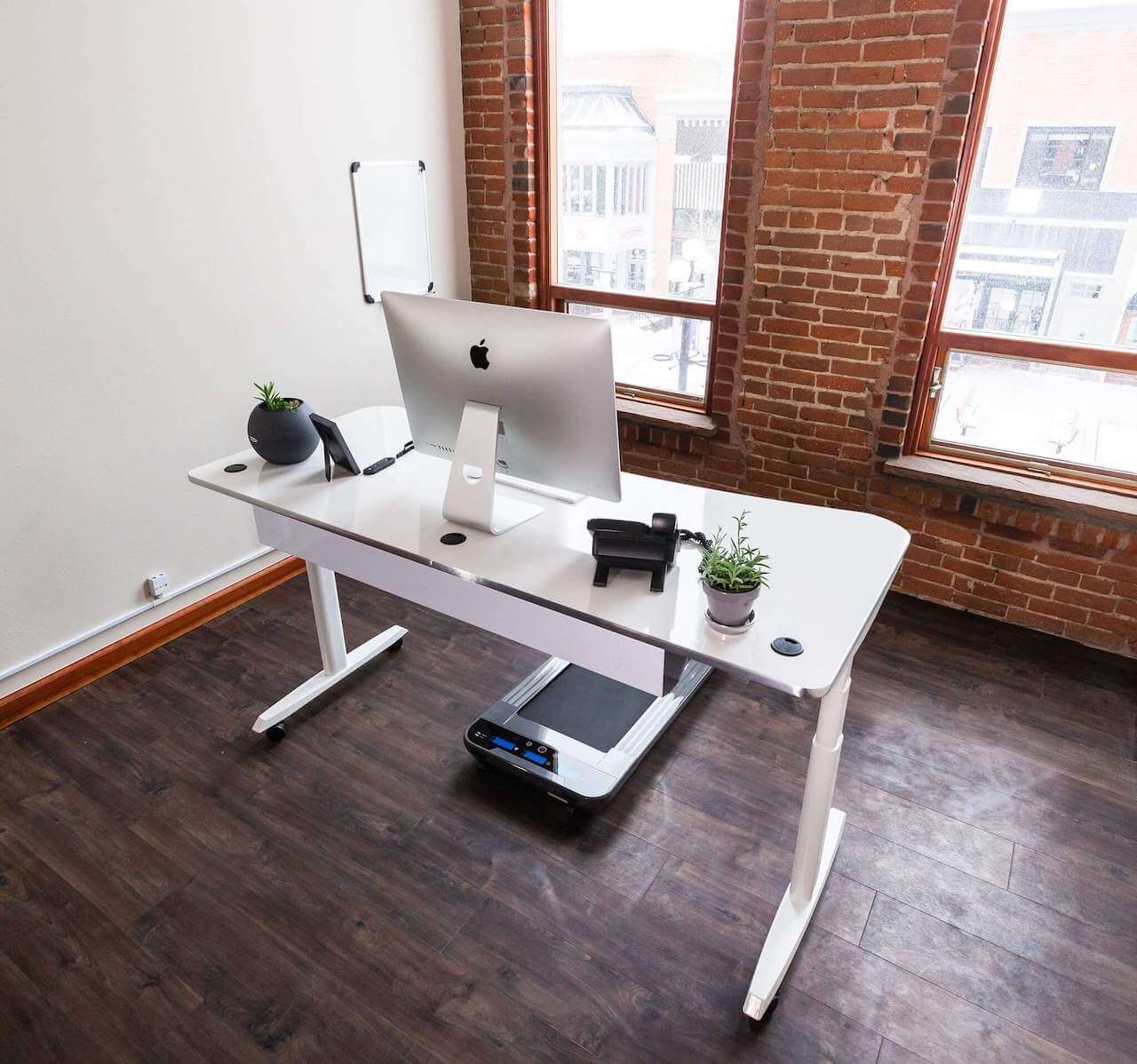 This feature is actually unique, but it can be a very useful one. In the absence of paper, you may use your tabletop to keep notes! The desk area has a whiteboard finish. So you can use it for scribbling and taking down notes with a whiteboard marker. It's one of its kind and I've never encountered a sit-stand desk with such a feature. It can come in really handy at times. 
Also, when it comes to stability, this is decently solid. There wasn't any wobbling at any heights.
Pros

Made in the USA

Solid and steady

Large wok area

Heavy duty

Desk is writable

Cons

The overall look of the sit-stand desk isn't that stunning
Autonomous SmartDesk Pro
The Autonomous SmartDesk Core makes use of a China-made motor, TiMotion. That's also one of the reasons why it has an affordable tag. The Smartdesk Pro version has more features with 300 lbs of weight capacity, a wider height adjustment range (25-51″) that fits tall people and longer of warranty.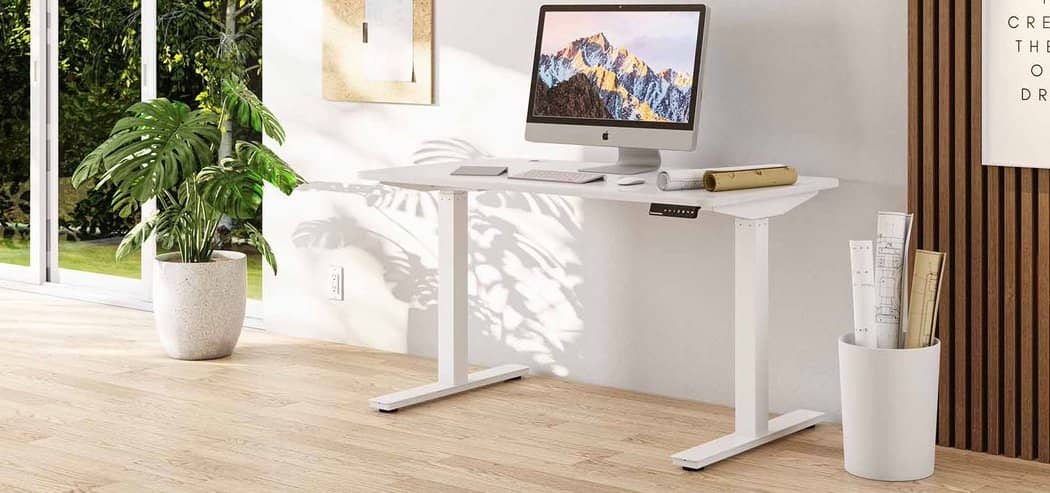 You might have tried using the Smartdesk Core or the old name is Home Edition. It's a rather cheaply priced desk and it can give you a headache because of the consistent wobbling issues. The SmartDesk Pro is a big upgrade. There will only be instability if the desk is adjusted to its highest setting. But if you are of regular or standard height, you do not have to worry about it. 
We have to name some plus points for this Pro version:
Transitions fast – This is perhaps the best attribute of this Smartdesk. It can transition rather fast. It can go up 2.19 inches per second. And it has a rather smooth and flawless transition unless you try to reach the maximum desk height. 
The pretty sturdy built and quality – We love the overall look and fall of this desk. This Smartdesk Pro feels solid and strong and seems that it is well constructed. We also love that it has a cutout at the front so that makes the desk more ergonomic. You will have ample space for your arms. Thus, you will find it more comfortable to write or do work on your laptop or computer.
And if you don't want the curved cutout shape at the front of the desk, you have the option to buy one without. And you get two options for the desk sizes so you can opt to get a blogger desk that will fill your need for a wider working area.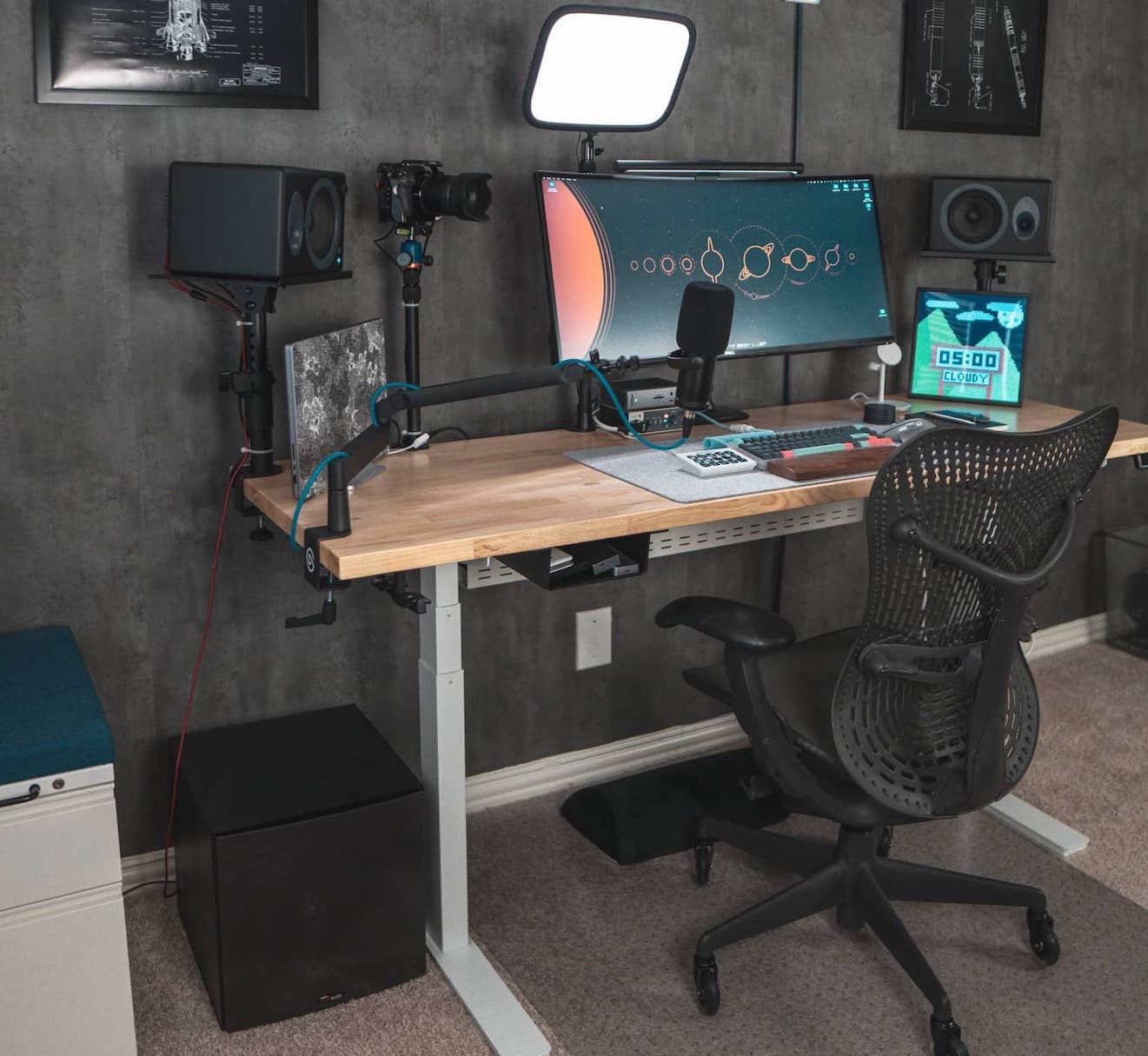 Wide and organized working area
The cleaner your desk, the better you work. That is very true, and who needs a cluttered desk with all the wires and cables dangling? 
This is also another advantage of the SmartDesk Pro Smart desk. It has a wider working area so you will not feel cramped or too tight. And it has cutouts at the back where you can easily organize the cords and the cables.
You will enjoy a clutter-free desk that can help you improve your work efficiency. And the bigger SmartDesk Pro desk option has a higher load capacity of 300 lbs. So that will give you more room for other things to place on our desk. 
Limitations
This SmartDesk Pro standing desk is not for petite folks under 4'9″. Though it has a wider height range that can go up as high as 51 inches, you'll not be happy with how it performs at the highest deks setting.
Where to buy
Steelcase Solo stand-up desk
The Steelcase Solo is a simple uncomplicated desk. This desk is for those who seek a one-touch operation to adjust the desk height. Steelcase manufactures one of the most ergonomic office chairs. And this brand is also known for its steep price. You will be surprised to find a Steelcase standing desk at a more affordable rate.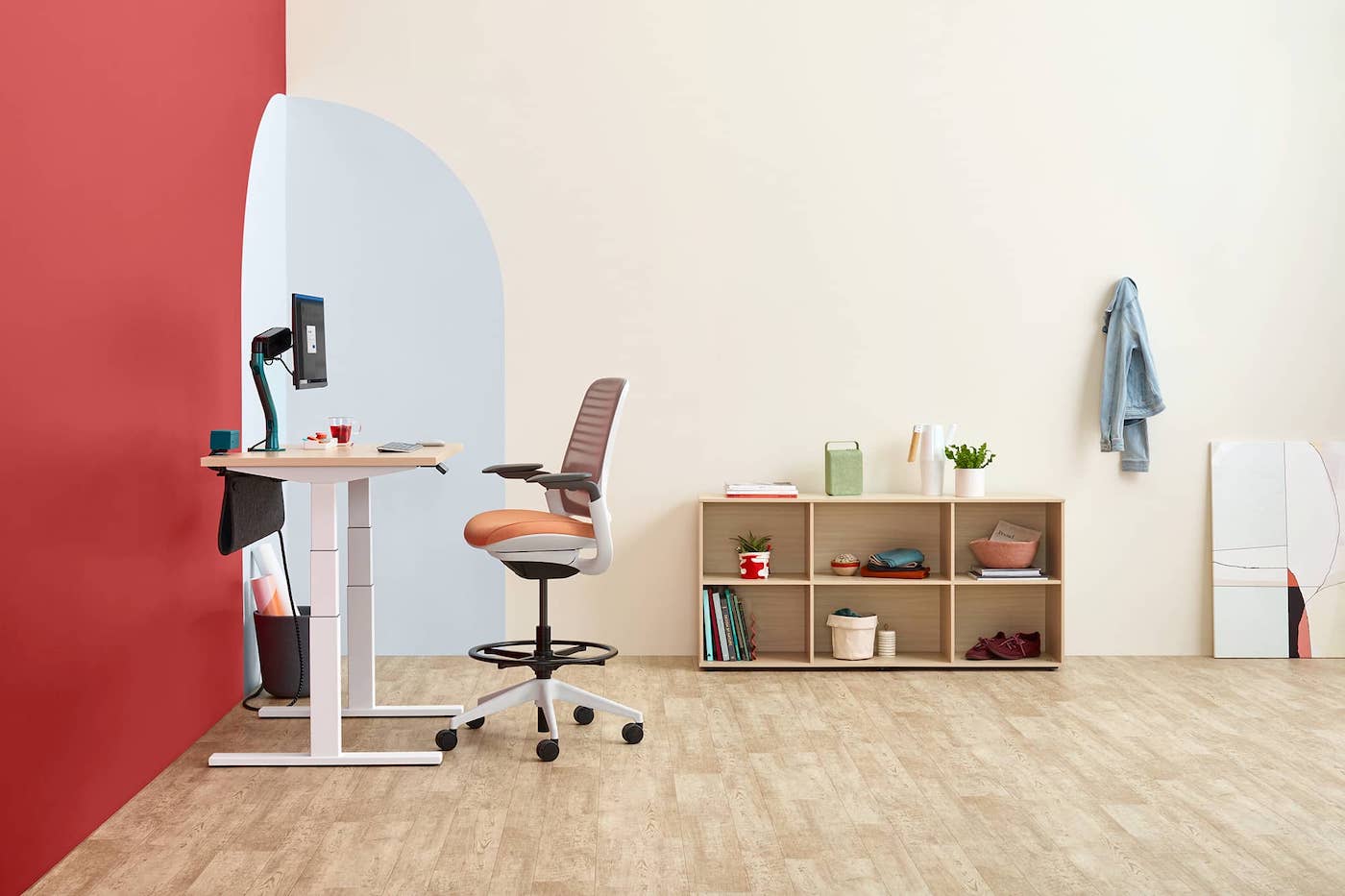 That's because the Steelcase Solo is a one-motor standing desk. That's why it's also very easy to assemble. But albeit the single motor, there are by far very few wobbles. Also, the desk feels sturdy, robust, and strong. Oh well, it does make use of the Linak motor, which is known for being high quality. Not to mention, the desk is heavy-duty as it can bear a total weight of 350 lbs. And we tested the weight capacity of this unit and it's true to what the brand claims.
If space is an issue, this standing desk will indulge you with a wide tabletop area. And it can cater to more users since it has a wide range. The desk can go as high as 48. 7 inches. So this can accommodate those who are a bit taller.
Though those who love a more functional desk will find this lacking. As mentioned above, the desk operates with a single touch or push. It uses a Linak paddle to change the desk height. So that means that this desk lacks a memory preset where you can input your favorite desk height. So this is a note to remember in case you have your eyes on the Steelcase Solo.
Another downside is the lesser duty cycle. Most standing desks of this tier allow you to use the motor for 2 minutes straight, then you have to rest it for 18 minutes before you can use it again. The Steelcase Solo has a lower duty cycle. So you will only be able to use the desk motor continuously for a minute and it should rest for 19 minutes. It might not be a big deal if you're not too finicky with your desk height.
Also, some find the overall aesthetics of the Steelcase Solo too plain or too basic. So if you want a very stylish desk, this won't cut it. However, if you're looking for a simple minimalist desk with basic functions, this is a great choice.
iMovr Energize sit-stand desk
You'll find the iMovr Energize a great value for your money. It has a very sturdy and stable base. And when coupled with a 10-year warranty, you're sure to get the most bang for your buck. This is perhaps the desk's number 1 feature. And there are only a few brands that offer such generous cover and protection. With a long warranty, you can be assured that everything is well made. Because if it isn't, the brand would have to spend lots on repairs.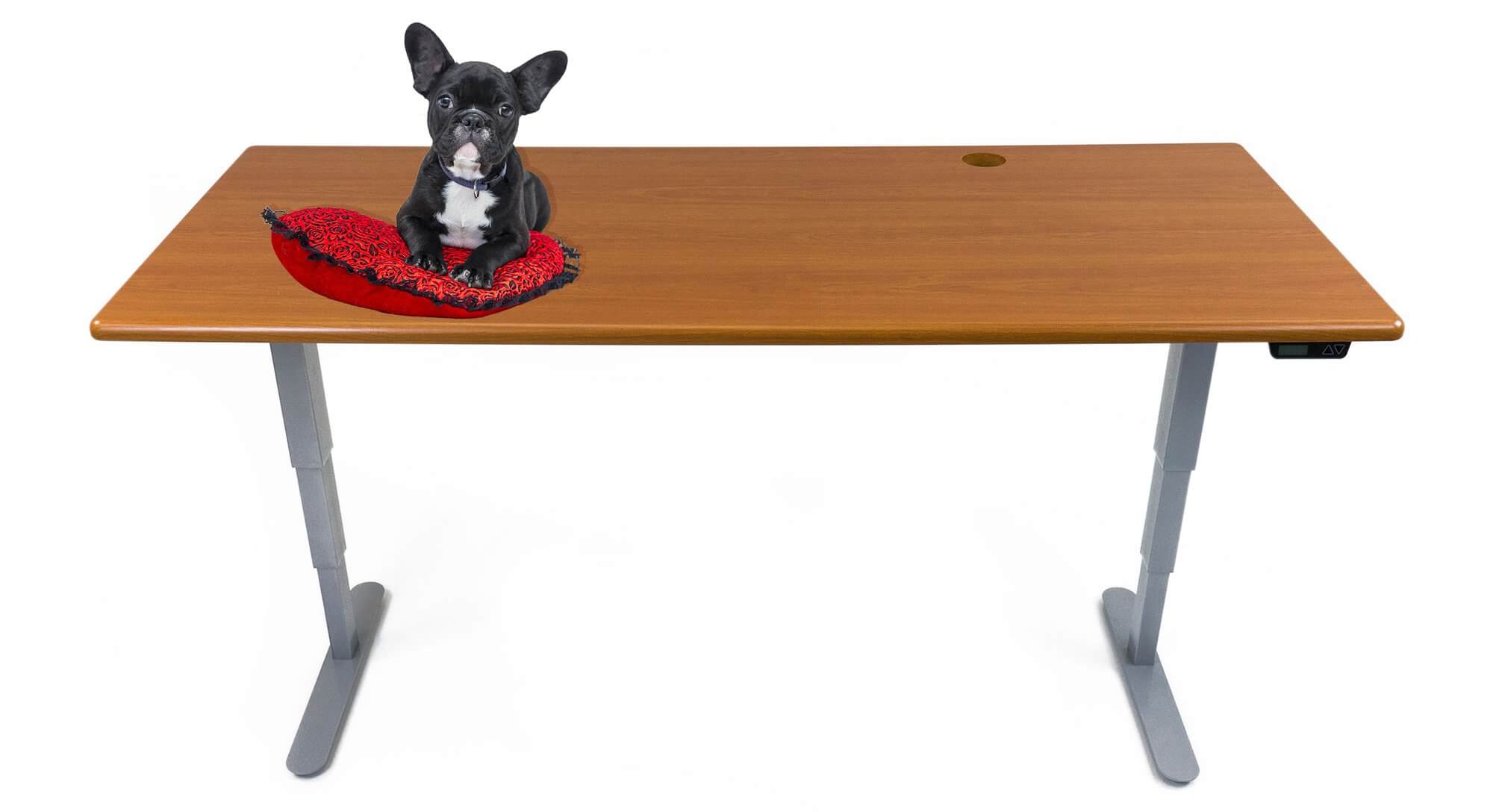 The base is really solid and strong. And it can hold a significant weight without wobbling at any height. Energize makes use of a solid base, the Freedom base. This sturdy base has lots going for it. 
One, it makes the desk highly customizable. You have the option to choose from two types of bases. The standard two-segmented base can go from 24.7" and 42.8". While the Freedom XT can go a bit higher with a height adjustment of 20.3" to 46.6" inches. Two, it can support a tabletop up to 72 inches wide.  
And three, the weight capacity is 265 lbs, but we felt that it can accommodate more, but let's just stick with what's advertised. we didn't feel any wobbling at any point. And it's not just the frames that are customizable. 
We love it when a desk gives you a lot of options. You can choose from the color, size, depth, and thickness of the tabletop. So you can really buy what you need instead of just settling for what's available.
Moreover, it's also equipped with features that you'll want in the best standing desk – LCD, anti-collision feature, fast transition, and whisper-quiet motors.
Overall, it's a bang for your buck. And it's almost the complete deal.
Pros

Highly customizable

Comes in pre-assembled

Ergo contoured tabletop

Stable and sturdy base

Made in the USA

Generous warranty period

Raising or lowering the platform is straightforward and no wobble at the lowest heights

Cons

The design of the desk isn't fancy

Some people claim that the desk they got wobbled like crazy. It even came constructed incorrectly with the lever for operating the desk installed on the wrong side of the desk.
Cost a lot of dollars for return shipping if you don't like it
The customer services are not always good, takes a long time to respond via email

 
Where to buy:
Official website: https://www.imovr.com/imovr-energize-standing-desk-workstation.html
Bekant Standing Desk Ikea
Ikea is known for its affordable and functional furniture. No wonder this Bekant standing desk made it to our list.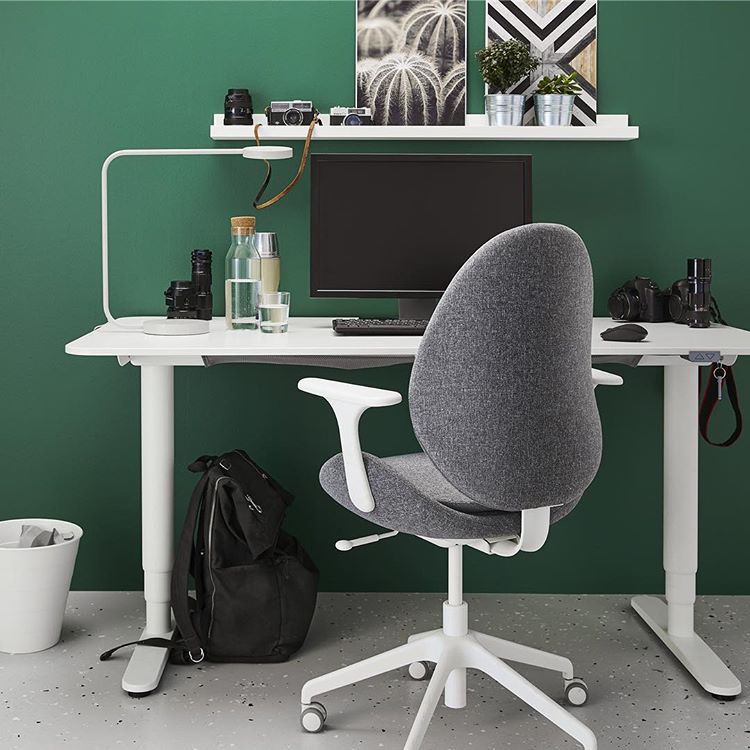 To begin with, this desk is as basic as it can get. It offers a more productive workspace while you enjoy the benefits of standing. It features simple construction, which IKEA is known for.
But its simplicity comes with a more organized work area. It has a wire management system under the desk. This allows you to put multiple types of equipment without the cords getting in the way.
With such a design, it's easier to work around. And it looks pretty neat and organized too. 
The table can be adjusted by loosening and tightening the legs of the product. It's plain and simple yet very functional.
All on all, it's a no-fuss workspace that can keep your cords all neat and tucked away.
Pros

Has a cord management system

Simple IKEA design

Stain-resistant desk

Cons

Some stability issues

Electronic technology is quite basic

Not strong enough
Where to buy
Their website: https://www.ikea.com/us/en/p/bekant-desk-sit-stand-white-s49022538/
Best Standing Desks under 300$
If you are a newbie in the standing desk game, and just want to get a new home office setup with a super small budget, how about trying affordable options within $300? Well, we cover that for you too
But first, we want to tell you a secret. With this price, unless it's on a Big Day sale, there are no good brands in the market that can cover a wider height range than the high-end models. You have to accept that the best options we pick below have a standard height adjustment usually from 28-48″. This range of standing desks is not created for taller folks above 6'5″ and petite people under 5′
Of course with a limited budget, we can not wait for a longer warranty, but we tried our best to find good choices with some good features such as anti-collision technology or child lock, etc
Let's start with the first one – recommend by lots of testers in the US
Flexispot EC1W-R4830W Electric Height Adjustable Desk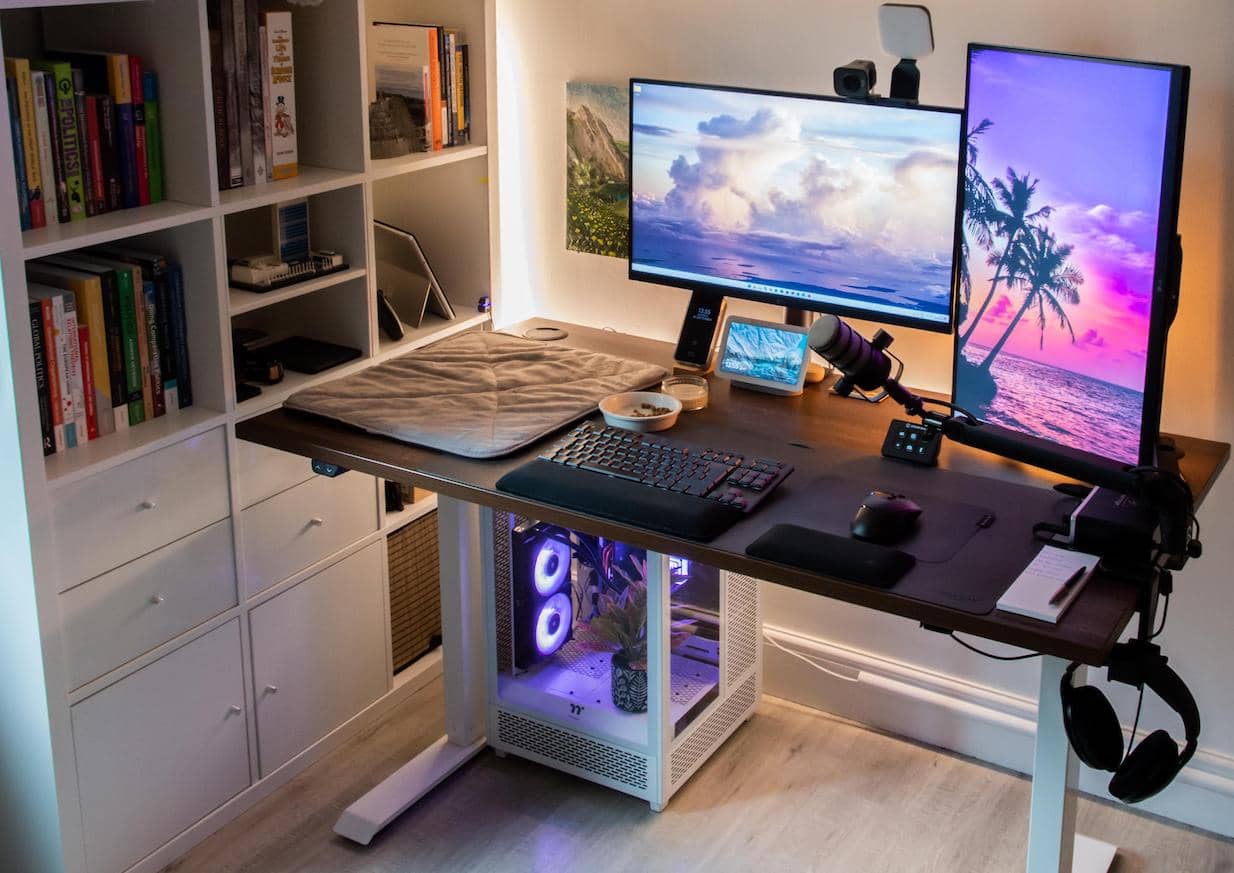 Flexispot has a lot of standing desks with common sizes like 42×24, 48×24, 48×30, 55×28, 78×30″ (the biggest ones), and so on. Even though you can get confused with a lot of names they have like EN1 or EC1, Kana or the Glass, but with a budget under 300 bucks, we prefer the version EC1W (specifically the size 48×30″) for normal users who love a basic home setup. Actually for gamers who want more spaces, the EP4 63″x30″ can be considered, it's an amazing choice with wider height adjustment ranges (24.4″- 50″) and stronger weight capacity.
So why EC1W?
Firstly, it's durable and enough sturdy. The legs are made of industrial-grade stainless steel. There's no question about its durability. It can support a weight of up to 154 lbs. The working desk is wide and spacious even 2 monitors 27″ with PCs and laptops, with a nice setup, it can show your style & make you happy and concentrate on your work. 
Like every standing desk, you can easily convert from sit to a stand position. And it's accessible via the 2-button controller.  
Another great feature is it doesn't make any noise when you adjust it. It's equipped with a motorized lift that enables easy and noise-free adjustment. It's a quiet transition from sitting to standing.
And you'll be happy to hear that the design is FCC and UL certified. So you're sure it's more than just a pretty face. This amazing standing desk is safe and durable.
Overall, this lovely desk only costs around 300 dollars. Yet you still get a durable standing desk with industrial-grade steel legs to match.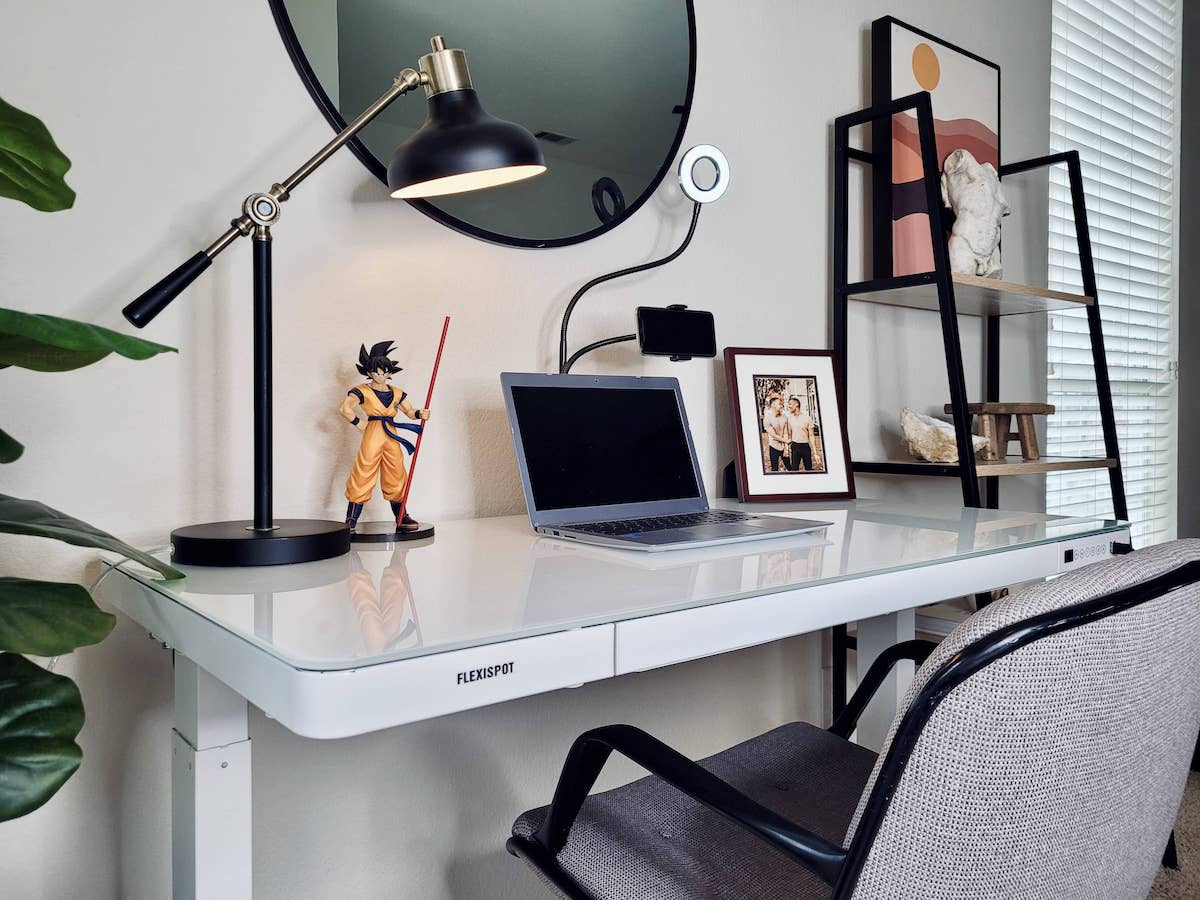 Pros

Industrial grade steel legs

Motor operates quietly

Easy to assemble

Cheap price, of course

Cons

A bit heavy

Customer service problems are suck sometimes
We have mentioned the VIVO for a budget under $500 with the size 63×32″. But the brand also has options for an even cheaper budget, around $300 with smaller sizes of the tabletop. For example, 60 x 24. And even with two monitors, it's still quite roomy for several more office supplies. VIVO also has the desk 47×24 version but is not suitable for common users unless you like that size.
One of the advantages of this product is that it's quite stable. It features telescoping legs with easy-leveling feet. The legs and frame are manufactured with sturdy stainless steel. They're anchored safely to the ground. So there's no wobbling. Hence, your computers will stay on the table where they belong.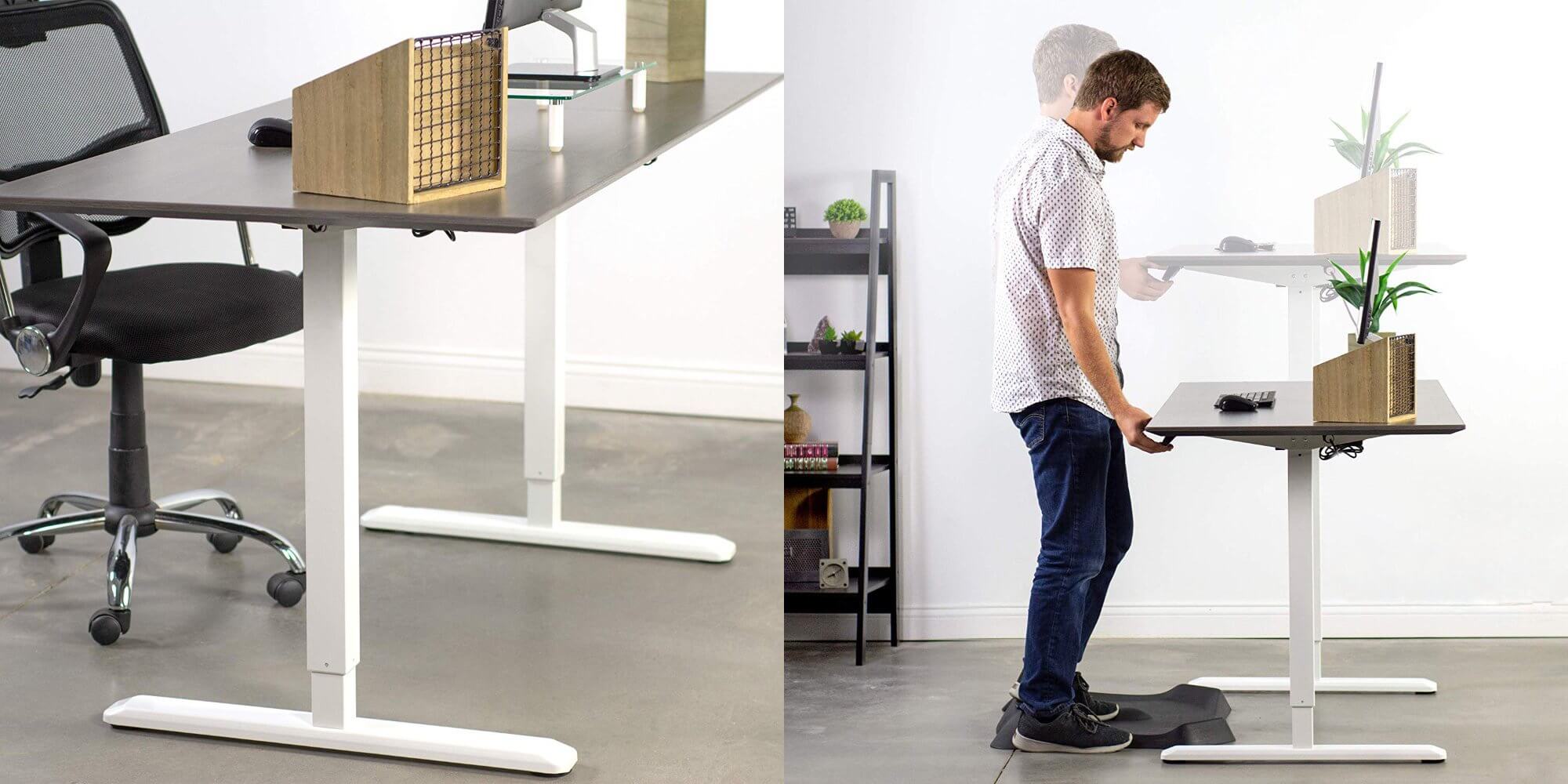 Also, it features ultra-responsive touch control panels for height adjustment. You can change the table height with the up and down button conveniently located on the right side of the desk. Height adjustment levels are 28" to 47.6 inches. You may also save your preferred table height with the memory presets. 
And you'll love how quietly it operates. The smooth electric lift adjusts the table height without making any noise. 
In conclusion, it's a standing desk that's great for multi-monitor setups. You even have more room to place your office supplies and knick-knacks. Just don't go beyond the 176 lbs weight capacity.
Pros

Water-resistant desktop

Telescoping legs with leveling feet

Wide working area

Almost silent electric motor

Sturdy

Cons

The parts are quite heavy

Challenging to install

176 lbs weight capacity is not so strong
We have to say, SHW is one of the lower-priced quality standing desks on our list. You can not find others with a big tabletop size like 55×28″ but within the budget of around $300!
But thank SHW, here, in this case, we have a product that looks simple yet stunning. The tabletop wood surface provides a calming work area. It's a breath of fresh air. And it would look lovely in your contemporary room.
But there's more to its lovely aesthetics. Its functions will definitely fulfill your needs for a great working space. 
As you can see in the picture, SHW's legs are made of steel. It can support the weight of two monitors and a laptop. The steel legs are quite sturdy giving you peace of mind. And it can accommodate numerous height adjustments without fail.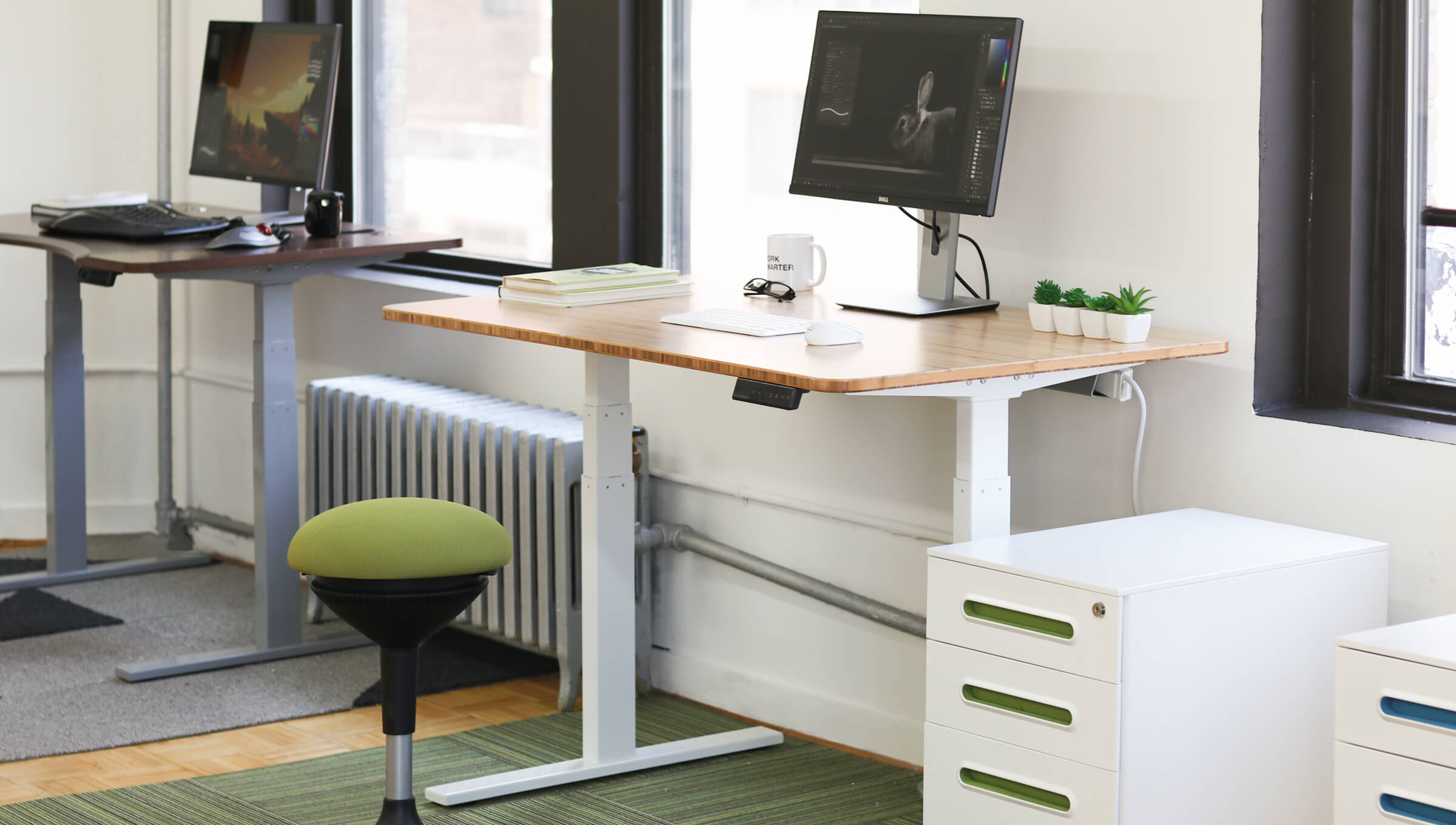 This sleek stand-up desk looks a lot like a Fully Jarvis and an Uplift desk. Tye may even pass off as twins. But it's the more affordable and more basic option. And it can be pretty stable too even with the max weight capacity of only 110 lbs.
And since it can accommodate three monitors, rest assured that the desk is rather large too. SHW has 3 options with smaller from 40×24″ to the spacious 55×28″. With 55 inches wide, you can have plenty of space for multiple monitors, smartphones, laptops, and other gadgets too.
A plus point, this SHW desk has rack space where you can keep your wires and cables organized. And it already comes with your purchase so you do not need to pay extra to enjoy one.
Some people will mind the seam. And the brand kind of left this detail out when they were advertising the desk. So some customers felt deceived by this.
Also, as we mentioned so many times in this post, the height range of SHW desk is not so much impressive – from only 28″ to 45″, it's the ideal desk for average people, but not for short guys under 5′ or the taller ones with a height above 6 feet. 
Of course, there are still other pros to the price! Like other high-end products, it's easy to adjust and accessible via push buttons. You can choose from 4 preset height levels. Another, the installation is pretty easy. The instruction manual is very understandable, no need for a dictionary. All the pieces have labels so you won't feel like you're putting up a jigsaw puzzle.
Pros

Cheaper than others

The desktop is solid and stable

Sturdy steel legs

Wider working area

Easy to install

Cons

Less stable with only 110 lbs weight capcity
Only 1 year of warranty
Not much options for tabletop sizes

A bit noisy

Not suitable for short guys or tall guys
Where to buy:
Radlove – Affordable price for a bigger size 
Compare to other brands like Flexispot, Fully, and Uplift, this brand Radlove is still too new.
The largest desk size of Radlove can fit even over the lazy boy. If you're looking for a desk with the largest surface but will not stretch your 300-dollar budget, better go for the 63×30″ unit of Radlove. 
We also chose this not only because of its large desk area, but it remains pretty stable at all heights despite the larger top.
The very sturdy double-beam metal frame can support 176 lbs and the total weight capacity of this desk is 265 lbs, stronger than you can imagine with a basic brand.
Feature-wise, it comes with more than just the basics, it has 3 memory presets, an anti-collision feature, a cable tray, and hooks. It also goes up and down very quietly. 
However, it is not the beefiest desk since the weight capacity is also not above average. But if it's a large working area you're looking for, this is one of the best.
And oh, the desktop is spliced. Aesthetically it works for the unit. But also there is an indent or gap to where the desk meets. But we are digging into the look of the spliced top, especially with the blacktop at the center. 
The faux wood finishing also has a pretty smorgasbord of options. So you're also looking at an aesthetically pleasing desk. But this may not be a desk where you can pencil in on drawings since there can be seams that are not smooth to write on since these are spliced tops. 
But in fairness, the Radlove is one of the more stable desks with sliced tops. So we don't see it as an issue unless you need to write on the surface.
Why these desks?
Good question! Why do we choose these standing desks instead of the others? The answer is here: Check it out!
You may see lots of mixed reviews from Youtube, Instagram, and eCommerce websites. You don't trust some big magazine sites, either
You may think our site is the same as they are. Well, we don't
What's the gold standard for standing desks?
With a lot of reviews for standing desks for more than 200+ brands, how do you know which one is really credible? Some may review a brand since they're getting something out of it aka sponsored. So you can expect nothing but good stuff. All the cons may be shaded. A true reviewer won't do that. As you can see, we have so many cons for each desk mentioned here! Enjoy!
And reviews of first-time users are genuine. But if it is their first standing desk, there's a limitation there. They would not be able to compare it to others!
So can you still expect these reviews to give you the gold standard for finding your standing desk? We hope you don't!
And is there such a thing as a gold standard? And how can you say which brand is the best? Which factors to define?
Define Your cup of tea
The thing is, the gold standard for finding the best standing desks is subjective. Some brands may indeed be hyped up. With a lot of marketing and advertising, these brands may be quickly held up on a pedestal. So everyone may come in line to buy what the internet perceives as "the best."  Frankly, you can't trust all words from CNN, Nytimes, IGN, or other newspaper sites. Their list of top products is really a big problem!
Or since it's quite popular, they become the go-to desk of most users. A lot of users may have a good experience with the desk. Thus, everyone hopes to get the same experience.
In reality, your neighbor's gold standard for a best-standing desk might be different from yours. If person A has an elaborate workstation, his standing desk will have to be the carrying capacity and a larger desk area.
If you're more into aesthetics, your desk might have a luxurious tabletop with curved edges and a wood grain finish. 
So it all depends on your preferences and needs. Of course!
One person may perceive an Autonomous Smartdesk 2 as the overall best according to his experience. But you may find it lacking. And you may opt for a Steelcase standing desk instead. After all, the premium price definitely means higher quality right?
But that's not really the case. A higher price does not automatically mean that the desk can serve all your needs. Even a cheaper brand can be your best overall if it ticks all the stuff on your list. So branding a standing desk as the best overall is overrated. And it can be misleading too for most.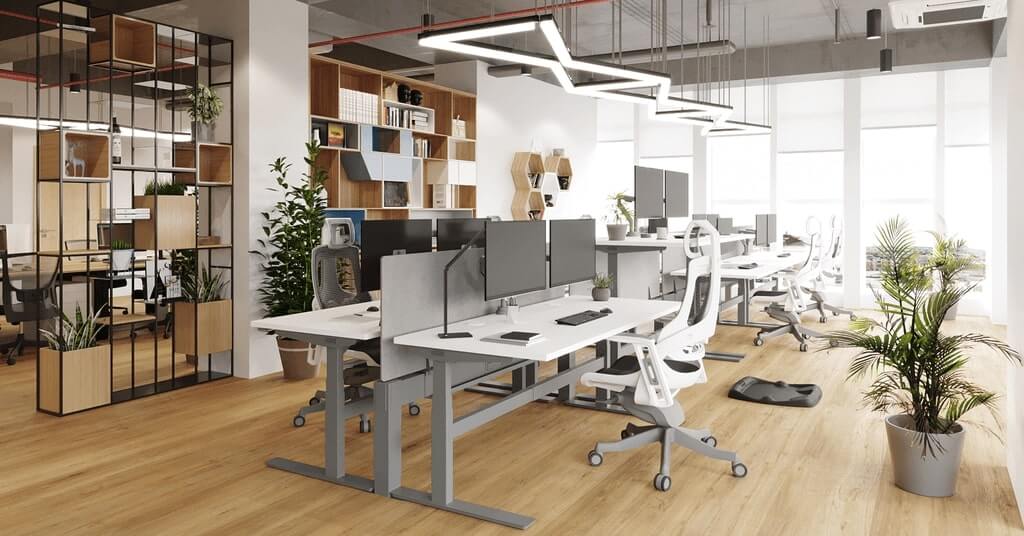 Does this mean that the best overall tag doesn't have any bearing?
Not necessarily. A best-standing desk may become popular for two reasons. One, it's just hyped up due to intense and strategic advertising and marketing. And two, people have positive experiences from using the desk. 
But it isn't one size fits all, it has to meet your needs and wants on a desk. Some brands may fulfill the needs of the majority, hence their popularity. But you cannot say the same unless you have tried the desk yourself. 
The key here is you have to be able to use the desk enough for you to tell if it can serve your needs. That's the only way that you can say that it's the best desk. Thus, the gold standard of standing desks should be the one that can give you the most value for your money. Even if it's a premium desk, if you're getting its worth, it's real value for your money.
The same goes for an affordable entry-level desk. If it ticks all the boxes on your list, it's the best one for you.
Check the Return policy period
One of the features that may give you the best value for your money is the return policy period
This allows you to try it on the desk for a reasonable amount of time. So if you think it's the opposite of what you're expecting, you can simply return it and get your money back. And the warranty ensures that you won't have to pay for repairs for some time, should the desk bail out on you. So that would mean no unnecessary expenses on your part. Thus, you're getting the most value out of your money.
And different brands have different warranty and return policy periods. And these brands are among the ones who offer great deals. We are going to categorize them according to the return policy period.
Standing Desk Brand
Warranty
Return policy
Branch Furniture
10 years for tabletop and frame
components
within 30 days but you have to pay for shipping fee
Uplift
15 years frame, motor, and parts
5 years desktop
30-day risk-free
*brand will shoulder fee & pick up product
Progressive
15 years for all
Buyer to shoulder fee & to arrange to pick up
Flexispot
15 years on metal and mechanical parts, motors, and electrical components* of E7 & E8
*10 years on E3 & E5
*5 years on other units5 years on bamboo top
2 years on other desktops
30-day risk-free
Brand-to-shoulder fee
*Buyer to arrange for pickup
Vari
5 years on selected electric standing desks

10 years on standing School Desk and Executive electric standing desk

30-day risk-free
Brand to shoulder fee
& arrange for pickup
Autonomous
7 years on mechanical parts, electrical, and motor components of selected units
5 years on frames of Smart Desk Desk Core & Corner ( except the Home edition )
1 year on all
tops and surfaces
30-day risk-free except for promotional items
*Brand will shoulder shipping return fee*Buyer will have to arrange for pick up
One year
Only Brand offer: IKEA
If you had fun building blocks with your IKEA standing desk, you'd also be happy with the return policy of the brand. It perhaps offers the longest return policy period. You won't find any brand that offers the same.
If you're not happy with the desk, you can still return it in a year and get your money back. Even if it has been fully assembled, just as long as it hasn't been used, you can return it to the store.
The return period is quite long. So it's great for those who find it difficult to find the time.
30 Days
Several brands offer a 30-day return policy. 
Autonomous

BTOD

iMovr

Uplift

Varidesk

Flexispot
But not all brands will shoulder the shipping fee for the returns. For instance, iMovR will require you to pay the shipping fee for the returns. And the brand may also charge you a 20 percent restocking fee.
Which is better, a one year return period or 6 months?
The answer to the question above is again very subjective.
The one-year return policy works for those who can't squeeze in time to return the item. Though the desk has shown no signs of usage. So you can't really use the desk for a few weeks to test it. But you can risk it. 
But this still works for some. Some users just need to try the desk a few times. And they can instantly tell if it's not for them. 
But for others that need more time to try out the desk, a 30-day return policy is the best for you. Just make sure to return the desk before it hits the 30-day mark.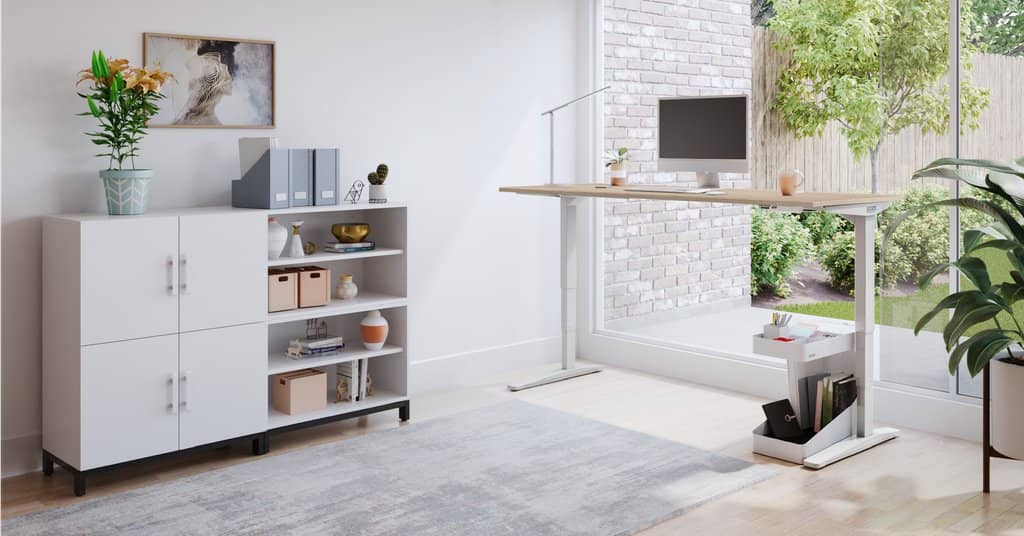 How about Customer service
Another factor that most users are now considering as part of the gold standard in standing desks is the customer service of the brand. 
Buying a desk is just the start of your relationship with the brand. Should you have any problems, you would want the manufacturer to be able to address them asap. And that's when you get the most value for your money. If your manufacturer is ghosting you, you won't be able to fix the problem. Hence, you won't be able to use the desk. So that's going to be money down the drain.
For instance, some users complain about Autonomous taking so long to return calls for a refund request. Some brands would take a month before they would be able to answer a single query or question. And other manufacturers don't even do after-sales anymore. 
Aftersale is important because brands can get recommendations for good customer service. And you'd likely get a second desk or product from them should you be assisted properly right?
Among the bands, several manufacturers can stand out in terms of customer service. Steelcase, a premium brand, is known for its excellent customer service. 
You can get answers to your queries asap. So you'd instantly feel that the brand will be there for you even if you have already purchased an item. And should you have any problem with your desk in the future, the solution is just one phone call away. 
Uplift or Vari also has great customer service. They'll process your refund or replacement right away. If you mistakenly ordered the wrong size, these brands can cover the shipping expenses and they can even pick up the desk. Though this may vary for some locations, this is what our experts have experienced. And you don't have to print the return label. It's like being spoon-fed.
The gold standard for standing desks should satisfy your individual needs and requirements. That's why not one size fits all. Also, it helps to do a lot of research. Albeit many sponsored reviews, there are still unbiased and objective reviews on the internet. You just have to do comprehensive research. 
And it's best to buy from brands that have a sufficient return policy period. Because at the end of the day, you should get the best value for your money. That's the gold standard.
What are you waiting for?
Well, that's it. Hope you guys love the list we have made. We will update the list as soon as possible. Some brands they may have updated on the desks like creating a new one, removing the old one, etc. We will make sure when you want to buy a great standing desk, it is always available on the market.