One of the 7 footer problems is finding a standing desk that can go high enough. There are decent choices, if not many, of standing desks that tall people can use. You have Uplift Commercial, Branch standing desk, Lifease, and Fezibo. These desks can go as high as 50-52 inches.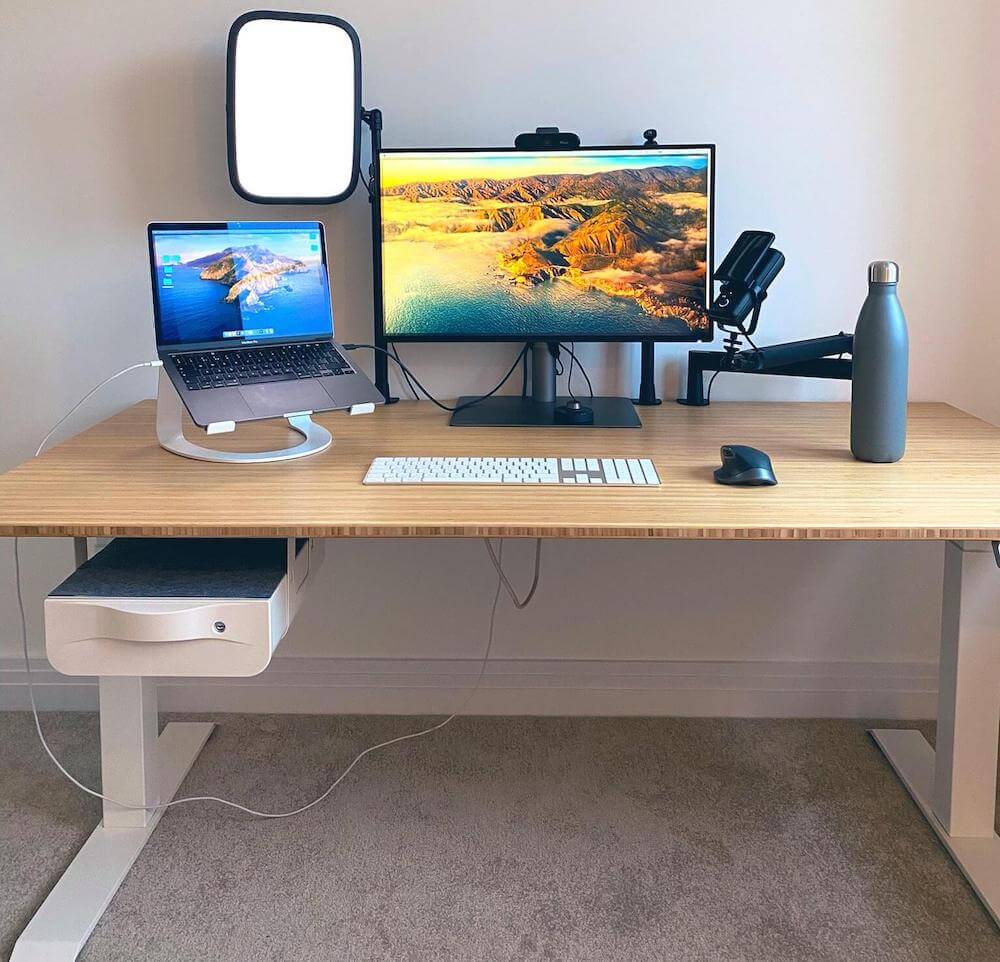 But the problem is, if you stand 7 feet, these will still fall short of what you'll find comfortable. And you need a standing desk that can rise to at least 54". And there aren't many options in the market. You're lucky if you can spot one right away.
The good news is, though there aren't any that can outright be used by a 7 footer, we're not going to be empty-handed. And we're also tossing in some DIYs. So even with limited choices, we can still address these "tall problems."
How to Solve These Tall Problems
With the lack of choices, how will you be able to find a comfortable standing desk if you are 7 feet tall? By some more DIY of course!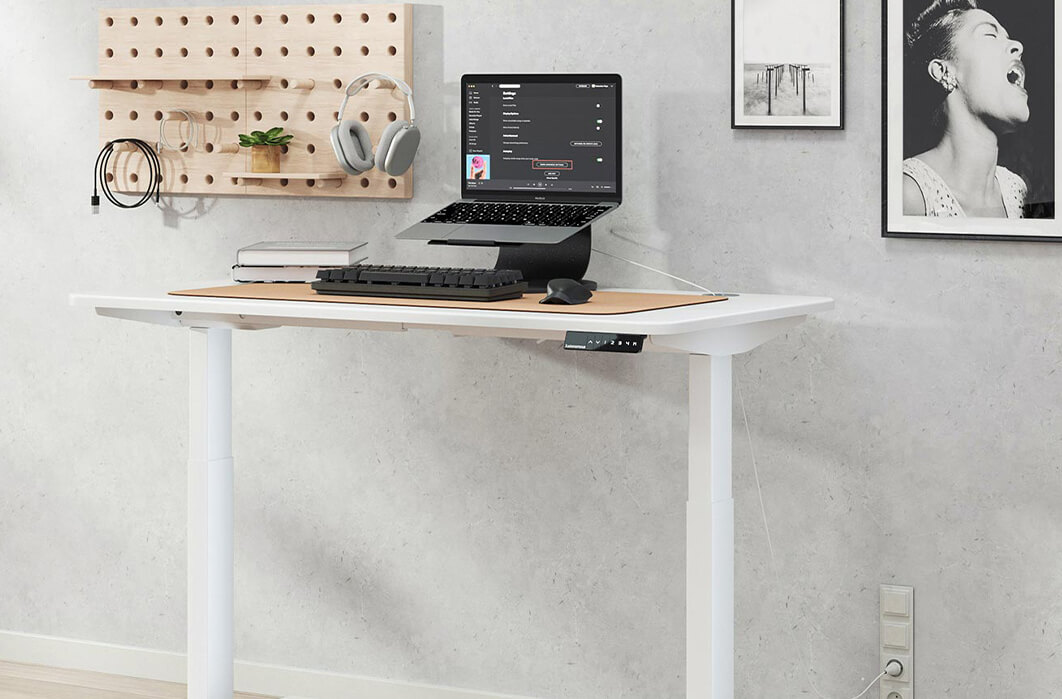 Here are other ways to sort of elevate a standing desk so that it can meet your requirements.
Most of our suggestions will entail adding or connecting a new part that can elevate the desks from their feet. You can also try these and see which may be able to fulfill your needs the best.
Use extenders
The truth is, finding a standing desk that hits the sweet spot for a 7-foot tall dude is like finding a needle in a haystack. 
Our first intervention is to make use of extenders. 
For instance, an iMovR Lander, when outfitted with the brand's 6" extenders, can be a viable option. 
The desk's highest setting is at 50.5", which is suitable for someone who stands up to 6'10."
That may be a far cry from what we are looking for, but if you add extenders, you can enjoy an additional 6 inches of height.
Add caster wheels
Caster wheels will be able to provide a couple of inches to your desk. Thus it's still crucial to use a desk that can go as high as 52".
Aside from that, there are still other factors that you have to consider should you decide to add caster wheels to your desk
Small caster wheels can add the same amount of height as bigger caster wheels. But you also have to consider the environment or the area where the desk is situated.  
Smaller caster wheels won't roll smoothly on bumpy floors. Some may even get caught in high pile carpets. 
That's why we prefer to get larger caster wheels or those with wider dimensions. These will also be able to provide better support and stability to your desk.
Adding caster wheels is ideal if you also need your desk to be mobile. It's not a good option though if you have a lot of things on your desks. 
Caster wheels can sacrifice the stability of a standing desk at some point. As such, you have to pick a standing desk that is still stable even at the highest setting. 
And for this to work, you also have to use desks that can rise up to 52" since caster wheels can only add up to 2" of height. Some options are the Branch Executive Desk and the Union Scale.
And this can be a viable option if you have a minimal setup. Also, you'll have a limited choice since there are only a few sit-stand desks with a max height of 52".
Add solid risers
Like caster wheels, solid table risers are added to the feet or base of your standing desk. Some table risers can add as much as 4-5 inches to your existing standing desk. Some may also be adjustable. You can add more height by adding more stacks of the table risers. 
Table risers can be made from plastic, metal, or wood. We try to veer away from plastic table risers as these can easily crack should you put too much weight on your desk. We recommend using a more heavy-duty table riser made from metal or wood. 
Build a desktop riser
A desk riser is a better option if you have a standing desk that already has some wobbling issues at its highest setting. 
If you're using an UPLIFT or a Fezibo, we see a desk riser as a more fitting choice than adding caster wheels. The wheels can exacerbate the slight wobbles and can only increase the desks' height to 52", which is less than what you need.
You can opt to have a built-in desk riser that will function like a second-tier where you can place your laptop and computer. This will add the needed height. But of course, you might need to drill some holes into your desk.
You can also buy a pre-made tabletop riser. They come in a variety of shapes and sizes. So you can also customize your workspace with these
And as a bonus, you may also use the bottom part of the riser as a small storage space. 
Use a standing desk converter
Like a desk riser, a standing desk converter can act as a second-tier for your computers and laptops. Though this is a less invasive option for your desk, it can be a more expensive one.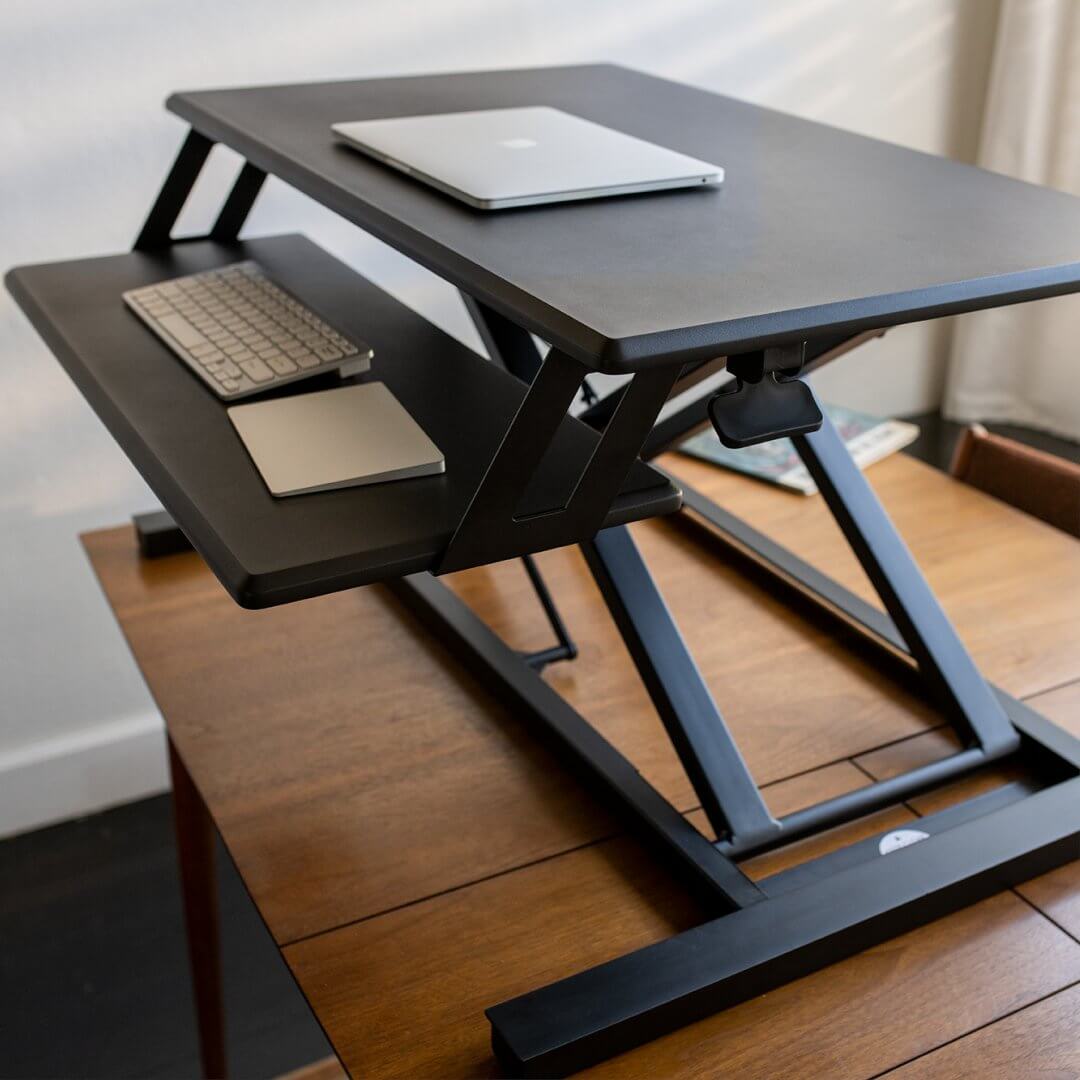 And there are also a plethora of options for standing desk converters. So you may find it challenging to choose one. Like the electric standing desks, some standing desk converters can also be a bit wobbly and unstable. 
DIY with Caution
We'll all be going for a DIY since it is basically very little to no option. So the key is to find the perfect fit. 
Some brands, like the Lander, come with optional extenders. An UPSCALE desk rises up to 50" and markets itself for taller users when outfitted with caster wheels. So if you're going to buy the additional tools from the same brand, you're sure that it would be a great fit.
The challenge is when you're going to buy separate caster wheels for your existing standing desk. Or if you have decided to buy or build a tabletop riser. You have to do the proper measurements so that everything will fit as expected.