The SHW studying desk is one of the cheapest electric standing desks in the market today. But when you want a cheap standing desk, you also don't want something that's too flimsy that you have to take extra caution every time you use it.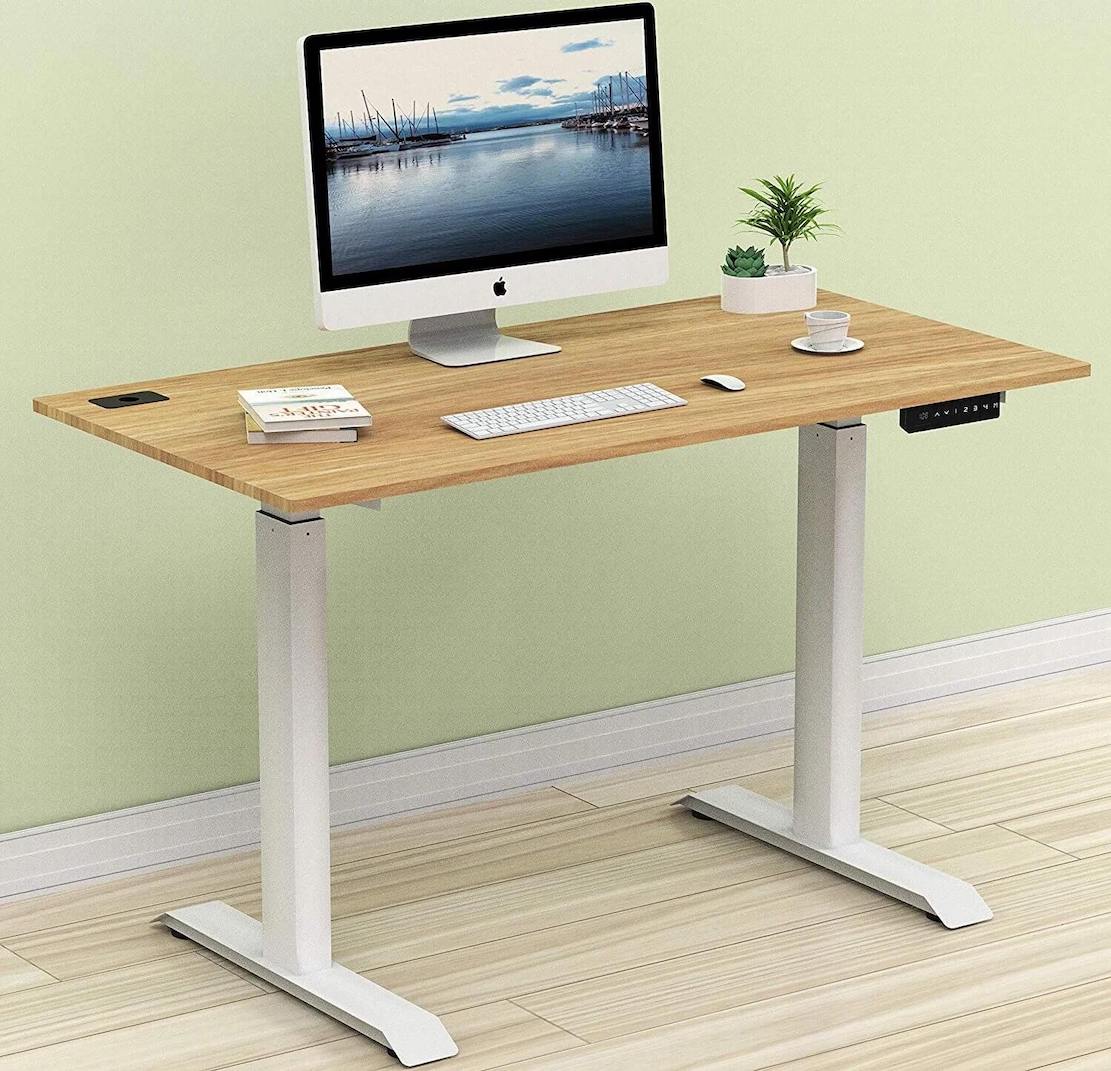 So let's see if your budget of fewer than 300 bucks is worth this budget-friendly electric standing desk.
About the brand SHW
SHW doesn't offer much information about the company. So I find it hard to find any real information on where it's manufactured and who manufactured it. It could be that it's involved in a reselling business of some China-made products of some sort.
Build and construction
The tabletop feels nice and sturdy. But it's quite different from the tabletops of other brands. Instead of one single unit, the tabletop is composed of two wooden panels. These wooden panels are secured by dowels and screws. At first glance, there's a bit of hesitation if the two pieces of wood will hold nicely with one another. But it did feel stable and well attached, for as long as you follow the instructions carefully. The two wooden panels didn't make a difference when it comes to the stability of the tabletop.
As for the steel-framed legs, it feels robust and steady too. I've tried adjusting the desk several times in a row. And it still felt steady and smooth. The table adjusts flawlessly without any friction too. 
Adjustment
The SHW standing desk can be adjusted with an up and down button controller. And you also have the option to put in your preset height preference. So you don't need to gauge the ideal working height every time you work.
It allows you to save at least 4 height settings. It even offers more preset height settings than the Varidesk Pro, and the latter costs a bit more.
I also love the control button featuring an LED display. It's even more convenient and this amps up the modern look of the standing desk. It's a bit similar to the LED display and programmable options of the Seville standing desk.
Scope of users
The highest desk height of the SHW is a bit higher than the eye level of a six-footer. So you might be able to find a comfortable spot even. The height adjustment level is 28- 46 inches. It actually has one of the smallest height ranges that I was able to come across. So it can be comfortable for a 6 footer, but might not be able to accommodate taller users. 
The Flexispot and Seville have a higher range. And the Varidesk is also perfect. You just have to shell more moolah for these mentioned desks.
Cable management system
One of the features that I love about the SHW standing desk is that it has several grommets where you can neatly organize all your cables and wires. Not all standing desks offer this convenience. Though some may offer grommets and holes, sometimes it's just not enough. For instance, the Flexispot is one stable and sturdy standing desk, but the cable management system could have been better.
Stability of the SHW standing desk
In terms of stability, the desk is quite stable even at the highest setting. There's no wobbling or shaking. But I don't recommend maximizing the weight capacity of the desk. It feels steady and decent, but I don't think it's as durable as the Vardiesk or the Autonomous. But oh well, the price is way cheaper. 
The shape of the legs and the station of the HSW standing desk makes it stable. There's no need to add a crossbeam. It can feel as stable as a Flexipsot standing desk. And even less wobbly than the Varidesk without the crossbeam.
Value for money
The SHW is a good option if you're on a budget. Check the price today
You might be finicky at first if this desk could stand up to daily use, but it adjusts smoothly even with repeated use. And unlike the other competitors, it offers free shipping too.
And you only need to add a bit more money on top of a manually and cranked standing desk and you get to enjoy the convenience of a fully electric desk.
And the set up is a breeze. The SHW took me just 15 minutes to set up. It's easy to assemble and the directions are simple.
Overall look
The SHW standing desk boasts of a Scandinavian look. It looks a bit similar to IKEA furniture. The overall look of the desk is clean and modern. And if you have several IKEA furniture, this standing desk would easily blend in.
The size of the desk is a bit small compared to the one motor standing desk of Flexispot, but can you still have ample working space for a monitor and a laptop. 
In terms of the design options, you're a bit limited here. The SHW standing desk only comes in only two options- black and walnut. 
What I wished were better
The SHW electric desk is quite noisy. This standing desk has several qualms and one of them is the high decibels. Though some might not be bothered by it. But if your pet peeve is noise, this is not the standing desk for you. 
The weight capacity of the SHW is about 110 lbs. When compared to other standing desks in the same tier, it falls a bit behind. The Flexispot has a 154 lbs capacity and the Varidesk boasts of a 250 lbs carrying capacity. And the Seville has a 264 weight capacity. So the SHW is a little behind. It's more appropriate for light to medium-duty use.
Also, I did not feel that confident to overload or maximize the capacity of the desk,. It is steady, but I don't think it's the most durable. And from a different angle, you can see the motors, as they are quite exposed. I don't often see this in other sting desks. Though you might not notice it at first.
The tabletop also seems to have a few rough edges and can cave your skin at times. I think it has something to do with the fact that this standing desk consists of two panels that are attached. 
And one of the concerns that I'm foreseeing is that the brand doesn't really have a website. It seemed like a random company. I'm not sure who the manufacturer is. So when the desk breaks, you will have a problem contacting the customer service. Unlike other competitors such as the Autonomous and Varidesk with excellent customer service.
Who is it for?
If you're looking for a fully electric desk that is below 300 dollars, the SHW standing desk is a great pick. It's more of an entry-level and light-duty standing desk. 
And if you're also tired of your manually adjusted desk via a hand crank, you need to add just a few moolahs to get a fully electrical one.
Who it isn't for?
If you're looking for heavy-duty and a desk that has a larger workspace for an elaborate workstation, you'll find this lacking. It also has a lower weight capacity so you can't put more than two monitors on the table as it might compromise the entire unit. 
Is it worth it?
If you are going to install the desk properly and follow the maximum weight capacity, it is worth it. I didn't encounter any problems when I repeatedly adjusted the desk up and down. And it feels solid and sturdy too, so long as you're not going to overload it. So yes, it works, especially if you really have a tight budget but you want to get yourself an electric standing desk. 
And there are a lot of manually adjustable desks that have the same price as that of the SHW standing desk. So for the pierce, it can't be beaten. It still is a good value for your money despite the several qualms. 
Furthermore, the strength of the SHW standing desk lies in its control and motor. So it is a light-duty stable desk. You actually won't expect a well-built motor with this price. 
Conclusion
The SHW desk isn't the most durable standing desk. And it also doesn't feel high end. But for its price, it's worth it. It's also a hundred bucks cheaper than the next fully electric standing desk competitor. And the motor and control so the SHW desk will not fail you. It's still a stable desk.