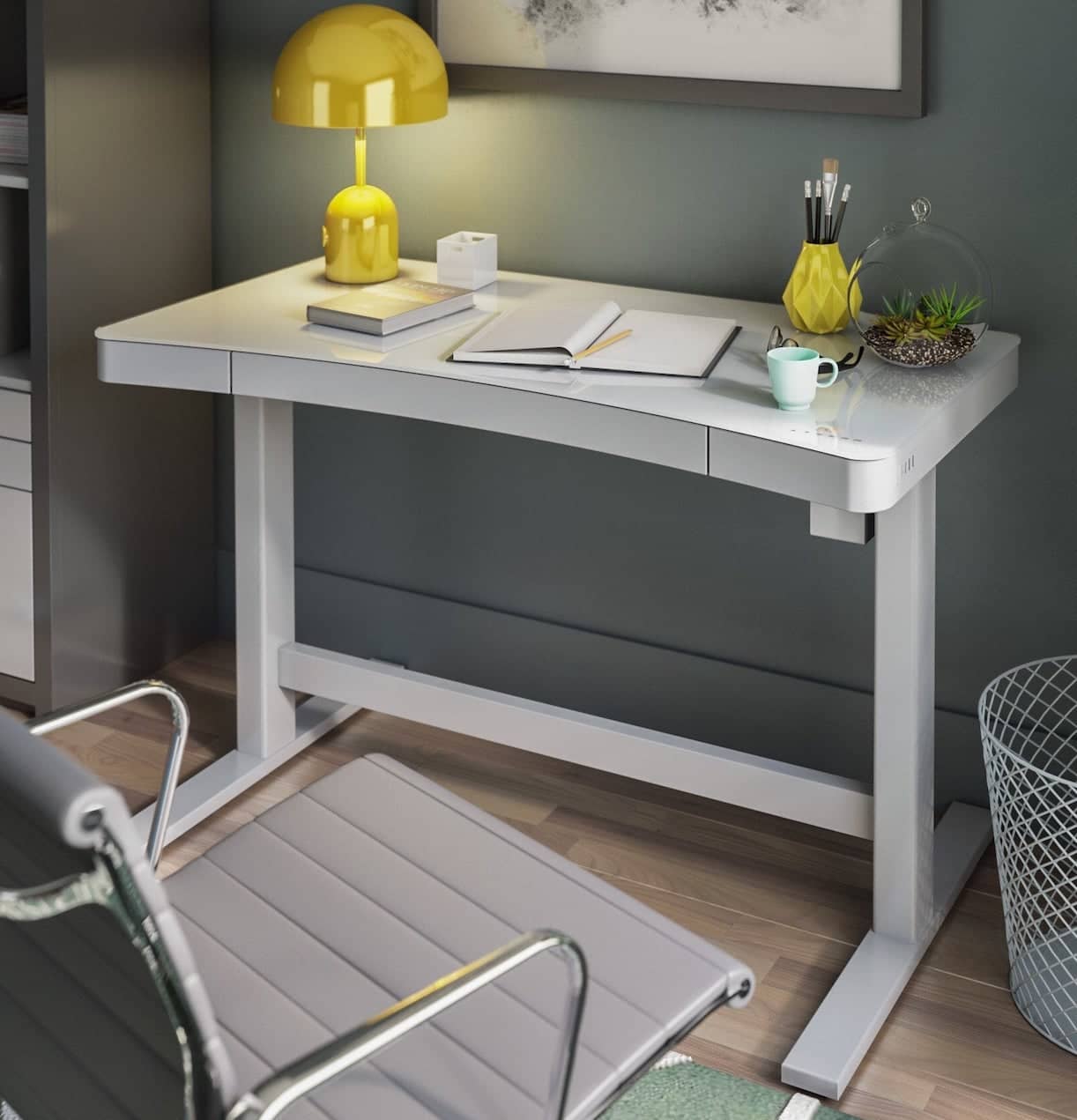 The Babin is no doubt one of the more gorgeous, sleek, and still affordable standing desks that we have come across. The size will have an advantage for small spaces, but the low load capacity of 100 lbs can be a turnoff for most.
Let's see if it really is.
It's a dainty adjustable desk for short people and a small space
Short, dainty, and doesn't need a lot of space. Babin ticks these requirements. 
But even if it's rather small it doesn't go cheap on all the functionalities. It even has more to offer compared to mid-range and some large-sized standing desks. This is a keep-it-sleek, small, and clean yet functional type of unit.
It measures 25" x 47", thus it can be a great desk solution for small apartments, dorms, or if you need an extra working area in your bigger home office. 
This can also be a nice addition to the corporate setting where the brand may need a handful of smaller desks for their team. It will not eat up much space so you can easily lose them in rows. And as long as you use the desk as intended ( load requirement), this is going to be a classy desk fitting for a high-end brand.
Whether you choose the all-black or white ensemble, this will sparkle in the office. 
So can you imagine the sun's morning rays shimmering on the luminescent glass top? It can be a great way to start the day.
According to studies, an aesthetically pleasing work area can positively affect one's mood and productivity.   So that shiny sheen in the morning will be welcomed with open arms by almost everyone.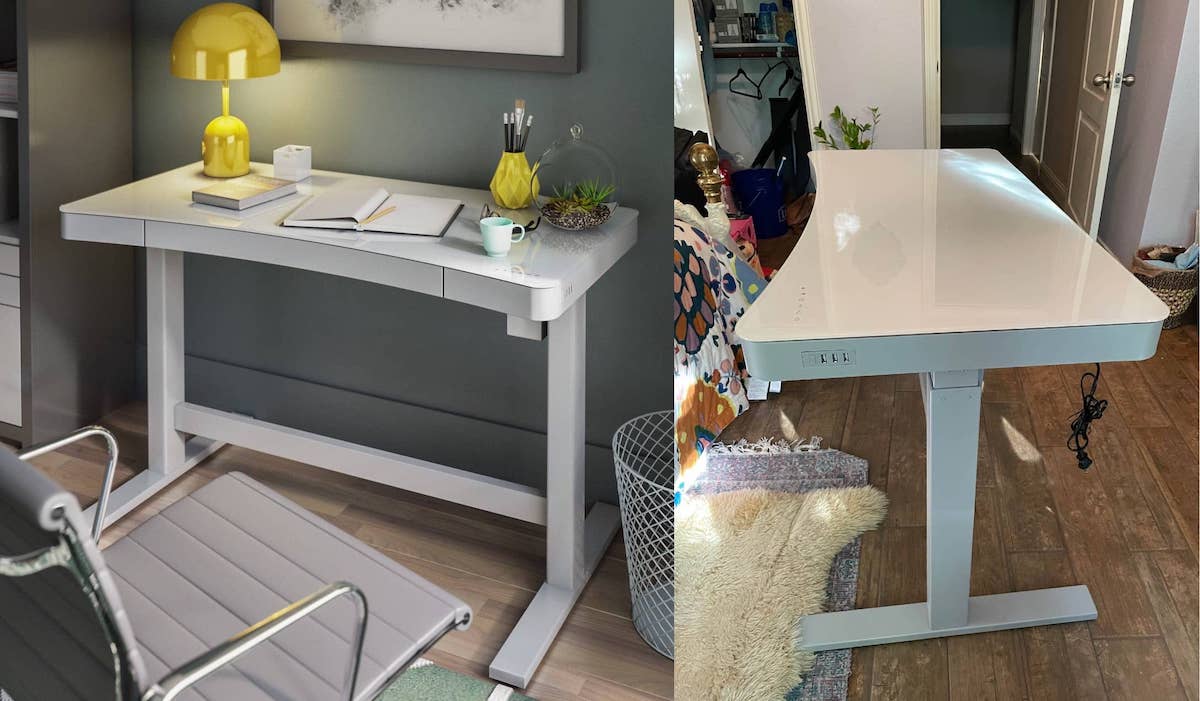 Let's see what else Babin has to offer 
Babin offers more unique features that you will not find in a lot of desks. Search for a desktop with a writable surface, you might just come up with one or two matching results. 
You can write on the tabletop and erase it once you're done, then it's all set for the next day. 
This is a nice touch for those who want to be on top of the things that they have to do in a day. Having a reminder written next to you means you will not forget all the crucial details. 
You can say goodbye to sticky notes that sometimes do not stick well to the table or the computer. You'll also be saving trees since you're going to cut down on your sticky notes/paper usage. 
Instead of notes, you can write on the surface of the desk itself. This feature can also be of great use during meetings and brainstorming events. If you run out of space on the whiteboard, consider the desk as a supplementary board. 
It comes with a central drawer, large enough to hold several books, notebooks, and pens. And the drawer is soft touch, which is a fitting one for a dainty-looking glass-top desk. 
We figured the glass top desk should have soft touch drawers because well, glass is more breakable than particle board. You don't need to slam shut the drawer just to close it. That is again, amping up the elegance of the unit.  
It also has a complementary cable management tray, so it's easy to organize the desk and keep it neat and clutter-free without the need to buy another accessory. Whoever designed this desk has been organized at the top of his mind.
You can easily organize things with the drawer. You have the cable tray to hide chunky wires and cables. And you have the writable surface to organize your thoughts and the things that you need to do for the day. 
These features help keep you calm and prevent you from being overwhelmed. So if you tend to be that, this can be a great desk solution.
The control panel of the Babin is also a modern take on the ones you see from most standing desks. It's not chunky nor protruding from the edge of the table. Instead, it is embedded on the surface of the desk and it is also luminescent. So after a few minutes, the LED display will disappear. You also have 3 memory presets for your convenience.   
Overall functionality and aesthetic, we're very into this unit. We can't even find the right words to say to express how sleek and sexy Babin is.   
And oh, it has 3 USB ports where you can charge.
When not to buy the Babin standing desk
Here are several reasons why this gorgeous desk may not be the right option for you.  
The desk is perfect for those who are petite up to average height. It will not go high enough for tall users. Also, this dainty desk might look funny or ridiculous for a tall person. 
You need a bigger space and a larger load capacity
The maximum weight capacity is only 100 lbs. That makes it very basic in terms of the load. So there should be no heavy equipment and there are no zoning opportunities.
A simple setup of a laptop or a small monitor is the best use of this since you would want to keep the desktop surface open for you to write on. 
Standing desks similar to the Babin
It's hard to find the same features of Babin. But we did our best and we managed to pull out a handful of desks that may share some, but not all of its unique features.  
So here are other units that may suffice as an alternative. Some are also able to get rid of the limitations of Babin.
Aimezo glass standing desk
This unit measures a bit wider than the Babin, but it still will be a suitable unit for a small space. It also has a luxurious glass top, the difference is that it is not writable. 
It also comes with a central drawer, though it seems smaller than what Babin offers. The drawer also looks less posh but it does have a touchscreen control panel. It offers 3 memory presets and additional features such as a child lock and hidden wireless chargers. So albeit the absence of a scribble-friendly desktop, its unique set of features can also make up for it. 
As for the load capacity, it's similar to Babin though a bit more muscular with 110 lbs max load.  
Farray glass standing desk
This unit looks more similar to the Aimezo desk except that it does not have a touchscreen control panel. Instead, it is embedded on the front edge of the desk. So it will not stick out and you're less likely to bump into it. This also makes it look more elegant. In addition, it has an included power strip that has 3 socket outlets where you can charge your gadgets. That's another money saver.
The unit has a height range of 27.1"-46.3", a bit lower than Babine, but within the same range.
It's a very aesthetic desk like Babin. It's an alternative if you're not really keen on the writable surface and you find the touchscreen panel a more elegant choice. 
This is perhaps the closest rival of Bain. It has the same writable desktop surface where you can scribble down notes.  
But this is the more hefty one. The Airlift desk has a higher load capacity of 176 bs. It also has some nifty features that you'll find convenient, such as the 2 USB ports.  
The control panel, however, is less sleek. It is embedded on the front edge of the desk. Though it's a better take than what most units have if you're going to compare it to Babin's this will look standard.  
But this one will cost more than the Babin, hugely because of the added weight capacity
So is it worth it to buy a desk with 100 lbs weight capacity?
The 100 lbs load capacity might make a lot of people hesitant to buy this desk. But that is the case with most glass top standing desks, there will be weight limitations because of the materials. The selling point of the desk is the ability to write on the surface, erase it and have it ready for the next day. The functions are also amped up to make up for the limitations. 
So if this desk caught your eye, it's not for the hefty load limit or the wide space. 
When used as intended, the desk is pretty stable and strong. It doesn't unnecessarily shake or wobble.
This could also be a great desk solution if you're studying at home. You can use the desk to write mathematical formulas and it gets rid of having to use scratch papers. Thus, it can also help you lower your carbon footprint.