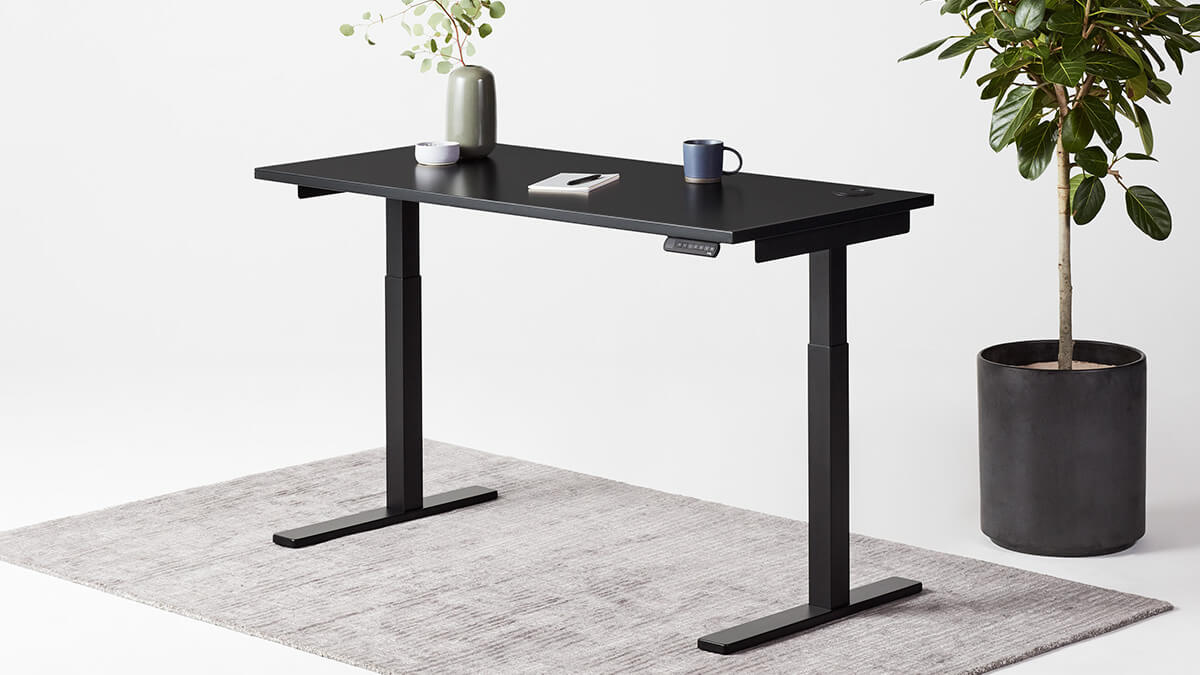 Wondering which fully adjustable electric sit-stand desks are hot in Canada right now? No need to, we are listing the top 5 popular electric height adjustable standing desks in the market at the moment. So let's get on with it, eh?
The ZHU CHUANG electric standing desk may have all the features you're looking for in an adjustable standing desk. One, the width and the height of the desk are both adjustable. 
While most competitors only have adjustable height, the adjustable width of this desk allows you to configure it with a larger desktop. So if you need a wider 71-inch table, this unit can accommodate that. So this is a perfect choice if you need a more elaborate and wider workstation.
Two, it's equipped with two motors and a three stash lifting capacity. So the transition is rather fast, smooth, steady, and stable. It operates quietly too. 
And three, the desk seems heavy-duty, it's sturdy, strong, and doesn't wobble. From the frames to the desk, you won't be able to say that there is anything cheap about it. Everything is well made and well constructed.
And another great feature is that it's aesthetically pleasing. While other brands make use of particleboard, veneer, or laminate desk, this unit makes use of solid bamboo. So it's like bringing a piece of nature back into your home office. 
The unit is pretty easy to assemble. But the problem lies with the instruction manual. It seems to be written in broken English and hard to understand. 
Features
Bamboo desktop

60" x 30" desk

3 stage lift column

Anti-collision feature

Adjustable height from 26-52"

Adjustable width from 42-71"

Push up & down button plus 4 memory presets

3-year warranty
Pros
Easy to clean

Fast shipping

Neatly packed

Beautiful solid bamboo desktop

Solid and sturdy
Cons
The instruction manual could have been better
This SHW desk is a rather small but heavy-duty desk. It's perfect for you if you don't need an elaborate setup. But you won't be disappointed with its capacity. This desk is pretty heavy-duty.
The desk comes in with 4 stationary casters. But you have an option to outfit your SHW desk with rolling casters instead. If you want more mobility and an easy move the desk, can easily be fitted with wheels. It was also pretty easy to assemble. The desk came in packed nicely and all the parts are labeled. So that helps in the quick setup.
Another feature that you'll find convenient is its fast and smooth transition. There is no scandalous noise whilst the table is moving. 
However, the desk comes in two pieces. So this may be a nay for you. You have to connect the two parts of the desk. so there will be a bit of a small gap at the center. Aesthetically speaking, it might turn you off. The solution is to put a mat on it or something. But it will not affect the stability of the desk.
Features
48 x 24" desk

One year warranty on the motor

Height adjustment range is 26-48"

Industrial steel legs

Telescoping adjustment on legs

LED display with up & down keys and 4 memory presets

Wire management system

Has a screw-in leveling guide
Pros
Can be outfitted with wheels

Solid and sturdy

Easy to assemble
Cons
There's a small gap in between the two parts of the desk
The Solo Ryzer is your almost complete standing desk. It's like a one-stop shop where it has all the stuff that you need. Well, it literally does. Comes with the desk is an extension cable. It also boasts of wider working space, fit for the busy bee. And it's not just functional, it's stylish as well. It comes in an array of beautiful wood table tops.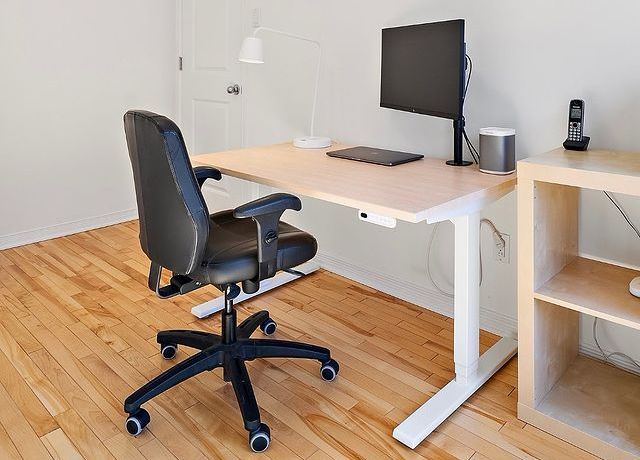 As for the motors, the transitioning is fast and smooth. And the brand has a generous 8-year warranty on all parts. So expect the entire unit to be pretty sturdy and stable.
Also, it has a very broad height adjustment range, from 24 inches to 50 inches. So even tall users will find this unit suitable for them.
Overall, it's a heavy-duty and high-quality standing desk complete with the works. It's also a standing desk that can fit all heights.
Features
A lot of sizes: 60×30, 72″x30

A collision-detection
Child-lock feature for added safety when using

4 memory presets

Height range 24 to 50"

Has a USB port

8-year warranty

3 stage linear motion design
Pros
Fast delivery

Smooth and strong motor

Sturdy legs

Wide height adjustment range

Generous warranty

Stylish and beautiful tabletop options

Amazing cable management system

Complete with all accessories
Cons
Instructions can be improved

Packaging might need improvement
The entire tabletop is really sturdy and solid. It feels quite durable and heavy-duty. Everything about this desk is stable. The legs and the motor. And it doesn't wobble. It's pretty stable at all heights.
we also love the wider desk. It is wide and large enough to hold three laptops and a monitor.
We were rather pleased with the way the Bordeaux standing desk was packed. It arrived in two boxes. The first box contains the desktop while the second box has the metal cable and the legs. It's also fairly easy to assemble. It was straightforward and the tabletop already has pre-drilled holes, so that makes DIYing easier. Well, except for the control panel. And since it is well packed, dents and scratches are ultimately avoided.
And it arrived way earlier than expected. So for both the shipping and the packaging, we are well pleased.
Features
3 memory presets

Sit-stand time reminder

Collision avoidance system

Digital LED memory controller

Has a crossbar

2-year warranty on parts
Pros
Fast shipping

Solid and stable at all heights

 Wide desktop

Well packed
Cons
color options for the frames are not always available
The Apex Desk Elite series sit-stand desk is a beautiful posh desk. The MDF wood desk is rather charming with a contoured edge. This hits two birds with one stone. It adds beauty to the desk and it makes it more ergonomic.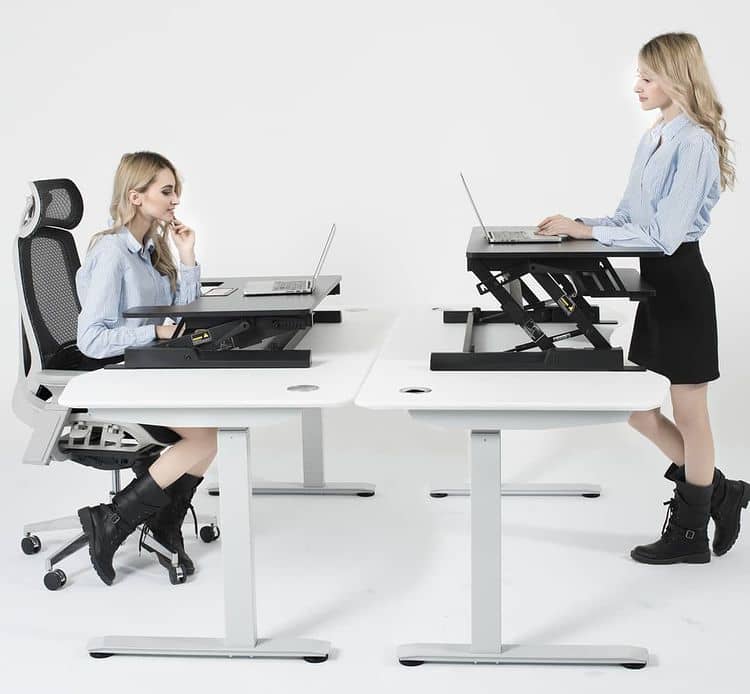 Also, this sit-stand desk is solid and heavy-duty. It's sturdy and stable at all heights too. 
It has a lot of memory presets, 6 of them. So it allows you to record more press height options. But operating the table might not be for all. You need to hold the button until it reaches the desired position. It might not be a big deal, but some may be inconvenienced with it.
This desk is also easy to assemble. And albeit being solid, a one-man teare can assemble it under an hour. The instruction manual is also pretty easy to follow. Also, the desktop area is quite large and you can conveniently fit three average to large-sized monitors with ease. So it accommodates a busy and more elaborate workstation easily.
Customer service is also a breath of fresh air. They will respond to your inquiries right away. So the aftersale is rather excellent. Click to image to check the price!
Features
60 x 28" desktop or 71″ (biggest)

Contoured desktop

MDF wood top with a matte finish

Height adjustment range is 29" to 48"

Industrial grade steel frame

225 lbs weight capacity

6 memory presets

2-year warranty on electronics
Pros
Ergonomic beveled desktop

Wider space

Easy to assemble

Great customer service

Fast delivery

Stable at all heights
Cons
You need to hold the button until it reaches the desired height

Price would have warranted a cable management tray
Final say
What makes these electric standing desks prime choices among Canadians? You'd notice that these brands aren't the most famous. They also don't belong to the popular premium standing desks that are on most people's wish list.
These brands have won the hearts of the Canadian market due to their sturdiness and stability. Popularity is out of the things to be considered.