VIVO standing desks are among the more popular standing desks in the market today. Most of it has got to do with its very affordable price tag. And the brand has been a household name for being reliable yet affordable standing desks. They might not look as fancy as other high end standing desks, but they do serve their purpose. 
Today, we're going to review V.I.V.O standing desks. And along with the affordable price, there are some setbacks of course. But let's see the bird's eye view of it so you know what you're in for
V.I.V.O Electric Standing desk – Is the large working space worth it?
VIVO is manufactured in China. It's actually sold under different brand names too. That's the same functional desks with different brands. I reckon that's one of the reasons why it has a very competitive price.  
Many find VIVO 103E electric standing desk a great solution for their home office. What I love most about VIVO 103E ( and most users!) is the large working area that the desk offers. It looks just plain and basic but has a larger working surface.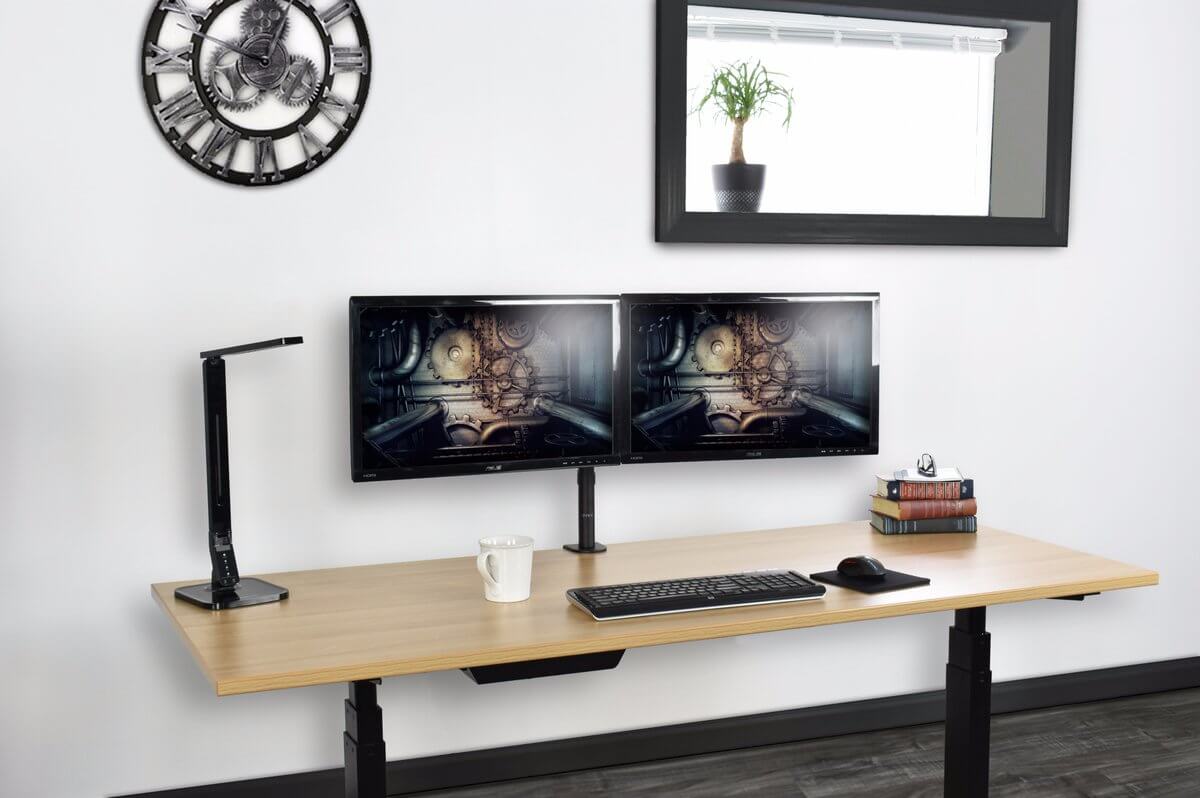 But with the great space comes a great sacrifice too, or even bigger. You have to give up a lot of space for this standing desk. It could even be slightly bigger than the working space that you're getting in return. 
The VIVIO Electric Standing desk can really be huge and it's hard to miss it. So if you're willing to sacrifice a chunk of space in your home office, by all means, it provides a great working surface.
But if you have limited space or it's just enough to fit this large desk, you might want to look for an alternative. You don't want your home office to just feature a large standing desk right?
The Jarvis standing desk is a great alternative. It also offers a decently large working space. It's also a dual motorized electric standing desk. It would guys set you back a couple of extra dollars. The increased weight capacity of 350 lbs and a more customizable tabletop are some of the upgrades that you can enjoy. 
So in a nutshell, when we're speaking of large working space, This VIVO electric standing desk definitely has it going for them. But you also need to decide if you have enough space in your office to accommodate this standing desk.
But in terms of stability, there are several concerns on the V.I.V.O electric stand up desk. Most electric standing desks often have a traditional cross-post that makes it stable at even the highest setting. 
It's a bit wobbly at the highest setting. But it does have a wedge system at the top of the steel frame. This acts as an alternative to the traditional cross support system. Is it enough? 
It makes E103 a bit more stable than an electric standing desk without any wedge systems such as the Fully Jarvis electric standing desk. And this wedge system is also the same type that you would find in an UPLift standing desk.
Another concern though is that it still continuously moves even after releasing the height adjustment button. All in all, the E103 is an affordable desk with a large space. 
If you're keen on getting it, you just have to have enough room. And whenever it's in motion, make sure to keep the coast clear. And it's best to have your kids away from it
Where to buy the V.i.v.o electric Standing desk
V.I.V.O crank Manual stand up desk DESK-V100M
Crank adjustable standing desks have some pros over the electric ones. One, the cost is more affordable. And two, you will not encounter any electronic glitches. All you need is the power of your arms to adjust the table height.
And the DESK-V100M is one of the basic yet sturdy manual standing desks of VIVO. for one, I find it pretty solid and stable since it has a crossbar at the bottom. And it looks basic yet classy at the same time. 
The 55.1" x 23.6" desk space provides ample room for a comfortable workstation. I haven't experienced any wobbliness of any sort. And it just retails at around 249 dollars. If you're going to compare the price vs the quality, you're definitely getting your money's worth. The steel construction and leveling feet made this desk more stable.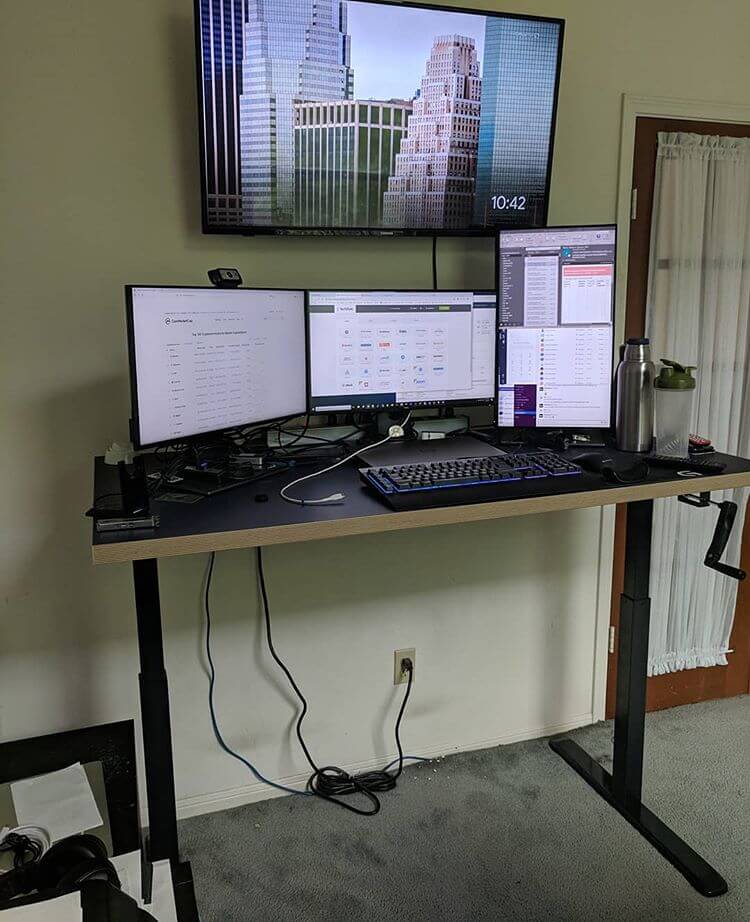 It's cheaper than the non-electric electric IKEA BEKANT sit-stand desk. It's also a basic desk but it looks less formal. The IKEA Bekant electric costs higher than the VIVO V100M. But there are a lot of stability issues. The table tends to shift to the side. So even if it offers a large working space ( at 48 inches wide), you do not want to fill it to the brim. 
V.I.V.O L Shaped Desk : The DESK KIT 3E6B 
This corner desk or L-shaped desk can give you enough working space while saving a lot of space. Like all L-shaped desks, it conveniently sits in the corner of your office and encourages more movement.
It has a spacious workstation measuring around 67" by 7-0." You can place two monitors on it and still have a lot more room for your other office supplies, even an additional laptop. I find the construction quite solid and the controls are easy to use. What made it stand out for me is the combination of the affordable price and how quietly it operates. 
And I couldn't complain about the motors, it runs very smoothly. It has a stronger motor and operates more quietly than the Mod E Pro ELECTRIC L-shaped standing desk. Even their smallest size retails has the stability of the table is quite questionable.
V.I.V.O Mobile desk – The CART-V02DB 
A mobile desk requires a really stable and sturdy construction. Since there will be instances where you would be moving it around, any wobbliness will render it useless.
What I love about CART-V02DB is its solid construction. I placed the maximum load of 133 lbs and started to move it across the room. Everything in order and not one notepad fell off. And the computer seems to be stable still. And at 140 dollars, it's quite a reliable mobile workstation. 
The Safco workstation shares some similar features with the VIVO mobile desk. It also offers three tiers and a working station of 29 inches. This mobile workstation is pretty stable too. But it's priced a bit higher. One advantage it has is that the bottom tier is a bit wider, so you can store some office supplies in there
Children's Desk- DESK-V201P 
VIVO is one of the few brands that offer a complete range of desks. They also have one specially designed for your kids.
The DESK-V201P is an adjustable children's desk. And for kids, getting a desk that isn't adjustable is just going to be a waste of money, you know how fast they grow up! 
Even your little ones need ample storage space for their coloring books, pens, and pads. So this VIVO children's desk satisfies that need. You can find the drawer spacious enough for kids. And you'll be giving your kids their very own workspace. It'll teach them to be more responsible for the upkeep of the desk too. 
It's in a similar price range as a Baby Joy kid's desk. They both share the same look and feel too. I find the VIVO kid's desk a bit easier to assemble though.
How about V.I.V.O standing desk converters?
When it comes to standing desk converters, VIVO has been and still is one of the consumer's choices. Let's see what makes it click among users. And what doesn't?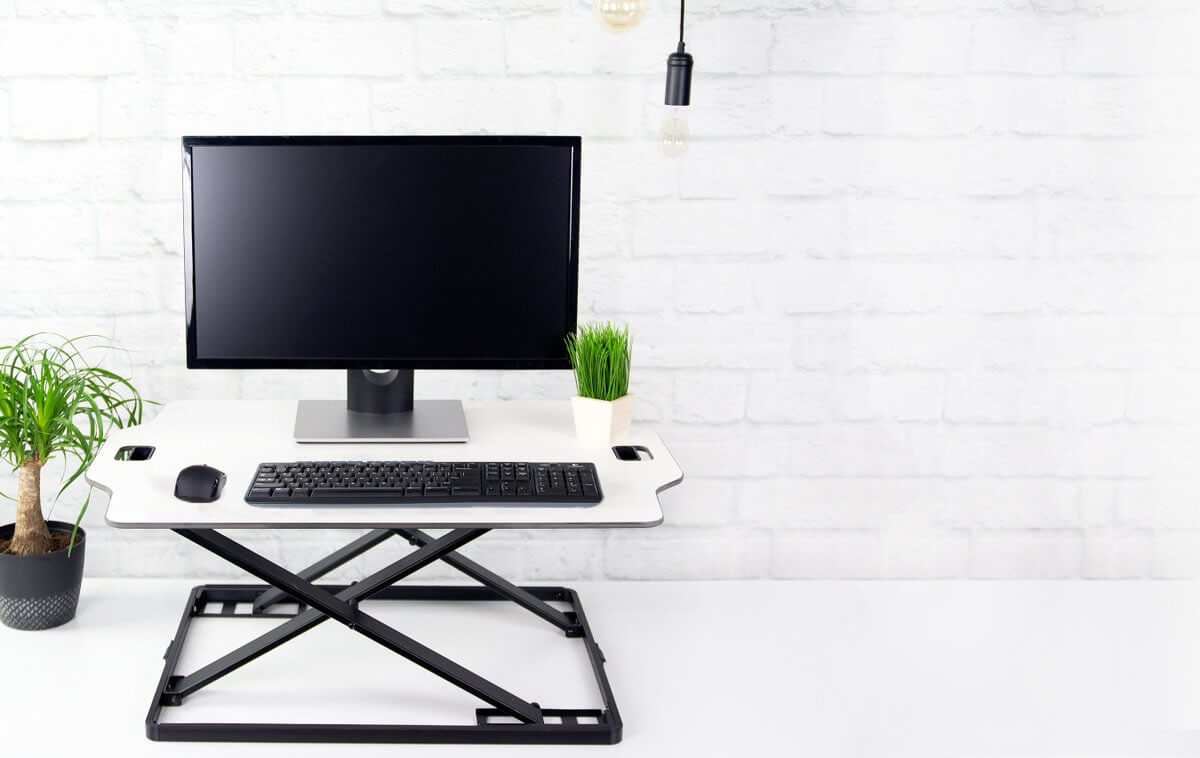 Among the brand's standing desk converters, the V000B is among the brand's bestsellers. Along with its low price, some other features make it sell like hot pancakes
And there are also a lot of converters under 200 dollars such as the Rocelco Dadr. They both have a large working space, with Rocelco winning by a slight inch. 
But what makes V000B stand out from the rest is that along with the low price, it 's quite stable at almost all heights. It's one of the most stable standing desk converters we've tried. Other brands cost more than 400 bucks but did not come as close to the V000B in terms of stability. Varidesk Pro Plus 36 retails cheaper but this brand has some stability issues.
What makes VIVO 000B quite stable? The base has rubber stoppers and these prevent the desk converter from shaking or wobbling. In addition, the base has extended feet. And it's something that most standing desk converters lack. For example, the Dukemount has a very narrow base that makes it so wobbly. 
But of course. With stability comes some sacrifice. You have to squeeze the handle more to tighten the locks. The higher you raise this standing desk converter, the harder you need to squeeze the clunks. That just needs additional manual labor to keep everything more stable. 
Another thing that makes this standing desk converter a win is the big working space. Like its electric standing desk sister VIVO 103E, THE V000B also boasts of wide working space. It's something that almost all VIVO standing desks and converters share in common. 
That's a big factor why a lot of users tend to favor this brand. The DESK-V000W can even support 2 monitors. That's quite a huge space for a standing desk converter. 
As for other standing desk converters. The higher-priced Varidesk Pro Plus 36" has limited working space. Everything seems a bit too crowded. It's a larger unit in itself but offers limited space for your office supplies. 
In terms of the assembly, it's a two thumbs up for us. VIVO standing desk converters are among the easiest to assemble. In fact, you don't even need tools to put it up together. 
There are some trade-offs though, the keyboard trays of the V000B standing desk converter are quite small. It sometimes is not enough to fit a regular-sized keyboard. So you should buy compact ones to ensure it would not go beyond the tray. 
And another thing that you have to consider, you have to take precautions with the gas lift design. The Z-shaped metal frame may cut through wires and stuff. So when elevating the desk, make sure nothing is in its way.  
Overall, the ViVO V000B is a very affordable standing desk converter with a basic design mechanism. But sometimes you need even the most basic to keep things going.
When is a standing desk converter better than an electric standing desk?
Both VIVO electric standing desk and V000B standing desk converter have the lowest price range in their category. But how do you discern which one is better for you?
All in all the VIVO E103 can give you the best experience, but it can eat a lot of space in your office. So when the footprint is an issue, the V00B can be a great alternative. You can use your old desk and still enjoy a decent working space. 

If you're more concerned with stability, the V000B is more stable at higher elevations compared to E103. E103 seems to have some stability issues with higher elevations.

V000B may lack ergonomics and may offer a limited range of motion. and since the E103 IS wide and spacious, you have more for movement. 

In terms of the assembly, both electric standing desk and standing desk converter are easy to set up. The instruction is straightforward and easy to understand.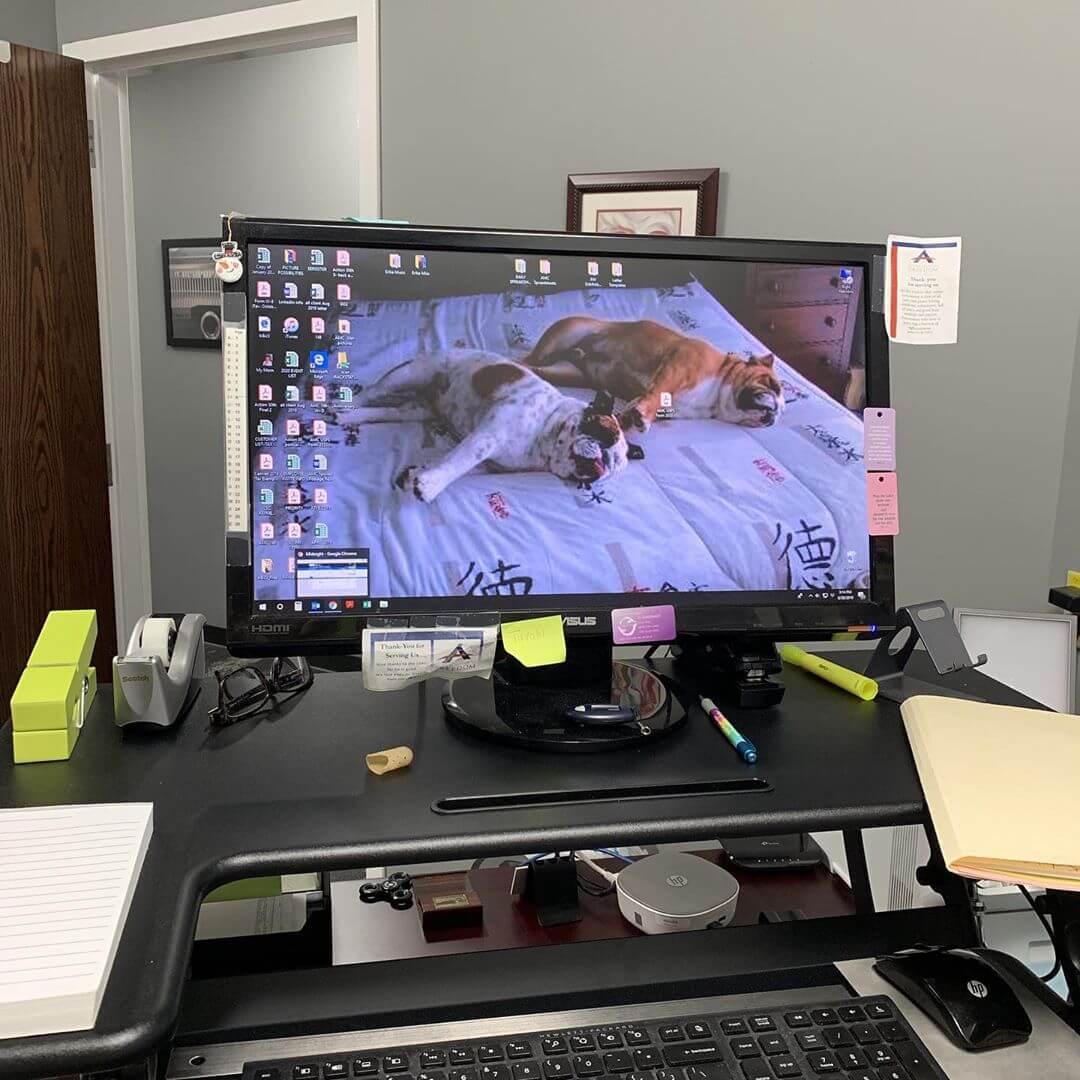 Conclusion
So both the V.I.V.O electric standing desk and standing desk converter have a lot going for them. But some features might not work for you. I hope my VIVO standing desks review will help you spot the helpful features from the not so helpful ones.