Gaming desk accessories can elevate your gaming experience to the next level. And whether you're leisurely playing or a pro, you have to make investments. Investing in the best gaming accessories can give you an advantage over the other players.
And the gaming industry is gaining more and more popularity. The market is teeming with thousands of accessories. But do you need to buy all of them? What accessories can give you more wins? It's time to step up your game with the best gaming desk accessories. So keep scrolling for our recommendation.
Wireless Gaming headset 
Gaming headsets are like the backbone of your game. Apart from the keyboard, it serves a bridge of connection between players.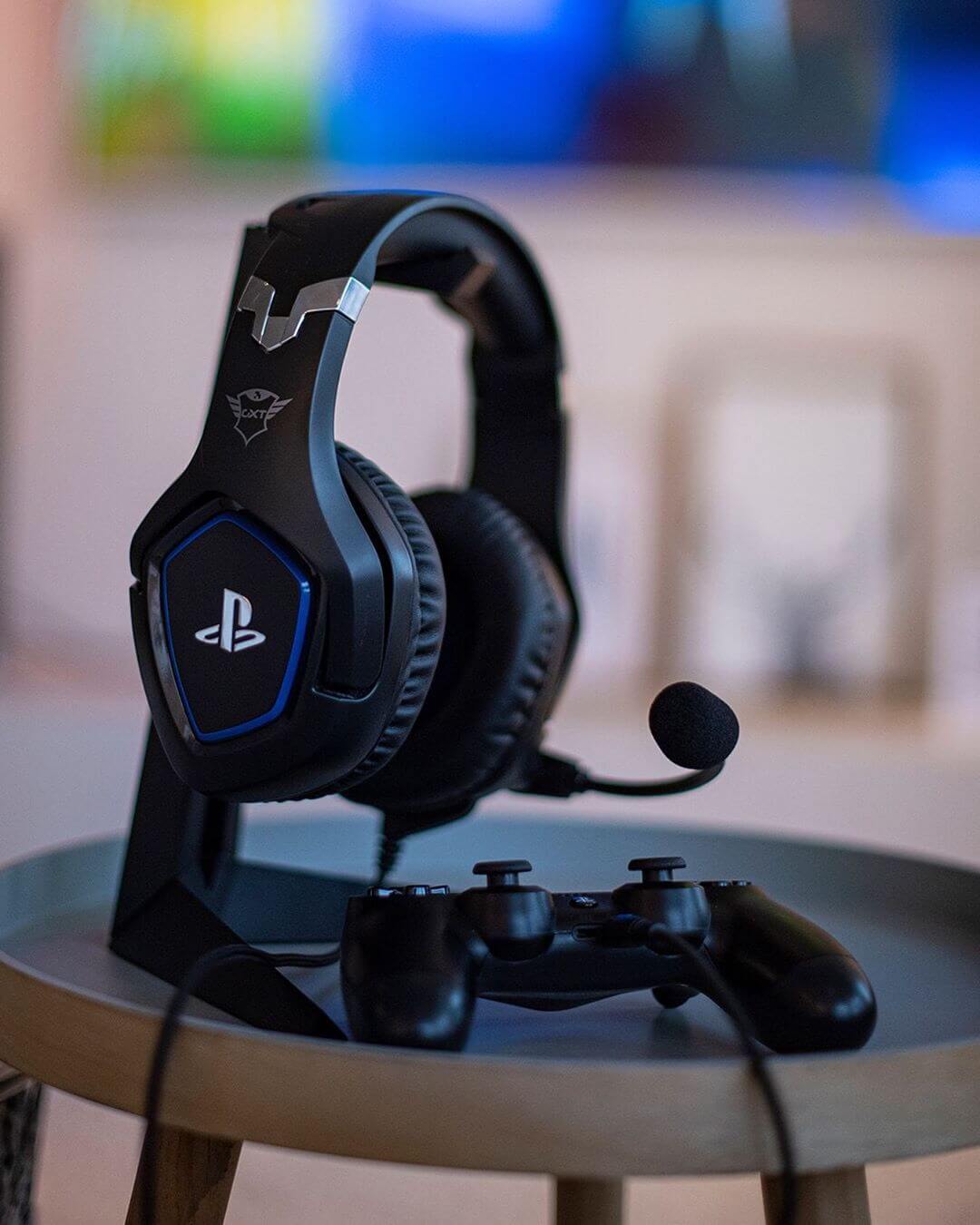 A suitable headset should have clear sounds and of course, it should have noise-canceling features. And a microphone allows you to verbally communicate with other players too. 
This helps you maintain the focus on your game and other players won't be bothered by the dog barking of your neighbor. Gaming headsets such as the HyperX Cloud Stinger wireless gaming headset is equipped with a noise-canceling microphone. We find it to be one long-lasting headset. We were able to use it for 17 hours straight without the need to recharge it. 
When you're in the middle of an intense match, they need to recharge your headset and ruin your momentum. It might even make you lose points. That's what we love most about the HyperX Cloud Stinger. There's no disturbance or whatsoever. 
The Sennheiser GSP 600 is also among the top contenders. It has a super clear microphone and it's quite comfortable on the head too. We love the ergonomic design and how it softly cradles your head. It also amazingly isolates noise, so you can focus more on your game. 
LED lights
Apart from looking cool and such a badass gamer, there's more to LED lights than the aesthetics. LED lights can amp your game and it's going to be cooler, even for your eyes too.
LED lights can create a more comfortable contrast between the screen and your surroundings. Looking straight into the walls of your room can create eye strain. LED lights help your eyes adjust to the drastic change of brightness.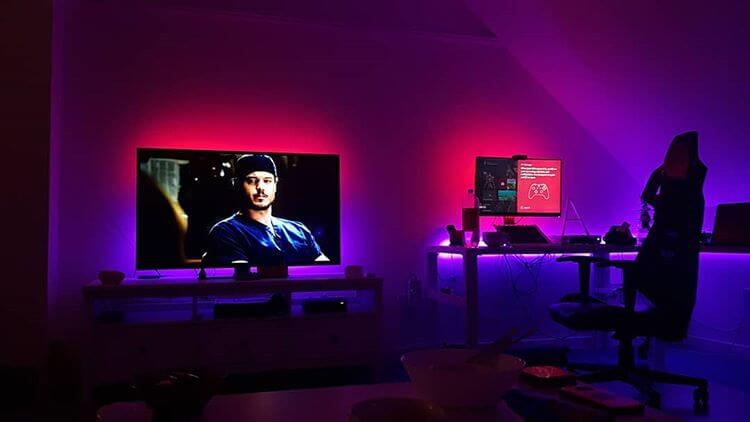 LED lights come in a variety of options. You can dress up your desk with the most stable type like bulbs, glow, fans, strip or lighting panels
We fancy the Philip Hue fancy Strip Plus. it contains one of the few beautiful and vibrant led lights that can make your gaming setup cooler. It's quite versatile and easy to set up too. Though it may cost more, we're content with how responsive it is.
Gaming mouse
If the headset is the backbone, your gaming mouse is your limbs. It liberates you from the need to rely solely on your keyboard. And of course, it should be wireless too. How else would you be able to experience freedom if it's wired?
There are a lot of wireless gaming mouse in the market. But one of the most important features that you have to consider is how sensitive and responsive it is. An unresponsive mouse will not only irk you, but it can also lower your rank. That 5-second delay means a lot more.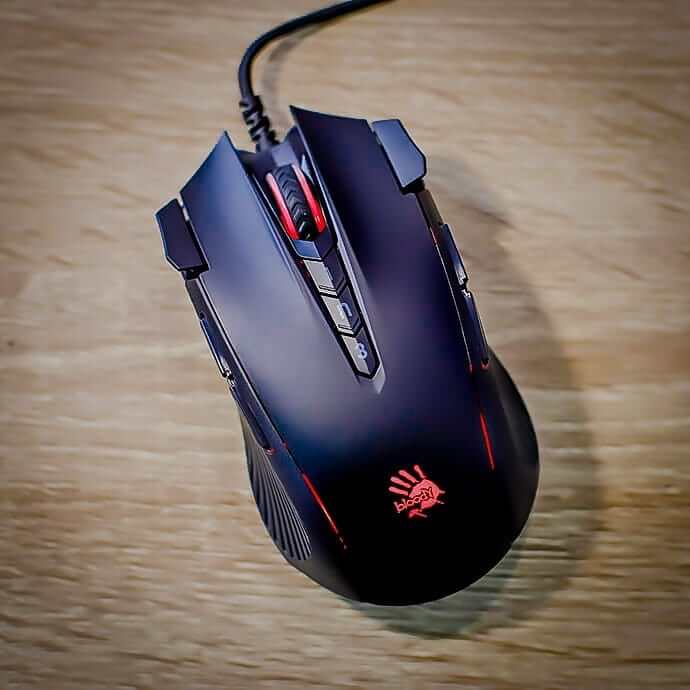 To gain an advantage, your gaming mouse should be accurate and responsive such as the Logitech G502. It also comes with cool RGB colors that illuminate. It adds to the cool vibe of your gaming desk. We also find it quite versatile. 
And it boasts of several programmable buttons. It's well made but it's quite heavy and big too. But you do have an option to take out some of the weights.
Sound system
Of course, a great sound system will immerse you in the game. The best speakers should not only be clear. It also needs to be three dimensional, so that you're getting the most surreal experience.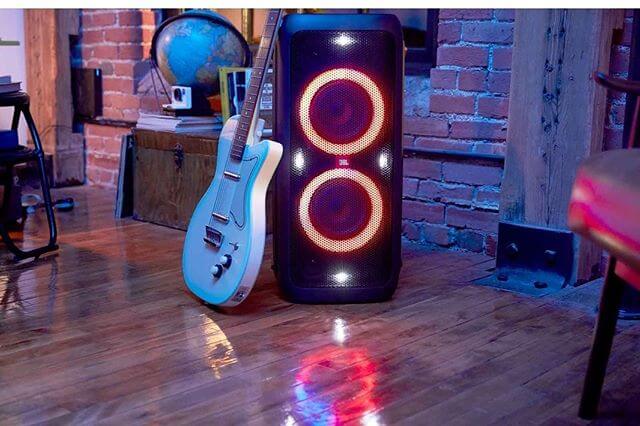 A wireless speaker is favored over the wired ones. It rids you of the hassle of complicated and confusing wiring systems. Plus, it looks cleaner and sleeker too. Another advantage is that you can connect it to other Bluetooth enabled devices. So you're not just limited to your PC.
It's also nice if it would have a strong bass like the Logitech Speaker System Z323. It brings the ambiance to full life. Logitech Speaker System Z323 is a dual designed speaker with two tweeters each. One at the front and one at the back.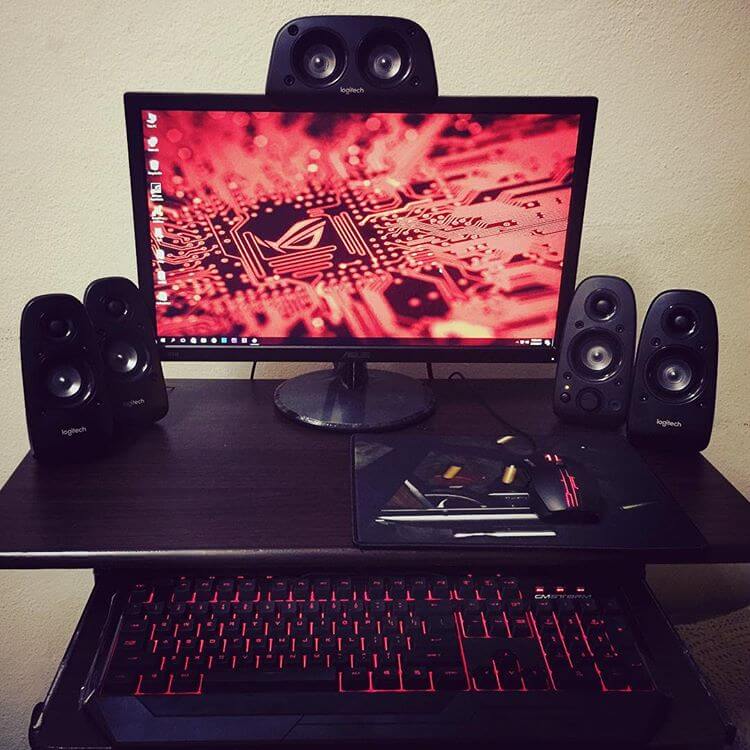 So the sounds are multidirectional, it's not just coming from a single location. This makes the sound seem more realistic and immersing.
Gaming keyboard
Along with the gaming mouse, your gaming keyboard allows for all the action. A regular keyboard might not be a good option. You know how action bound an intense game can be. Your regular keyboard will take the pressure that it isn't meant to. Hence, sending it to the trash bin sooner than expected.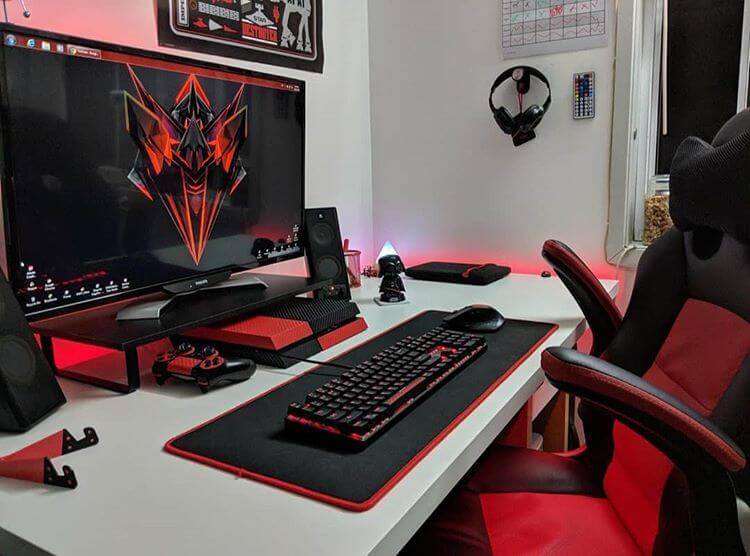 A gaming keyboard, on the other hand, is built for this kind of action. Apart from durability, gaming keyboards are equipped with ergonomic design. So it slightly deviates from the regular keyboard shape and size. 
And the wrist alignment is a big consideration. Since your wrist can take much of the pressure during gaming, gaming keyboards are specially equipped with this one. 
We've tested the Logitech G91. And we're quite pleased with our experience. One, it's wireless. So that adds to the level of ease and flexibility. And we look how sleek it looks. 
Two, it's durable and well made but it's not bulky. You'd often think that a gaming keyboard should be bulky to absorb all those hand pounding impacts. But it doesn't always need to be.
And three it's very responsive too. But if you're used to using taller keyboards, this low profile keyboard might be challenging to use. But we love how it can make your gaming space look clutter-free. So you have more room to put snacks.
Gaming monitor
This is perhaps the heart of gaming. The bigger the monitor the better right?
Well, not really. What we're going for here is how clear the image is. So we're looking for a full HD monitor. It should have high pixels for that vivid full-color display. 
And in terms of the size, you have to get one that suits the size of your gaming desk. A really large monitor would be nice, but if it's larger than your desk, it might just topple over.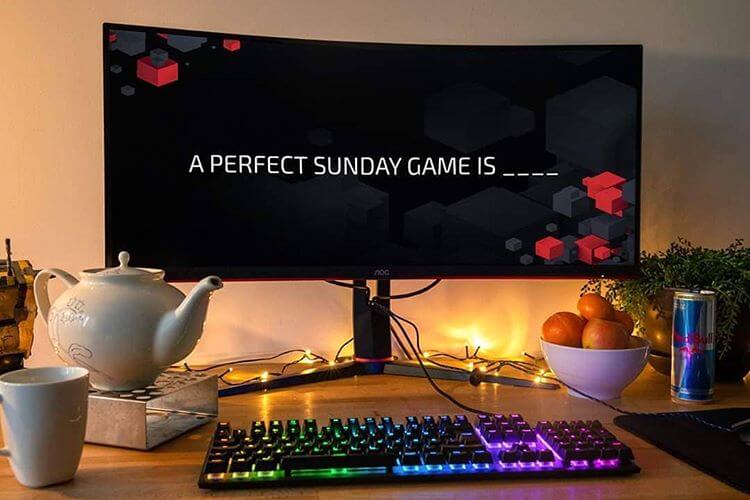 So you have to get the right balance there. Then why just settle for a PC monitor? Well for one, it's too small. It will limit your gaming experience. And two, gaming monitors can be adjusted. You can adjust the angle of the monitor according to your needs and liking.  
And of course, gaming monitors have to have all the necessary ports where you can connect your other accessories. So we're speaking of VGA and HDMI ports. The latter being more favored nowadays.
We also love how a curved monitor can add more comfort to your gaming. Monitors with curved screens such as the Sceptre 24" curved led monitor can uplift your experience.
It's complete with the ports that you need for connecting other accessories. And we love the vibrant hues and color display. It is quite right too at 3 kg. 
USB Hub
If you've got the complete accessories, chances are, you're going to need several USB hubs. And a standard computer can only offer limited USB hubs. And it should be located conveniently. Otherwise, it can interfere with your gaming setup. Wires can be interloping with each other.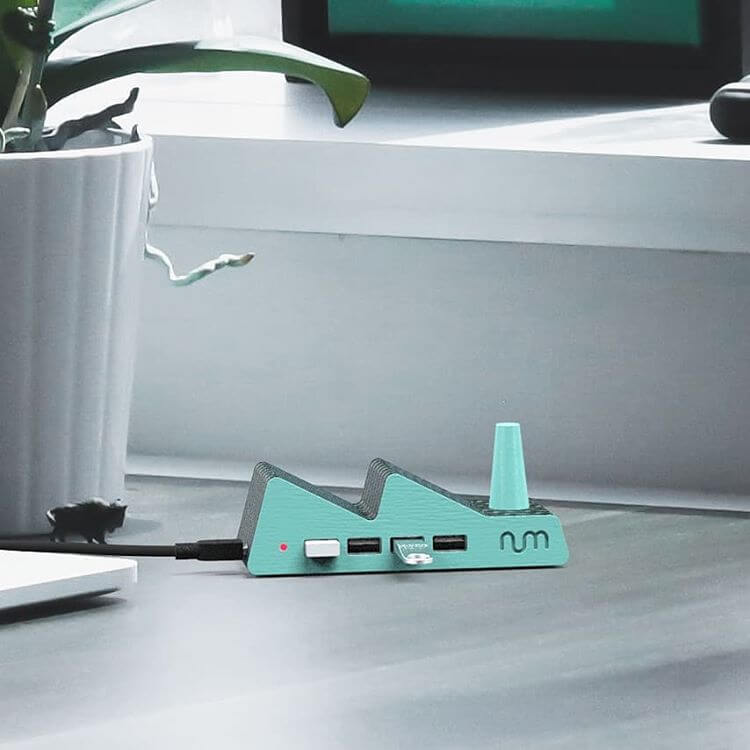 How to determine what's the best USB hub? Determine how many devices you need. And compare it to how many slots that USB hub offers. Or you may get one with a few extra ports more in case you'd be upgrading your setup in a few months. It's always nice to have a backup
With that being said, we love the sleek and unique design of the USB Hub 3.0 Vertical Data Hub with Long Cord. It's pretty versatile as it comes with a long rope. And it has LED lights that perfectly complements the LED lights on your monitor. 
Gaming webcam
A gaming webcam might not be your top priority, but it can add more excitement and value to your gaming. Especially if you want to have clearer video calls with your team or your fellow gamers.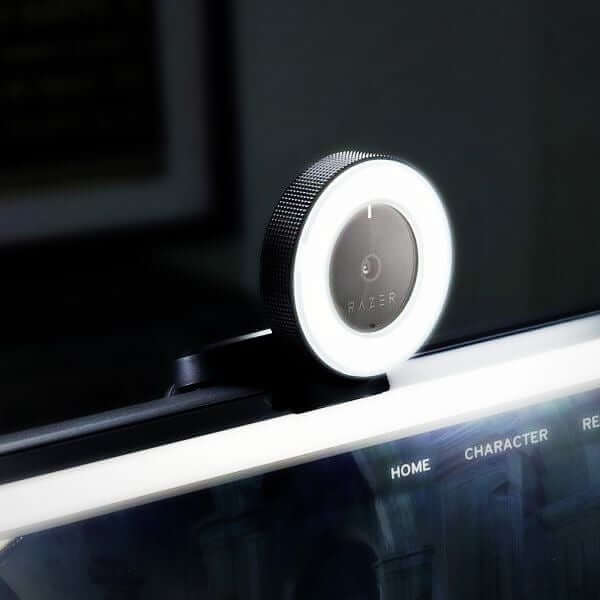 What about the webcam on your laptop or PC? It's not going to deliver. The pixels of a gaming webcam can get as high as 1920 x1080. That's something that your PC monitor can't keep up with.
It's also nice if it has auto-focusing features such as the Logitech Stream camera. You can expect clear and crisp videos with its 10980 resolution. 
Conclusion
So these are just some of the basic accessories that you can add to your gaming setup. More than just aesthetics, it can elevate your gaming experience, especially if it's a lucrative business for you.
Related post: How To Setup A Perfect Gaming Desk