Buying only standing desk frames has several advantages. If you want to use your old tabletop, a frame would suffice. And you can also save money by using your old tabletop. And sometimes you want to set up your own workstation using a different brand of the tabletop.
If you are newbie in this DIY industry, please make sure to check our Simple Guide to Choosing the Right Frame (Base) for your Standing Desk first.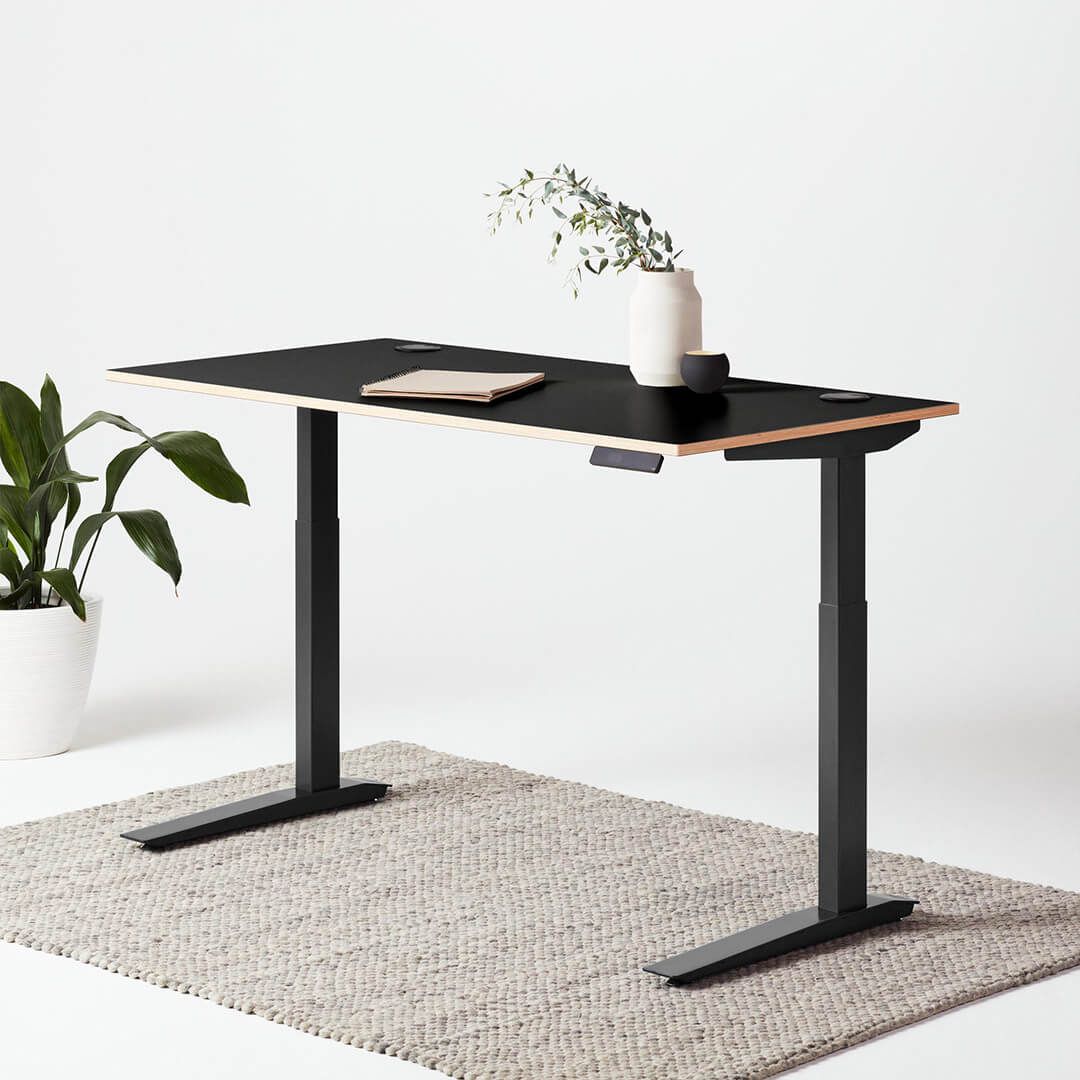 Matching the right base with your preferred tabletop will result in a more personalized workstation. And a customized workstation has a certain appeal to some users. However, you need to match the tabletop with the right frame. Hover through our recommendations to get the best brands of stand-up desk frames.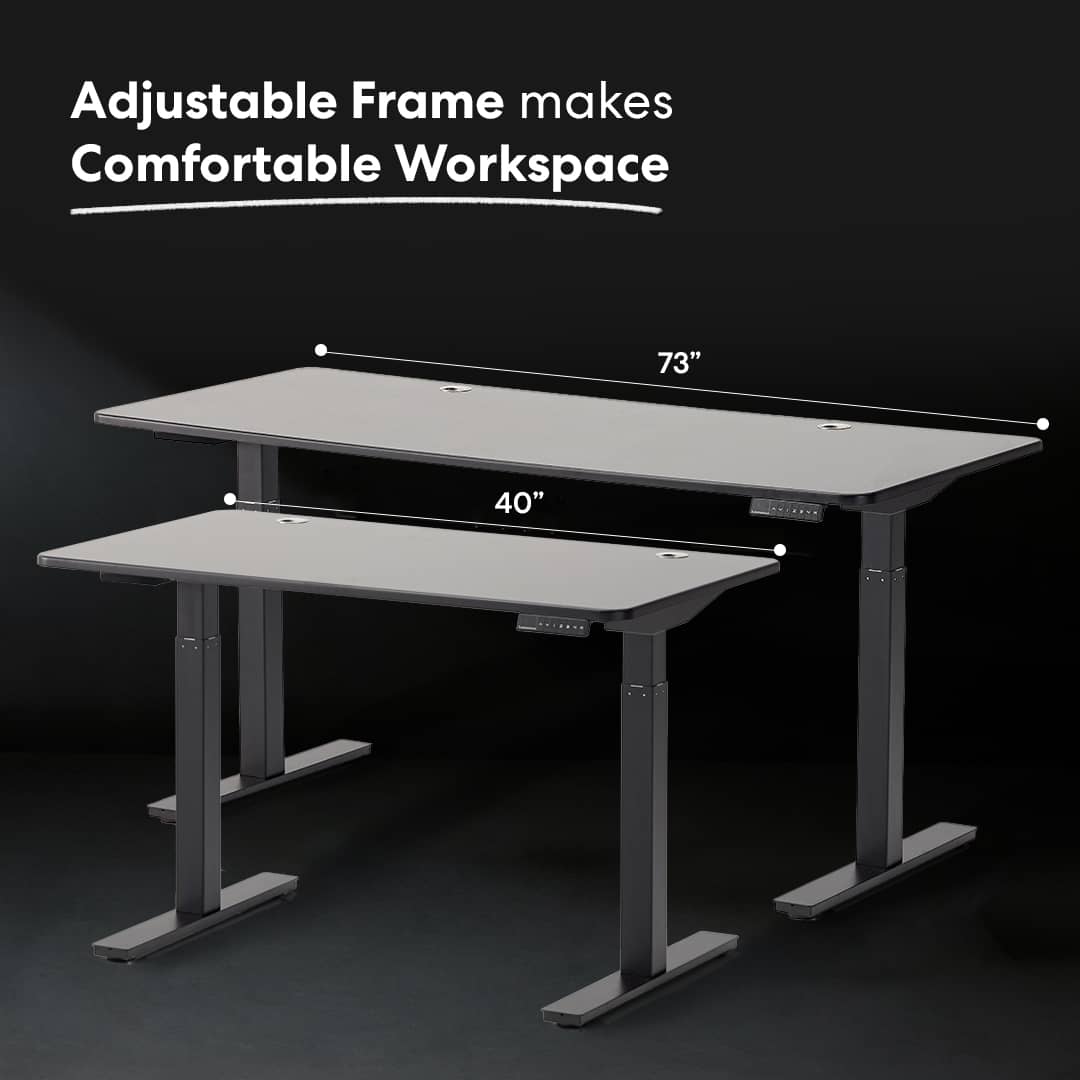 Uplift height-adjustable Standing desk V2 Frame 
The Uplift Standing V2 frame's primary advantage is that it can accommodate tabletops as wide as 80 inches. So if you're looking for a wider workstation for a more elaborate setup, it's a decent choice.
In addition, it's equipped with a three-stage dual motor frame that operates quietly. So the transition is quite smooth.
Another feature that's very handy is the one-touch programmable keypads. You can store your preferred desk height and just press and play every time. And it also comes complete with a wire management tray. So you can keep your cables and cords organized. You get to enjoy these two features without the need to upgrade. It comes with a basic setup.
Furthermore, the base has a 355 lbs weight capacity, it's a bit higher than other affordable sit-stand desk frames. 
Overall, if you're not looking for an updated motor, the Uplift V2 is a decent and affordable option. It also has a solid warranty and you can outfit it with a wider desktop.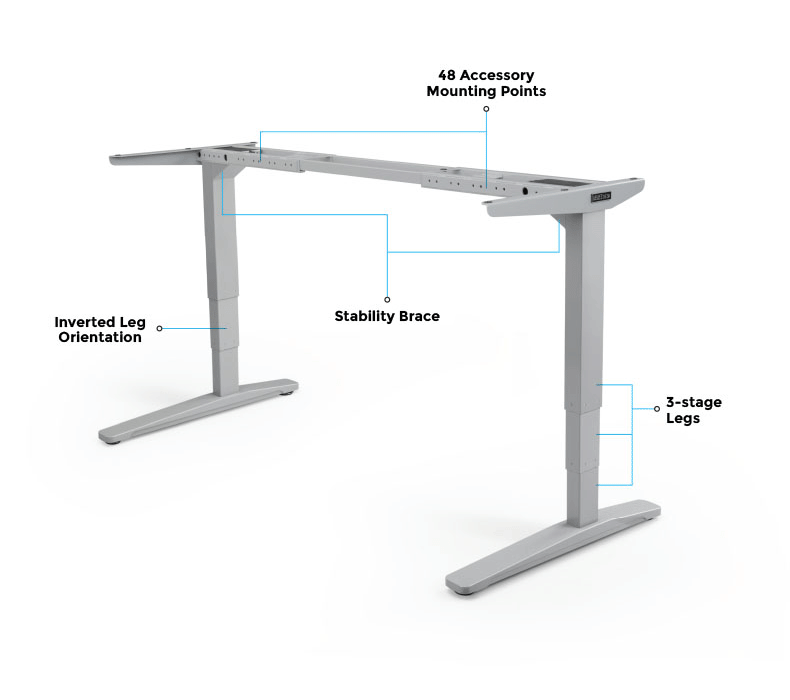 Pros

Can accommodate wide table tops

Has a wire management tray

Higher weight capacity

Solid warranty

So strong with 355 lb lifting capacity

Operates quietly

Cons
iMovr Studio 470 Electric Standing desk Frame
If you're looking for a basic sit-stand desk frame, the iMovr Stuudio 470 fits the bill. It doesn't have any extra metal or a crossbeam. And it's free from multi controls. That's why the iMovr Studio 470 is quite light. Since it's a no-frills kind of desk frame, it allows for easier shipping too.
The controls only consist of an up and down button, it's a very basic frame. Thus, it's an entry-level base that's perfect for a compact and minimal workstation. Perhaps a small monitor or laptop with a few office supplies. It has a weight capacity of 220 lbs, so that's more than enough for a minimal setup with just the basic electronics and some supplies.
Only one thing you should check carefully, it's about the tabletop. Up to 60×30″ in the size and the smallest is only 32×24″. If your tabletop is bigger than 60 inches, consider another frame.
As for the assembly, since it's ultra basic it will only take you less than 30 minutes to set it up. Another notable advantage of the iMovr is that it makes use of a mid-range motor.
Overall, it's a perfect entry-level base desk for those who are looking to have a minimal setup. Thus, it's a real value for your money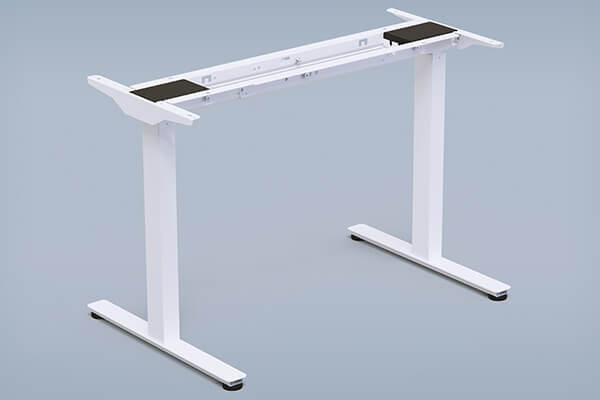 Pros

Non-China made motor

Easy to assemble

Fast shipping

Cons
The special thing about this frame is it can support large sizes tabletops from 43 to 79″. 
VIVO's electric dual motor standing desk frame (with the code DESK-E122EB) offers a sturdy, ergonomic solution for sit-stand working environments. The heavy-duty steel frame has a weight capacity of 220 pounds and is compatible with table tops measuring 43 to 79 inches in length. That's very important for DIY because not all standing desks on the market have that range (or you have to pay so much money to get it such as the Uplift V2 80×30). You can also adjust the height of this desk from 29.5 to 47 inches with the simple press of a button, making it easy to find your perfect working position throughout the day. The dual motors operate smoothly and quietly, so you can focus on your work without being distracted. Plus, there are four memory presets that allow you to save your favorite settings for easy access.
This is a great option for anyone who wants a reliable standing desk frame that's easy to set up and use. It's also very affordable, which is always a bonus. However, there are a few things to keep in mind before purchasing. First, this frame does not come with a desktop, so you'll need to purchase one separately. Second, the maximum weight capacity is 220 pounds, which may not be enough for some users with 2 or 3 monitor stands and PCs. And finally, the height range may not be ideal for very tall or short users, only for average. Lucky for those who love DIY and are happy with the small budget, this frame is an ideal one.
Overall, the VIVO electric dual motor standing desk frame is a great deal in the market, it's easy to set up and has a wide range of compatible desktops.
The IKEA Idasen standing desk frame was primarily designed to fit other furniture from the brand's line. Aesthetics are unique and it's not everyone's cup of tea. It can be a breath of fresh air for some or a weird desk for others. Though if you want to match it with the interiors of your home office you might find it challenging. 
This standing desk frame has a gray and beige color scheme. And looks like bulky tubular pipes. So if you're keen on matching it with your minimalist decor, it might not deliver.
A great feature of the IKEA Idasen standing desk frame is that its motor is not made in China. It's made in Scandinavia so you can expect a better quality motor than China-made motors such as Jiecang.
It's quite stable and has features that you'll love. The Idasen base has a Bluetooth and phone app to control your desk. 
Also, this base is primarily designed for narrower tabletop sizes. And its weight capacity of 165 lbs. Thus it's a light-duty standing desk frame.
Overall, it's a great option if you already own IKEA Idasen furniture. It's a far better option than other small IKEA desktops.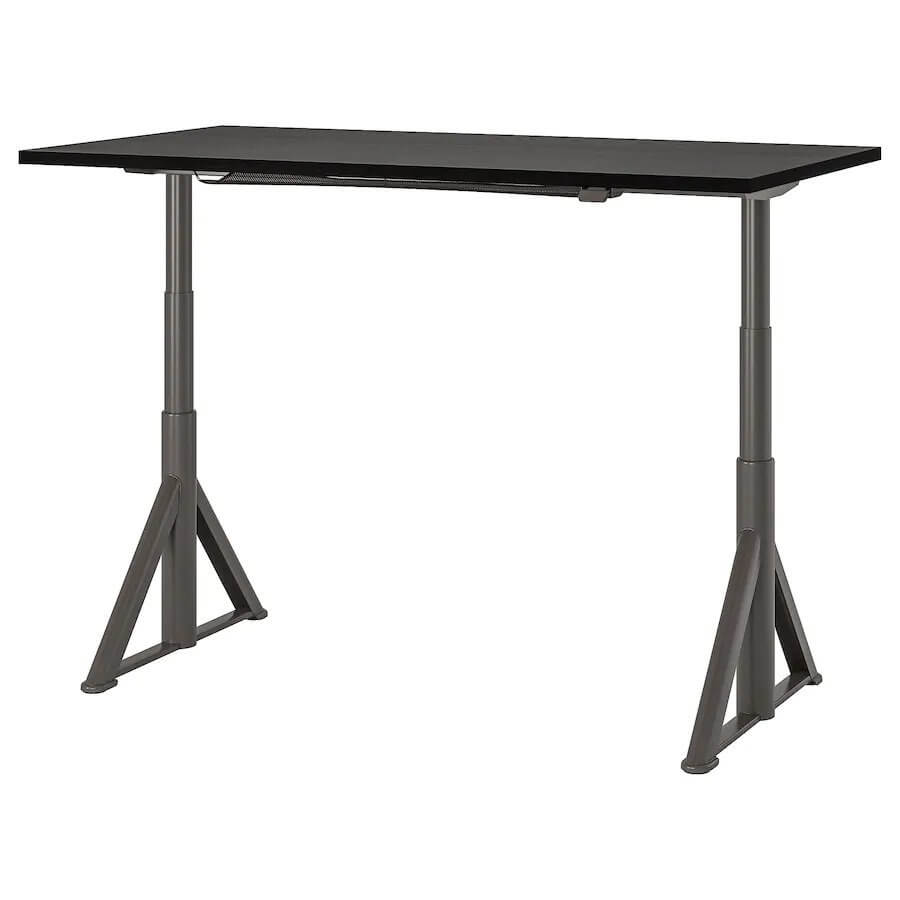 Pros

Non-China made motor

Can match other IKEA Idasen furniture

10-year warranty

Has a Bluetooth sync app

Cons

The design of the legs isn't for everyone

Not strong enough for some users when the weight capacity of 165 lbs only
Where to buy this frame
Stand Desk Pro Electric base
The Stand Desk Pro Electric base has a China-made motor. But it performs way better than the cheap Jiecang motor mostly found in other affordable sit-stand desks. Hence, you can expect it to perform better.
It's a dual-motor dual-stage motor. And it's equipped with a basic up and down controller. But if you want a programmable control button, you can get it with an upgrade. 
The weight capacity is around 400 lbs. So you can use it for more than a basic workstation. 
Overall, it suits users who are of average height and it fits desk top sizes not larger than 60 inches. If you're taller, around 6 feet, you might find this desk frame lacking since it has limited height range options.
And despite some limitations on the desktop size and height range, it's still a great value for your money since it has a more updated China motor than Jiecang,
Pros

Free shipping

Ten-year warranty

Better than other Chinese made motors

Cons

Limited height range options. 
Smartdesk DIY Kit Desk Frame Business Edition
The business edition of the Autonomous Smart Desk 2 is a viable option for a basic standing desk frame. It has a dual-motor dual-stage China made motor. Despite several issues on the motor, this standing desk frame also has some desirable features that you'll find useful and handy.
The transit speed of the business edition motor is at 2.2 inches per second. By far, that's one of the fastest in the market. Though you have to deal with some noise. But if noise is not an issue to you, you'd be happy with a smooth and fast transition. 
This is the primary reason why users still buy the Autonomous Smart Desk 2 frames despite its China-made motor. But if you are to compare the home edition vs the business edition, it has some upgrades. 
Instead of a Jiecang motor, which is used in their home edition, the business edition is equipped with a better China made motor. 
Moreover, It has a weight capacity of 300 lbs. And that's pretty decent for a mid-range setup.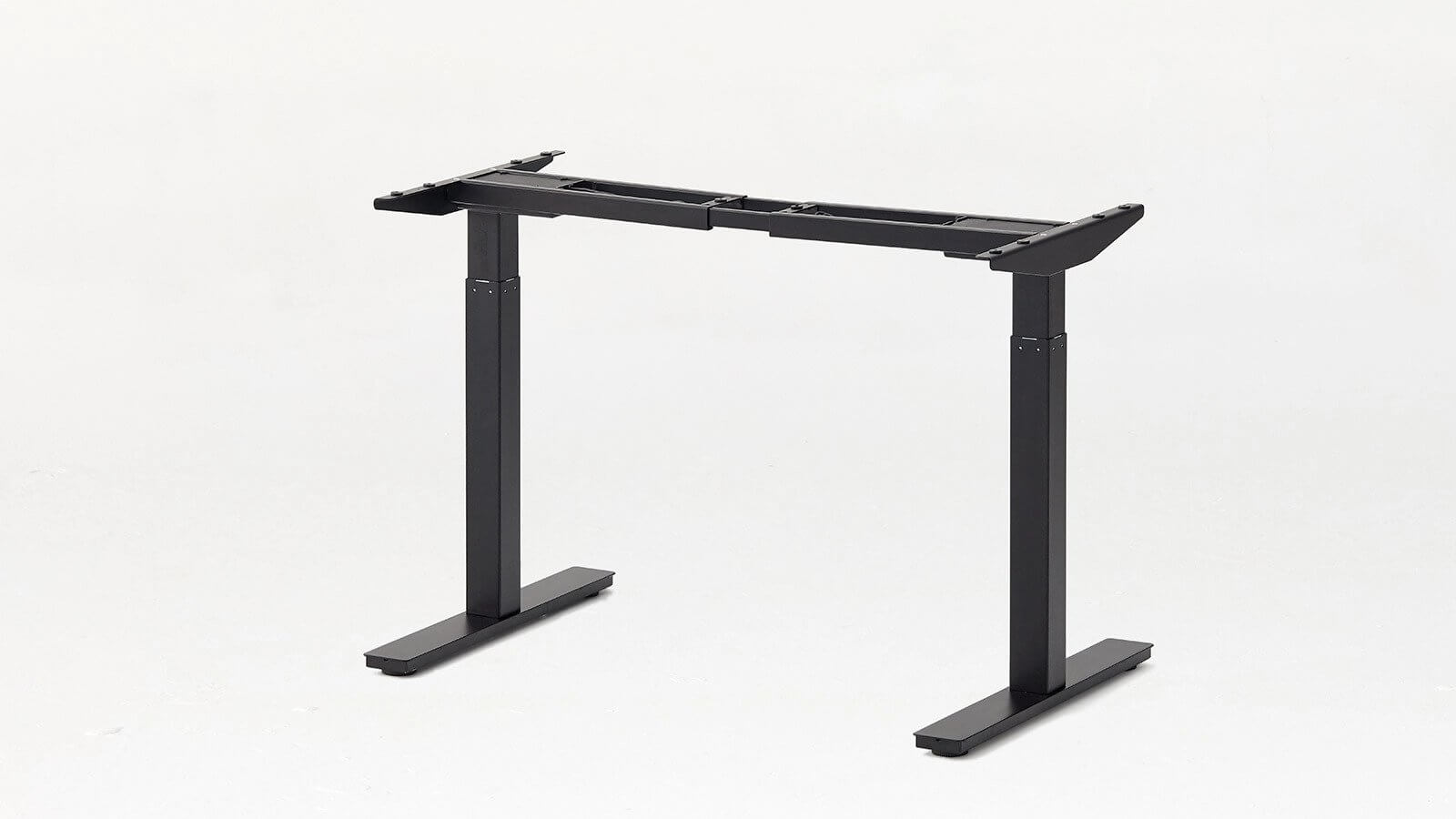 Pros
Better motor than the home edition

Mid duty weight capacity

Fast transition
Cons
Conclusion
A DIY standing desk can be exciting to set up. You have more liberty in the options, the color and style of the table, and the functionality of the base. Our list of the best standing desk frames can help you create your dream workstation.