The brand does not have a lot of standing desk options, it's actually quite limited. But what we love about it is that you can still customize what goes into your Loctec standing desk despite the simplicity. 
You can choose from a single, dual, or multi-monitor. One of the more popular Loctek desks is the ET118. This is a 2 stage frame with a single motor system. And you also have options for the tabletop, color-wise, and material-wise. And one of the more popular choices is tempered glass. So we'll also dabble on that in this review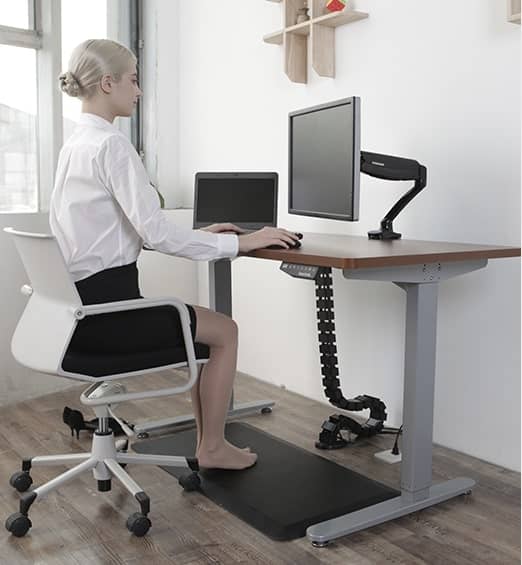 Customization options
As we have mentioned earlier, Loctek does offer decent customization options on its website. The interface of the website isn't too catchy, it's simple to navigate through. But we find ourselves a bit lost. It's a bit different from other standing desks brand sites that offer such customization options. We are first selecting the desk model then choosing the frames, tabletop, motor, etc.
It's a bit different from what almost everyone is used to. It's not that bad, it's just different. Loctek seemed to put more focus on their customers making their own desks rather than featuring the models one by one. If you know what you are looking for, it will not be hard. Otherwise, you will be lost, like really lost. 
And we would have appreciated the standing desks more if the brand tossed in more descriptions and compared it vis a vis with other motors/models of their standing desks. Also, you'll rarely see reviews on Loctek standing desks. So it might be hard to discern which desk is the most suitable for you. Thus, deep research is warranted so you'll be sure you're getting a suitable purchase. 
Overall, there are decent customization options. We were just hoping that there were more details. And oh, a refined structure of what the brand offers for its standing desk line. 
First impressions
The desk seems pretty basic. You will not see anything special with the frames especially if you chose the simple laminated tabletop. But the tempered glass tabletop is a different story. That's why we also opted to outfit our Loctek desk with this. It looks sleek, simple, and posh. The tempered glass also has a rectangular metal base. So it makes the control panel seem embedded into it. So this adds up to the feeling of luxury. And of course, you have an extra closed storage compartment there. It also has USB ports and programmable height presets for more convenience. Though we wished that the frame also had the same style so it would look more cohesive.
The particular frame that we choose has a parallel bar at the bottom that runs from one leg to another. Though this may add to the stability of the desk, this made the desk less sleek. A good thing though is that it's not a knee crusher since the bar is situated below rather than in the middle. But do expect that your legroom will be quite limited with the presence of the parallel bar.
Stability and durability
For a China-made standing desk, this rather surprised us. The desk is pretty stable and solid. We tried to rock it side by side and back to front and it did not budge. It even fared better than the more popular standing desks that make use of a China-made motor, the Jiecang and Fully. We were rather impressed at how well it can hold itself up.
The desk also transitions seamlessly and peacefully. We were able to use the desk for a couple of cycles, and it still slid like butter on warm toast. There were no stopping or halting issues. And it transitions rather quietly too.
Though it will have a bit of motion at the highest setting, you have to exert force into the desk. Or if you accidentally bump the table, it will move for a bit. But it will not make any movement when you're typing on your computer or laptop. So that pretty much makes up for a peaceful work area. 
We also love that it comes with an anti-collision feature. So that prevents it from your chair or anything that comes into contact with the desk while it is in motion. It will automatically stop.
Loctek Standing Desk review – Overall
We'll run down the best bits and those that are not much to look forward to. 
The Loctek is an underrated desk that deserves more attention. Stability-wise, it's quite foolproof. 

You will be given a range of decent options. You can also opt to just get the frame if you have a tabletop that you want to use.

It is so solid, sturdy, and even features an anti-collision button. So it's safe even if your kids have access to your home office.

It's simple and basic, yes. But it does look clean and pristine. Especially if you are going to get one with the tempered glass tabletop. You will love how the desk was able to hide every once of wire and chord. There will not be a stray wire in sight. The storage drawer is also a treat. 

One of the things that we didn't like much is the presence of the parallel bar that runs from one frame to the other with the ET118. Though you do have options there. The brand has frames that do not have this parallel bar. 

The ET118 is a single motor standing desk, thus you can expect it to have a lower load capacity of only 110 lbs. It's considered a light-duty desk. If you, however, need a desk with more heft, the brand also offers a dual motor desk that has double the load capacity of the desk that we have reviewed.

Warranty-wise, the brand offers a 5 years warranty. It's a bit short for standing desks. So we wished it could have offered at least a 7 or a 10-year warranty. 

It's one stable and solid desk. We reckon it can last for quite some time. Though we noticed that the tempered glass is not as sleek and high quality as the COMHAR glass standing desk. And it does look similar to the SEVILLE glass standing desk. We had a bit of a challenging time maintaining the glass fingerprint-free. 

The website of the brand seems outdated. And though the desk is pretty stable, it could have been presented better. Maybe a few more descriptions would be nice. The site is simple but there's something about it that makes it challenging to choose the right desk for you. 

The ET118 sits at the mid-range price. So it's not necessarily very affordable. If you're on the lookout for a more affordable model and still want to get one from Loctek, the ET114E is the economical option.

The setup of all Loctek desks seems to be simple and straightforward. It didn't take us longer than 20 minutes.
Final Say
Loctek is more known for its monitor mounts and desk risers. That's why it's not surprising to know that there are very few reviews on their standing desks. It's almost close to none. And we think this desk deserves more attention. It's even more affordable and more stable than some of the brands that we are used to seeing on the web. So is it worth a try? A definite yes from us.