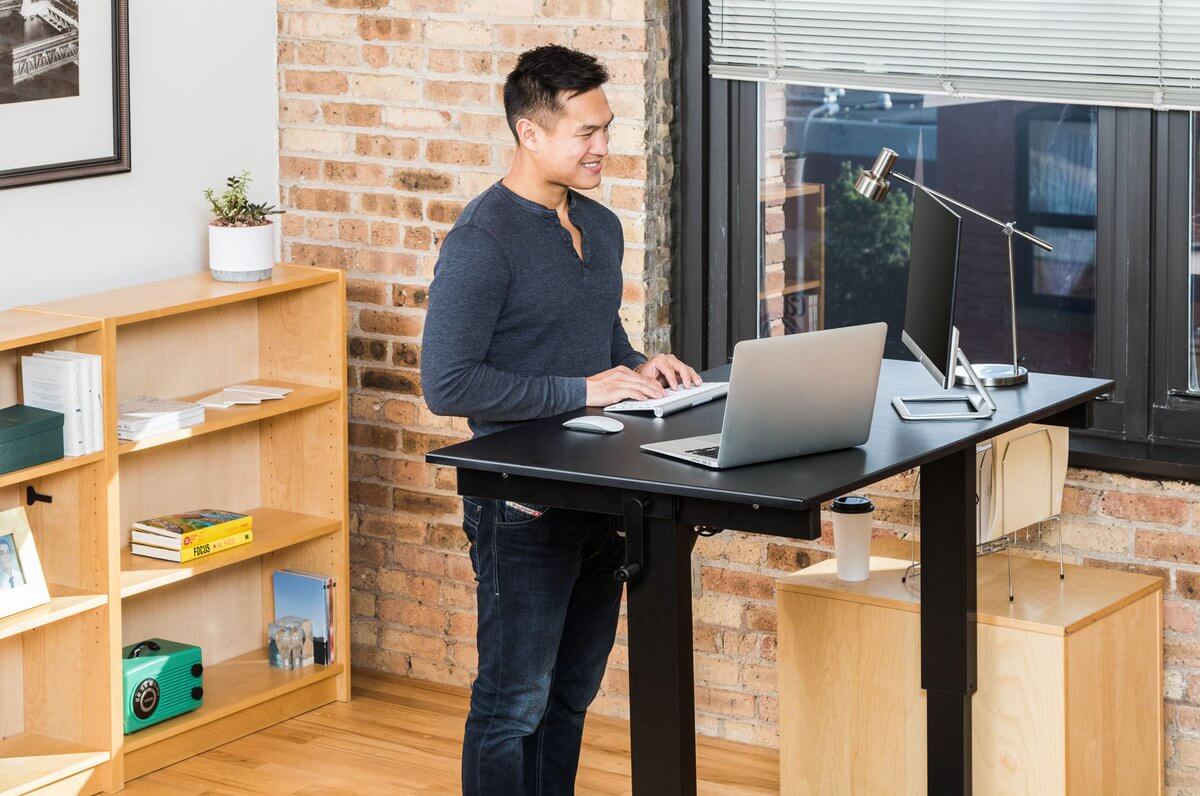 We've come across a manually hand-cranked desk that looks elegant and unique with its naturally scarred tabletop. Everyone loves a standing desk with a solid wooden top. But it's hard to find anything about this desk, so we made a little digging for ourselves. See if this desk fits your home office requirements. 
Little has been said about this standing desk brand. SDADI seems to be made in China. The brand also manufactures standing desk mobile workstations. But whatever the brand is, we should consider the whole thing around. If you feel tired of getting an adjustable electric sit-to-stand desk, it's time to consider a manual crank
SDADI Solid Wood Desk Top Crank Height Adjustable Standing Desk – What you'll appreciate about the desk
Large  work area
The desktop measures are around 47 inches wide. So it will provide you with a decent working area. It is large enough for a more elaborate setup of two monitors. Thus, you won't be missing your wide standing desk in the office. You can have 2 monitors or a large monitor with a large laptop complete a\with keyboard and mouse on this desk. And you still have a lot of room around the edges. 
The weight capacity is also suitable for a fully loaded desk. At 225 lbs, you can have several things on the desk.
Lovely solid wood desktop
This is perhaps, the greatest pros of this hand-cranked desk. The entire desk may not have the most durable steel legs, but it is sure to be a gorgeous desk. The solid tabletop will always take the bacon home when compared to laminated and MDF ones. No matter how laminated desks mimic a solid wood, there's nothing like the real thing.
The natural scarring and wood grain are retained. So this is as natural as it can get. It's a unique-looking desk.
Small footprint
Even if this desk can provide a decently large work area, we were happy at how little space it needs in a room. So this desk is perfect for a work-from-home scenario. It can easily fit into a small room.
Gripes and complaints about the SDADI
Of course, we never tell anyone that the products reviewed by us are perfect. This crank wood top is not an exception. Let's see what we did not like
Difficult to set up
The desk could have been easier to put up had it not been for the misaligned hotels. The pre-drilled holes and the screws don't fit together like a T. So you will have a challenging time setting it up. You will need to push some parts so that you can shoot the screws through the holes.
That's why the assembly requires two people. You have to have someone to hold onto one part while you push the other part. Trust us on this, you won't be able to do it yourself. Unless, you've got a model with holes that are aligned properly, but it might be one in a thousand units.
You also have to be careful when threading the screws. Because it can strip off the metal coating of the legs. 
And you also have to do the setup in this manner. Tighten the screws when all are fitted. So you have to work on all corners first before you tighten them. This is because things don't really fit. So to be able to set it up you have to have all the screws on.
In addition, we got directions that were not written in English. We aren't sure if this is the same for everyone who bought the desk. But we've seen similar complaints. And you rarely would see anything on YouTube about the installation. Or about the desk at all for that matter. So it has to be a go figure when you're setting it up.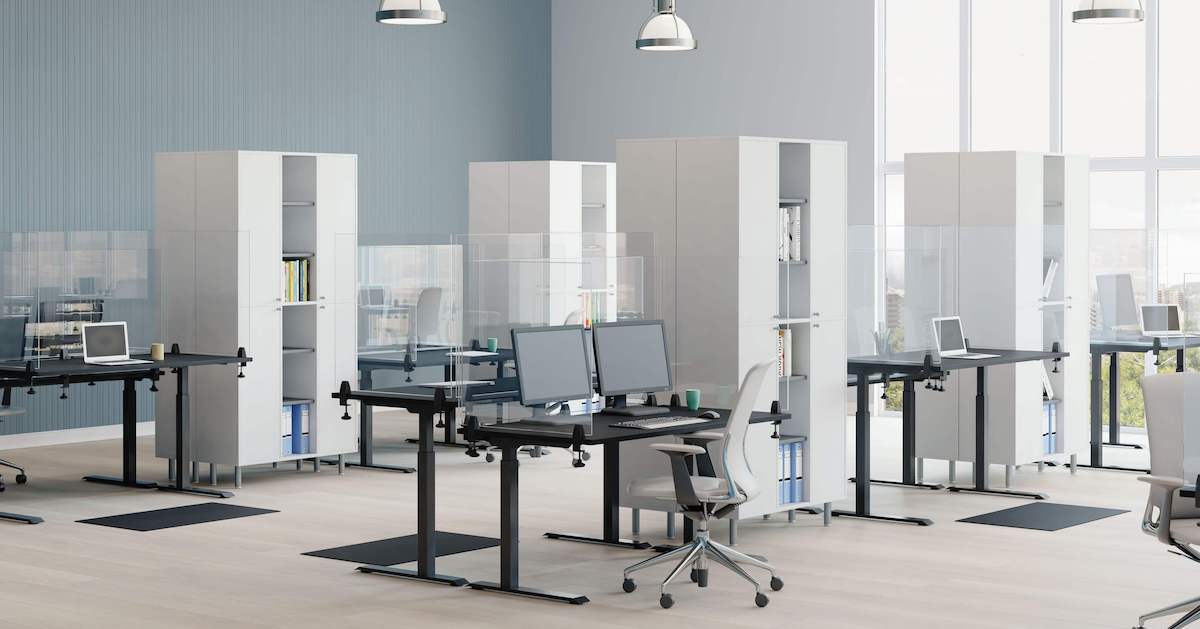 The metal legs do not feel like the most durable
You need to exert a bit more pressure to get everything to fit. Plus, we were a bit wary of the flexibility of the metal frames. And the fact that you can exert effort by hand to fit things through, means the desk won't be able to take in a considerable amount of pressure. It feels kind of malleable to us.
The desk moves slowly
One can expect that a hand-cranked desk moves slowly but we have encountered other models that are easier to crank up. The SDADI desk will require more muscle work to adjust. 
Thus, for the general population, the desk would move slowly. If you're not used to lifting weights and stuff it will be quite slow. So this is very important to consider should you want to go for this hand-cranked desk.
As a consolation you can have other uses for the rank, you can use it to hold your headphones. And it also can be pulled in so that it stays out of everyone's way.
Though the SKADI manual desk isn't the most durable hand crank desk in the market, we felt that it's more durable than the hand-cranked desk by IKEA.
There's wobble when the desk is at the highest setting
The SDADI can go up to 48 inches. So it's pretty much comfortable for those who are borderline tall. But it does wobble a bit when used at the highest desk setting. This is a concern for us since hand-cranked and manually adjusted desks are more stable than electric ones. That's one of the trade-offs when choosing an electric desk over a hand crank desk. So we were expecting it to be more stable.
Thus, even if it can accommodate those who are a bit taller, we will recommend it for those who have average height.
And the desk can also go low enough for petite users. So if you stand 5 feet, you'll be able to work comfortably on this desk. 
Summary
The SDADI desk is unique and gorgeous. This will definitely stand out with its love of natural scarred wooden tabletop.

The setup is the major gripes of this manually adjustable desk. It's just a pain that you need to exert a lot of effort to align the screws with the holes. Most users won't be able to set it up alone, given the circumstances.

It can offer you a large space for a full workstation.

This hand-cranked desk is not the most durable. In terms of the legs, we reckon it might not stand the test of time.

The hand crank takes a little bit more effort to move. So for the general population, it will take a while for you to be able to adjust the desk.

The desk can go high enough for borderline tall people. But since it wobbles a bit at the highest setting, average-sized and petite users will find it the most comfortable.

It can go low enough for short users who stand 5 feet.

The brand also offers a two-tier standing desk. This can offer more space for a two-monitor setup plus a laptop. 
Where to buy it with great deal
Conclusion
The SDADI hand-cranked desk is unique, no doubt about it. But you have to see beyond the gorgeous tabletop. It's not the fastest yet most durable hand-cranked desk in the market. 
It's also not the cheapest. We reckon most of the cost went to the solid wood tabletop. But you might still be able to find something that may catch your eye.