There are a lot of standing desks brands and models. And I am sure you have had your fair share of disappointing products before you were able to find the best desk for you. 
Work from home scenarios is very prevalent due to the COVID situation. That's why consumers are now going for more ergonomic solutions, but at the same time, they have to get more value from their purchases. And the call for a more durable yet decently priced desk gave birth to the creation of Seville's new line of standing desks, the airLIFT series. Let's take a look at what you can expect. 
About the brand – The airLIFT
The brand ventured into creating mobile workstations in 2012. And the rest was history. The airLIFT series was created to fill in the needs of consumers for a more durable standing desk that can last for a long time. And in lieu of fancy desks, consumers are now favoring products that can give them "real" ergonomic solutions. And the airLIFT series was created with that in mind.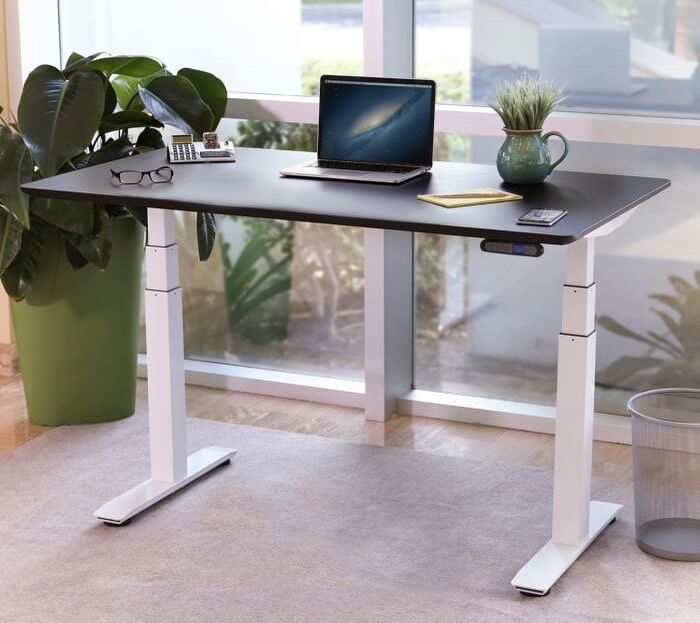 Seville Classics airLIFT electric standing desk review: What I loved about the desk
Beveled edges
The tabletop offers a more ergonomic shape. The front face of the desk has a beveled edge, so there is a slight curve to it. It not only makes the desk look more classy, but it also will be more comfortable for your wrists and arms. In addition, the desktop is made from a 3D laminate material. It looks more expensive than it is and it felt like it could last for a long time. 
The curved edges also make it easy for you to reach all sides of the desks. So you'll be able to maximize all the space.
And speaking of the tabletop, it's made from pressed wood. But it does mimic the look of real wood quite well. It even has slots to make it look natural. What I like about it is that it doesn't seem to be the type of artificial wood that can peel easily. 
Heavy duty
This is one heavy-duty desk. And by heavy-duty, I mean there is really heftiness to it. You will receive the desk in two boxes. The first box weighs okay and is kind of light. But the box that contains the steel frame legs can be really heavy. I like it that way since I'm sure I am getting an all-steel frame with sturdy construction. But you have to ask for help to bring the box up to your unit. It's also best to assemble the desk where you're going to use it. So that you don't need to move it to the other room. As I've said it does have a heft to it and it's not easy to move a really heavy desk.
The steel frame legs are the real thing, they're strong and sturdy. And when coupled with the motor, it transitions seamlessly. Even if I have maximized the weight capacity of the desk it can still move up and down without any issues. By the way, this desk can bear a maximum of 264 lbs. So you can have a two-monitor setup. And even if it's fully loaded, it will transition quietly and smoothly.
Where to buy this desk
Some gripes
Get ready to drill holes
The desk isn't hard to set up. But what ate a chunk of my time is that I have to be the one to drill holes. So if you're going to buy this, be sure to have a drill and drill bits ready. I think it would be better if the brand would be the one to pre-drill the holes. This will It's a hefty and heavy desk, not everyone will be able to drill the holes that easily.
Some hassles in shipping
Though I received my desk in its full glory, many consumers weren't able to. I am just a few of the lucky ones. Some, if not most users complained that the desk was damaged along the way. 
There were dents and scratches on the tabletop. And asking for a replacement can take several weeks. You would not be entertained there too. If the desk that you want isn't available, prepare for a long waiting time. So the customer service is a nay.
If you happen to have issues with your desks, you have to wait for a month or so to get a replacement. And since the desk is pretty heavy, it is a hassle to bring it back. 
Some users also complained of not receiving the complete tools and accessories. This can be really frustrating especially if you need to use the desk asap. Even if only one of the leveling feet is missing, it will still render the entire desk unusable.
In nutshell
The S2 series has a height adjustment from 28 to 48 inches. It can go high enough for borderline taller people. Though for petite and shorter users, you will find the lowest setting still too high. But don't fret yet, Seville has an AirLift desk that can go lower so it can be comfortable for shorter users. 
The airLIFT S3 has a wider height range adjustment. It goes from 25.6 to 51.6 inches. So this model can accommodate both shorter and taller users too.
The airLIFT series is indeed a durable, heavy-duty, and ergonomic desk. You can't go wrong with a desk that has a lot of heft to it. But the customer service and experience from the shipping can be a nightmare for some users. 
And with a desk this heavy you would not want to give it back because it can really be a hassle. The brand's return and exchange policy states that you can return the desk and get a full refund minus the shipping charges. 
So you'll still be paying for the shipping. And of course, you have to be the one to send it back to them. In cases like this, you'd want a return and exchange policy such as that of Herman Miller standing desks. The brand would be the one to pick the desk from you since it's really heavy.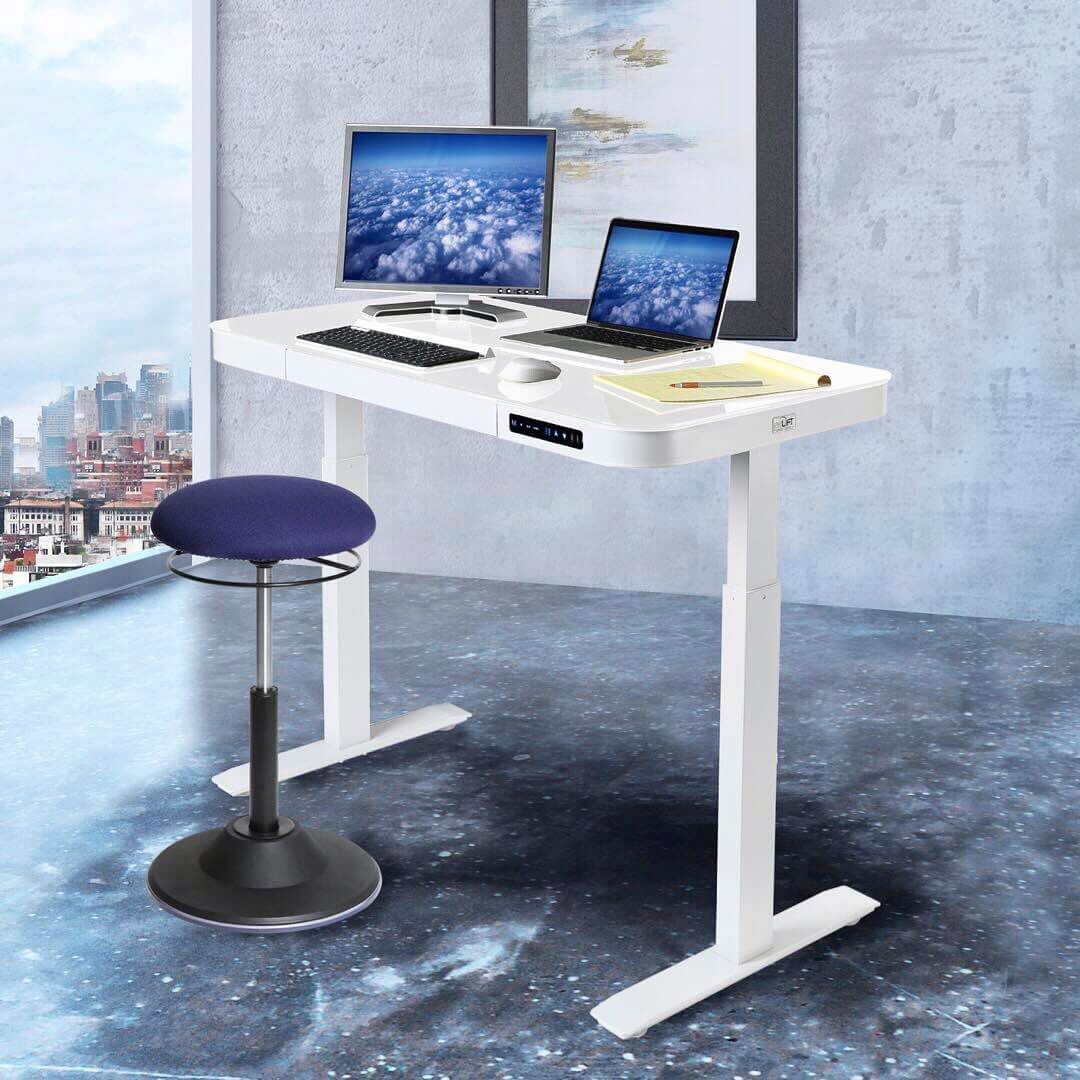 airLift with tempered glass and pull out drawer
One of the most unique features of the airLift is that you have an option to get one with a pull out drawer. It's 13.25 inches deep and has a divider where you can organize small items such as pens and markers. This is a rather different take on making your workspace organized. 
Messy cables and cord are one thing. And having accessories, office supplies and other stuff stashed on top of the table is another. So I think that the addition of the pull out drawers did this model really good.
You can keep all your office supplies in the drawer. If you don't need to use your laptop or phone yet you can simply stack it inside the drawer. So that will leave you a lot more space for working. It's also deep enough to place half a rim of bond paper. That means you don't need an additional cabinet for storage. You can use the same desk that you're working on. So it will also save a lot of space in your home office. 
If you need to charge your phone, you'll also find this model rather convenient. It has two USB ports on the control panel. 
This airLift model also has a tempered glass top. This one is rather fun to use too. You can use the top of the desk to take notes so this is ideal for collaborative meetings and brainstorming. It's also easy to do the cleanup, you just need to wipe it off and you're good to go.  
And here are some possible concerns. Take note that this doesn't have the option to add a keyboard tray since there is a drawer fitted on the desk. 
And you'll also be missing the beveled edges. To make way for the pullout drawer, the desk won't have a curved ergonomic edge, and I think this is one of the strengths of the S2 and S3.  
Additionally, if you're going to get the black desk, the tempered glass doesn't look as pristine and shiny as it did with the white table. In terms of maintenance, you have to exert more effort to keep the glass looking clean. Not that it's dirty, it just has something to do with the reflection. So it's better to buy the white table if you're keen on getting this tempered glass model.
So these are a few things to consider if you're thinking of getting this model for your home office. 
Final word
The airLIFT series from Seville seems to be an upgrade from the brand's previous electric standing desk models. The S2 and S3 did address the concern for a more ergonomic, cohesive, and durable desk. And you don't have to break the bank to be able to buy a heavy-duty electric standing desk. 
But what concerns me is the issue with shipping and customer service. I mean, there is seriously a real issue here. With desks having lots of dents here and there, the brand should better look into it before they start to lose clientele. Not to mention, their customer service does not exert any effort in pacifying the frustrations of the consumers.