You might not be that familiar with the Copper standing desk converter. But it's the baby brother of the popular Fully Jarvis electric standing desk. Since both units came from the same brand, let's see if they have the same pros and cons.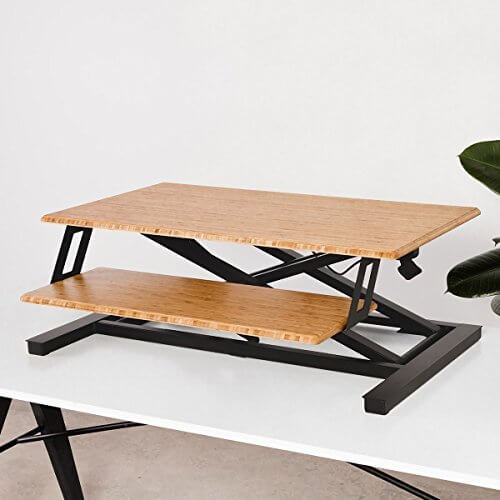 About the brand
Copper standing desk converter is manufactured by Fully. And these are manufactured in China along with the popular Fully Jarvis electric standing desk. The brand offers the selection of a more eco-friendly standing desk and converters. And this is something where the Copper can excel in, among others.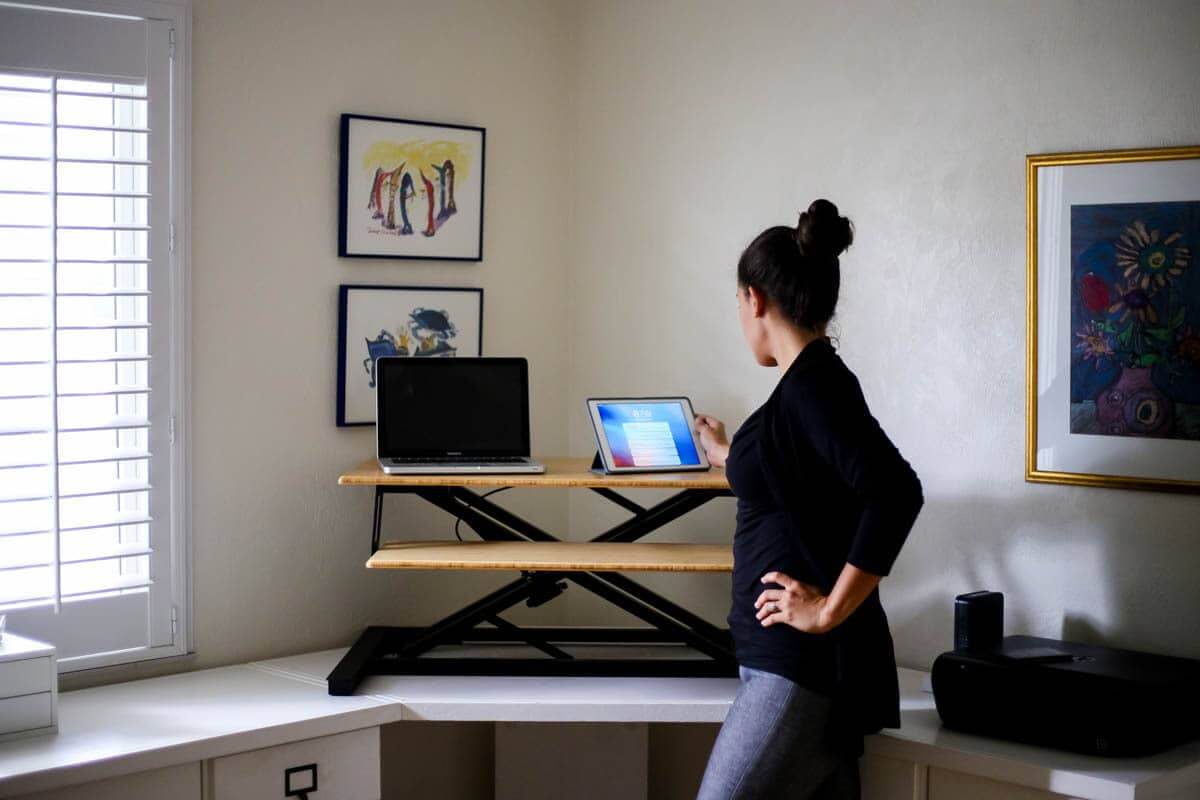 See the price of this amazing desk
Overall look
I have to give it 5 stars. The bamboo material looks impressive and a breath of fresh air. It surely stands out from a sea of black and gray industrial-like standing desk converters. It looks softer and more relaxed too.
Scope of users
The Cooper standing desk converter caters both to the petite and slightly tall users of up to 6'4" in height. It's easy to lift so even petite and small girls wouldn't have any issues adjusting the desk. 
And the keyboard level is also perfect for taller users. And its maximum height can even reach 6'6". So I think it's one of the core advantages of this standing desk converter. It's comfortable enough for petite users, at the same time, it can accommodate taller users too. Only a few standing desk converters in the market have that flexibility.
Other standing desk converters that can accommodate taller users are Humanscale Quickstand and Innovative Winston. Though these brands are more of a base and post style, which looks rougher and has an industrial appeal. The Innovative Winston can be more wobbly than the Copper while the Human Scale is hard to adjust. 
The best alternative to a Copper standing desk converter perhaps is the Varidesk Exec 40. It has almost the same bamboo material. Plus, it offers more height adjustment range and can cater to users as tall as 6'6". But the downside is, it lacks ergonomics. The distance between the tray and the monitor tier is stationary even if you have adjusted the height of the desk.
Stability
You can see the frames and the desk are sturdy and solid. So you'd expect the entire converter to be rock steady. But, there's a big but there. It is pretty stable but once you give it a little push from the front to the back, you can feel that there's a little give.
This might not be such an issue to you when you're typing on your keyboard. But if there is a moderate external force, it can wobble. I reckon the weak spot is the space where the frame and the desktop are connected. 
There is just a bit of " could have been better" with the way the frame was connected to the tabletop. Other than that it's decently stable.
Large working area
I am very pleased with the wide working space and the cutout on the monitor tier. The top tier boasts of 35 x 20 inches. This is the only size you can get, but it's pretty hefty wide already, well for me at least.
If you spend a lot of time writing, you'd find the cutout design very nice for your wrist. The curved edge also lends a softer look to this converter. Plus, the lower level has plenty of space for the mouse and keypad too. It's not cramped, so your wrist can feel more relaxed. Thus, preventing any strain.
The large space can accommodate 2 monitors. Though it can fit a third one it'll be all too cramped and the carrying capacity might be an issue. But still, two full-sized monitors is a complete workstation station for most already. 
But if you need a larger working area, you may find one with the 48-inch Varidesk or a Flexispot M3. 
Shipping
This standing desk converter came in intact and fully assembled. So you can go right on ahead and use it. It looks as pretty on the screen as it is in person. It's one of the few brands that you'll be excited to use. It veers away from the usual standing desk converter design of plain black or gray.
Since it comes in fully assembled, you just have to adjust the level of stiffness of the lift mechanism. And it's pretty easy to do so. 
Shipping time is also very satisfactory, you can receive your new standing desk converter in 1-3 business days.
Height adjustment
It raises easily and lowers nicely too. It isn't difficult to adjust so even a petite girl would find it very easy to use. The height adjustment range is from 6.25 inches to 22 inches, hence it has a pretty broad range and fit for almost all users. 
Eco-friendly material
The Copper boasts of a more environmentally friendly material. The more popular version is the bamboo top. And it also offers a black MDF material, both of which are greener options compared to other brands. This is also what sets the Copper apart. And aesthetically speaking, going green is indeed more beautiful since the bamboo desk is warm, cozy, and a breath of fresh air.
Cooper standing desk converter – The not so good
The Cooper standing desk converter can eat a chunk of space in your tabletop. The footprint is quite big. So if space is an issue, you might find it challenging to squeeze this converter into your desk. But some users still oblige since it is a pretty unit in itself. And it offers a wide working space at the same time. 
Also, the Copper is not exempted from the disadvantages of an X lift mechanism. Standing desk converters with such mechanisms tend to be noisier. Though the noise isn't that scandalous or anything like the cheap and flimsy standing desk converters online, it can not be dismissed. Especially if noise is your pet peeve, you'll surely notice it
And the frames are greased to ensure a smooth movement. While this isn't something that would disrupt your work, it can collect dirt and dust over time. The greased areas are exposed so it can attract a lot of dirt. So regular upkeep or maintenance is needed so that your frames would not get clogged with a lot of dust, and hair if you have pets. 
As with the standing desk converters using an X lift mechanism, it has a lot of pinching points. So ensure that kids, pets, and even your own finger are out of the way whenever you adjust the converter. 
Additionally, the warranty period of the Copper is something you might be wary of. The brand offers only a 2 year warranty period. I guess most X lift mechanisms share the same problem. So if you want a more comprehensive and longer warranty, standing desk converters with Z lift mechanism often offer a longer warranty at 5 years.
It would have been perfect if the standing desk converter added a tilting keyboard. It adds ergonomics and ease of use. This feature isn't necessarily common in most standing desks that I have encountered. And only a few brands have this such as the standing desk converter from Oak Hollow furniture. This feature would have made this standing desk converter a complete package.
What I loved the most
One, of course, it has to be the overall look of the Copper standing desk converter. It looks different but in a really good way. Anything wood or bamboo will always feel calmer and prettier than plastic. And we all need something to motivate us while we work from home.  This standing desk converter has that effect. 
Albeit the cons of an X lift mechanism, there are some good sides to it. The motion is straight up and down and not tilting forward. So it doesn't eat any vertical space.
Also, Copper has a new feature worth mentioning. Though this isn't necessarily a favorite of mine yet. But since it's a first in all standing desk converters, it warrants some recognition. 
The Copper comes with an adjustable tension level on the unit's air- piston counterbalance. 
What does it do? It makes the loaded tabletop easier to adjust. Hence, it's friendlier for your back. And those with back issues will go for this feature. 
And it's exciting to see how the brand would innovate and polish this feature moving forward. It can mean more convenience and bliss for your tired and weary back.
Conclusion
Overall, if you want a standing desk converter that offers some unique features, you'd be happy with the Copper. Aesthetic wise, it's unique and would look lovely on your desk. Stability-wise, it's pretty stable except for some give when shaken. And it's more stable when used standing rather than sitting.
Also, it has a unique feature that those with back pain will surely love. And oh, the wide working space is a plus too. So I would say that it's a great value for your money. But you have to deal with some of the issues you'd normally encounter with a standing desk converter with an X lift mechanism. So if you're okay with that, you'll never regret your Copper purchase. 
See Fully's Store to check your best standing desk converter!