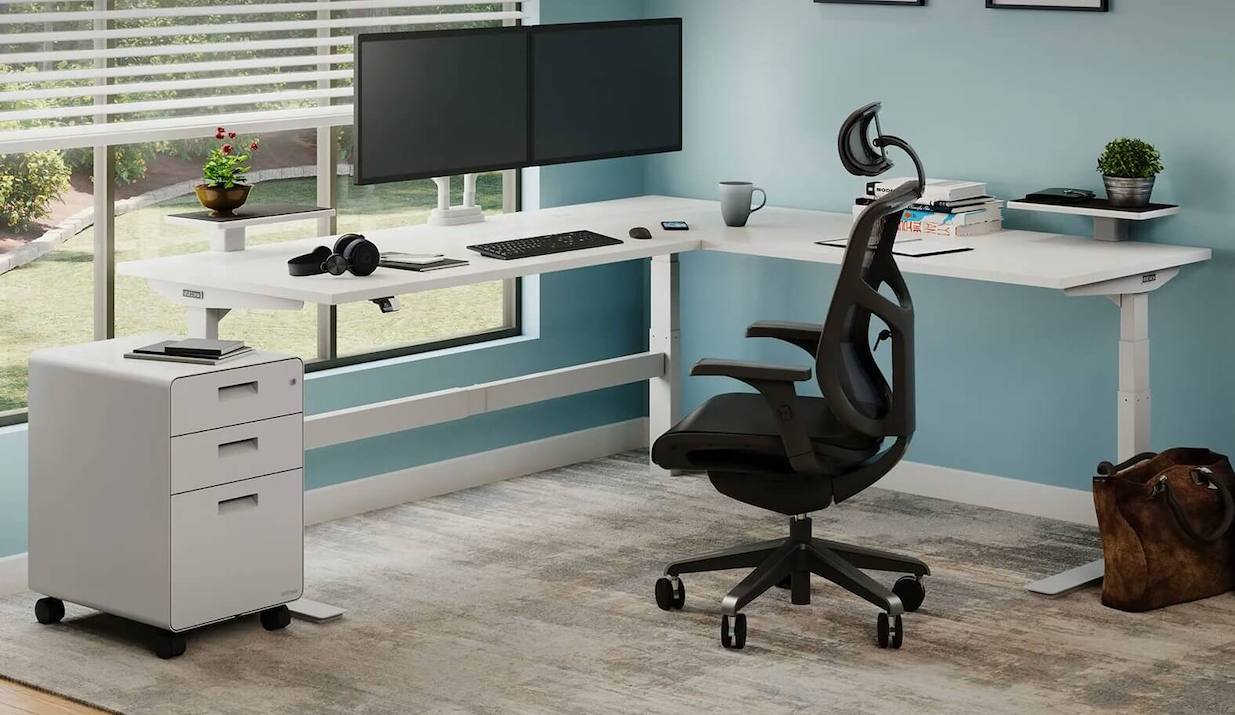 It's no wonder why L-Shaped desks are becoming more and more popular nowadays. These desks offer more surface areas where you can multitask more effectively. The ergonomic design of these desks will help you move more naturally. Thus, improving productivity.
As compared to a rectangular standing desk, there are lesser options when it comes to L-shaped sit-to-stand desks. But it doesn't mean that you just have to settle for what's available in the market.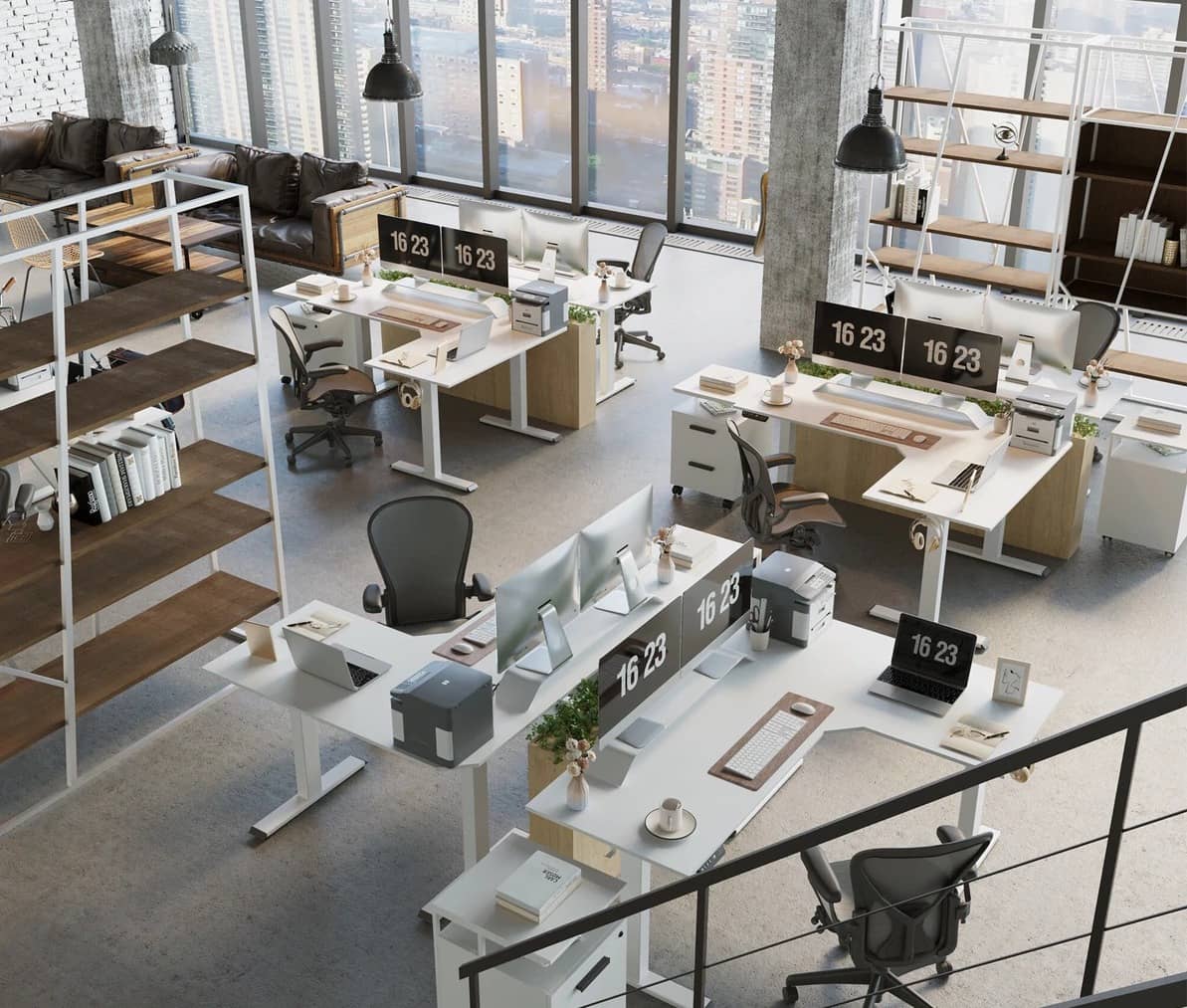 We have listed 12 of the best L-shaped standing desks that you can get for your home office. Depending on the purpose: we choose 7 L-shaped standing desks for working and 5 for gaming
Each brand has its pros and cons. Let's look deeper and this will help you decide which product to buy.
Best L Shaped standing desks for working & GAMIng setup 2022 
iMovR Lander L shaped desk
The amazing thing that makes us put this Lander L shaped from iMovR to the #1 of the list, of course, there are many functions that you can not find on others with the same price range. An example is an anti-collision detection. If you can, try to run a test with a book or something, the desk will stop falling.
And other features you will find out now with us on this product. It is perhaps one of the newest and most innovative L-shaped standing desks on the market today. And most of the functions of this desk can be controlled via an app. 
How does it work? The desk is outfitted with a "paddle." This paddle enables you to adjust the height of the desk through your smartphone. All you need is Bluetooth connectivity. It's also quite easy to access too. You just need to make a quick double-tap. This is also called the one-touch feature.
The one-touch feature is quite convenient, You don't need to do a long press to get your desired desk height. 
And more interestingly, it's also equipped with a "health coach." This feature calls out your attention whenever you slouch. So you'll be more mindful of your posture while working.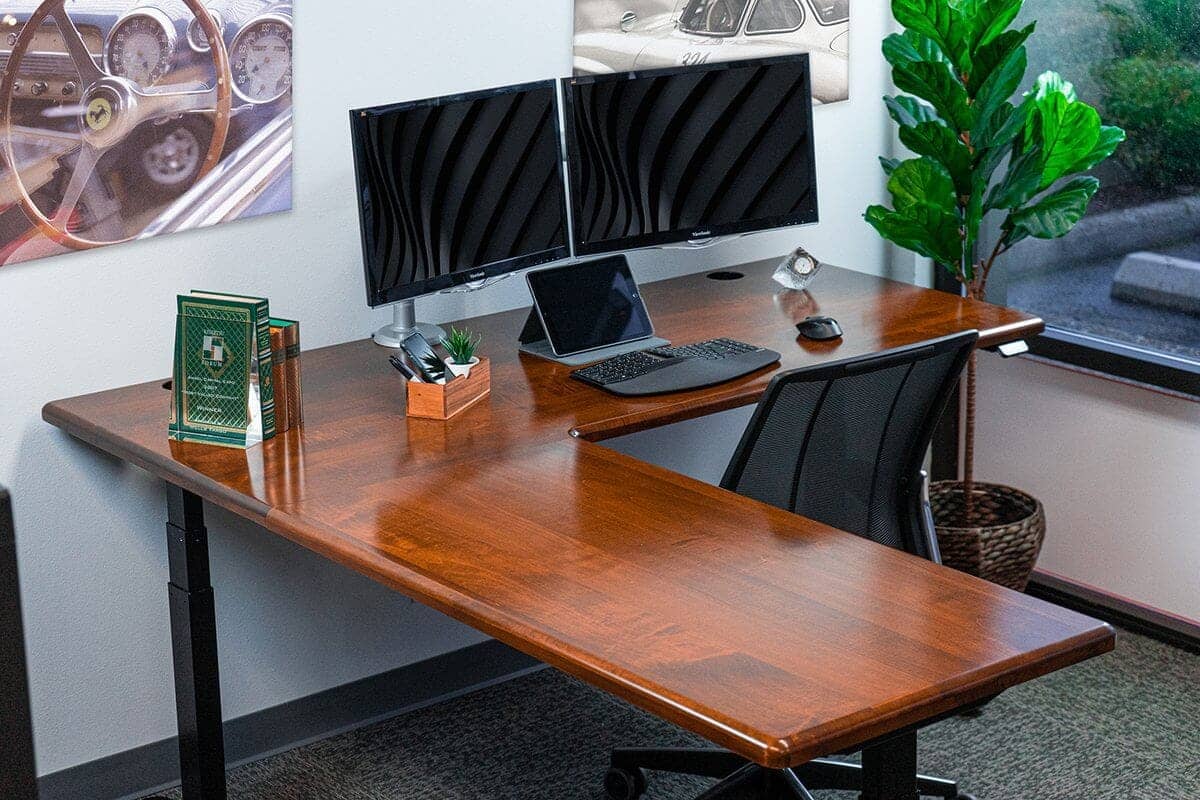 Apart from its innovative features, this desk is pretty customizable too. You can order it in the sizes that you need. And you can attach the side table to either side. So you can set it up according to your needs. And since it's customizable, you can easily configure it to fit any office space. 
And it's 100 percent made in the USA. So you can be assured of superior quality. For one, it offers a stable working space. Two, it operates quietly. And three, it boasts of heavy lifting capacity.
And it's very easy to set up too. It comes in 90 percent assembled already. So all you have to do is decide where to attach the side table.
Also, it comes in 16 stunning and lovely desktop designs and colors. Furthermore, it has ergonomically designed edges. So your arms wouldn't hurt even if you've been working for hours. 
In a nutshell, this product is a handsome desk. Hence, it's a nice focal point in your office. And it's the most innovative L-shaped desk on our list. If you're looking for an upgrade, this is one of the best options for you.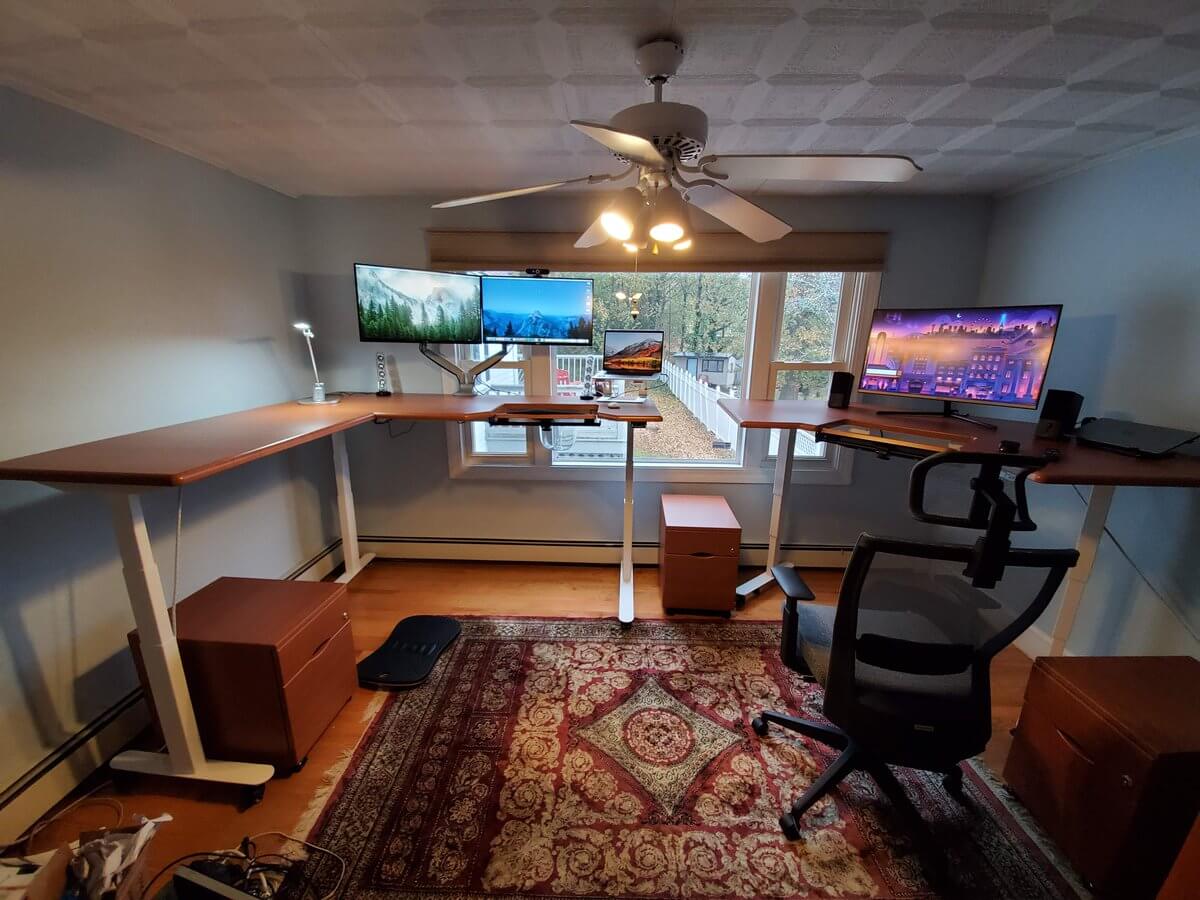 Pros
Innovative, and an example is the Linak electronics (Danish) which is definitely better than other Chinese ones in most popular options like Fully or Uplift (we will mention later)

Offer size options and super fast assemble, not than 10 minutes

It can be configured to fit any office space.

Support tall people 6′ or more. But the height range is support short people also with the 24.4″ as go low
Easy for return if you don't like, no question asked, that defeated other companies who sell the same products. Their customer support is super friendly and so nice
Cons
Don't have the child lock

Monitor wobble when moving a little bit, but doesn't affect so much the whole solid desk
Where to buy
Jarvis Standing L desk
This desk can extend the great outdoors to your office space. The tabletop comes in cozy earth tones maple, walnut, oak, bamboo, and black space station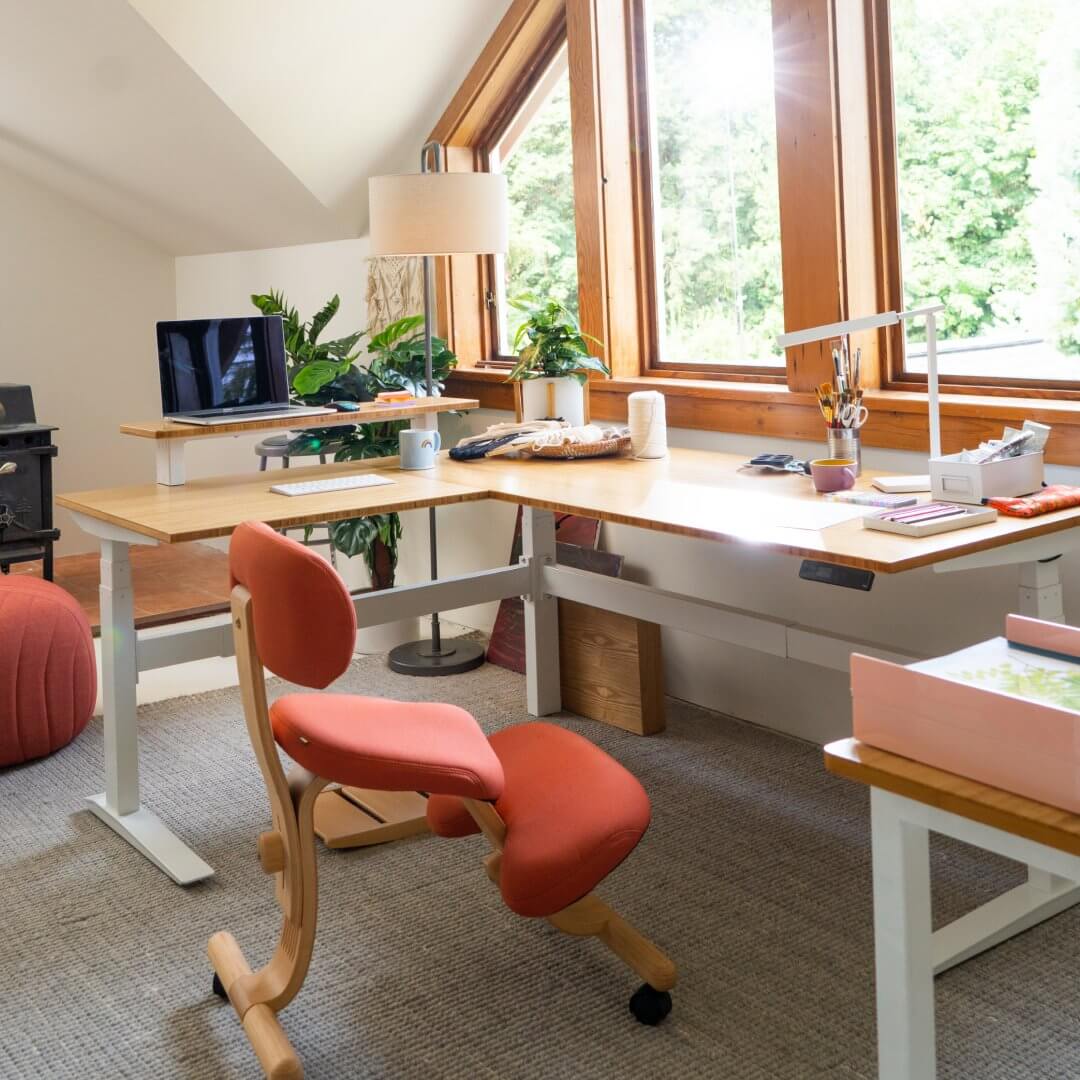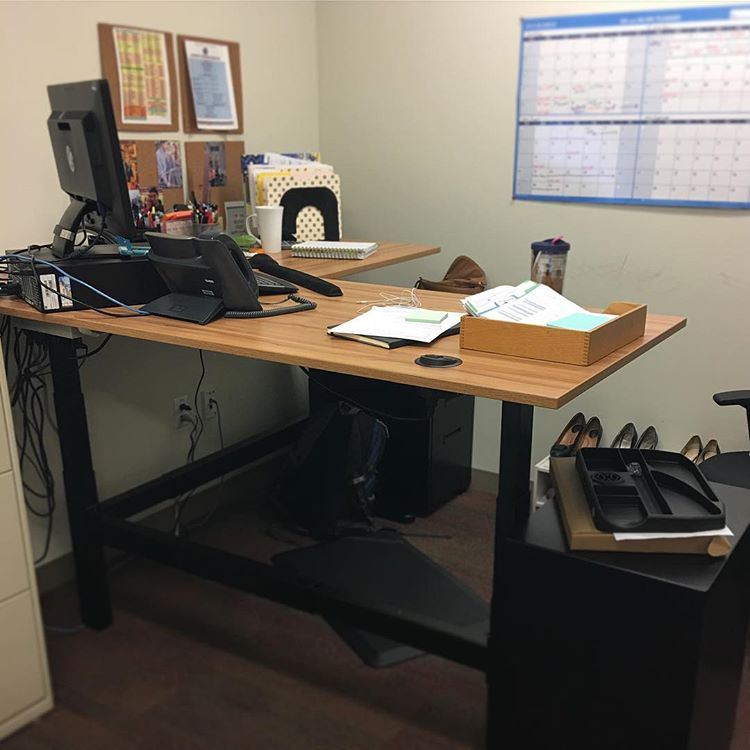 Interestingly, this product also has one of the most competitive prices in the market. But surprisingly it's quite stable and sturdy for its price. There's no wobbling or shaking at any point in time. Its lifting capacity is 535 lbs. 
Moreover, the legs of the frame are a bit wider compared to the competition. This ensures more stability and provides full support.
And it's quite easy to assemble. The instructions are pretty clear. And everything is arranged according to order so you wouldn't be able to miss a thing.
Also, you'll be getting a programmable handset for the table height adjustment. It boasts of a one-touch feature for more convenience.
Also, it has "pads" that are attached between the frames and the legs. This deadens the sound whenever you adjust the table. It might be a small thing, but it's a nice touch that lets you focus on your work. 
In conclusion, this is one of the most affordable yet stable L-shaped desks. And with the cozy tabletop earth designs, lends a calming and laid-back vibe. The bamboo variation of this desk is a crowd favorite too.
Pros
Affordable

The instruction manual is very clear

Stable and sturdy
Cons
Limited sizes

Quite heavy
Where to buy
Upliftdesk has three types of L-shaped standing desks. And the Uplift custom solid wood is the most high-end out of the three.
One of its advantages is its thick solid wood tabletop. And the desk is 1.75" thick. It definitely looks and feels pretty solid. 
In addition, this desk is handcrafted. And all handcrafted products are made with high-quality materials. They also tend to have this charm that can add more personality to any room. Moreover, it requires a certain level of expertise to make a handcrafted table. So that makes this tabletop top of the line.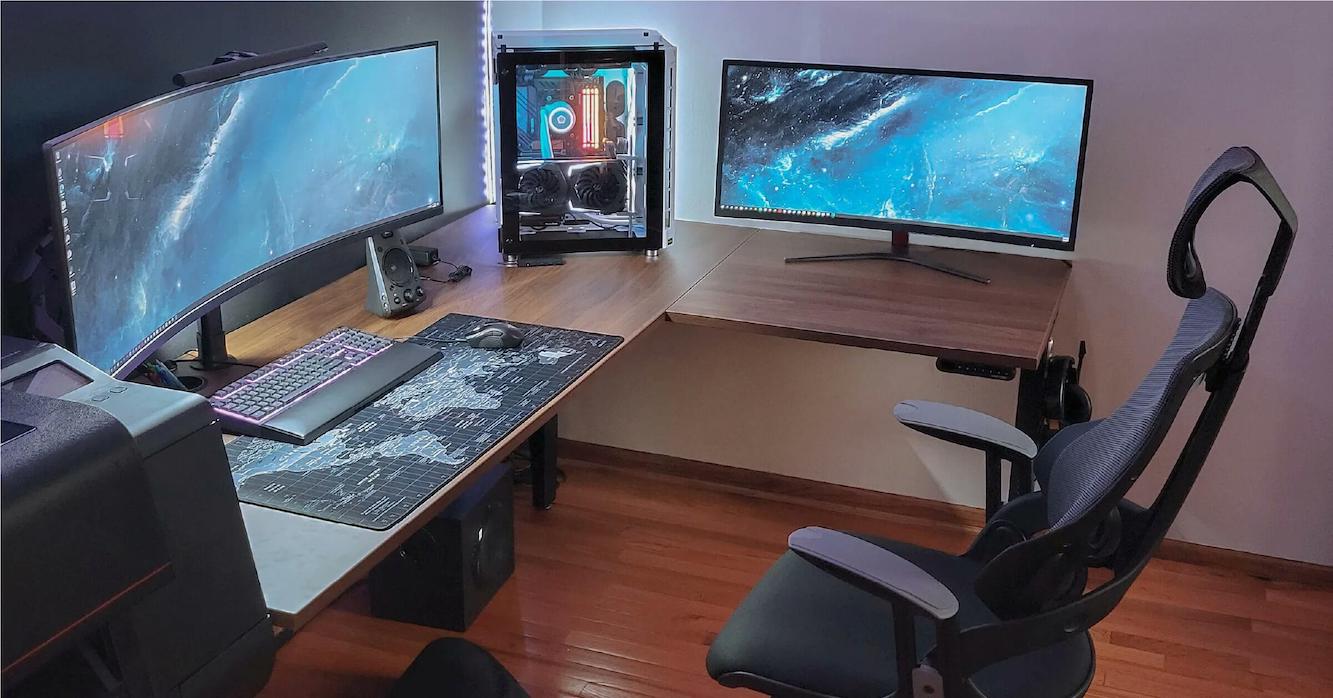 Interestingly, their high-end desktop makes use of a rather cheap Chinese-made frame. Nevertheless, the weight capacity stands still at 535 lbs. Even so, you can still expect stability. It has telescoping legs and an anti-collision sensitivity.
The anti-collision sensitivity stops the motion even at the slightest resistance. Thus, ensuring that your computer stays off the floor.
Furthermore, it also has a one-touch feature. With it, you can conveniently lower or increase the height of the desk.
As a whole, this product is a gorgeous natural wood desk. It has a lot of charm and personality. And it can be customizable too. It's built with several mounting points so you can add accessories to your heart's content.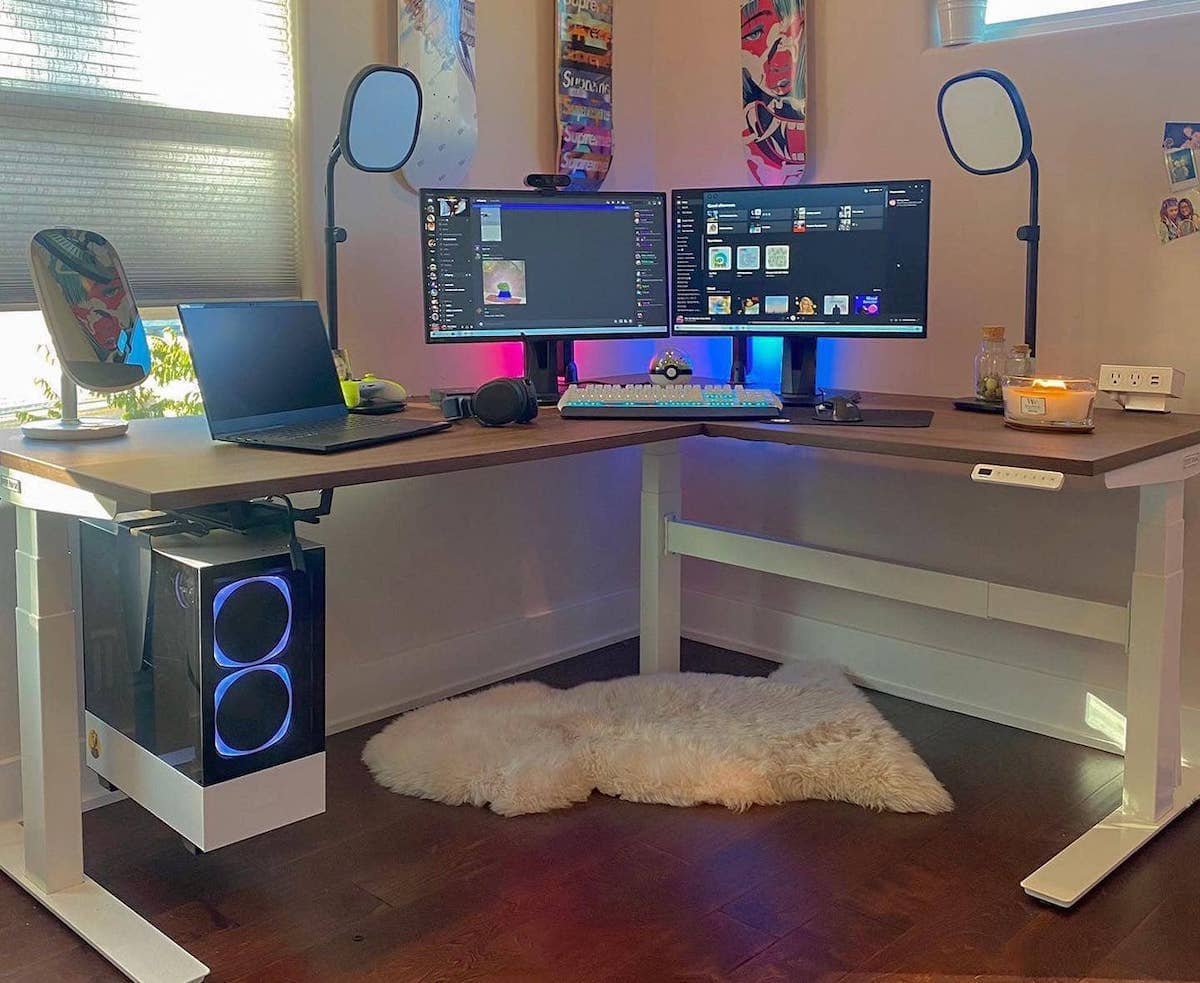 Pros
Natural wood tabletop

Has accessory mounting points

Handcrafted tabletop

Anti-collision sensitivity
Cons
Expensive but limited options for the wood desktop

Some people complain about the stability, our recommendation for the single leg is to find and buy a third foot, it will solve this problem.
Where to buy
Lander L Desk Solid Wood Top
This product is another Lander desk that made it to our list. This Lander L-shaped standing desk is 100 percent made in the USA. And what sets it apart from the Lander iMovR is its solid wood tabletop. 
Furthermore, this product shares almost the same distinctive innovations other Lander desks have. It's also equipped with a controller that can be synced to your smartphone. And it's Bluetooth enhanced so you can change the table height by accessing the app.
And you'll love how you can customize this desk. You can configure its size and shape so that it can perfectly fit in your room. And you have a lot of options too. In addition, it comes in 36 different designs and colors. So you'll be able to find one that can make your heart flutter.
Moreover, the solid tabletop is handcrafted. So you can expect quality materials and workmanship. This product not only looks elegant, but it's quite durable too. 
The gorgeous tabletop is ergo contoured. So you'll be pretty comfortable while working. 
Also, it comes in 90 percent pre-assembled. So it'll only take a few minutes to put this standing desk together. 
In a nutshell, this elegant standing desk can be an upgrade from your old desk. It's durable, innovative, and of course, it's certified by ANSI-BIFMA. So you can only expect the highest quality.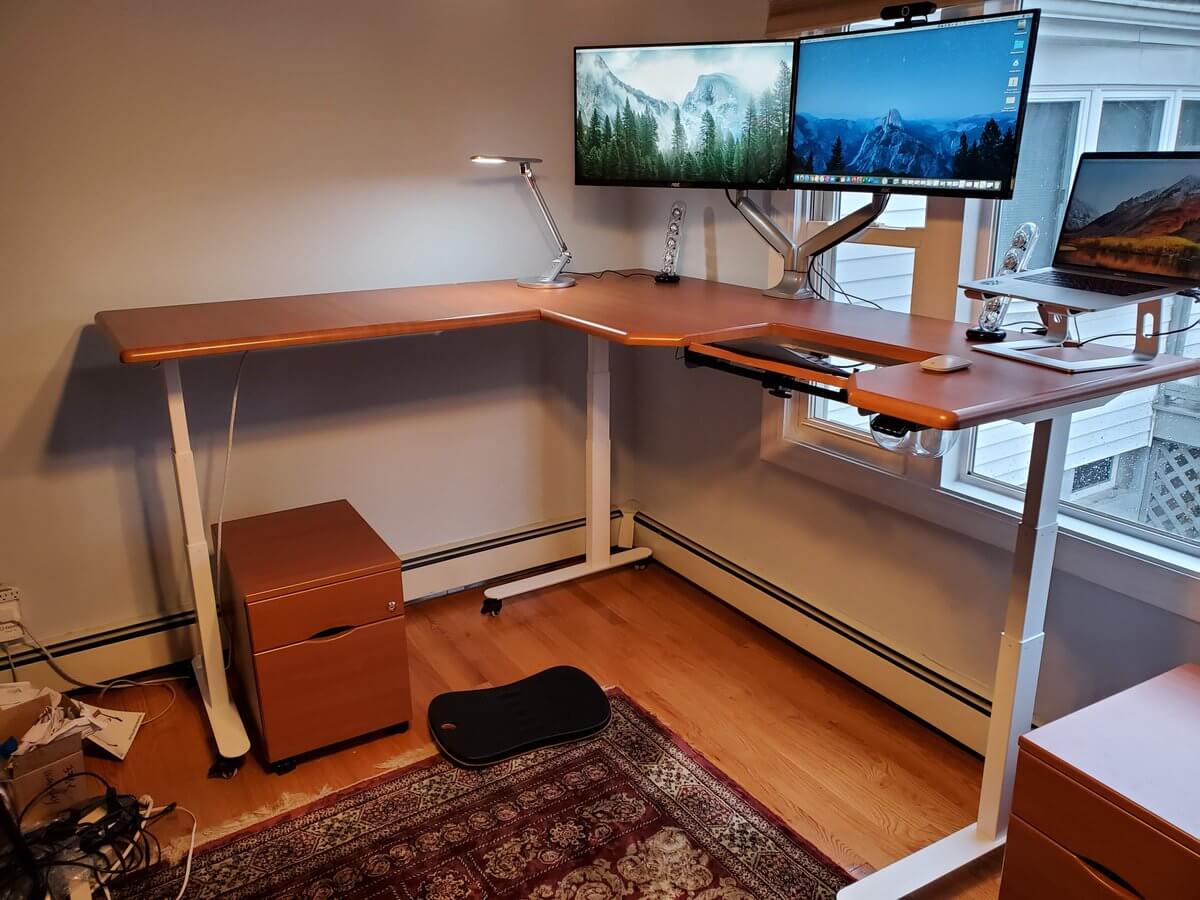 Pros
Handcrafted

Elegant designs to choose from

Innovative

Ergo contoured

Customizable
Cons
Where to buy
FLEXISPOT Pro L Shaped – best for budget standing desk
Flexispot is a famous brand when it comes to the budget for standing desks. Even with the single desk, the frame only, or the L-shaped version, we still have what we want without the biggest amount of money. Well, let's say, no need to break the bank, you can get a beautiful setup like the image below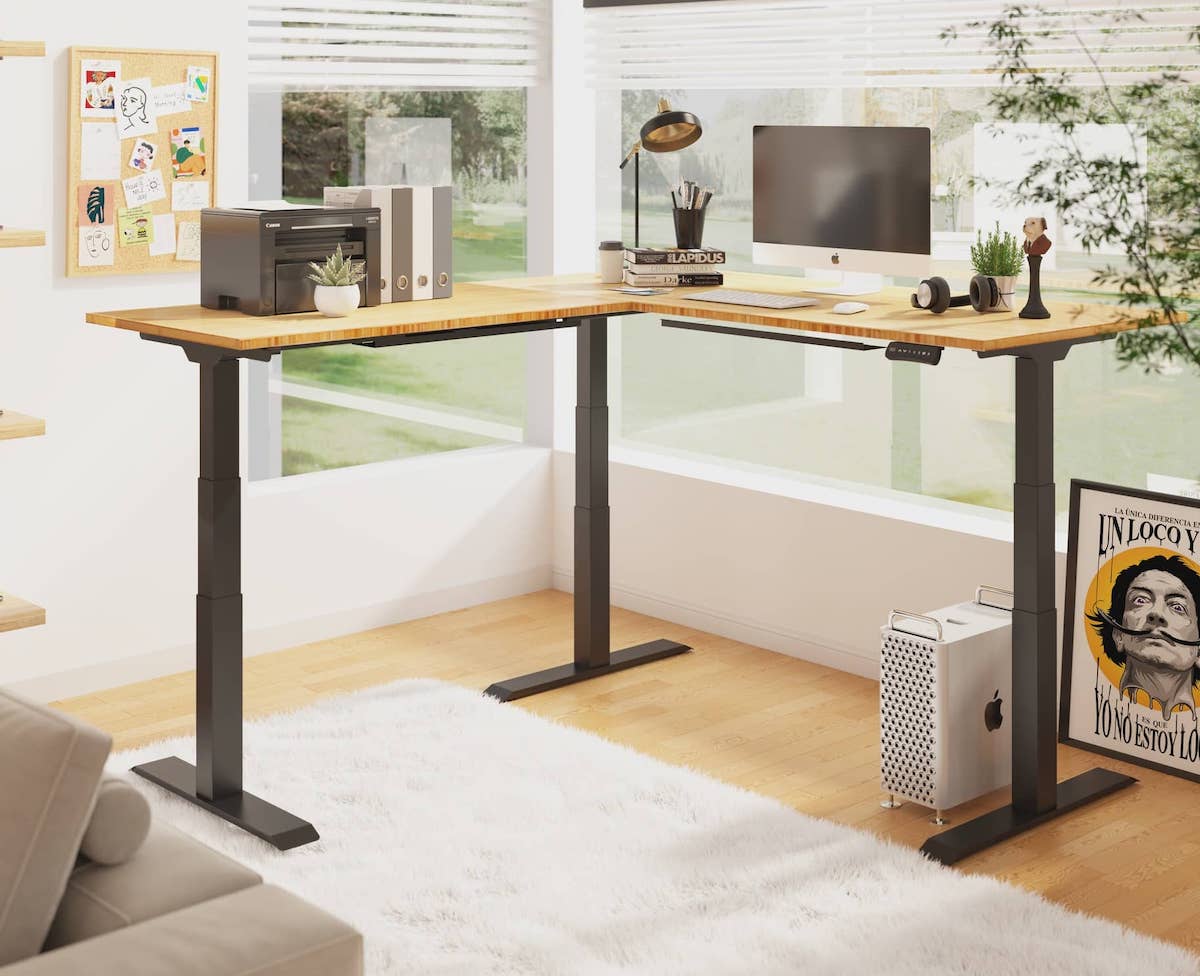 The Pro L Shaped desk (E7L) is their top-of-the-line model, and it offers a number of features that make it a great choice for budget-conscious shoppers.
This desk is incredibly stable. It features a dual motor lifting system that can support up to 330 lbs, actually, it's not one of the most sturdy desks on the market, but with a normal person has 2 big screens, 3 monitor arms, and at least one PC it can support it all perfectly. Additionally, the desk features a 3-stage leg system that provides ample support for even the heaviest of loads.
The E7L desk is also very easy to assemble, and it comes with detailed instructions that make the process a breeze.
About the desktop dimensions, it comes in 3 sizes: 48×24, 55×28 and 72×30 (special 71×48″). The 48×24″ is a good size for a single monitor (recommend for home office), while the 55×28″ will be better for a dual monitor setup (normal user will like this). The 72×30″ is the largest size and it's perfect for use a triple monitor, which is likely for a gamer. The special version, well, it's a bit larger and it's perfect for, let's say, everything!
About the height range, not much special for a tall guy, that's the truth!
It features a height range of 22.8″ to 48.4″, which makes it ideal for both short and average-height users. Additionally, the desk features a tilt range of -5° to +10°, which allows you to customize your working angle for maximum comfort. Only one thing you should check, it's the special version 71×48″. This one only supports the height from 28.9″-48.2″, so if you are a short guy, it may not be suitable for you. And the weight capacity of this version is only 177 lbs, but the price is only half compared to other versions, it's still a good choice if you have a super limited budget.
Overall, the FlexiSpot Pro L-Shaped desk is a great choice for budget-conscious shoppers who are looking for a high-quality, adjustable, and stable desk.
Where to buy
FEZIBO Triple Motor L-Shaped Standing Desk
If you're looking for an L-shaped desk with a maximum load capacity, the FEZIBO Triple Motor L-Shaped with 63″ tabletop is a great option. With a height adjustment range of 27.56″ to 47.24″, it's perfect for people of average height. Plus, it comes with a 5-year warranty for the main parts and components, and a 2-year warranty for the motor. Plus, if you're not satisfied with the desk, you can return it within 60 days for a full refund.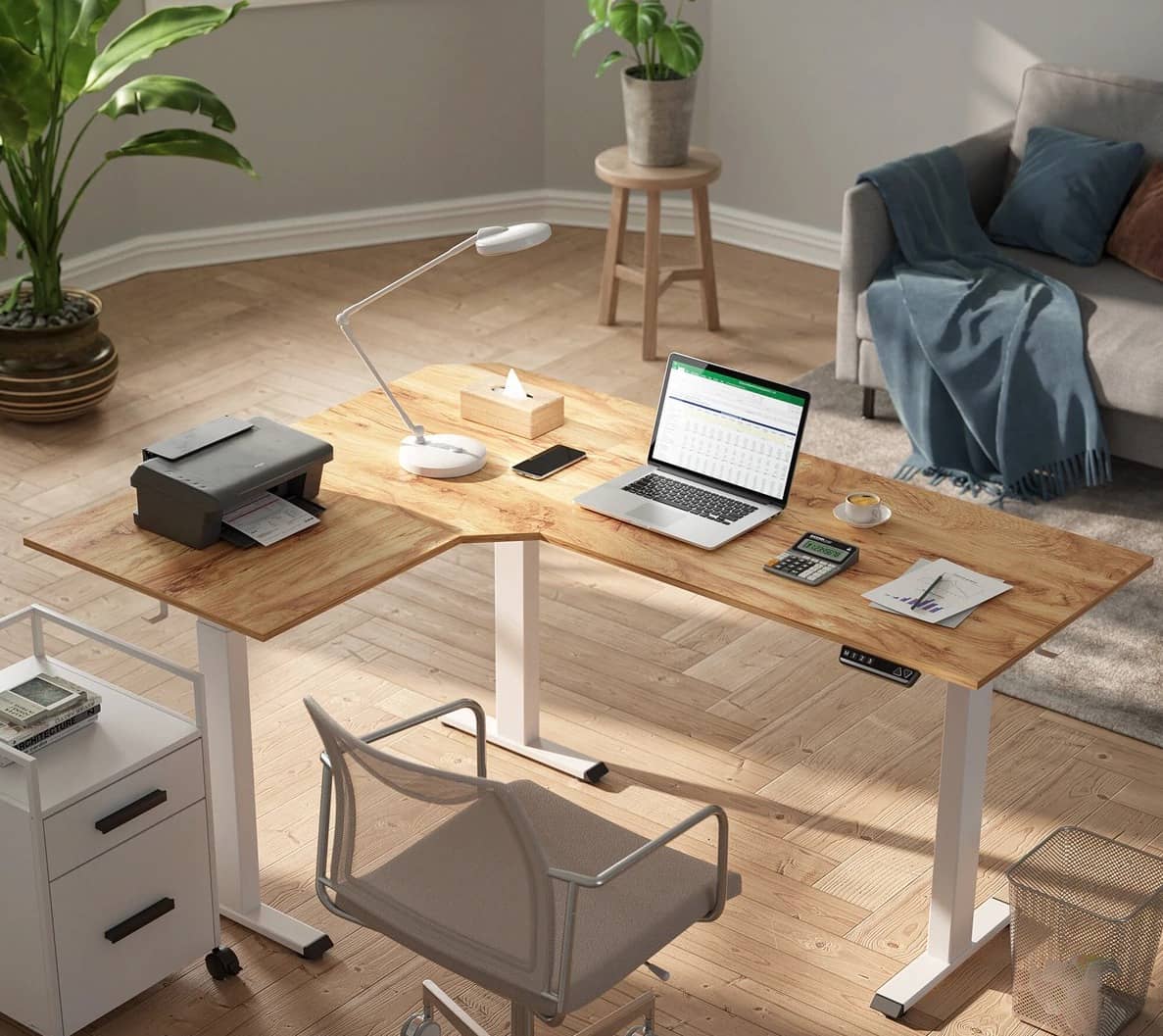 Dimensions: 62.99″D x 47.24″W x 29.53″H
Weight capacity: 330 lbs
Height adjustment range: 27.56″ – 47.24″
Compare to the Flexispot, with the same price range, and the same size as the tabletop, this L-shaped is stronger with double load capacity, making it the best choice for those who need a cheap and reliable standing desk.
The desk also has 3 preset buttons to control the height, two desk hooks, and a cable management tray to keep your cords organized. It's also easy to assemble, so you'll be up and working in no time.
The downside, like other budget l-shaped desks, the height adjustment range is not for everyone. The tall guys above 6'5″ or the short people under 5'4″ can't use this l-shaped desk, they have to find other options.
Even comes with 3 motors, but the warranty for this motor quality is only for 3 years, it's not good compared to other premium brands like iMovR, Progressive, Fully, or Jarvis, which have a 10-15 years warranty. And the size of the tabletop is only 63″, it's smaller than the average size of a rectangle desk, which is around 70″x50″. Unfortunately, Fezibo does not have bigger size options for this l-shaped desk (it has the smaller 48″ or mid-range 55″ size).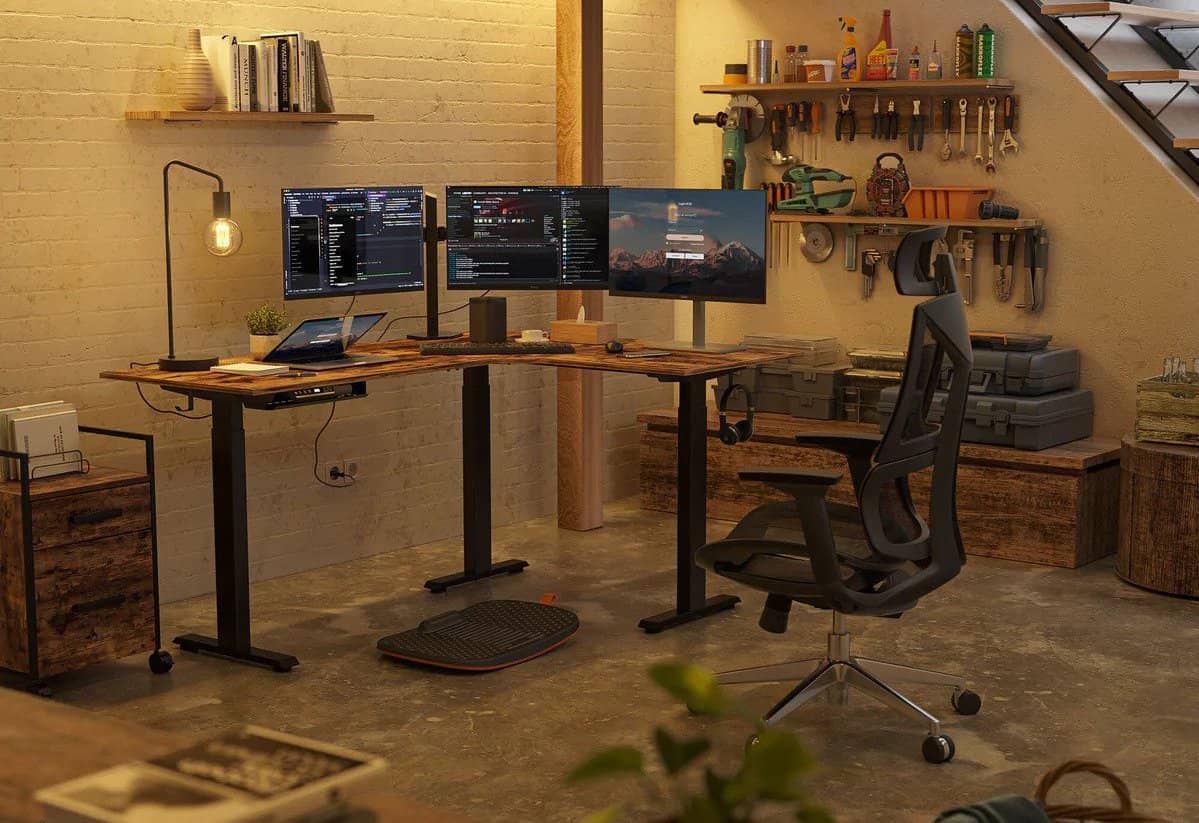 Even with only one size, Fezibo has 4 colors for the tabletop, they are white, black, and 2 colors of brown. The special thing is, you can find another l-shaped version with drawers (+$100) or with a file cabinet (+$200). Of course, they look so unique, and it's very rare to find an l-shaped desk with those extra features in the market.
This EE 61"x43" version L-shaped standing desk of Eureka may look like your basic desk. But there's more than meets the eye. It offers more advanced functions at an affordable price tag.
This product features a LED digital display. It might look like the standard readouts most electric standing desks have. But the Eureka L-shaped desk boasts of a bit more than just the basic functions.
First, let's start with the basic features. The LED readout bears an "up and down" button for easy table adjustment. Also, it has 4 programmable settings where you can input your desired table height. And lastly, it has a memory button to pre-set your preferred measurements.
Additionally, it contains more advanced functions. One, It has an overload protection feature. The table automatically stops once the weight capacity is reached (350 lbs). It, therefore, saves the steel frame from damage. And it prevents any untoward accidents too. 
And two, it has an alarm that will prompt you to change to a standing position. 
Interestingly, this standing desk is made with one of its legs slightly longer than the other. The product claims that this contributes to the stability of the desk. And surprisingly, this feature prevents the desk from tilting over.
All in all, this white electric standing desk will look pristine in your home or office. It's a simple desk but has a unique frame design that makes it stable. If you don't mind that it's available only in white, this affordable desk is a great option.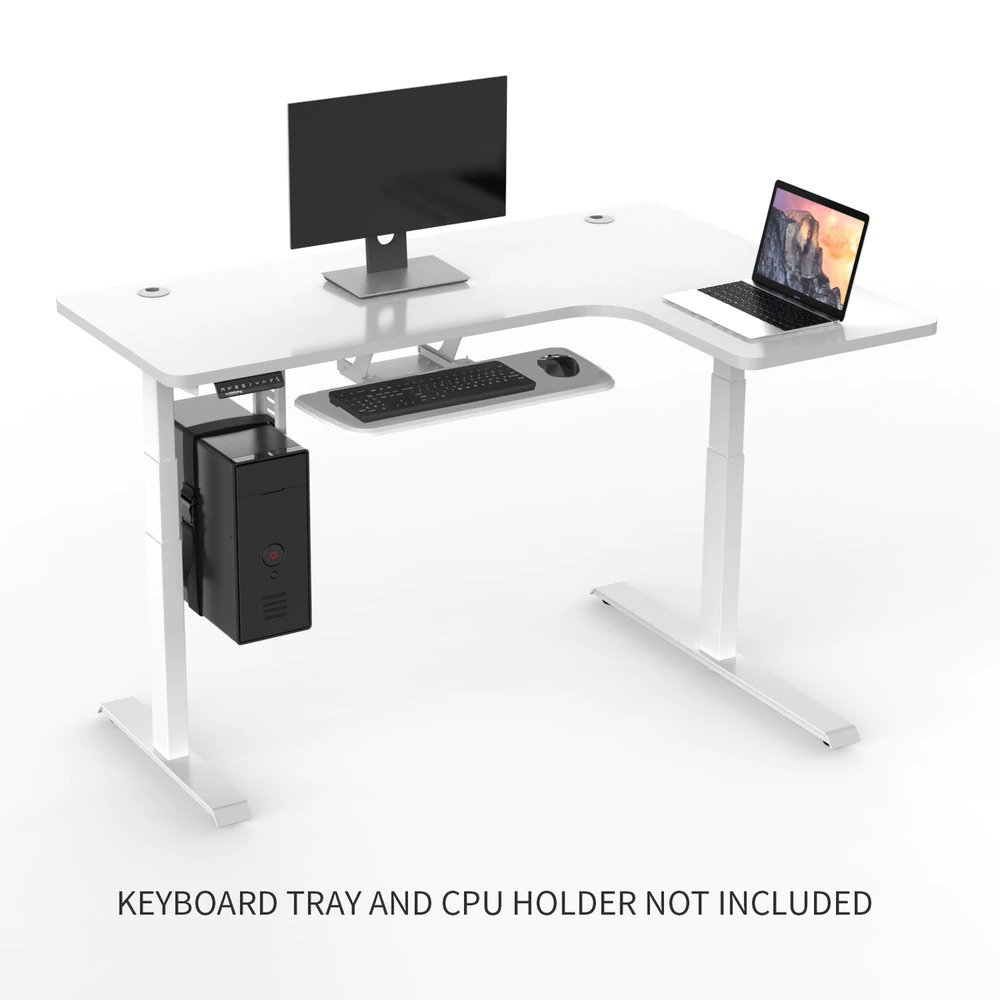 Pros
Unique leg frames design

Has an overload protection feature

Stable and durable

Fully digital controller

Quiet and strong motors

Affordable
Cons
Where to buy
Linsy Home L-shaped Desk
Have you ever heard the name Linsy Home? Luckily for you, if this is the first time, you'll go crazy for it. Another desk for the budget but for small spaces only. This Linsy desk is a very nifty find.  If you are on the hunt for an L-shaped desk 55×27″ but your budget doesn't allow you to, this is one of the most economical solutions to your problem. The extension table may not be as large as the main desk, and it may be smaller compared to L-shaped desks within the e80-1000 dollar mark. But it still allows you to do zoning and offers additional work areas.
Space-wise, it can accommodate a busy workstation.  Also, it is aesthetically pleasing and has a unique clear glass button lit by blue light. But as pretty as it is, you will not be able to save height settings on this. It may function basically, but it has more than just the basic offerings.  It does have iron desk hooks and a cable management tray. 
But keep in mind that the extension desk can only be connected to the right side of the main table
Priced lower than 800 dollars, this L-shaped Hanover standing desk is the cheapest desk on our list. It's a great option for those who are on a very tight budget but need a larger working area. 
Measuring 73 x 73 inches, large enough for having ample space for two monitors and a couple more office supplies. You can enjoy additional workspace at a fraction of the cost. Also, it can support a weight of up to 528 lbs. 
In addition, you get to enjoy the convenient features of an electric standing desk. It has 4 programmable settings where you can encode your preferred table height (25-49 inches). And If you don't have any preferred setting, it's easy to adjust the desk too. You just have to press the up and down arrows. And it will seamlessly lift or lower the table. The motor is amazingly durable and quiet too. 
In a nutshell, this standing desk is best used as a workstation. It looks pretty utilitarian with its PVC tabletop. But you may still use it for your computers and monitor, it will just look extremely basic and plain. 
There's nothing fancy about it. But it sure can carry quite a load. And since it may reek of few harmful chemicals, it's best placed in areas where there is enough ventilation.
Pros
Cheap price

Scratch-resistant PVC desk

Quiet and strong motor
Cons
May expose you to formaldehyde and toluene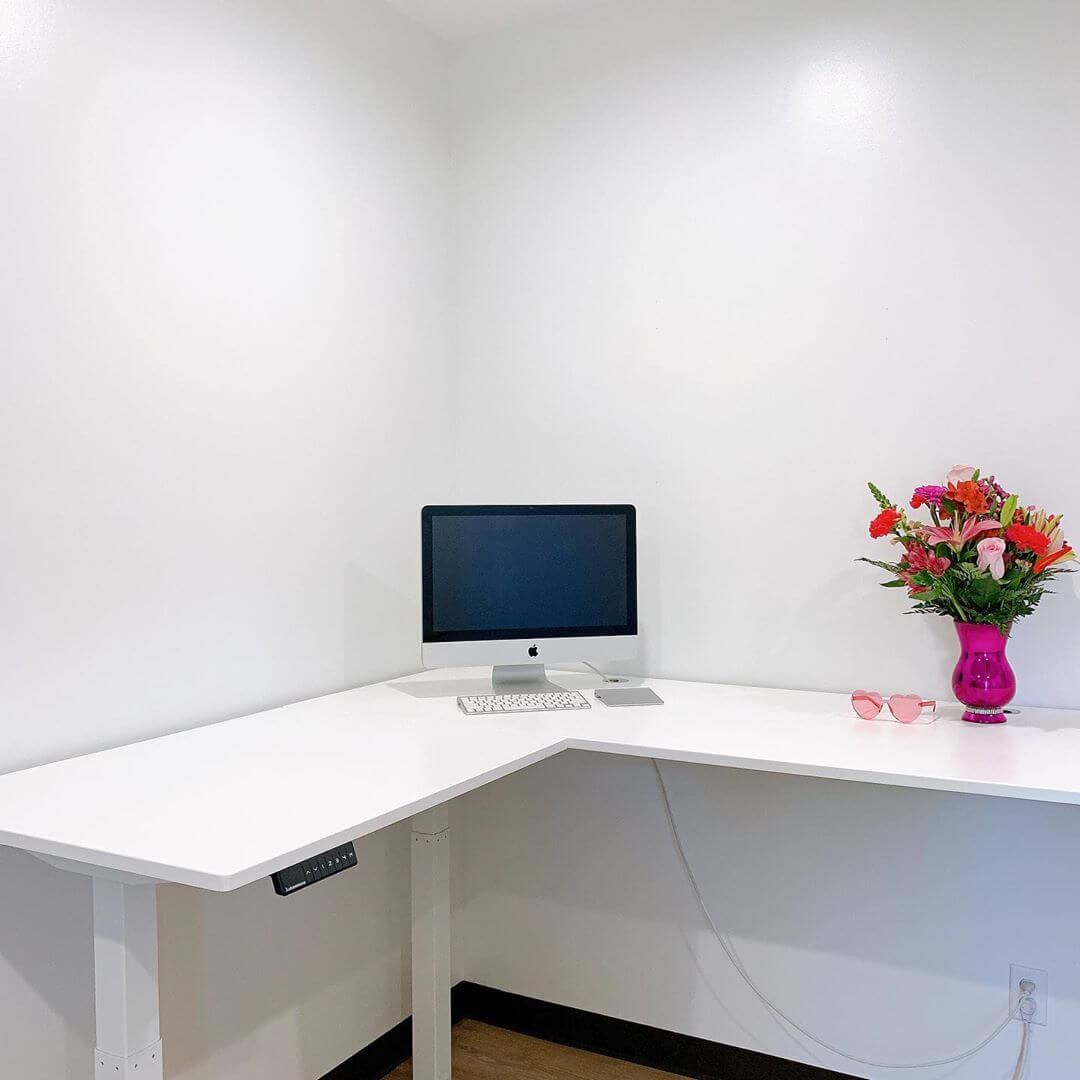 Where to buy
Multi-Table L Shaped standing desk
Multi-Table L-shaped standing desk is another affordable yet decent standing desk on our list. This product is quite popular for its fair price and dependable motors.
We'd say that this is a pretty basic L- shaped desk. The minimalist design is ideal for those who are just transitioning to a standing desk. It's also one of the best options if you're on a limited budget. It's a light-duty desk that has a weight capacity of 330 lbs. 
One of the biggest advantages of this desk is its quiet motors. These motors are quiet. And they have an anti-collision feature that stops the motion at the slightest resistance. 
Another advantage is that it offers one of the fastest and smoothest transitioning you can find at a standing desk. 
In addition, it has convenient innovative features too. It has a digital keypad display built with 4 memory settings. Plus, it has a soft start and soft stop feature. These allow for faster and smoother transitioning and table height adjustment. These are also equipped with one-touch technology. 
All in all, it's a basic, minimalist, and light-duty desk that can fit a newbie's working space. But you still get to enjoy innovative features that can make things easier and more convenient for you.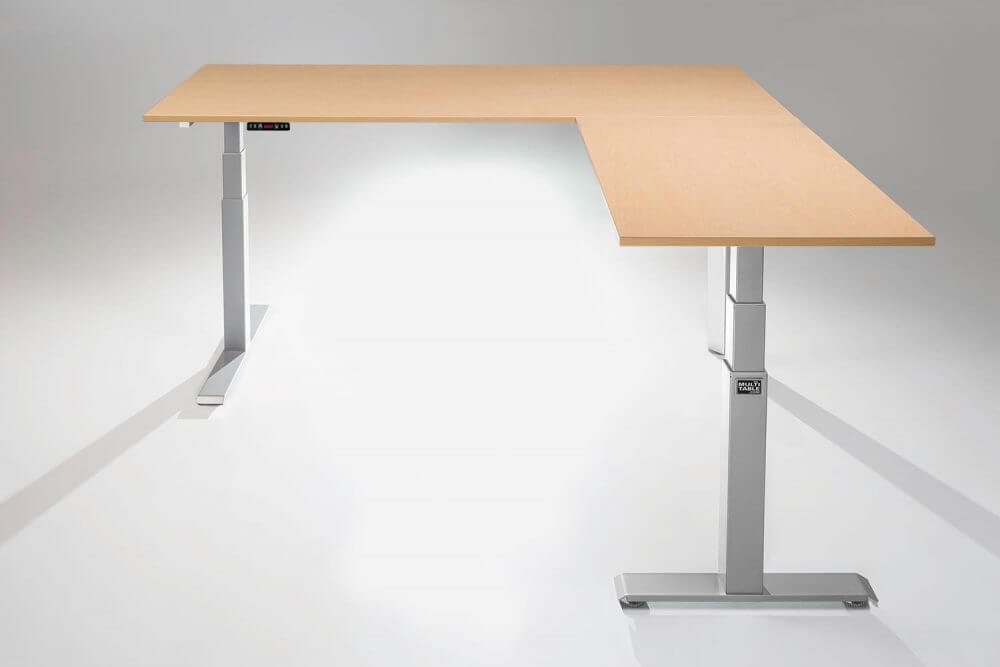 Pros
Affordable price

One-touch technology

Faster and smoother transition

Quite motors
Cons
Low weight capacity

Not heavy duty
Where to buy:
Best L shaped Gaming Desks
L shaped desks are perfect space savers. It conveniently sits in the corner of your room. Thus, occupying only a small area. 
But can it be a convenient gaming desk? Why not? L-shaped desks are versatile. At the same time, you can still place a lot of equipment on the surface. L-shaped desks are perfect for gamers who have multiple tasks to do. And the best L-shaped gaming desk combines the ergonomics and versatility of both a home office workstation and a gaming desk.
Keep reading to see our top picks for the best gaming desk L shaped
Respawn RSP 2010 gives excellent space for the gamer who has a lot on his plate. It's well built and quite durable too.
Your setup upgrade comes with a ton of additional gaming accessories. And sometimes, it just won't fit in your old desk.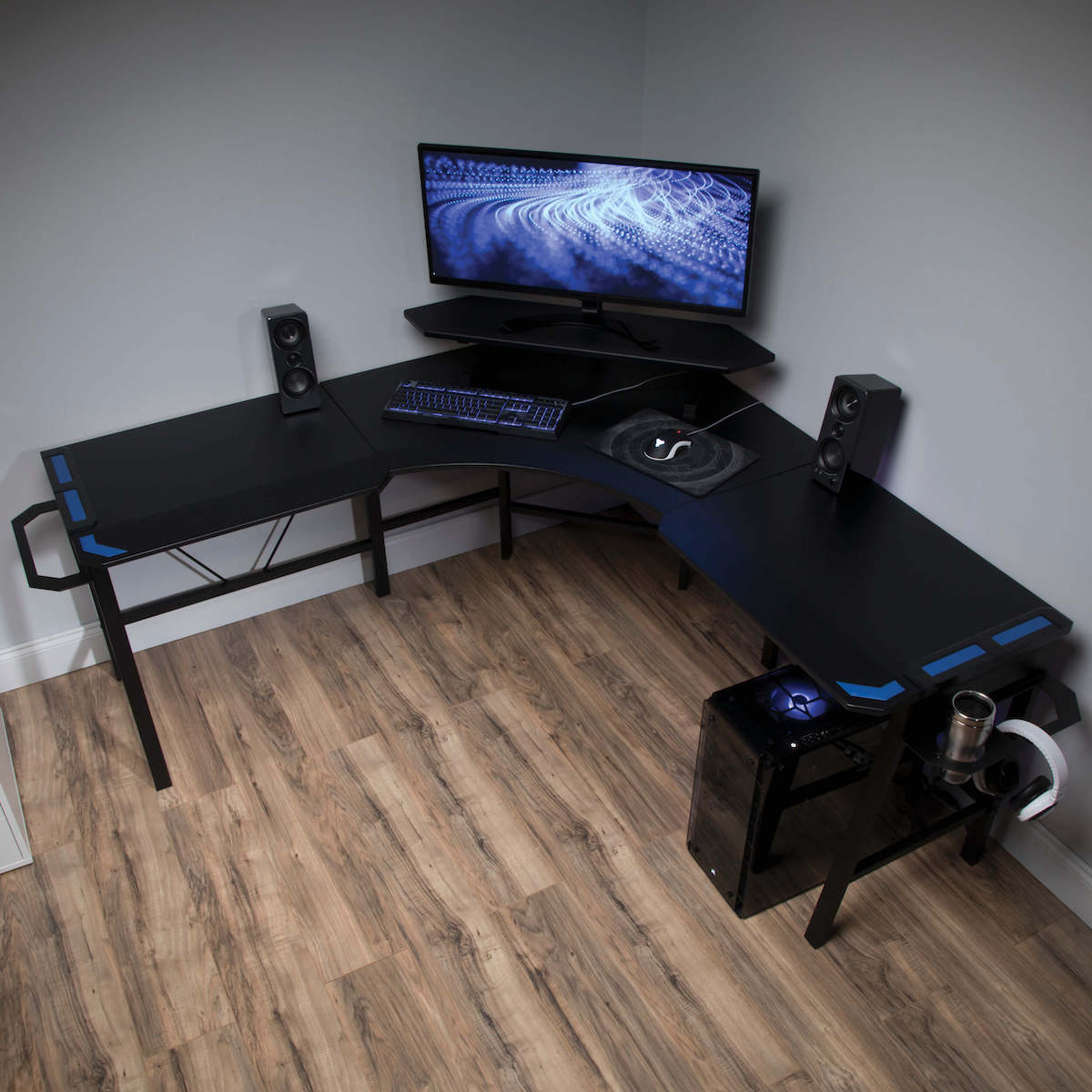 Make way for Respawn RSP 2010. This elegant L-shaped desk boasts of an excellent extra pace. Respawn is known for its durable and well-built gaming chairs and desks. And this L- the shaped desk is no exception.
This L shaped desk has all the convenient features of a regular gaming desk, but way better. You get the cup holder and even a headset hanger for your convenience. But you still get extra space for your home office. Everything is within reach. 
In addition, it looks rather elegant with its black and grey exterior. And it's built to last too and can hold a weight of as much as 200 lbs. The steel frames add up to the durability of this gaming desk.
It definitely supports prolonged gaming with these two features. One, It has beveled edges that are quite comfortable on your arms and wrists. And two, It also helps you keep an eye-level view of the monitor with its leveled monitor shelf. It won't give you any back or neck strain.
All in all, it's a dependable L-shaped desk that you can use both for your gaming and home office needs. If you're a fan of Respawn products, this is a great addition.
Pros
Has a lot of working space

Sturdy and built to last

Looks elegant

Has a cup holder and headset hanger
Cons
Quite heavy

The monitor shelf can only accommodate one monitor
Where to buy
This versatile L shaped gaming desk has a lot of storage spaces for your gaming accessories
Complete with two-tier storage shelves, the Teraves Reversible L-shaped gaming desk isn't short of extra space. Another advantage it has is that it's reversible. You can tweak the position of the panels to suit your needs.
This wooden desk gives a homey vibe. It can be your gaming desk without looking too virtual. It's a versatile L-shaped desk too. You can use it both as a home office or your gaming station. 
The wooden table is made of P2 particleboard. And it has sturdy legs made of steel frames. We love the unique round curved edge design. It adds softness to the desk. And in terms of the weight, it has a decent minimum weight feel. So it's easy to move around in case you want to transfer it to the other room.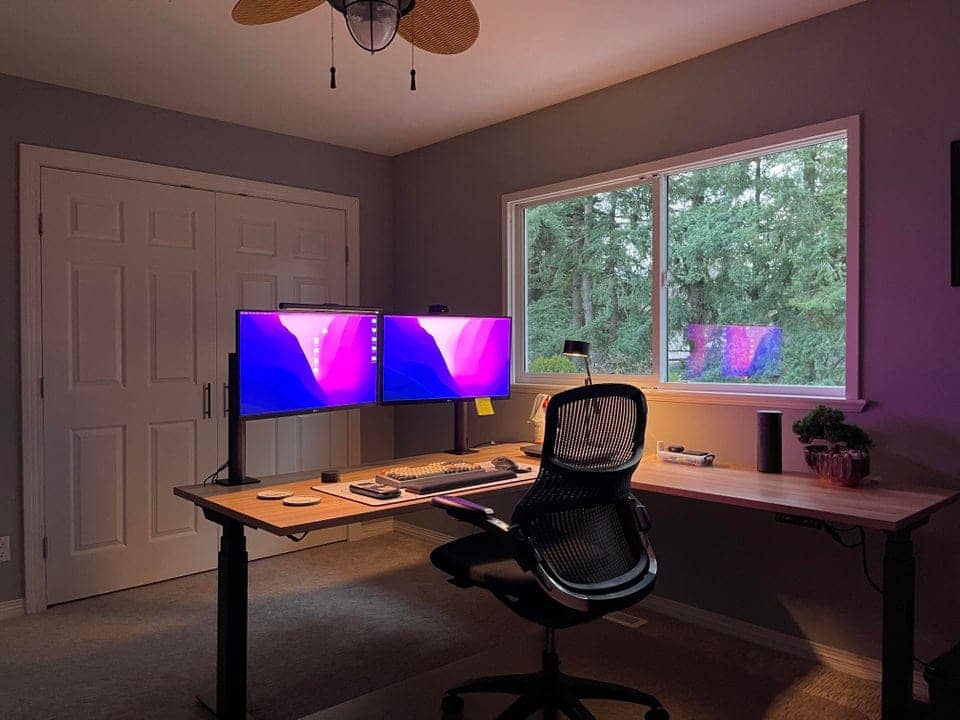 Plus, it's low maintenance. Since the panels are water-resistant, you don't have to worry if you left your soda on the desk overnight. It does not retain watermarks. 
In a nutshell, this reversible L-shaped gaming desk is very comfortable for both left and right-handed people. And if you're looking for a gaming desk that doesn't look too savvy, this laid-back desk is for you.
Pros
Comes with a CPU stand

Reversible panel design

Has a footrest

Has triangle shaped support for stability

Equipped with a monitor mount hole

Adjustable leg pads
Cons
The instructions are hard to read

Can be challenging to assemble for some
Where to buy
The Walker Edison gaming desk has a unique design that makes it one of the most sought-after L- shaped gaming desks in the market today.
This L-shaped desk has a tempered glass table and an x-shaped frame stand. It's rare to find a gaming desk with such features. It looks ultra-modern and chic too. This gaming desk gives another whole new meaning to a gaming desk. Let's see how it performs.
First, it's very easy to modify. The two long tables are separate. So you have an option on how to place the tabletops in any way you want. It can even be used as a single desk. 
And these are not connecting desks. You just have to place the two tables beside each other to form an L- shaped gaming desk. And it only takes roughly 10 minutes to fully assemble this gaming desk.
Second, it has a streamlined and rather thin-looking frame and legs. But it is indeed durable. It's sturdy and well built which you wouldn't expect from a desk with such thin frame legs.
Third, it has a lot of clearance for your legs or CPU or anything that you want to store underneath the desk. And if you're concerned about the safety of the glass table, the edges are angled to prevent accidental scraping. 
And you'll love how stylish and posh the glass tabletop looks. It's held on the base with suction cups. 
Overall, it's a unique desk that has a high-end design. It's also perfect if you're looking for a desk that can accommodate multiple monitors and other gaming or office accessories.
Pros
Large working area

Unique and streamlined design

The sturdy steel frame can hold 1000 lbs

Easy to clean
Cons
The keyboard tray is quite small

No options for cable management
Where to buy
It's resistant to wear and tear so you don't have to worry anything about but your game.
The biggest advantage of the ZCH gaming desk is that it's low maintenance and can almost take care of itself. The materials used are very easy to clean. It also boasts of a scratch-free table so it can maintain its classy look even after several years.
Another advantage is its stylish and modern design. It has a very sleek and simple steel leg framing. The simplicity of the design gave way to more leg clearance. It's also very easy to move the tables you can switch the tabletops anytime you want.  
And it offers a larger working space where you can put 3 monitors. Some users may even find this gaming desk too big.
It's a simple yet sturdy gaming desk. There's nothing more annoying than trying to maintain the balance of a desk while playing. The bottom of this gaming desk is very stable and it doesn't wobble. So all you have to do is focus on how to gain leverage from your virtual opponents.
In a nutshell, it's perfect for those looking for a large gaming desk with a minimalist design. And it is also quite affordable. It's a great steaL for those who are on a budget but looking for a functional L-shaped gaming desk.
Pros
Comes with a monitor stand

Simple and sleek design

Offers a  lot of leg clearance

Waterproof and scratch-free table

Large working space
Cons
Challenging to assemble

Aluminum legs may be prone to bending overtime
Check available
Conclusion
L shaped standing desks are perfect for your multipurpose office. And they are a perfect solution if you need more working space but don't have the extra room. Even if for gaming
L-shaped gaming desks come in a variety of designs. From savvy to minimalist exteriors, you will definitely find one that suits your taste and your requirements too. Our list ticks all the boxes of your dream gaming desks.
Well, hope we made things easier for you. We're quite certain you'd be able to find a desk that you love.