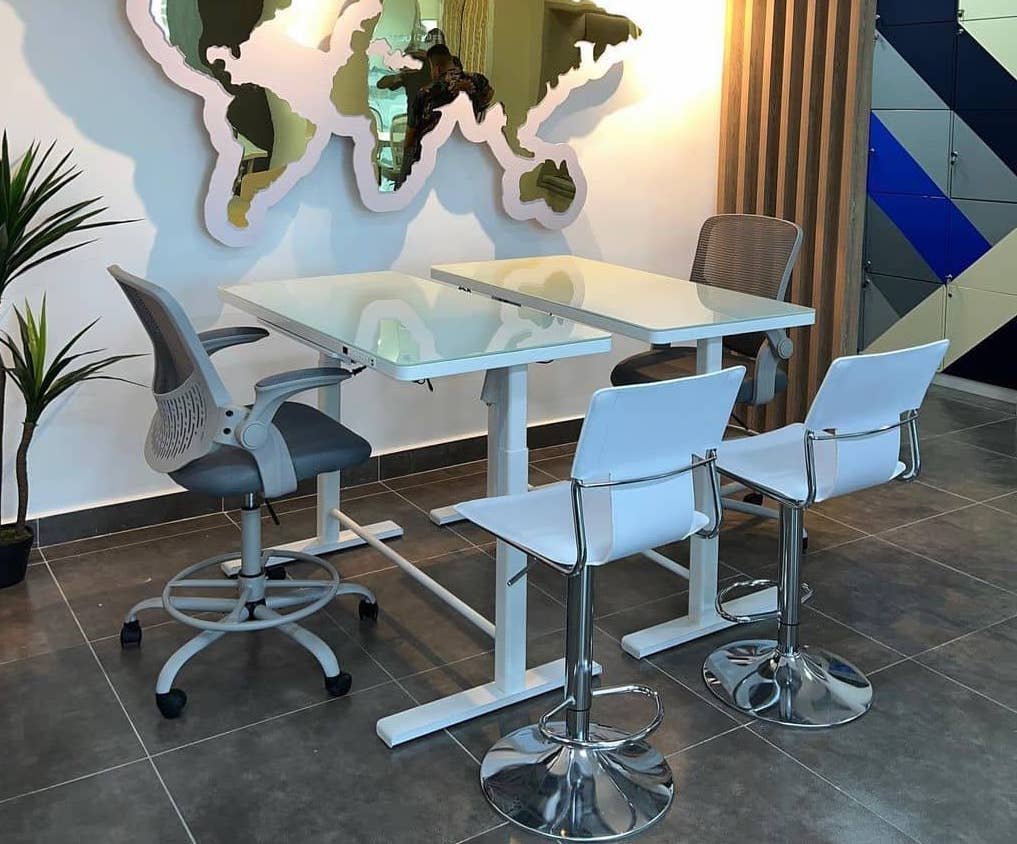 We are a sucker for those lovely solid wood table tops for a standing desk. But some people are awed with a glass top standing desk. Glass tops may be more visually appealing for those who want a more contemporary setting in their workspace.
And since there is not any pressed wood used on the desk, there is no off-gassing. So glass tops are also suitable for those with asthma and allergies. But you have to be very careful when buying glass-top standing desks. It can chip and even break in half. That's why you only have to go for the best. And today, we are listing our top 5 favorite standing desks with glass tops. If you want more standard brands, check out the top best 27 standing desks we have chosen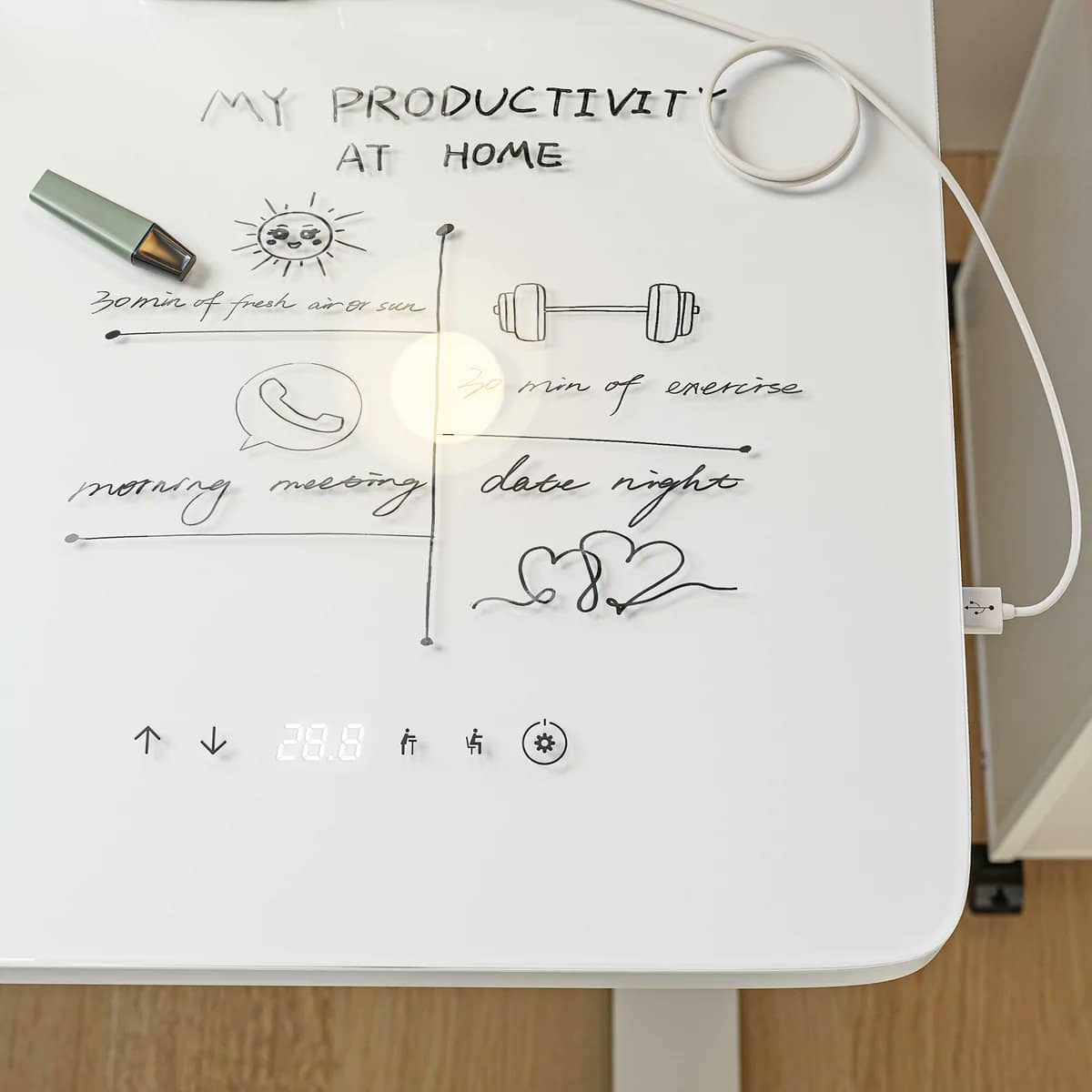 BDI CENTRO – Glass standing desk
Minimalists will love the overall look of this sit-stand desk with the common size of 60×24″. Even wood tabletop lovers were also happy with how the desk looked. 
First off, it may have a more hefty price tag. But we'll look at it as an investment rather than just a one-time purchase. Glass is a tricky material to be used on a standing desk. That's why not all brands offer an option to have a glass top instead of wood or laminate. That's why we already expected this desk to be heftier.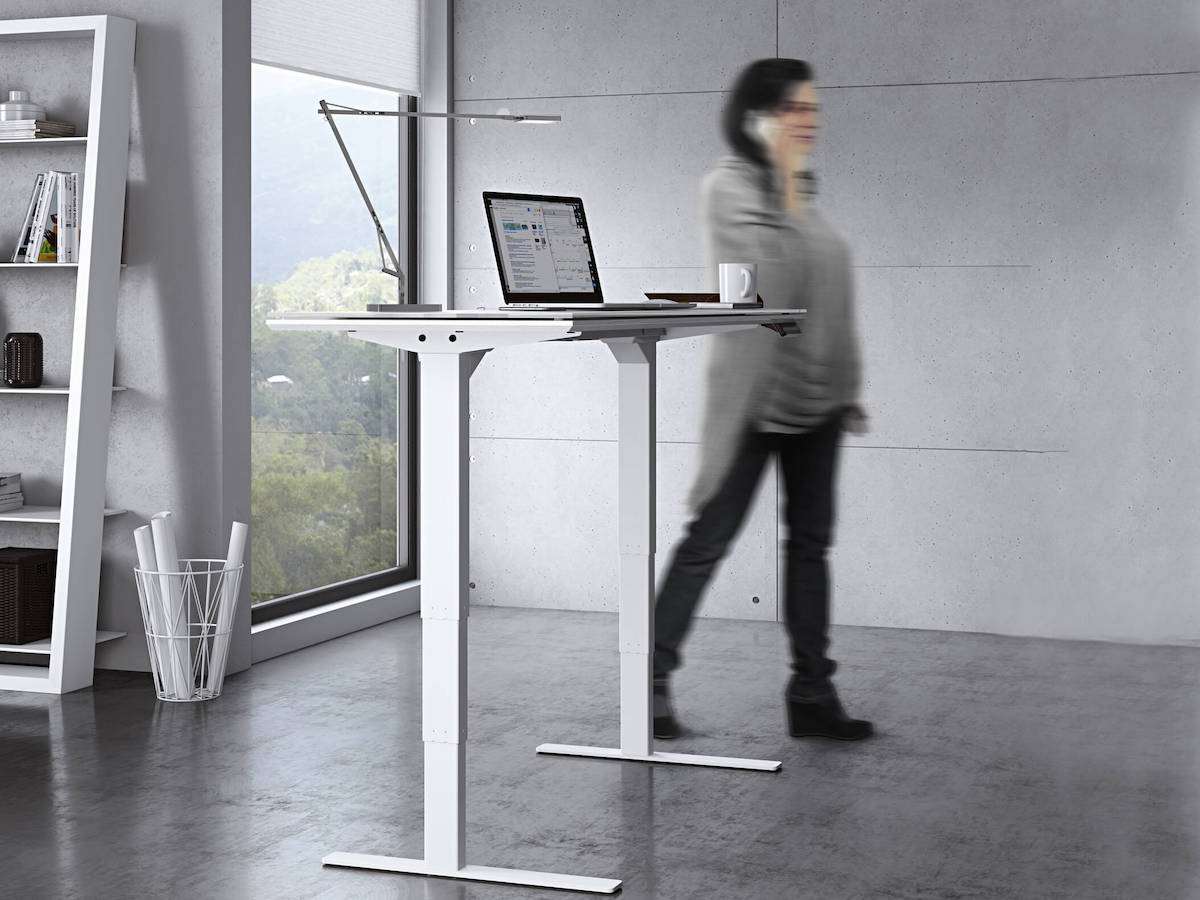 This desk boasts tempered glass with a satiny smooth finish. One of the advantages of glass desks is that they are easier to clean. And you will not have any issues with fingerprints on the desk. And this desk just screams luxury. Every inch of it exudes sophistication. 
This 60×24″ desk also has a roomy workspace. This particular desk size can accommodate 2 monitors and a few more gadgets and other knick-knacks. It feels substantially robust. And despite the tempered glass that's quite thin, it feels solid. 
So in terms of space, this desk will indulge you. It also offers some of the basic functionalities that you will love in a sit-stand desk.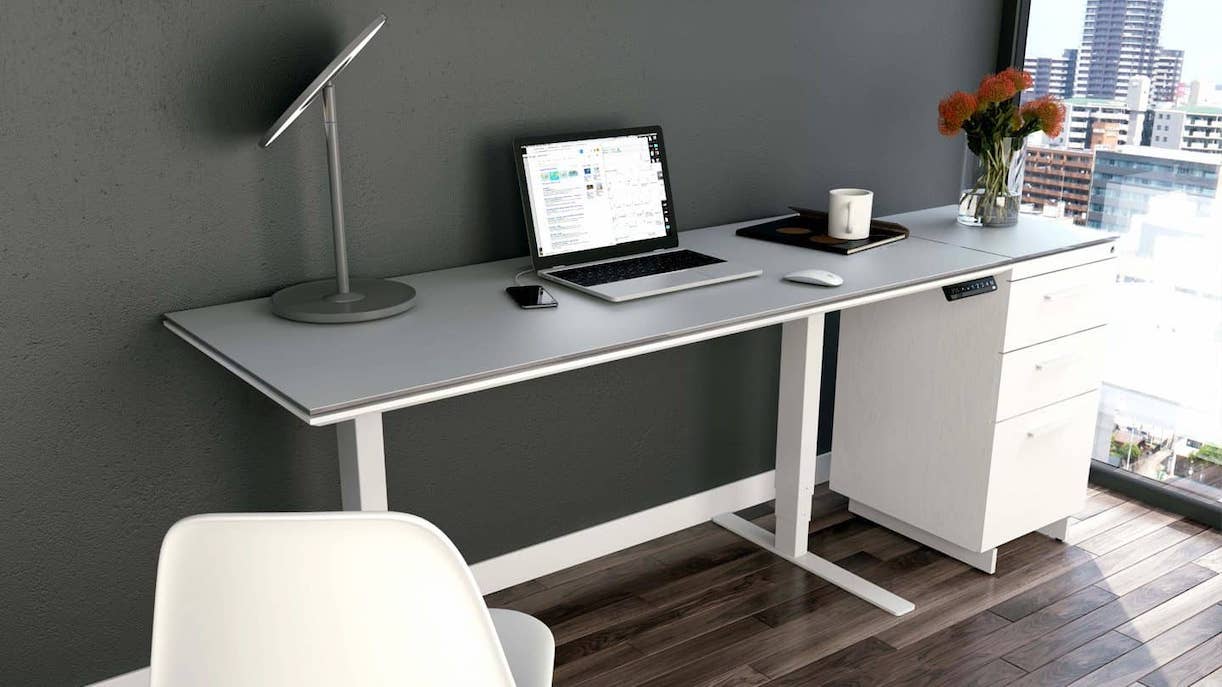 It has 4 programmable presets
The desk has open ledge storage where you can organize your cables and wires.
May we just reiterate that this desk has one of the best cable management systems we have encountered? This is perfect for those who have a specific need to conceal the wirings and cables of their monitors and gadgets. You will not actually see where it is tucked underneath the desk, even when you inspect the desk at a closer view.
Needless to say, the cable system is really awesome. This is also one of the best features of this desk. Not only will it make your desk look cleaner and sleeker, but it can also make you look like a pro, just like what you can see on Instagram! Your desk will always be IG-worthy.
So it looks really classy and luxurious. In addition, the motor holds up pretty well. Even if you are constantly changing the desk height from sitting to standing, it can take several cycles. The transition is rather seamless and smooth. Even after prolonged use, the motor did not show any signs of abuse. If you compare it to other standing desks with a standard motor, it will start to make noise or even stop if you've been using the desk for a year already. 
One of the downsides, however, is the desk edges. As much as we love the satin finish of the tempered glass, the edges are straight and not rounded. So there might be a risk of your delicate clothes snagging or getting caught in the corners of the desk.
Flexispot COMHAR Glass standing desk
COMHAR is a standing desk manufactured by Flexispot. We have reviewed several Flexispot standing desks in the past, like the EN1 or EC1, and this midrange desk did fare quite well in terms of overall performance. So let's take a look at what you can expect with the brand's glass top offering.
The COMHAR is available on an all-black and all-white desk. There is something about glass-top standing desks that makes them seem so sexy and sultry. We particularly love the all-black COMHAR with the tempered glass.  
The glass top is a bit thicker than the BDI CENTRO, so that's something to consider if you favor a sleeker desk. Also, we love how this has a more rounded edge. It will decrease the chances of your clothes snagging in the corners of the desk.
Now let's get to our favorite features. The desk has an embedded storage drawer. So for its price, you will already enjoy a closed storage area without additional cost. And the digital presets and up and down button are constructed so that it looks flawless and seamless. 
It's not sticking out from underneath the desk as most standing desks will have their control panel. The control panel seems like it's embedded. So it looks like a continuation of the embedded storage drawer. This makes the desk look more seamless, cleaner, and sleeker. And It also has USB slots beside the 4 preset buttons. Thus, convenience is a big check.
In terms of durability, we also did not have any complaints. It feels sufficiently solid and stable. No wobbles at any height. The motor also transitions quietly. 
And it has several safety features. If you have kids, you'll love the safety lock feature. Your kids will not be able to fiddle through the control panel or change the height of the desk.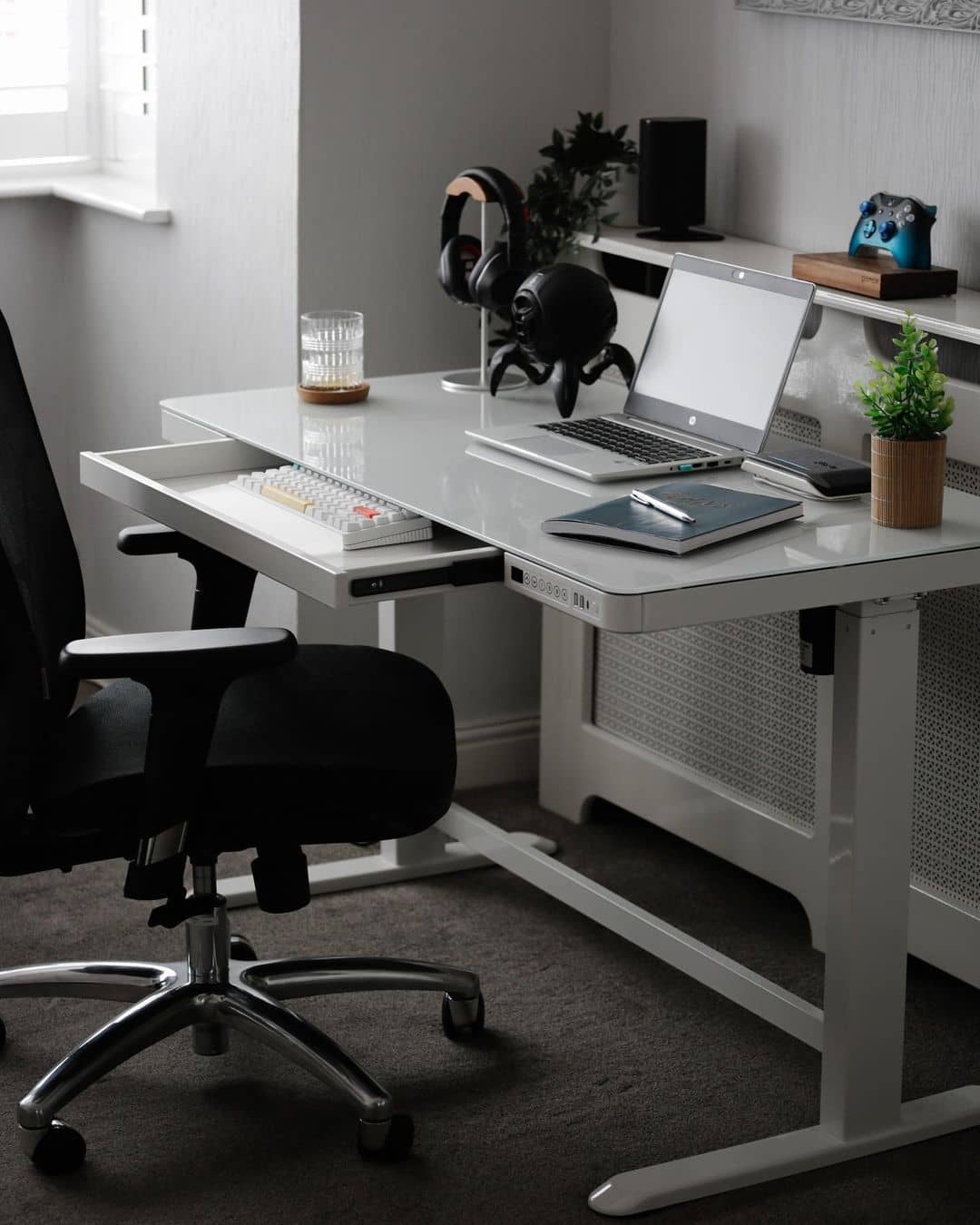 Compared to the BDI CENTRO, it has more safety features. This desk also has anti-collision functions. So it will stop if it comes into contact with anything or anyone. 
The downside, this table is pretty hefty. You will need help lifting it. But the assembly is rather straightforward. It just has three parts that you need to connect. But you will need help setting it up because it's heavy.
Also, the COMHAR has a crossbeam bar that runs from one frame to another. Though this is not a knee crusher as the beam is located at the bottom part of the. But it can eat up space. So you will have less legroom and that's something to think about if you are taller or have longer legs. 
ApexDeskTGD4824 Lumi Series Glass Top
ApexDesk's TGD4824 Lumi Series 47×23″ is a great way to get the benefits of a standing desk without breaking the bank. The desk is made from tempered glass, which is scratch and stain-resistant, and features a white finish that will match any décor. The desk has a 47″x23″ wide work surface, which is medium size but still large enough for multiple monitors or other office equipment.
This desk has an elegant touch screen that allows the user to set 5 different heights for the desk with 3 memory presets. It makes it easy to adjust the desk to your desired height. The touch screen which we tested is very responsive and the desk is also enough stable, even when extended to its maximum height. But just for 2 monitors and one PC, we think if we put more things like monitor stands and PC screens, it will start wobble like other standing desks.
The desk can be adjusted from 30-47.7" tall with a lifting speed of 18mm/s. This height range should fit most people from 5′ to under 6′, but may be too tall or short for some
Another feature is a steel frame that is powder-coated in white & black. The desk has a crossbar in the middle for extra stability. The desk also includes two wire management grommets to help organize your cords.
To assemble, you will need to attach the legs and Crossbar. This should take about 15-20 minutes. All the necessary hardware and instructions are included in the box.
The ApexDesk TGD4824-WHITE is a great value for the price. It is well-built, features a large work surface, and is very easy to use. The cons are a low weight capacity of only 130 lbs, which may be an issue for some users, and the warranty offered only for 5 years on the glass top and 2 years on the motor
Fezibo Elita All-In-One Glass Top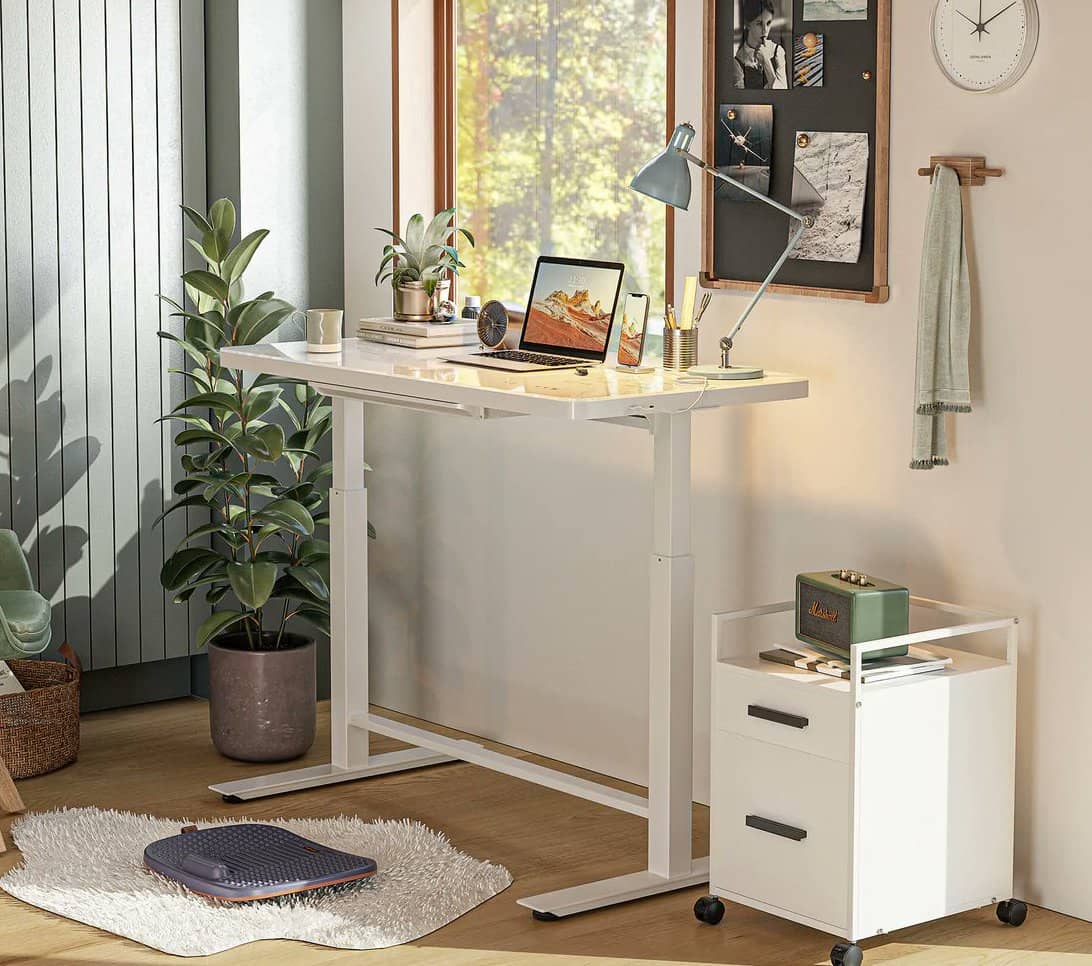 The Fezibo Elita All-In-One Standing Desk 48×24″ is a great choice for those who want a stylish and functional glass desk and do not want to spend too much money on it. The tempered glass top is strong and durable, and the motorized height adjustment feature makes it easy to find the perfect position for your needs. The built-in cable management system keeps your cords tidy and organized, while the sleek design looks great in any home or office setting. If you're looking for a glass stand-up desk, the Elita All-In-One Glass Top Standing Desk from Fezibo is a great option.
Here are some of the key features:
· Tempered glass top
· Motorized height adjustment
· Built-in cable management system
· Sleek design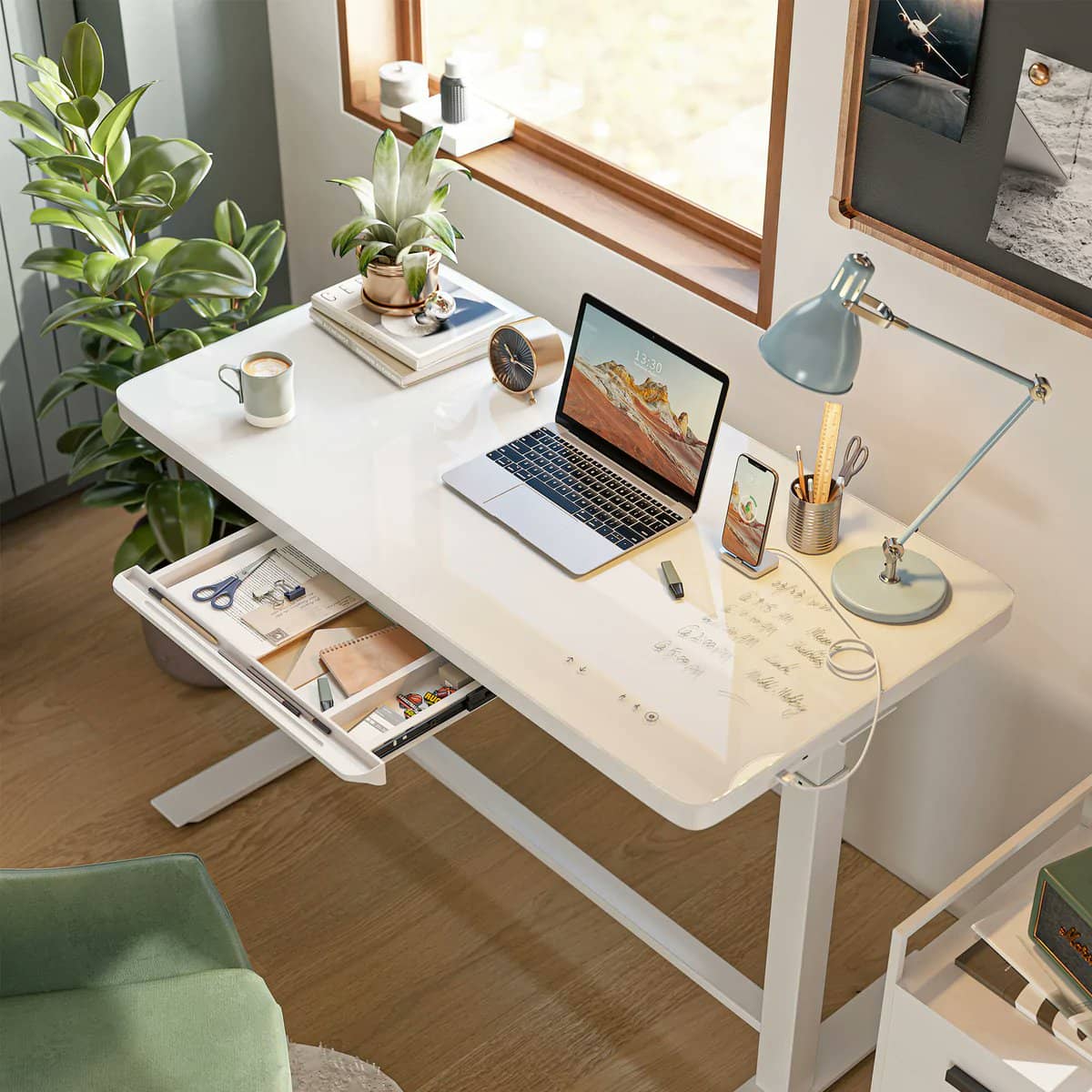 Well, this is the first highlighted feature of the Elita All-In-One Glass Top Standing Desk from Fezibo – its tempered glass top. The desktop is made of 6mm thick tempered glass which gives it a sleek look but also makes it sturdy enough to support your monitor, laptop, keyboard, and other office essentials. The smooth surface is easy to keep clean, and the clear glass top lets you show off your beautiful desktop underneath.
Another great feature of the Elita All-In-One from Fezibo is the built-in USB and Type-C charging port. This allows you to charge your devices while you work, so you don't have to worry about running out of battery power. The port is located on the side of the desk, making it easy to reach.
Like other high-end standing desks, this Elita has industry-leading anti-collision technology. This allows the desk to sense when something is in the way and stop moving, so you don't have to worry about damaging your possessions or injuring yourself. To test this technology, simply put a book on the desk and try to lower it. The desk will stop before the book is crushed.
The Elita All-In-One Glass Top Standing Desk from Fezibo is easy to assemble, thanks to the included instructions and numbered parts. The entire process should take less than 30 minutes, so you can start enjoying your new desk in no time.
The desk has a strong steel frame that gives it a weight capacity of 176 lbs, it can not be the biggest stable but for a normal user with a PC screen, and one or 2 monitors, that's enough.
Apart from the sophisticated and sleek glass top, this SEVILLE standing desk is known for its airlift mechanism. What sets it apart from the other two glass desks we have mentioned above is the seamless transition. Though we didn't have any complaints on how the COMHAR and the BDI CENTRO transitioned, this SEVILLE sit-stand desk glides like butter on warm toast.
At first glance, it looks similar to the COMHAR, except that the COMHAR has a parallel bar that runs at the bottom. So the lack of this crossbeam makes this SEVILLE Classic look more sleek and fluid.  
And like the COMHAR desks, it also has an embedded storage drawer and the control panel looks like it's embedded too. These two desks can pass off as fraternal twins, to say the least. The SEVILLE desk also has the same beveled edges and dual USB ports as the COMHAR.
We also felt that it is sufficiently sturdy and solid. It can go high enough for tall people and can go low enough for petite users.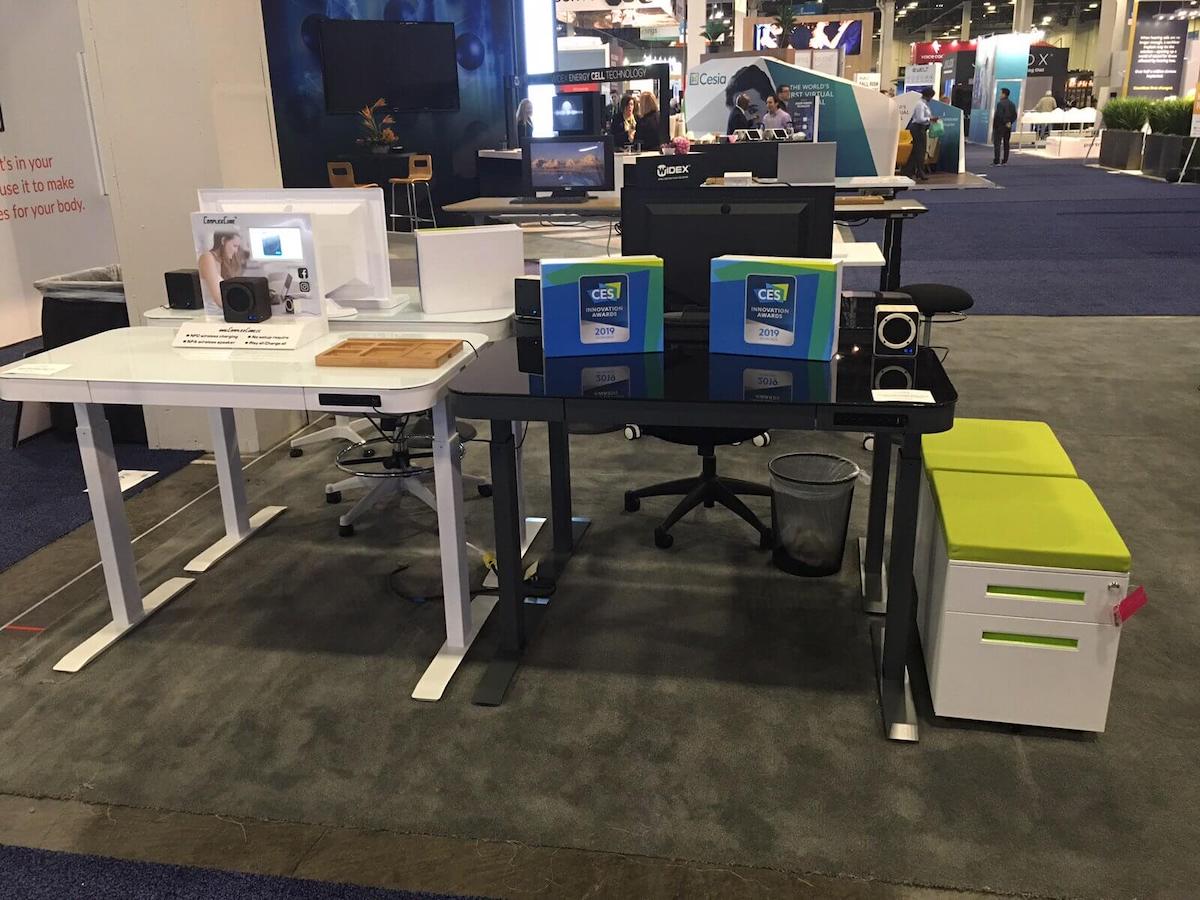 The downside is that it can also be too heavy like the COMHAR. We also have some issues with the glass top surface. Compared to the COMHAR and the BDI CENTRO desks, you will have to double the effort to make the glass's reflection clear and fingerprint-free.
And we have heard of users encountering the same problem. So the glass top will require more maintenance to maintain its sleek and clean look. And also, this one has the thickest desktop (combination of the glass and metal) if we are going to compare it to the BDI Centro and the COMHAR. So if you have to clamp on a mic stand, you have to consider this. You might find it a challenging time to find a clamp that will fit well into the thick desk.  
Overall
The BDI CENTRO is our premium pick. Albeit its straight edge, it looks more premium and more luxe compared to the COMHAR and SEVILLE desks. And if you want a more intricate cable management system, we can't stress enough that the BDI CENTRO has an impressive one.

This desk also has the thinnest tabletop and the most luxurious of the other two. And well, you have to pay a premium for a premium-looking desk.
For the best value option, we have to give it to the COMHAR desk. It has a modern sleek look and you also get embedded storage at no extra cost. You don't need to do an upgrade to get a closed storage space and USB ports.

Among the three glass-top sit-stand desks, the Seville classic has the lowest price tag. It also looks very similar to the COMHAR, but it offers more legroom because of the absence of the crossbeam. Also, it transitions more quietly and smoothly than the COHAR.  But this desk also has the thickest desktop.

Stability and durability-wise, we do not have any complaints about the three glass-top desks. But we are rooting for the BDI CENTRO in terms of longevity. 
Glass top sit-stand desks look very contemporary and modern. For a minimalist setup, this is the perfect standing desk. You'll no longer have to deal with fingerprint issues.
And our top three picks offer more than just the sleek and sophisticated glass desktop. They are quite functional and offer an array of impressive features too. 
A few tips to keep your Tempered Glass Standing Desk safe
Even the glass standing desk is so cool, but using it safe is never easy
Tempered glass is a type of safety glass that is treated with heat and chemicals to make it stronger and more resistant to breakage. While tempered glass is much less likely to shatter than regular, it is still possible for it to break if it is subject to strong impacts or sudden temperature changes. To help keep your standing desk safe, follow these tips.
Avoid placing hot items directly on the surface of the glass top. This can cause the glass to swell and eventually shatter.
Be careful when cleaning the tabletop, as harsh chemicals can damage the surface.
Always use a coaster or placemat when setting down cups or other items that could leave water rings.
Do not stand on the glass, as this can put too much pressure on the surface and cause it to break. Always look at the max weight capacity of the desk, don't put over 80% of the total
If you do drop something on the glass, inspect the surface for cracks or chips. If there are any, replace the glass immediately.
Be sure to keep an eye on small children around as they may not understand the dangers of playing too close to it.