Let's compare each of the brands' more popular units, the ROCELCO DADR-40′ and the Vari Pro plus 36′. Both these units are almost in the same price range, they are mid-range standing desk converters.
We'll see the differences between each, their pros and cons. And in the end, we'll decide which we think you're better off with.
Build and design
The ROCELCO DADR converter has a platform that seems flimsy and cheap. The overall look of the unit does not scream elegance. It's you get what you pay for kind of situation in terms of the build and the design. The entire platform is pretty simple and basic. We also find it a bit boxy. So it's not for those who are looking for elegant-looking standing desk converters.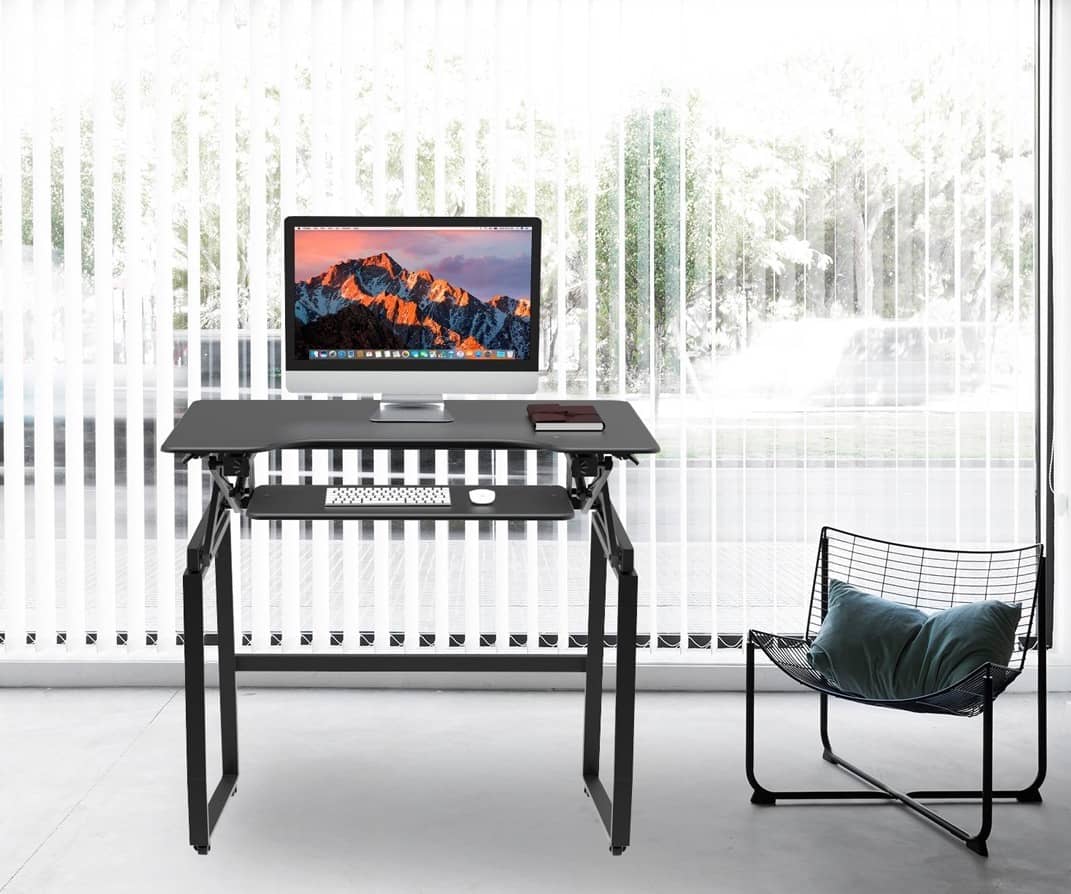 The steel used in the constitution of the DADR is less premium, so the unit will have a rougher feel. It's not as smooth as those that are more expensive. It's also because lesser materials are used to keep the affordable price. 
On the other hand, the Vari pro plus is well made and has more premium materials. You can instantly feel that it's made of high-quality materials. Nothing is skimped in constructing this standing desk converter.  
The Pro Plus keyboard and tray are made of particleboard covered in laminate plastic. You can also get the unit in either a white or black finish. And we love the luxurious feel of the white Pro Plus 36. It has a subtle stippled texture to it. 
For the build and design, the ProPlus 36 lends a more luxurious and exquisite look. It is also more durable and doesn't feel cheap or flimsy. And it seems that it can last for the long haul.
Desk area and footprint
The desk area of the Pro Plus is rather wide. It can accommodate more room for a more elaborate setup. The Pro Plus makes use of a Z design. This design can eat up more space. So this is one consideration if you're keen on buying a Varidesk Pro Plus. It will eat up a bit of space on your desk. So you have to account for that. And this standing desk converter is not for those who are looking for a minimalist look.
The Rocelco DADR, on the other hand, also boasts of a wide working area. And it can even accommodate two monitors in its desk area. Unlike the Varidesk, the ROCELCO adjusts straight up and down. So it will not eat too much space. Thus, it has a rather smaller footprint. So it's best for those who do not have much space in their home office. This can also be great for a minimalist setup. Also, the retractable keyboard tray is a plus, You can opt to remove it if you're not using it. That makes up for a more simple setup
For a minimalist workplace, the ROCELCO DADR will suffice the need for this. The unit will not eat up much space since it also adjusts straight up and down. The Varidesk will eat more space with its Z design, it leans a bit forwards as it adjusts. And also the tray is quite thick and can add up more space too.
Assembly and setup
The Varidesk can be used straight out of its packaging. You don't need to set it up. It comes in fully assembled and all you need to do is remove the padding. But keep in mind that this standing desk converter is pretty hefty. So flex a bit of muscle when unboxing it.
The DADR, on the other hand, can also be used straight out of the box. Like the Pro Plus, you don't need to do any installation or assembly.
Both desks can be used straight out of the box. But we will let Varidesk win this category. The ROCELCO feels too light and flimsy.
Ergonomics, adjustment, and stability.
The max height of standing desk converters also depends on what desk you are going to palace the unit on. But let's still dabble a bit on how high and how low these two units can go. And are they ergonomic enough?
First off, the Varidesk can go as high as 17. 5 inches and the lowest point is 4.5 inches. Assuming we place it on a standard-sized table, it will suffice for those who stand 6-6'2". At this point, you might not be able to fold your elbows to achieve a closer 90-degree position, which is the most comfortable. Thus, it's not the most comfortable for tall people but it will do if you're not going to work on the unit for the whole day.
Though one of the issues we have encountered concerns the tray desk. It's quite thick and might get in the way of taller people. So using a lower desk might solve the problem. Or taller people just have to choose a different desk option.
Stability-wise, there is a little bit of wobble, but it's not that shaky that you will be promoted to stop working. It does wobble a bit but it's not the type of desk that will wobble every time you type on your laptop. But if an average-sized user will use the desk, there will be no wobbles, the wobbles start when the desk goes higher. 
In terms of adjustability, the Varidesk is easy to adjust. It does have a hefty weight, but you will not flex a muscle when changing the desk height. It is assisted by gas springs. Thus, you will not really lift the desk yourself. 
The ROCELCO, on the other hand, can go from 5- 20 inches. So it definitely has more room for taller people. And we love the fact that the keyboard tray is retractable. So if you just have a single monitor setup, you have an option to place the keyboard on the top tier. That will keep the keyboard tray out of the way. 
This affordable standing desk converter is quite stable and steady. But you will need to flex muscle in lifting or changing the height of this desk. 
This category may be difficult. The ROCELCO is more stable at all heights. But it is difficult to adjust. The Vardiesk, on the other hand, is not that stable at the highest setting. And compared to the ROCELCO, it doesn't have a retractable tray and has a limited height setting. But it is easier to adjust. And it can be stable for average-sized users. So it's going to be a draw.
Compare the price
Overall
In terms of the aesthetic and build design, Varidesk takes it away. From the elegant look, it is a rather lovely desk. And you also have options for the color of the entire unit. This unit has some heft to it so it is durable and can last longer.

The ROCELCO looks basic and made of a cheaper material that is flimsy. It's also lightweight. There isn't really anything appealing to it in terms of the overall aesthetics

Surprisingly, in terms of stability and ergonomics, the ROCELCO has more going for it. We love the retractable keyboard and the VARIDESK lacks this. It also has a wider height adjustment range, so more users will be able to find their comfortable spot.

The Varidesk can be stable, but not at the highest setting. That is why we will recommend it for petite or average-sized users. Also, it's very easy to adjust the height of the desk.

Both units offer a generous working area for an elaborate setup.

For longevity, The Vardiesk can last longer due to its more high-quality materials and construction 

Price-wise, both desks are almost in the same price range.
Final say
Since both desks are almost in the same price range, the Varidesk PromPLus 36 takes the cake away. We value it for its robust build and construction. Despite the lack of ergonomics for taller people, petite and average size users will find it comfortable. 
The ROCELCO may have more features, but the flimsy and cheap build is not a guarantee that the unit will be able to hold itself for the long haul.