The Branch standing desk stood out for us. Design-wise and function-wise, you'd wish you had known this standing desk before. The desk has lots going for it at a fair price. It's a premium-looking standing desk with a mid-range price. 
And to challenge it, we are going to compare it with another standing desk, a more popular one, the Uplift. And Uplift isn't necessarily the most stable unit when used at the max desk height. So to give it leverage vs a very solid and stable Branch desk, we chose the Uplift V2 Commercial. This is the brand's more stable unit.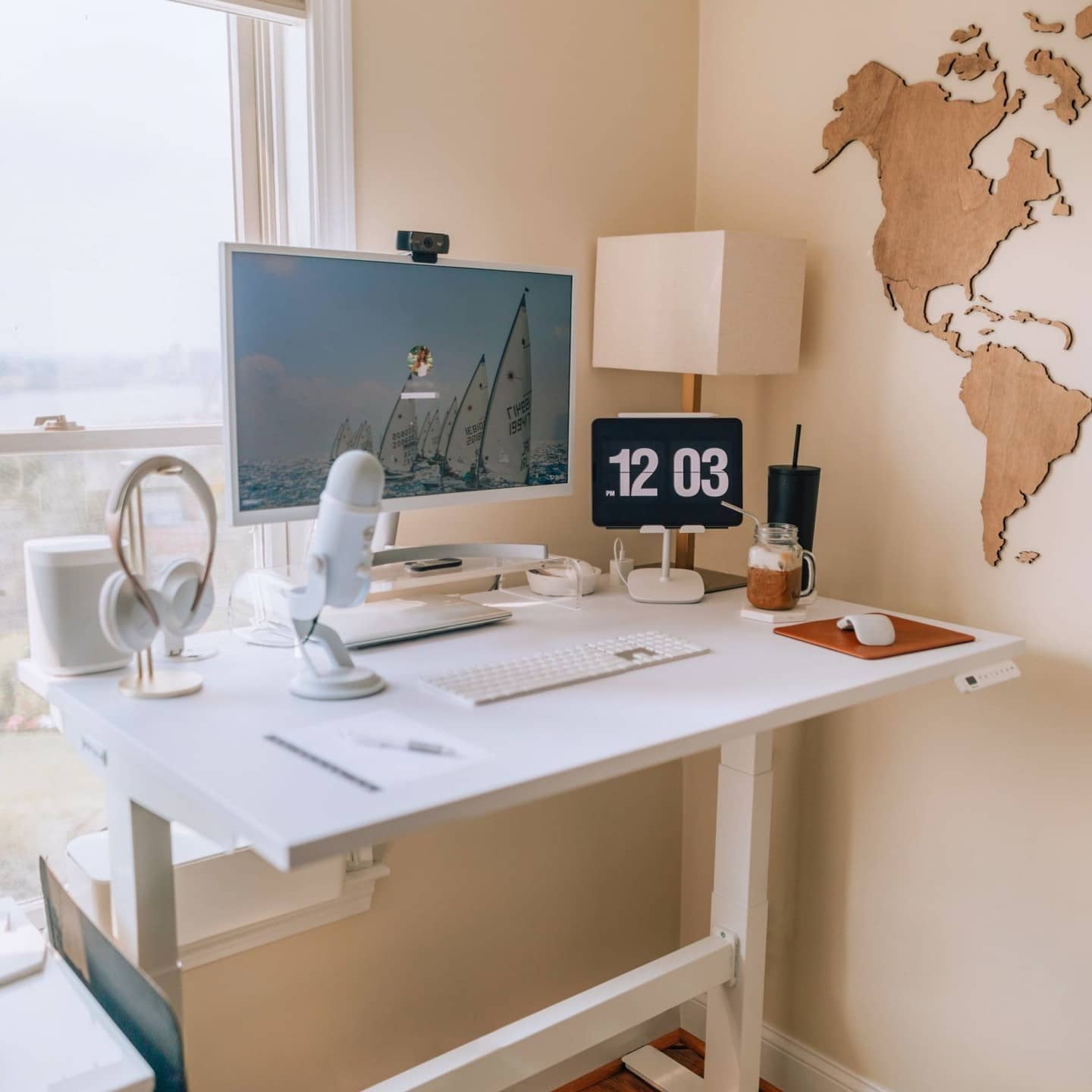 So let's check this quick comparison table first.
Showdown

Branch Team Executive standing desk

60" x 30"

Uplift desk V2 commercial

60" x 30"

Features

4 memory presets with up & down button, lift range of 2′ 1″ – 4'4″, 1.3 cm/second motor speed, EasyGlide electronics, dual motor, centimeter-level adjustment, tapered adjustable feet

Crossbeam, basic up and down keypad, wire management cable tray, dual motor, Jiecang electronics, anti-collision sensitivity

Weight limit

275 lbs

355 lbs

Desktop thickness

1.5"

1"

Height range

25"-52"

22.6"-48.7"
Branch has a more resilient motor & a more solid tabletop
Let's talk about the motors and the tabletop of each brand in this section. Branch stood out from the sea of mid-priced standing desks because of its electronics. It uses an EasyGlide motor. This is the same type of motor that you can see in Herman Miller standing desks such as the Renew. 
Though we can't really say where exactly the EasyGlide motor is originally from, it is a higher-end and more reliable motor. And given that Herman Miller uses the same motor for their Renew standing desk, there is something high-end about it. Let's just say that Herman Miller is one of our standards when it comes to high-end standing desks and chairs, parts and all.
The EasyGlide motor is very reliable and very strong. That's why the Branch sit-stand desk can go as high as 52" and it is still very solid and stable.
Apart from that, this high-end motor is very quiet and has a faster transition speed. It also features a per centimeter adjustment, so you can fine-tune the desk to your needs. And you will not find this in a lot of standing desks with the same price range.
Uplift makes use of a Jiecang motor. Now we all know that this is a weaker China-made motor that can have stability issues. The transitioning speed is not the slowest but it is slower compared to what Branch has.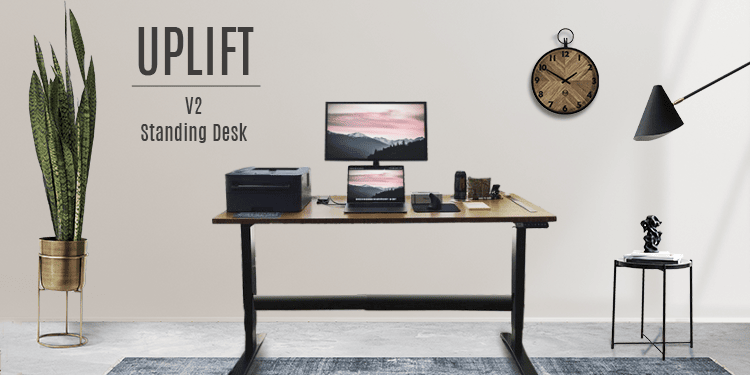 Also, Uplift claims that their desk transitions quietly, but we can't agree with this. While it isn't scandalously noisy, it is not quite either. You can still hear faint whirring motor sounds. And it may not be a big deal for most users, but some expect a quieter one since that is what the brand advertised. 
The biggest downside of a Jiecang motor, however, was that it lacks stability. V2 commercial desks can go as high as 48". But at the 49": mark, you can slowly notice that the wobbles are starting to build up. 
The tabletop of the Branch desk is quite thick and very solid, but the framed V2 also offers versatility and more flexibility.
Another feature that we loved about the Branch is that the tabletop is thicker at 1.5. Most standing desks of the same price range, or the more expensive ones such as Uplift, often have a 1" tabletop. 
The tabletop also makes up for the solid construction and stability of the desk. And despite the tabletop not being real wood, it has the heft to it. It is also stain and impact-resistant. 
And though the tabletop of V2 is also made of laminate material which also is stain resistant, we will give more brownie points to the thicker and more solid Branch tabletop. 
However, the frames of V2 commercials offer more flexibility and more versatility. It is width adjustable. The V2 frame can be adjusted from 41.3-72.7". So it can fit desktop sizes up to 80 ". 
So if you need to change the tabletop for some reason, maybe you need a larger working area in the future, you can still make use of the same V2 commercial tabletop. You can even use an IKEA tabletop of your choice. 
But do take note that the V2 commercial frame has a crossbeam that runs from one leg to another. And though some users are not bothered by it. Some may find it obstructive that it hogs leg clearance. So this is something to consider should you fancy a v2 commercial desk frame. And oh, that's also one of the reasons why it's not really comfy for taller users.
Uplift still offers more options for personalization
The Branch is more of a simple, minimalist, and fuss-free desk. It only has basic color options for the frames and tabletop. But it is very very stable. 
Though you have an option to add on accessories, it is meager compared to what V2 commercial or Uplift desks can offer. And as a side note, we loved the optional power input that you can get with the Branch standing desk. You can seamlessly put it under the desk and have more outlets for your equipment without making the desk look messy. But this entails an additional fee.
Uplift, like Fully, are two of the midrange desks that indulge their clients when it comes to customization. You can shop for accessories and add ons all you want but of course, at your expense. But if you decide to get the V2 commercial standing desk, it always comes with a cable management tray, so that's less thing to add to the cart.
However, unlike the Branch, it doesn't have memory presets. The basic V2 commercial standing desk only has an up and down arrow button. Should you want to save your favorite desk height, you need to add about 29 dollars to your tab.  And oh, the basic keypad doesn't even have a digital readout. So you would not know exactly the height of the desk, it's more of eyeballing it. 
Why we had have doubts about the V2 commercial
We have mentioned above that this is the Uplift's more stable unit. Compared to V2, it has fewer wobbles. Aside from the crossbeam, the legs of the V2 commercial are thicker and denser compared to V2 alone, which also accounts for the added stability. 
But what makes the V2 stand out is that it has a higher desk height range, it can reach up to 50.9", while the V2 commercial has a max height of 48.7". The V2 commercial is more expensive so it can be assumed that it should have a higher, if not the same, desk height range. 
So the V2 will have a closer range with the Branch. But if we're going to compare it to the Branch standing desk, it will be very wobbly and fall too short. We're also aiming for the fairest possible comparison so that it's easier to decide which is the most suitable unit for you. 
Who weighed more on our scale this time?
It still has to be the Branch overall. Despite the V2 commercial having a width adjustable frame, we just find the Branch a very good value for your money. 
The V2 commercial costs almost the same as the basic Uplift V2 Commercial standing desk, but it will have a more narrow scope of users. Should the desk include a more advanced keypad such as the one-touch button keypad at no additional cost, it could be tied with Branch. 
This keypad is very convenient as you do not need to press and hold the button to get to the desired desk height. You just press it and the desk will move on its own. For the V2 commercial standing desk's price, we think that this is a very fitting inclusion, or at least have the option to have one at no added cost. 
And more users will find the Branch of value since it can go as high as 50" without any wobbles. But the V2 is still a popular desk among users with average height, it is still decently stable at the mid-height range. So a lot of users will still go for this option. And customizing your Uplift desk can be a delight, just for as long as your budget is up for it.
Say for example, for the control panel, 
Uplift gives you an option of 5 types of the control panel. And aside from the memory presets, each type of control panel has convenient and unique features. You can even choose to have it angled or flushed against the desks. That's why UPLIFT is still a valuable commodity. The brand also has a more generous warranty.
So to not be confused the best choice would be: A Branch desk for taller users looking for a more stable unit and the Uplift V2 commercial for average users who want a smorgasbord of options but don't mind the price that comes with the add ons.