New Heights Elegante XT is a premium brand of standing desk that boasts of more innovative features. Let's see if it's something that you need for your home office.
About the brand
Right Angle manufactures an array of standing desks, conference tables, and other sit-stand desk solutions and office accessories. It's a US brand and most notable for its ELEGANTE standing desk series.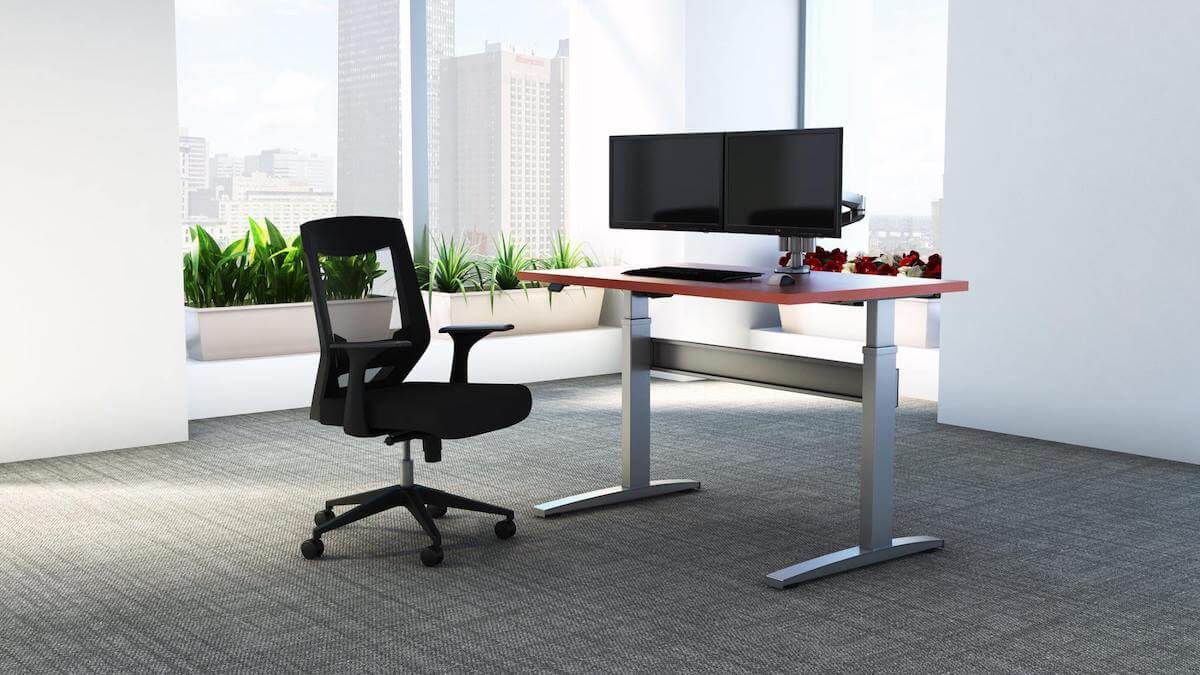 New Heights Elegante XT Standing Desk Review – The best features
Innovative Bluetooth Connectivity
The New Heights Elegante XT standing desk is equipped with control options that you can connect to an app on your smartphone via Bluetooth. From this, you would be able to change the height of the desk, restart your desk, and adjust the gyro sensitivity sensor.
The app works a bit similar to the iMovr Lander and Timotion standing desk. You would also be able to connect your phone to your desk automatically. You can remotely transition the desk so it would be ready by the time you have to work.  
The three mentioned desks also keep you on top of your wellness program to stay more active. It will remind you if you have been sitting for too long. It's like a health coach on a Bootcamp where you can only rest for a couple of minutes.  
You can also customize these notifications. By far there are only a few sit-stand desks that have this type of Bluetooth connectivity.
Also, it is equipped with Voice command options. So that's definitely one of the most innovative standing desks in the market today.
Gyro sync
One of my favorite features of the New Heights Elegante XT desk is the Gyro sync. This is a safety feature not just for you but for the entire unit as well. This saves your desk from damage if it suddenly comes into contact with anything. The desk would automatically stop. 
Say, it came into contact with the armrest of your chair, instead of the desk hammering continuously through the armrest, it will stop. Thus, saving your desk from obtaining damage and scratches.
This, along with the anti overload feature of the desk, ensures the operation will be abruptly put to a stop. And the desk will move in the reverse direction. So it's also a safety feature you'd want to have whenever you have kids running around your home office. 
In an unfortunate situation a hand gets caught, it won't be crushed and you can pull it back easily since the desk will move in the other direction. In a nutshell this New Heights Desk doesn't just rely on its overload protein feature. It instead doubled it up by incorporating the Gyro synchronization in all of its desks.
Moreover, the 325 lbs capacity will be more than enough for an elaborate setup. But for those who tend to overload their standing desks, this is a feature they must not miss out on.
Easy to install
The New Heights Elegante XT already comes in preassembled. If you're not the DIY kind of guy, you'd appreciate this. You only need to connect the wire management system. Ideally, the installation would take longer than 30 minutes. Though it can take you longer if you're not used to playing LEGO when you were a kid.
Packaging
I have received the desk in three separate boxes. I must say I prefer this type of packaging compared to having everything in one single box. This Prevents the parts from scratching against one another. The base and the electronics are in one box. Then the desk is on another. And the crossbar is packed in a separate box too. 
The parts were also nicely and securely wrapped with enough support or bubble foam to prevent them from damage. 
Leg Frames
The leg frames of the New Heights XT are fully made in the USA. So that's a plus because we all know the quality control and craftsmanship involved with pieces and parts made in the USA. And it was my first time to encounter a desk frame that's made from an entirely different material. Most standing desk legs make use of steel since this material is strong and solid already.
The leg frames of this standing desk are 100 percent made from aluminum. It's made from extruded aluminum. It's a sturdier type of aluminum and proven to be free from corrosion. And compared to the regular aluminum that easily bents and dents, this one does not. 
And the aluminum frames are also anodized. It lends the frames a distinct color and texture. This process also makes it less resistant to chipping and denting compared to paint. 
Also, the feet of the frame is also made from a different type of material. It's quite different from the solid steel used in almost all standing desk brands. Instead of solid steel, the feet are made from formed steel.
I reckon this material is more durable than solid steel. What I also like about the leg frames is that the foot and the legs are securely fastened to each other. You might not need to tighten them now and then compare them to other brands. Another standing desk might compel you to tighten the bolts since it loosens eventually.
The legs and frames are tightly bonded via bolts with Loctite and star washers. The Loctite prevents the bolts from loosening if you have been using the desk for long. 
This feature eliminates the hassle of having to press and hold the button until you've achieved your desired height. And no matter how often you transition the desk, you still need to press and hold it. It's convenient but it can pose some dangers, especially if you have little ones who tend to sneak into your home office.
You can easily go to your desired desk height with the one-touch functionality, plus it also has a 4 memory preset. But the danger lies when your little one suddenly bumped into it. It's quite reactive and if turned on, it will definitely move with a little bump.
So aside from keeping your kids away from your home office, you can turn off this feature if the desk is left unattended. So even if your little sneaky Susan walks in and tries to fiddle through things, no untoward incident would happen. 
Also, if you have just turned on the desk, it'll require you to do a one-time long press and hold first before gaining access to the one-touch functionality. So there's still a bit of safety net there. 
Stability with a "but"
This premium desk is pretty stable too. The combination of the formed steel feet, the extruded aluminum legs with anodized coating, and the better connection between the feet and the legs made it more stable. 
Some standing desks may have sturdy steel legs, but the connection between the foot and the legs are somewhat loose and weak. You'd often find yourself needing to tighten them now and then.
Though it's stable, it does have its limitations. The highest desk setting of the New Heights Elegante TX is 51 inches. But once you reach the 47-inch mark, you'll start to feel the wobble. There will be front to back swinging at this point. And once it reaches 49 inches, you might not want to continue anymore. The motion will be so bad that you might not be able to type properly without rocking. 
So if you're tall and need the desk to be at 49-51 inches, be ready for a lot of wobbling, or find another desk.
Warranty period plus more
The New Heights Elegante XT standing desks also offers a generous warranty of 12 years for all the electronic parts and motors. Though the desktop warranty is a bit stingy at 2 years, I can't complain. Still, you're pretty much covered in case the desk started bailing out on you. 
And I think the brand is offering a warranty upgrade on their website. You can get a total of 20 years warranty for the motor and parts. That'll save you on the cost of repairs in the future for 20 years is a pretty long time to use the desk. 
Other limitations
Apart from the wobbliness at the 47-inch mark, this standing desk can be scandalous. It can be noisy. And it might be the noisiest standing desk that I have ever tested. 
If you stand below 5 feet and want to use this desk in a sitting position, you might need a tray ramp for your keyboard. The desk might not be able to go low enough for shorter people to use it sitting down. 
Where to buy this amazing standing desk
Final Word
The New Heights Elegante TX is one of its kind. It uses a different type of material for its frames. And it can be more durable than steel. Also, if you want a standing desk with advanced technology and more innovation, this is a great choice. Though it won't be that comfortable for taller and shorter people. So it's best for users with average height.