The market is saturated with many standing desks that are of good quality however, you will not go wrong if you invest your hard earned money on a standing desk. Just like any other product on the market, this product does need some getting used to. The most important thing is to get to a point where using it becomes normal and easy. The last thing anyone wants is to use a standing desk and be in pain or uncomfortable. The stand up desk is a fantastic product and to get the best out of it, here are a few easy tips that will help you make the most of this wonderful product and reduce fatigue or tiredness while using this standing desk.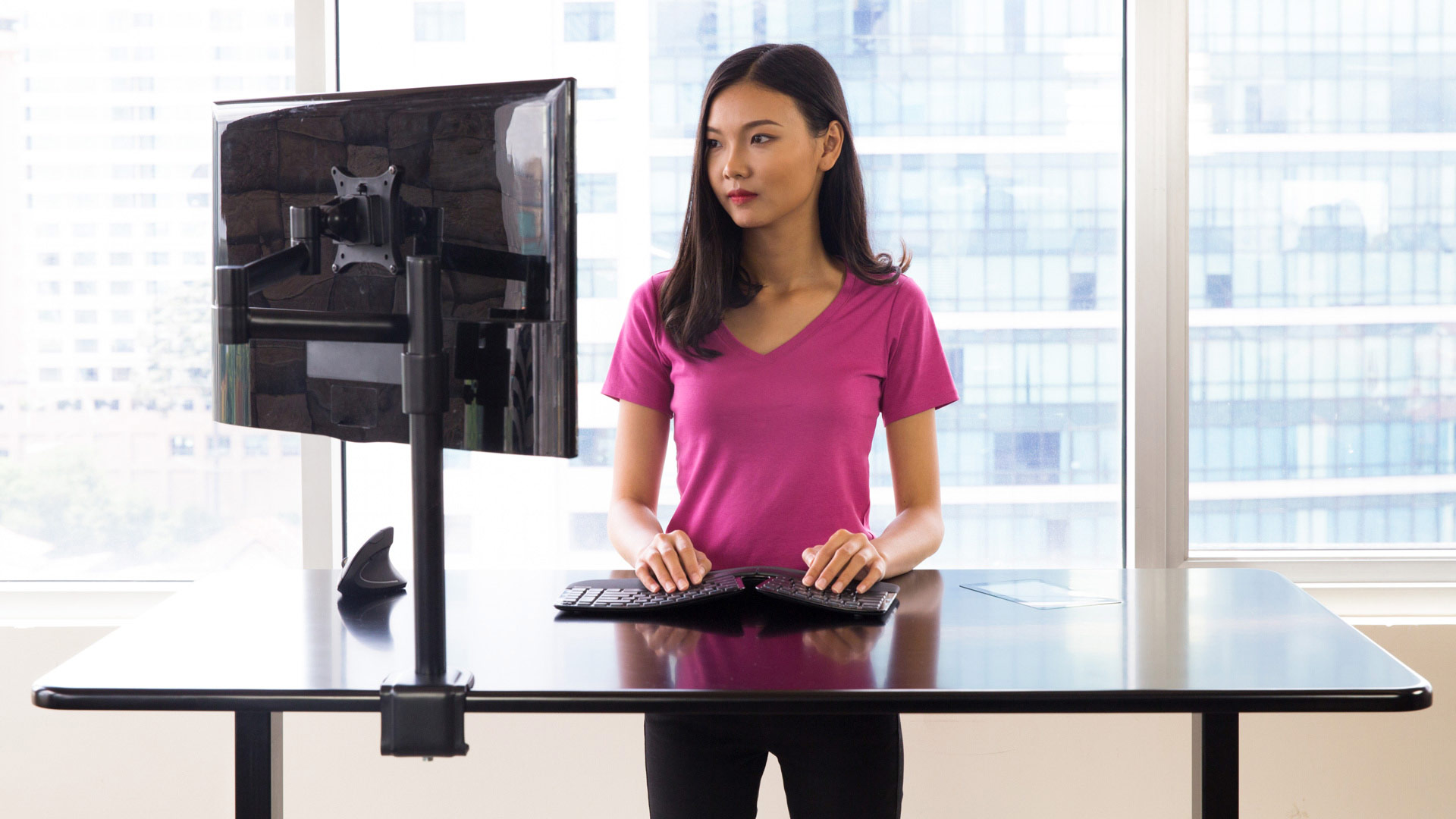 6 ways you can use the standing desk perfectly and battle tiredness
Make sure your posture is good always
From a very early age we have always been told whether by our parents or at school by the teachers that the wrong or bad posture can lead to back pain and discomfort. The same logic applies when you are using a standing desk. The last thing anyone wants is to be in pain and avoid this, all you have to do is roll your shoulders back, let your arms hang down by the side and face forward. This is the best position for using a stand up desk and you will be comfortable as well as fight tiredness at the same time because your muscles will be relaxed.
Change your standing position from time to time
The most important thing to know when it comes to this point is not standing in one position for a very long time. Invest in a footstool if you have to because it will help you vary your standing position easing any discomfort or tiredness you might be feeling. Footstools are many on the internet, it is all about finding the one that is right for you, however, if you can't find one, you can improvise by stacking some books or using a cardboard box as a makeshift stool. As far as changing your position goes while using a standing desk, you should start by standing with your feet together. When a couple minutes elapse, lift one of your legs and put them on your footstool or any makeshift tool you have. After a couple minutes again, switch your feet where the standing leg goes on the stool and the leg that was resting on the stool becomes the standing foot. These are the three main position one needs to master and once you have mastered them all, you can add a few more positions or add variety to them by learning on the desk a bit for example. By constantly changing between your favorite positions, you will be able to stand at a standing desk for a very long time without feeling tired.
Buy yourself an anti-fatigue mat
Standing up for a long period of time can bring about a variety of health problems such as back pain, neck pain, varicose veins, foot pain, circulatory issues and swelling in the lower limbs. These health problems gradually get worse the longer a person does them especially if it is part of their job however, this can be dealt with by simply buying an anti-fatigue mat. This mat relaxes the muscles in your calves and shins which will enable you to use a product for a very long time. Fatigue is reduced by 60% which is absolutely amazing and just like the point above about the standing stool; there are plenty of anti-fatigue mats on the internet to choose from. You just have to pick one that fits in with your budget.
Get yourself a nice pair of shoes
Your shoe game is very important and it can be the difference between making you feel comfortable and less while using a standing desk or not. While it has been mentioned already, it is simply not wise to be standing for a very long to begin with, but standing for a long time with shoes that are uncomfortable is worse. If you are a woman, stay away from high heels. Sure they make you look smart and stylish but standing in them for a long time can bring foot pain. If your job involves working at a standing desk, you need to seriously pay attention to the shoes you wear all the time. Women can invest in flat shoes because they are very comfortable and light. They make standing on the desk for a long time very easy. Men on the other hand, if possible, can buy sneakers or even sandals while working at a standing desk. These, just like the flats for women, are very comfortable, light and easy on the feet. It is amazing how a simple change in shoes can make a massive difference. If you happen to have shoes that are very uncomfortable and your feet start to hurt, listen to them and either change your footwear or take them off for a while if you can. You should see your doctor if you see that the pain on your foot is not going away even after you change shoes or take them off each time. They will be able to advise on what to do to prevent further pain or what shoes to wear to ensure you are both pain-free and comfortable.
Change between walking, standing and sitting
While this article has pointed out that standing for a long time is bad for your health, sitting down for a long too is equally as bad. When you are at work, it is important that you have standing as well as sitting options available to you. Try as much as you can to change between these two positions and avoid standing for more than one hour at a time. If you work for 9 hours a day, for example, standing for about 4 and half hours of your entire shift can be very uncomfortable and painful, so try to walk around the office to relax your muscles. It does not matter if your office is small, take a little break from your job, just get up and stretch your muscles and joints a bit so that they do not become stiff. The sit stand desk is worth investing in because it is an easily adjustable product which makes standing and sitting very easy.
Make some time to stretch during your shift
Stretching from time to time during a long day at work is good for you. As the point above pointed out, standing up or sitting down for long periods of time is a health hazard, however, you can do your body a favor by stretching 4 times during your 8 or 9-hour shift. You can do your homework and read up on a few ways to stretch your chest, arms, head, shoulder, and neck at work to avoid stiffness and ensure you have good blood circulation.
The common mistakes you want to avoid when using a standing desk
These days, working with a standing desk is not something that has recently been discovered. Many, especially over the last few years, are investing in standing desks for their employees to use. When you use this product correctly, there is no doubt you will be much more productive, however, the same cannot be said if you are using it incorrectly. While the first part of the article looked at the six ways you can use a standing desk to perfection, the section will highlight a few common mistakes which need to be avoided at all costs.
Don't stand too long
Just because you are working or happen to have a standing desk does not mean you have to stand up all day long. This is something that is not true at all and many studies have suggested that you need to begin slowly and gradually build yourself up. Start by working for two hours a day while standing in the beginning for your body to become used to things especially if it is your new job. When you find the right balance between standing and sitting postures, you can increase the hours from 2 hours a day to 4 hours. Always make sure you are taking breaks to relax your muscles and stretching because too much standing especially at a standing desk is not good for you.
Not setting the right height for your adjustable standing desk
When sitting down at work, many people seem to struggle to find the right height which goes hand in hand with their height and the same applies with standing desks. Many people find it hard to find a balance here too but the solution is very simple. The general rule one must have in mind when using a standing desk when it comes to their height and posture is to keep their elbows at a 90-degree angle and the screen at eye level or just below.
Not buying an anti-fatigue mat
There is no doubt that your feet will get tired while standing for a long time very quickly if you do not have an anti-fatigue standing mat. When you invest in one of these and place them under your feet, they will provide you with the extra cushion needed to be comfortable while standing. An anti-fatigue mat also encourages movement while you are standing which is exactly what anyone working with a standing desk needs.
Avoid standing still
The major advantage standing has over sitting down is freedom of movement. Some good music or a good standing mat helps you move while you are at your workplace and does not make work feel like a drag.
Stay clear from bad postures
Our posture is very important as far as our everyday health is concerned but we pay very little attention to it. Bad posture can really ruin your day especially if you are at a standing desk because you will have a lot of pain in your legs and lower back. It brings plenty of health problems apart from tiredness and to make sure you have a good posture at work, there are a few things you can do like
Ensure you switch your standing position every 20 to 30 minutes

Ensure your monitor height is level with your eyes and ensure that they are 20-28 inches away from the screen

When standing, make sure you stand with your head bad and your hip in an upright "S" curve.
Conclusion
If you want to improve your energy levels and mood while at work, you need to buy a good standing desk like the SmartDesk 2 – Home Edition (just 340$ on Amazon) 
People who use a standing desk like this one are less tired and less stressed when compared to those who sit down at a desk. Using a standing desk, according to various research reports does improve a person's energy levels which in return makes them happier at work. Not only does it make people happier at work, a standing desk is also known to increase a person's lifespan according to a study that was conducted in 2012. The studies concluded that standing up while working does add 2+ years to a person's life. To use the stand up desk to its fullest potential without getting tired, you need to make sure your posture is good always, change your standing position every few minutes and buy an anti-fatigue mat. If these tips don't do the trick, you can think about getting yourself a nice pair of shoes for comfort and stretch as often as you can.