Elevate your gaming experience with an array of gaming desk decorations. These affordable and quirky items might not seem that important. But with the right setup, it can make your gaming desk a savvy haven. You might even ditch your plans with your friends on the weekends.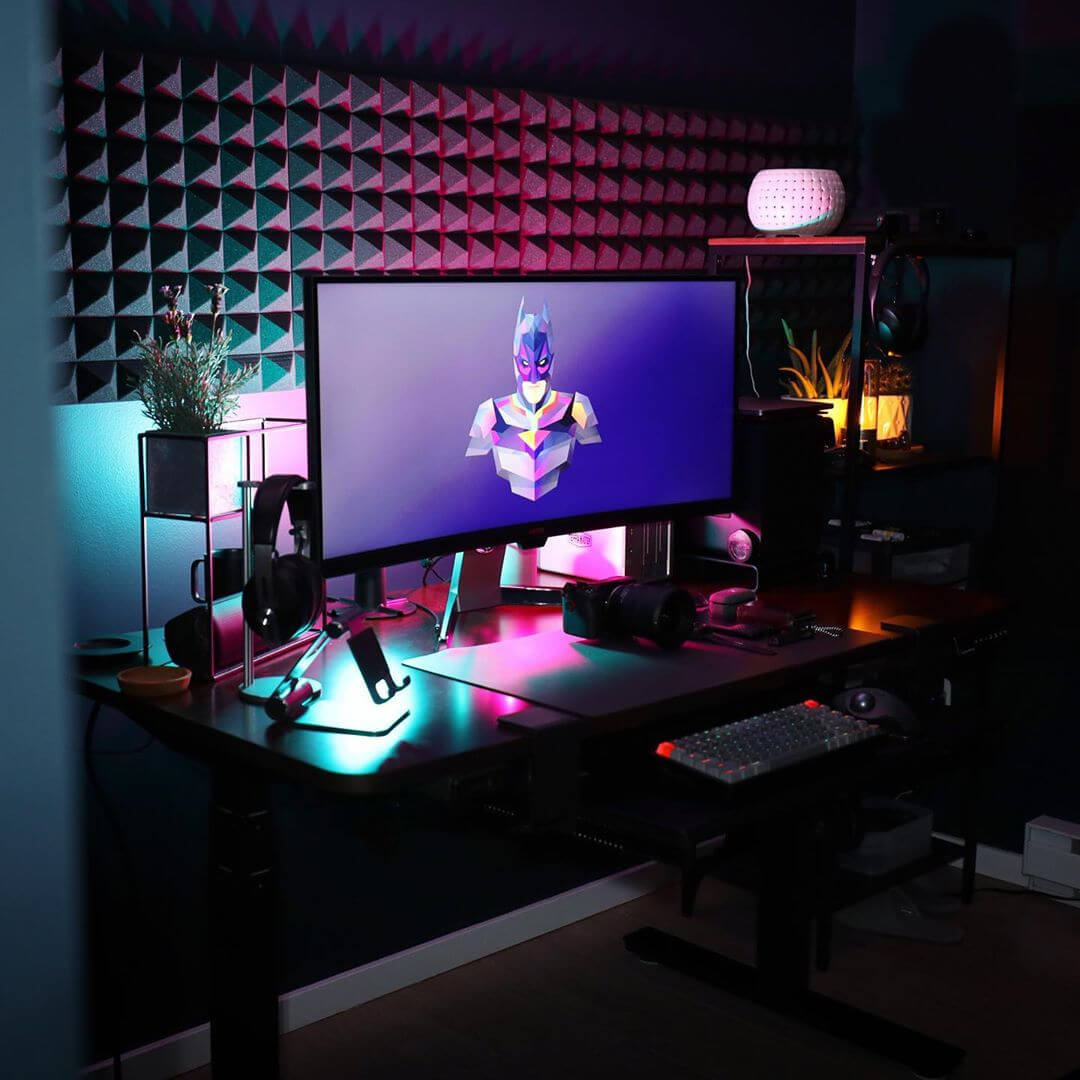 Let's see some cool gaming desk decorations. 
Charging stations
A complete gaming desk setup calls for a charging station. You'll surely have all those devices running out of batteries every now and then. And nowadays, you'll always need your phones on your desk. Especially with the apps on your phone that you also use for gaming. It would be inconvenient to charge your phone away from your reach.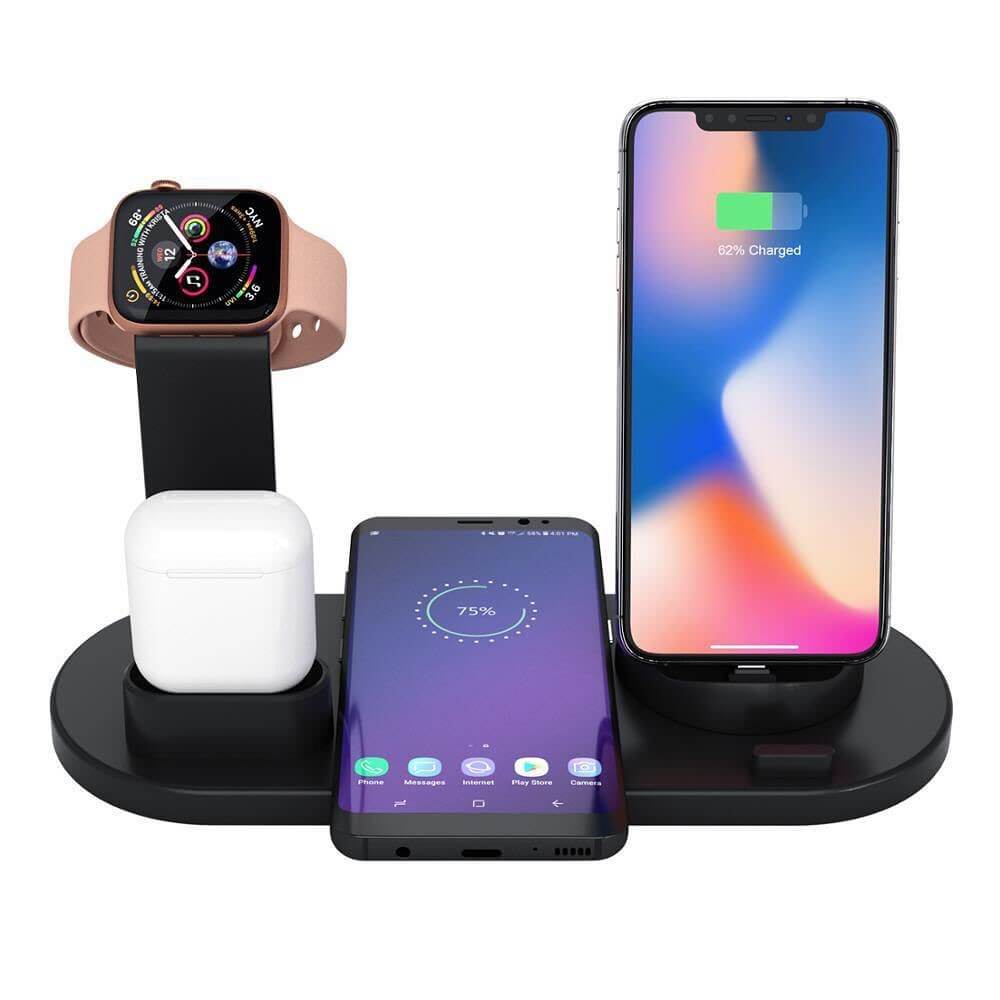 And charging stations keep everything nice and organized. You won't have wires dangling from the table to that extension cord on the floor. 
There's a myriad of charging stations available in the market. A phone charging station with plenty of USB ports is quite convenient too. But one of our favorites is the Vogek 6 -Port USB Charger Desktop Charging Station.
We love the futuristic and savvy circular design. It has a lot of USB ports so you can charge several devices at the same time. And it completely eliminates the risk of your wires and cables getting all tangled up. Each device will be arranged in a circle so there's enough personal space in there. And for a savvy looking charger, it's quite affordable. 
You just need to buy shorter cables so that it won't eat up too much space.
Smart desk clock
How about the clock on your computer? Nah, doesn't count. 
You need a SMART desk clock for two reasons. One, it helps you track the time so you know that it's time to abandon the haven already. It's very easy to get carried away when you're playing your favorite Fortnite game. That's why you need something to help you keep track of the time other than your computer clock.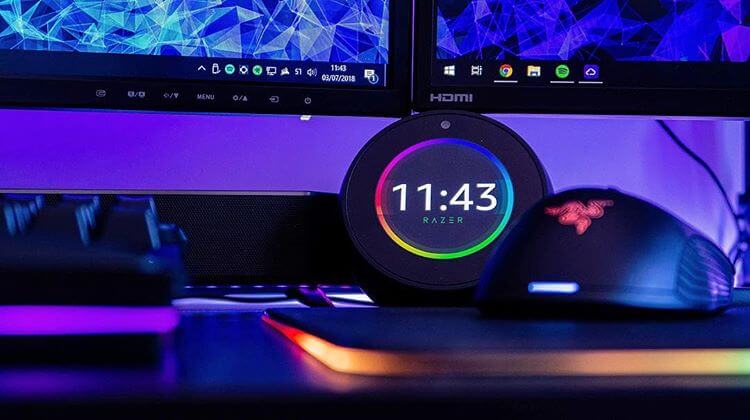 And two, it makes a nice decoration too. It looks really cool. And you can use it for more than just a clock.
We're loving the look of the Lenovo smart clock. It looks rather quirky and cute with a small 4-inch touch screen display. The back part is covered with a soft gray fabric. So this goes well with a set up that's predominantly white or gray if ever you want to go down the monochromatic road.
It also comes with an extra USB port, in case you have more devices to charge. Another cool feature is the ambient light sensor. So the brightness automatically adjusts to your surroundings. And if you need to set an alarm on when to stop playing, you can choose from 6 different alarm tones. One of our favorites is the sunrise alarm. The screen lightens up to mimic the sunrise.
Desk air purifier
A desk air purifier can improve the air quality in your gaming room. So since you're spending a lot of time in this gaming arena, might as well breathe clean air right?
Opening the window may not be a good option. Especially if you live near the roadside. It's an open invitation for carbon monoxide and carbon dioxide.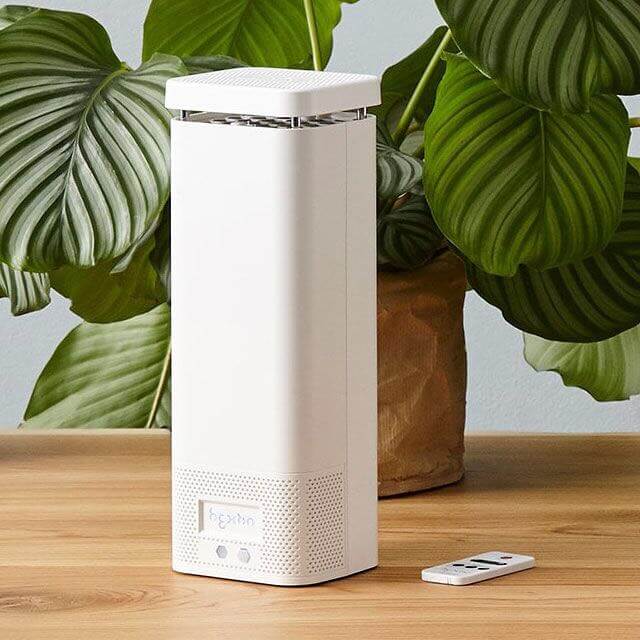 Of course, you need something compact, small, and portable that sits nicely on your desk. Our top pick is a portable air purifier from hOmelabs. One of the features that you have to look for in an air purifier is the true HEPA filter. 
This is the only type of filter that can clean air up to 99.7 percent of impurities. It can capture pollutants as small as .3 microns. That's a whole lot smaller than pollen dust which is 10 microns. 
One of the most unique features of the hOMelabs air purifier is its 360-degree air inlet. You won't find this feature in other portable air purifiers. It can clean air from all sides of the room.
Headphone stand
Some gaming desks are equipped with their own headphones to stand. If it doesn't, don't fret. It means you have more liberty to choose a headphone stand that can match your entire setup.
You can simply place your headphones on the desk when not in use. But why would you when you can get an affordable headphone stand?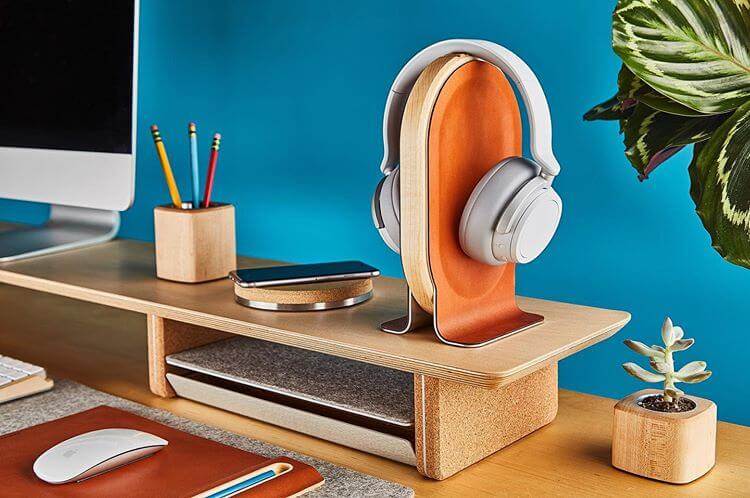 Our recommendation? The New Bee headphone stand is a simple, sleek, and I- shaped headphone stand. It's made of aluminum and it's quite lightweight too. You can get this compact headphone stand with an affordable price
But if you have more than one headphone, the Neetto Dual headphone stand is a real value for your money. It's a T- shaped stand with a rectangular base. The sides are grooved so that it can securely hold your headphones. And the base is quite shallow so you can also use it as a holder for some of your knick-knacks and stuff.
Electronic device stands
Whether you're using a laptop, phone, or tablet along with your monitors, it would be more convenient if it has a stand on its own. It also makes your desk look more tidy and organized. 
One of the main features you have to consider in selecting an electronic stand is stability. You don't want your iPad to keep on sliding off the racks. We love the stylish look of the Homeleader Aluminium tablet stand. It can pretty much support any tablet and it's heavy-duty too. 
We love how ergonomic it is. You can adjust the angle of the arms. And what makes it more convenient is that it can rotate up to 360 degrees. 
Soundproofing material
Now, this gaming desk decor is for the really serious gamers who want to fully immerse themselves in the game. And it won't bother the people outside your room too. Soundproofing materials can both be functional and stylish. 
You can choose from a wide range of colors and designs that suit your gaming desk setup. This decor is highly DIYable. You can actually use a myriad of inexpensive materials such as egg crate mattresses, blankets, or foam. 
Our favorite take would be foams cut into tiny hexagonal shapes and placed beside each other. You have the liberty to form a big hexagonal shape or just cover a portion of the walls in front of your desk.
You don't need to spend a lot! These materials can decently soundproof our gaming room. 
Flexible arms
Flexible arms can be used to install lights or microphones to your gaming hub. Microphones mounted on these arms are more convenient to use. It prevents neck strain. And it's also nice if these mounts can make a full arm swivel. 
You can even mount an extra monitor. And you can save desktop space while getting all the equipment and accessories that you need within arm's reach. 
Lamp
Additional lighting is always a good idea in gaming. Lamps of contrasting colors seem to look pretty cool. So maybe two lamps can achieve this effect.
A Pixar style lamp such as Boston Harbor can add quirkiness and uniqueness to your desk. This lamp has a satiny finish to it. But feel free to put on any brand as you can find a pool of Pixar style lamps on Amazon.
You may also add a Himalayan salt lamp on the other side of your table. It has healing properties and of course, it looks unique and has a nice pinkish-orange illuminating light.
Desk toys and novelty items
Desk toys and novelty items add a personalized touch to your gaming desk. The sky's the limit when it comes to options. It can be a quirky baby Groot plant holder or a plumber sink paper clip holder. 
There is a lot of inexpensive and lovely range of action figures too. These can be savvy accents on your desktops.
Conclusion
So you have the liberty to bedazzle your gaming hub with these gaming desk decorations. One tip though. Before anything else make sure to clean your desk. Accumulated dust can make your desk look cluttered and uninvited. No matter how much to accessorize it, cleanliness is still one of the best decorations.