After contemplating for several months, we decided to give in. We pushed through with buying a standing desk and replacing the traditional one. There are a lot of good reviews and raves on a standing desk. So there must be something to it, right?
So we are going to share our experience. And also, we had several concerns if it's going to be worth the money. One, does it really give health benefits? And is there enough scientific evidence to back up these claims? Two, What are the cons of using one? Three, should you use accessories, and what are the best ones? Four, what are the options, and what is the best option. These are a lot, right? So let's go through it.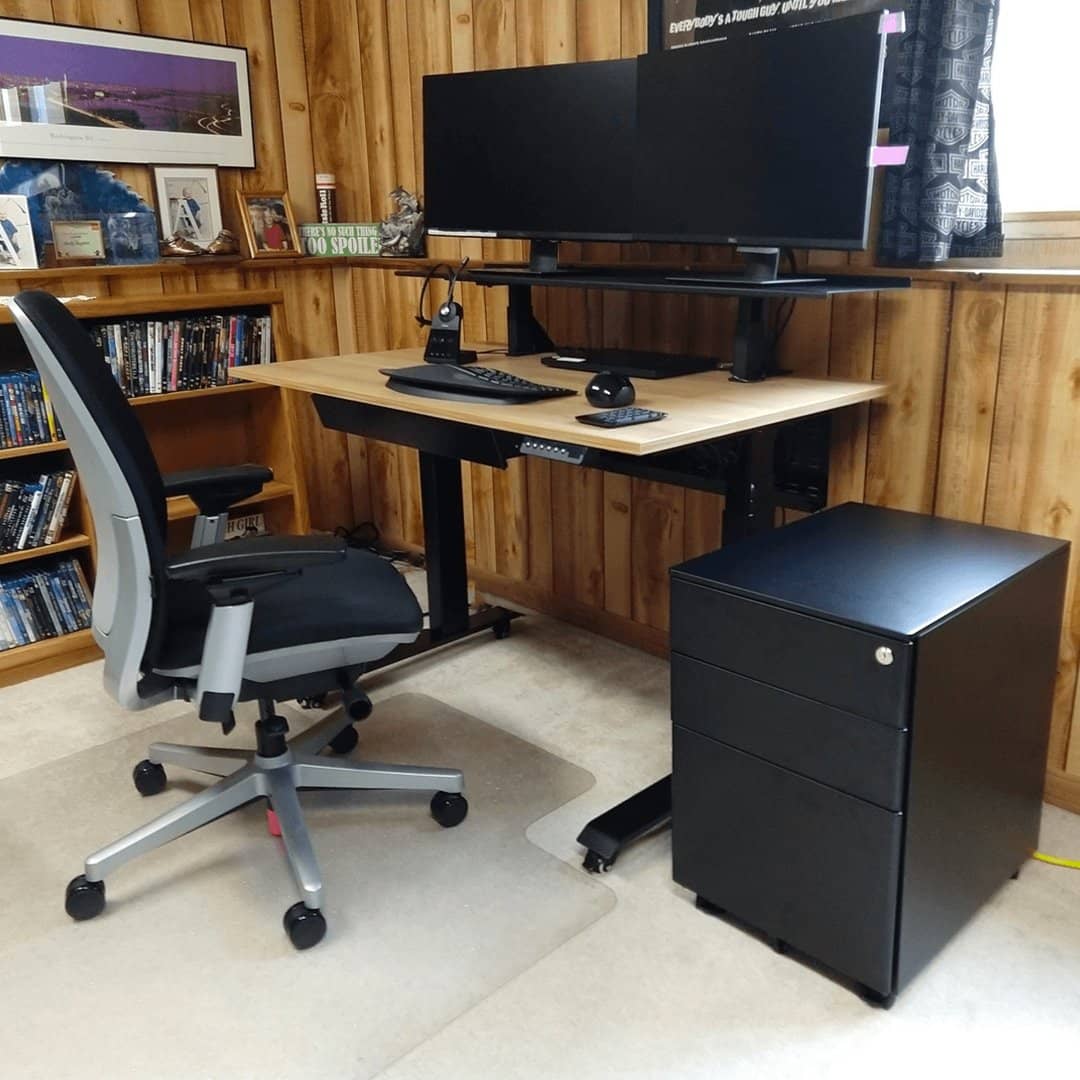 Do standing desks really have health benefits
This is perhaps one of the primary reasons why a lot of people have made the shift. Prolonged sitting has been linked to a myriad of diseases. From diabetes to cardiovascular diseases. And they say that sitting is the new smoking. 
1.We have discovered that standing desks do lessen the time that you spend sitting. 
Especially, in the first few weeks, you tend to spend more time standing than sitting. However, as the days and months go by, this decreases. You do not stand as much as you used to. 
So even if there is a decrease in sitting, it is not that significant. We spent 3-4 hours less sitting. But as the months went by, it was reduced to only 1-2 hrs per day. But hey, it's better than none, right?
So indeed, standing desks will help reduce the sitting time. The one in question here is how less. 
2. Standing desk can help you burn more calories
Compared to just sitting, you can burn around 8 more calories a day when you are staying. While this is not much of energy expenditure, it can still answer the question of standing makes you burn more.
However, if you're looking to lose weight by standing, we have bad news for you. 8 calories per day equal 42 a week. That is very meager to result in fat loss. So if you want to lose weight, you better start moving or take up cycling and HIIT classes for faster results.
3. Can standing desks reduce stress and fatigue?
This is another polar claim from some brands. It seems like a standing desk can help lower stress levels. Is it true? Well, for us, we didn't find it stress-relieving. Especially if you are going to stand for more than 4-5 hours straight, your legs and feet will tire and sore. 
Also, some occupations require standing the whole day such as sales ladies or those who work in construction. They spent almost the entire day standing And we did not seem to hear about any stress-relieving effects. Prolonged standing is also bad as prolonged sitting. 
4. Does it improve productivity?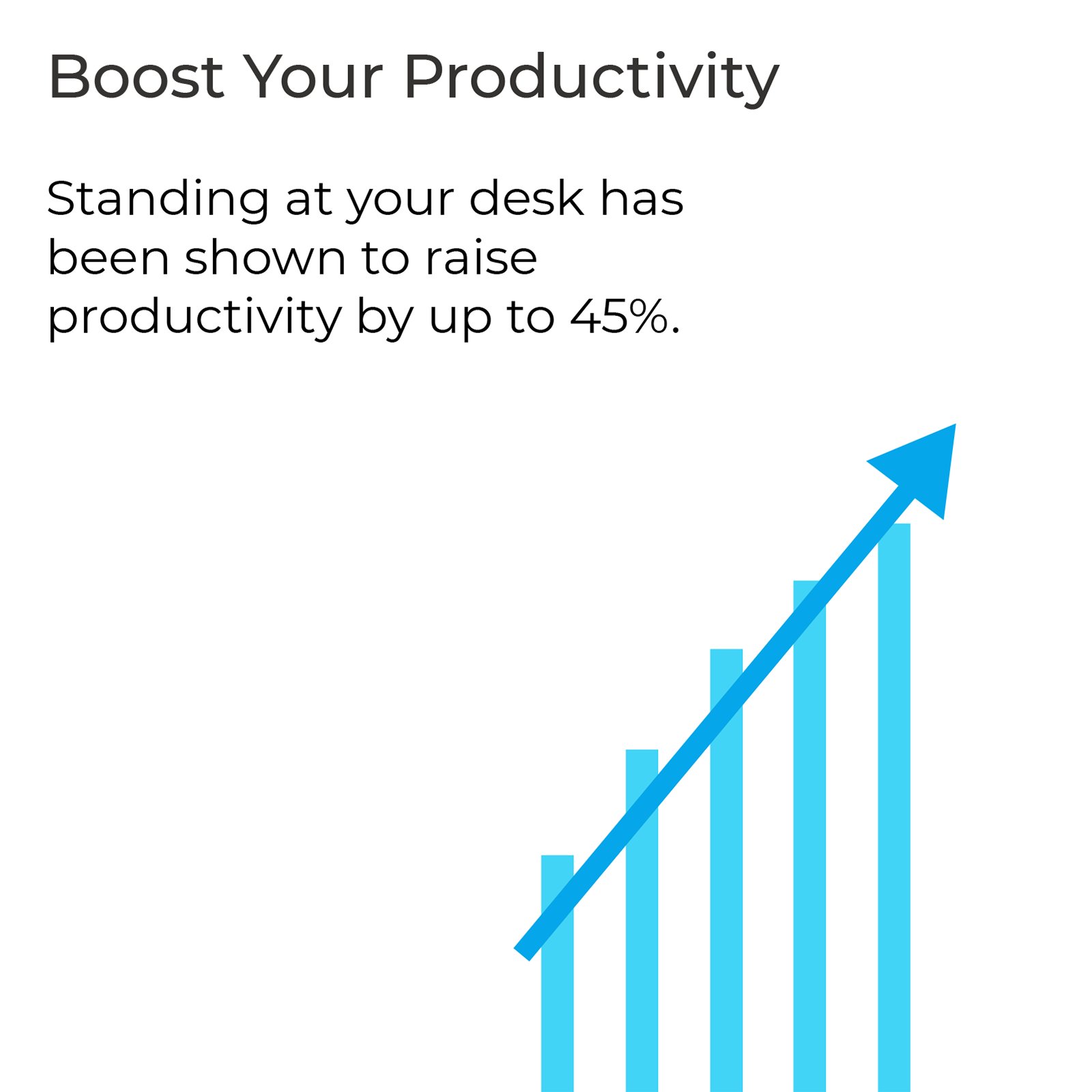 We did not seem to find a link between a standing desk and increased productivity. On the contrary, it seems to be distracting. Because your brain controls your legs and feet, your concentration is divided. 
See more: Benefits of Standing Desks – Why people want these desks
Lots of options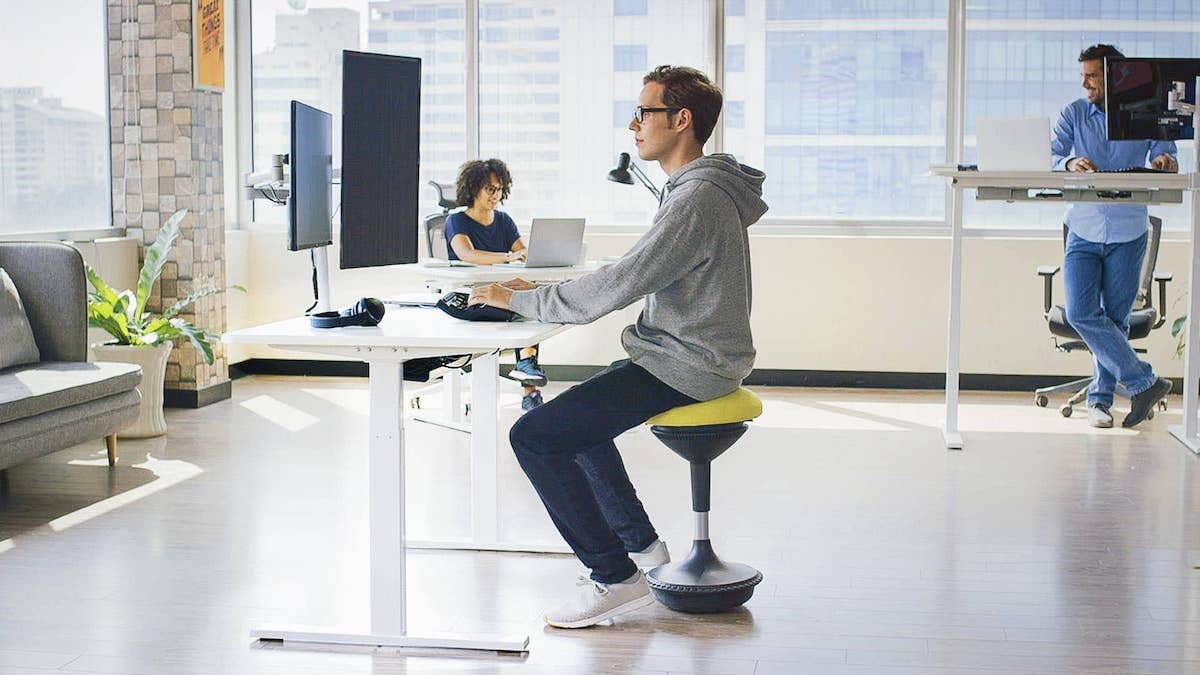 When you're shopping for standing desks, you'll be surprised just how many options you have. And it was not easy so we had to dig a little bit deeper. Some of these are also cheaper options than buying a standing desk. 
Oh, before that, if you don't want to spend money on one, you can just stand up from your desk and walk around. Though this might not give you a significantly lesser time in siting. And oh, it's not anything that you can brag to your friends.
Standing desk converters
We have come across two types of standing desk converters, the manual one that looks like a ladder and the one that can be lifted. This is a cheaper alternative than buying a standing desk altogether. These devices lift the computer or monitor several inches from the desk. But the thing is, it can really eat up a ton of space on your desk. 
So if you'd ask us, we'd rather save a bit to buy a whole new desk than buy a desk converter.
See more: Top 5 Best standing desk converters in 2023
Manually adjustable desks
Hand crank desk is a no for as it takes forever to adjust it. Not to mention, it can be an arm worry. And if you tend to change from standing to sitting several times a day, imagine how often you need to crank the lever.

Gas-lifted converters are easier to adjust than the hand crank ones. But they do have a limited weight capacity. If you go beyond the 15 kg weight limit, you have to bear the excess weight by yourself. If you have less than 15 kg on your desk, you also have to do the same lifting when you are transitioning the desks to a sitting position. So it will still be an arm workout. Thus, you have to have the exact 15 kg content on the desk so that you will not lift a muscle.
This is the more affordable type of electric standing desk. But it only features an up and down button. So it does not have a set of preferred height settings. 
This is still inconvenient because you have to hold the up or down button until the desk reaches the desired height.
And like manual standing desks, it also has the same limitation. It will be hard to remember your preferred height settings. So you always have to guess.
Electric desk with memory presets
Now, this is the upgraded standing desk. It often offers 3-4 height settings so you can allocate one for sitting and one for standing. So every time you need to transition the desk, you just need to press the button once and it will move on its own. 
Single or dual motors
Dual motor desks are more stable and they are also quieter. But they also tend to have a higher price tag. 
Three-stage standing desk
There are also three-stage desks. Now, this is fancier and gives you more options for the height adjustment range. 
Extra features
So other features make an electric desk a more remarkable buy. One, the anti-collision features come in handy especially if you have kids. The desk will automatically stop if it comes into contact with anything or anyone. So this also prevents the desk from continuously banging itself against any object in its way.
Two, some standing desks have C frames. Instead of the standard Tpfarne, the legs are angled towards the back of the desk. We find this type of leg more versatile. It allows us more space. And if you want to amp the stability, you can opt to outfit it with a crossbar and the legroom will not be compromised.
See more: Top 26 Best Standing Desks in 2023 – Latest updated
What we discovered about leg frames
It seems that all single-leg frames seem to be pretty much the same. If you'll hover through several popular standing desks such as Uplift, Jarvis, and MaidenSite, they seem to share almost the same China-made frame.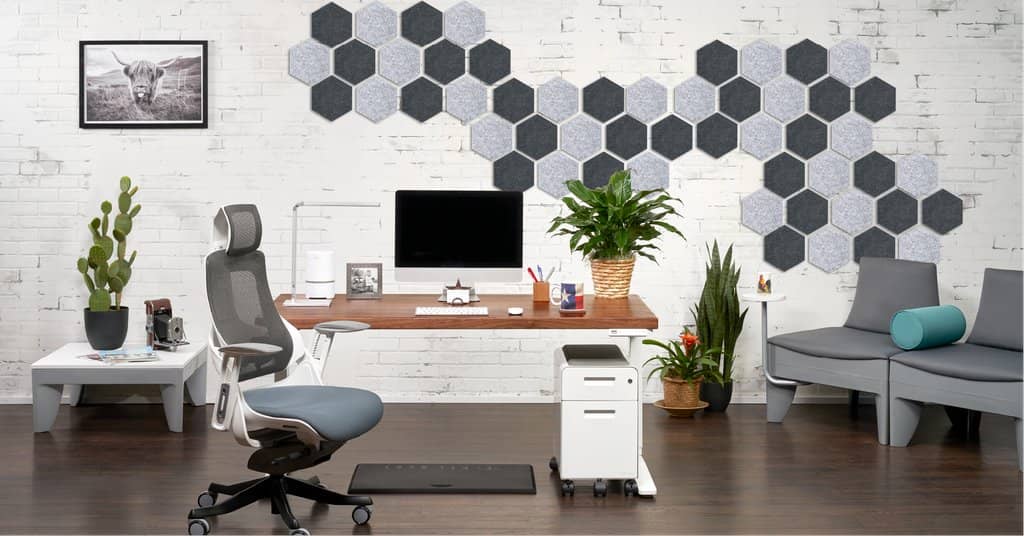 But the funny thing is, some are way more expensive than the others, regardless they came from the same supplier. Aso, there is a lot of fluffy marketing and bogus reviews. Manufacturers may pay users to leave positive reviews on their websites. That's why we don't trust reviews found on the brand's page itself. For sure, you will not find anything negative there.
So our verdict, if you need single frames, you can get the cheapest one that you can find. They are all made from the same material because they came from the same suppliers. Many brands do not seem to make their own leg frames, they just outsource it. 
Overall, the cheapest option is to buy the cheapest frame and buy a separate desktop. This will work out much cheaper. You can go for a nifty IKEA Linnmon tabletop. And it will cut you off by around 7 dollars for the smaller desk. 
Otherwise, a gorgeous kitchen countertop will also do if you need a specific dimension. There are actually several reasons why a kitchen countertop is a better option than a standing desk tabletop.
One, it has more options for the textures and style. Especially if you will just buy a painted sparkle board, it will also be crazy cheap. Two, you can cut it to your preferred size. So you can make use of a second tabletop for a second desk. And why not sell the extra online for extra income. Thus, it will cut down your total cost for a standing desk. 
Three, these tables are more heat resistant. Since they are made to be used in the kitchen, you will not feel uneasy drinking or eating on your standing desk. 
But of course, not all is good, there is a con too. You have to glue the edges yourself. 
What are the more important accessories?
There are tons of accessories that you can get for your standing desk. And these are the only important ones that we think deserve a spot on your desk.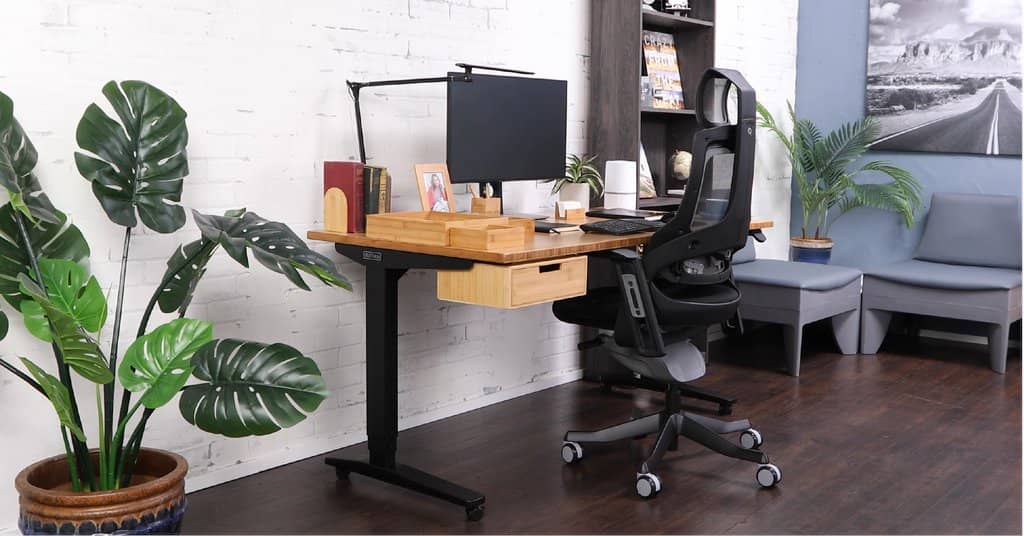 Because the legs need to move. you won't be seeing a lot of standing desks with drawers. And you'll have to scour the net to find a filing cabinet that is not too tall to fit under the desk. Our best option is the IKEA Helmer. It is rather affordable and looks nice with its metal material. It will look nice next to metal left frames too. 
If you're used to using your laptop for work, monitors can be a game-changer. And a two-monitor setup can also make your work more efficient. 
If you need to free up space under your desk, monitor arms are very handy. This also corrects your posture. You can adjust your monitors' tilt, angle, and height so that you do not need to bend your head too forward.  
What's the best monitor arm? We have discovered that it's the same with the frames. Almost all single monitor arms are the same. So it doesn't hurt to buy the cheapest one. 
Because your monitor is lifter from the table, you need to buy a separate mouse and keyboard. And again, you do not need to buy the more expensive ones, the cheap ones will function okay.
Without an efficient cable management system, all the wires and cable will go astray. And you can heed our advice when it comes to the cable management system.
For the extension lead, since these have holes that can be hooked to something, you can mount it underneath the desk. So there will only be one wire that is going to be exposed when the desk is moving. 
Also, a cable management trunk will come in very useful. You can chuck in all the wires and cables into the trunk. 
This allows you to mount your phone and mount it on your laptop. You can use it as a webcam, pretty neat right?
It can conveniently hold your phone so you can hold it straight up while charging. While this may not be essential, it's quite convenient to have.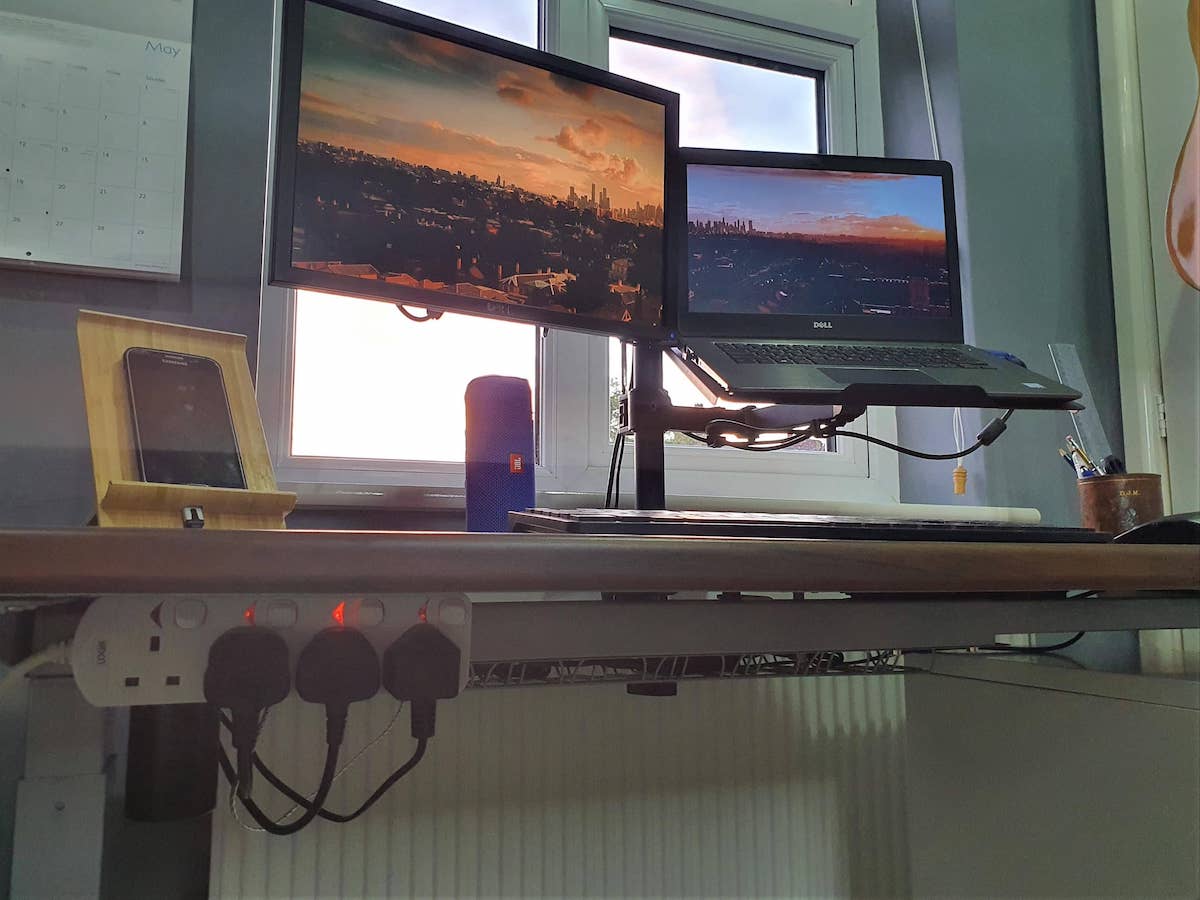 Now the drawbacks
There is wobbling
No matter what, we can't seem to get rid of the wobble. Yes, you can still work on your laptop and it doesn't shake uncontrollably. But compared to a traditional desk, it's not as stable. One option if you have C-frame legs is to outfit with a crossbar to amp up the stability. Though this is not advisable for Trame standing desks because it will eat up legroom. 
No anti-collision system
If you buy cheaper options, this feature might not be present. 
Warranty
Cheaper standing desks also have a more stingy warranty, some even offer just a year's cover. So once the desk goes bad after the warranty ends, you're on your own. 
How much a standing desk cost?
We opt to buy the cheapest option that we have mentioned above. The tabletop cost us around 340-400 bucks and added up to 490-520 dollars for the accessories. 800 – 900 dollars plus is pretty decent and cheap enough for an electric standing desk with the essential accessories. 
Then we still find the desk quite useful even after several months of use. And we reckon it will last long. And it did help us feel better as the sitting was reduced. Plus it feels liberating to transition from sitting to standing anytime you want. 
So shall you go for it?
After our experience, yes it does make a difference in a workday. But technically, it's not because of the supposed health benefits. Scientific researches are too vague to even claim it. But these desks are very, very cool and hip. And it can break the monotony in the office.