The WorkPro Standing Desk is an underrated brand. You won't often see people talking about it and there aren't many reviews to prove or disprove its worth. But we will look into the key features of this electric height adjustable standing desk. And lets if it's worth a buy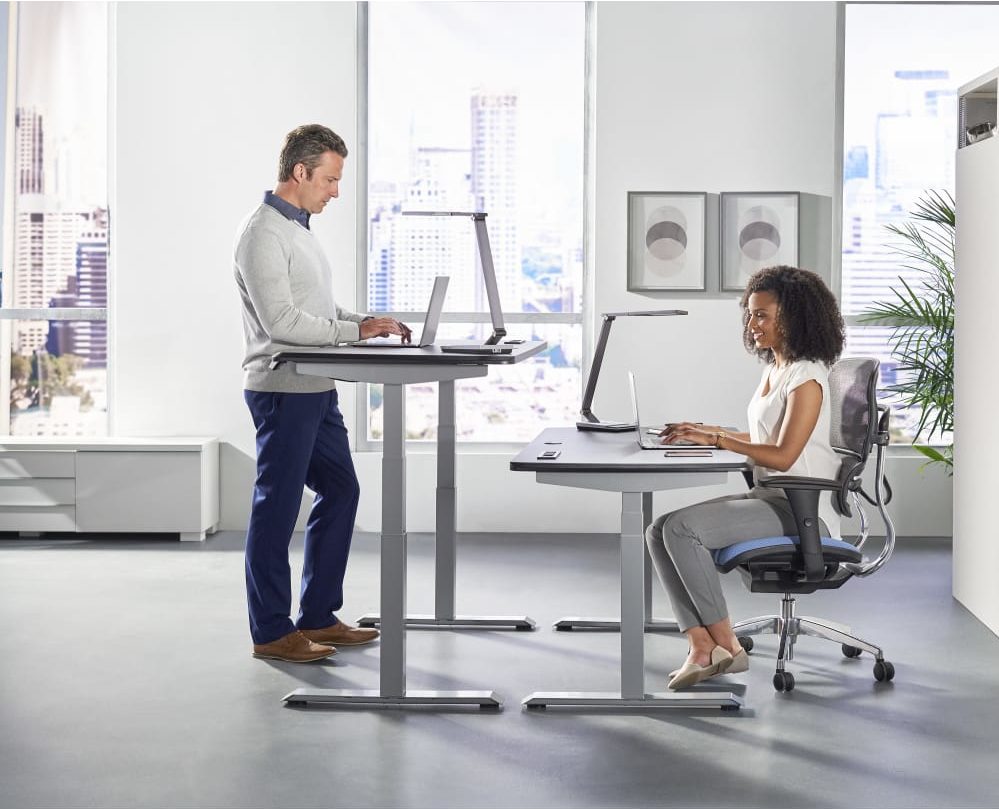 About the brand WorkPro
WorkPro boasts office furniture that can boost one's productivity at work. The brand's overall impression is easier to assemble yet conducive workstations. So from the desks, office chairs to filing cabinets- all of these features convenience at an affordable price.
WorkPro is manufactured by Office Depot and it operates under several banner brands- Grand & Toy, OfficeMax and Office Depot
Key features and advantages 
Now let's take a look at the pros and what sets it apart for other brands.
Design
There's something about round edges that makes a desk look more stylish. With a curved edge, the desk of the Work Pro electric desk looks more pleasing to the eyes. And this design gets rid of the hazard of accidentally scaring your skin. 
The absence of rough edges makes it safer, especially if you have kids around. You don't need to childproof the desk as it already has a curved edge. 
The concave edge serves three functions- safety, ergonomics, and aesthetics.
The front edge is also a bit sloped and this makes it more comfortable for your elbows and arms. This feature is a bit similar to the Uplift V2 standing desk. The front edge is a bit more steeply curved and the price is way higher. The Uplift V2 can cost lots of dollars (see the price here) and it's a bit wider at 72 inches.
Read more detail about Uplift V2:
The Lander iMovr also boasts of a sloped front edge. And it's a higher-priced standing desk. And the curved edges are quite subtle. In terms of the design, I'm loving the look of the Work Pro more than the Lander. And it's priced lower too.
Wireless charging ( for Qi-enabled gadgets)
This is by far the best features of the Work Pro electric standing desk. Wireless charging is pretty convenient. You can charge your phone without annoying wires and cables. And it also makes up for a cleaner and sleeker-looking workspace. A wireless charge also has a minimalistic look that would look great in a small home office. Toto much clutter and even the sight of wires can be counterproductive for some.
There are only a few standing desks on the market that offer such convenience. One of which is the Stand-Up desk. It has a wireless charger that you can buy separately. You can't have it integrated into the desk itself. 
Qualgear has a staging desk converter that has an integrated wireless charger. But if you're looking for a full-size desk, this won't serve you well. 
A great alternative for a full-sized desk with wireless charging is the EvoDesk. Though you have to purchase the upgrade. And if you want to outfit it with a wireless charger, that'll be an additional. And the Autonomous smart desk also comes with an integrated power outlet. Their 53-inch desk is available only in 1 size.
Other features
And let's dabble a bit on what the Work Pro 60 inch standing Desk can offer.
Built-in AC outlets and USB charging ports
With a lot of equipment and gadgets, you'll be needing more than one AC outlet. The Work Pro standing desk comes with 3. And you'll also have access to 2 USB ports. And there are only a few standing desks that offer this convenience.
Other desks offer options to mount additional power outlets, but only a few come with an integrated one. And of course, you have to purchase these additional ports separately. 
Doesn't make much noise
This brand is one of the quietest I have tired. With around 50 decibels, you won't even hear a sound whenever you adjust the desk. Anything higher than 55 or decibels can be a cause of annoyance. And it should be consistent even when adjusting the desk to the highest setting 
Jarvis has only 50 decibels but when I tried lifting it to the maximum desk height, the decibels plummeted to 645 then 72 decibels. At first, it was pretty quiet, but it wasn't for long. 
A great option for a quiet electric standing desk is the Varidesk. It runs only at 45 decibels, a bit more timid and shy by a few points than the Work Pro. 
More range for the height adjustment
Another bang for the buck of this desk is that it has a higher height adjustment compared to other affordable standing desks in the market. The range runs from 23- 49 ¼ inches. So it is pretty much comfortable for those with an average height and for those who are a bit short.
It comes close to an Apex desk with a maximum desk height of 48 inches.
Some tradeoffs
When it comes to the design, it only has a black desk option and a steel aluminum frame. You have limited options in terms of the color because you only have one option.
And I've noticed that it doesn't have any crossbar between the two steel frames, So it did wobble a bit when set to the highest setting. But it's pretty much stable on the first few height adjustment options. 
So is it worth?
So, is the affordable price  worth it? Well, that depends on what you're looking for. If the integrated wireless charging, AC outlets, and USB ports are your primary need, it's a great option. Other desks will run you a couple more bucks to have it integrated. And for most brands, there's no option for that. Instead, you have to mount it on the desk.
One advantage of such a feature is convenience. And it makes your workspace look neat and tidy. It's easier to manage the cables and hide them from plain sight.
But if stability is your primary concern, it might not be the best option for you, especially if you are taller than 5'9".
And it's also one of the perfect standing desks for shorter people. Since the minimum desk height is below 30 inches, it's comfortable enough for someone who stands 5'2". So if other desks are too high to reach for you, the Work Pro is a great option.
Conclusion
The answer to whether the WorkPro 60″W Electric Height-Adjustable Standing Desk with Wireless Charging
Is it for you? That depends on your needs and priorities. If it's not. There are more options for an electric standing desk that is priced lower than 600 bucks. But of course, they won't have the convenience of charging wireless.