The double desk consists of two connected desk spaces with separate controls. This type of desk can be very conducive for collaborative work in the office. So let's see how it performs. 
About the brand 
Autonomous desks are made in China. It shares the same China-made Jiecang base for its motor. This is the same base used by other brands such as Jarvis and Uplift. But not for long. When the brand encountered serious issues with the said motor, they switched to TiMotion. 
It's another Chinese-made motor that's supposed to be better than the motor that it replaced. However, Jiecang made improvements to their product. And both Jarvis and Uplift are now using the more improved Jiecang base. So in terms of stability, there isn't much difference between the TiMotion and Jiecang motor.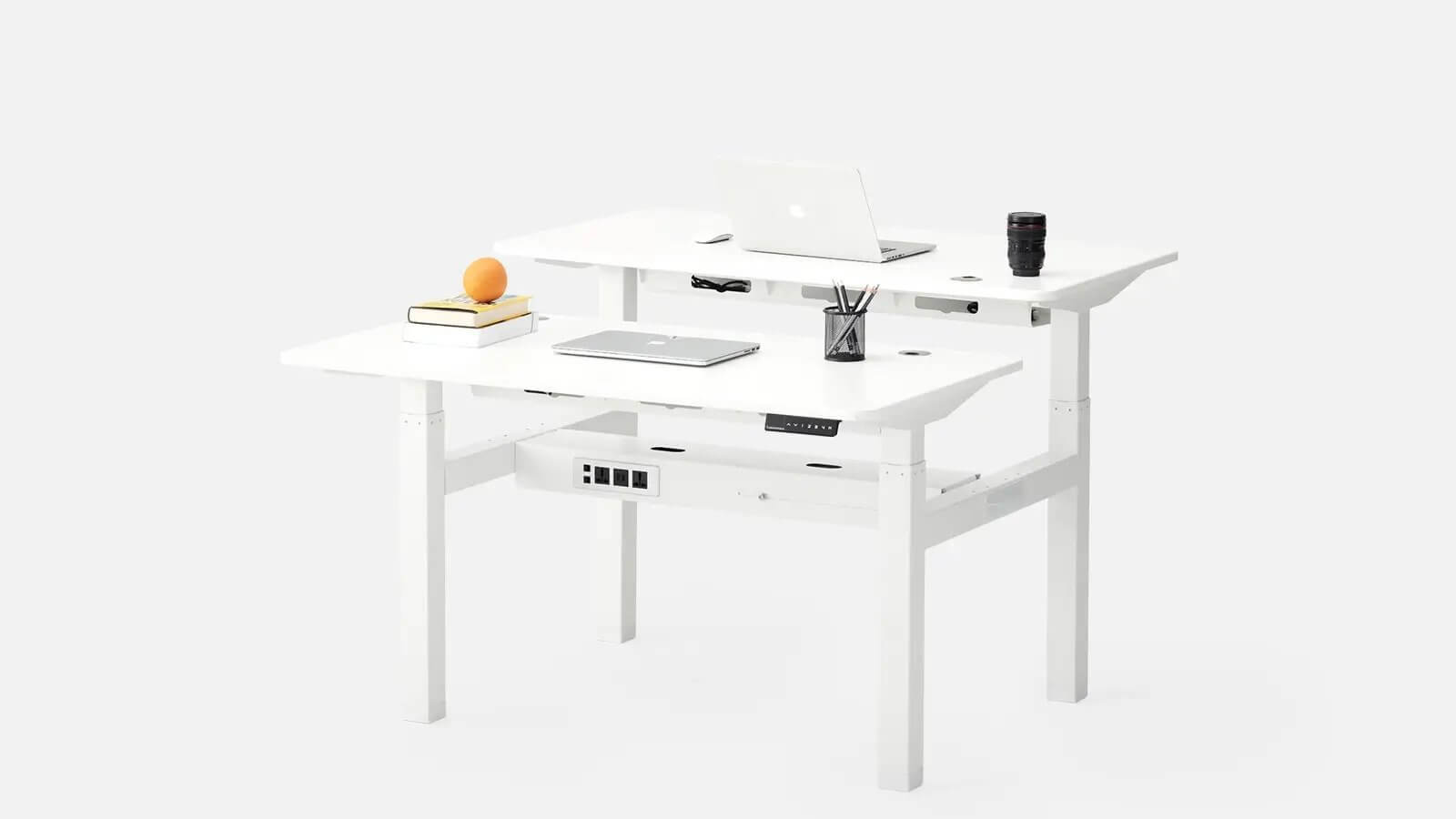 The good of Autonomous Double Standing Desk
The two standing desk frames are connected via a solid beam. Though the two desks have a common foundation, they still have their independent supporting bars and control panel. So you can independently adjust the height of each desk. 
The connecting beam at the center also has several ports where you can change and connect your gadgets. Like Smartdesk 2, it uses two motors and has 4 programmable presets.  
So in line with this, I am rounding up the things that I liked about the desk. 
It's great for collaborative work. Your team can work together but still have the option to adjust the desk to the height that they're comfortable to work at.

The setup of two desks joined together saves up a lot of space. So this can be very useful for offices with limited space but need more desks for their employees.

Autonomous desks are among the cheapest ones you can find in the market. That's why despite some stability issues, many still buy desks from the brand.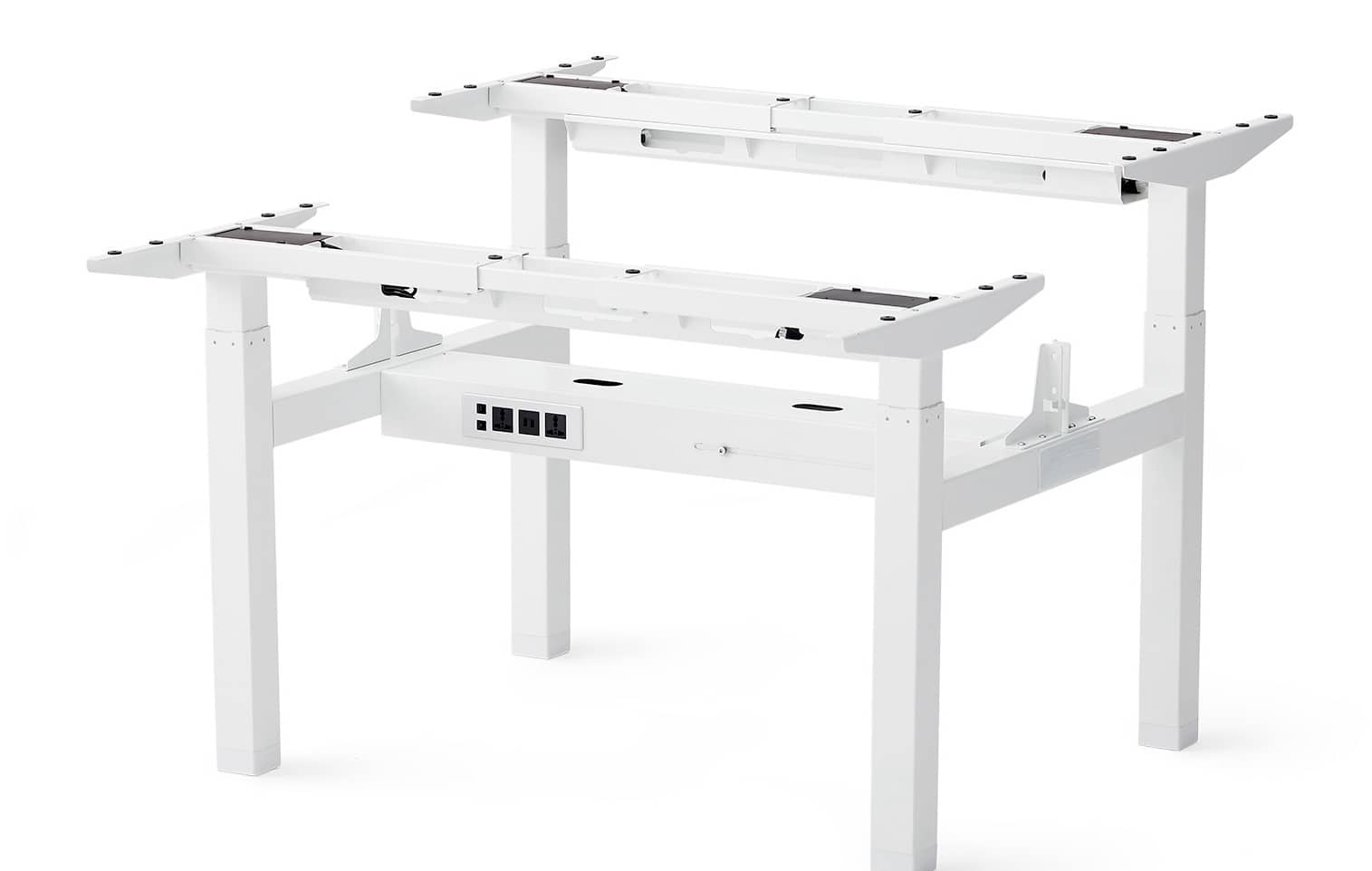 The not so good
It's a hefty standing desk, that's not bad. But since you have to connect two separate desks, you will find the setup challenging. Thus it helps if you have someone to help you set up the desk.

The instruction manual could have been better. Or shall I say, an overhaul would benefit the consumers a lot? There were no clear instructions on how and what to do. Several steps were missing from the instruction, it's like guesswork. 
So I just hovered through YouTube to find guides on how to set up the desk. There aren't many reviews on the desk too. More of the videos that you'll find on YouTube is from the brand itself. 
Prepare 3-4 hours for the setup. While the brand claims that you can set it up in an hour, don't believe it. You need roughly 3-4 hours to complete bad boy. Longer if you are setting it up on your own.

The use of the TiMotion motor instead of the old Jiecang base did fix some of the safety issues the brand had with the Smartdesk 1. But sad to say, it's still not as stable as we wished it were. Though the supporting bars helped decrease the wobble a bit, there is still a pronounced shake at the highest setting. 

To keep the price lower despite the shift to a supposedly more stable motor, the brand placed the burden on the consumer. So expect to spend more time setting up the desk. The insane labor on the consumers' part made it possible to significantly lower the cost of the desk. So if you're not into complex DIY, this double desk is not for you.
Alternatives to the Smartdesk double desk 
An interconnected desk such as the Double desk is very convenient for office collaboration. I am also listing a few other options for such use. Should you find the Autonomous too risky for a purchase, which can be the case if taller people will use the desk since it wobbles at the highest setting. Here are several alternatives
Oblique Adapt
This sit-stand bench looks a lot similar to the Double Desk from Autonomous. The two independent desk frames are connected via a supporting beam. Both desks have separated dual motors. Also, the brand uses a BOSCH motor. It's the same motor that the IKEA Brkant uses. Though it can be better than the cheap China base, it can still wobble at the highest setting. 
This double desk is also accessed via a push of a button. But you also have a choice to outfit it with a hand crank instead. 
Unite Plus Twin sit and stand desk
Each desk has one control panel and a cable management system. So you can either use it as a large desk when leveled together or use it as separate desks. It pretty much works the same as the Double desk from Autonomous since it also uses dual motors for each of the desks. 
The height range of these twin desks is from 25 inches to 49 inches, so it has a pretty wide range.  
Nevi Link
The Nevi link is also a system and not just a standing desk option. If you're looking for a more premium and more stable collaborative desk for your office, you will not go wrong with a desk from Herman Miller. The Nevi Link system allows you to choose from different desk shapes. So you have several options on how you want to layout your collaborative workstation.
You can configure two rectangular standing desks in a back-to-back layout. And if you want a more aesthetically pleasing workstation, you can opt to go for the 120 degree Nevi Link bench. This allows you to form a somewhat circular workstation using 3 angled standing desks that are connected. And since it's a Herman Miller product, you have a lot of options for the upgrade.
Why use a double desk for your office
Here are several advantages of using an interconnected workstation.
If you have limited office space but need more working stations for your employees, there's no better way to go about it than to have an interconnected system of double desks.
More conducive to collaborative work
Sure you can hover over to your teammates' s desk anytime you need to. But a double desk will make collaboration easier. It can make the team more productive too. 
Foster a better work environment
Having double desks fosters a better camaraderie among co-workers. Instead of just sulking at your own desk, you get to interact more with the people in your office. 
But you might be asking yourself, what if I need some time alone? Well, there are standing desk covers that you can use to serve as a partition should you need to have some alone time to deal with your deadlines.
So that being said, double-standing desks are more suitable for offices with employees who often need to do collaborative work. It's very useful in marketing and advertising agencies where you need to pitch ideas with your team every now and then. Or any office where the bulk of your day involves meeting the team for some brainstorming session. This type of desk can make your team more productive. 
Final Say
That being said, double desks such as one from Autonomous Smartdesk can help you maximize office space and it can make your teamwork faster. But in finding desks of this type, make sure that you can adjust each desk frame independently. 
So each frame must have its own motor and own controls. This will make the double desks more versatile. So you can also use these more often aside from collaborative meetings. 
Related post: [Review] Autonomous Standing desk Smart Desk 2 – Basic Yet Reliable