The FLYTTA 2 standing desk is known for gaining the Best Buy Award by the Independent Newspaper in 2019. Along with the Guardian, The Independent Newspaper has one of the most credible sources of information and facts in the UK. So when a standing desk is awarded such a title, you can be sure that it's for a very good reason. And more than the advertising hype, you can be assured that it's true.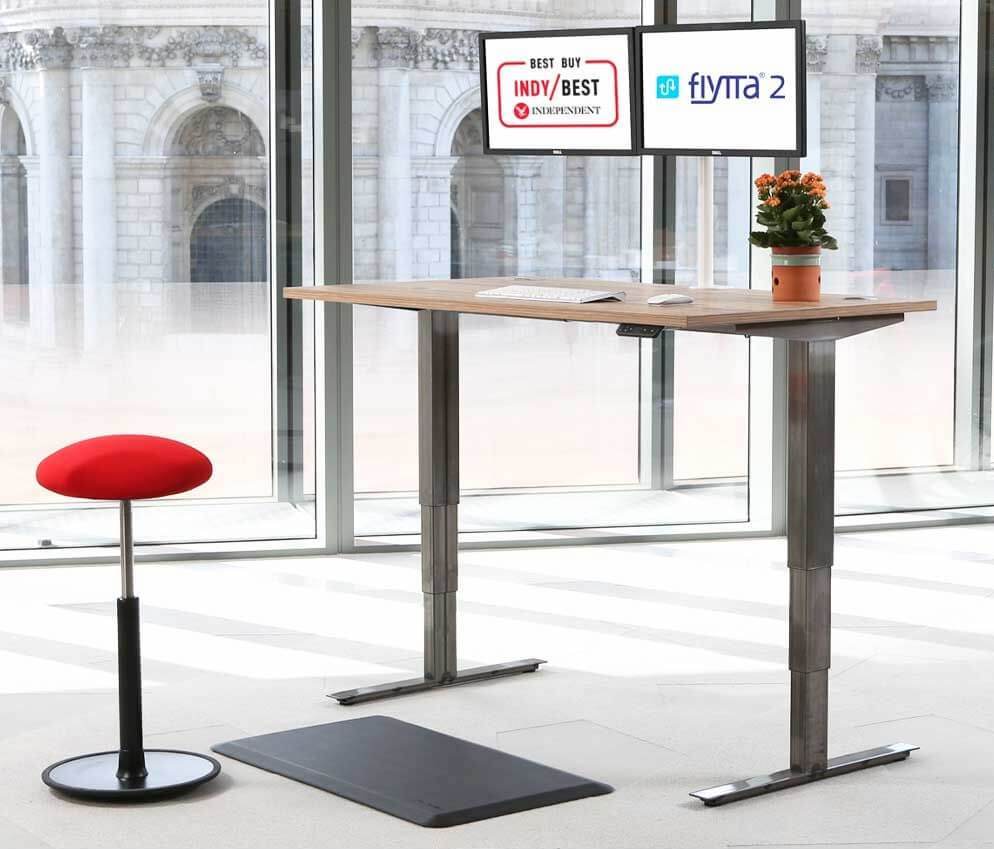 So let's see make the Flytta standing desk 2 earn this reputable award.
About the brand
Flytta desks are made from Sweden. And the word flytta is a nordic word that means "move." if you could recall, Denmark and Sweden are two European countries that made it mandatory for companies to offer a sit-stand desk solution to their employees. And companies in Sweden already have several sit and stand desk options for their workforce. 
Though it's not really clear as to where standing desks originated from, Sweden is one of the countries that strongly implements policies for sit and stand desk solutions. Thus, if a sit-stand desk is made in Sweden, it could have a better built and better quality. And the issues associated with some sit-stand desk brands could be addressed. 
Sturdy and stable frame
When you purchase the FLYTTA 2, you have an option to purchase it with or without the desktop. And the desk frame of the brand is its most notable feature. These are thick steel frame legs. Though there are also competitors that have robust steel legs such as the iMovr Vigor and Lander or the Uplift commercial V2.
But what we found most interesting was that the FLYTTA 2 can combine a sturdy and strong base while at the same time, is pleasing to the eyes. So the aesthetics did not compromise in manufacturing a strong steel base. And competitor brands may have a similar strong base but it doesn't look that pleasing. And some can even look bulky and have too much oil on the black steel legs. 
That is what makes the FLYTTA steel legs stand out. The look is polished silver. It's clean and does not have too much grease like other standing leg desk frames. The legs can be powder coated in black, white, or silver. It just looks sophisticated and put together, looks fancy and luxurious if you'd ask me. And it's hard to find a standing desk that can combine both features. 
Stable beyond words
One of the key factors that made the FLYTTA 2 very stable are the thick sturdy frame legs and quality motors. It has a carrying capacity of 100 kg.
There are standing desks brands that may have a higher capacity than the FLYTTA. Among them are the UPLIFT V2 which has a weight capacity of 161 kgs and the Herman Miller Renew with a carrying capacity of 160 kgs. Though the carrying capacity of the FLYTTA 2 is lower than the brands mentioned above, I think what made it stand out is that it is stable even at the highest desk setting. And even if you load it up, there isn't any shaking or wobbling. And there wasn't any complaint about a single wobble form those who have tried the desk
You may experience some shaking with the Uplift V2 despite the larger carrying capacity. And as for the Herman Miller, it's pretty stable but it's a premium brand with a premium tag. FLYTTA 2 has a very competitive price tag though it's not considered cheap.
FLYTTA 1 vs FLYTTA 2
What is the difference? The difference is the height adjustment range. FLYTTA 1 has a height adjustment range suitable for those who stand up to 185 cm or 6 feet. And for FLYTTA 2, it has a higher maximum desk height that can be comfortable for users who stand up to 6"9." FLYTTA 2 also has a memory preset where you can save your desk height preferences, while the FLYTTA 1 lacks that. But both models make use of the same sturdy steel legs.
Other FLYTTA desks
The brand also offers 2 more different models, the FLYTTA 3 and the FLYTTA bench.
The FLYTTA 3 is a three corner leg desk. And it's suitable even for taller users who stand 6'7". And since it is powered with a triple motor, it has a heavier weight capacity than the FKTTA 1 & 2. The max load capacity of the FLYTTA 3 is 160 kg. And it also shares the same 4 memory presets.
FLYTTA bench is a dual motor standing desk and it's suitable for users who stand as much as 6 '7." It has the same lifting capacity as the FLYTTA 2 and it has 4 memory presets.
And from the word itself, this model boasts of a benchlike structure. So you can have the higher desk as working space while you're sitting on the lower portion of the desk.
Other features
You'd notice that the manufacturers of the brand offer free installation services. Though the trade-off is you'd be receiving the desk 7-12 days instead of 2-3 days if you're going to install it yourself. 
The good news is that the installation will not incur additional expenses. If you're going to have a Herman Miller desk put up by a professional, you might need to pay an extra cost.
And the shipping is rather fast too. The brand delivered the unit as promised. In addition, the brand's customer service was also very pleasant and helpful. Aftersale is a reality for them. So if you have tons of questions after your purchase, you won't be left hanging in the air. This is also what makes the FLYTTA desk a great value for your money. 
Another notable advantage of the FLYTTA desk is the fast and efficient motors. The desk transitions rather fast. It's a very smooth and easy transition.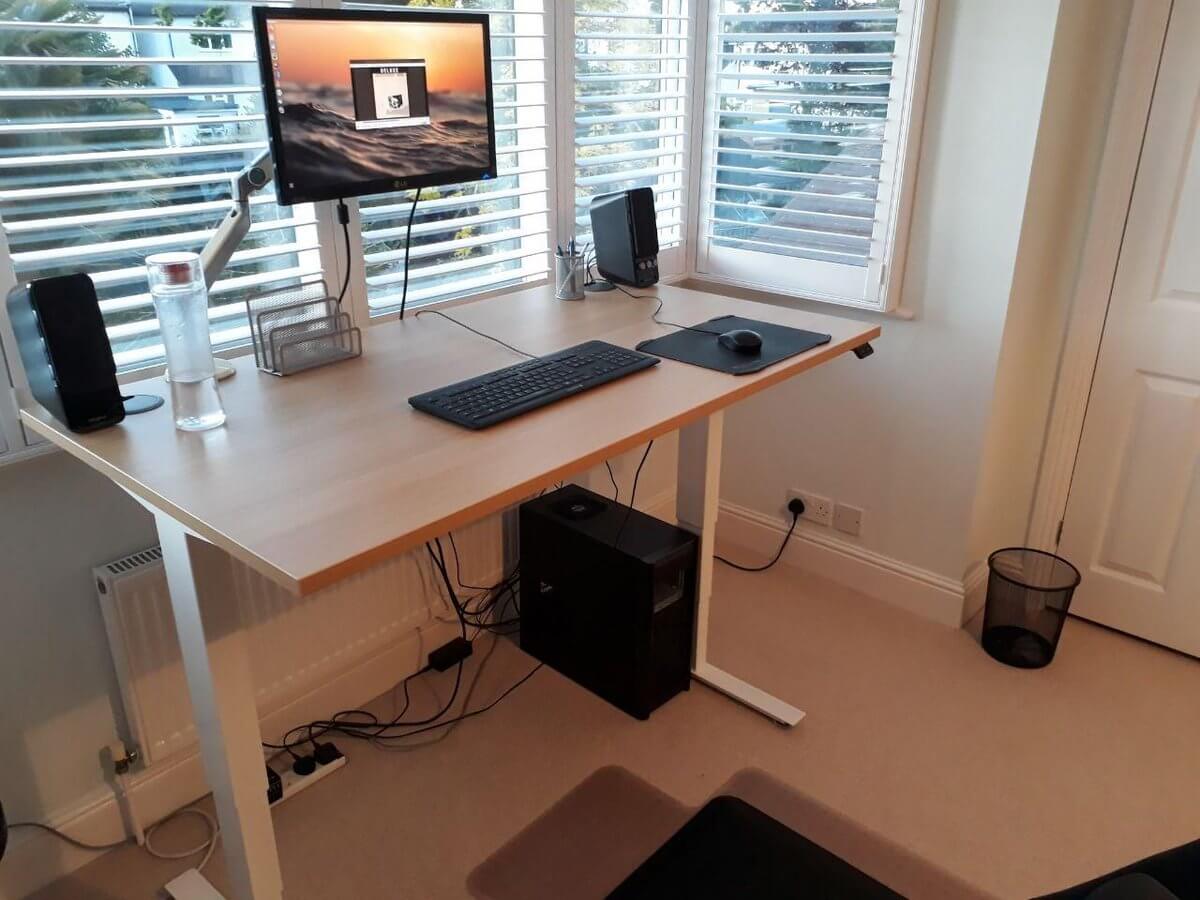 Possible complaints
One of the most common complaints users have is that it can be really heavy. Well, if you have a super sturdy leg frame, you can expect it. That's why the installation is not a one-man job. Also, the installation process can take up to 2 hours, with all the lifting included. And I think that's why the brand also tossed in an offer to include a free installation service.
The FLYTTA 2 isn't the quietest. There can be a noticeable whirring sound when the desk is in motion. Though it's not scandalous, it can be heard clearly. But the good thing is, the desk transitions rather fast, so it's not irritating at all. But if your desk is located on the second floor, you might be able to hear the "noise" on the first floor.
Overall 
With the qualities and features of the FLYTTA 2, I can say that the recognition is indeed justifiable. It ticks all the boxes that you might be looking for in a standing desk. And actually, it can tick more items on your list. And here are several reasons why.
One, it has a wider desk height range. It can cater to shorter people and taller users at the same time. Shorter people can use it comfortably while sitting down without the need for a footrest. And taller users who stand as much as 6'9" will still find it rather comfortable.
Two, it combines the luxurious look of an aesthetically appealing desk and robust and sturdy legs. It does so without compromising one aspect. And you rarely see that in other brands.
And three, it has a competitive price for its quality. Though it's not the most affordable desk, it does have a really competitive price. If you'll take a look at all the convenient and useful features that you'll be enjoying. You don't mind the price.
Where to buy this desk